Ducati Celebrates Mint 400 Win With 2021 Desert Sled Fasthouse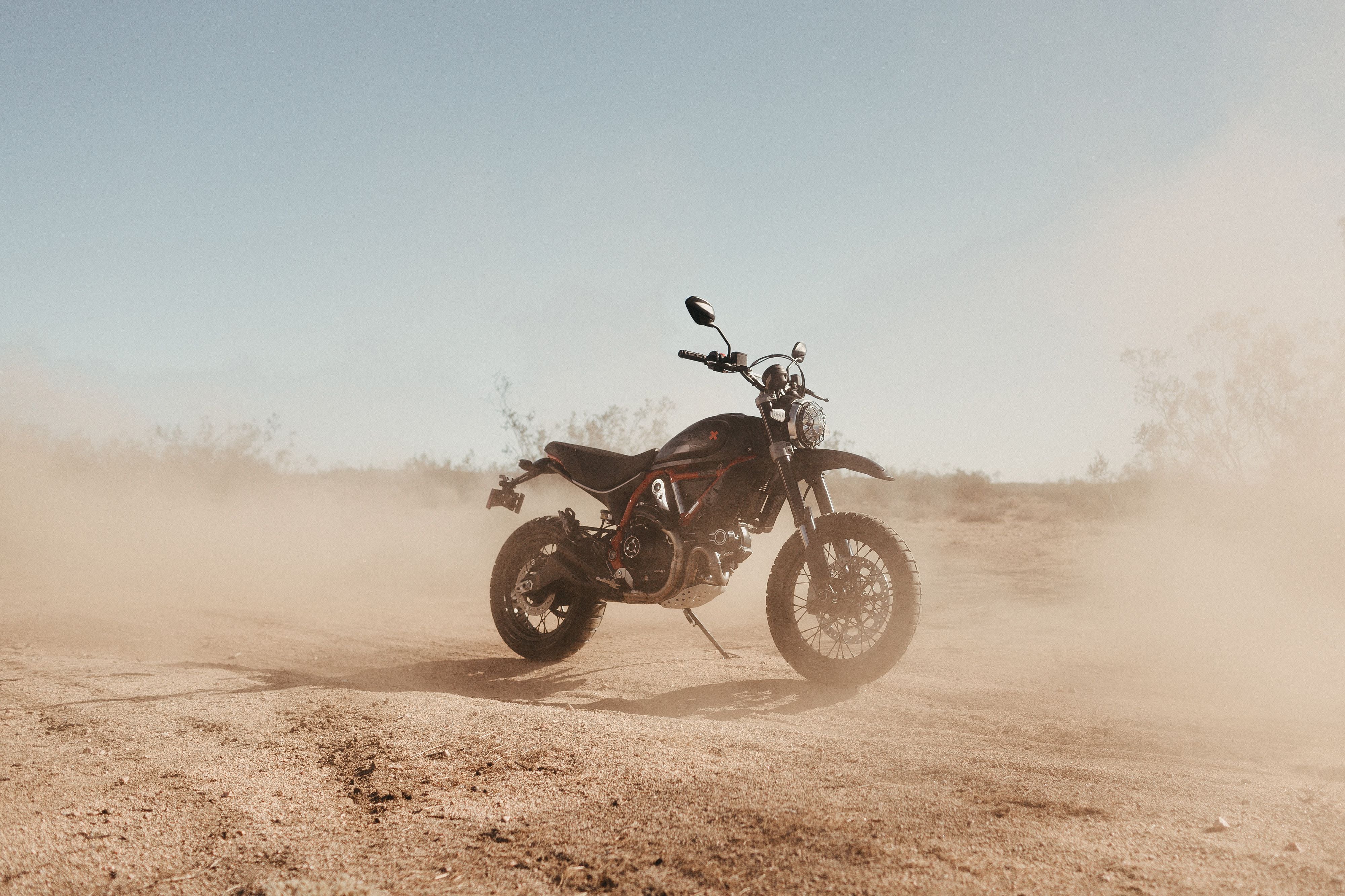 The 2021 Ducati Scrambler Desert Sled Fasthouse. (Ducati/)
In celebration of Jordan Graham's victory at the 2020 Mint 400 desert race, Ducati is introducing the 2021 Scrambler Desert Sled Fasthouse. Limited to just 800 units, the Desert Sled Fasthouse is individually numbered and shares the same red frame and livery as the racebike.
The Desert Sled Fasthouse, like the standard model, runs a 19-inch front/17-inch rear setup with adjustable Kayaba suspension, providing 7.9 inches of travel. The engine is the same classic 803cc air-cooled engine as found throughout the Scrambler 800 range, which Ducati claims produces 73 hp and 49 pound-feet of torque. Unique to the limited-edition model is a new seat cover and black spoked wheels. MSRP is $12,295 ($300 more than the standard Desert Sled).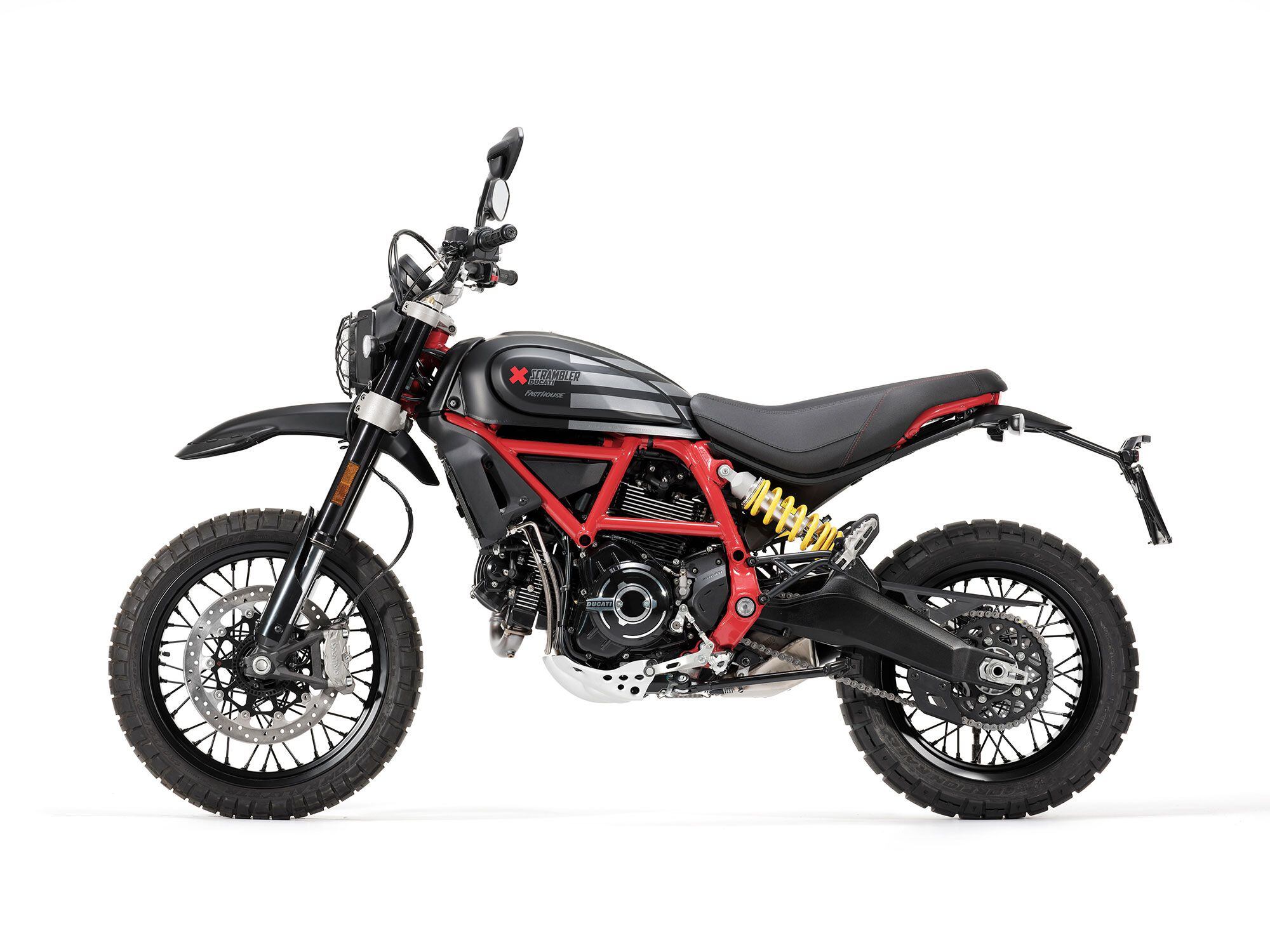 In 2020, Ducati teamed with SoCal moto apparel brand Fasthouse for the Mint 400, the famous desert race in Nevada that provided the backdrop to Hunter S. Thompson's seminal <em>Fear and Loathing in Las Vegas</em>. (Ducati/)
Over the years, Ducati has released many tribute replicas, like the Bayliss, Bostrom, Hayden, and Fogarty replica superbikes, but this is the first time the Scrambler sub-brand has had a go at celebrating one of its famous sons—or more exactly, a specific achievement. So while it's not expressly a Jordan Graham replica, it kind of is, isn't it? I mean, if he hadn't won the Mint 400 and successfully campaigned the black and red Sled in the National Hare and Hound Association (NHHA) Hooligan series, there wouldn't be much to celebrate, would there?
Sure, the Fasthouse Sled basically just sports a cool color scheme, but it's very much a homegrown-in-the-USA model, which for American Ducatisti is very cool. A 21-inch front wheel and 18-rear wheel would have been cool to more closely resemble Graham's racebike, but that would have meant some serious R&D rather than a color treatment.
The Desert Sled Fasthouse—and indeed the entire Mint 400 project and collaboration with Fasthouse—was driven by Ducati North America and its desire to showcase a more serious side of The Land of Joy. 2020 was the inaugural year for the Hooligan class in the Mint 400, and the honchos at Ducati NA saw it as an opportunity to make a little of their own history. They told Graham to play it safe and just finish. He had other ideas, crossing the line 45 minutes ahead of the second-place finisher.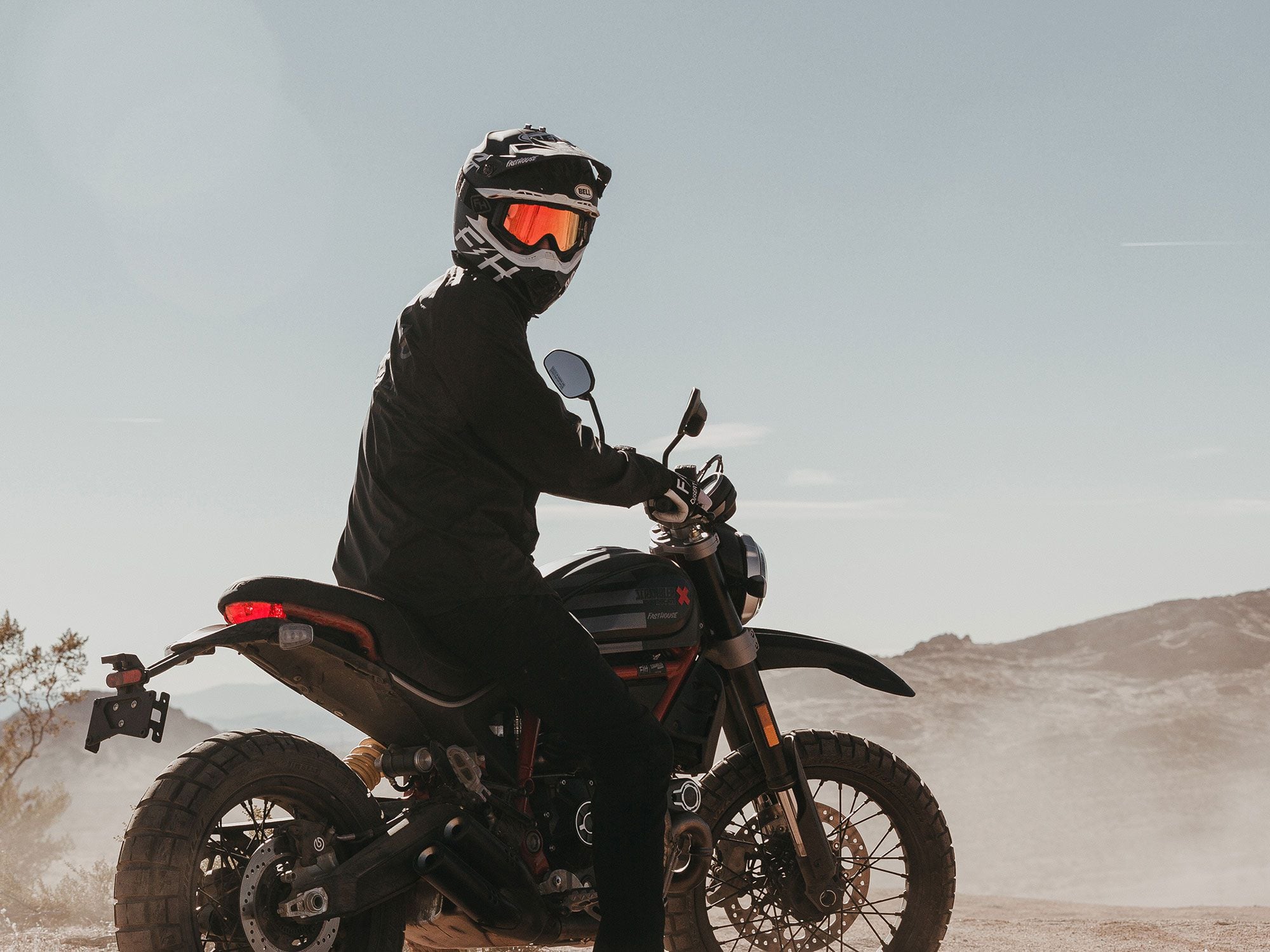 Fasthouse's paint scheme is reborn in production form. (Ducati /)
It's not the first time Ducati's American contingency spurred its padrones back in Italy to take the Scrambler seriously. Back in the 1960s, the Berliner Motor Corporation, Ducati's US distributor at the time, pressed the factory to produce a scrambler-style motorcycle for American riders. And the rest, as they say, is history.
In anticipation of the release of the Desert Sled Fasthouse, I gave Graham a call to see if he was getting excited about seeing a bike that had until now been essentially "his bike."
If anyone's ever been excited to share his steed with 800 other riders, it's Graham, who is as evangelical about motorcycles as the entire cast of On Any Sunday.
While Graham is supported by Ducati, his affection for the Desert Sled is completely genuine (he owns two himself): "I have a ton of people on Instagram DM me or email me, and they're like, 'Hey, should I really buy a Desert Sled?' And talking to them months after, they're like, 'I'm so glad I bought this and not a dirt bike.' It's something you can actually ride on the highway, and realistically you don't have to service it like a new dirt bike."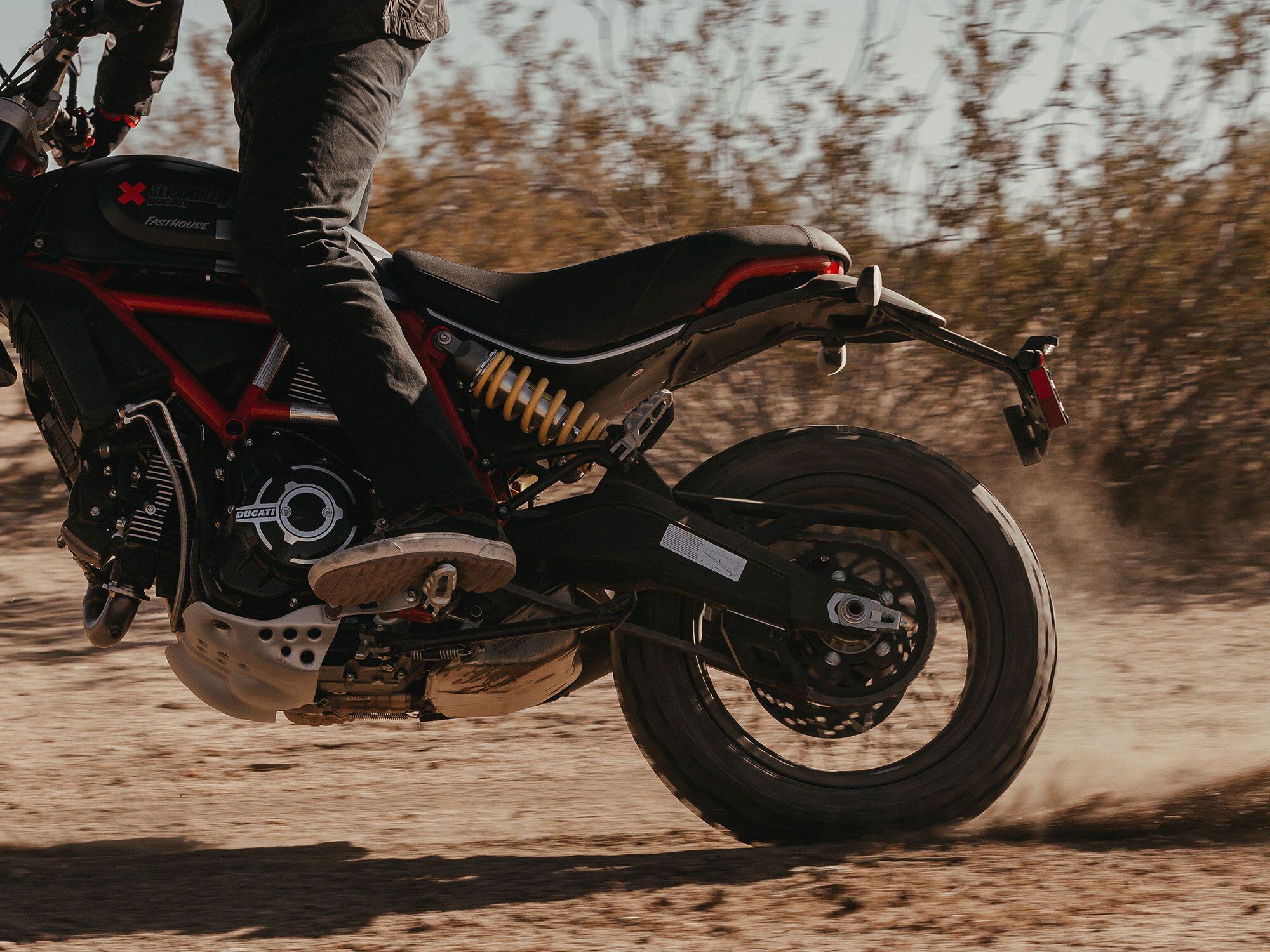 The Desert Sled Fasthouse runs Pirelli Scorpion Rally STR tires. (Ducati/)
While Graham's racebike is fitted with 21-inch front/18-inch rear knobbies, a high-mount Termignoni exhaust, aftermarket suspension, an Earle Motors swingarm extender, and a few other goodies, in all significant ways it's basically a stock Desert Sled. He's used to flogging his racebike or his own custom Icon, but Graham was pretty thrilled to spend a day shooting promotional footage of the production Desert Sled Fasthouse.
"The bike just got off the boat from Italy the day before," Graham says, "and I absolutely flogged the thing all day long and it put up with the abuse. The first thing I did was unhook the ABS and zip-tie it to itself. I was riding the thing really hard and putting it through the paces. I was doing ridiculous hill climbs, drifting in lake beds, and hitting whoops and it was pretty rad to do on a streetbike."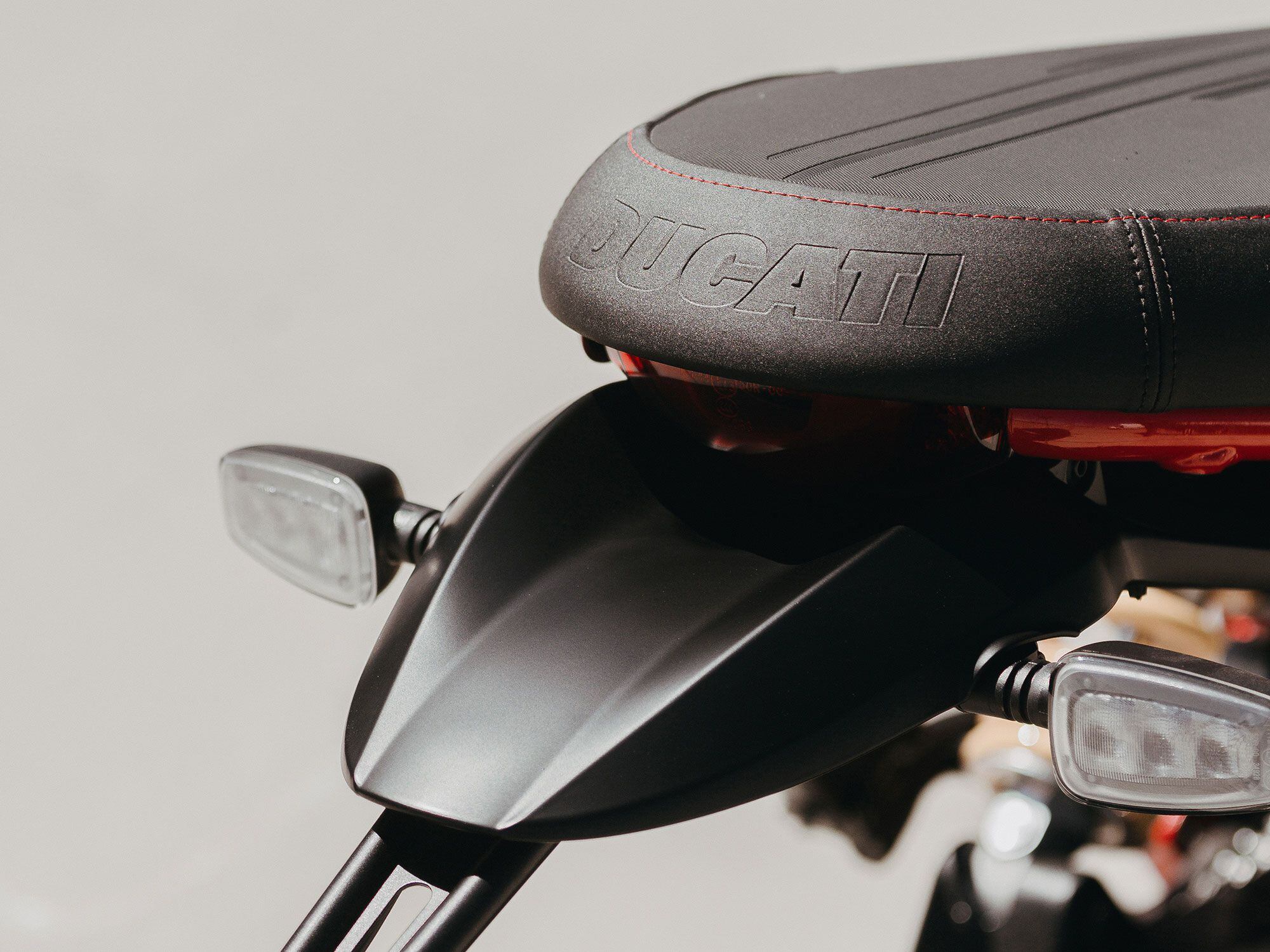 Bespoke seat cover. (Ducati/)
Understand, Graham's skills behind the bars far eclipse the typical rider's—for the average person, trying to drift in lake beds would end in a skyward trip over the bars and an abrupt landing. But Graham's point is valid: scramblers—of any make—have long service intervals like every other streetbike—7,500 miles until the first valve adjustment on the Desert Sled, for instance. They're designed for regular road riding and they're able to keep the fun alive when the pavement ends. Plus, scramblers have a timeless sense of laid-back style that modern dual sports and ADV-tourers, as great as they are, just can't match. The Desert Sled Fasthouse, maybe more than anything, is about the spirit of the thing—the spirit of desert racing, of good-time retro vibes, and a hint of possibilities. After all, that's all it took to inspire a couple folks at Ducati NA to decide to go desert racing.
So you don't have to ride like Jordan Graham to have a good time. In case you can ride like him and want to drift through lake beds and hit whoops all day, Graham makes a point of saying you can always have 21/18 wheels re-laced on the stock hubs. So there you go.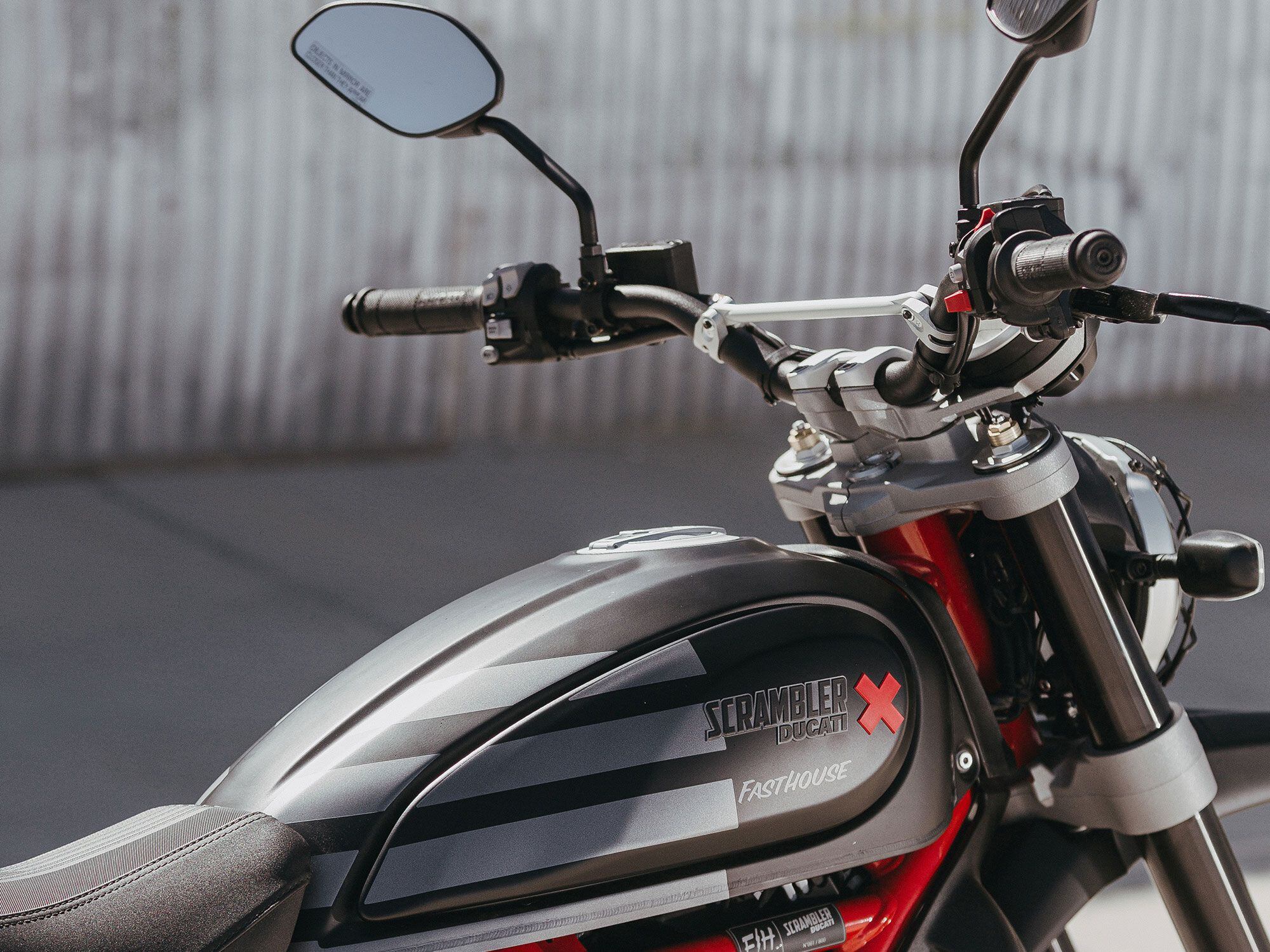 The Desert Sled's minimalist cockpit and wide, forward bars make it a tantalizing place for those seeking off-road fun. Serious fun for some, as it turns out. (Ducati/)
Expect the 2021 Ducati Scrambler Desert Sled Fasthouse to appear at US dealerships in May.
View full post on Cycle World