2021 Honda CRF300L/CRF300L Rally
The best of both worlds, commute during the week, hit the dirt for adventure on
the weekends. (Jeff Allen/)
Ups
Recently increased engine displacement pays dividends
Affordability in dual sporting/ADV riding
ABS braking system optional
Downs
Needs a few bolt-on pieces for more aggressive off-road riding
Seat is relatively tall for shorter riders
Lacks suspension adjustability
Verdict
After receiving a ton of updates for the 2021 model year—including a 36cc displacement bump—these models pack big potential in small(er) packages. What you get are two bikes focused much more on the fun factor than trying to keep up with high-performance, competition-oriented models. Whether you are new to dirt riding, looking for a commuter that can also deliver weekend fun, or don't want to make a five-figure investment, the CRF300L and CRF300L Rally make great sense.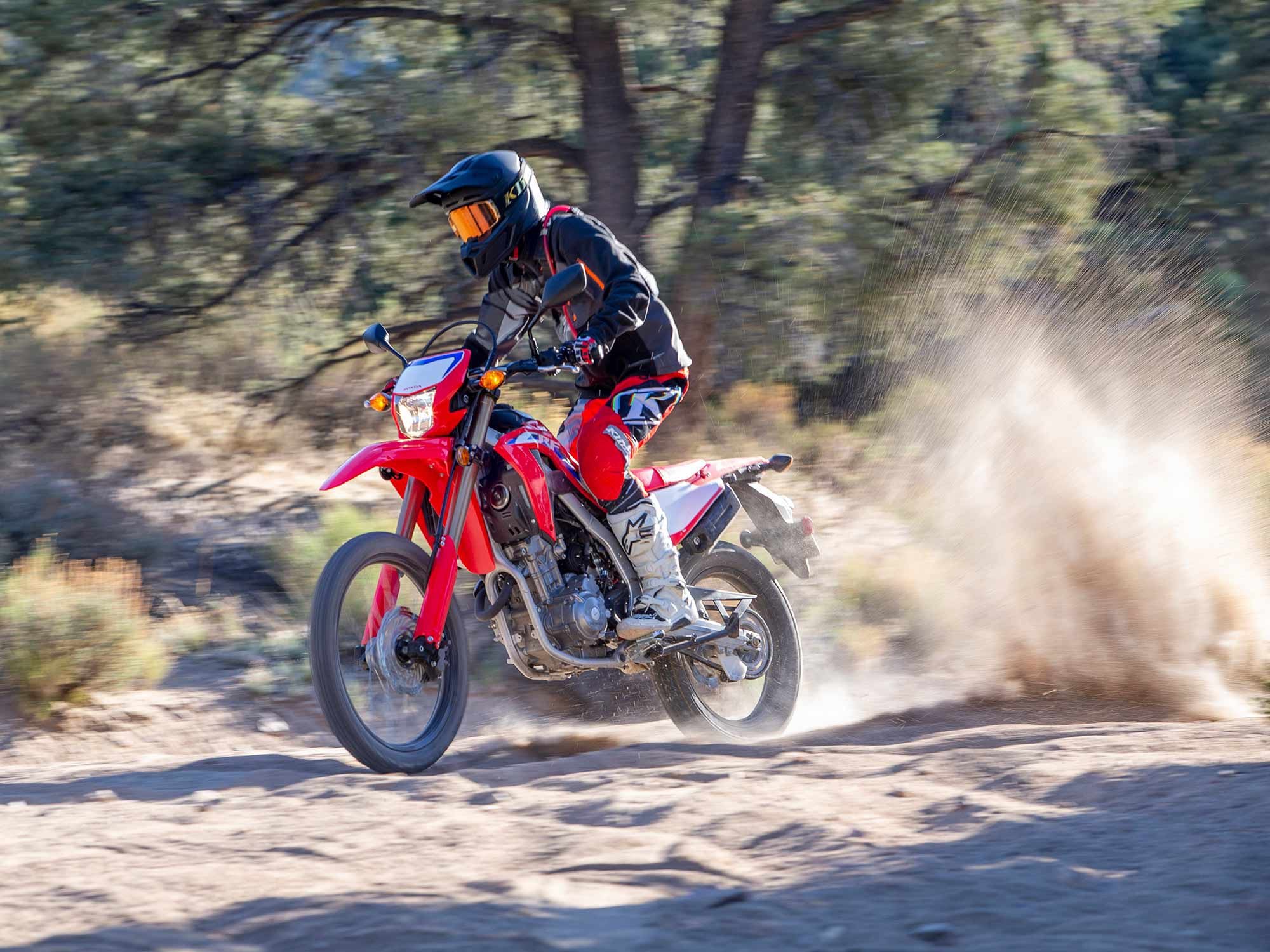 2021 Honda CRF300L. (Jeff Allen/)
Overview
If there is a single "gateway" platform in Honda's lineup, it is arguably the CRF300L and CRF300L Rally, depending on the flavor you desire. The key differences between the standard 300L and 300L Rally are largely aesthetic, however those same changes give the two bikes very different personalities. Both bikes were updated for 2021 after serving similar roles as 250cc versions of the same basic platform that had been around since 2013. The 300L is a straight-shooting dual-sport-style bike that at a glance looks like the image we think of in our heads when talking about the class. On the flipside is the 300L Rally, which is a really cool interpretation of an adventure-oriented motorcycle, albeit downsized to fit riders giving ADV riding a try for the first time.
Barriers are few when it comes to the CRF300L. This bike is about as friendly as they come when talk turns to dual-purpose motorcycles (bikes that are equally at home on pavement or dirt). Another word that describes the little L perfectly is forgiving; from the tractable, predictable, smooth-power delivery, to the plush suspension and confidence-inspiring handling. This bike is as much for the rider looking for a first-ever dirt bike, to the urban commuter who wants to occasionally head off the highway and explore.
Where the CRF300L Rally departs the script is the Dakar-inspired styling. To the casual observer, there's a striking resemblance to Ricky Brabec's Factory Monster Energy Honda Rally machine. Where this diminutive bike differs from the standard model is the windscreen and some additional protective pieces like a skid plate and hand guards. These might sound minor, but the windscreen alone greatly improves the versatility of the bike by helping reduce fatigue on longer rides and offering some protection from the elements.
Both machines share an engine, chassis (including suspension, brakes, and controls), and have identical geometry, similar seat heights, and similar ground clearance. This in theory should make the buyer's choice much easier: Do you want the Rally styling or the standard dual- purpose look.
2021 Honda CRF300L. (Jeff Allen/)
Pricing and Variants
As mentioned, above there are two variations, the standard 300L ($5,249) and the 300L Rally ($5,999). Both models are offered with ABS brakes as an option for $5,549 and $6,299 respectively.
Competition
As you would imagine, this class has plenty of competition. The Japanese manufacturers have been offering similar machines for ages. Kawasaki offers the KLX300, which is the CRF300L's closest and most logical adversary. We put both of these models in a Dirt Rider head-to-head comparison.
Suzuki offers the DR200S, while Yamaha still offers the dated XT250 and TW200. All of these machines align close to closish with the 300L, but the 300L Rally's closest sparring partner would be BMW's G 310 GS, which is similarly priced at $6,190.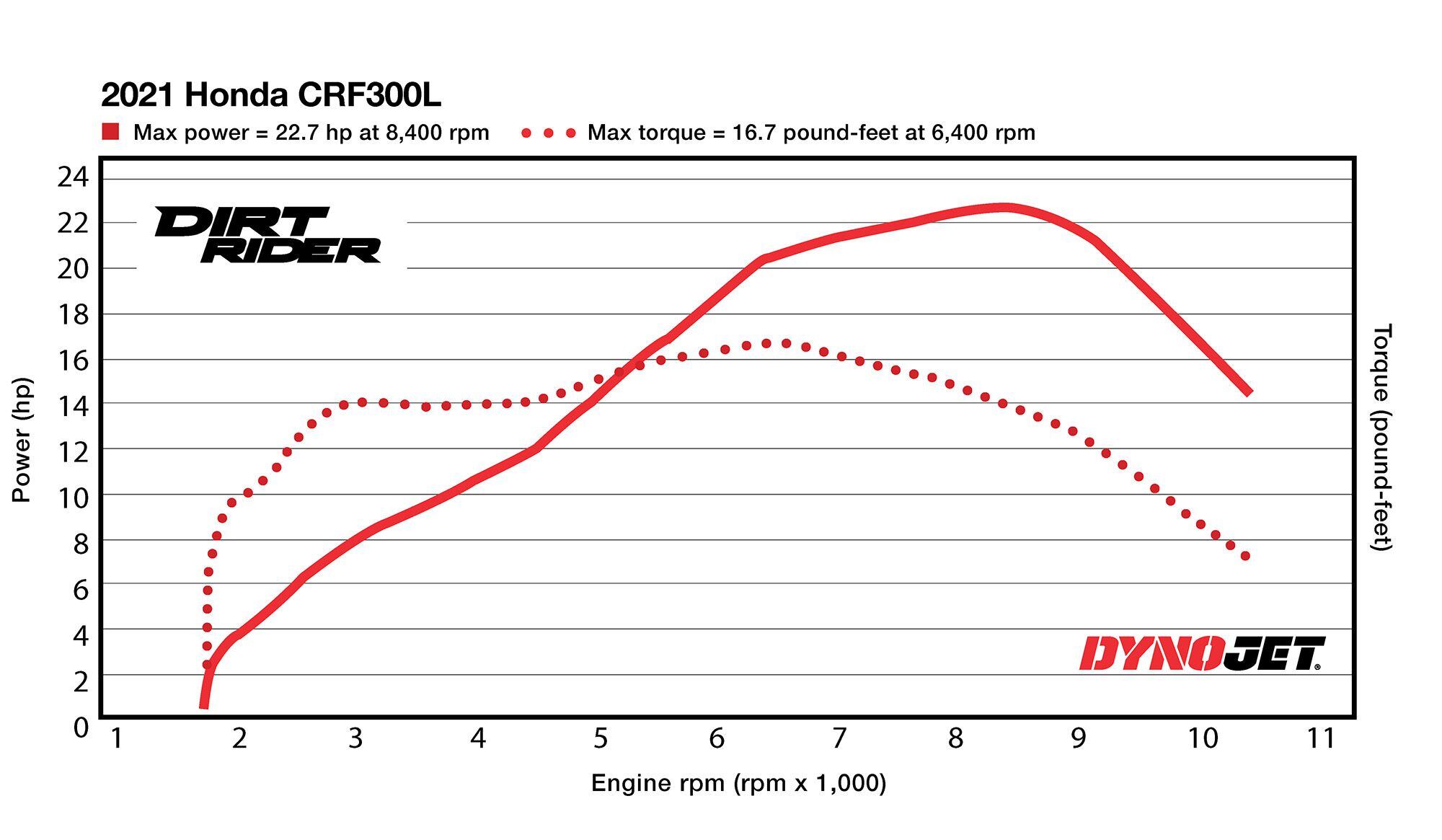 2021 Honda CRF300L Dyno Chart. (Robert Martin Jr./)
Powertrain: Engine, Transmission, and Performance
Both versions of the 300L share an identical powertrain with a 286cc liquid-cooled four-stroke single with double-overhead cams, four valves, and fuel injection. This ultra-efficient engine produced a very sound 68 mpg in our last complete test. Power is delivered to the rear wheel via a six-speed transmission and a low-maintenance cable-operated clutch.
You won't mistake the 300L's engine for a competition-oriented model, but then again, that's not the point. This bike's intention is to be friendly and usable, which is exactly what Evan Allen discovered during his test of the 2021 model: "What the revised engine offers is quick-revving yet predictable character that helps the bike effortlessly navigate trails. Riding on twisting single- track and two-track, I spent a lot of time switching between second and third gear, locking up the rear wheel, and dumping the clutch on corner exits. Never once did the CRF300L fall flat or seem overworked." He added, it "has a lightweight feel, is remarkably quiet, and never makes any disconcerting noises. There's no sudden hit or burst of power in the rpm range; power just rolls on nicely off the bottom and builds steadily until it begins to sign off at 9,000 rpm."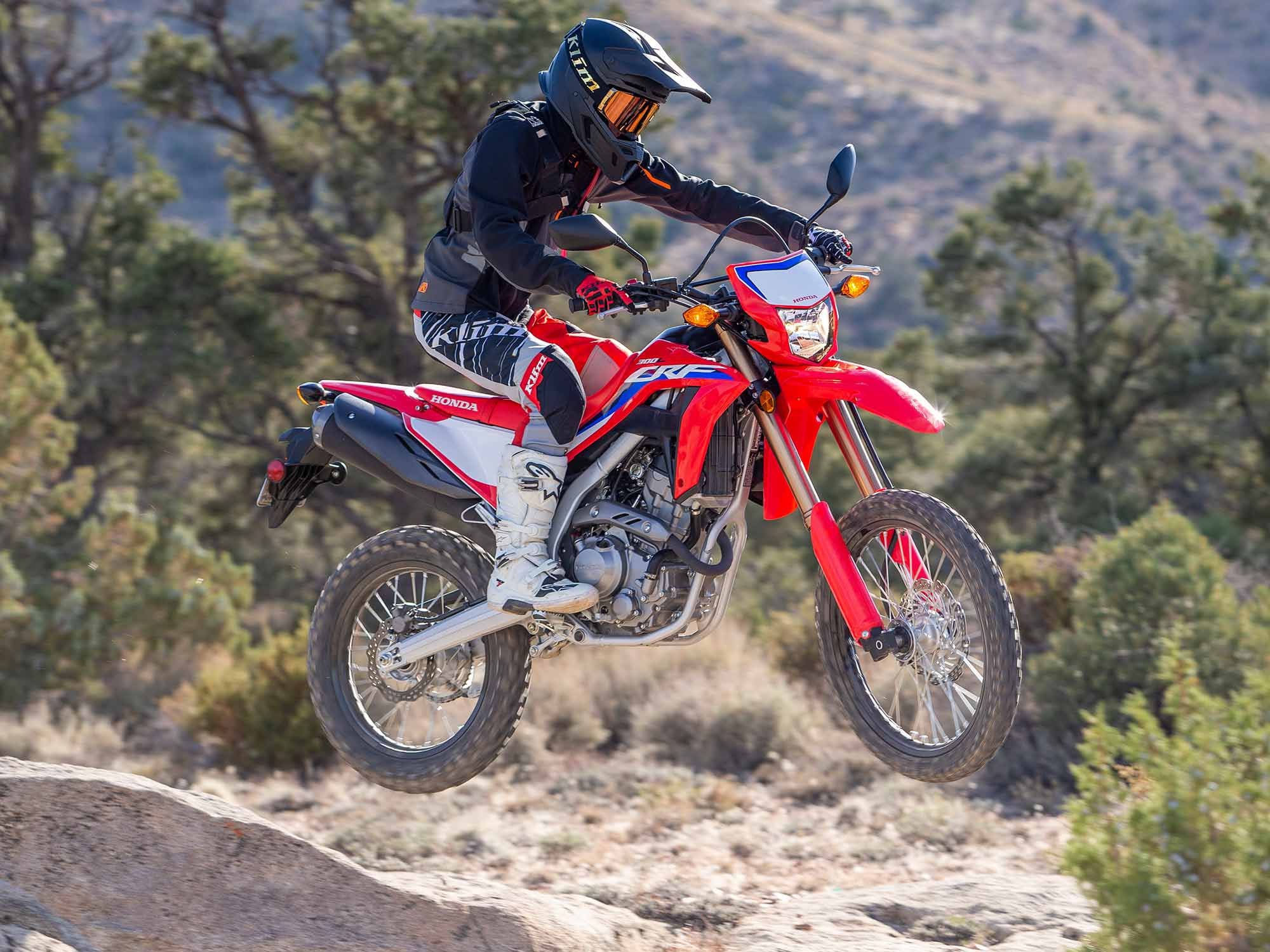 2021 Honda CRF300L. (Jeff Allen/)
Handling
Key to handing on a dirt-oriented bike is suspension performance and weight. These two things pretty much define how the motorcycle is going to feel on road and off. Allen's impression of the suspension's performance is telling for a machine in this price point. "As dreamy as the engine is, the suspension could be improved upon. The bike's Showa 43mm inverted fork and Showa Pro-Link shock are good for 10.2 inches of travel, but are undersprung and all-around soft." After riding the bike on road and off his conclusion was: "Unfortunately, none of these issues can be easily addressed, because there are no damping adjustments; you're stuck with what Honda's given you. That's a shame; everything else about the bike is perfectly enjoyable, and the CRF300L would be a home run if it came with adjustable suspension." And although the suspension is always up to the task, the bike offers nimble handling from its light 309-pound measured weight. Note that the Rally weighs a bit more at a claimed 331 pounds.
Brakes
It's hard to nitpick a bike in this price range, but one again, in a perfect world we'd love a better front brake. Allen adds: "The Nissin two-piston caliper and 256mm disc feels timid and vague, not really delivering strong or progressive action. To be fair, this occurred only when pushing the bike at a quicker pace, perhaps a bit faster than its intended use case." Out back is a single-piston caliper and a 220mm disc, which offers predictable feel and a progression. The Rally model utilizes a larger 296mm front disc for additional stopping power.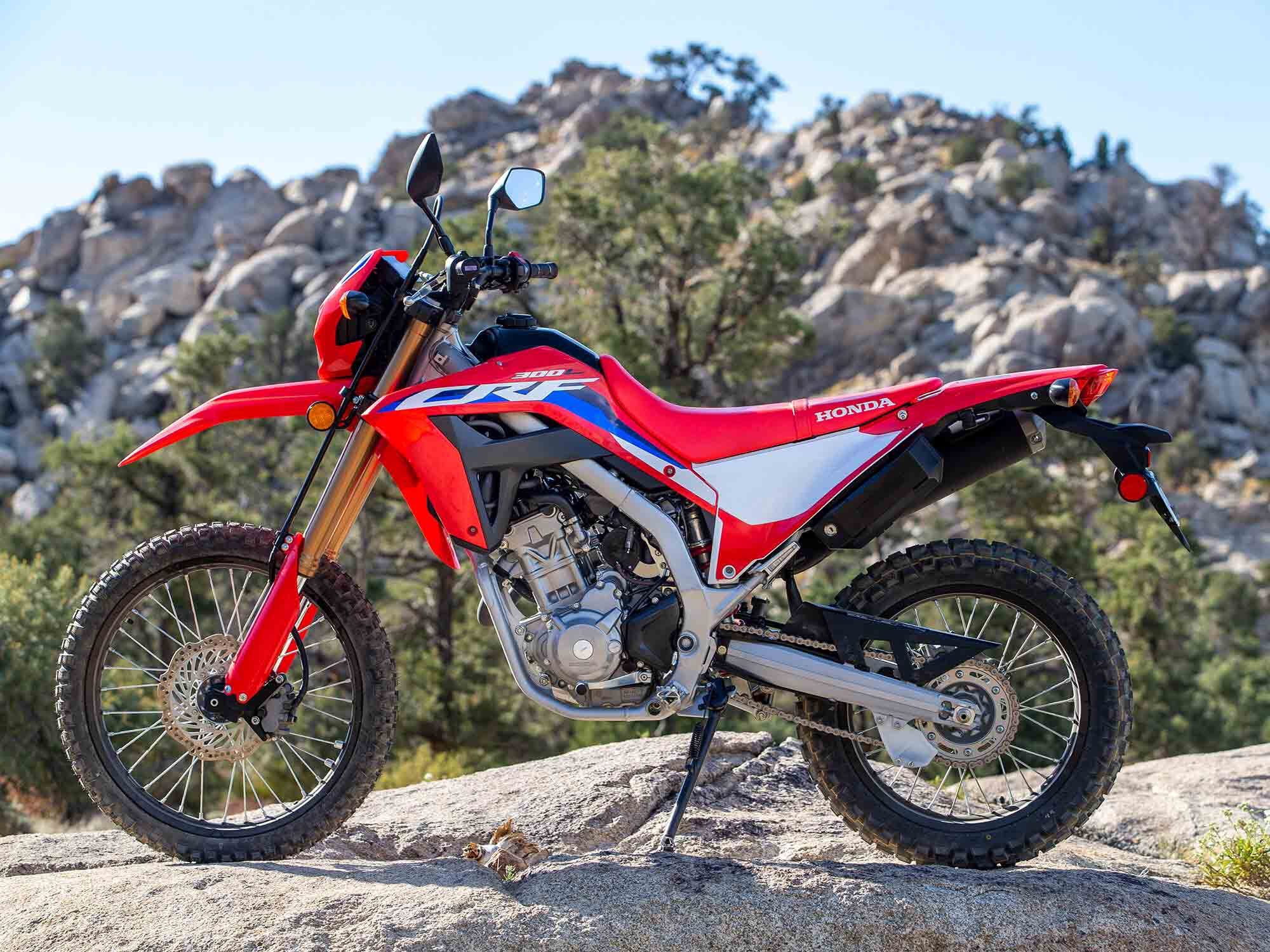 2021 Honda CRF300L. (Jeff Allen/)
Fuel Economy and Real-World MPG
As mentioned above, our testing delivered 68 mpg, and when equated with the 2.1-gallon fuel tank offers a theoretical 140-plus-mile range on a tank, which is more than enough for a day on the trail or multiple days of commuting. The Rally model utilizes a larger, 3.4-gallon fuel tank for extended range.
Ergonomics: Comfort and Utility
One thing that the CRF300L got high marks for is the bike's comfort. Allen said: "This bike's rider triangle feels comfortable and agreeable, closer to a full-size dual sport. Being quite roomy, the bike never feels small even when standing on the pegs." One thing to consider is that although the seat height isn't sky high compared to most competition machines, at just shy of 35 inches, is definitely more elevated than most purely street-oriented bikes. Oddly, the Rally version has a slightly higher seat height at 35.2 inches.
2021 Honda CRF300L. (Jeff Allen/)
Electronics
There aren't too many bells and whistles here, just the basics. But you do get an "informative digital instrument cluster displaying gear position, fuel mileage, and fuel consumption in addition to the standard speedometer, tachometer, twin tripmeter, and clock," Allen said. And as mentioned, both the CRF300L and the CRF300L Rally are available with optional ABS for a $300 premium.
Warranty and Maintenance Coverage
Both bikes come with a one-year transferable, unlimited-mileage limited warranty, which can be extended with the optional HondaCare Protection Plan.
Quality
Despite the affordable price, this is still a Honda, and the Japanese company has an amazing reputation for high-quality fit and finish, and takes pride in the durability of its products.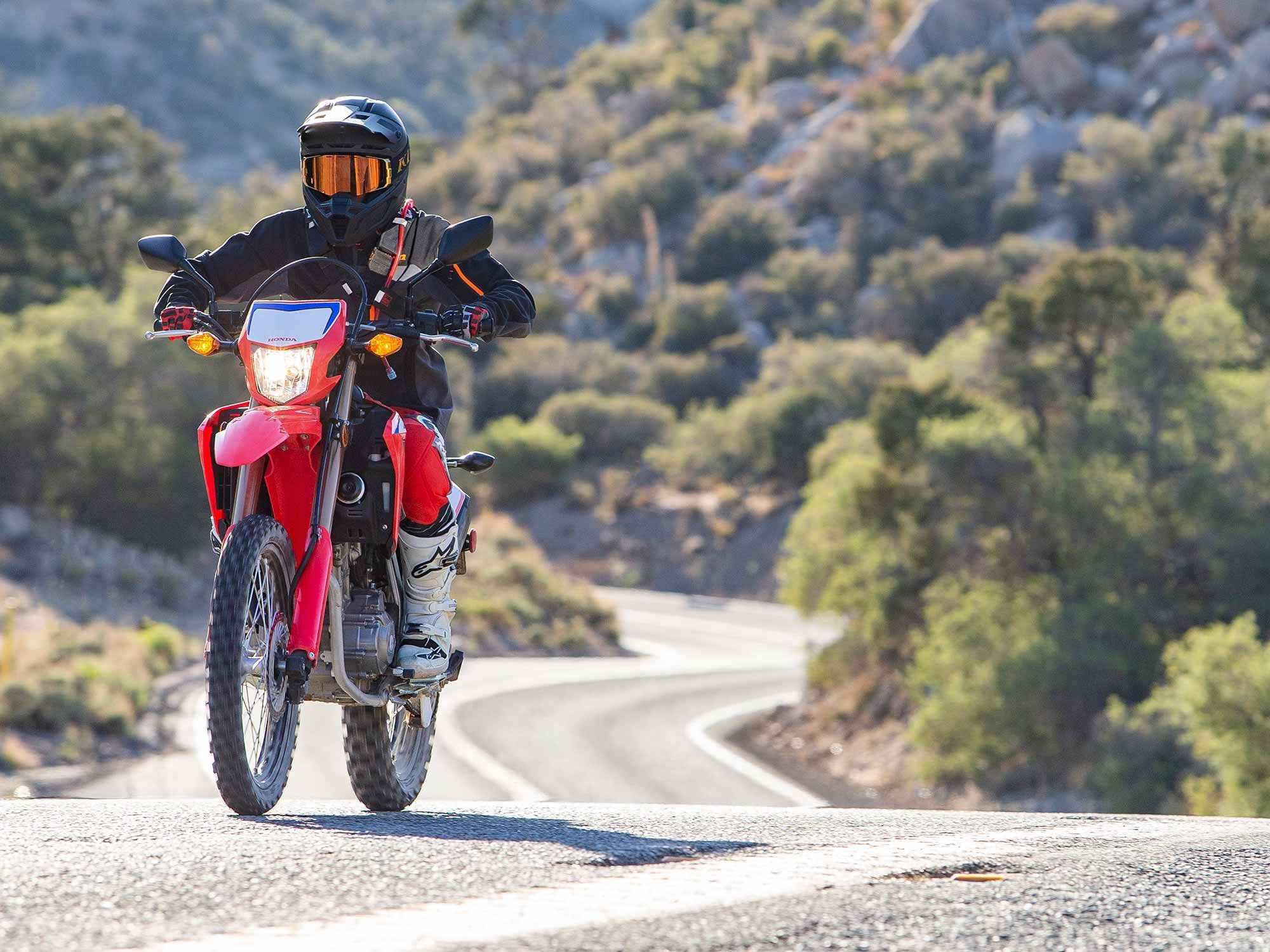 2021 Honda CRF300L. (Jeff Allen/)
2021 Honda CRF300L/CRF300L ABS/CRF300L Rally/CRF300L Rally ABS Claimed Specifications
| | |
| --- | --- |
| MSRP: | $5,249/$5,549 (ABS)/$5,999 (Rally)/$6,299 (Rally ABS) |
| Engine: | 286cc, DOHC, liquid-cooled single; 4 valves |
| Bore x Stroke: | 76.0 x 63.0mm |
| Transmission/Final Drive: | 6-speed/chain |
| Fuel Delivery: | Electronic fuel injection w/ 38mm throttle body |
| Clutch: | Wet, multiple disc; cable operation |
| Engine Management/Ignition: | Computer-controlled digital transistorized w/ electronic advance |
| Frame: | Double cradle steel |
| Front Suspension: | 43mm Showa USD fork; 10.2 in. travel |
| Rear Suspension: | Showa shock; 10.2 in. travel |
| Front Brake: | 2-piston caliper, 256mm disc (w/ ABS) / 2-piston caliper, 296mm disc (w/ ABS) (Rally) |
| Rear Brake: | 1-piston floating caliper, 220mm disc (w/ ABS) |
| Wheels, Front/Rear: | Spoked wheels w/ aluminum rims; 21 in./18 in. |
| Tires, Front/Rear: | 80/100-21 / 120/80-18 |
| Rake/Trail: | 27.5°/4.3 in. |
| Wheelbase: | 57.2 in. |
| Ground Clearance: | 11.2 in./10.9 in. (Rally) |
| Seat Height: | 34.7 in./35.2 in. (Rally) |
| Fuel Capacity: | 2.1 gal./3.4 gal. (Rally) |
| Curb Weight: | 306–311 lb./331–335 lb. (Rally) |
| Contact: | powersports.honda.com |
Dirt Rider Honda CRF300L Tested Specifications
| | |
| --- | --- |
| Horsepower: | 22.7 hp @ 8,400 rpm |
| Torque: | 16.7 lb.-ft. @ 6,400 rpm |
| Seat Height: | 34.7 in. |
| Wet Weight: | 309 lb. |
View full post on Cycle World