2021 Indian Chieftain Elite First Look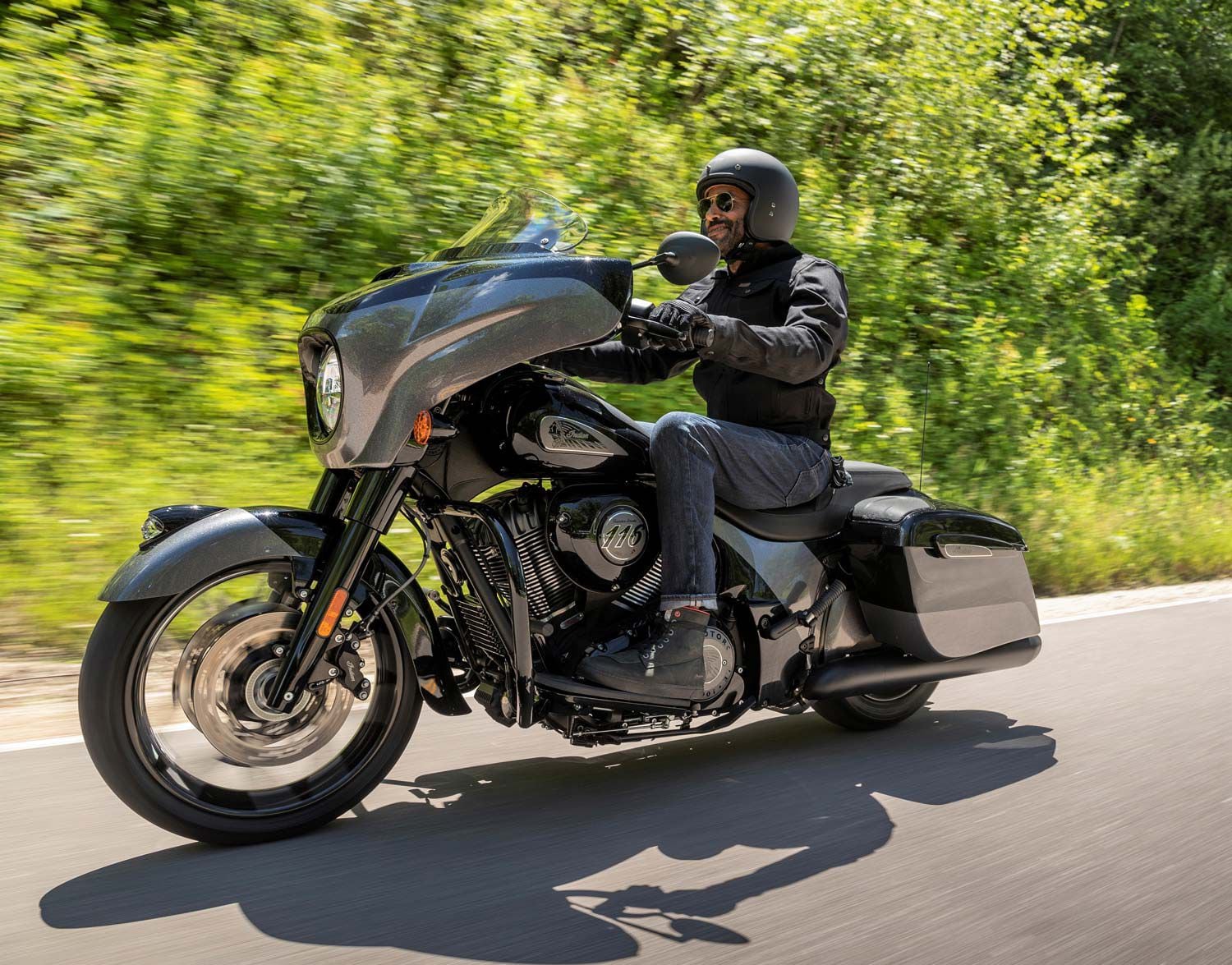 Indian's Chieftain Elite bagger rolls into 2021 with the same, air-cooled Thunderstroke 116 engine and more subdued bodywork. (Indian Motorcycle/)
Within the driblet of options available for fans of production ultra-premium V-twin baggers, your choice really comes down to just two brands—Harley-Davidson and Indian. At least if you're concerned with things like robust electronic suites, full-blown touring amenities, factory support, and a classic lineage, Milwaukee and Minneapolis are the top contenders on a very short list. And with H-D already having dropped its 2021 bagger lineup, now it's Indian's turn in the spotlight; enter the 2021 Chieftain Elite, an ultra-premium, limited-edition bike that serves as the high point of the brand's bagger portfolio.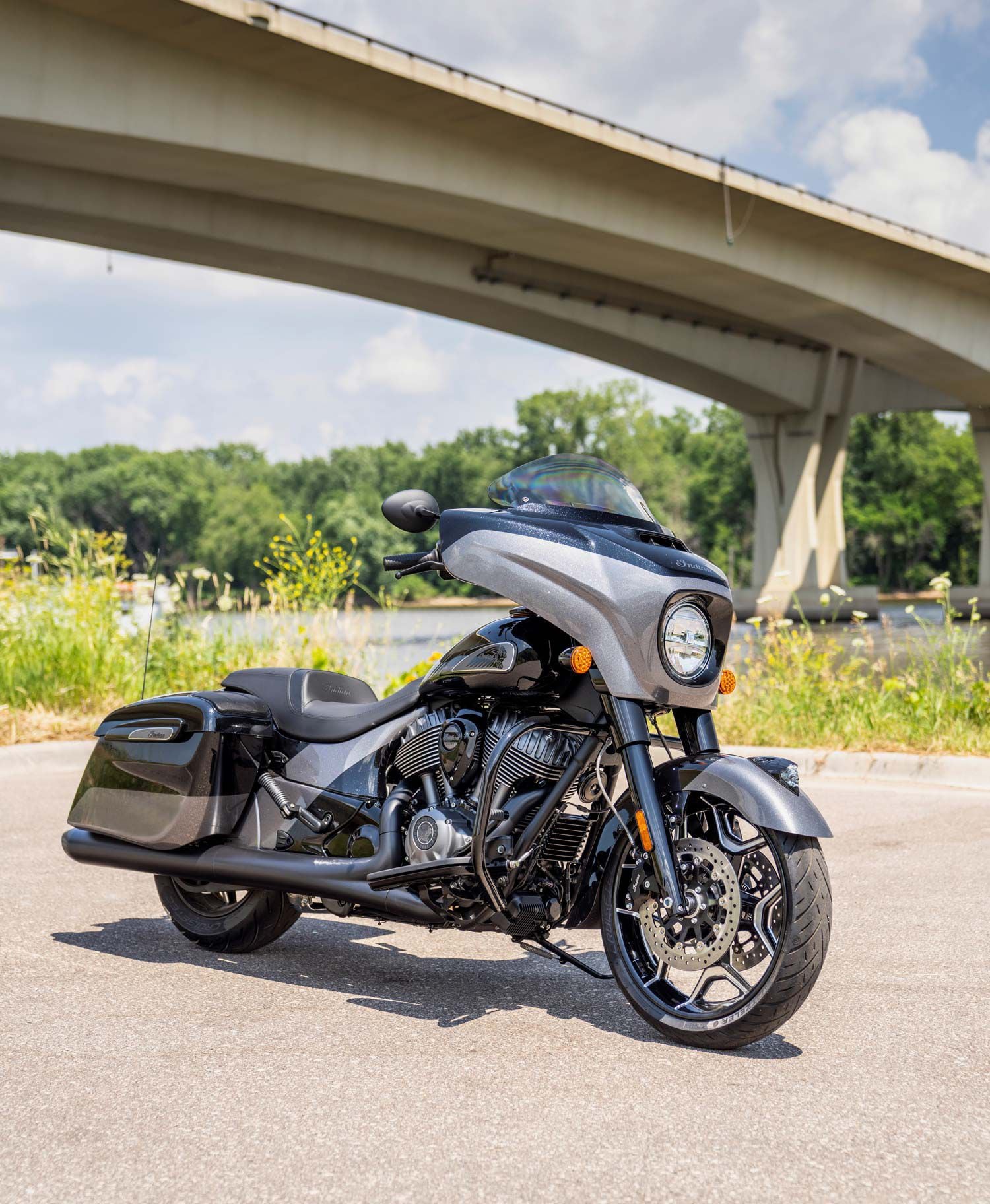 New look brings a more custom vibe, but the two-tone paint still requires 24 hours to apply by hand. (Indian Motorcycle/)
Related Content: 2018 Indian Chieftain Elite
With its new, redesigned Chief debuting last month as a 2022 model, it doesn't look like Indian will be giving any of the new-year Chieftain baggers that same level of updates; by way of example, the Chieftain Elite wears a 2021 model year designation and looks to be relatively unchanged from last year, which also means bikes will be available in dealerships right away. But that doesn't mean Indian's premium bagger is exactly the same; styling is more understated and "custom-inspired" for one thing, and for another, the 2021 Chieftain Elite is getting a limited run of just 120 units worldwide, making it Indian Motorcycle's most exclusive Elite model yet.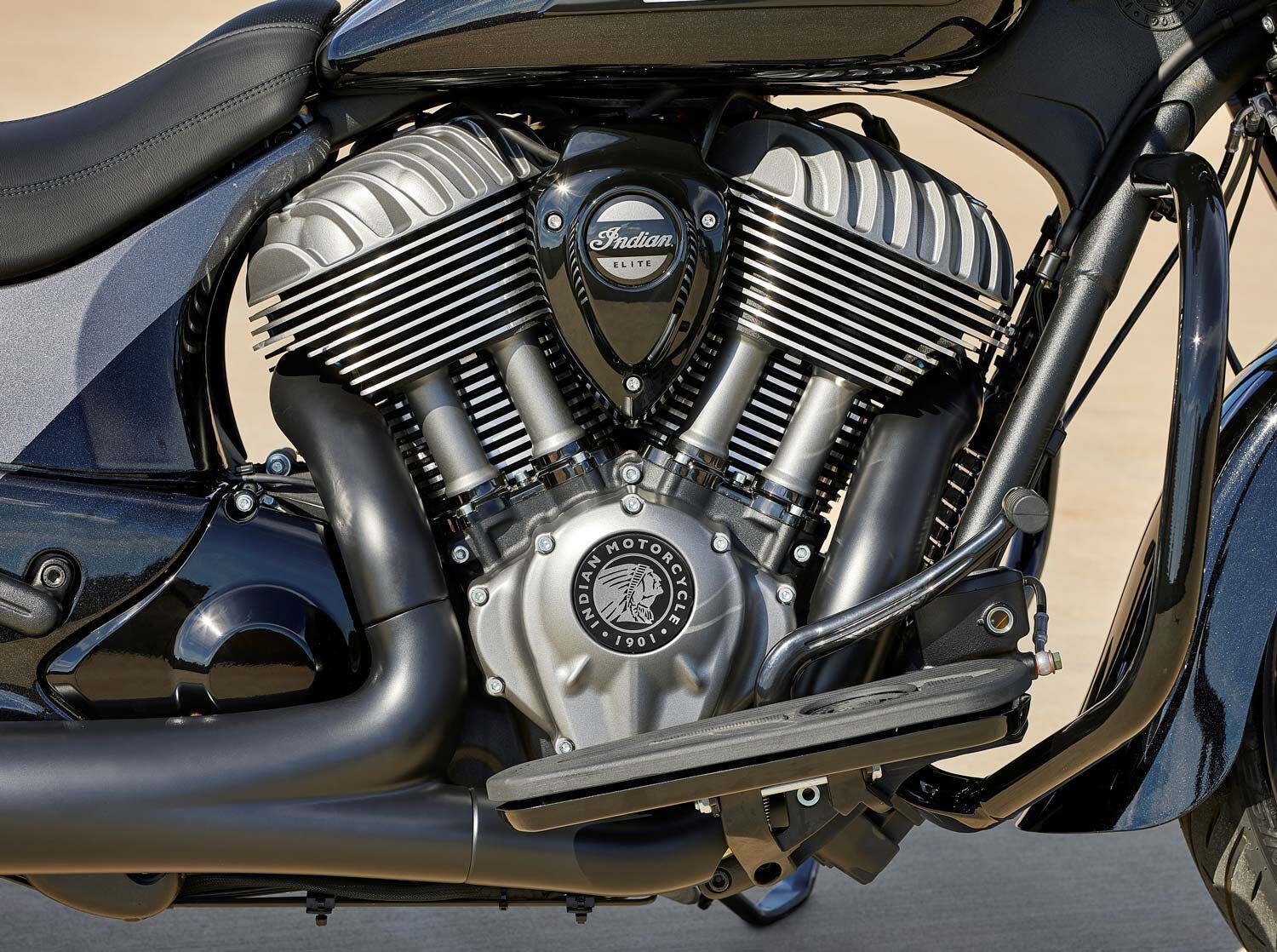 New Slate Smoke finishes on the Thunderstroke 116 air-cooled V-twin, and low-key badging throughout. (Indian Motorcycle/)
The most apparent reshuffle on the new Elite is the change in attitude. Indian has dialed back the bling this year, giving the 2021 model a more subdued vibe than its lavishly accented predecessor, though you're still getting a very luxe two-tone paint job; that's a big part of Indian's premium formula. The new Thunder Black Vivid Crystal over Carbon Crystal tones give the bike some gravity and seem to suggest that, hey, gallons of candy paint and gobs of chrome was so pre-pandemic; why don't we take it down a notch or two. But we'll still keep the war bonnet on the front fender.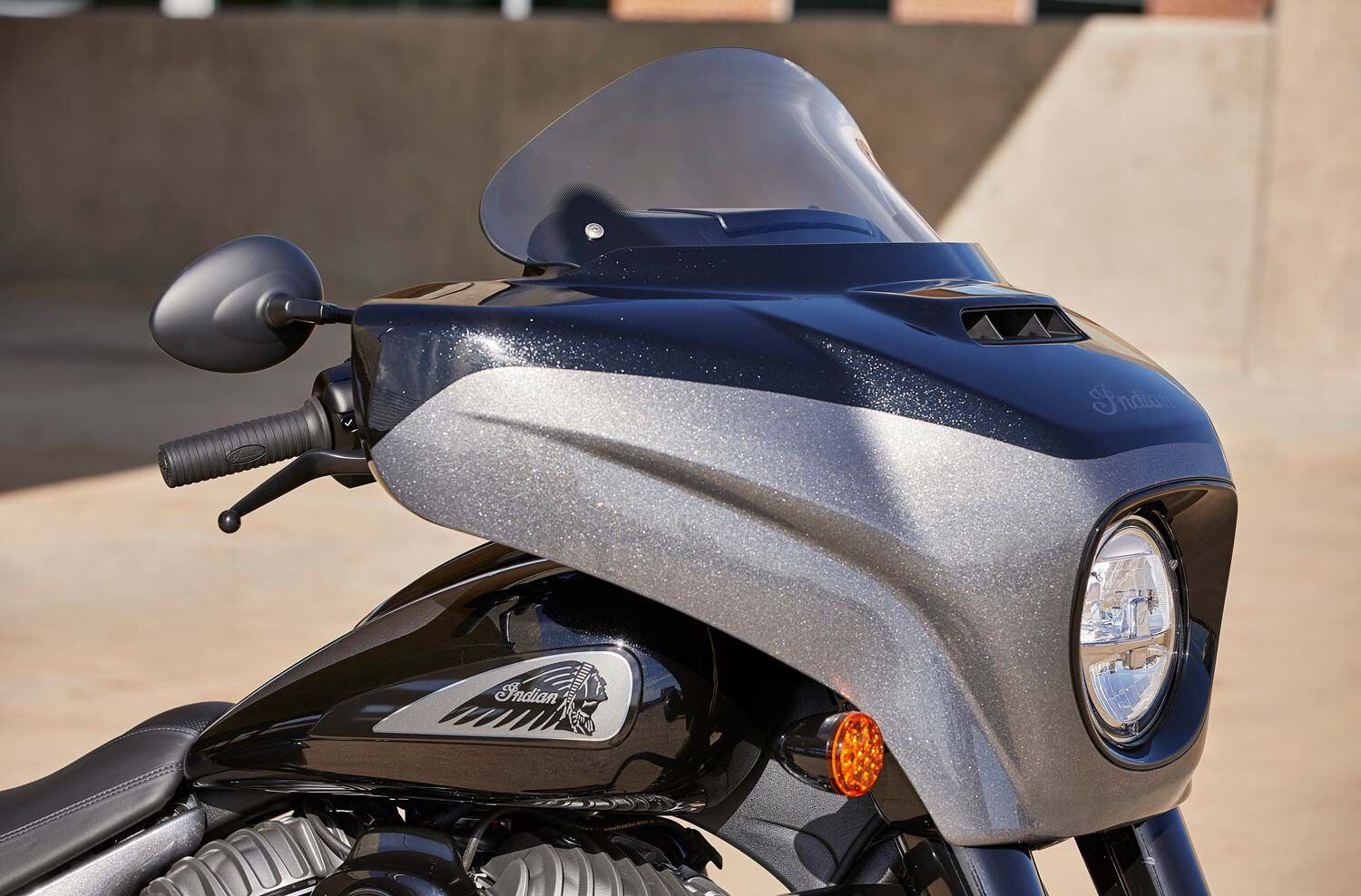 The adjustable tinted shield and streamlined fairing also return unchanged for 2021. (Indian Motorcycle/)
That doesn't mean the current Chieftain Elite's paint process is any less meticulous; Indian claims it'll require more than 24 hours to carefully lay down those colors by hand, and the gunmetal flake layered within the paint gives things a bit more punch and depth. This time around the engine finishes are done in a dusky Slate Smoke, giving the whole bike a more street vibe. The shapes and silhouettes keep their familiar lines, but that new color scheme tricks the eye a bit, with the streamlined fairing and slammed saddlebags taking on a harder edge. The custom vibe is further amped by the lowered suspension and more exposed 19-inch front wheel rolling under an open fender, though that in itself isn't anything new. Same goes for the two-up Rogue seat and color-matched badging you'll spy around the exterior (though these too seem less gaudy than in years past).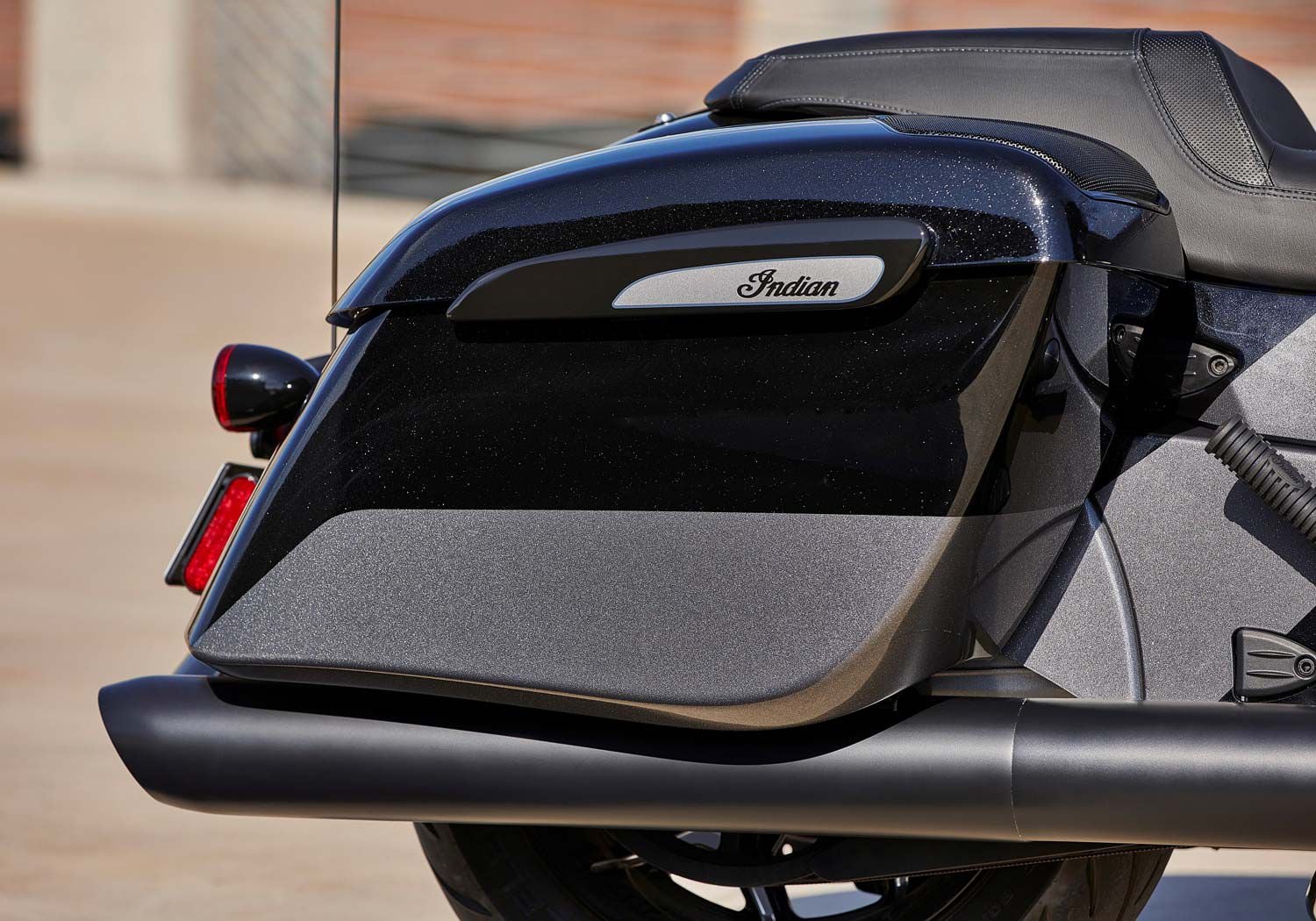 Lockable and weatherproof saddlebags give you 18 gallons of capacity. (Indian Motorcycle/)
Last year's Chieftain saw the new Thunderstroke 116, and Indian's most powerful air-cooled engine returns again this year complete with its (claimed) 126 pound-feet of torque and rear cylinder deactivation to help manage heat at lower speeds. And you still get three selectable ride modes—Tour, Standard and Sport—allowing you to dial in the throttle response to your preference.
Given that it's Indian's flagship bagger model, some measure of high-end factory gear is to be expected on the Chieftain Elite, so you'll find amenities like full Pathfinder LED lighting, a tinted flare windshield with push-button power, large floorboards, and an integrated 400-watt audio system with a big punch and superior sound quality, all standard. Also taking center stage is the handy 7-inch Ride Command infotainment system with available weather and traffic overlays and Apple CarPlay integration; other standard bits include ABS, keyless ignition, tire pressure monitoring, and weatherproof and remote-locking saddlebags offering more than 18 gallons of cargo capacity.
The 10-spoke machined contrast-cut design is said to make the wheel look even bigger under that open fender. (Indian Motorcycle/)
Accessories? Funny you should ask. Indian isn't holding back in that regard, offering a full complement of add-ons for touring and comfort (handlebars and seats, a color-matched, remote-locking trunk and color-matched hard lower fairings with adjustable air vents, and more) as well as for pumping up the performance (Thunderstroke 116 Stage 1 and Stage 2 kits, the Stage 1 Slip-on Exhaust Kit, and Stage 1 Oval Slip-on Muffler Kit, and much more).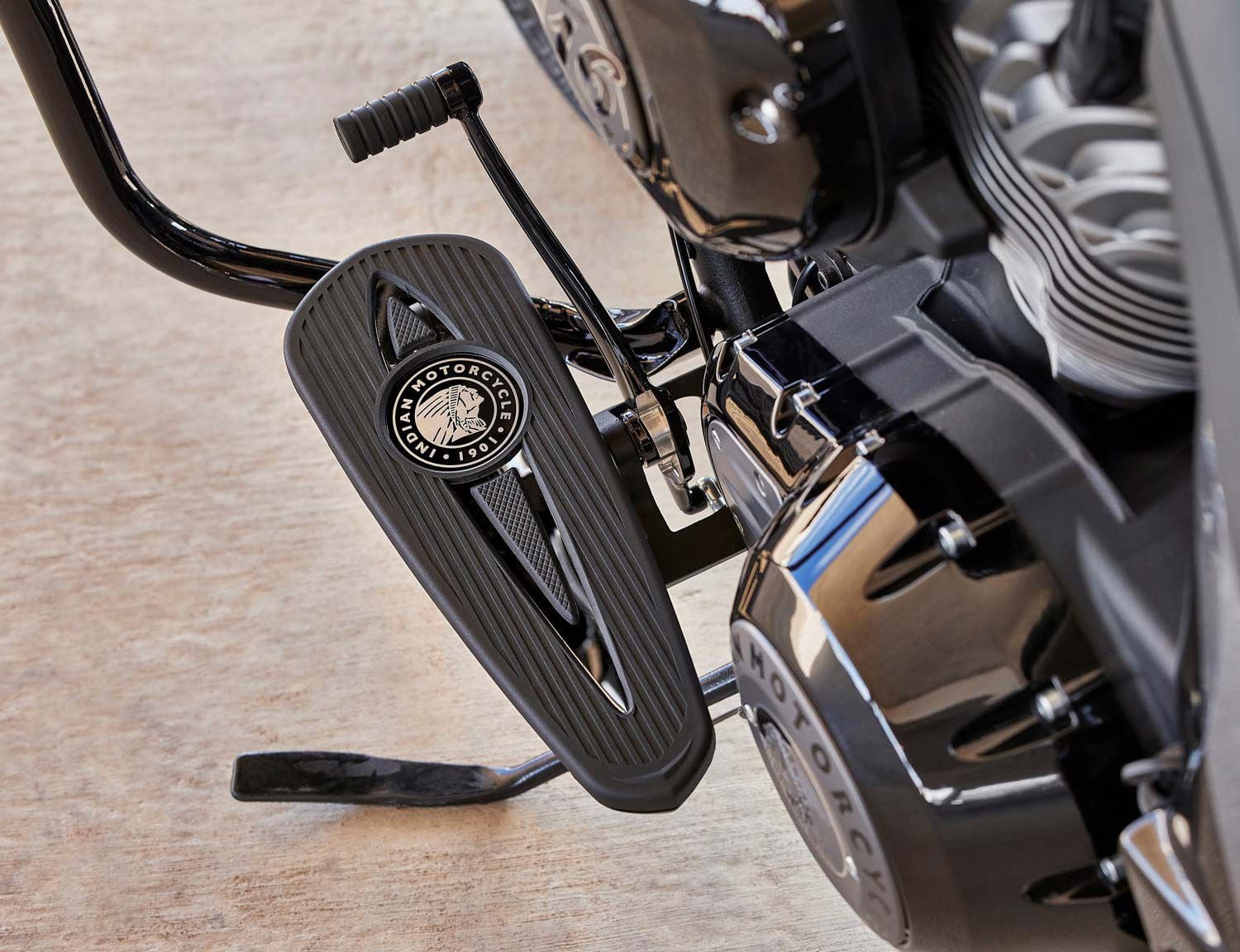 Large floorboards accommodate easy movement on the bike. (Indian Motorcycle/)
Even better news is the fact that Indian hasn't hiked the price for the new model; you'll pay (a still lofty) $34,999 for the Chieftain Elite. But that's before you even start going down the rabbit hole of adding accessories, which will jack things up in a hurry.
But even without any real updates or changes to speak of, the new Chieftain Elite is a handsome, well-appointed machine, and if you've got the cash—or just the curiosity—it's in dealers now.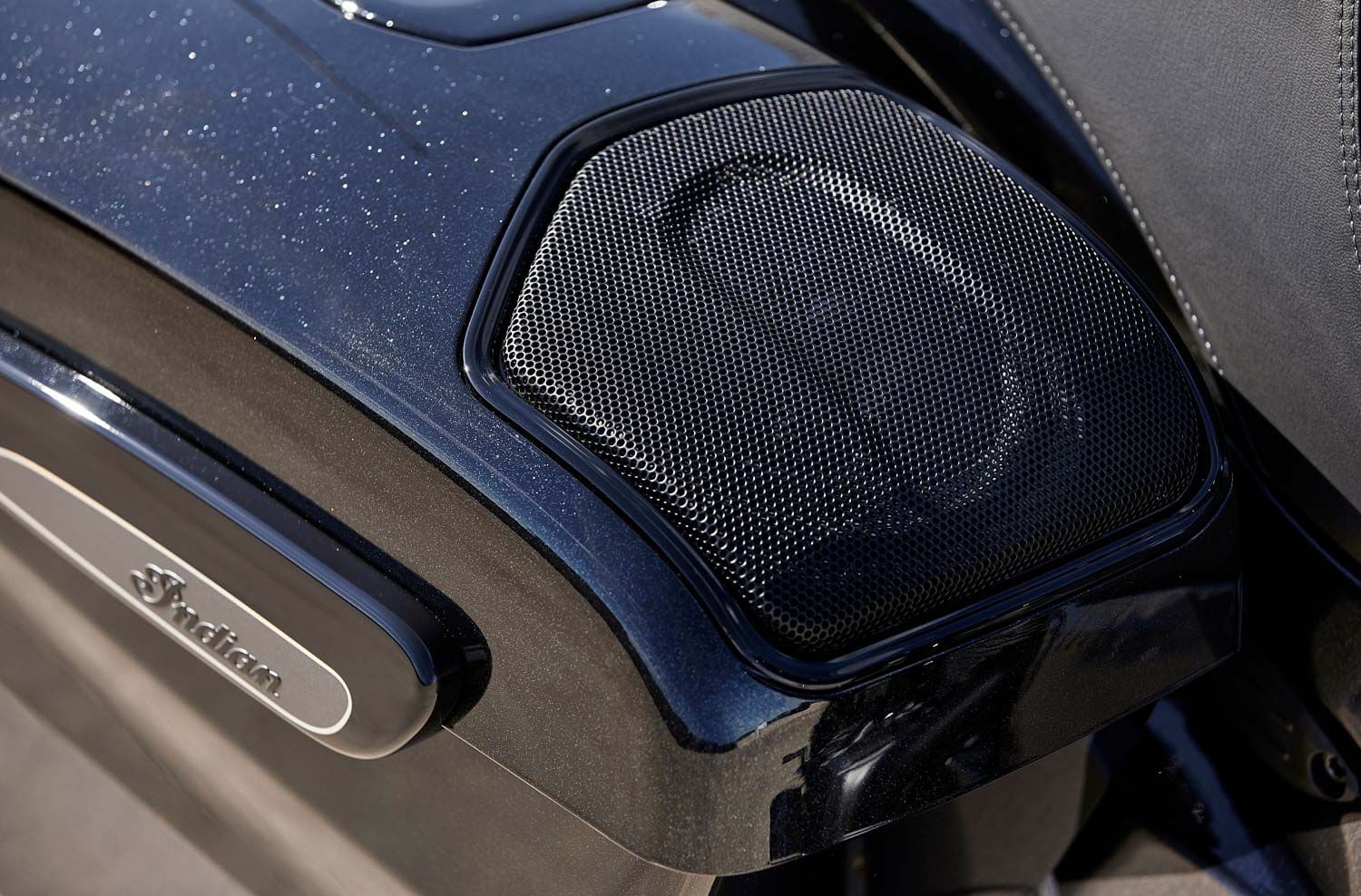 Standard 400-watt audio system includes integrated speakers in fairing and saddlebags. (Indian Motorcycle/)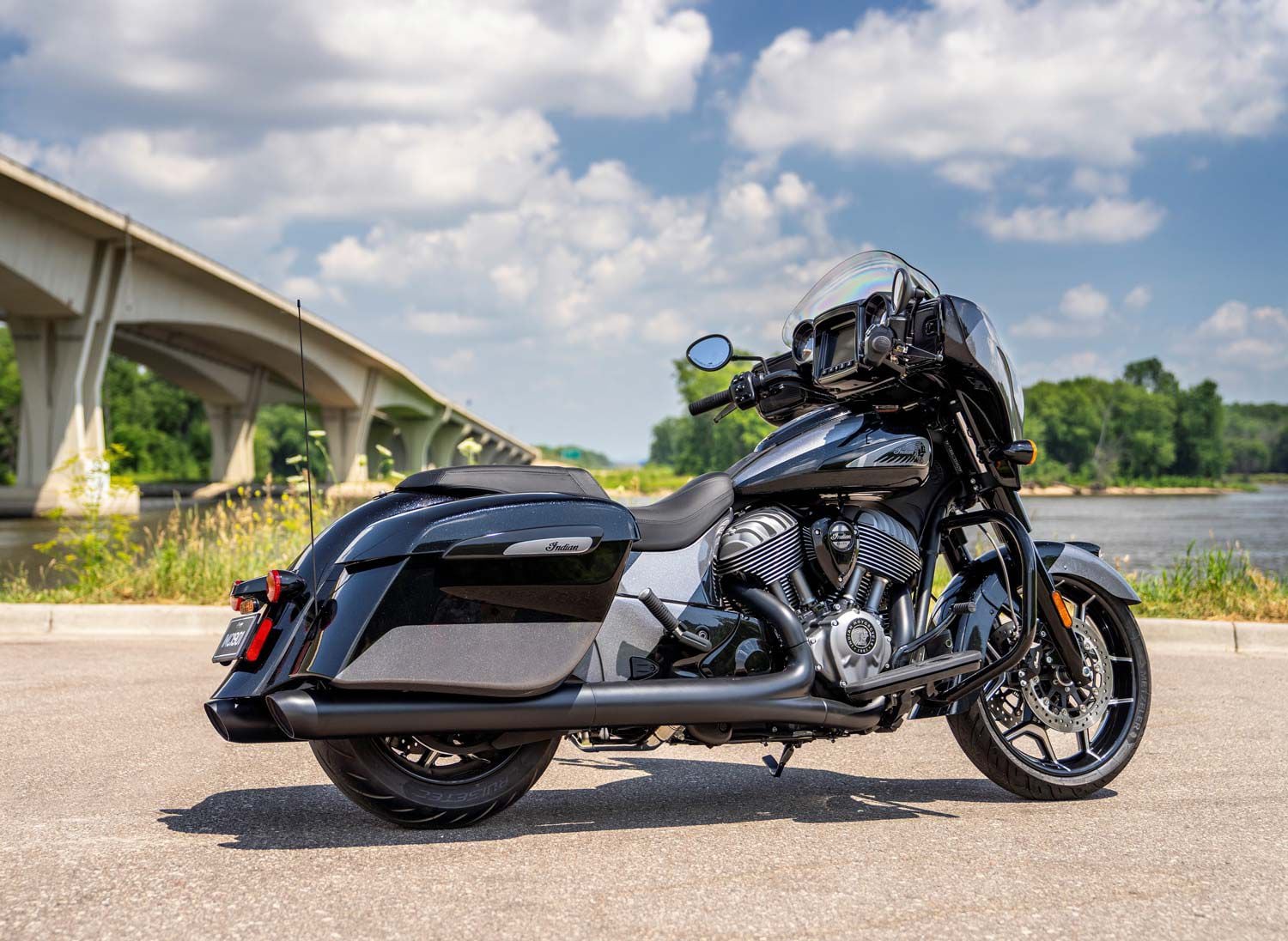 The 2021 Chieftain Elite as seen from the back. (Indian Motorcycle/)
View full post on Cycle World