2021 Vespa 75th Anniversary Editions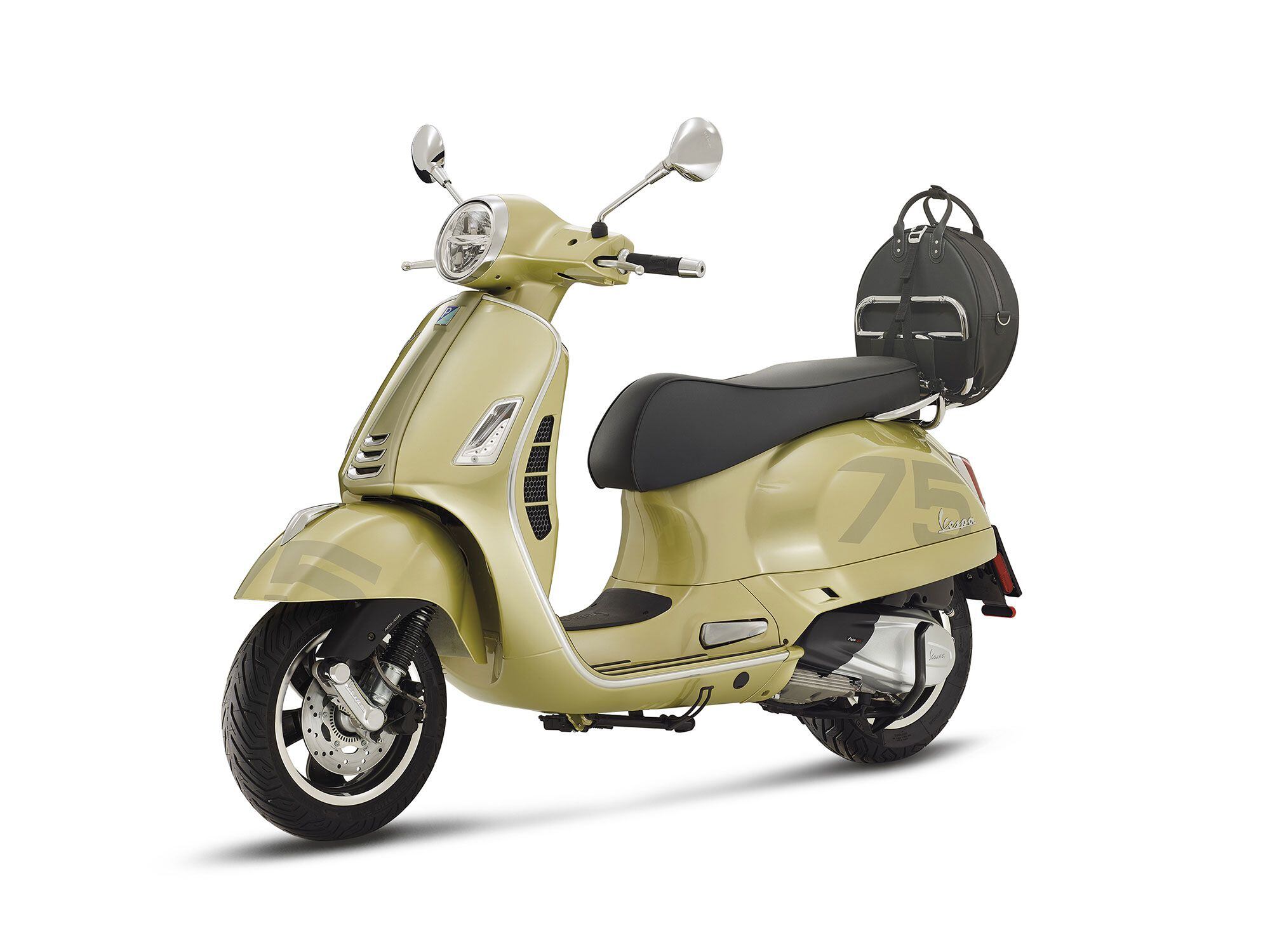 The 2021 Vespa 75th Anniversary Edition GTS 300 will be available in May at US dealerships. (Vespa/)
Piaggio is the number one two-wheel-vehicle manufacturer in Europe; its industrial strength still comes from that stroke of genius known as Vespa—the foundation on which Piaggio rebuilt itself from the rubble of World War II. Piaggio is now celebrating the 75th anniversary of Vespa. Looking back, we must say that Vespa has remained absolutely faithful to its original design and mechanical concepts, just evolving bit by bit around the basic original factors: a pressed steel structure integrating frame and body, powertrain (engine and gearbox) in unit with the rear wheel.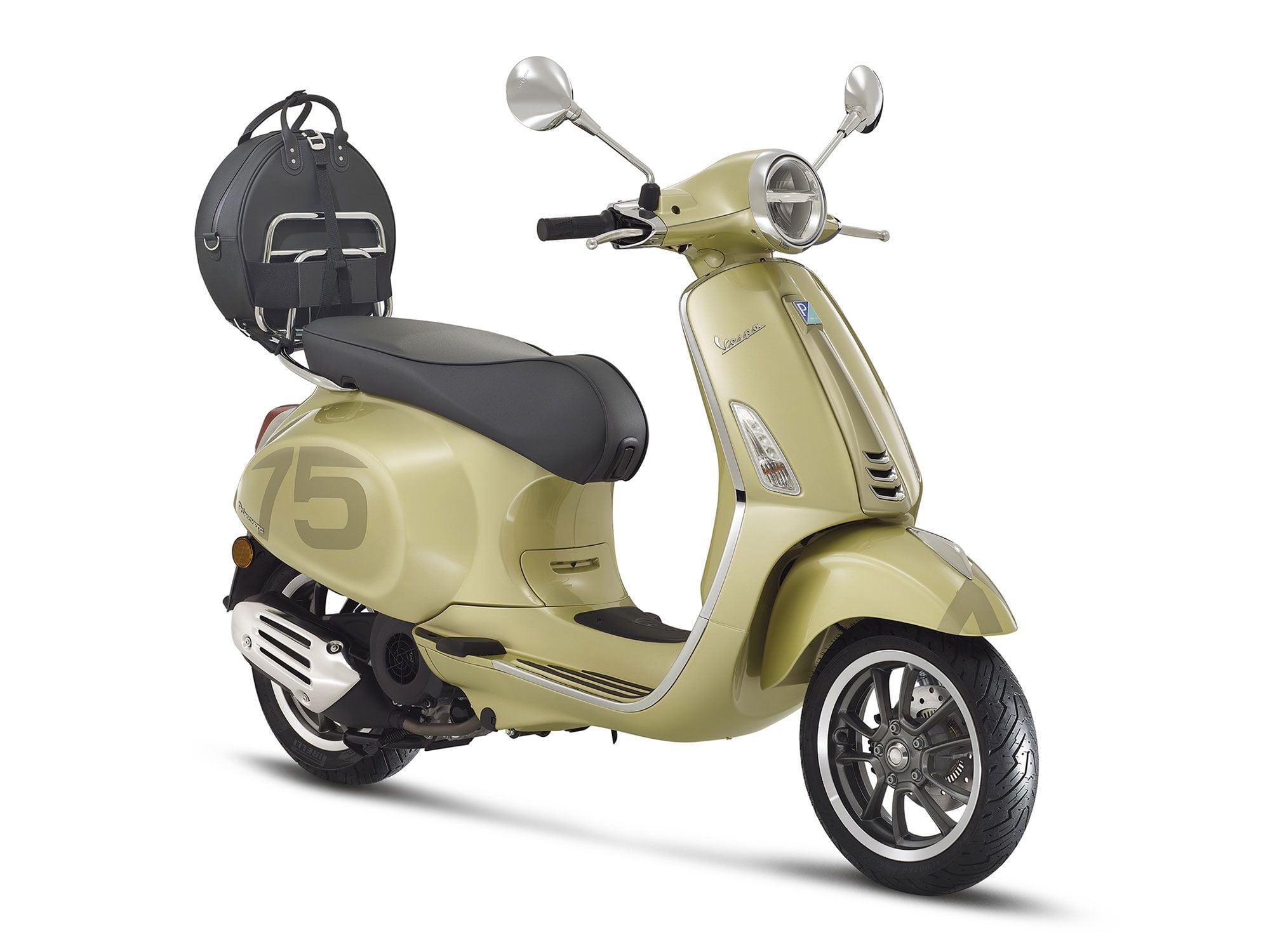 The smaller-displacement Vespa Primavera models also get the 75th Anniversary Edition treatment. (Vespa/)
Through the years the body structure has been redesigned in order to achieve higher torsional rigidity; disc brakes were adopted together with wheels and tires of more generous sizes; electric starting came along to save our shins; and a CVT transmission came to rationally replace the old hand-operated "I missed the right gear again" shifter. But basically Vespa is still there, with its bulgy rear cowls that make it recognizable a mile away.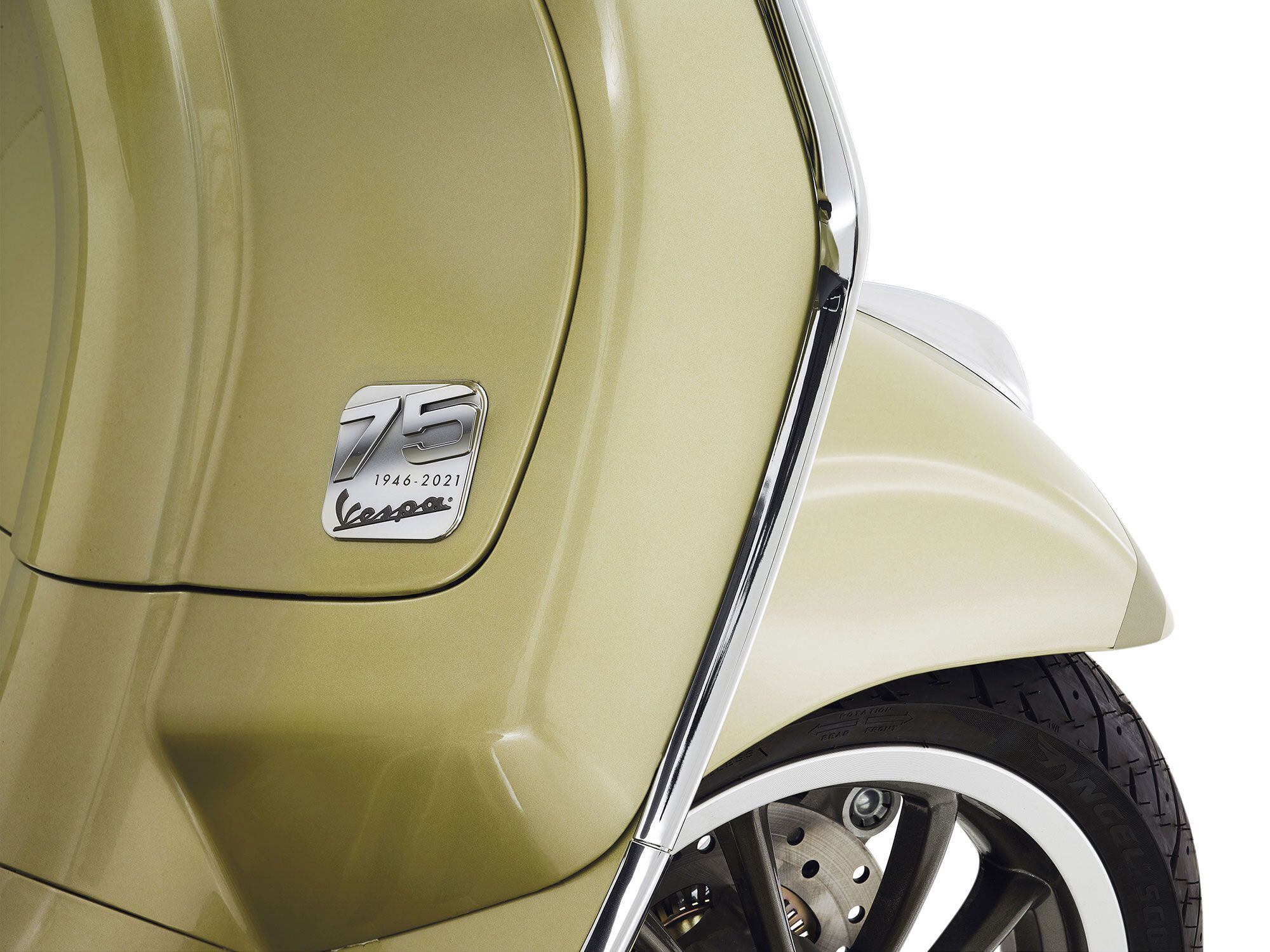 Special badging is just one of the additional touches on the 75th Anniversary Edition Vespa models. (Vespa/)
The special 75th Anniversary Edition comes in a special grade of metallic yellow with a big "75" logo in a slightly darker shade adorning both rear sides and the front fender. The celebrative edition features a number of touches of exclusive finishing. The seat is generously padded and elegantly trimmed in nubuck leather. Dark gray cast aluminum wheels with a polished rim, a chromed-trimmed front cowl, a 4.3-inch TFT instrumentation display, and chromed rearview mirrors are a few of the more refined details. In addition, a rear rack is included as standard paired with a leather bag shaped like the spare tire of old. The bag is easily unlocked from the rack and is fit with a handle and sling for easy carrying.
A spare-tire-shaped leather bag is included with the 75th Anniversary Edition Vespa models. (Vespa/)
All Vespa models are available in the 75th Anniversary edition, from the little Primavera 50 ($4,499) to the Primavera 150 ($5,849) to the GTS 300 ($7,949). A metallic tag is inserted inside the right-hand cowl that identifies the special edition. The new owner will also receive a welcome kit that includes a genuine silk scarf, a reproduction of vintage Vespa metallic sign, and a dedicated owner's book. The 75th Anniversary Vespa models will be available only in 2021, starting May in US dealerships.
View full post on Cycle World