2022 Indian FTR 1200 First Ride Review
The 2022 Indian FTR 1200 transforms into a sport standard with several key revisions. (Jordan Pay/)
Cycle World's appreciation for the Indian FTR 1200′s rough-'n'-tumble feel is strong and deeply rooted. In fact, in a soul-searching five-bike comparison, we praised the American street tracker as possessing "the strongest spirit and personality of any bike in this comparison." CW Editorial Director Mark Hoyer said it best: "The FTR's strength is its successful evocation of Indian's dominant, scratch-built FTR 750 flat-track racebike, and how well the company translated that into a ripping liter-plus street tracker. Its very limitations from a pure technical perspective and truth-to-trackerness are what make it so great." Yeah, exactly.
The R Carbon model is the halo of the FTR 1200 lineup, retailing for $16,999. In the sunlight, droolworthy carbon fiber paneling and Öhlins suspension catch the eye. (Jordan Pay/)
But in an effort to civilize this street tracker and make it more approachable, Indian has traded in some of the FTR's personality. After a day sampling the 2022 Indian FTR 1200 on the old-Western mountain roads around Phoenix, I can report that the FTR has been reined in for a more comfortable and practical ride, but it's hard not to miss the looseness of its racing heritage. Previously the entire FTR lineup, except for the scrambler-styled Rally model, rolled on 19-inch front and 18-inch rear wheels with chunky dirt-track-inspired Dunlop DT3-R rubber. Indian has swapped the large hoops for traditional 17-inch cast-aluminum wheels and Metzeler Sportec street tires, a change that adds flexibility in aftermarket tire choices.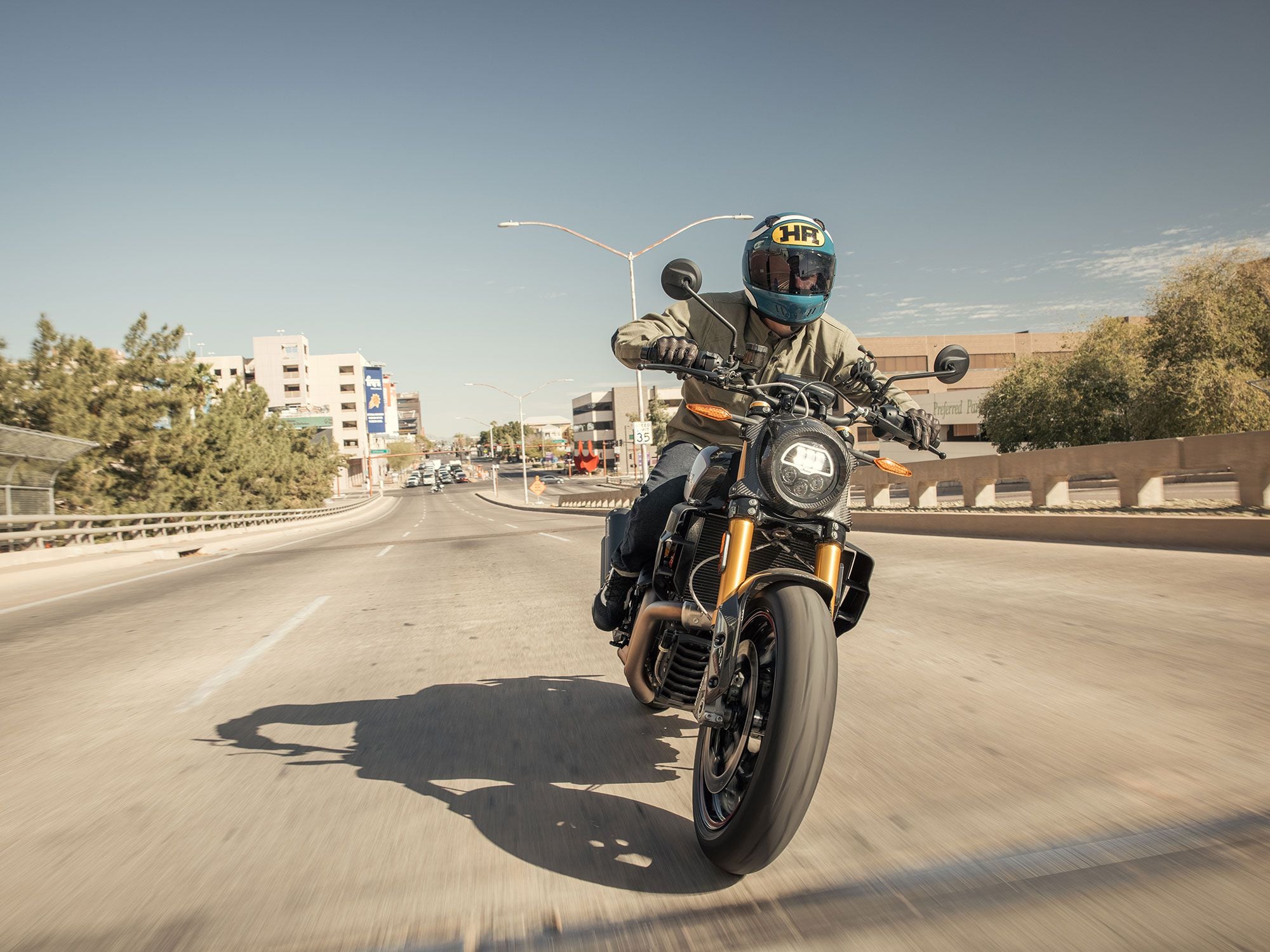 Indian emphasized practicality with the new FTR, notably revising throttle response and incorporating heat-reducing cylinder deactivation and air channeling. (Jordan Pay/)
Sharper and sportier chassis geometry also adds to the FTR's new all-asphalt prowess. The bike loses a full degree of rake, which now sits at 25.3 degrees. Trail has also been reduced to 3.9 inches from 5.1 inches. Suspension travel of the fully adjustable Sachs components, or the Öhlins units fitted to our up-spec FTR R Carbon test unit, has been reduced to 4.7 inches; also lowering the claimed seat height to 32.2 inches. For reference, that's 1.3 inches lower than the CW measured 33.5-inch seat height of the outgoing FTR. The design is meaner and more precise.
A highlight of the FTR S and R Carbon? It's hard to deny the appeal of the Akrapovič exhaust. (Jordan Pay/)
The feeling is similar on tarmac. This Indian benefits from quicker handling and lighter turn-in effort than its predecessor while also providing a more sure-footed feel at maximum lean. Its long 60-inch wheelbase adds confidence-building stability on high-speed sections of road. The ProTaper handlebar has been reduced in width by 1.5 inches, balancing the already neutral rider triangle, and is more comfortable for this 5-foot-7-inch tester. Brembo Monoblock calipers carry over from the previous model and provide quick stopping ability and good feel. However, ABS is now non-switchable—a death sentence to the hacked-out corner-entry slides we loved so much on the tracker.
Indian recalibrated the FTR's 1,203cc 60-degree V-twin for smoother and more predictable throttle response without being as lurchy at initial touch. This makes for a smoother ride, especially in stoplight-to-stoplight and traffic-dense scenarios. Still, I chose the middle ground of the FTR's three selectable ride modes, Rain, Street, and Sport, for the best balance of user-friendliness and immediate power delivery. Sport mode remains too abrupt for the tight confines of city riding, but is still preferred in the twisties.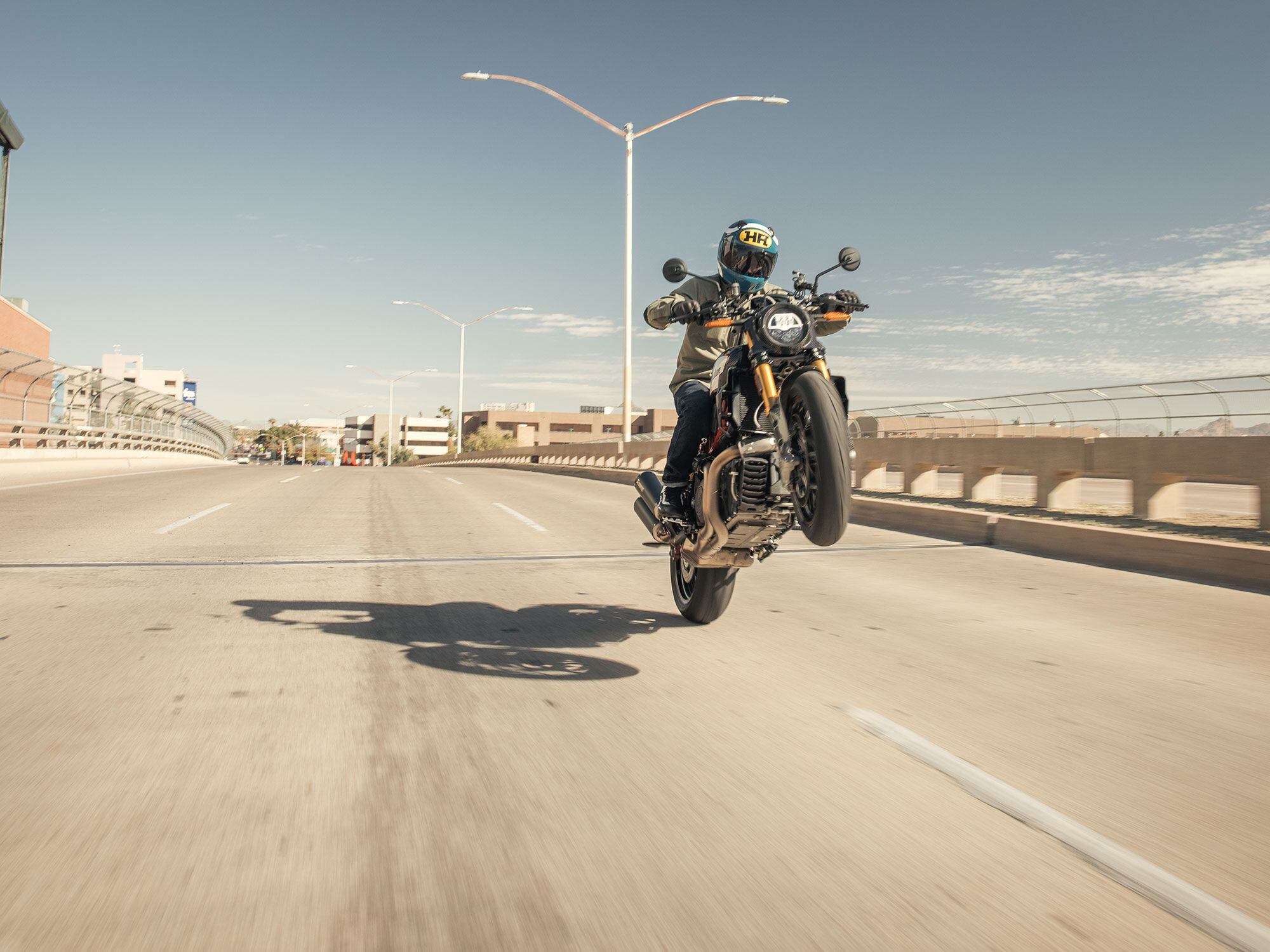 The FTR 1200's rowdy personality has changed, but hasn't been entirely eliminated. Wheelies galore! (Jordan Pay/)
A cylinder deactivation system has also been incorporated, along with revised heat channeling to mitigate heat buildup. The system is activated above 176-degree Fahrenheit running temperature with the throttle shut and engine speed below 2,200 rpm, a nice touch for hot, summer days.
The sporty Metzeler rubber does an excellent job of handling the FTR's power delivery. Gone is the squirmy rear-end acceleration action of the chunky Dunlop dirt track tires, replaced with gobs of solid traction. It's a conflicting feeling, really: On one hand, the quick acceleration of the new FTR being ushered away from the corner by the sticky tires is addictive and will get you from point A to B in less time and with more confidence; on the other, the rowdy slips and slides of the outgoing model made you feel like the next American Flat Track champion. That will be sorely missed.
Revised geometry and sticky Metzeler tires make the FTR a menace at full lean. (Jordan Pay/)
Still, opening the throttle on the FTR's V-twin powerplant is always a hoot. The immediacy of the torque and a relatively quick-revving engine makes for a cruiser-meets-sportbike feel. This bike is originally based on the Indian Scout, after all. For reference, the last time we tested the FTR 1200 S on our in-house Dynojet 250i dyno, the Tracker produced 111.8 hp at 8,200 rpm and 80.5 pound-feet of torque at 5,800 rpm.
The 2022 Indian FTR 1200 will be available in four variants. The base FTR model gets fully adjustable Sachs suspension components, an analog dashboard, and a price of $12,999. Upgrading to the S model will get you an Akrapovič exhaust, a 4.3-inch TFT dashboard with Bluetooth functionality, selectable ride modes, lean-angle-sensitive traction control, stability control, and wheelie control for $14,999. The $16,999 FTR R Carbon variant gets the same features as the S models, but is decked out with carbon fiber fenders, covers, and accessories, as well as top-shelf Öhlins suspension bits. Finally, the Rally model is still offered in its scrambler aesthetic, featuring 19-inch front and 18-inch rear wire-spoke wheels and Pirelli Scorpion Rally STR tires among other bits.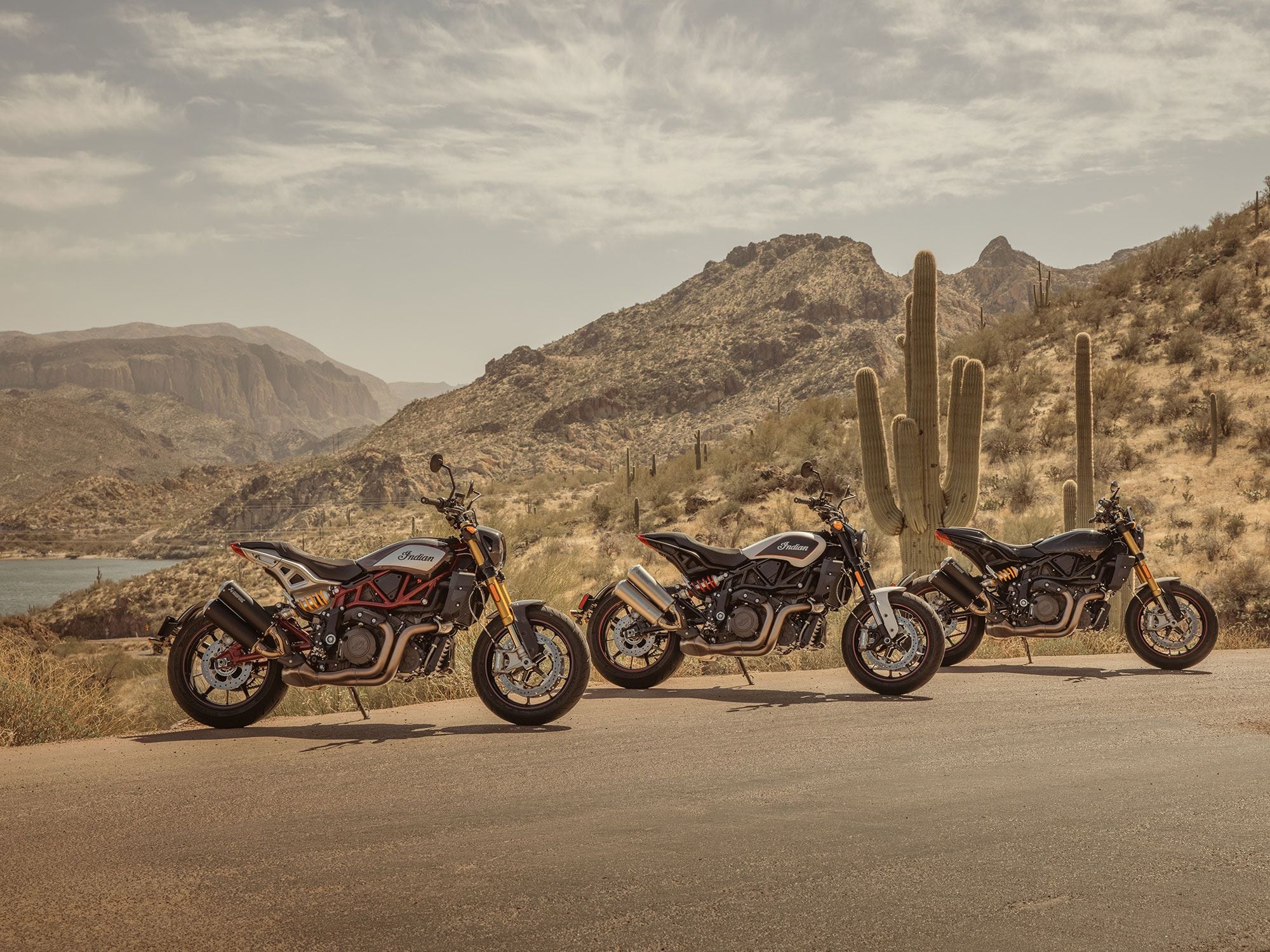 The Indian FTR R Carbon leads the S and base models. Each guarantees a seriously good time on two wheels. (Jordan Pay/)
The FTR 1200 isn't just an upgraded version of the original model. It is a real step toward Indian holding a significant slice of the sport standard segment. The FTR, updated and revised for more pinpoint road performance, remains a genuinely fun motorcycle that promises a good time, just with a somewhat different personality.
2022 Indian FTR 1200 Specs
| MSRP: | $12,999 (base model)/$14,999 (S model)/$16,999 (R Carbon) |
| --- | --- |
| Engine: | 1,203cc, DOHC, liquid-cooled, 60-degree V-twin |
| Bore x Stroke: | 102.0 x 73.6mm |
| Transmission/Final Drive: | 6-speed/chain |
| Claimed Horsepower: | 120.0 hp @ 7,750 rpm |
| Claimed Measured Torque: | 87.0 lb.-ft. @ 6,000 rpm |
| Fuel System: | Closed-loop fuel injection w/ 60mm Mikuni throttle bodies |
| Clutch: | Wet, multiplate, assist and slip |
| Front Suspension: | 43mm telescopic Sachs fork, fully adjustable; 4.7 in. travel/ 43mm telescopic Öhlinsfork, fully adjustable; 4.7 in. travel (R Carbon) |
| Rear Suspension: | Sachs monoshock, fully adjustable; 4.7 in. travel/Öhlins monoshock, fully adjustable; 4.7 in. travel (R Carbon) |
| Front Brake: | Brembo 4-piston Monoblock calipers, 320mm discs w/ ABS |
| Rear Brake: | Brembo 2-piston caliper, 260mm disc w/ ABS |
| Wheels, Front/Rear: | 17.5 x 3.5 in. / 17 x 5.5 in. |
| Tires, Front/Rear: | Metzeler Sportec M9 RR; 120/70-17, 180/55-17 |
| Rake/Trail: | 25.3°/3.9 in. |
| Wheelbase: | 60.0 in. |
| Ground Clearance: | 6.5 in. |
| Seat Height: | 32.2 in. |
| Fuel Capacity: | 3.4 gal. |
| Claimed Dry Weight: | 482 lb./479 lb. (R Carbon) |
| Availability: | Now |
| Contact: | indianmotorcycle.com |
View full post on Cycle World