2022 Yamaha Tracer 9 GT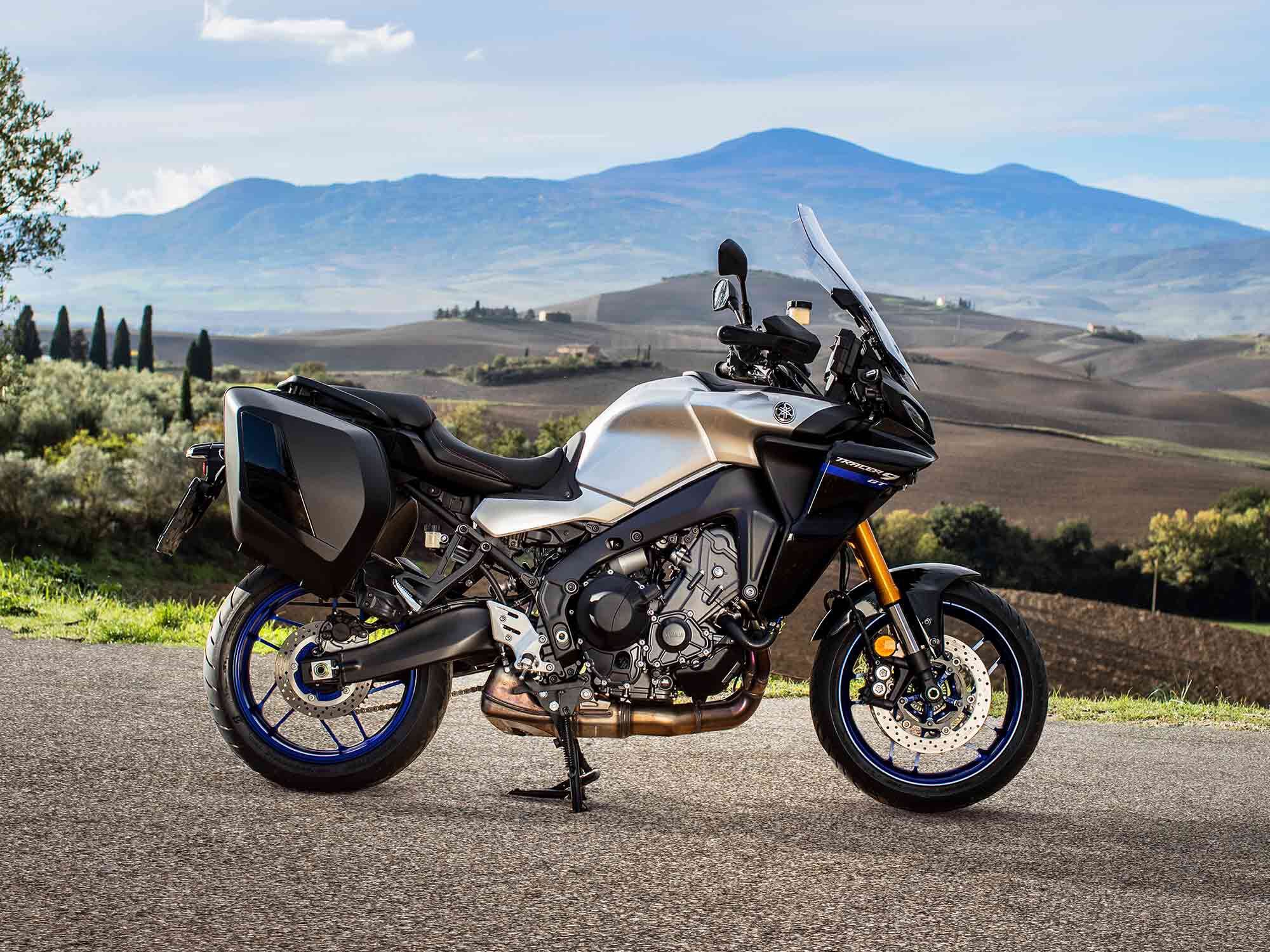 Evolution is the name of the game with the 2022 Yamaha Tracer 9 GT; why wouldn't you want a lightweight, nimble tourer with just the right power? (Yamaha Motor USA/)
Ups
Chassis (w/ semi-active suspension) puts the "sport" in sport-tourer
Seat and wind protection provide excellent all-day comfort
New advanced electronics have cured the fueling lurch
Downs
Big improvements equals higher price tag
Verdict
The traditional sport-touring class has for years evolved away from the sporty side and toward the toury side, with 1,000cc and larger engines, and ever higher creeping weights. Yamaha has definitely found a tasty recipe concocted with just the right ingredients of power, handling, technology, comfort, and styling with the Tracer 9 GT. The Tracer was all-new for 2021 and may have hopped up in price, but the addition of much more sophisticated electronic engine management, semi-active suspension, and much-improved features shouldn't scare buyers away.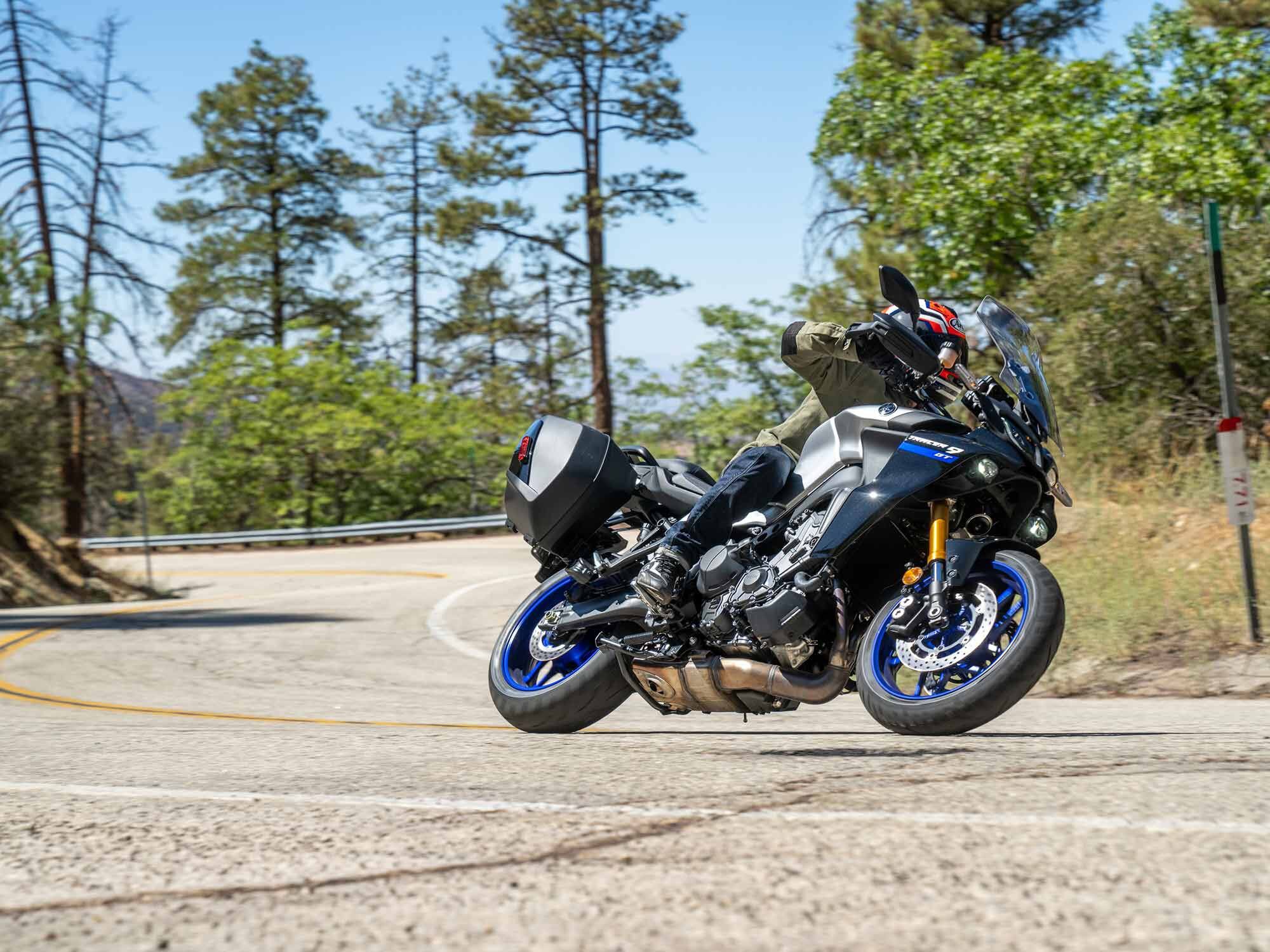 2022 Yamaha Tracer 9 GT. (Yamaha Motor USA/)
Overview
Back in 2015, Yamaha created the Tracer 900 GT, which was based on the FJ-09. The move to take that fun naked sportbike and transform it into an affordable and epically fun sport-touring machine was well received by buyers. Fast-forward to 2021, when Yamaha revamped and renamed this sport-touring spinoff, the Tracer 9 GT, which is based on the now-also-renamed MT-09 (which was also all-new in 2021). But like its hyper-naked cousin, this time around, the 9 GT gets a load of upgrades aimed at improved engine performance and refinement, while the chassis gets semi-active suspension. Additionally, the Tracer 9 GT gets an all-new six-axis IMU-based electronics suite derived from its open-class superbike cousin, the YZF-R1. More on that below.
Other notable features are the redesigned 30-liter-capacity saddlebags (which come standard) that can now be latched but left unlocked, which means you don't have to pull the key out of the ignition everytime you want to access their contents. Another standout is the new dash, which has twin 3.5-inch displays that have more info than you can shake a stick at (and are customizable); one of the most informative dashes out there, to be sure. Like the model that preceded it, the 9 GT is renowned for its long-distance comfort thanks to a supportive and adjustable seat, protective windscreen, and comfortable ergonomics. So, although it may cost around $1,800 more than the outgoing model, the Tracer 9 GT comes with a lot of additional premium features that definitely improve an already great motorcycle.
Updates for 2022
The Tracer 9 GT was an all-new model for the 2021 model year, with Yamaha changing its name from the outgoing Tracer 900 GT. A number of updates to the CP3 engine platform and chassis pushed its performance potential.
The GT received an all-new 890cc liquid-cooled three-cylinder DOHC four-valve-per-cylinder fuel-injected engine. Bore remains the same 78mm, but stroke has been increased from 59.1 to 62.1mm increasing displacement from 847 to 890cc. Other engine changes include new forged aluminum pistons and fracture-split connecting rods, a new intake system, and new exhaust system. A completely new fuel-management system utilizes repositioned fuel injectors, now on the throttle valve side of the throttle body and operated via the Yamaha Chip Controlled Throttle (YCC-T). New rider aids, made possible by the six-axis IMU-based electronics suite, includes Traction Control (TCS), Slide Control (SCS), and wheelie control (LIF). Four ride modes are available in the Yamaha D-mode menu.
A new lightweight aluminum frame hosts new KYB electronically controlled suspension. Based on input from the IMU, ECU, and the Suspension Control Unit (SCU), the suspension calculates the ideal damping settings; rebound and compression damping for the fork and rebound damping for the shock. Other updated features include the ABS braking system, called, yeah, just that: Brake Control System, or BCS. This includes cornering ABS and a system that can independently control pressure front and rear and has two selectable modes: BC1 and BC2. The former is oriented toward optimizing hard panic stops while upright, while BC2 is for sport riding, and panic stops while leaned over.
But wait, there's more! Full LED lighting with new cornering lights takes information from the IMU to determine lean angle and then increases intensity the more lean angle is added for improved rider confidence when riding at night. Other features include the Quick Shift System (QSS) that allows clutchless upshifts and downshifts. The new aforementioned twin 3.5-inch TFT display screens are your access point to all the bells and whistles the bike has to offer. Certainly not last, but one more new feature are the updated 10-position heated grips, yeah 10. Two colors are available, Liquid Metal and Redline.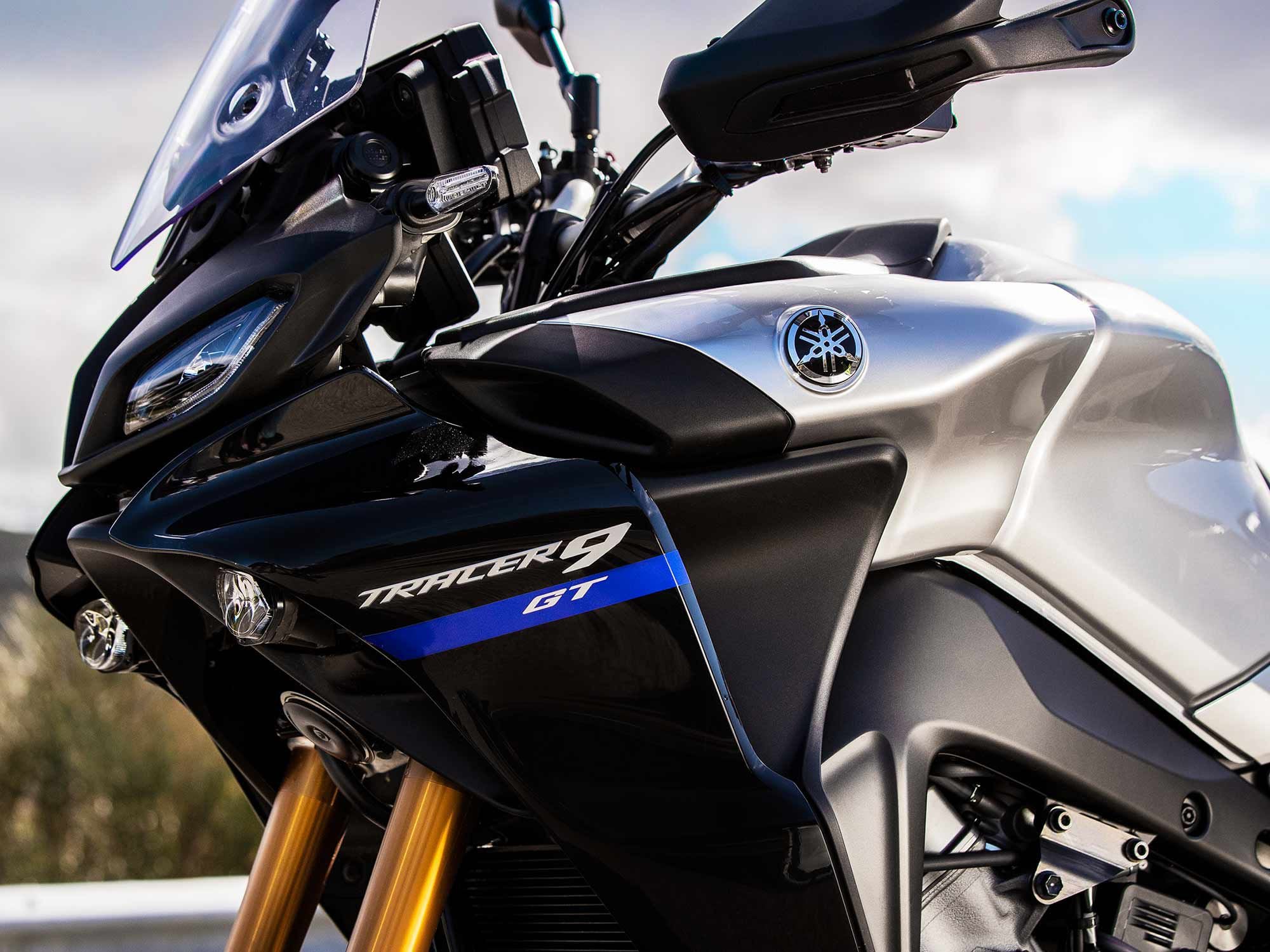 2022 Yamaha Tracer 9 GT. (Yamaha Motor USA/)
Pricing and Variants
The Yamaha Tracer 9 GT is available in Liquid Metal and Redline for $14,999.
Competition
Depending on your definition, there are a ton of options out there from pure sport-touring machines to street-oriented ADV bikes, to upright sportbikes like the Tracer 9 GT. Bikes that we would call pure sport-tourers included the Kawasaki Concours 14 and Ninja H2 SX SE, Suzuki's GSX-S1000GT+/GSX-S1000GT, Yamaha's own FJR1300ES, and BMW's K 1600 GT, R 1250 RT, and R 1250 RS. Upright sportbikes include Kawasaki Versys 650, Versys 1000 LT, and Ninja 1000 SX, Honda's NC750X and CB500X, Ducati's Multistrada series, and BMW's S 1000 XR. Street-oriented ADV bikes would include KTM 1290 Super Adventure S and Triumph's Tiger Sport 660 and Tiger 850 Sport.
2022 Yamaha Tracer 9 GT Dyno Chart. (Robert Martin Jr./)
Powertrain: Engine, Transmission, and Performance
During his First Ride Review of the 2021 Yamaha Tracer 9 GT, Road Test Editor Michael Gilbert said of the engine: "Yamaha has finally achieved a natural feel and silky-smooth initial fueling of the Accelerator Position Sensor Grip (APSG) Yamaha Chip Controlled Throttle (YCC-T) ride-by-wire system, curing the 9 GT of the abrupt lurch found on previous Tracer and MT models. This throttle is precise, with the maps delivering admirably broad and linear power delivery. Yamaha claims the updated CP3 delivers 6 percent more torque, which adds a bit to its flexibility and fun factor, but there's no denying that it has always been a torque monster; yank the throttle in any of the lower three gears and lift the front tire skyward to the accompaniment of that legendary triple exhaust note."
Speaking of the new rider aids, Gilbert added, "The system works well to extract performance with almost seamless intervention, but also provides peace of mind when your adventure gives you unexpected tarmac conditions. Add to that a new clutchless bidirectional quickshifter to ease the process of ripping through its well-spaced six-speed gearbox, and the Tracer fully meets all premium expectations."
Placed on Cycle World's in-house Dynojet 250i dynamometer, the Tracer 9 GT's CP3 powerplant produced 104.2 hp at 9,900 rpm and 62.2 pound-feet of torque at 7,000 rpm. For reference, the numbers are very similar to the last Tracer 900 GT ran on the Cycle World dyno despite tightening Euro 5 emissions standards.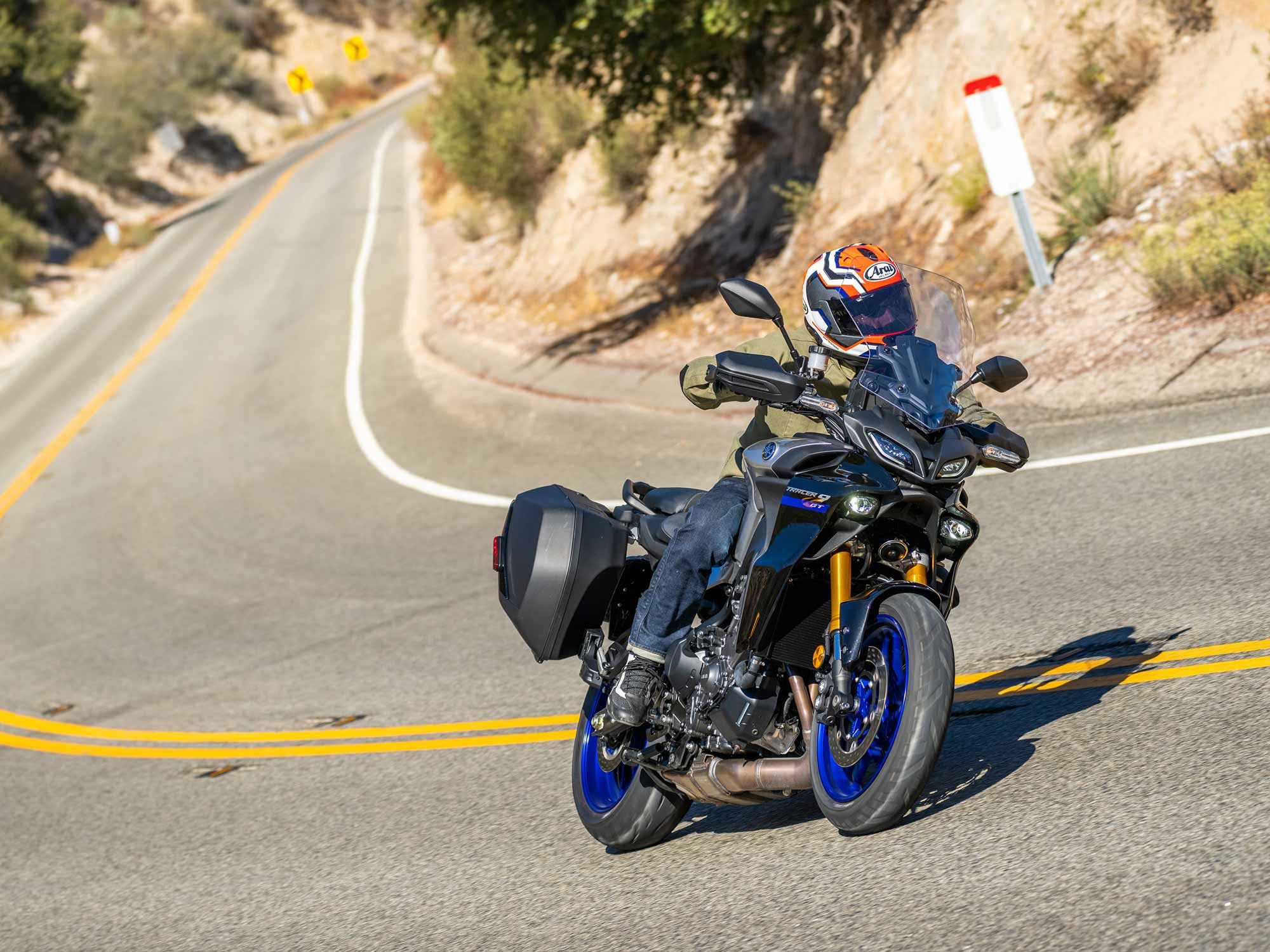 2022 Yamaha Tracer 9 GT. (Yamaha Motor USA/)
Handling
From that same test, Gilbert praised the Tracer 9 GT's overall chassis balance. "Midcorner chassis feel and stability is vastly improved without losing any steering sharpness. Overall, it's better balanced in every area and inspires confidence where the on-edge outgoing Tracer model didn't."
Gilbert raved about the Tracer 9 GT's semi-active suspension too. "…Yamaha and KYB crushed the calibration. For 90 percent of testing, the bike was set on the soft suspension compliance of A-2. The softer setting helped maintain chassis composure in offering big-hit support, but better coped with the road's imperfections and chatter bumps for more comfort. Should you be blessed with endless glassy tarmac, ripping sweepers, and no speed limits, the stiffer A-1 setting is ready and waiting for you. Also worth noting is the way in which the system delivers seamless, almost unnoticeable changes to damping characteristics, instilling confidence and helping with corner-to-corner consistency even when the Tracer is ridden aggressively."
2022 Yamaha Tracer 9 GT. (Yamaha Motor USA/)
Brakes
The Tracer 9 GT is brought to a halt via a pair of Advics four-piston calipers clamping to 298mm discs up front and a single two-piston caliper at the rear. The system also utilizes Yamaha's Brake Control cornering ABS system.
According to our First Ride Review of the Tracer 9 GT, the braking setup offers serious stopping power and smooth ABS intervention, despite varying conditions. Gilbert reported, "Two settings offer selectable levels of ABS sensitivity: Mode 1 is a traditional fixed antilock setting, while Mode 2 adjusts ABS sensitivity with information from the motorcycle's IMU, front and rear wheel speed sensors, and brake pressure. In testing, even applying serious brake pressure with a notable amount of lean angle in Mode 2 didn't cause front-wheel lockup or tuck, but rather immediate, usable stopping power."
Fuel Economy and Real-World MPG
Yamaha claims the Tracer 9 GT achieves 49 mpg, but official Cycle World testing numbers are yet to be published.
Ergonomics: Comfort and Utility
The Yamaha Tracer 9 GT finds a balanced, upright sport-touring rider triangle with a one-piece motocross-style handlebar and somewhat aggressive lower stance. Seat height is easily adjustable in two positions, which Cycle World measured at 31.9 inches (low) and 32.5 inches (high). Likewise, the footpegs are adjustable as is the handlebar. A fairing offers decent wind protection aboard the Tracer, while an adjustable (although somewhat minimal) windshield reduces buffeting further. Finally, a set of 10-setting heated grips add comfort to the chilly days.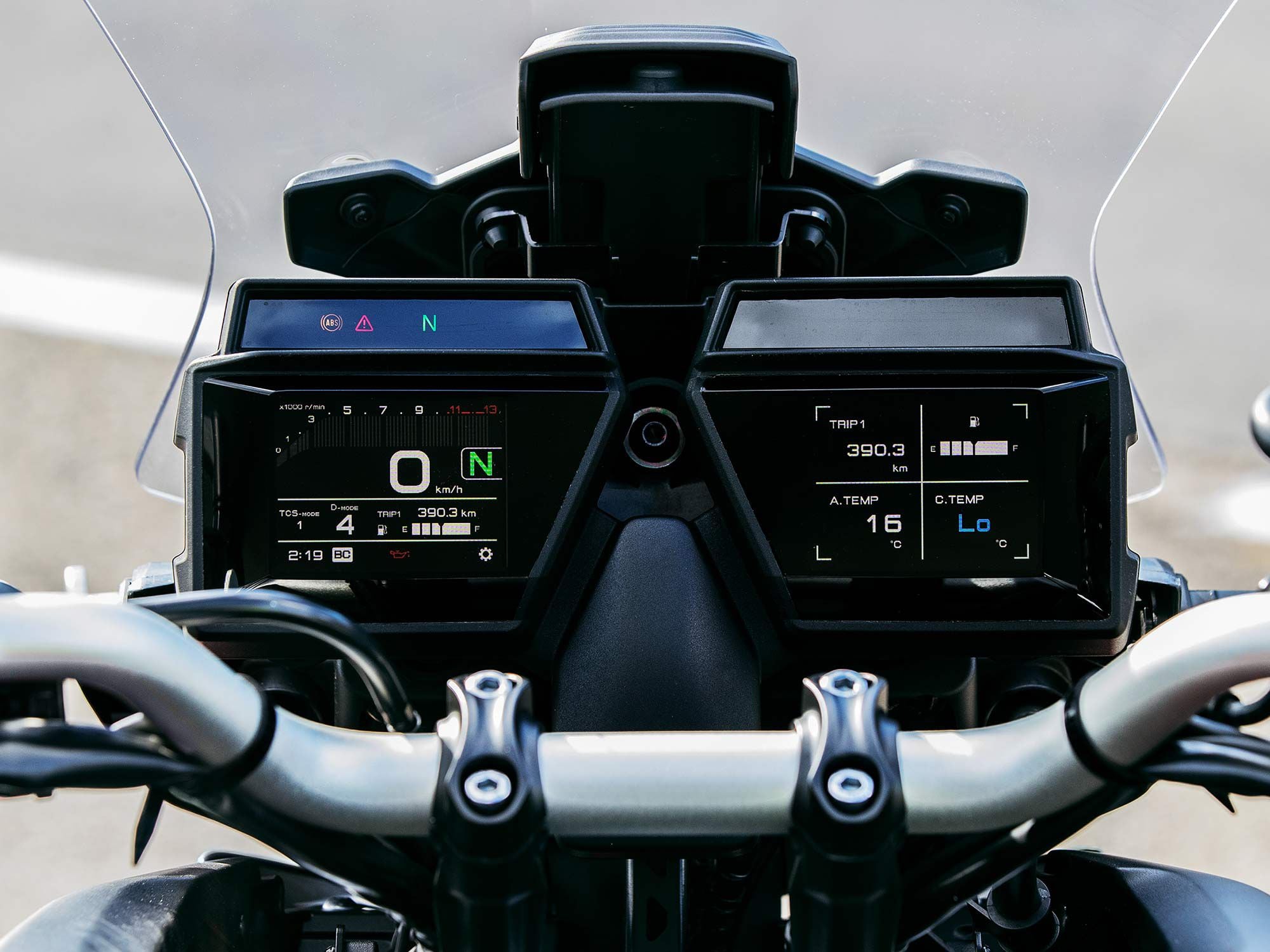 2022 Yamaha Tracer 9 GT. (Yamaha Motor USA/)
Electronics
The Tracer 9 GT has a ton of electronic systems to improve the ride: Brake Control System or BCS with ABS; rider aids include: Traction Control (TCS), Slide Control (SCS), and wheelie control (LIF); suspension is an electronically controlled semi-active KYB system with two modes; Cruise control; Yamaha D-mode (ride modes); Quick Shift System (QSS). Concluded by full LED lighting and twin 3.5-inch screen info dash.
Warranty and Maintenance Coverage
The Tracer 9 GT is covered by Yamaha's one-year limited factory warranty.
Quality
The fit and finish of the Tracer 9 GT, as with all Yamaha products, is top-notch. Premium componentry and a number of creature comforts add to a supreme riding experience.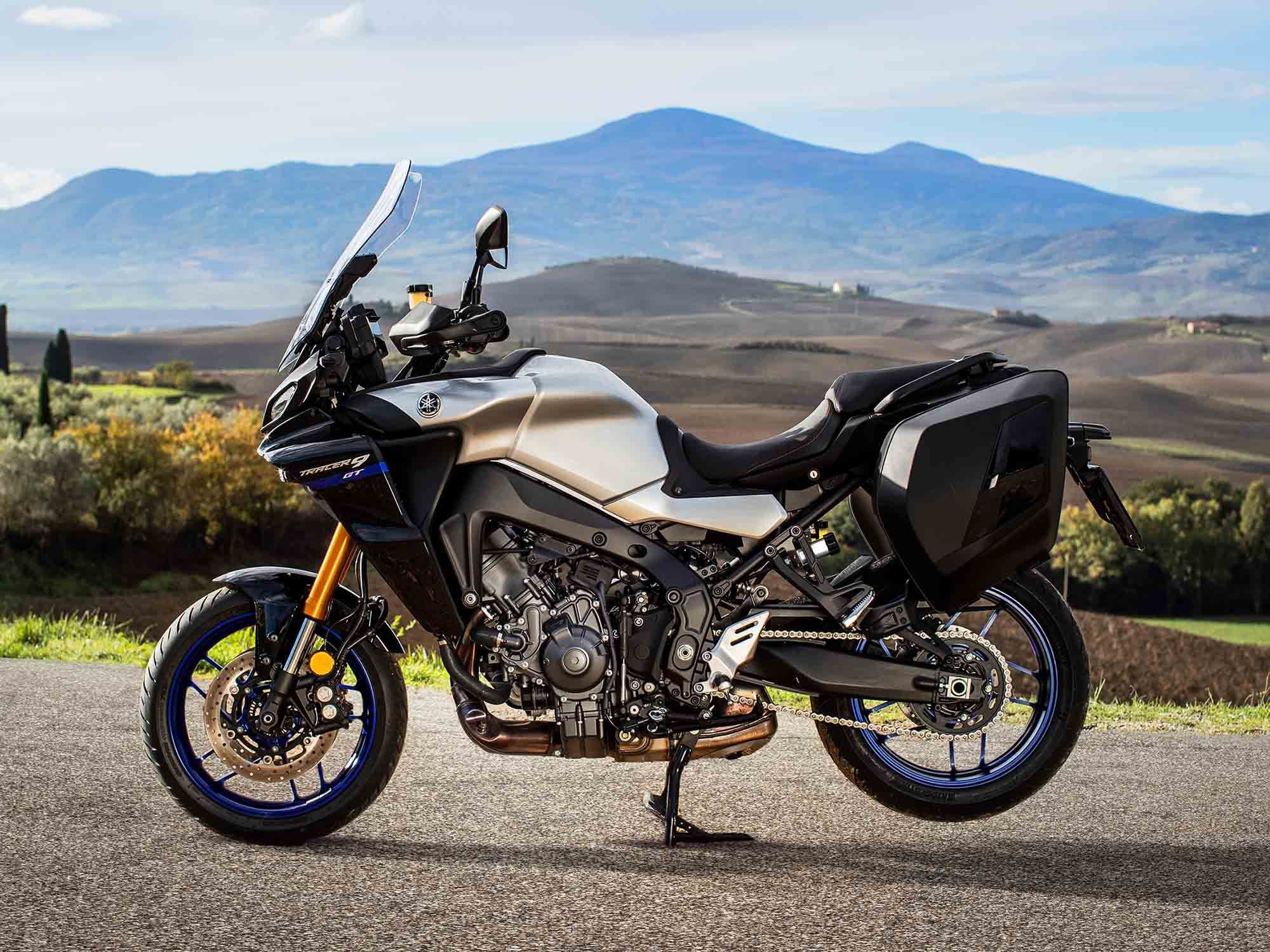 2022 Yamaha Tracer 9 GT. (Yamaha Motor USA/)
2022 Yamaha Tracer 9 GT Claimed Specifications
| | |
| --- | --- |
| MSRP: | $14,999 |
| Engine: | 890cc, DOHC, liquid-cooled inline-three; 12 valves |
| Bore x Stroke: | 78.0 x 62.1mm |
| Transmission/Final Drive: | 6-speed/chain |
| Fuel Delivery: | Fuel injection w/ YCC-T ride-by-wire |
| Clutch: | Wet, multiplate slipper/assist |
| Engine Management/Ignition: | TCI |
| Frame: | Controlled Filling (CF) aluminum die-casting |
| Front Suspension: | KYB 41mm fork, spring preload adjustable, electronically adjustable compression and rebound damping; 5.1 in. travel |
| Rear Suspension: | KYB shock, spring preload adjustable, electronically adjustable rebound damping; 5.4 in. travel |
| Front Brake: | Advics 4-piston calipers, dual 298mm discs w/ cornering ABS |
| Rear Brake: | 1-piston caliper, 245mm disc w/ ABS |
| Wheels, Front/Rear: | Cast aluminum; 17 in./17 in. |
| Tires, Front/Rear: | Bridgestone Battlax T32 GT; 120/70-17 / 180/55-17 |
| Rake/Trail: | 25.0°/4.3 in. |
| Wheelbase: | 59.1 in. |
| Ground Clearance: | 5.3 in. |
| Seat Height: | 31.9 in. (low)/ 32.5 in. (high) |
| Fuel Capacity: | 5.0 gal. |
| Wet Weight: | 485 lb. |
| Contact: | yamaha-motor.com |
Cycle World Tested Specifications
| | |
| --- | --- |
| Seat Height: | 31.9 in. (low)/32.5 in. (high) |
| Wet Weight: | 509 lb. |
| Rear-Wheel Horsepower: | 104.23 hp @ 9,890 rpm |
| Rear-Wheel Torque: | 62.24 lb.-ft. @ 6,990 rpm |
| 0–60 mph: | N/A |
| 1/4-mile: | N/A |
| Braking 30–0 mph: | N/A |
| Braking 60–0 mph: | N/A |
View full post on Cycle World