2023 Kawasaki Vulcan 1700 Vaquero ABS [Specs, Features, Photos]
The 2023 Kawasaki Vulcan 1700 Vaquero ABS: A Top-of-the-Line Bagger Cruiser Motorcycle
Contents
The 2023 Kawasaki Vulcan 1700 Vaquero ABS is one of 4 Vulcans in Kawasaki's 2023 lineup and  is a top-of-the-line bagger cruiser motorcycle that packs a powerful punch with its large 1,700cc V-twin engine. With a stylish and sleek design, the Vulcan 1700 Vaquero ABS offers a smooth and comfortable ride, perfect for long-distance cruising.  One of the key features that Kawasaki motorcycles are known for is their technology which includes Kawasaki's Intelligent Anti-Lock Brake System (ABS) that helps prevent wheel lock-up and provides excellent stopping power. The Vulcan 1700 Vaquero ABS also comes with Kawasaki's K-ACT II which links the front and rear brakes for more precise stopping power.
Another impressive aspect of the Vaquero is its comfortable and spacious seating arrangements. The rider and passenger seats are both generously padded and offer plenty of room for long-distance cruising. The bike also comes with a range of standard features, such as a tall windshield, cruise control, and a premium sound system.
In terms of handling and maneuverability, the Vulcan 1700 Vaquero ABS is surprisingly agile for a bagger cruiser. Its long wheelbase and low center of gravity make it easy to handle and navigate through tight turns and corners. The bike also features adjustable rear air suspension, allowing riders to customize the ride to their liking.  As a premier Japanese motorcycle manufacturer, Kawasaki has set the bar extremely high for this segment of motorcycles.
The 2023 Kawasaki Vulcan 1700 Vaquero ABS starts at $18,599 USD/$21,399 CAD
On this page: we've curated specs, features, news, photos/videos, etc. so you can read up on the new 2023 Kawasaki Vulcan 1700 Vaquero ABS in one place.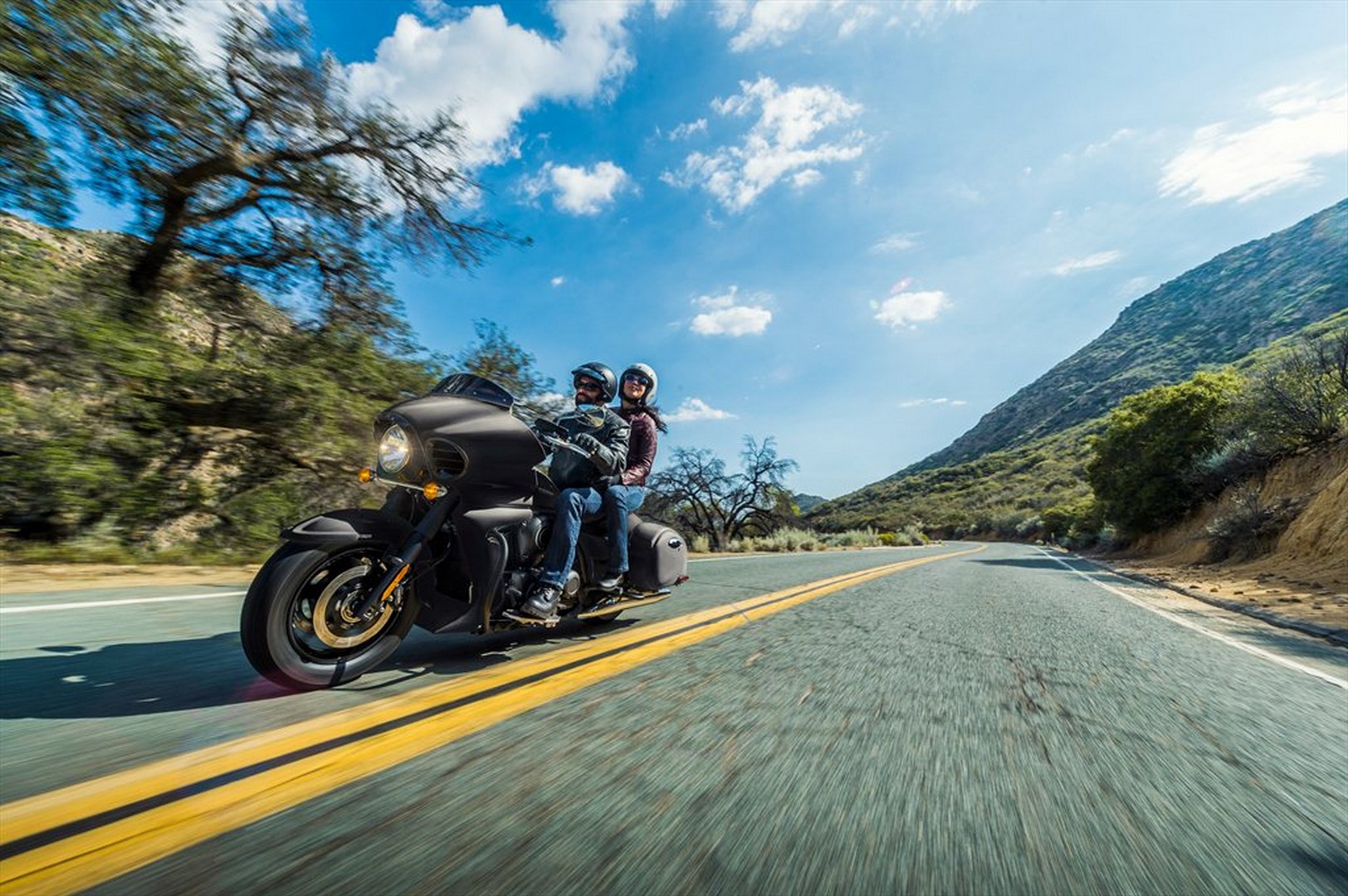 ---
Model Overview
General Info
Price: $18,599 USD/$21,399 CAD
Key Features:

Fuel-Injected 1,700 cc V-Twin
Cruise Control
ABS
Sealed Saddlebags
Main Specs
Engine: 1,700cc, liquid-cooled, 4-stroke, SOHC 8-valve V-twin
Power: 81 horsepower
Torque: 107.6 lb-ft
Weight: 844 lbs (383 kgs)
Seat Height: 28.7 inches (730  mm)
Competitors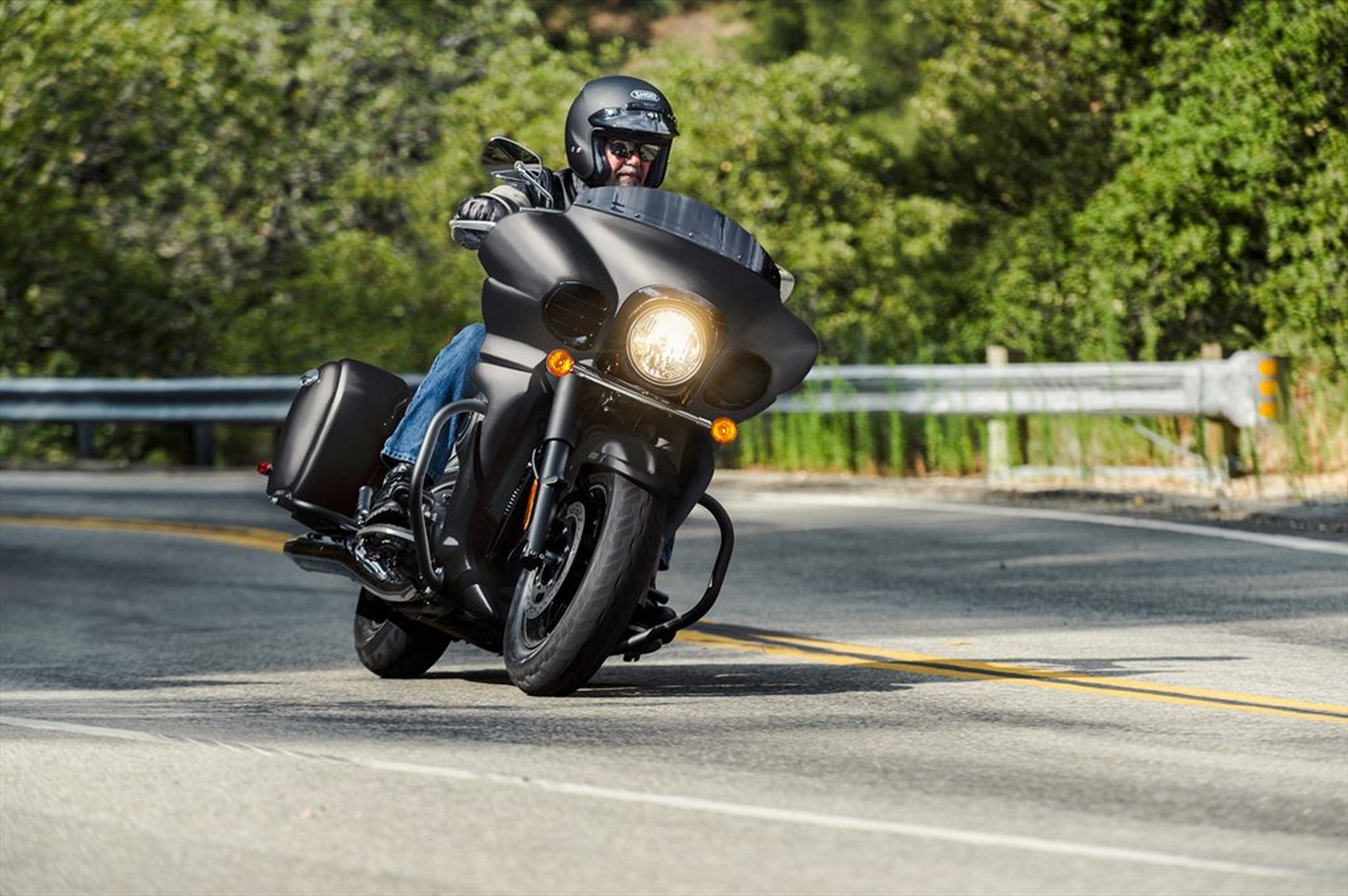 ---
2023 Kawasaki Vulcan 1700 Vaquero ABS Specifications
| | |
| --- | --- |
| ENGINE | |
| Engine | 1700cc, 4-stroke, 52-degree V-twin, liquid-cooled |
| Power | 81Hp |
| Bore x Stroke | 102.0 x 104.0mm |
| Compression Ratio | 9.5:1 |
| Fuel System | DFI 42mm Throttle Bodies (2) |
| Starter | Electric |
| Lubrication | |
| DRIVETRAIN | |
| Clutch | |
| Transmission | 6-speed with overdrive and positive neutral finder |
| Final Drive | Carbon fiber-reinforced belt |
| CHASSIS | |
| Suspension Front | 45mm Showa telescopic fork/5.5 in |
| Suspension Rear | Swingarm with twin air-assisted shocks, with 4-way rebound damping/3.1 in |
| Brakes Front | Dual 300mm discs, dual four-piston calipers, K-ACT II ABS |
| Brakes Rear | Single 300mm disc, twin-piston caliper, K-ACT II ABS |
| Tires Front | 130/90-16 |
| Tires Rear | 170/70-16 |
| Fuel Tank Capacity | 5.3 gal |
| Color | Metallic Matte Graphenesteel Gray |
| ELECTRICAL | |
| Ignition | TCBI w/ Electronic Advance |
| Spark Plugs | |
| Headlight | LED |
| Tail Light | LED |
| DIMENSIONS | |
| Overall Length | 98.8 in |
| Overall Width | 38.2 in |
| Overall Height | 50.8 in |
| Wheelbase | 65.6 in |
| Ground Clearance | 5.7 in |
| Seat Height | 28.7 in |
| Curb Weight | 844.5 lb* |
| WARRANTY | |
| Warranty | 36 Month Limited Warranty |
| Kawasaki Protection Plus | 12, 24, 36 months |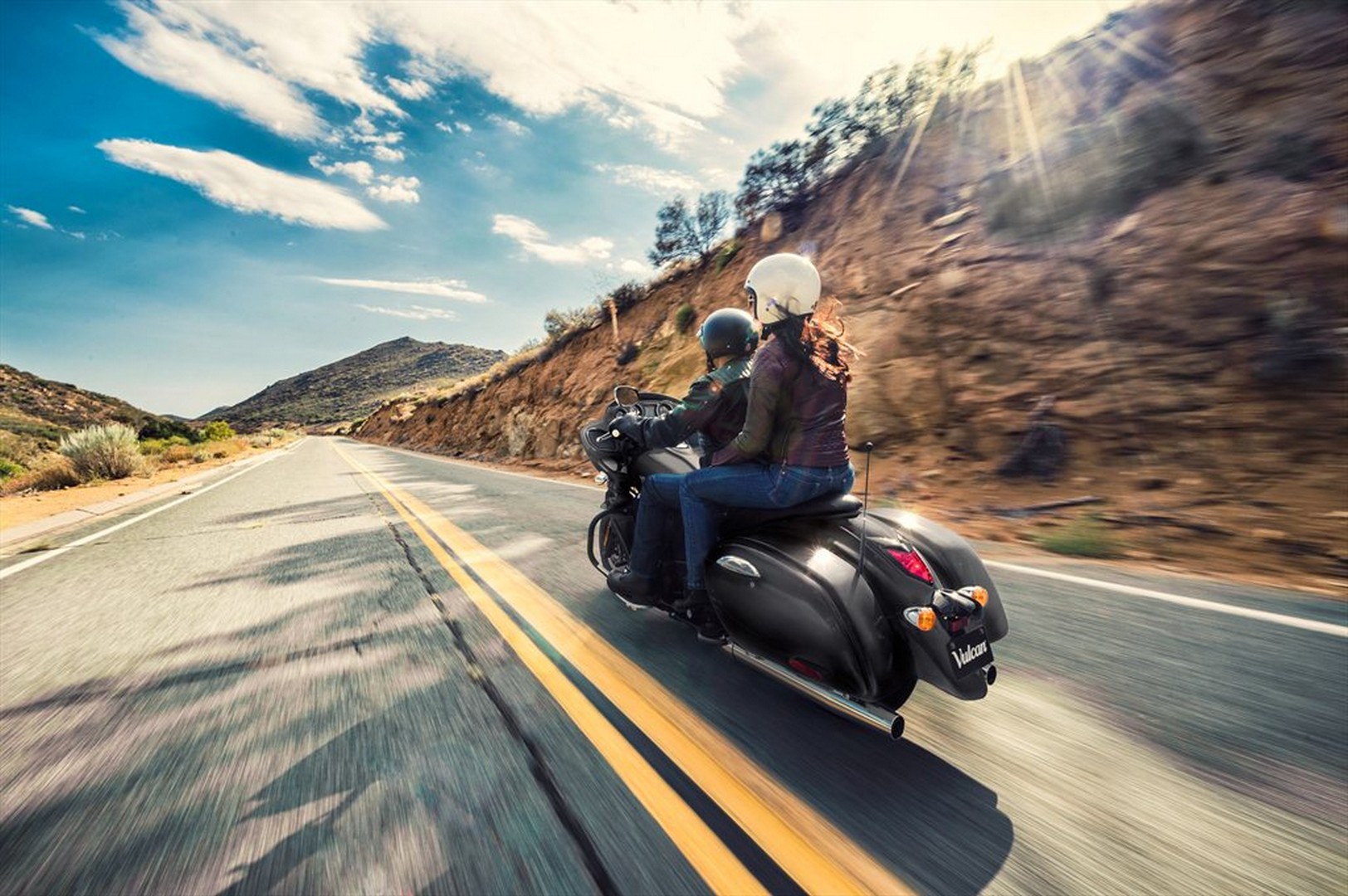 ---
2023 Kawasaki Vulcan 1700 Vaquero ABS Features
Electronic Cruise Control
Electronic Cruise Control allows a desired speed (engine rpm) to be maintained with the simple press of a button. Once activated, the rider does not have to constantly apply the throttle. This reduces stress on the right hand when traveling long distances, enabling relaxed cruising and contributing to a high level of riding comfort.
Dual Throttle Valves
Late-model sport bikes often use large-bore throttle bodies to generate high levels of power. However, with large diameter throttles, when a rider suddenly opens the throttle, the unrestricted torque response can be strong. Dual throttle valve technology was designed to tame engine response while contributing to performance.
On models with dual throttle valves, there are two throttle valves per cylinder: in addition to the main valves, which are physically linked to the throttle grip and controlled by the rider, a second set of valves, opened and closed by the ECU, precisely regulates intake airflow to ensure a natural, linear response. With the air passing through the throttle bodies becoming smoother, combustion efficiency is improved and power is increased.
ABS (Anti-lock Brake System)
Kawasaki ABS systems use front and rear wheel sensors to constantly monitor wheel speed. Should information from either of the sensors indicate that wheel lock has occurred, the ABS ECU directs the pump in the ABS unit to modulate brake fluid pressure (releasing and reapplying pressure so that traction can be regained) until normal operation resumes. ABS offers rider reassurance that contributes to greater riding enjoyment.
K-ACT (Kawasaki Advanced Coactive-braking Technology) ABS
At its heart, K-ACT ABS is an advanced anti-lock braking system, designed to keep tires from locking up during braking. But K-ACT ABS was designed to be used on touring models weighing in excess of 300 kg (661 lb) – and that is before adding a passenger and luggage.
Complementing its standard ABS function, K-ACT ABS links the front and rear brakes. It monitors the brake force the rider is exerting at both the front and rear, and takes into consideration vehicle speed to ensure highly effective braking while maintaining chassis stability.
For example, let's say the rider pulls on the front brake lever. To keep the bike from pitching forward, the ABS ECU actuates the rear brake (via fluid pumps) to ensure that front-rear balance is maintained. Should the rider push the rear brake pedal, the system actuates the front brake as well to distribute the load more evenly so that the rear wheel does not lock up. Based on the vehicle speed, K-ACT decides the optimum hydraulic pressure to send to each caliper, ensuring that even with a heavy motorcycle, stable braking performance is possible.
---
2023 Kawasaki Vulcan 1700 Vaquero ABS Photos
---
2023 Kawasaki Vulcan 1700 Vaquero ABS Videos
2023 Kawasaki Vulcan 1700 Vaquero ABS review by Peter Lowe One:
2023 Kawasaki Vulcan 1700 Vaquero ABS Review by Auto Car:
---
Links
Kawasaki Official Websites
The post 2023 Kawasaki Vulcan 1700 Vaquero ABS [Specs, Features, Photos] appeared first on webBikeWorld.
View full post on Web Bike World