Adventures in Pioneertown and Beyond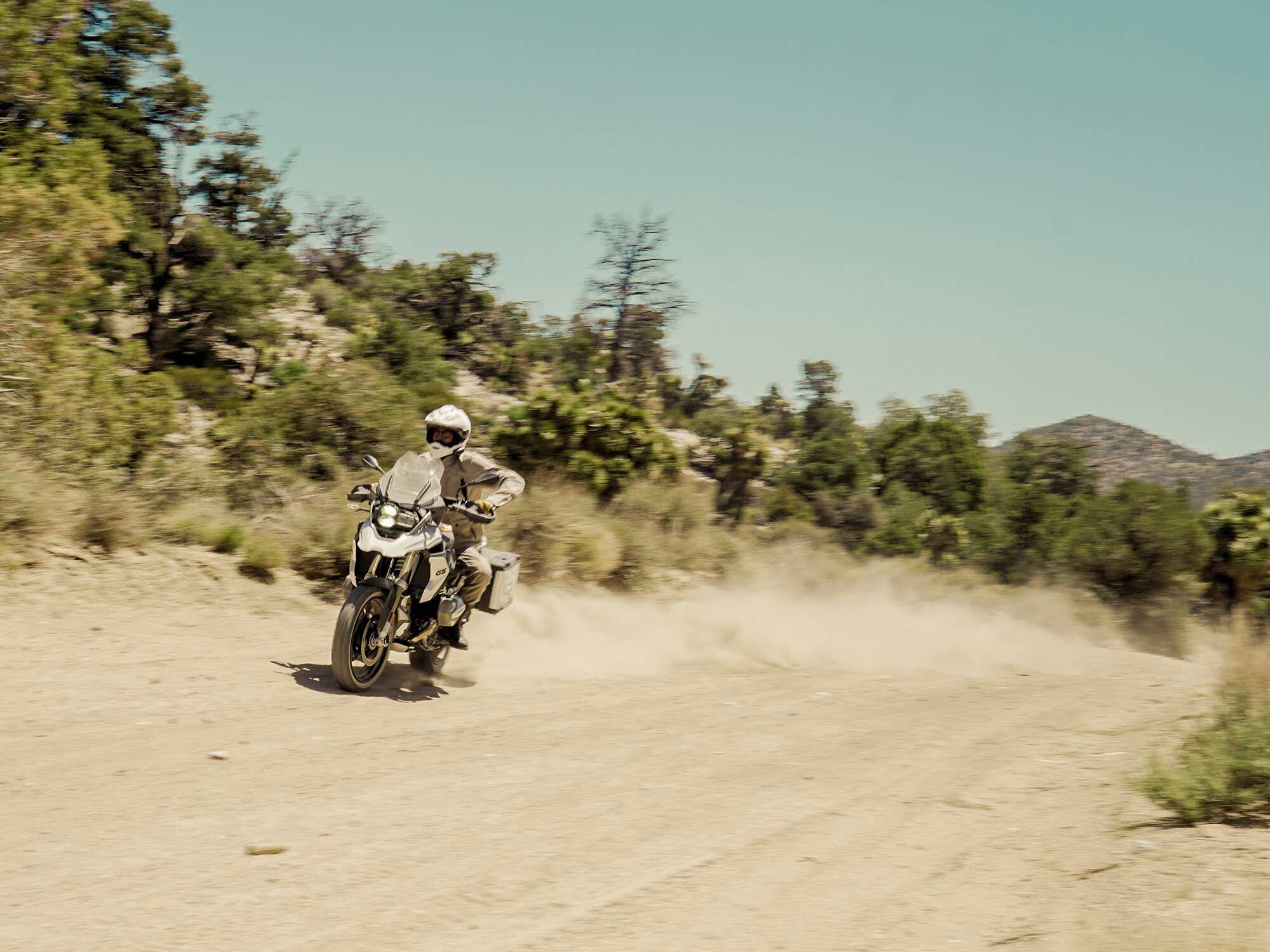 Gales nearing Pioneertown, riding a 2021 BMW R 1250 GS on the 2N02 trail from Big Bear. (Chris Thoms/)
It started with an invite to lunch. A good friend from Mexico wanted to put two of his LA buddies together, so he introduced me to Davide Berruto, a self-described facilitator of good times and bad decisions. At the cafe next to the Aether Store on La Brea, we became fast friends. Berruto is immediately charming. He wore a wide-brimmed hat in white, white pants, and a light blue mohair sweater. A bright smile shined through his salt-and-pepper beard.
"You should come to the Aether Rally," Berruto said in his Italian accent. "You will love it."
The Aether Rally is an annual event put on by Aether Apparel, though thanks to Covid it's been a few years since the last one. It's a celebration of all things adventure, both two-wheeled and four. There are multiple ticket levels, but we chose camping, the cheapest of the bunch; $125  gets you a spot to camp for two nights, two dinners, breakfast, and drinks throughout the event. Considering most campsites in the area are around $30 a night, and the cost of drinks and meals, it's actually a deal.
The morning of the event, I decided to skip the official ride and cut ahead to meet the group in Big Bear, where the off-road section of the journey began. Call me jaded, but experience has left me hesitant to ride in large groups with people I don't know. My old pal Fox Mausner would accompany me, riding his former police-issue Harley-Davidson Road King which was appropriately fitted with classic knobby tires. I would be riding on the opposite side of the functionality spectrum, atop a 2021 BMW R 1250 GS.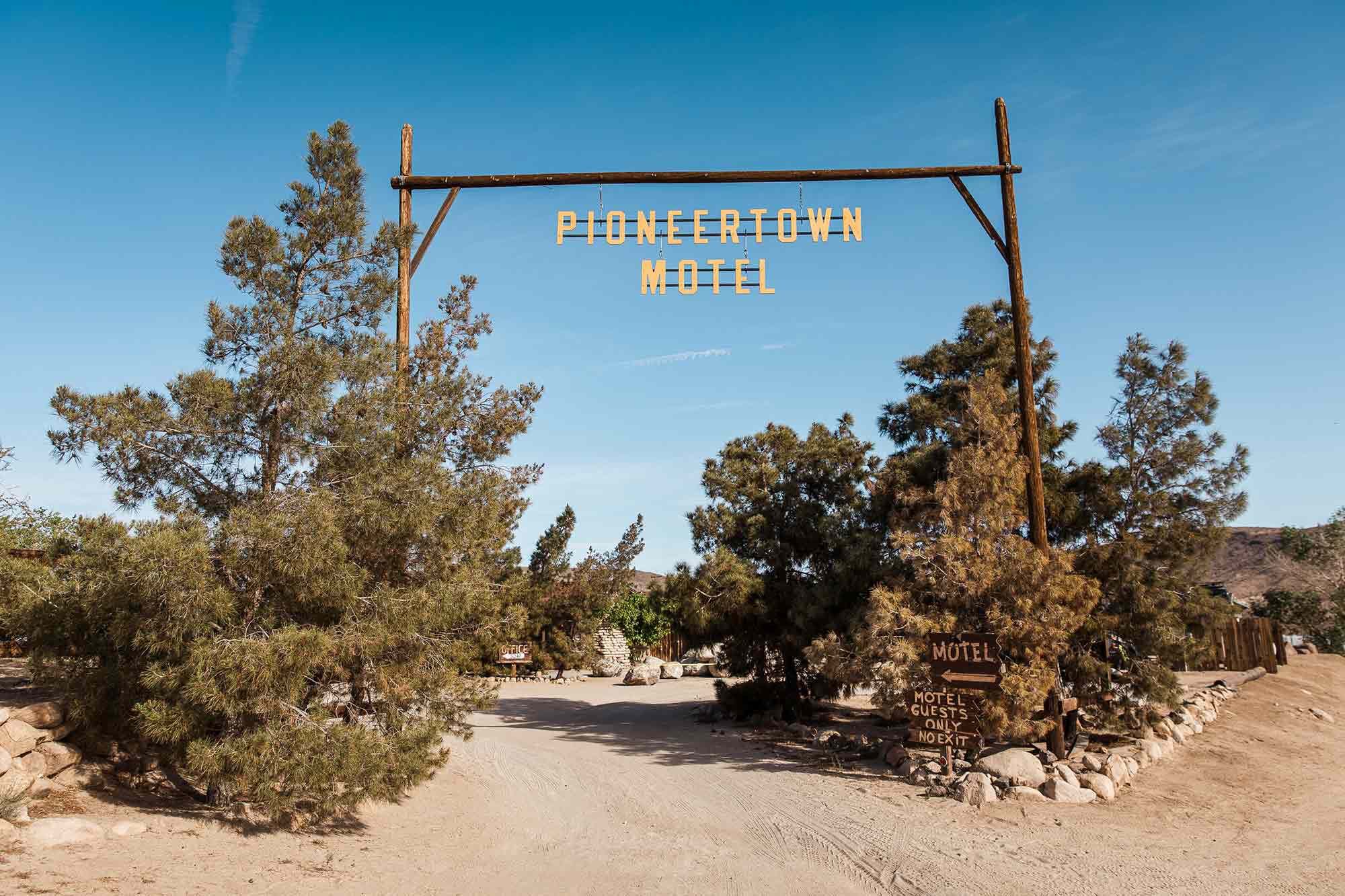 The entire grounds of the Pioneertown Motel were rented out for the Aether Rally. (Monti Smith/)
Pulling into Big Bear, we parked next to the only other motorcycles on the street, two older BMW GS models. This quiet mountain town is known for its ski slopes and affordable cabin rentals, but surrounding mountain roads and dirt trails make it a destination for motorcyclists of all kinds. We sat near our bikes and ate sandwiches as we waited for the other riders, but as often happens, the group was delayed. We decided once again to forego the group ride and take off on our own.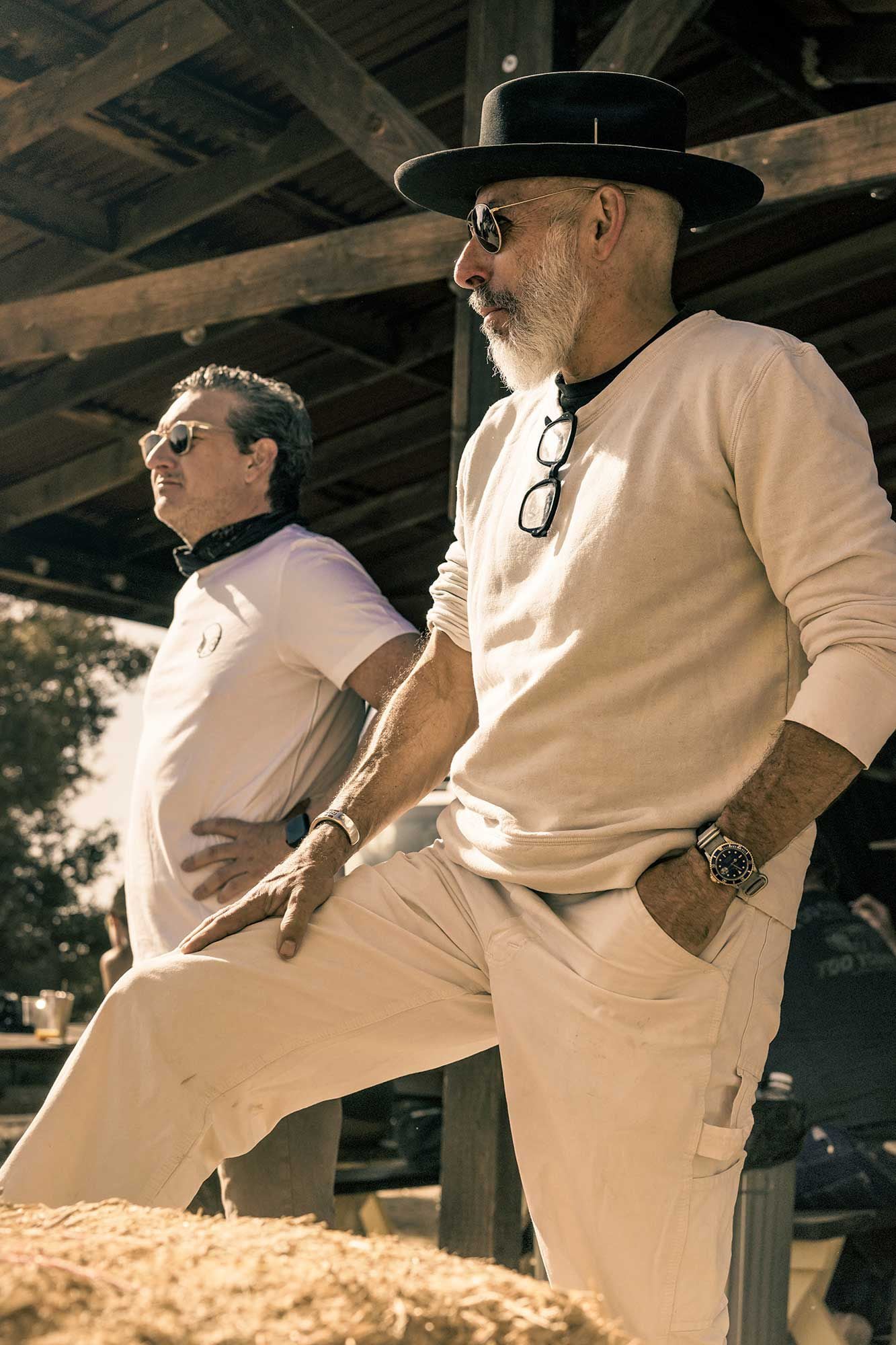 Davide Berruto soaks up the evening sun as riders arrive at the fifth annual Aether Rally. (Chris Thoms/)
The 19-mile 2N02 trail would bring us nearly the entire way into Pioneertown. I was comfortable and confident on my overqualified GS. Fox was brazen as ever on his Road King, more barreling through obstacles than choosing a path around or over them. We were in no rush and stopped often to drink water or sit in the shade. We rode through late afternoon, when golden beams of light cut through the trees to illuminate our dust, moving swiftly up rocky climbs and flowing up the banked dirt switchbacks. Exploring California's backcountry with an old friend. and a couple of new ones met along the way, was as close to a perfect moment as I can remember.
We ascended the rocky dirt path through tall pines before reaching the peak and stopping for a cigarette. We rode switchbacks down into the desert as the damp earth beneath us gave way to dry sand, eventually returning to the pavement that would lead us into Pioneertown, cold drinks, and a warm welcome.
Pioneertown was built in the mid-40s by a group of Hollywood celebrities as a fully functional western movie set and a hub for their shenanigans. Mane Street (yes, that's how it's spelled) cuts through the center of town, a wide, dusty thoroughfare open only to foot and hoof traffic, home to an old timey blacksmith, leathershop, post office and more; quite a scene. On weekends, flea markets and gunfight reenactments draw tourists, but our visit coincided with a large country music festival. There were entirely too many brand new cowboy hats on the premises.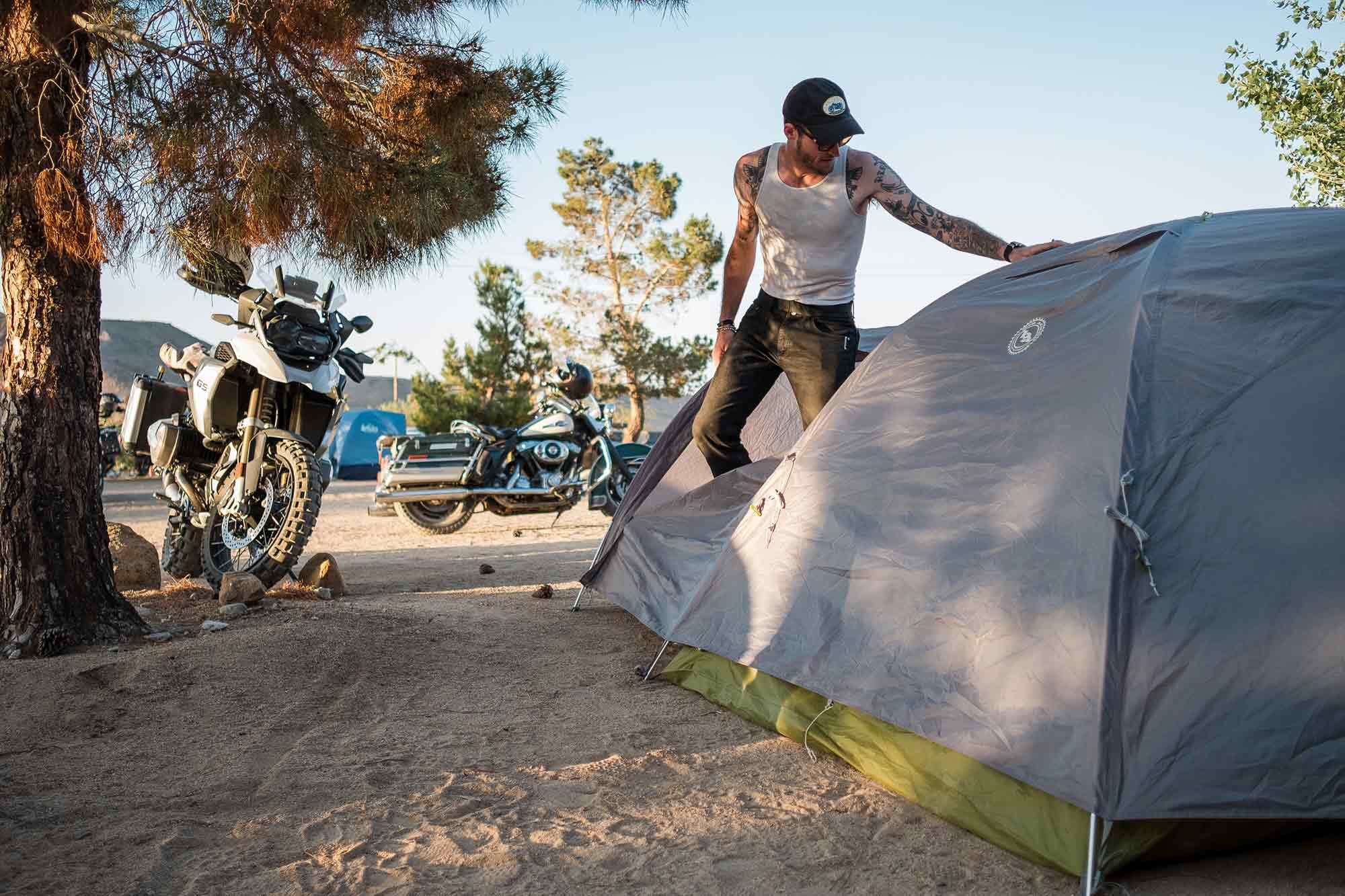 This Big Agnes Bikepacking 3 tent has been with me for many journeys. It sets up easily, packs up small, and best of all, straps right to the bike with no added equipment. (Monti Smith/)
We grabbed some libations from the cooler as we checked in at the Pioneertown Motel, then went back and set up our tents. Four-wheeled buddies had shown up in the meantime: vanlife Drew, Photo Mounce, and Big Dave in the chase truck. Attendees could rent a room at the motel, rent a camper van or a tent setup, or pitch a tent like we were. We sat around and chatted about the next day's plans for a bit, but anticipation of coming activities took us each to our tents before long even if that same anticipation kept us from sleeping.
When morning came I peeked out of my tent to see the sun bathing nearby Joshua trees in amber as a passing adventure bike kicked up some dust. I sat in my little doorway basking in the peaceful moment, knowing it would soon be interrupted by the sound of tent zippers as other riders awoke. Coffee was being served and there was a simple breakfast of muffins and fruit put out on the tables, so we rode over to the Red Dog saloon in the middle of town to grab some breakfast tacos. Nothing gets the taste of last night's beer and desert dust out of your mouth like bacon, eggs, and hot sauce, all wrapped up in a fresh tortilla, with the possible exception of toothpaste.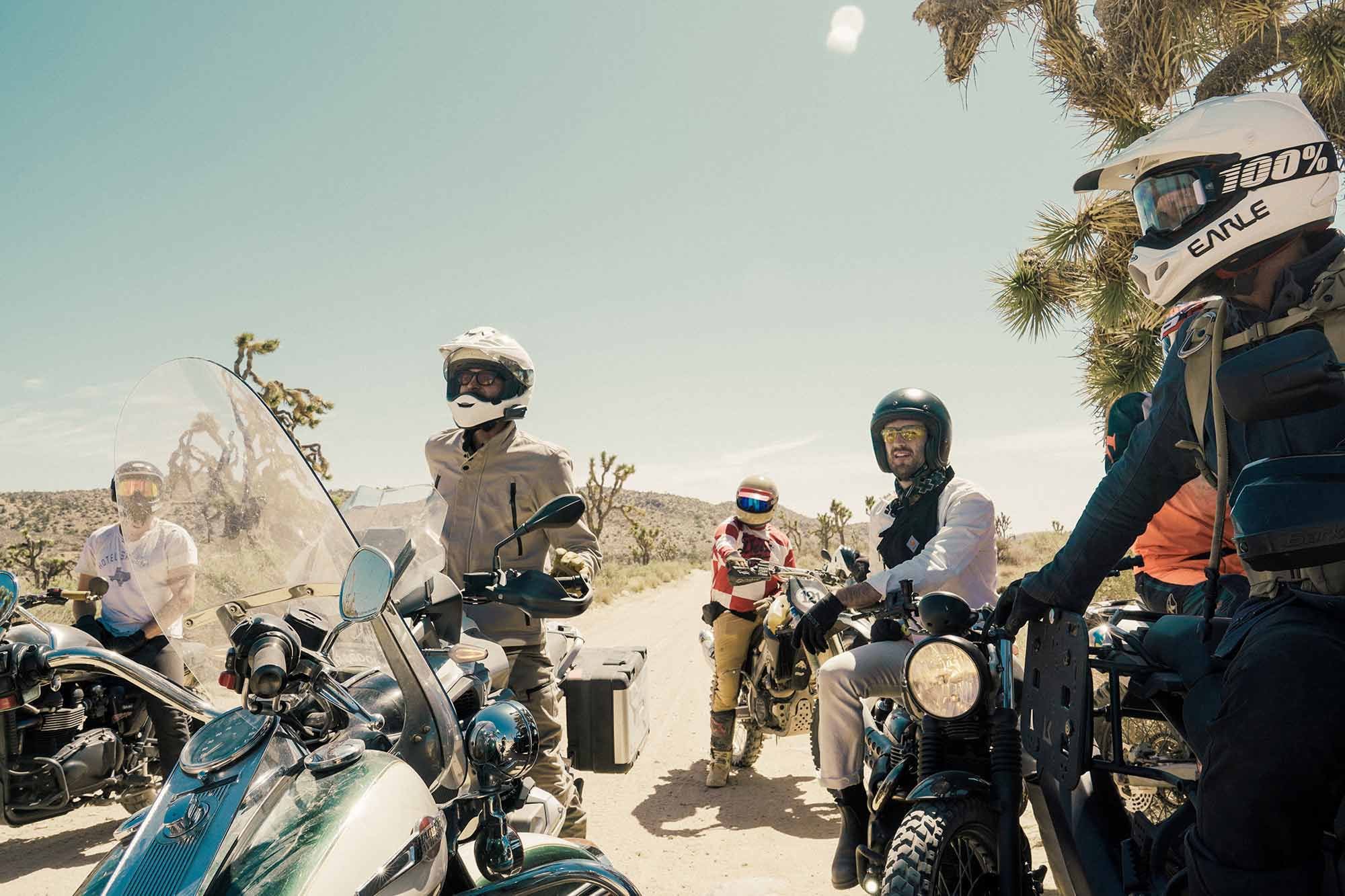 Once through the deep sand, our group stops to assess who's still with us and what's to come. (Chris Thoms/)
Saturday was the main event with three primary activities: an overland ride/drive that would cover several hundred miles of mostly pavement, a guided tour through Joshua Tree park, and the offroad route back up to Big Bear. That was the same path we had done the day before, but in the opposite direction. Drew, Mounce, Fox, and I joined five or six other riders and Dave in the chase truck to hit the offroad trail again.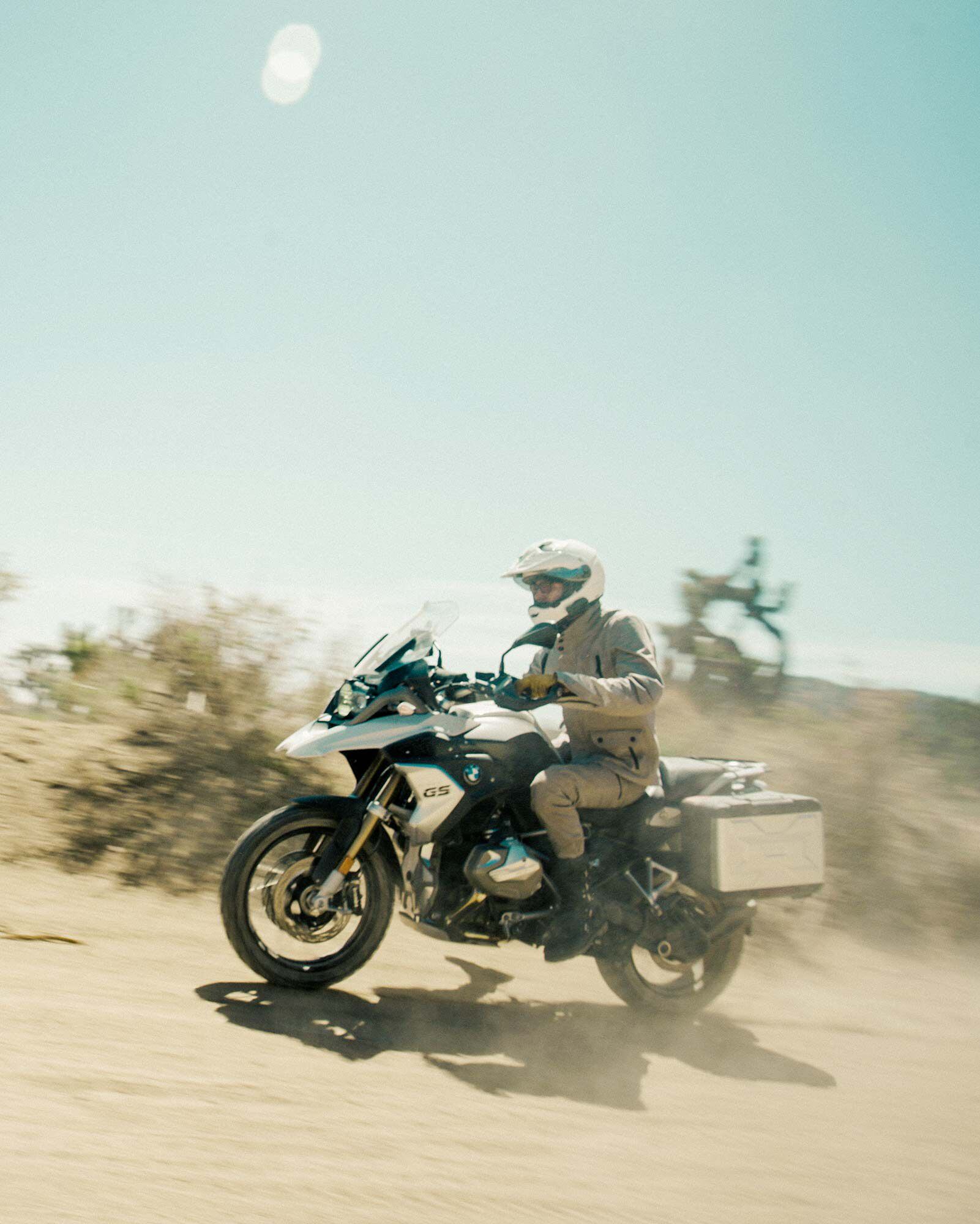 The BMW R 1250 GS is perfectly at home on trails like 2N02, easily ascending the rocky climbs and crossing any patches of sand or gravel we encountered. (Chris Thoms/)
As trails often do, 2N02 seemed only vaguely familiar from the other direction. The sand path that spit us out onto pavement had somehow deepened into a pit of despair in the 14 hours since our last visit. Two riders took this as a sign of more difficult trails to come and turned around to join the on-road group. The sandy section only lasted a couple of miles, and though my GS is big and heavy, it tromped through the soft stuff with ease.
Enduro Pro mode on the 1250 GS is a revelation. Rider aids are reduced to give the illusion of full control while staying subtly active, so I am able to brake hard going into a turn and throttle-steer my way through the exit, stepping the rear tire out a bit before traction control finishes the job better than I can. Weight is carried low on the bike, so the bike was still nimble and easy to control as I stood comfortably on the footpegs. The 1250 was a bigger bike than I had ever taken on trails like that, but the bike was more than capable and I was confident. Together we tackled 2N02 with speed and style, taking a few short breaks to hydrate.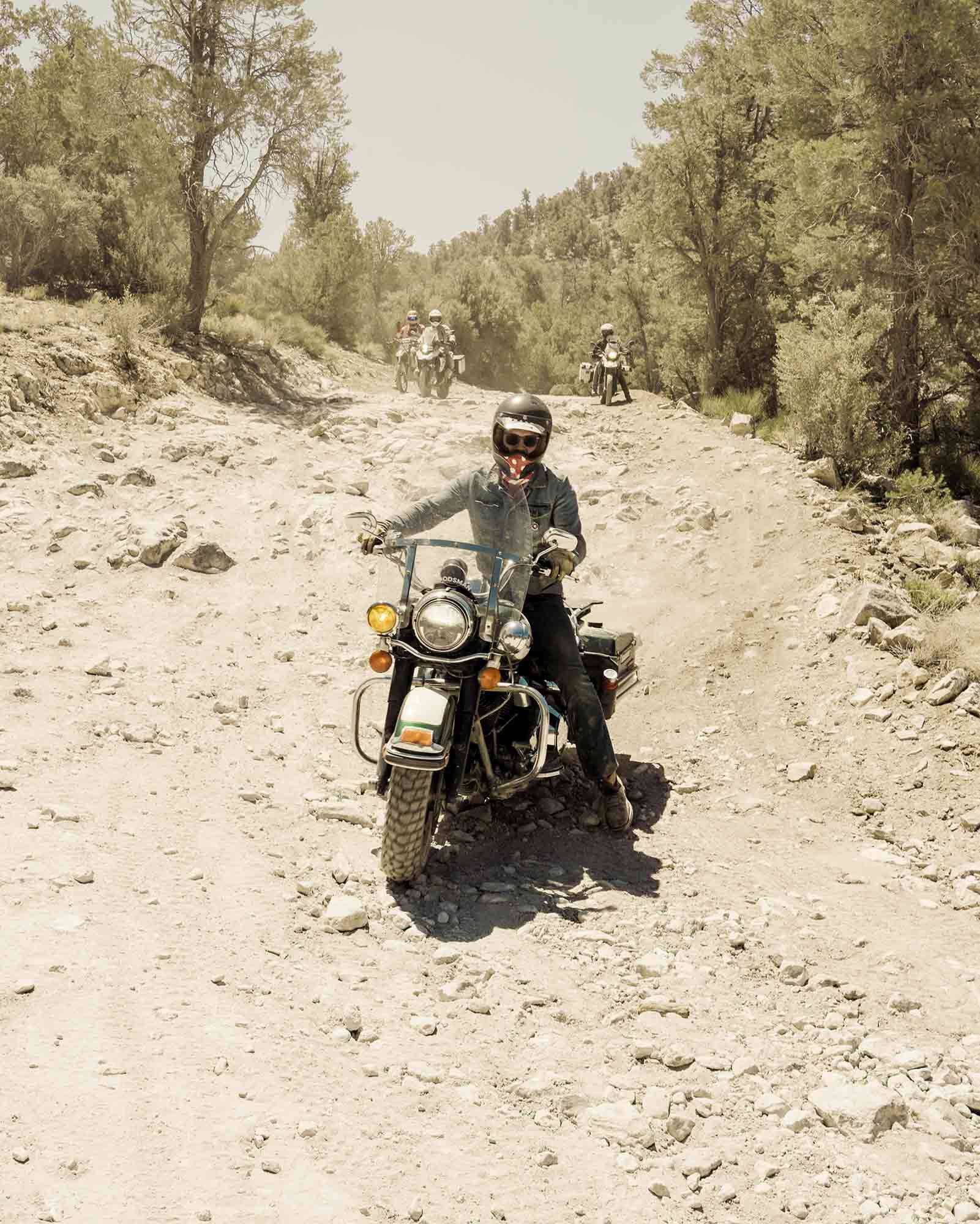 Fox Mausner showing everyone that it's not always the bike so much as the rider. (Chris Thoms/)
Fox and Drew take a rest under one of the trees along the trailside. (Monti Smith/)
Our group was a mixed bag of creatives, an industrial designer, a prosthetics engineer, a clothing designer, a writer, a couple of photographers. It seemed as if every new conversation revealed another impressive detail about the people around me. Best of all, everyone could ride. There was no hesitation to wait for the last of the group, but the last of us was never far behind the first. Group rides always run the risk of someone mistaking ambition for skill and trying to ride above their capabilities, but we finished with no injuries and only one bike in the back of Dave's truck.
At trail's end, four of us decided to book it back to Pioneertown on paved roads. As we pulled back into the Motel, the Aether Rally was in full swing, nearly twice as crowded as when we had left. Madre Mezcal had a tent set up with its new Desert Water cans. Huge racks of ribs covered two large smoking barbecues and were replaced with sausages as they were finished. There was even one kind gentleman, Llewelyn by name, who had set up a booth to teach people how to roll dried plant material into little paper cylinders. It was a day of adventure surrounded by good people, good food, and good drinks, and another near-perfect moment.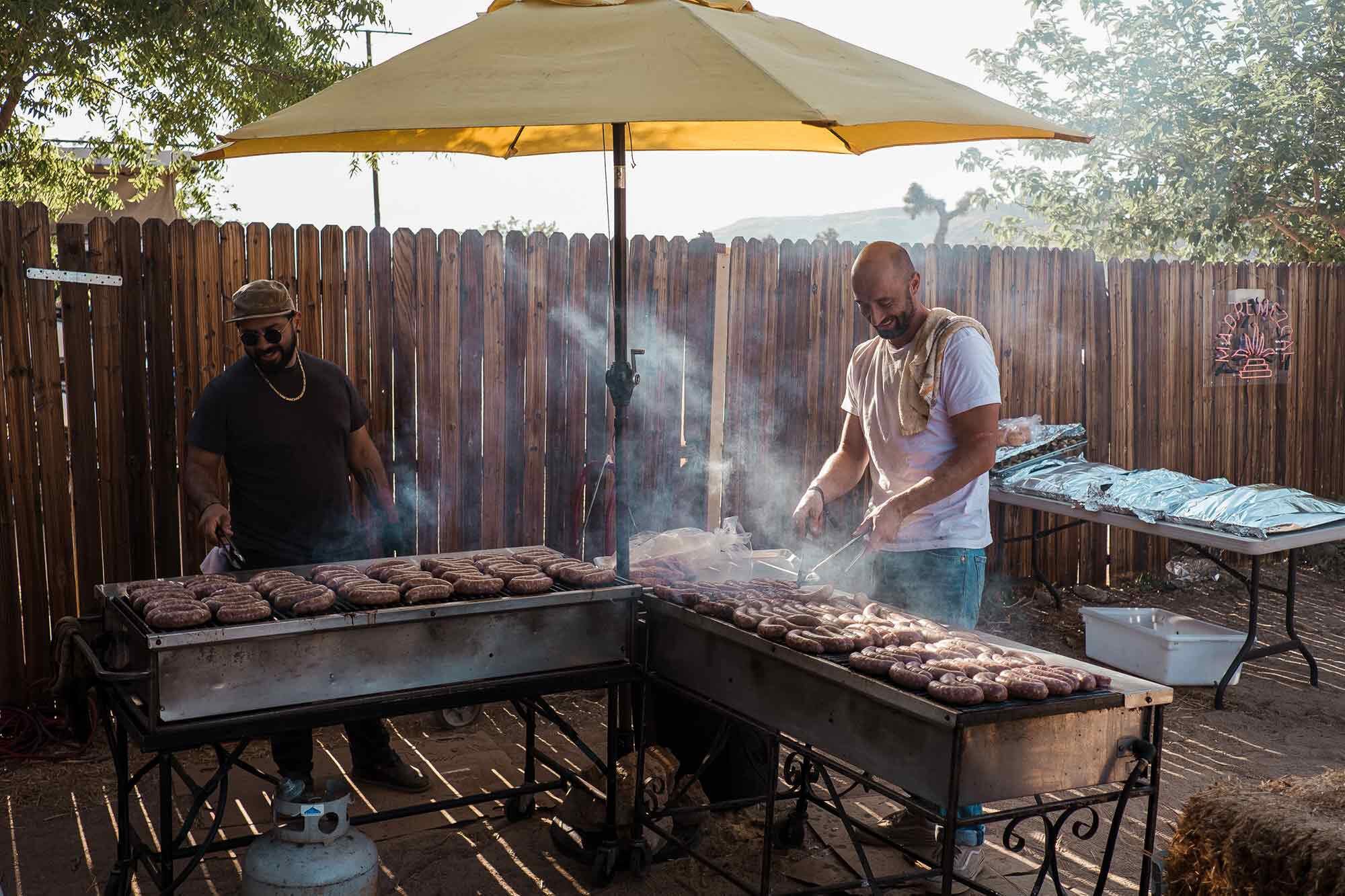 Barbecues smoke as our chefs prepared dinner on Saturday night of the Aether Rally. (Monti Smith/)
We relaxed and talked to everyone around us, this guy from Portugal, this woman from Colorado, the buddies from Mexico. Vehicles and a love of adventure had brought a truly great group of people together. Someone with a steel guitar hopped up and started playing songs. We sat around the campfire and talked.
The next morning was Sunday, and when I woke up much of the camp had already begun to clear out. There were no planned activities or meals, so most people just slugged some coffee and hit the road. Fox and I packed our camps and loaded up the bikes. I said goodbye to Davide and thanked him for the invite. His prediction had been correct; I did in fact love the Aether Rally.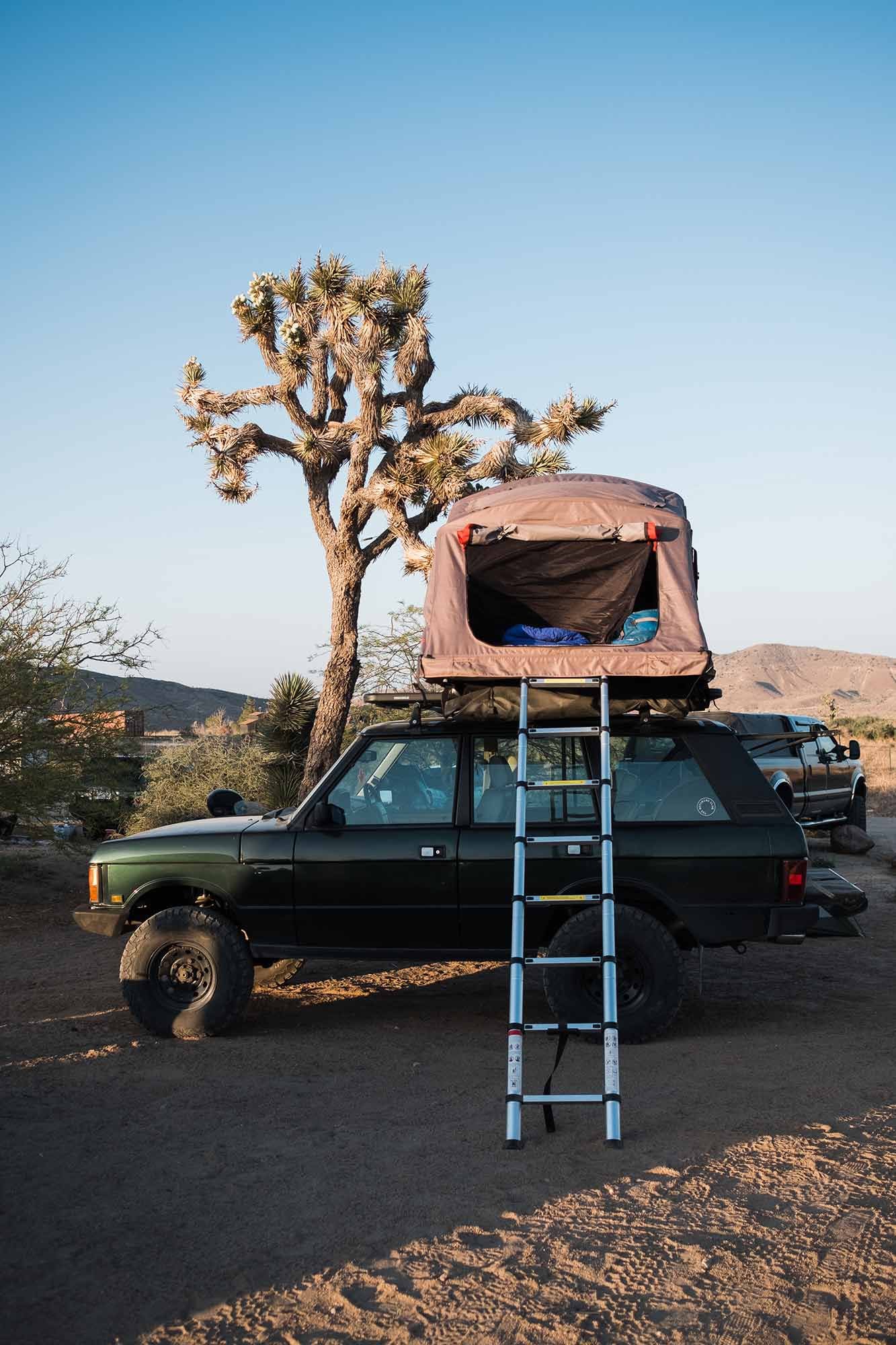 Camping in comfort and style in this vintage Range Rover. (Monti Smith/)
I rode home along highway US-10, a flat, straight, wide road that's often dense with cars. It's not a fun trip, but I smiled in my helmet most of the way back. I spend most of my time riding alone. It's easy to forget how much fun it is to go exploring with friends. I have attended many chopperish and V-twin-centeric campouts, but never an adventure bike or overland focused event like this. If the others are anything like what Aether has put together here, I'll be there.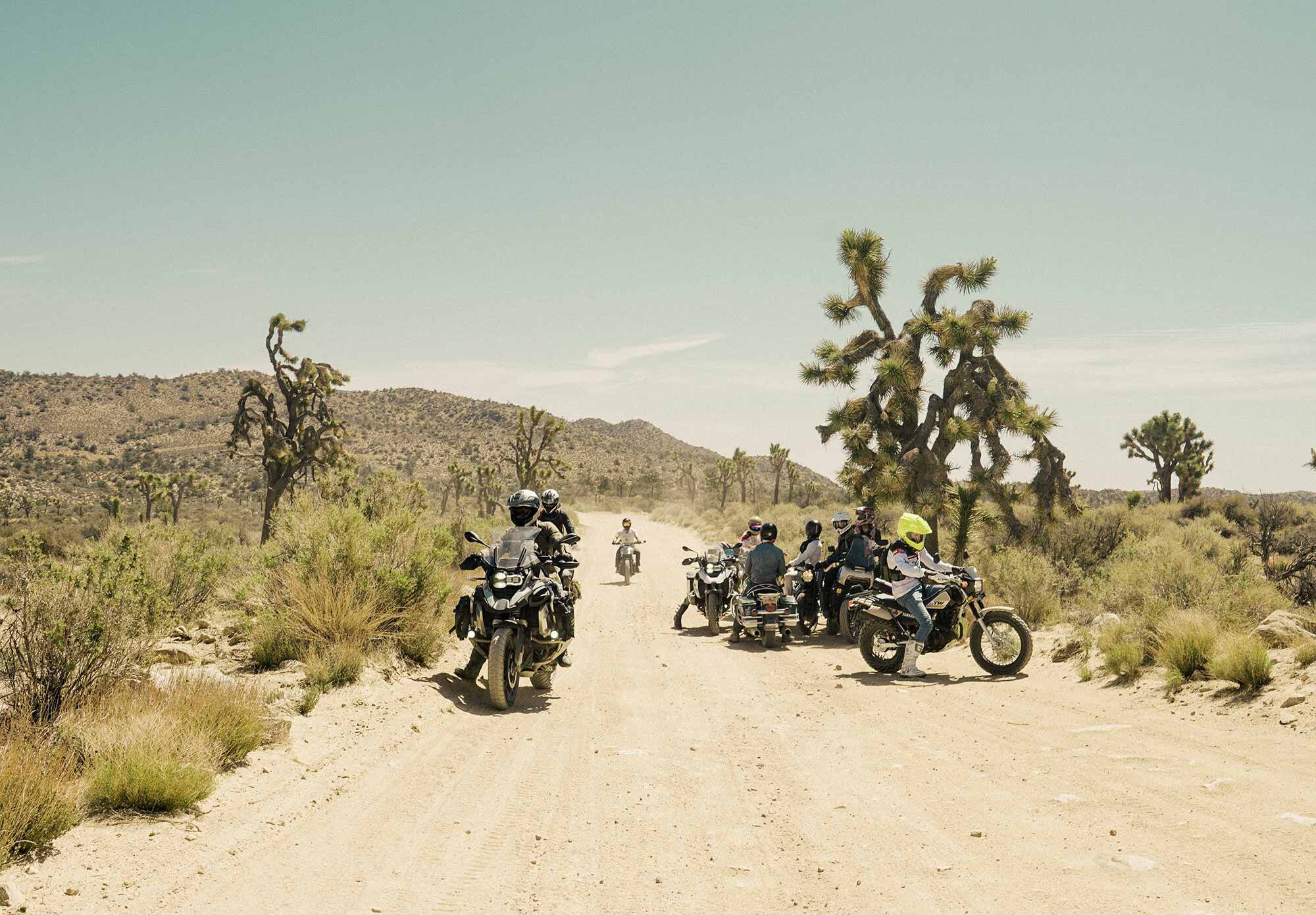 Big adventure bikes, scramblers, and of course Fox on his Road King. (Chris Thoms/)
View full post on Cycle World