Alpinestars SP-8 V3 Gloves Hands-On Review
Alpinestars SP-8 V3 Gloves Review Summary
Review Summary
The Alpinestars SP-8 V3 gloves are an entry-level full gauntlet unit, offering decent protection at an affordable price point. Constructed from a combination of synthetic and full-grain goat leather, these gloves are comfortable, come with CE Level 1 protection, and have some notable upgrades over the previous model. These gloves fell short in some areas, but I still think they return great value for the price.
Pros
Extended cuff for greater coverage
Improved half inner/half outer seam design
Complies with CE Level 1 EN 13594:2015, Level 1 KP safety standards
Touchscreen-compatible fingertip on index finger and thumb
Multiple attractive colorways
Cons
Lacks hard armor on the palm and cuff
Finger lengths are inconsistent
Perforation could be better for summer riding
3.9
Average, With Drawbacks
Alpinestars SP-8 V3 Gloves Image Gallery
Review Summary
The Alpinestars SP-8 V3 is the brand's entry-level full-gauntlet glove.
Features like touchscreen-compatible fingertips make them a decent option for everyday use.
These gloves are tailored for the sporty street rider rather than a track racer. Similarly-priced options like the Sedici Corsa gloves offer hard armor in places that the SP-8 V3 doesn't.
Protect Your Digits
After years of use (that some may even categorize as abuse), I was forced to retire my last pair of full gauntlet gloves — the RST TracTech Evo gloves — in early 2020. They were my everyday pair of riding gloves, through all that Mumbai, India, had to throw at me until one of them developed a gaping hole in the palm.
They were replaced by the convenience of a pair of short-cuff gloves from Rynox, knowing in the back of my mind that I'd need to invest in more comprehensive protection soon.
Cue the arrival of the Alpinestars SP-8 V3.
I ordered them off Revzilla during the holiday season, and four months and a few thousand kilometers later, here's what they've been like.
Build Quality and Materials
With a price tag that oscillates around the $100 mark, the Alpinestars SP-8 V3 gloves act as the entry into the Italian company's full-gauntlet range. With a premium-feeling construction combining synthetic and full-grain goat leather, I've found no reason to complain about the use of materials or finish levels. The gloves featured an improved seam design compared to the previous model, the SP-8 V2. The stitching is noticeably neater, and it's held up well so far.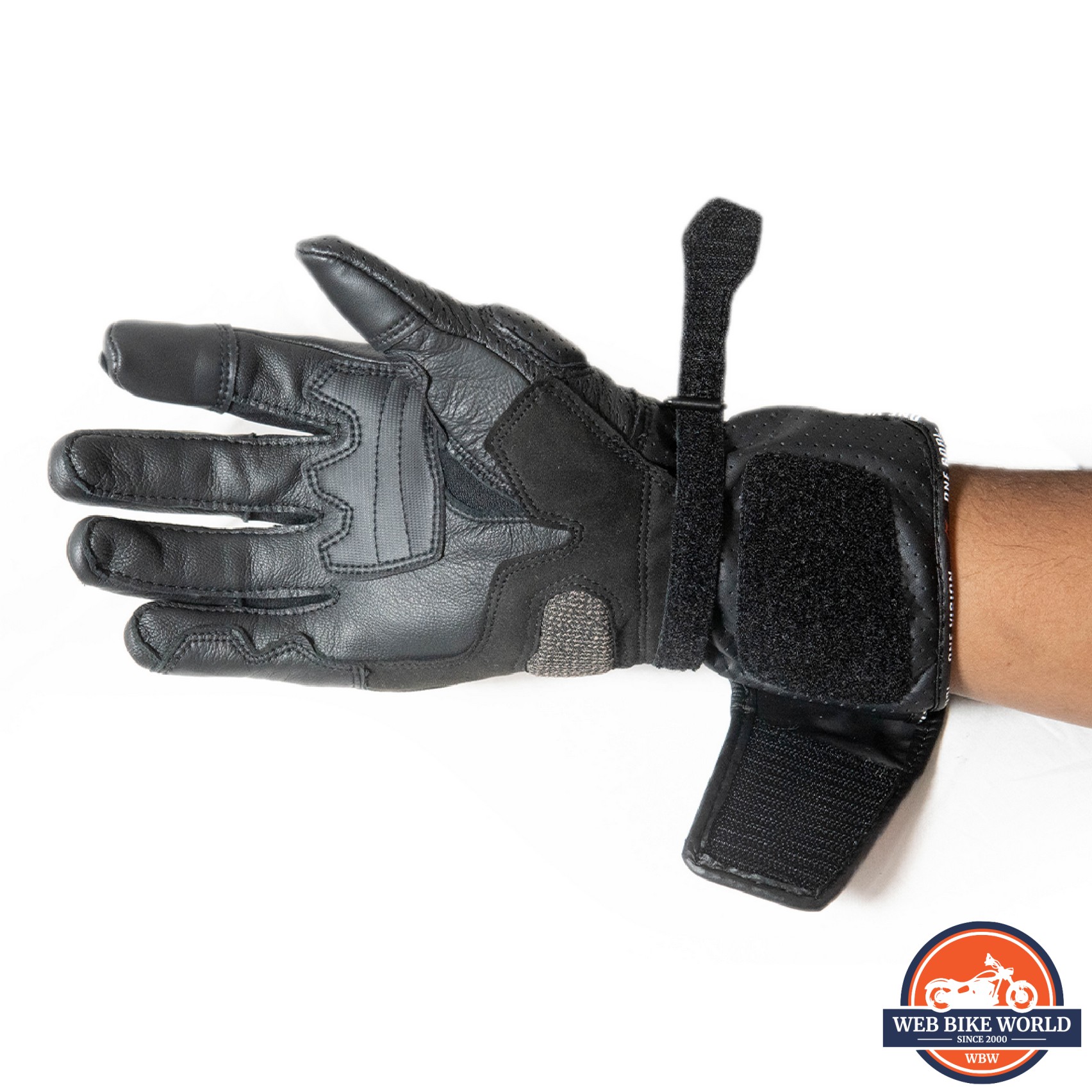 Alpinestars has been in the business of creating high-quality riding gear for six decades now, and it's evident that the company knows how to get most of the basics right. For instance, there are textured grip inserts on the palm (extending from under the index finger to the ring finger) and at the base of the thumb for better throttle grip. It's hard to quantify how much they improve grip levels, but the difference in texture and traction can definitely be felt.
Then, there are the touch panels on the tips of the index finger and thumb that are impressively accurate with a phone screen. You can navigate through menus and dial numbers with no problem, and with a bit of patience, you could even type out a short message if you really had to.
Lastly, there are perforated areas above the fingers, along the thumb, and on the wrist, but if you ride in temperatures mostly above 70°F, you'll find that the ventilation isn't adequate.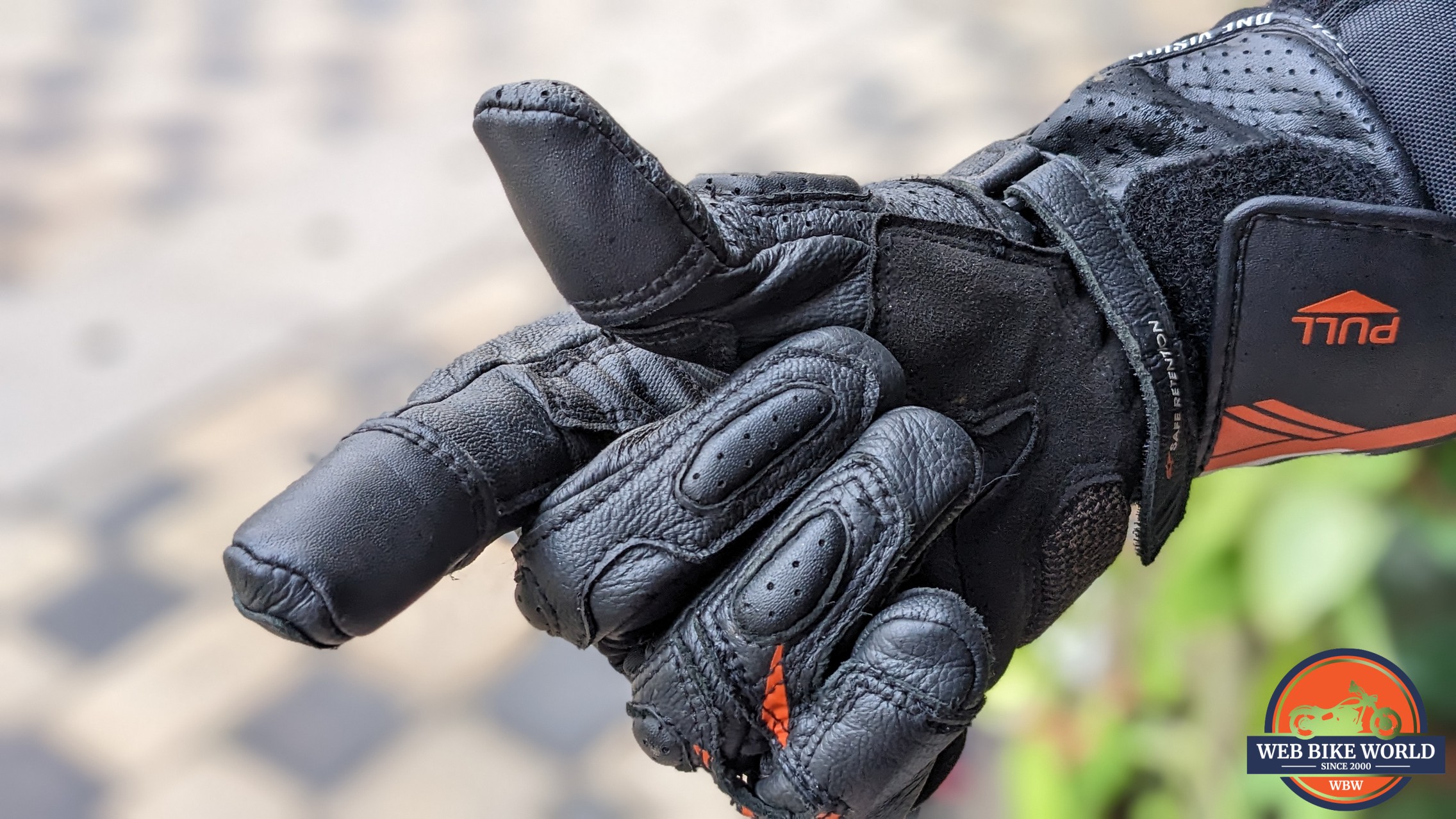 Fit and Comfort
I saw several customer reviews online that said these gloves fit perfectly right out of the box (or the plastic cover I got them in, in my case). Unfortunately, I didn't feel the same when I first tried them.
They're not uncomfortable by any measure, but I did feel a pinch between my thumb and forefinger on the upper side of the glove when I gripped the throttle. I also found that the middle finger of the glove ran a little short for my hand, and the tip of my finger kept brushing against the inner stitching.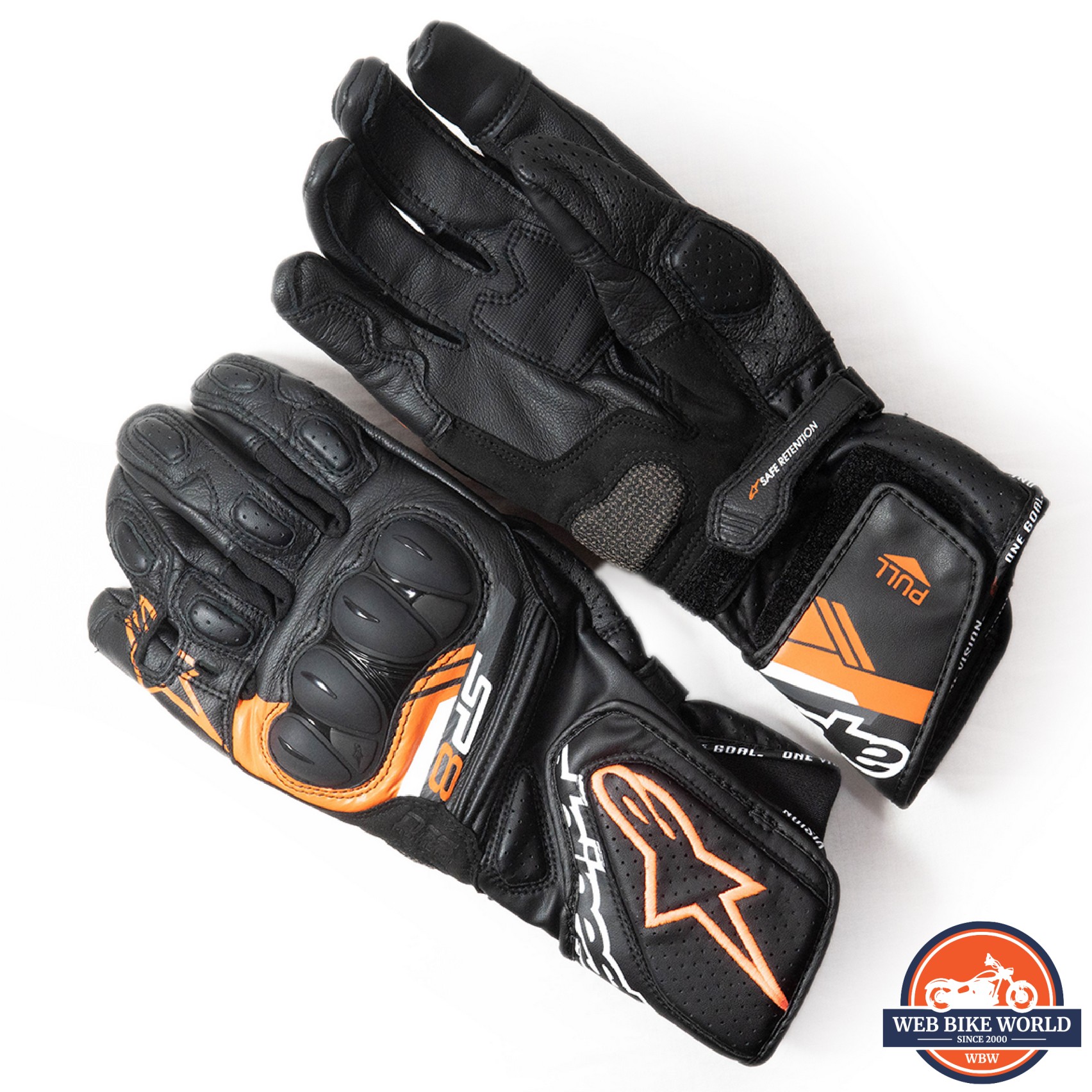 These issues were reduced significantly once the gloves broke in and the leather stretched out. The first time I wore these gloves was on an 800km (500 miles) ride, and I found that they'd broken in pretty well towards the end of it.
That said, if I intentionally try to feel for the inner seam at the fingertip, it almost instantly brushes against my finger. I got the gloves in size 'L' according to the Alpinestars sizing guide and made the right choice. While sizing up may have given my middle finger a little more room, it was not worth compromising on the fit I got across all my other fingers and palm.
These Alpinestars SP-8 V3 gloves feature a two-step fastening system with hook and loop closures at the wrist and cuff that you can adjust for a secure fit. The entry into the gloves is also pretty wide, so if you want to wear a watch underneath, you can do so comfortably. I usually don't, but I tried them on while wearing a chunky G-Shock Mudmaster, and they could accommodate it easily.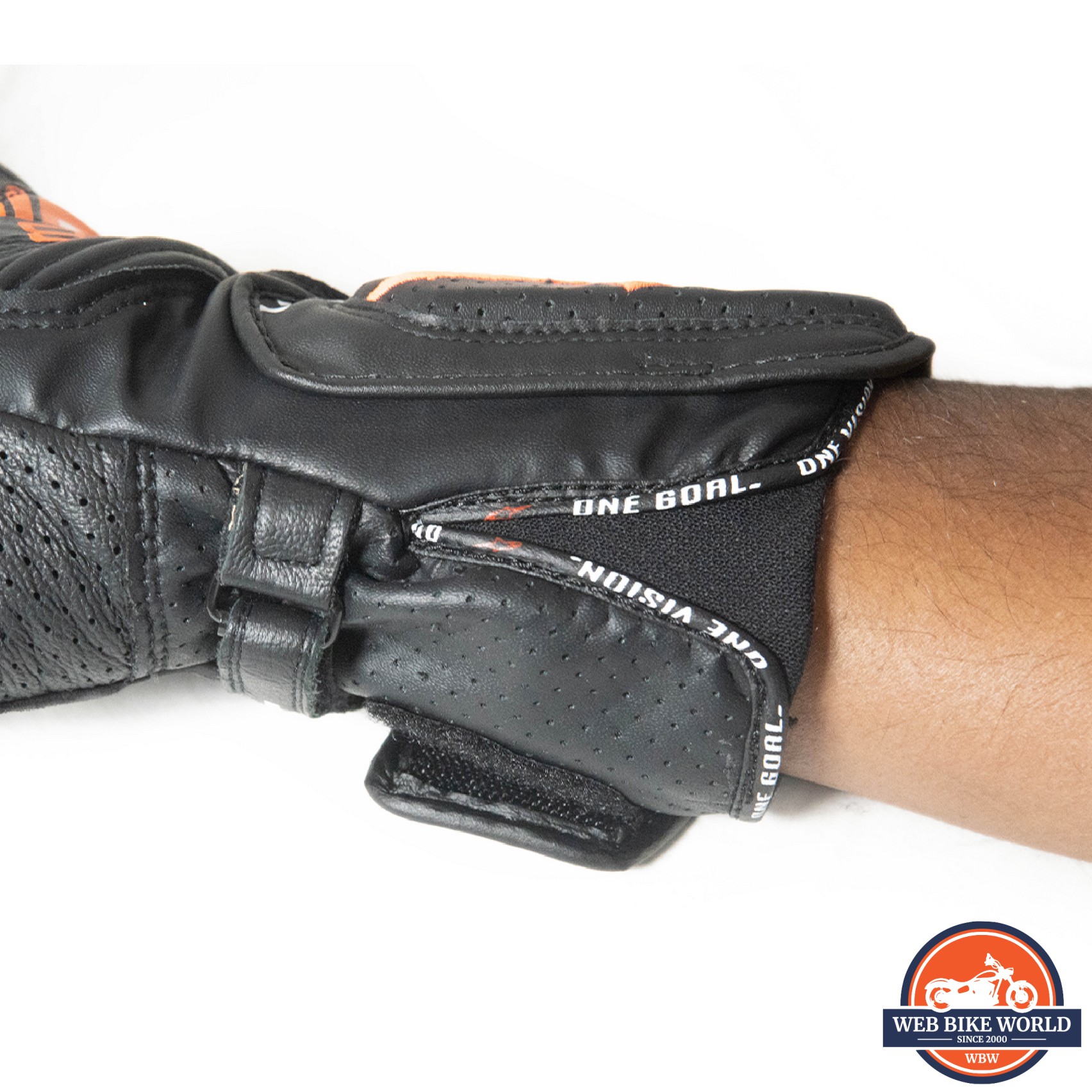 I didn't get the opportunity to test these gloves out in the rain, so I can't comment on what they're like in the wet. They aren't designed to be waterproof, but I still wanted to check how much water resistance they offered. I wore them under a shower, and it took a good 30 seconds before I could feel any water inside the glove.
The first point of ingress was on the outer edge of the thumb, where there was a sizeable perforated leather panel. This isn't a conclusive test by any measure, and real-world conditions might prove different results, but it's nice to know that they'll likely keep your hands dry if there's a light drizzle.
Protection
Alpinestars markets the SP-8 V3 as sport-riding gloves for the streets. They are CE Level 1 rated and comply with EN 13594:2015 safety standards with a KP 1 rating. A CE Level 1 rating for these standards set in 2015 means that the gloves have been tested across six parameters, achieving satisfactory results across all of them.
Arguably, the most important of these is abrasion resistance. And in this regard, the tests demand that the gloves withstand at least three seconds of abrasion before developing a hole.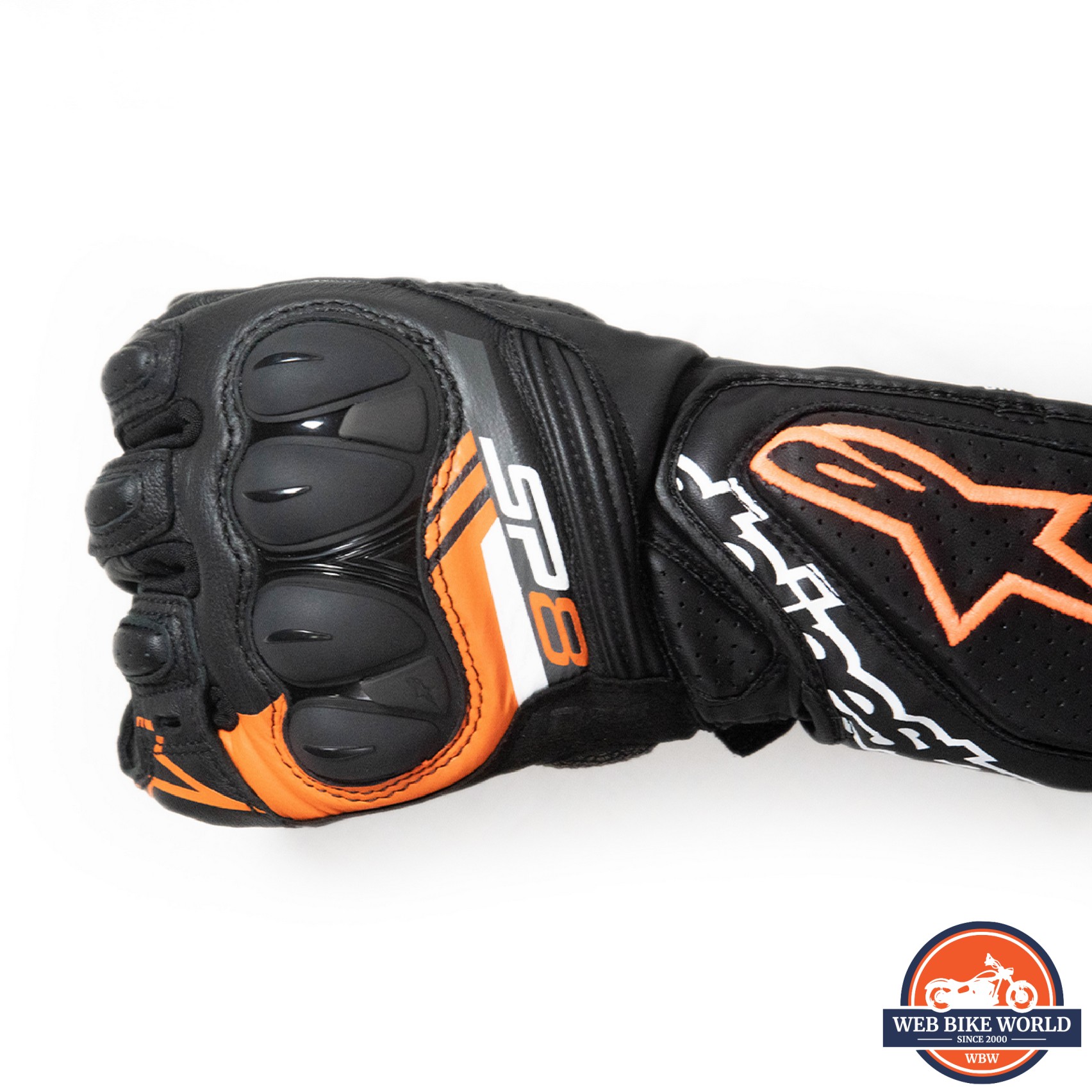 Meanwhile, the KP 1 rating means that the knuckle protection on the gloves has passed an impact test. Overall, I think there's decent protection on offer for the average street rider. However, I wish there was also hard armor protecting the scaphoid. The palm slider on these gloves is made from the company's 'Arshield' material, a combination of high abrasion-resistant aramidic fiber and polyamide.
Is it as protective as hard armor like the Knox SPS? Definitely not. But it's better than nothing and will contribute to mitigating abrasion more than it will impact. In most crashes, riders tend to stretch their arms out onto the ground, so the palm is often the first area that makes contact with the tarmac. So, I feel like the SP-8 V3s are lacking in that department.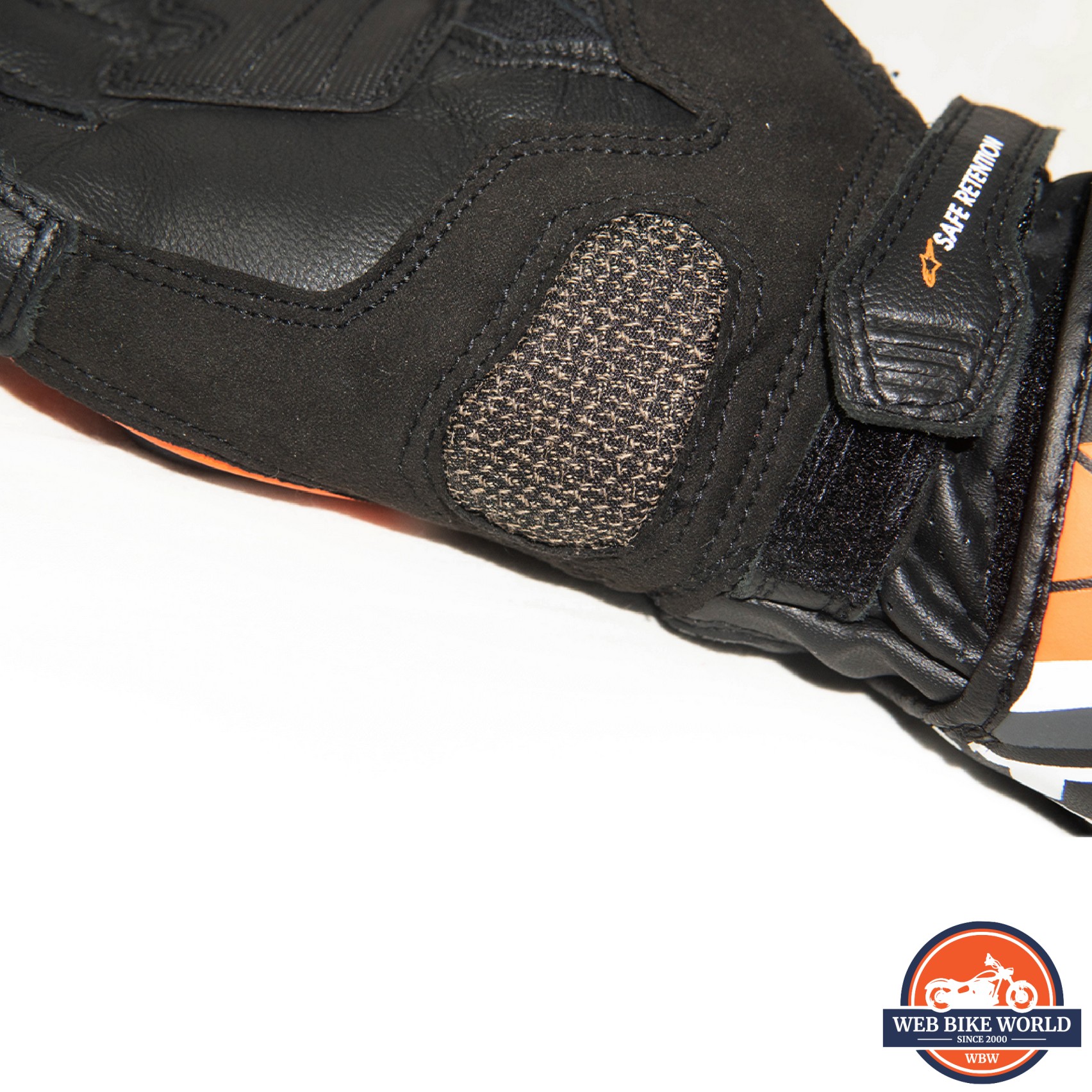 The same goes for the cuff. Instead of hard armor, you'll find reinforced foam padding. Per my research, the Sedici Corsa gloves and Cortech Revo Sport RR gloves have better protection, at least on paper, at a similar price point. They feature hard armor on the palm and cuff but miss the finger bridge between the ring and little finger that the SP-8 V3s have.
Verdict
The Alpinestars SP-8 V3 gloves are perfect for someone looking for a street or sport-riding glove around the $100 mark. You could argue that there's enough protection for you to wear them on a casual track day, but then, is there such a thing as a casual day at the track?
If those are your primary intentions with your next pair of gloves, you might be better off considering something like the Sedici Corsa gloves. If not, these should be sufficient for most scenarios the average street rider will find themselves in.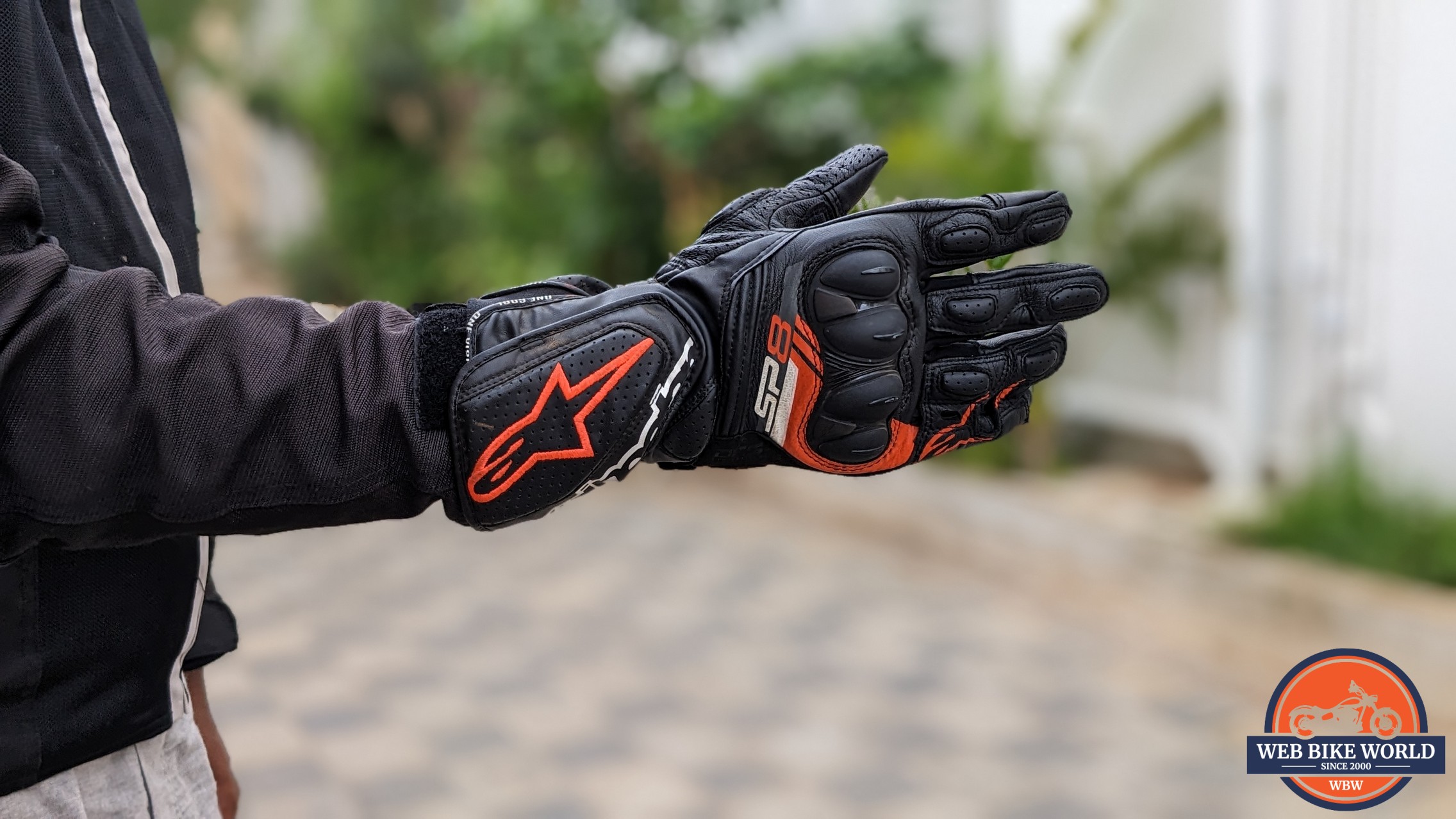 Pros
Extended cuff for greater coverage
Improved half inner/half outer seam design
Complies with CE Level 1 EN 13594:2015, Level 1 KP safety standards
Touchscreen-compatible fingertip on index finger and thumb
Multiple attractive colorways
Cons
Lacks hard armor on the palm and cuff
Finger lengths are inconsistent
Perforation could be better for summer riding
Specs
Manufacturer: Alpinestars
Price (When Tested): $104.95
Alternative models & colors: Black/Red Fluo, Black/Black.  Black/White/Bright Red, Black, Black/White/Red Fluo
Sizes: S to 4XL
Review Date: May 2023
Important Links/Where to Buy
The post Alpinestars SP-8 V3 Gloves Hands-On Review appeared first on webBikeWorld.
View full post on Web Bike World