Alpinestars Spring 2023 Honda Collection Released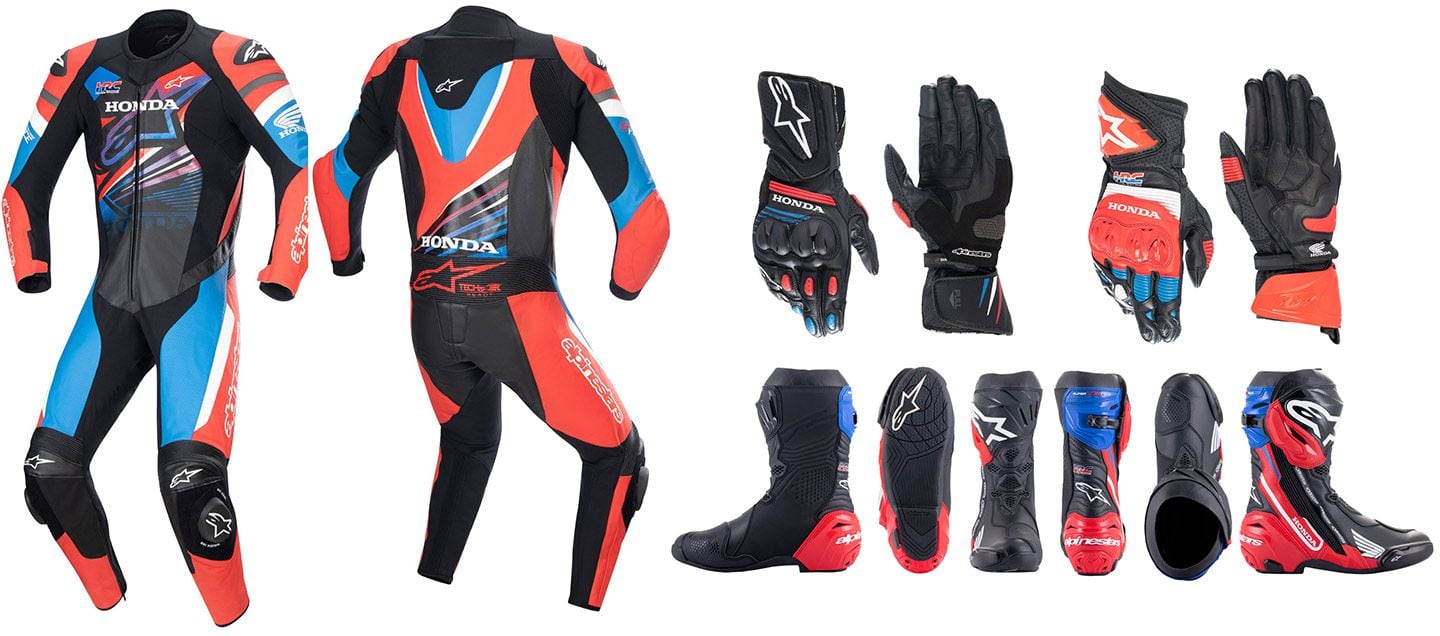 The Honda GP Force suit, Supertech R boots, and GP Pro R3 and SP-8 v3 gloves. (Alpinestars/)
Alpinestars has just released its Spring 2023 Honda Collection, a range of apparel that covers the gamut including collections under the Touring, Urban, Racing, and Racing Sport lines. The collections are based on Alpinestars' traditional lines, but branded to give enthusiasts of the Honda brand another way to show off their love for all things Red.
Touring
Starting with the Touring lineup, there are two complete suits, the Honda Bogotá Pro Drystar jacket and pants for men, and then for women, the Honda Stella Andes jacket and pants. The Bogotá jacket ($459.95) and pants ($339.95) offer all-season protection with a Drystar membrane for water resistance and a three-layer system that offers a removable liner for warmer riding conditions. The jacket has tons of ventilation, while both feature protective armor. The Bogotá is offered in the two colorways seen below. Key features include:
The Honda Bogotá Pro Drystar is Tech-Air ready
Drystar waterproof membrane is both waterproof and breathable
Detachable thermal liner
Includes both back and chest inserts, as well as Alpinestars' new, long back protector insert
Innovative collar closure with adjustable self-centering snap closure
Two front zippered pockets, two chest pockets, an inner waterproof document pocket, and two inner pockets on the liner for safe and secure storage of valuables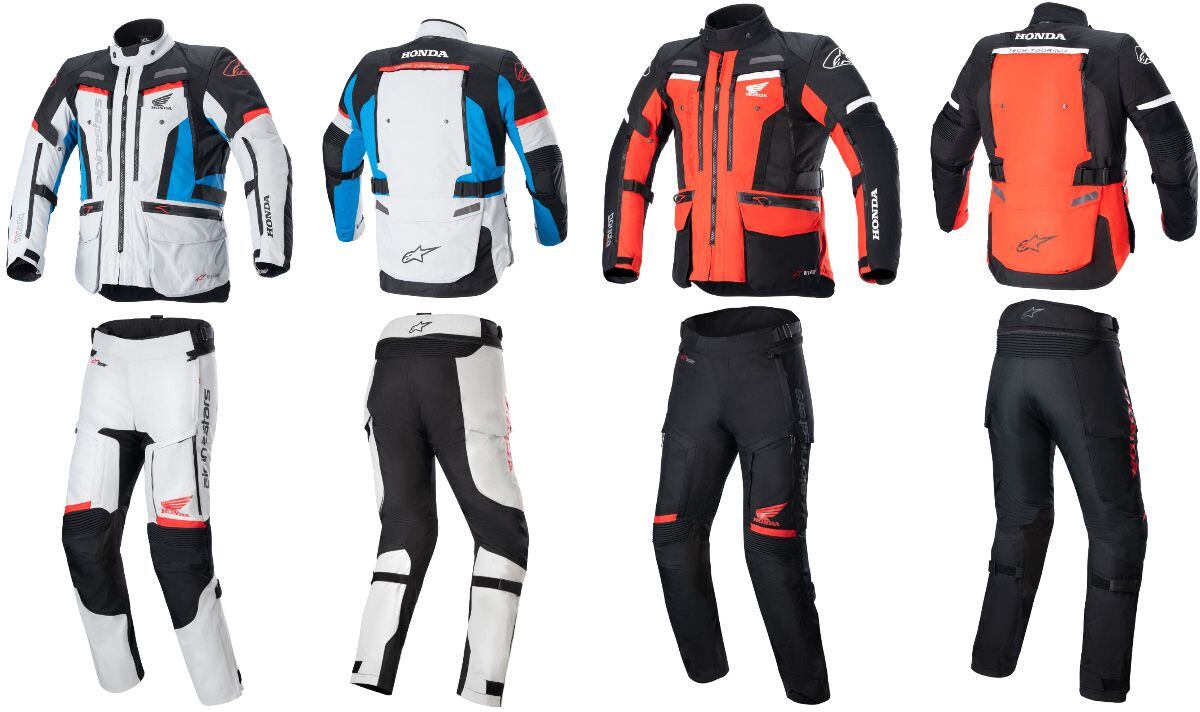 The men's Honda Bogotá Pro Drystar suits. (Alpinestars/)
The Alpinestars Honda Stella Andes Drystar jacket ($319.95) and pants ($249.95) are tailored specifically for female riders. The Stella Andes v3 Drystar jacket and pants offer a 100 percent waterproof membrane and are fitted with back, shoulder, and elbow armor. Key features include:
Waterproof cargo pockets
Large, external utility pocket on lower back, plus internal pockets and a waterproof wallet pocket
Integrated soft edge collar
Premium YKK zipper for main front closure
Adjustable bottom side gussets for an optimal fit
Removable long-sleeve thermal liner
Hook-and-loop-closing waist adjustment belt
Tech-Air ready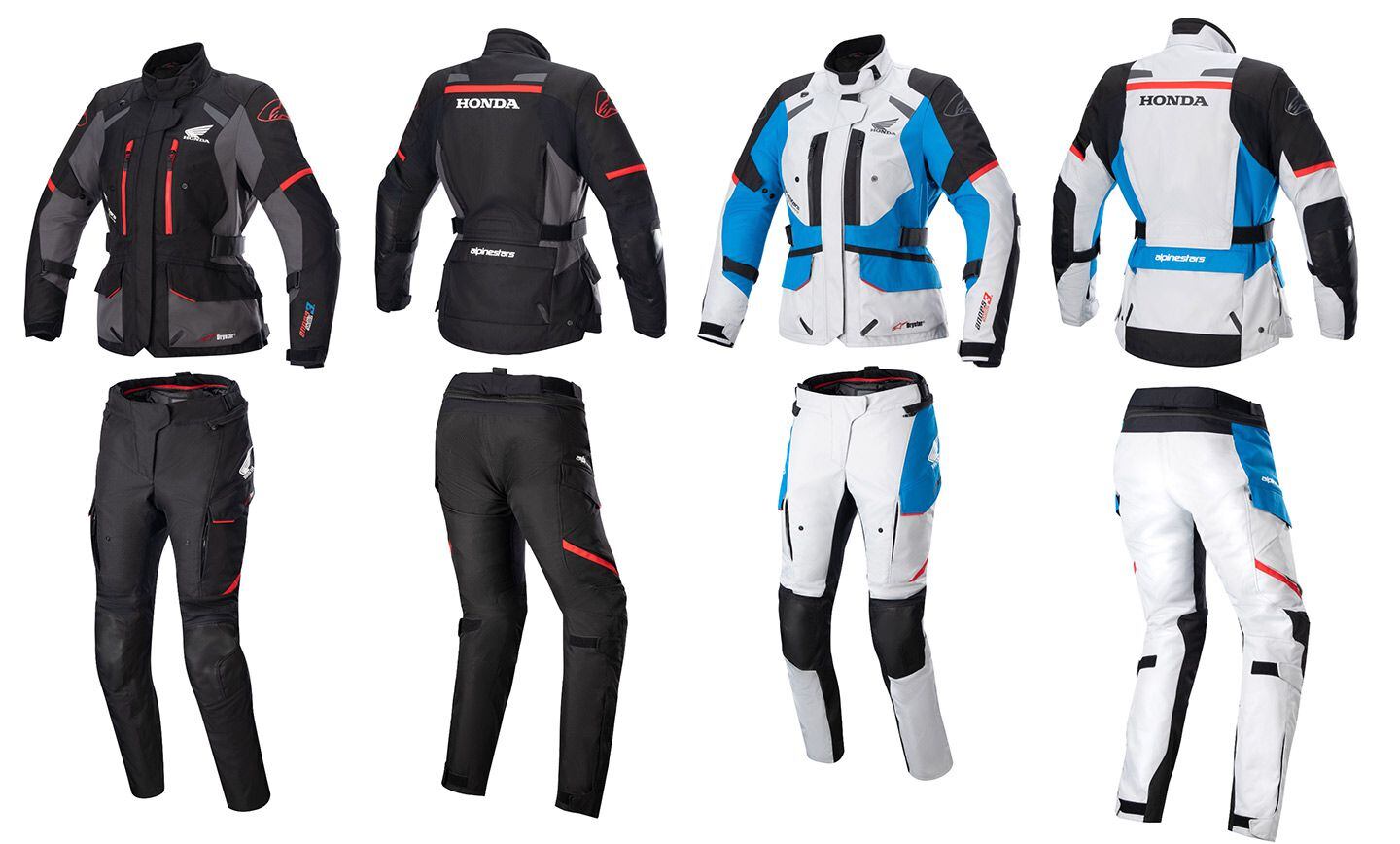 The Honda Stella Andes Drystar line. (Alpinestars/)
Urban
In the Urban line, there are three products that are Honda branded, including the Honda Chrome Street hoodie ($274.95) designed for urban riding and commuting. It offers casual style yet is made of highly abrasion-resistant material in the shoulders, elbows, and back and armored protectors in the elbows and shoulders. Key features include:
High collar for enhanced levels of comfort, and removable hood
Nucleon Flex Plus protectors on the shoulders and elbows
Back compartment can accommodate a Nucleon back protector
Waterproof inner pocket
Next up is the Honda Luc v2 Air jacket ($214.95), which is a bomber-style jacket that offers a lot of ventilation, an elongated rear that offers better coverage and comfort, and is Tech-Air ready. Key features include:
Extensive perforations for optimized airflow
Tech-Air ready
Extensive, high abrasion-resistant mesh inserts strategically positioned for optimized cooling
Lightweight, with elbow and shoulder protectors
Chest and back compartments can accommodate the Nucleon chest and back inserts
External zippered pockets for safe and convenient storage
Reflective detail on back
Additionally, the Urban line offers the Honda Copper glove ($54.95). The urban-style glove has rigid knuckle protection, a full suede palm, and a touchscreen-compatible fingertip.
The Honda Chrome Street hoodie (left), and Honda Luc v2 Air (right). (Alpinestars/)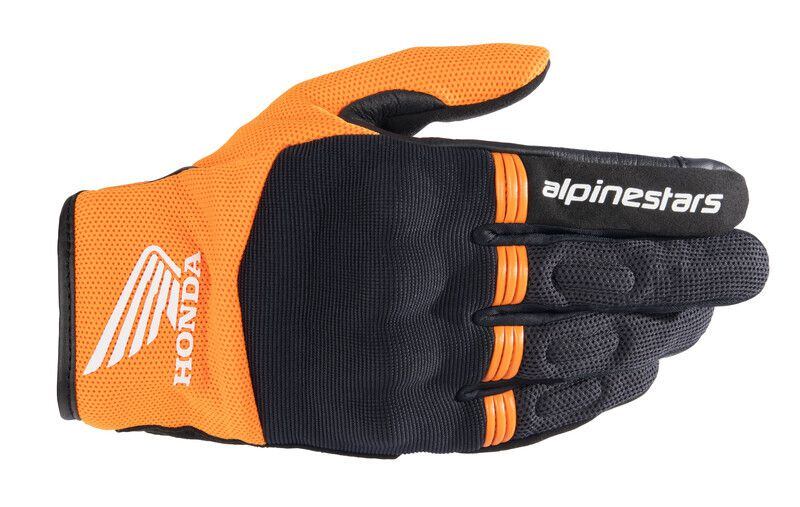 The Honda Copper glove. (Alpinestars/)
Racing
Owners of Honda Sportbikes like the CBR1000RR and CBR600RR, can now get that full-factory look with Alpinestars Race line. Four products are included in the Honda line, the Honda GP Force racing suit ($1,049.95), Honda Supertech R boot ($569.95), and two glove options, the Honda SP-8 v3 leather glove ($109.95) and Honda GP Pro R3 gloves ($299.95).
The Honda GP Force suit is designed for the racetrack or street, with premium impact and abrasion resistance. It features perforated leather construction with extensive stretch panels in the abdomen, chest, arms, crotch, and backs of legs. It is also Tech-Air ready. Key features include:
Tech-Air ready and can accommodate the Tech-Air 10 or <a href="https://www.cycleworld.com/story/motorcycle-gear-and-products/alpinestars-tech-air-5-review/">Tech-Air 5</a> Airbag systems
GP protectors on the elbows, shoulders, knees, and tibia areas
Perforated leather panels
GP aerodynamic back hump
GP Sport removable and replaceable knee sliders
DFS Lite EVO protectors on shoulders
Stretch panels on abdomen, under the arms, on the arms, in the crotch, and at the back of the leg
Chest pad compartment designed to house Alpinestars CE-certified Nucleon chest pads
Nucleon Bioflex hip protectors
GP R Lite race-derived limb protectors
Inner knee suede reinforcement for grip on the bike
Removable mesh liner
To go along with the GP Force suit are the Honda Supertech R boots which have been updated with a redesigned front flex area, rear bellow, top gaiter, shifter and shin plates, and shin slider. The biomechanical inner bootie offers excellent protection and ease of ingress and egress. Key features include:
Hook-and-loop closure secures the puller zip
Micro-adjustable ratchet closure on top of boot for an optimized fit
Inner bootie is equipped with a new external toe area with a soft TPU reinforcement for superior impact protection
Integrated, replaceable co-injected TPU/aluminum toe sliders
New replaceable shin slider for additional abrasion resistance
New replaceable heel plate slider design offers increased sliding performance and protection in the event of a crash
New synthetic microfiber panel on medial side for enhanced abrasion resistance
In the Honda Race line there are two glove options, the Honda GP Pro R3 gloves have been developed on racetracks around the world with Alpinestars MotoGP and WorldSBK riders. They offer the ultimate impact and abrasion resistance offered for track riding. The more affordable Honda SP-8 v3 Leather Gloves are constructed from full-grain goat leather and synthetic leather for excellent impact and abrasion protection.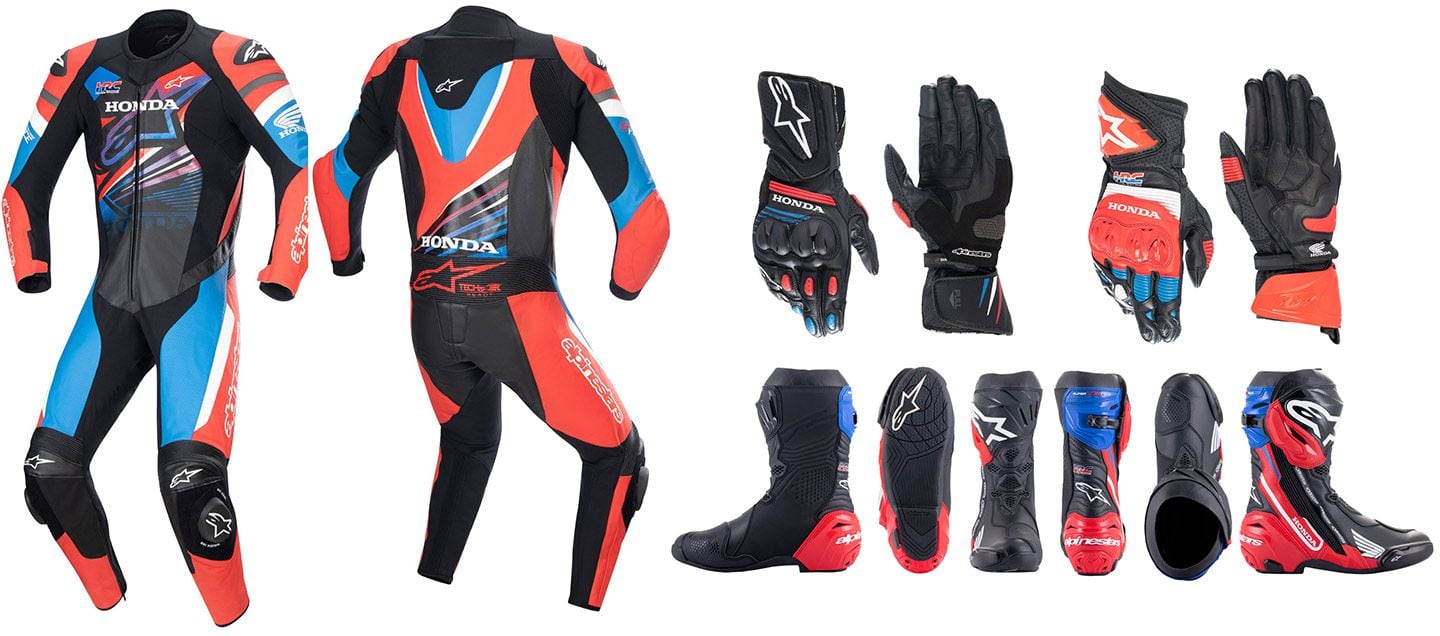 The Honda GP Force suit, Supertech R boots, and GP Pro R3 and SP-8 v3 gloves. (Alpinestars/)
Racing Sport
The last option in line is the Honda SMX Waterproof jacket ($289.95) with a 3L stretch softshell material and a fixed waterproof membrane and removable thermal liner. DFS Lite external shoulder protectors and Nucleon Flex Plus armor are included. Key features include:
Tech-Air ready and can accommodate the Tech-Air 5 or <a href="https://www.cycleworld.com/story/motorcycle-gear-and-products/alpinestars-tech-air-3-airbag-system-review/">Tech-Air 3 Airbag</a> systems
2-layer fixed waterproof membrane
Detachable thermal liner
Nucleon Flex Plus armor on shoulders and elbows
Nucleon chest Level 1 and Nucleon Level 1 and 2 back protectors available as an accessory
DFS Lite (dynamic friction shield) shoulders for enhanced abrasion resistance
Two front zippered pockets, two chest pockets, an inner waterproof document pocket, and two inner pockets on the liner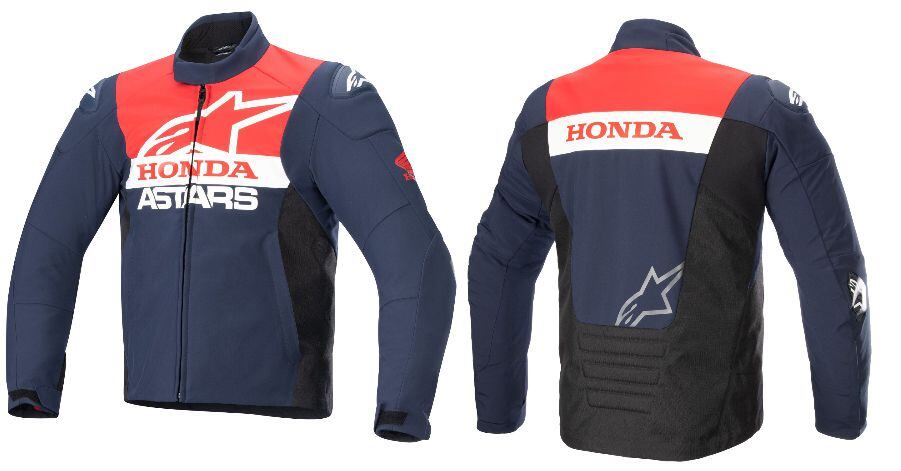 The Honda SMX Waterproof jacket. (Alpinestars/)
View full post on Cycle World