2022 Assen MotoGP Report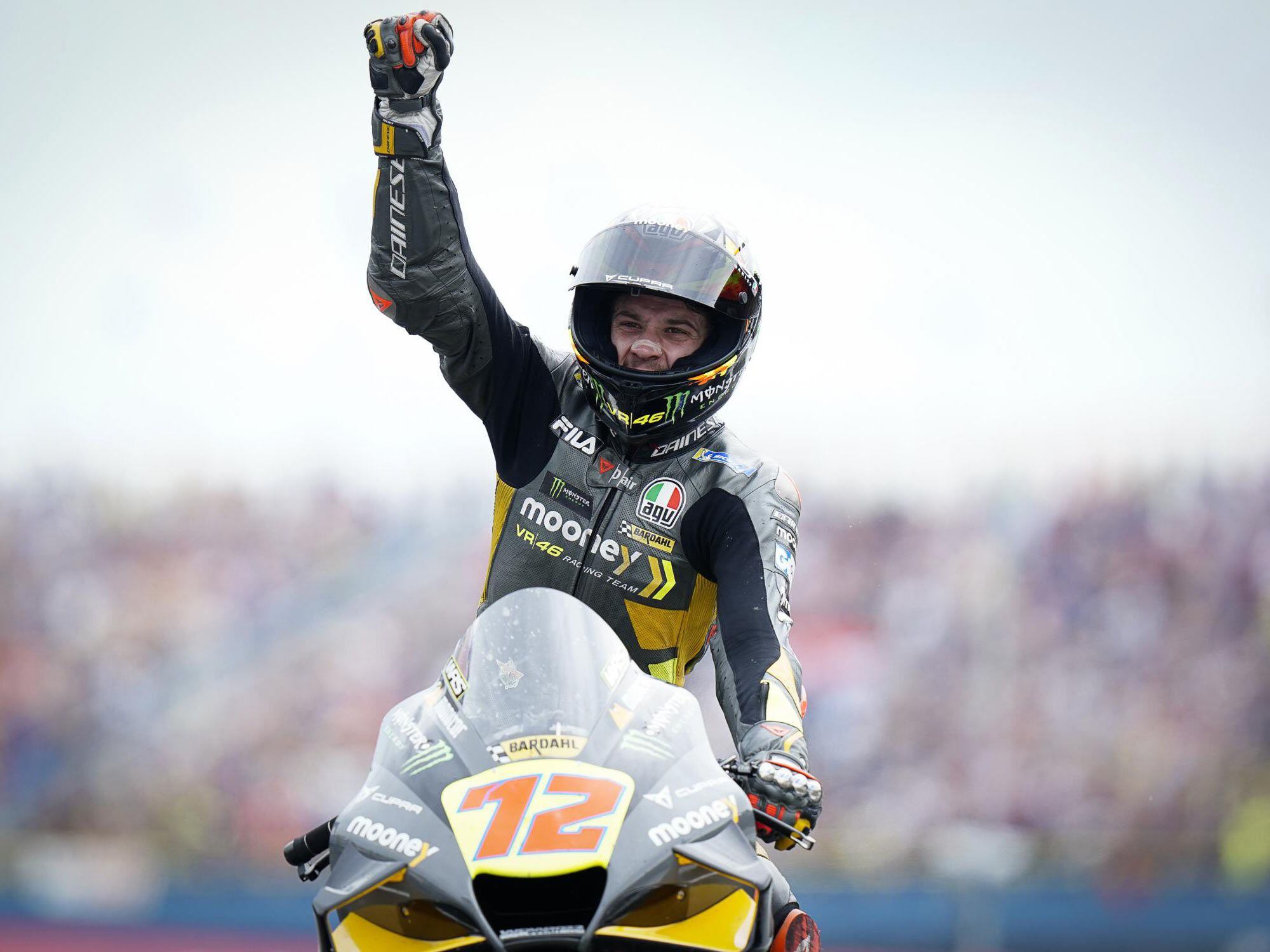 Twenty-three-year-old Marco Bezzecchi (Ducati Mooney VR46 Racing) was pumped after Assen, where he finished a super-close second (just 0.444 of a second behind) and scored his first premier-class podium. (MotoGP/)
Yamaha's Fabio Quartararo has looked perfect for the last two GPs. But at Assen, he made a mistake. Every front-row starter knows the score: If you win the start, you push to open a gap. If not, you attack immediately to take the lead. At Assen, Ducati's Francesco Bagnaia got away first.
Bagnaia also won the pole and set a new lap record. At the end of the first lap, he was 0.7 of a second ahead of Marco Bezzecchi. Then, on lap 5, Quartararo made his mistake while trying to scoop Aleix Espargaró on the very fast Aprilia. Down he went, pushing Espargaró into the gravel and 15th place.
This was a reversal of events from the previous GP; in Germany, it was Quartararo with the early lead and Bagnaia falling.
Quartararo remounted, called at his pit, and was told to continue. Later he highsided out of the race at the same turn 5.
"A rookie mistake," he said. "It was only the third lap and I acted like it was the last one!
"We spoke before the race about being calm, but I was the opposite.
"I could have fought for victory, but I made a stupid mistake. I will learn from it."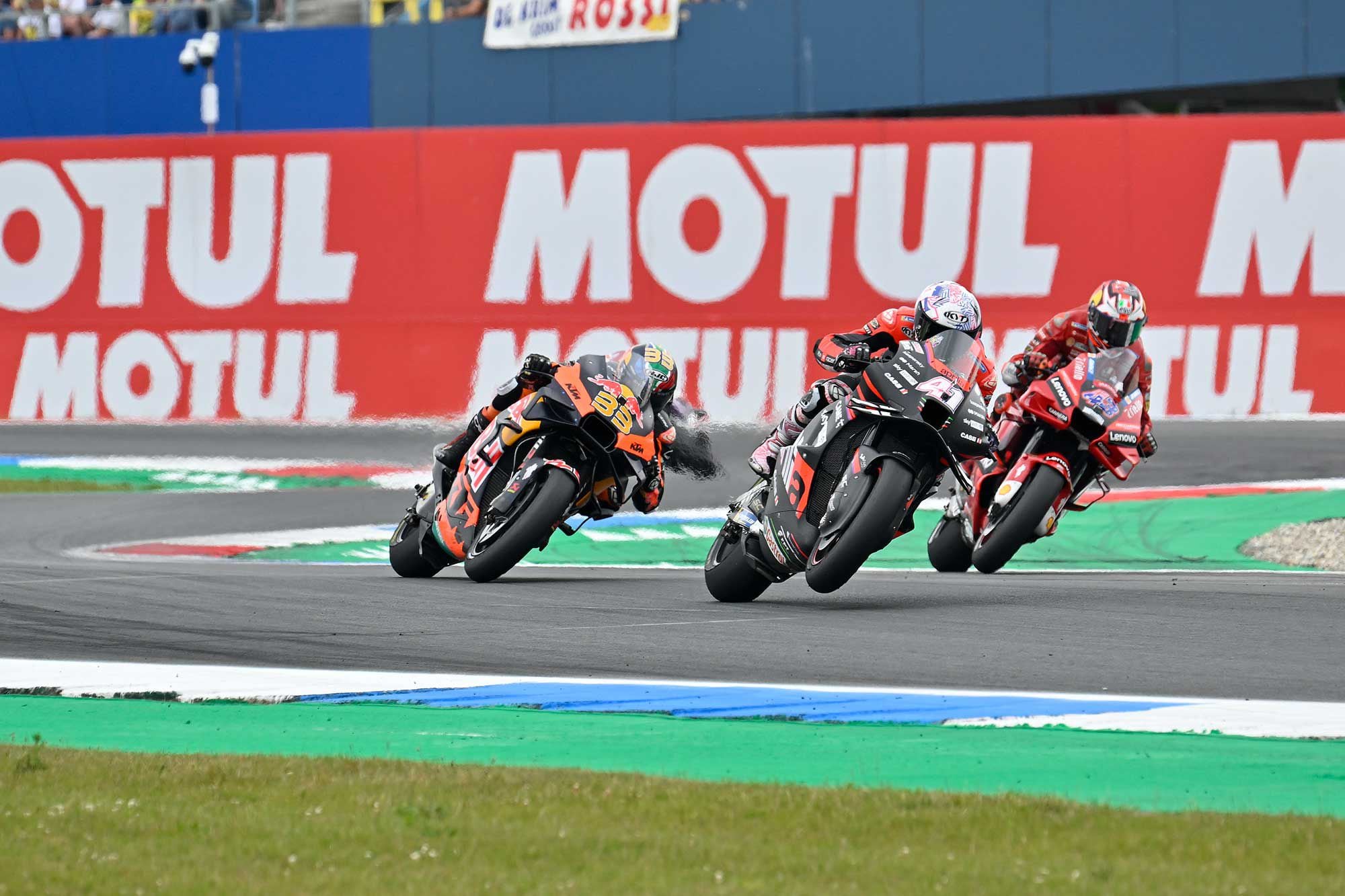 The story of the weekend was Aleix Espargaró's ride through the field to finish fourth. Pushed off the track and into 15th position by Fabio Quartararo's crash, the Aprilia rider turned the "passing is impossible this season" story on its head, slicing through the field and delivering a breathtaking pass on the last lap. (MotoGP/)
Espargaró then made a fabulous recovery through the field, somehow setting at nought all the sage advice about how recuperating positions damages tires so much that nothing is left at the end.
Instead, he had so much left that "In the last chicane I was braking a lot later than everybody and especially in the fast sector nobody was able to carry the speed that I was able to carry. That is why it was quite easy for me to overtake."
And overtake he did, right to the very end. On the last lap he outbraked both Brad Binder (KTM, fifth) and Jack Miller (fourth, ending up sixth) into the final chicane, finishing fourth overall.
Espargaró said, "The overtaking was in the last braking, but in reality the pass [began] in the left corner [before]. I carried 20 kph more [there]. It was unbelievable the speed that I carried.
"I saw that Brad was not super good on the brakes there, and I said, 'I go in,' and was able to stop the bike.
"I think every overtake I did during the race was there."
With that accomplished he could afford to display understanding for Quartararo's state of mind.
"The reason why Fabio did his move is because his feeling with the bike is super high right now.
"Today it's not that he was arrogant, but because he feels super faster than the rest. He made a bad judgment on that overtake and I knew that this could happen."
Officialdom was not so accommodating, assessing Quartararo a long-lap penalty for the next GP at Silverstone. Yamaha appealed on the basis that this was a racing incident, but the appeal was rejected.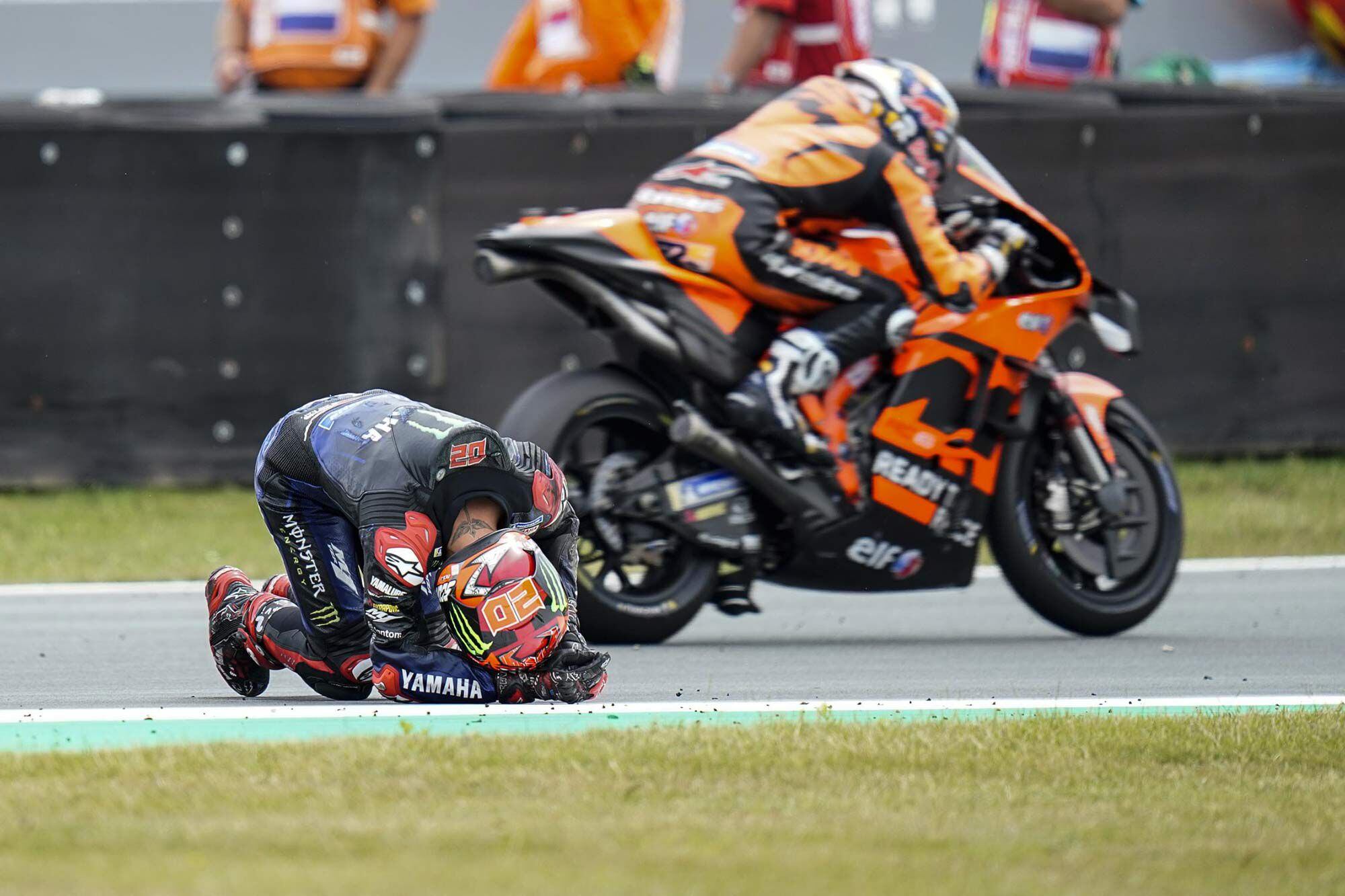 Quartarao crashed twice at Assen. The first nearly took out Espargaró, while the second, a highside, ended his day. He's still leading in overall points, but his lead was slashed by half, and he faces a "long-lap" penalty at Silverstone. (MotoGP/)
Instead of being two races ahead (2 x 25 points) as before, Quartararo now leads the championship by just 21 points. The top five riders are:
Fabio Quartararo 172
Aleix Espargaró 151
Johann Zarco 114
Francesco Bagnaia 106
Enea Bastianini 105
Engineering Excitement
As can be imagined after Espargaró's express recovery from 15th to finish fourth, there was no more maundering about MotoGP needing new technical rules to punch up excitement by engineering more passing. (Special low-grip tires? Inadequate brakes? Ban all aero?) Already, those given to such things are hailing Espargaró's last-lap move as "the pass of the decade."
Earlier, Dorna CEO Carmelo Ezpeleta put the passing issue in perspective:
"Sport is sport, and circumstances, people, and pressure make some races fun and others not.
"…there are people who complain that one rider doesn't always win, and others who complain that the same one always wins.
"…the story of more or less overtaking is just a story.
"These are technical rules approved for this five-year period by the manufacturers, and that's all. The rules can only be changed if all manufacturers agree."
Bagnaia called attention to Ducati's expanded capabilities, noting that his victory was their first at the Dutch circuit since Casey Stoner's 2008 win here.
"I was terrified of crashing after the two races I came from, after two zeroes. I pushed at the start to get a bit of a gap, and after the contact between Fabio and Aleix I was calm but continued to push. But looking at the gap [back to] Bezzecchi he was always catching. But then the rain came [10 laps from the end]. When I saw the rain I just slowed down a bit, but Bezzecchi was pushing again.
"I didn't have to be at the limit, but to manage."
Manage he did, winning by the small margin of 0.444 second.
Bezzecchi (second), on the MotoGP podium for the first time, said, "When I crossed the finish line I was over the moon.
"…I was close to Quartararo and Espargaró when I saw them touch and the door was open at that point. I said to myself, 'Try to catch up on Pecco [Bagnaia], and let's see what comes out.'"
Maverick Viñales (#12 here) had a solid day, starting a poor 11th, but finishing on the podium in third. (MotoGP/)
More drama came courtesy of Maverick Viñales, Aleix Espargaró's teammate. Almost always at odds with his equipment over his career with multiple manufacturers, he has come to be regarded as a great but erratic talent lacking direction. Somehow his starts have remained poor for years. Not so long ago he stated he could not adjust his own riding style to the Aprilia, so its characteristics would have to be shaped to him.  Whichever occurred, this was his day, finishing a solid third after starting 11th. Was this change a result of Assen's better grip and reduced "tire severity"?
"I started well and managed to make up a few positions already on the first lap. Then I kept pushing all the way to the podium."
At this point Quartararo has a 66-point lead over Bagnaia, the equivalent of 2.6 races, so the latter cannot be regarded as the greatest threat to Quartararo's possible second championship. The role of challenger must go to Aleix Espargaró and Aprilia, only 21 points behind, and will require that they rise beyond "a lot of potential" to put it all together if they are to genuinely contest the lead. Coming from behind is dramatic, but actually winning gets you 25 points, denying them to whomever finishes second.
A Shift in Power
Keen observers have no doubt noticed a not-so-subtle transition in progress, a shift in the balance of MotoGP power away from Japan and its mighty mass-market manufacturers and toward Europe. If Espargaró is right about that 20 kph (12.4 mph) difference in that one crucial corner, Aprilia will soon be winning races.
During the rainy FP1 on Friday morning Quartararo had said, "The Yamaha is super stiff in the rain, and that doesn't allow me to corner." My understanding is that a major element of a MotoGP rain setup is softer springs and damping as a means of increasing mechanical grip, plus metal brake discs and suitable pads. Or was he speaking of the Yamaha's chassis being super stiff?
Everything about a motorcycle affects everything else. If you want agility, you will need chassis stiffness to avoid "1948 Buick steering delay." But comprehensive chassis stiffness reduces grip while cornering on unsmooth pavement, skipping from peak to peak rather than keeping rubber and pavement solidly together. This makes us all curious, and we ask ourselves, "What can Aprilia have discovered, and why haven't the other constructors with deeper resources discovered it too?" Normally, a big advantage in one area of performance has meant disadvantage in other areas. But right now the Aprilia looks well-rounded enough to win outright. Put it all together, guys!
It will be fascinating to see the rest of this season unfold after the summer break.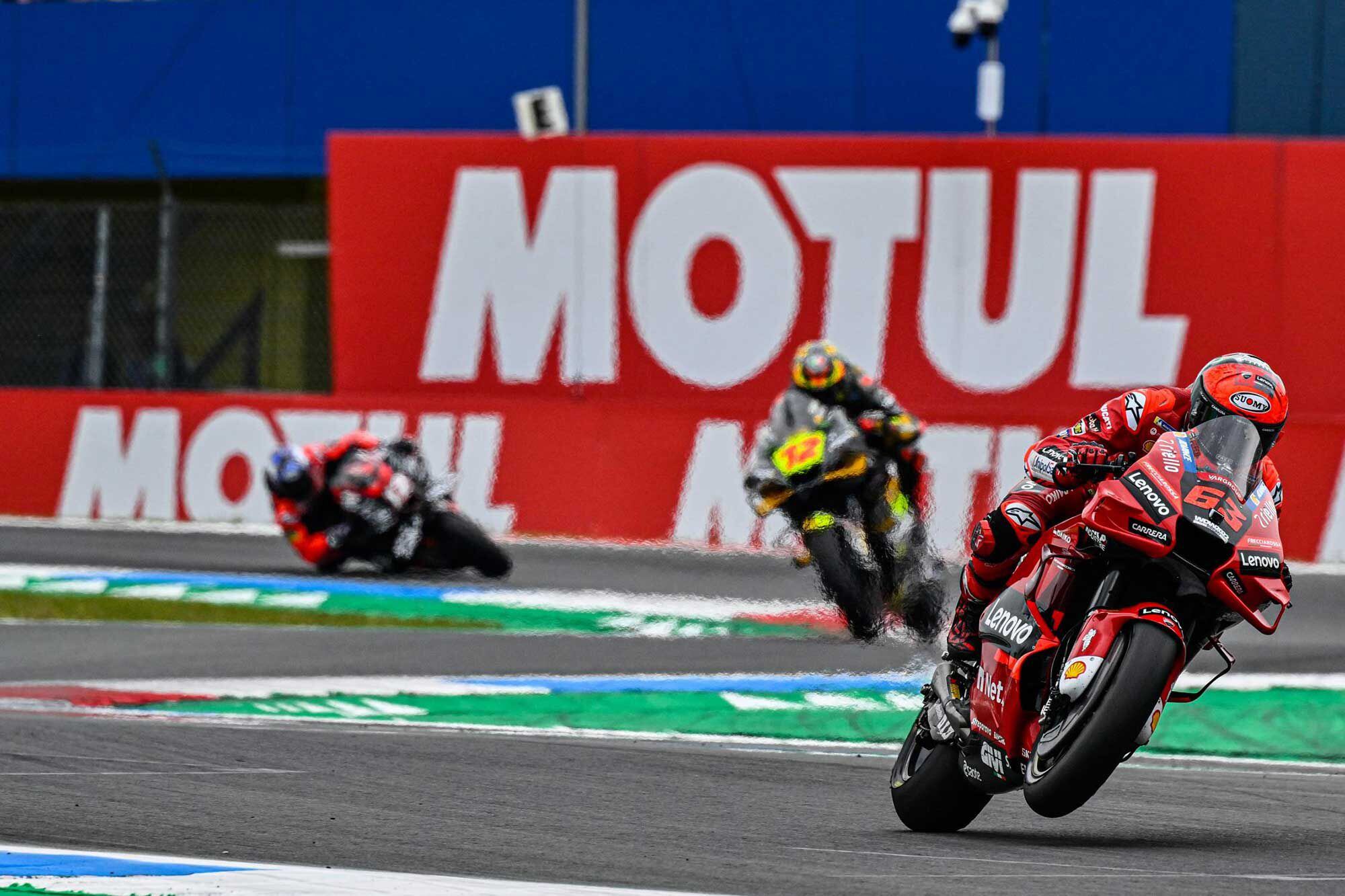 "Pecco" Bagnaia qualified on the pole, scored the holeshot, set a lap record and won the event—a clean sweep in anyone's book. (MotoGP/)
View full post on Cycle World