Eight Great Bikes With Low Seat Heights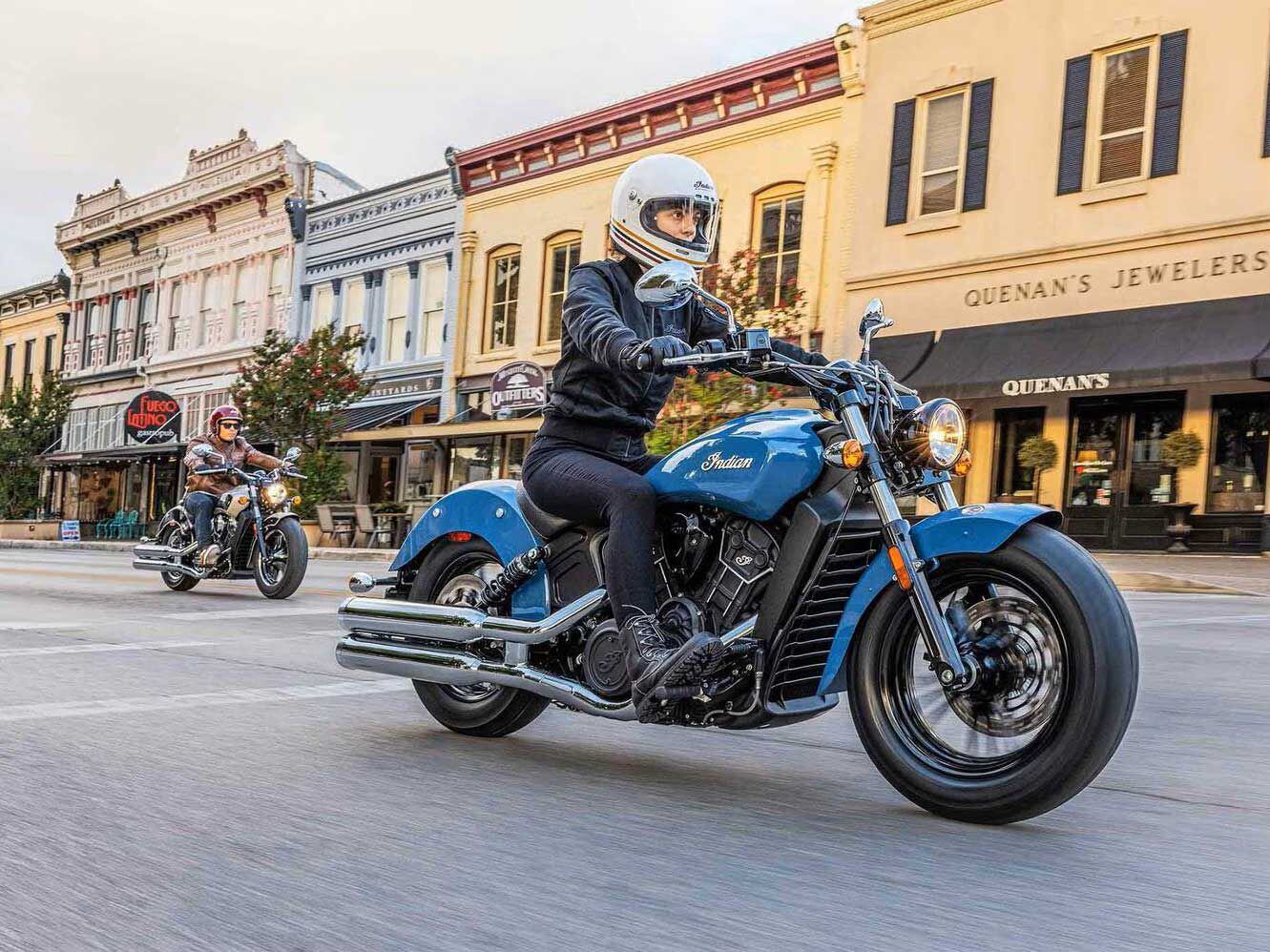 Indian Scouts of all displacements and flavors boast some of the lowest seats for a full-size motorcycle. (Indian Motorcycle/)
Let's face it: Seat height can be a determining factor for many smaller, shorter, or novice riders out on the hunt for their next ride. Although having both paws firmly on the ground isn't a prerequisite for good control of your machine, it certainly makes parking easier and goes a long way toward instilling confidence in newer riders. Traditionally, "inseam-challenged" riders have had a limited pool of bikes with low seats to choose from, and the category has long been dominated by cruisers, scooters, minibikes, or small-displacement machines. We tried to look beyond those usual suspects to include a wider variety of bike styles with 30-inch-and-under seat heights, but ended up adding a couple of taller entries to avoid having an all-cruiser list. Fear not; our list of eight bikes with low seat heights still pulls from the touring, adventure, and standard world as well as the expected cruiser and minibike categories.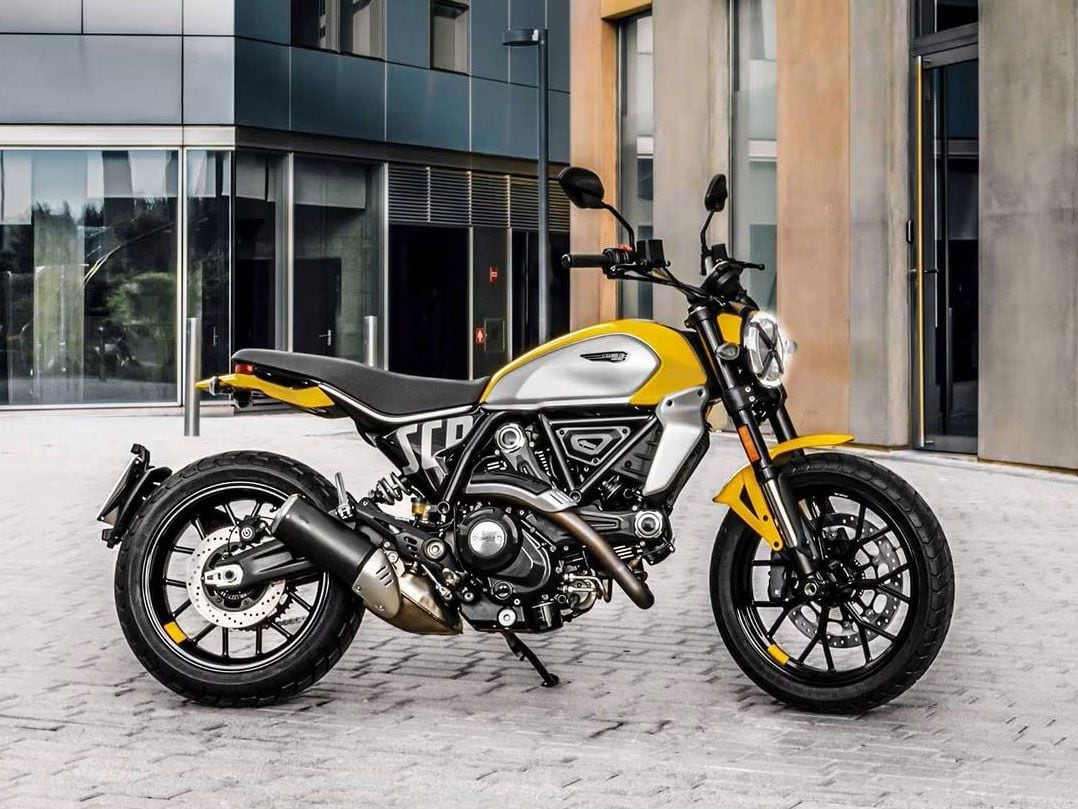 One of the taller entries here, the retro-flavored 2023 Ducati Scrambler Icon is still accessible to shorter riders without compromising on quality. (Ducati/)
2023 Ducati Scrambler Icon | 30.7-in. seat (low option) | $11,285
Here's the first of the outliers, or bikes with taller than a 30-inch seat height, and it comes with a caveat: The Scrambler Icon's 30.7-inch-high perch is only achieved by ordering up the low accessory seat option, which adds $290 to the $10,995 base price. That said, it's not a bad trade-off when you consider the standard equipment that's already included on the Scrambler Icon; things like a sub-430-pound weight, LED lighting, two ride modes along with traction control and cornering ABS, and a claimed 73 hp from the 803cc L-twin engine. The bike has trimmed even more weight and the new seat is flatter and more tapered this year, while the narrow tank, mid-mount controls, and plush suspension give the Scrambler an approachable riding position and an agile quality on the move. Throw in the retro-modern scrambler good looks, a perfectly respectable spec sheet, and a reasonable price tag, and you can see why it's a solid option.
Related: Ten Great Small-Displacement Motorcycles for 2022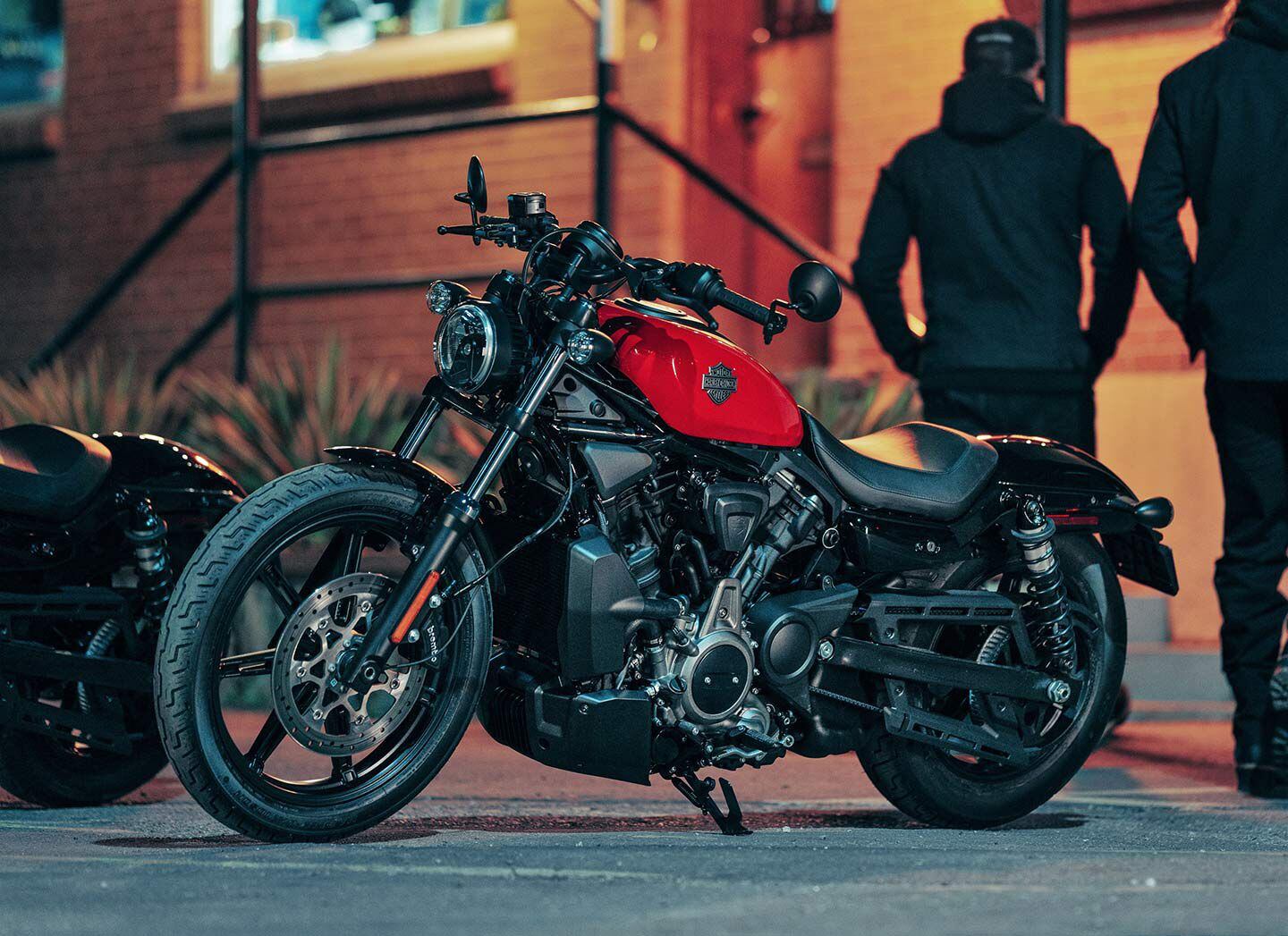 Harley's Nightster brings nimble handling, a low seat, and a healthy power output from the liquid-cooled engine. (Harley-Davidson/)
2023 Harley-Davidson Nightster | 27.8-in. seat | $13,499
Let's just get this out of the way: Harley offers more than a dozen models with seats lower than 29 inches. Sure, most are cruisers, but don't discount the Touring series, many of which offer seats around 27 inches high. But their heft and weight can be intimidating too, so we're leaning toward the new Nightster as a better option for the inseam-challenged. For one, the bike is easier to handle at under 500 pounds fully fueled, and the mid-mount control arrangement makes for less awkward stops than forward controls. The flattish seat sits 27.8 inches off the asphalt and makes for an easy reach to the deck with stubby legs. Add a healthy power output from the liquid-cooled Revolution Max 975 engine (we wrung out 78.5 hp on our dyno), ride modes, staunch stopping power, and an easy-to-handle quality and you can see why the Nightster would be a good choice for any smaller rider. That said, if you're absolutely set on a Harley cruiser, check out the Softail Standard.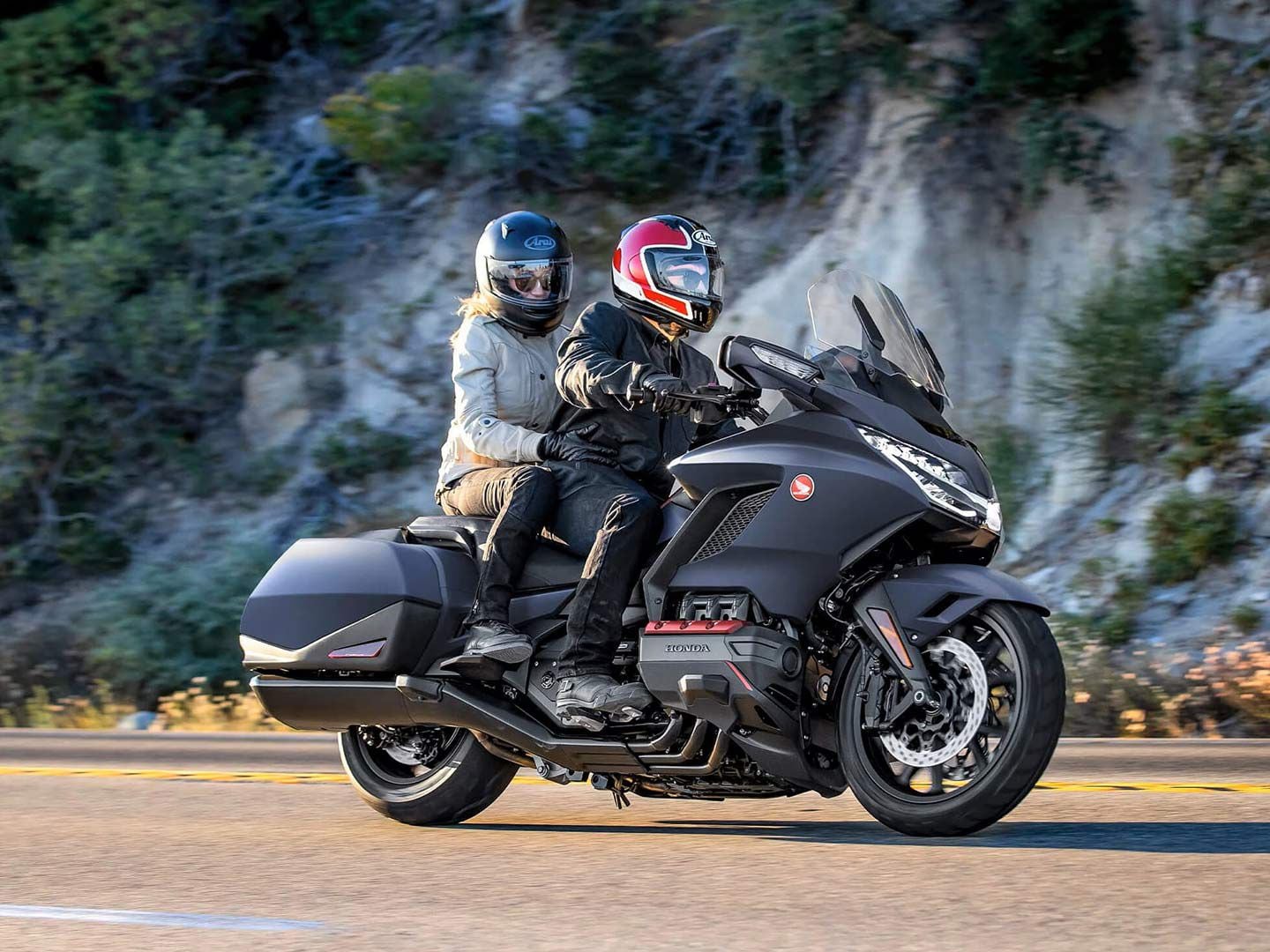 It may be close to 900 pounds, but the base Gold Wing still manages to offer a sub-30-inch seat height and supremely balanced ride. (American Honda/)
2023 Honda Gold Wing Automatic DCT | 29.3-in. seat | $25,600
Incredible as it sounds, Honda's hulking Gold Wing tourer serves up a lower seat height (29.3 inches) than its smallest model, the Navi (30.0 inches). Of course, the Wing displaces 1,700-plus cc more and costs an additional $23,000 over the Navi, but for all those extra digits, you get the legendarily smooth 1,833cc engine, throttle-by-wire, an automatic DCT transmission, and even a Walking mode, for when you really feel stuck in the parking lot. The seat is more than manageable for vertically challenged pilots (ask us how we know), while mid-mount controls and a pullback handlebar give you an easy reach to everything. The 5.5-gallon tank is definitely porky, but the Wing's incredibly low center of gravity balances it out. The DCT and standard cruise control on the base-model Gold Wing Automatic DCT we are talking about here also mean a few less things to worry about on the open road, no matter what size you are. (All four Gold Wing trims have the same seat height for 2023).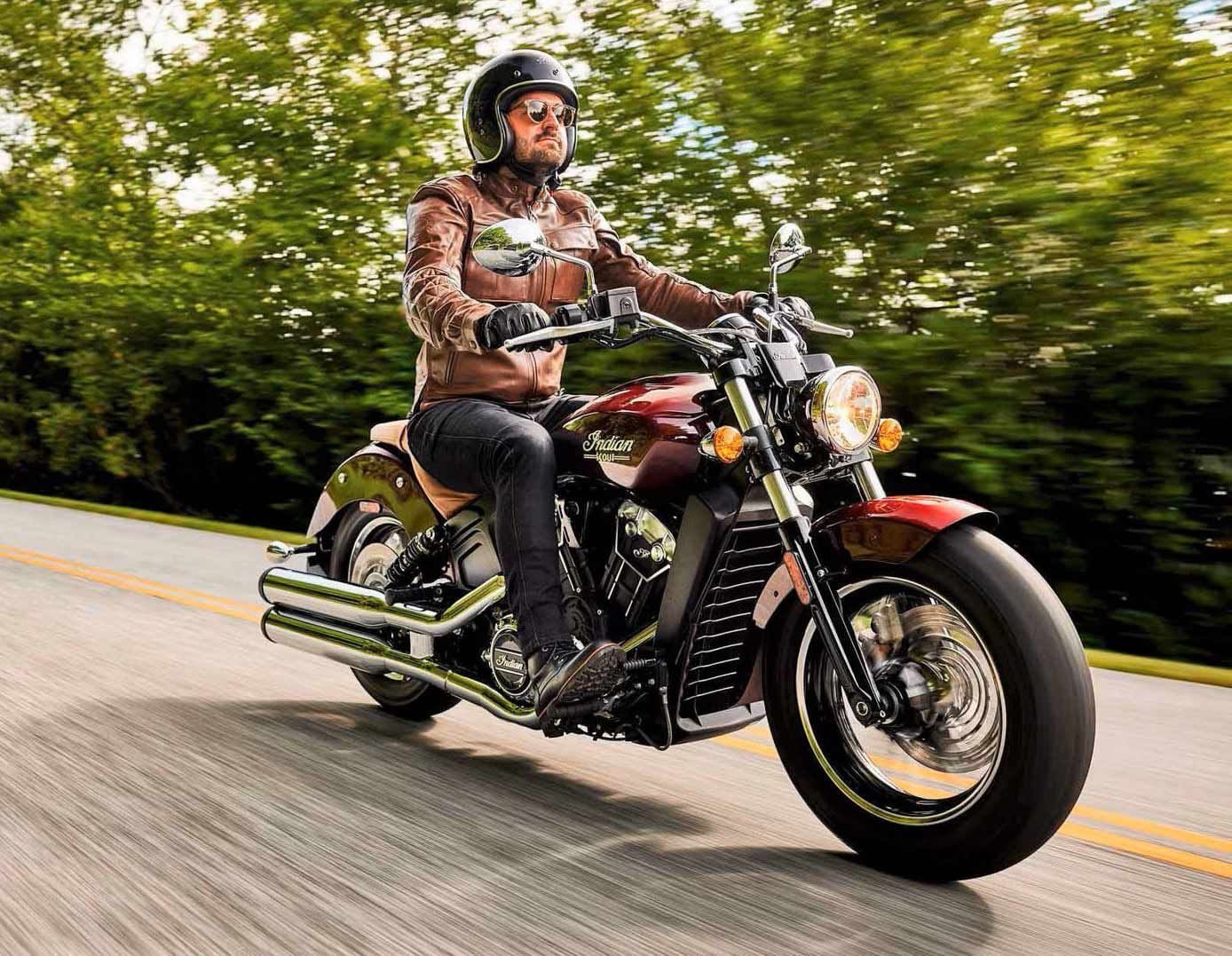 Plenty to choose from here; all seven of Indian's Scout models have insanely low 25.6-inch seat heights. Base-model Scout shown. (Indian Motorcycle/)
2023 Indian Scout | 25.6-in. seat | $10,749–$13,249
Talk about options: All seven bikes in Indian's 2023 Scout series have the same über-low 25.6-inch seat height. Because they're all based on the same platform, all you have to decide is how much power, weight, and bodywork you want on your particular model—as well as how much you're willing to shell out. The Scout and its stable of siblings is one of the most powerful, accessible cruisers you can get, with a whopping 100 hp claimed for the full-size 1,133cc models, and 78 hp for the "Sixty" models, which pack a smaller 999cc engine and five speeds. The Rogue adds 19-inch wheels and a quarter fairing up front, and the Bobbers have fatter tires, but no matter which you choose, you're guaranteed a low seat coupled with a high power output, as well as classic cruiser good looks. The seat and pulled-back handlebar are an easy fit for smaller riders, though the controls sit slightly forward and can be a stretch for short legs.
It's kind of cheating, but once configured with a low seat and low suspension the Ducati Monster+ rings in at 30.5 inches off the tarmac. (2021 model shown.) (Ducati/)
2023 Ducati Monster+ | 30.5-in. seat (w/ low seat and lowering kit) | $13,485 |
The second Ducati here has 111 hp, ride-by-wire with ride modes, traction control, a 4.3-inch display, full LED lighting, and weighs less than 400 pounds, so if you're in the market for a sexy red Italian naked that's compact and manageable but doesn't skimp on performance, you could do worse than the Monster+. The least expensive model in the Ducati lineup (except the Scramblers) may not be a full-bore track weapon (though it can certainly hang), but the timeless styling, compact design, and light handling along with a robust spec sheet ticks all the right naked bike boxes. The latest-gen Monster has also received redesigned side surfaces that are narrower as well as a tapered seat in the leg area, making for easier stabs to the ground at a standstill. In stock form ($12,995) you're looking at a 32.3-inch seat height, but the addition of the optional lower seat accessory drops it to 31.5 inches, while a lowering kit brings that down to 30.5 inches.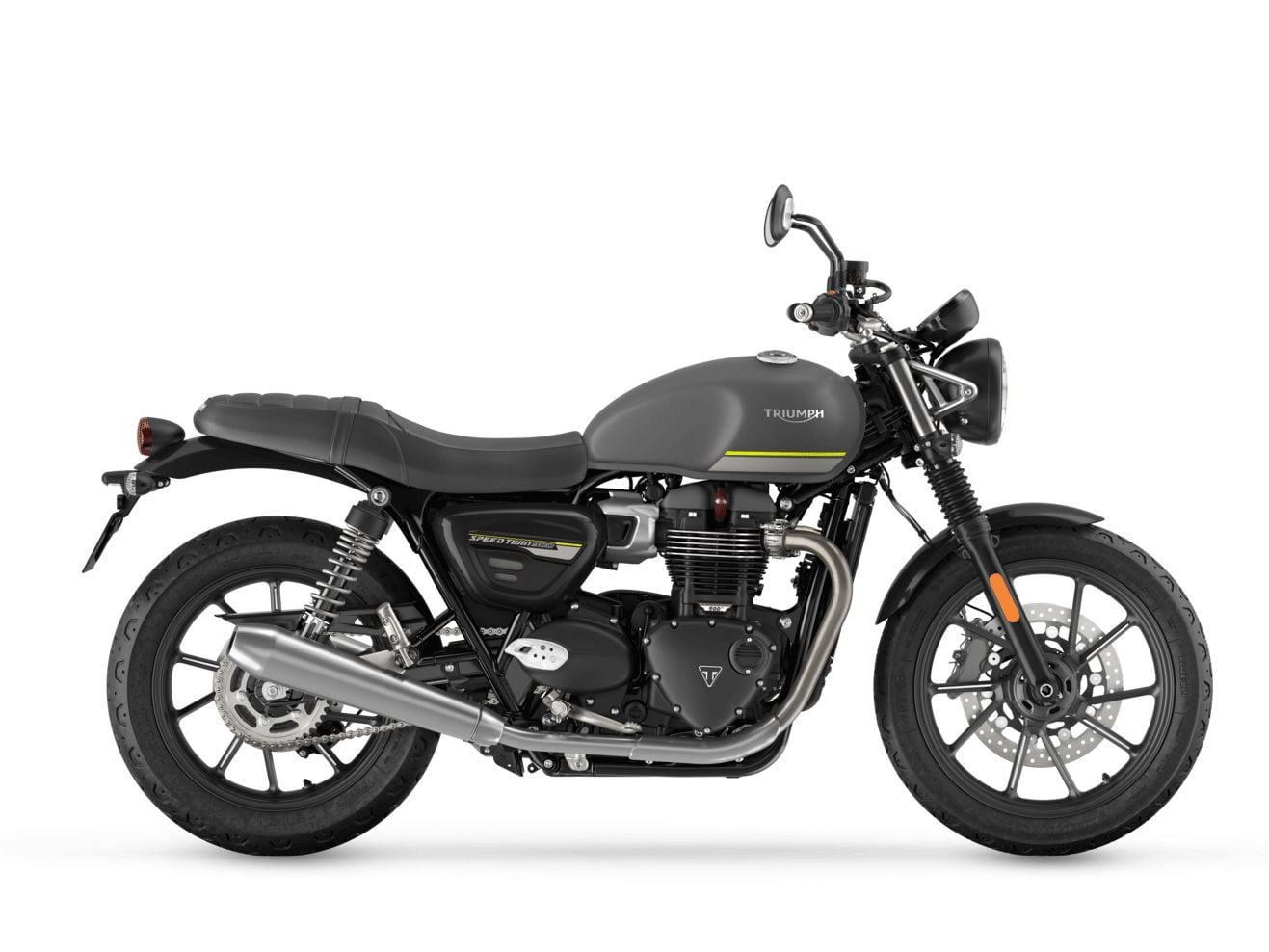 More standard than classic, the Street Twin nevertheless serves up a perfectly manageable 30.1-inch saddle and a narrow waist for easier stabs at the road surface. (Triumph Motorcycles/)
2023 Triumph Speed Twin 900 | 30.1-in. seat | $9,895
For 2023, Triumph rebadged last year's 900cc Street Twin to the Speed Twin 900, but the standard-style bike is virtually unchanged save for its name (which is a bit confusing, since the Speed Twin 1200 doesn't share the same overall design language). The Speed Twin 900 wears its '60s retro influences lightly, favoring a more minimalist approach than the other Bonneville-based models in the Modern Classic series, but you still get the benefits of mid-mount controls, an upright riding position, and a narrowish flat saddle perched only 30.1 inches off the ground—meaning all but the shortest riders should be able to flat-foot it on this Triumph. It's also lower and lighter than its more classically styled Bonneville T100 brother but still delivers a claimed 64 hp, which will definitely get you where you want to go in short order. A neutral riding position, nicely composed suspension, and a stout Brembo brake setup makes this Triumph a terrific do-it-all machine. (As an aside, Triumph's shortest bike is the Bonneville Bobber, which puts its seat at 27.2 inches off the pavement.)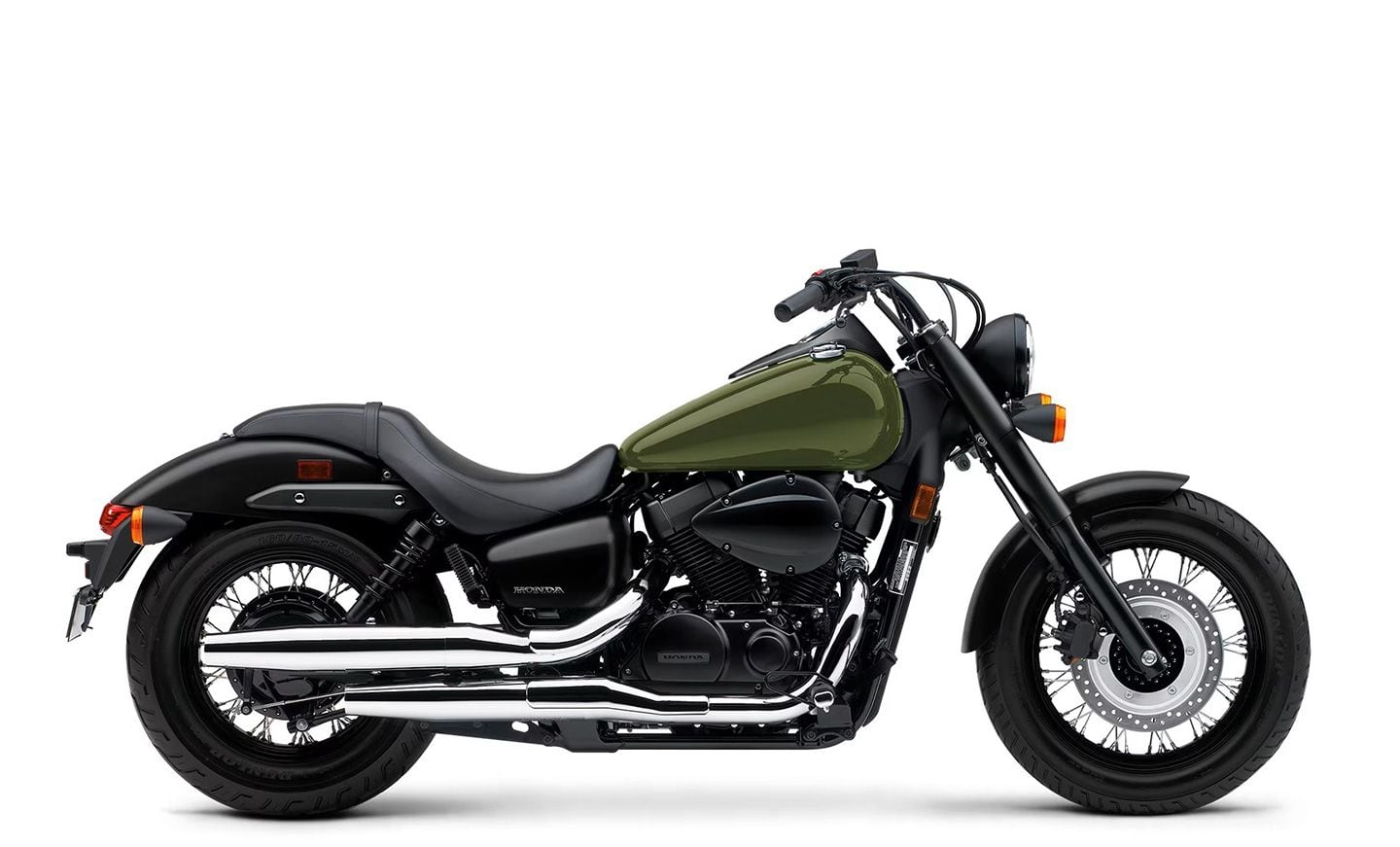 It's classic cruising with the long-running, low-slung Shadow Phantom, at just 25.8 inches off the pavement. (American Honda/)
2023 Honda Shadow Phantom | 25.8-in. seat | $7,999
Like we said, cruisers dominate this category mostly for the fact that their street-biased designs don't put a great emphasis on suspension travel. Honda's Shadow Phantom is a perfect example of this philosophy, offering just 3.5 inches of movement from the dual rear shocks—which are at least adjustable for spring preload. But that also means you're riding just 25.8 inches off terra firma on a low, comfortable seat that tapers at the tank junction, with a wide, pullback bar to grasp. It's an extremely manageable setup for shorter folk, and the slightly forward-positioned controls shouldn't be a problem either, given the low seat. Honda's dead-reliable 745cc liquid-cooled V-twin delivers more than enough beans for spirited runs, though given the bike's low-slung stance and long wheelbase, the Phantom is more at home as a straight-line cruiser. If the Phantom's bobber styling doesn't float your boat, almost any one of Honda's other cruisers might fit the bill; all seven have sub-28-inch seat heights.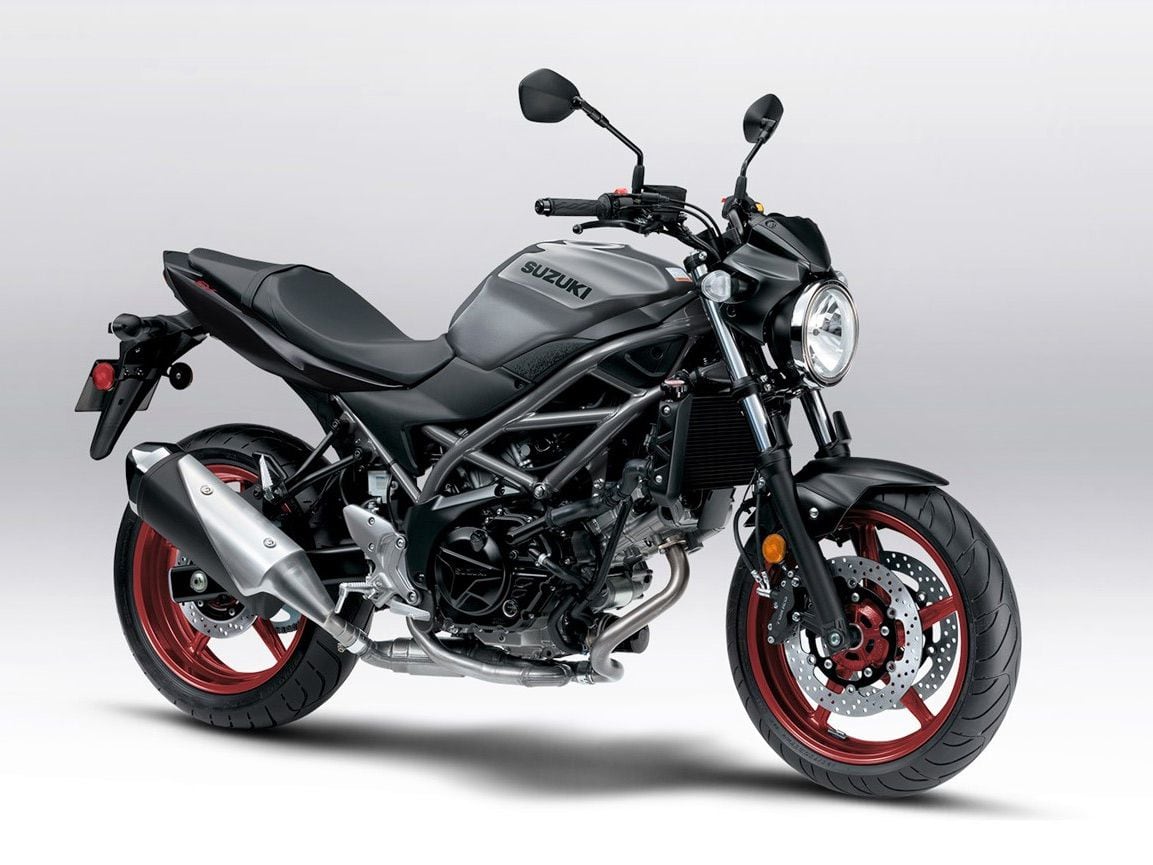 Its punchy power, agile handling, and straightforward design mean the iconic Suzuki SV650's (relatively) low seat height is just a bonus. (Suzuki/)
2023 Suzuki SV650 | 30.9-in. seat | $7,399 (base)
If you're just crunching the numbers, Suzuki's C50 cruiser does technically roll with a lower seat, but as we mentioned, we're trying to offer alternatives here. So if you're in the market for a punchier ride with greater ground clearance and infinitely lighter handling for spirited sprints, pilots of any size or skill level will find the brand's iconic SV650 middleweight more than up to the task. The approachable but sporty standard pairs a peppy, character-rich 645cc V-twin engine (producing 69.3 hp on our dyno when we last ran it) with agile, predictable road manners and, as a bonus, the bike's narrow saddle sits just 30.9 inches off the ground. Yes, that's at the taller end of our spectrum here, but the bike's relaxed and comfortable ergonomics more than help its cause here, and the SV's overall competence and the fact that it's not a cruiser or a minibike is worth taking into account.
View full post on Cycle World