2022 BMW S 1000 R Review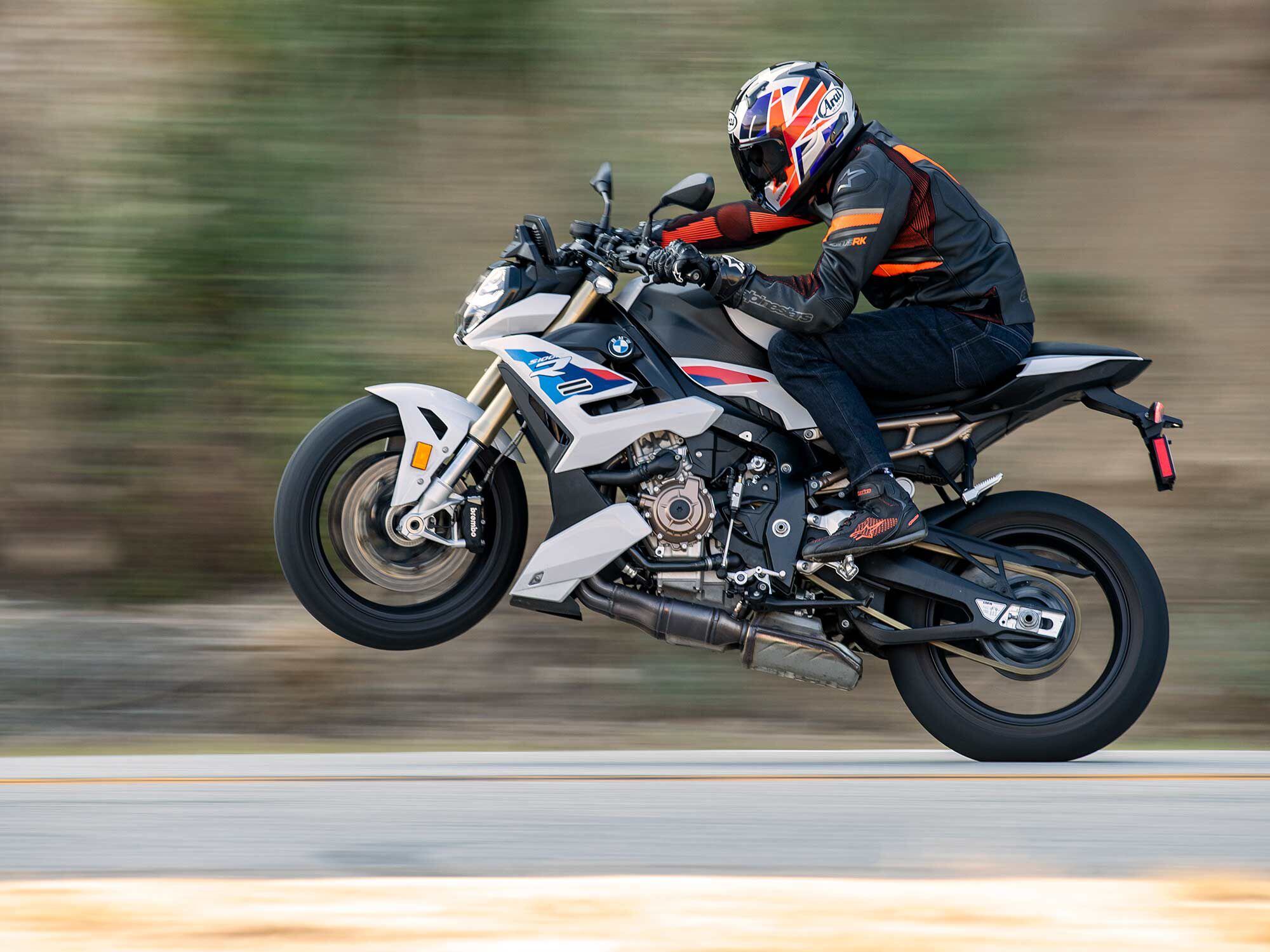 BMW's hyper-naked S 1000 R is a potent canyon carver. (Jeff Allen/)
In the golden years of the '70s, almost all streetbikes were standards, as many segments we have today were not yet defined or established. There were certainly many great motorcycles with sporting potential, such as Honda's CB series, Suzuki's GSs, Kawasaki KZs, and BMW Rs. But they all came from the factory with long, thick, wide seats for two-up riding, forward-mounted footpegs that dragged on the ground during even moderately hard cornering, and high, wide handlebars. You could look at them as the precursors of today's "naked" bikes, but back then, they were pretty much what there was to work with.
Contemporary naked motorcycles have been around for a while, getting more and more refined. Thanks to monumental performance increases, they eventually evolved into hyper-nakeds, with slightly detuned yet very potent superbike-level engines. These bikes have huge electronically controlled power contained in remarkably competent chassis. And BMW's revised 2022 S 1000 R falls squarely into today's hyper-naked genre, with power, road manners, and much more.
BMW's S 1000 R comes in various trims and packages; our test unit was fitted with the M package that includes forged wheels. (Jeff Allen/)
We've been eager to ride the M-series since Motorcyclist, our sister publication,  did a First Ride in the UK a year ago. We've finally got one stateside, looking handsome in its M colors, sounding authoritative with its carbon-tipped Akrapovič titanium muffler, and dripping with lots of other cool bits.
Climbing aboard the 2022 BMW S 1000 R M-series reveals a rider triangle that motorcyclists of a certain age will recognize as right out of the '70s. Riders of the era personalized their standards for a sporty fit with a low, flat handlebar and just the right amount of bend to provide a comfortable reach, along with a bit tighter seat-to-footpeg area. Between the bike's 32.9-inch seat height, narrow shape, and suspension compression, my 32-inch inseam allowed my feet to touch the ground fairly easily. Should your inseam be a bit longer or shorter, BMW offers optional seats that are 20mm (0.8 inch) higher or lower.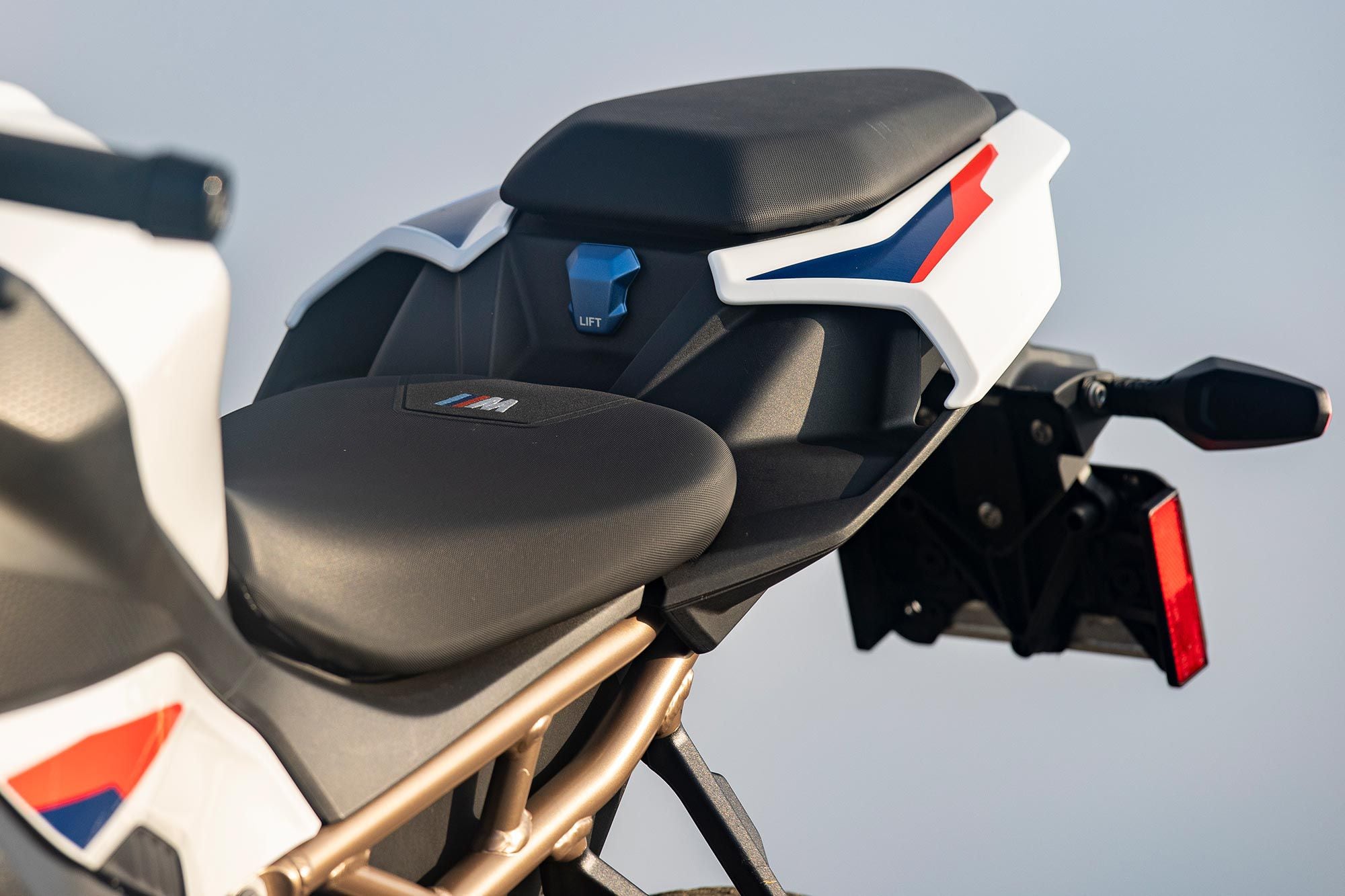 Even on longer rides the S 1000 R's seat is comfortable. (Jeff Allen/)
Thumbing the BMW to life is a bit different, because the conventional ignition key has been replaced with a wireless fob. To start, the owner must only have the fob in their pocket, push the large button at the front of the dash to "wake up" the motorcycle, and press the starter button as usual. Simple and elegant—but do not ride away without the fob. If this happens, the 6.5-inch color TFT dash will quickly let you know. Definitely don't shut the engine off until the fob is within range or the engine will not restart.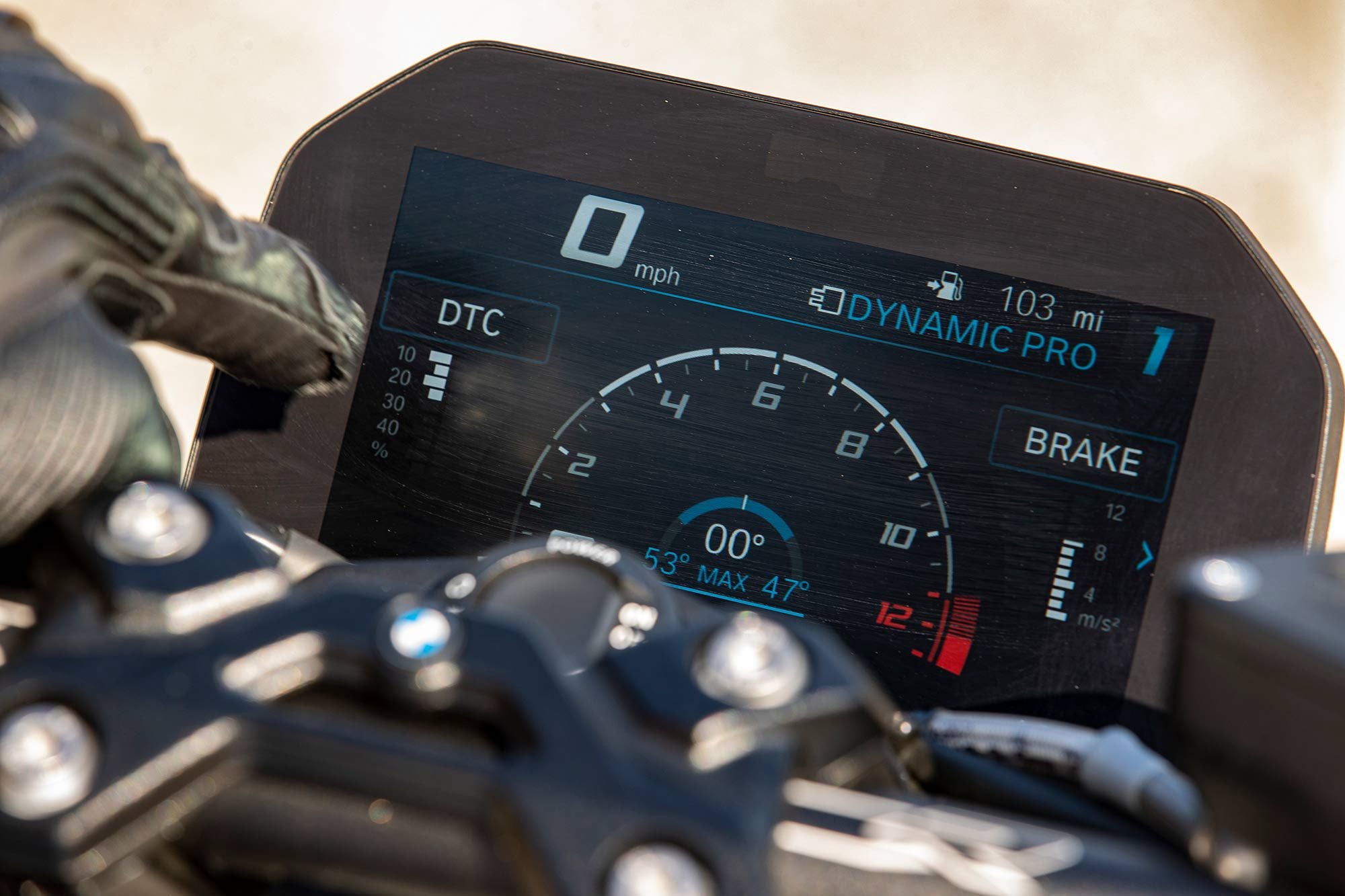 A 6.5-inch TFT dash has multiple screens and is easy to read. (Jeff Allen/)
About that dash: BMW has done top-notch work on the dash display, which is clear, bright, and easy to read in any light. A standout feature is the Dynamic Redline, which starts out low when the engine is cold and gradually rises as engine temperature increases. The M-series also adds another dash screen for a total of four for configurations and information.
Another difference with the M is the sheer number of settings for engine and chassis electronics, rider aids, and available information within the dash. There's so much information and so many available options that familiarization before riding is essential; before turning a wheel, the rider should get everything set up to personal preference, riding style, and riding conditions. For those who want to go deep into this, a notable M upgrade is Dynamic Pro mode, which allows even more detailed adjustments and goes far beyond the preprogrammed settings. The M electronics package is so comprehensive that it even has an option to display tire pressures, very much appreciated as tire pressure is an underrated aspect of a good ride.
Steering is light on the 2022 BMW S 1000 R and is a breeze to ride around town and on backroads. (Jeff Allen/)
Once set up and underway, something as simple as running errands around town on the M is a breeze and actually pretty fun. The bike is very refined, turning tight and steering light. The rider can quickly change the Marzocchi semi-active suspension damping while riding by thumbing the suspension button on the left handlebar. Riding around town on the Road setting, the softest damping setting, provides a comfortable ride that easily soaks up just about anything.
Note that prior to riding, front and rear spring preload should be manually set to rider preference as the electronically controlled suspension only applies to the damping. This is a very simple task requiring only a 13mm socket or wrench.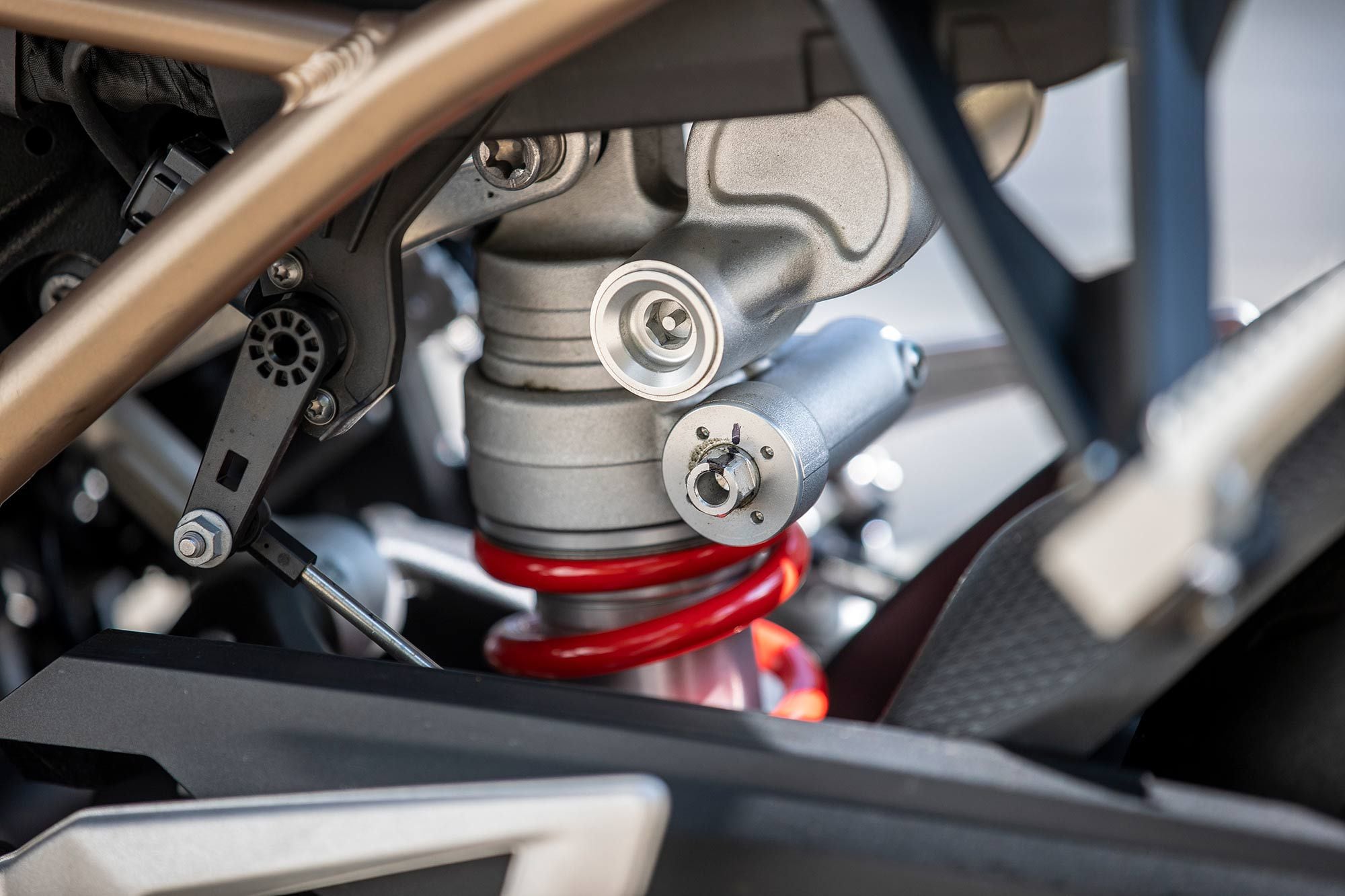 Although suspension damping is semi-active, preload on the fork and shock must be done manually. (Jeff Allen/)
The M's impeccable fuel mapping enhances its drivability, allowing the bike to build revs smoothly and easily from very low rpm. The only problem, for some, may be that due to the crisp and precise throttle response and power delivery, riders may see frequent front wheel lift. Wheelie control is most helpful here.
While enduring the freeways or on road trips, cruise control engaged, the M doesn't disappoint. The seat was comfortable even after a couple of straight-up 90-mile stints. At freeway speeds engine vibration through the footpegs, seat, and handlebar is minimal, but the mirrors develop an annoying vibration that makes it impossible to precisely identify the cars behind the bike. Still, the M would be a good candidate for an extended road trip, and BMW offers a small windscreen, soft luggage, and even has heated grips with three different warmth levels.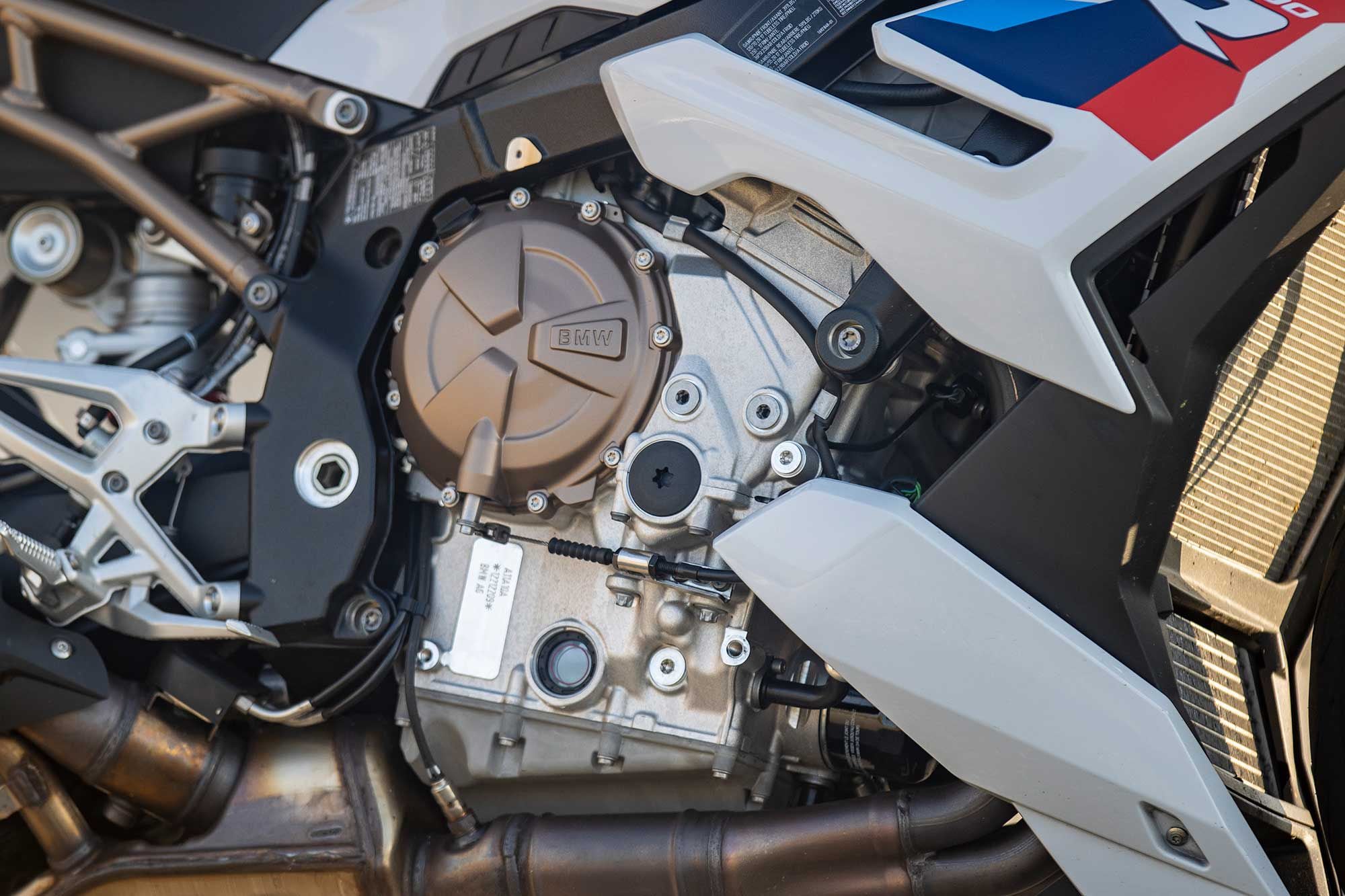 On the <i>CW</i> dyno, the 2022 BMW S 1000 R produced 155.7 hp from its 999cc inline-four. (Jeff Allen/)
One nitpick regarding the suspension: during 80-mph-plus sessions on washboard freeway, and similar weather-checked mountain roads, the front suspension seems unable to keep up and the ride becomes a bit harsh. The few available damping settings were all tried; setting the front springs at full soft was finally settled on. Otherwise, the available preprogrammed damping settings should be satisfactory for most street riders.
With a steady cruising speed of 70–75 mph, the M returned an impressive 45 mpg from its 4.4-gallon fuel tank. Admittedly, achieving that mileage is a bit tough; the M's acceleration and the way it builds revs is so tempting that the throttle tends to get rolled on a lot in third and fourth gear, easily lofting the front wheel.
As comfortable as the M is in mundane riding, it truly shines when the road starts getting curvy. All the rider has to do is long-push the suspension button, select the double-helmet (two-up) option on the screen for even more damping force, select the firmer Dynamic settings front and rear, and go ride. Quick, simple, and easy.
And the M-series loves a winding road. Thanks to throttle-by-wire, spot-on fuel mapping at any rpm and smooth off-corner power delivery, the engine doesn't stumble or miss and couldn't be better during closed-to-open throttle transitions at any rpm. This fuel mapping system makes it incredibly easy to ride fast going through the gears, up or down; speaking of which, the M has the option of changing shift patterns to a race-shift pattern of one-up and five-down.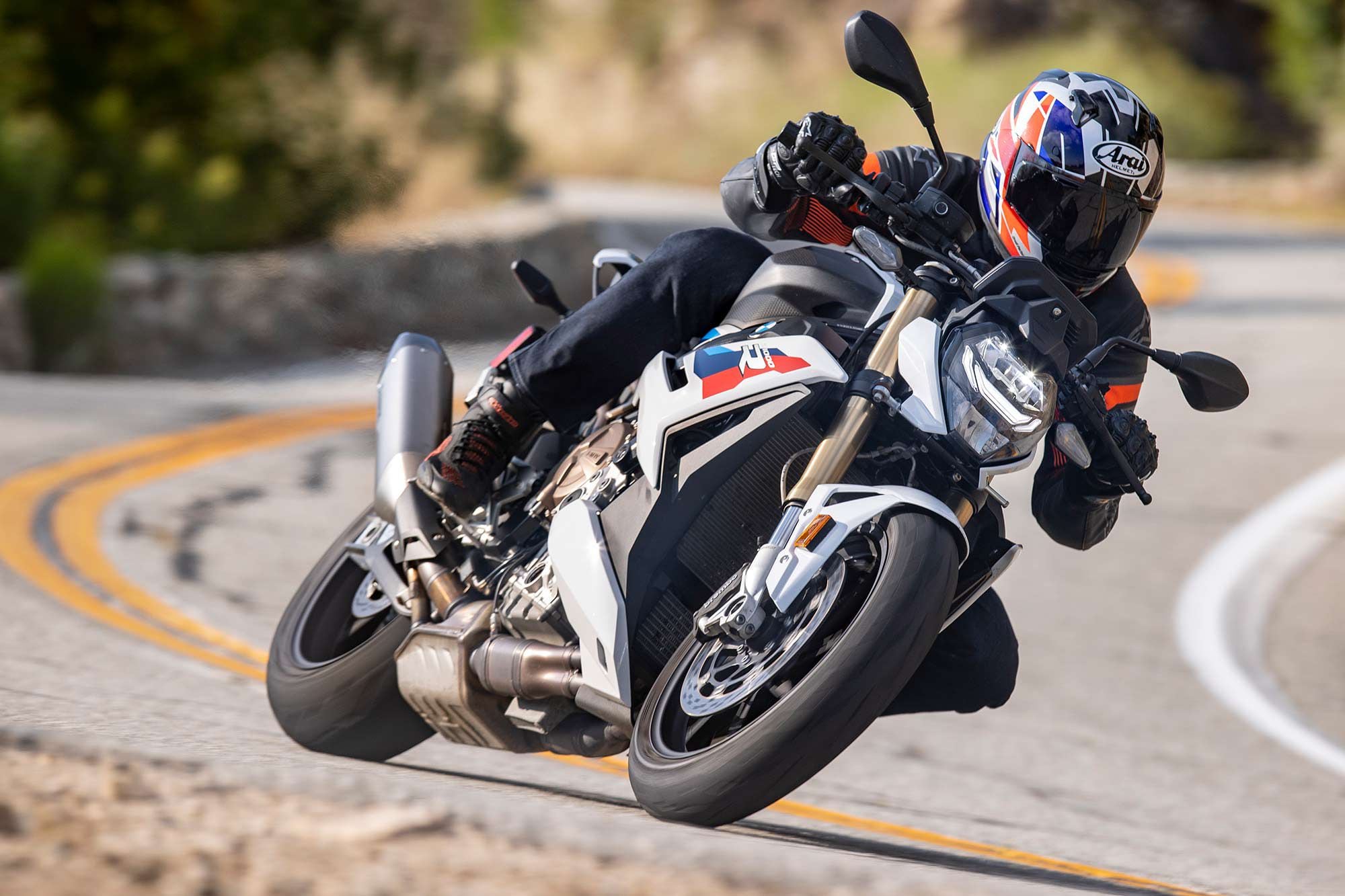 Smooth off-corner power delivery and well-sorted fueling makes fine throttle adjustments consistent and predictable. (Jeff Allen/)
Surprisingly, the shift lever requires a lot of effort on downshifts and the transmission is missing the buttery-smooth snickety-snick quality that might be expected, given the bike's refined feel and $20,765 price tag. It's not a glaring flaw, but it does divert attention and focus from the joy of simply riding and connecting all the corners together.
Measurement on the CW Dynojet dyno shows that power below 6,500 is linear, if a little on the soft side driving out of corners; this is also what makes it fun and easy to ride. Keep in mind that when saying the power is "a bit soft" on corner exit, the measured 155.43 hp at 11,250 rpm (79.85 pound-feet at 9,310 rpm), 999cc four-valve inline four-cylinder engine still very easily lays down long strips of rubber from its wide, sticky 200/55-17 Pirelli Diablo Rosso Corsa II rear tire in any gear when provoked, if you're willing to take the bike down into the 27 mpg range. The dyno also shows that this engine makes very significant linear power and torque increases after 6,500 rpm. Oddly, while riding, the engine seems to start building its full head of steam closer to 8,000 rpm (tachometer error, perhaps?) and pulls extremely hard to its 11,500 redline, leaving even longer tire stripes and, of course, often lifting the front wheel. At the risk of becoming repetitive: The M is a blast to ride.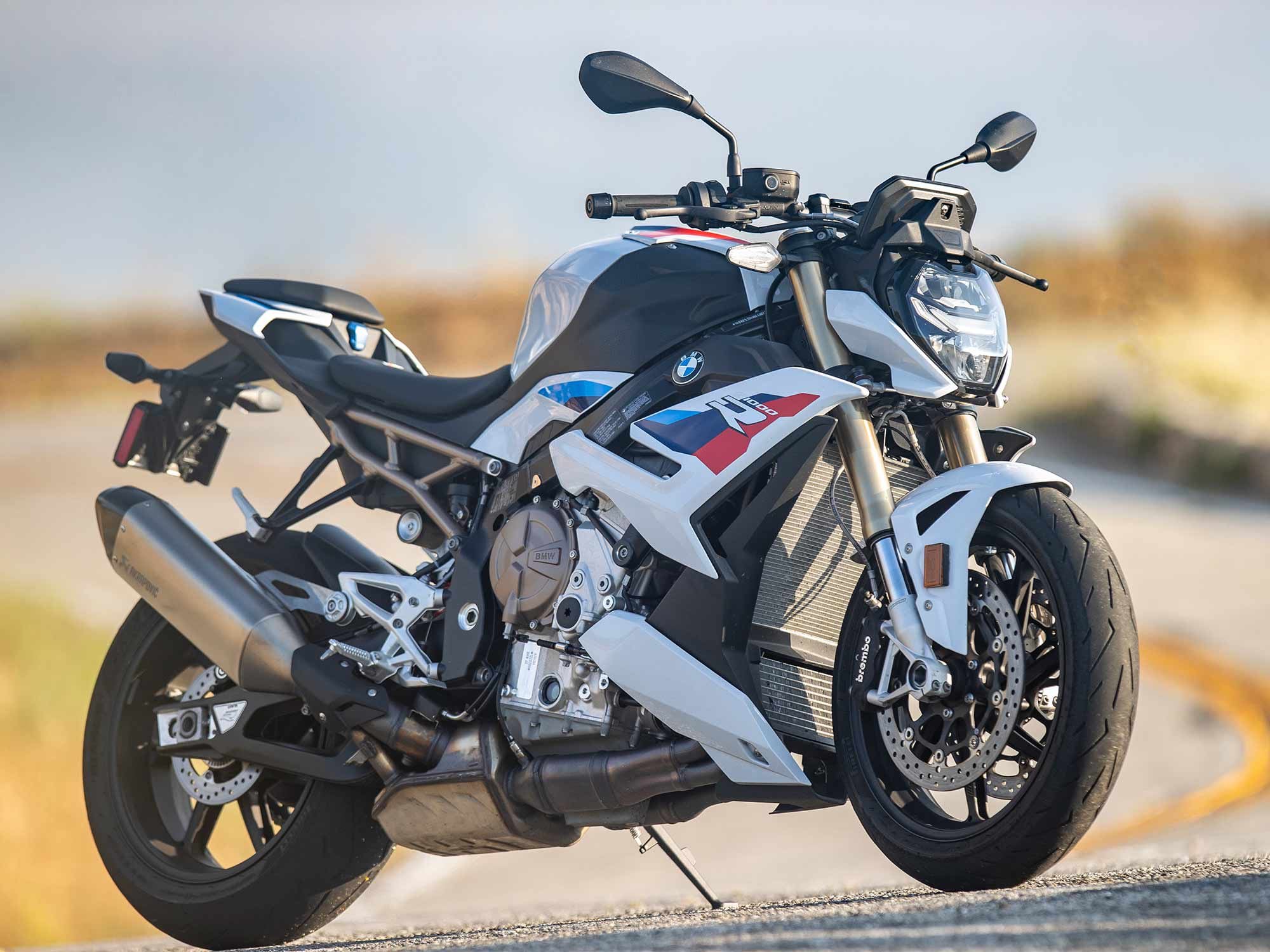 BMW has matched the S 1000 R's potent engine with a chassis that delivers excellent handling. (Jeff Allen/)
All this smooth, controlled, abundant power would be nothing without an equally matched chassis. The M delivers quite well; complementing and containing the engine is an aluminum bridge-type frame and under-braced swingarm that offer great feedback of what's going on. The chassis has great balance, easily managing its CW-measured 442 pounds (with a full tank of gas). There's exactly the right amount of rigidity and the ideal geometry to beg the rider to push harder, make midcorner changes while hard on the (radial-mounted Monoblock Brembo-calipered 320mm dual-disc) brakes, and generally do things that other motorcycles may struggle with, and to do them predictably and easily.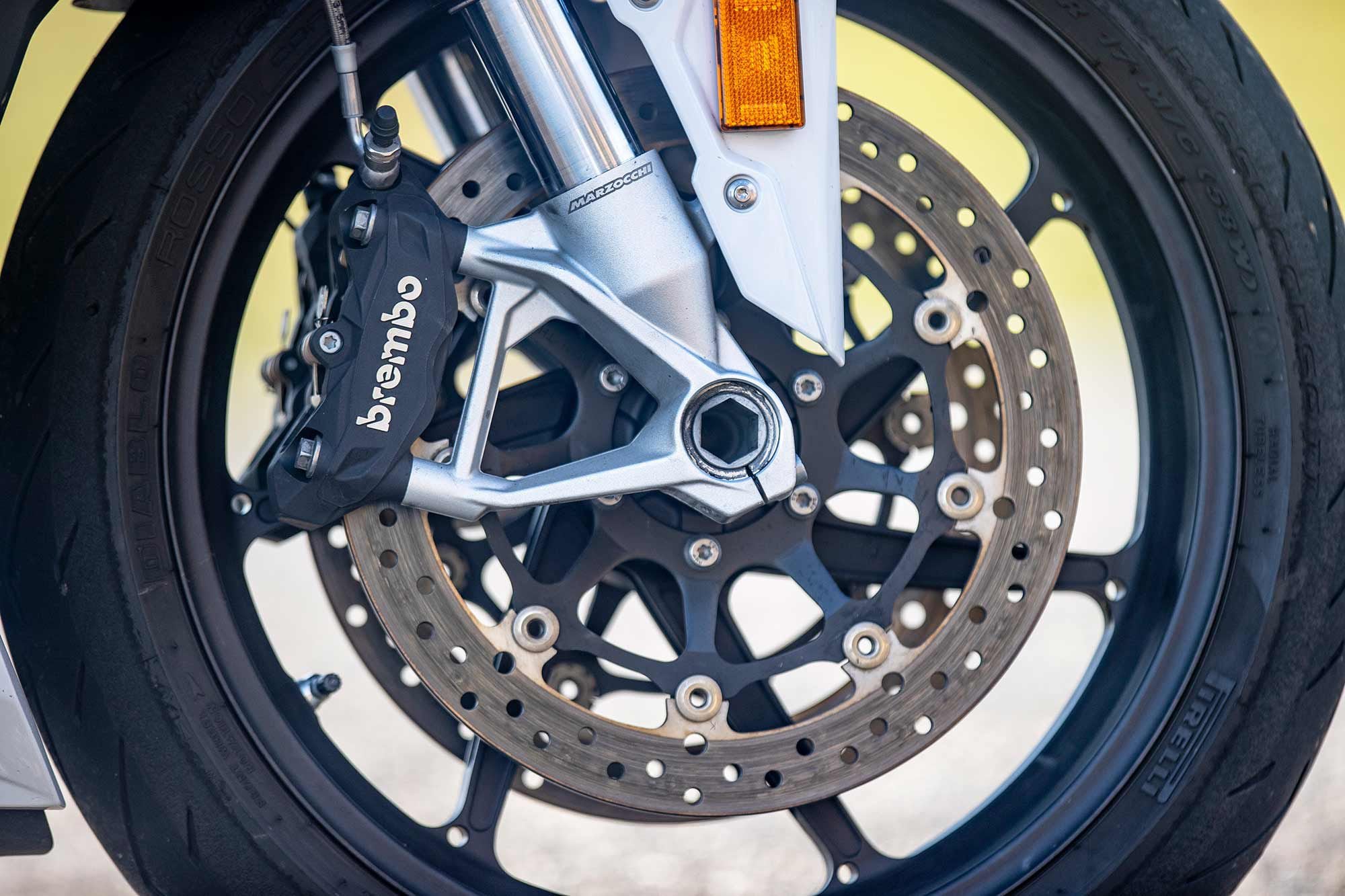 Brembo Monoblock calipers squeeze 320mm front discs. (Jeff Allen/)
One major contributor, not to say aider and abettor, of these gymnastic shenanigans are the bike's lighter M wheels. The forged examples on our test bike are 2.2 pounds lighter than those on the standard S 1000 R, and the optional carbon wheels are a whopping 6.2 pounds lighter than the non-M version. Prospective riders are urged to go for the carbon wheels; they'll reward you every time you ride.
Overall, the 2022 S 1000 R M-series is an extremely fun motorcycle that's at home just about anywhere. Usually, when we ride, the first step is to turn off all rider aids in order to experience the raw motorcycle; still, with some machines and software, there's something going on in the background. That didn't feel the case here. The M-series feels predictable and precise no matter what's asked of it; if rider-aid systems are still running, they're 100 percent transparent and doing an amazing job.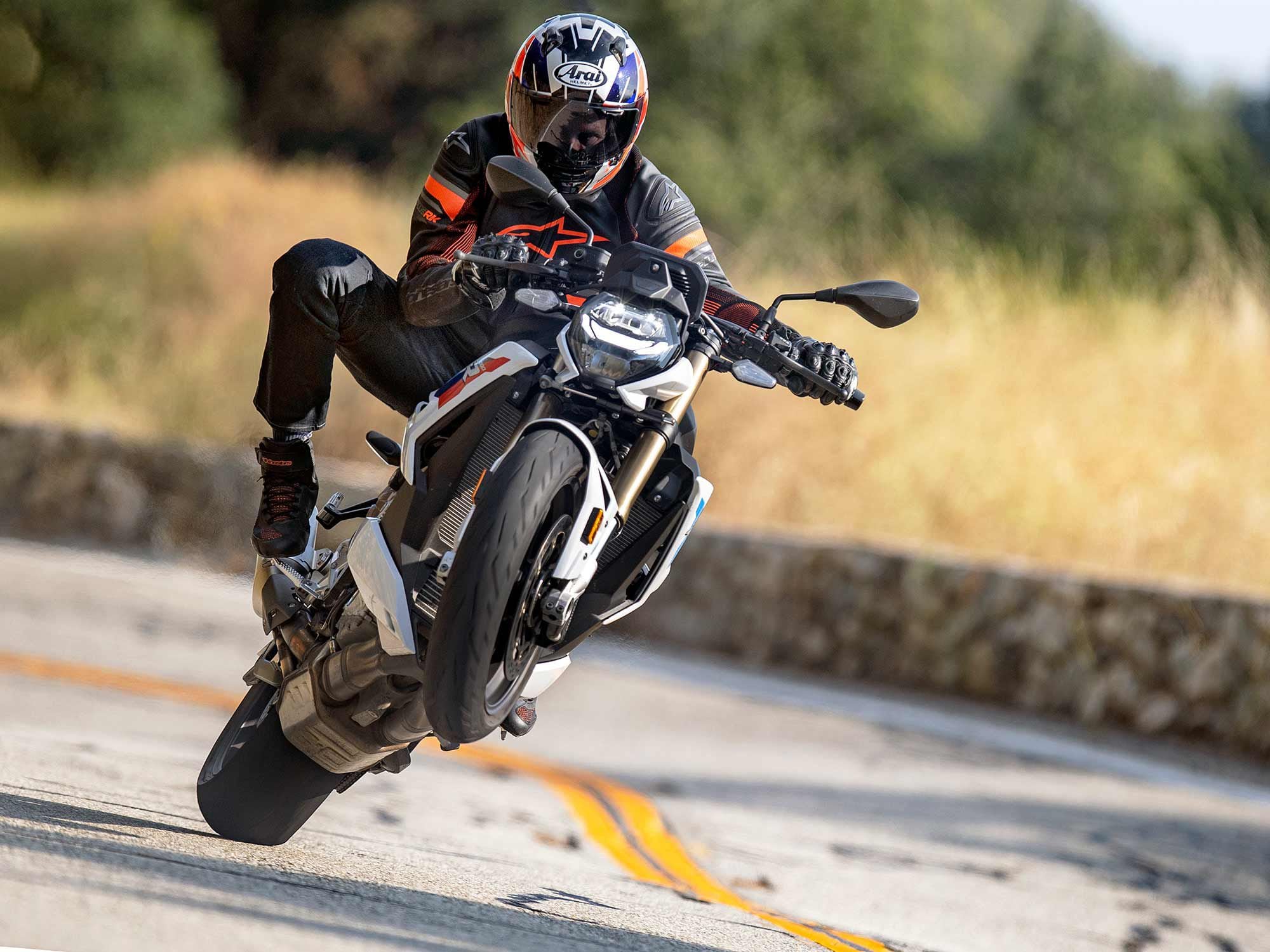 Predictable and precise: The 2022 S 1000 R M-series is extremely fun even with the electronic rider aids on. (Jeff Allen/)
The standard unfaired motorcycle has come a long way since the 1970s. Today, the naked segment is strictly defined, no longer compromised, and the only  changes needed to the motorcycles can be done by setting up the electronics and dialing in the suspension. The 2022 BMW S 1000 R M-series is a magnificent example.
2022 BMW S 1000 R  Specifications
| | |
| --- | --- |
| MSRP: | $20,915 as tested |
| Engine: | Liquid-cooled inline-4; 4 valves/cyl. |
| Displacement: | 999cc |
| Bore x Stroke: | 80.0 x 49.7mm |
| Compression Ratio: | 12.5:1 |
| Transmission/Final Drive: | 6-speed/chain |
| Cycle World Measured Horsepower: | 155.4 hp @ 11,250 rpm |
| Cycle World Measured Torque: | 79.9 lb.-ft. @ 9,300 rpm |
| Fuel System: | Fuel injection; ride-by-wire |
| Clutch: | Wet, multiplate, slipper/assist; cable actuation |
| Frame: | Aluminum bridge type |
| Front Suspension: | 45mm USD semi-active fork; fully adjustable; 4.7 in. travel |
| Rear Suspension: | Monoshock; semi-active; fully adjustable; 4.6 in. travel |
| Front Brake: | Radial 4-piston caliper, 320mm discs w/ cornering ABS |
| Rear Brake: | 1-piston floating caliper, 220mm disc w/ cornering ABS |
| Wheels, Front/Rear: | Cast alloy; 17 x 3.5 in. / 17 x 6.0 in. |
| Tires, Front/Rear: | Pirelli Diablo Rosso Corsa II; 120/70-17, 200/55-17 |
| Rake/Trail: | 24.2°/3.8 in. |
| Wheelbase: | 57.0 in. |
| Seat Height: | 32.9 in. |
| Fuel Capacity: | 4.4 gal. |
| Average MPG: | 45 mpg |
| Cycle World Measured Wet Weight: | 442 lb. |
| Contact: | bmwmotorcycles.com |
CW Measured Performance
| | |
| --- | --- |
| Quarter-Mile: | 10.54 sec. @ 142.13 mph |
| 0–30 mph: | 1.71 sec. |
| 0–60 mph: | 3.18 sec. |
| 0–100 mph: | 5.64 sec. |
| Top-Gear Roll-On, 40–60 mph: | 2.49 sec. |
| Top-Gear Roll-On, 60–80 mph: | 2.49 sec. |
| Braking, 30–0 mph: | 32.72 ft. |
| Braking, 60–0 mph: | 136.46 ft. |
View full post on Cycle World