The Patron Saint of Custom Motorcycles Lives On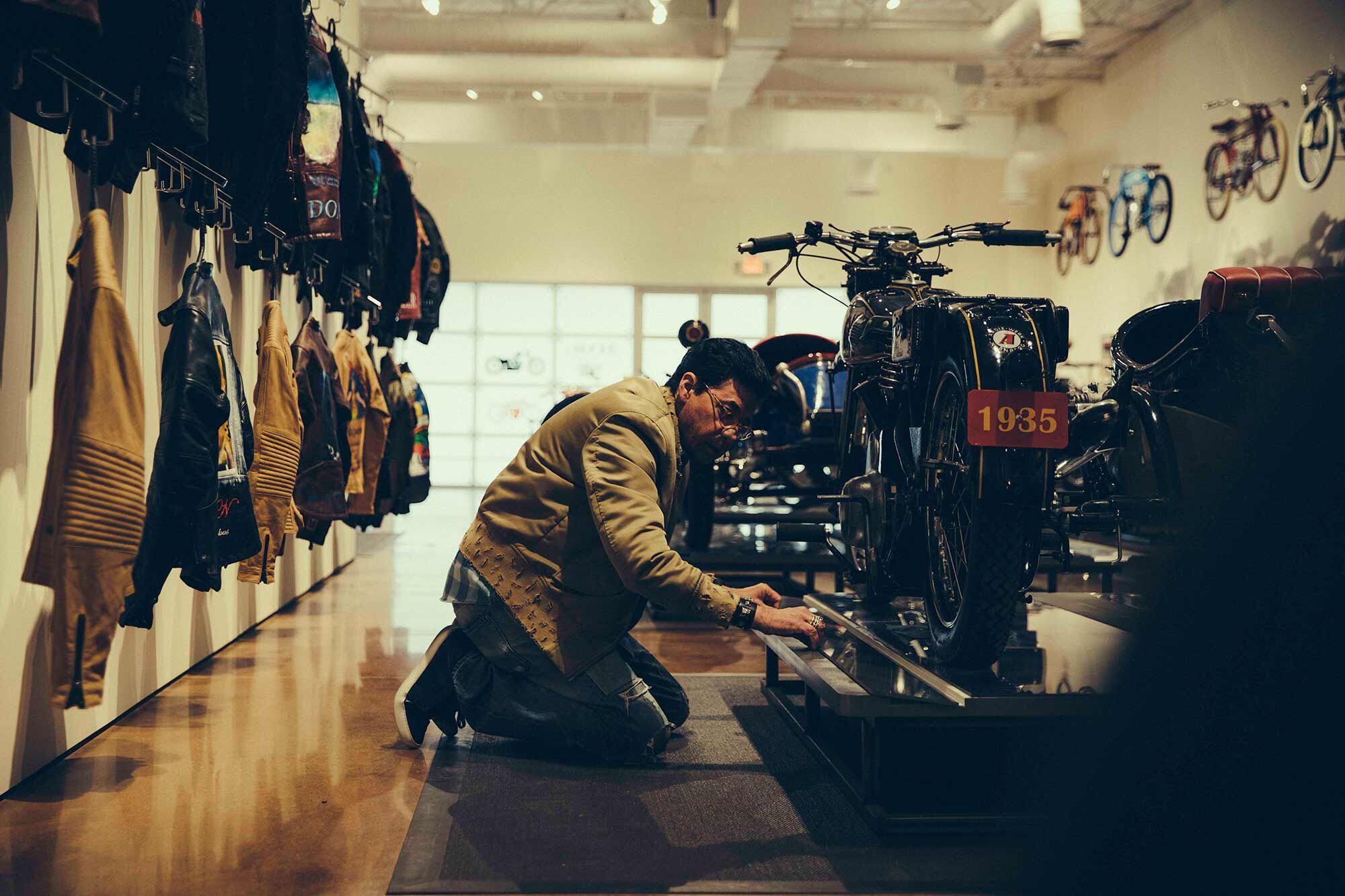 Bobby Haas, The Patron Saint of Custom Motorcycles. (Shaik Ridzwan/)
"This is the place where dreams come true," said Bobby Haas, leaning over the table toward a teary-eyed Mitsuhiro "Kiyo" Kiyonaga. Kiyo had come to the Haas Museum with the dream of building the third piece of his CB750-powered collection, a three-engine salt-flat racer to be called "The Galaxy." Haas had agreed to commission the build. Kiyo's vision was within reach.
In motorcycling, this is what Haas had become known for: Helping the world's best custom motorcycle builders realize their dreams. But this two-wheeled life was Bobby's third act. He had made hundreds of millions of dollars as an investor in the '80s, a fortune that he referred to as his bulletproof vest. That fortune allowed him to pursue his passions, and like everything he did, he pursued them with excellence as the standard.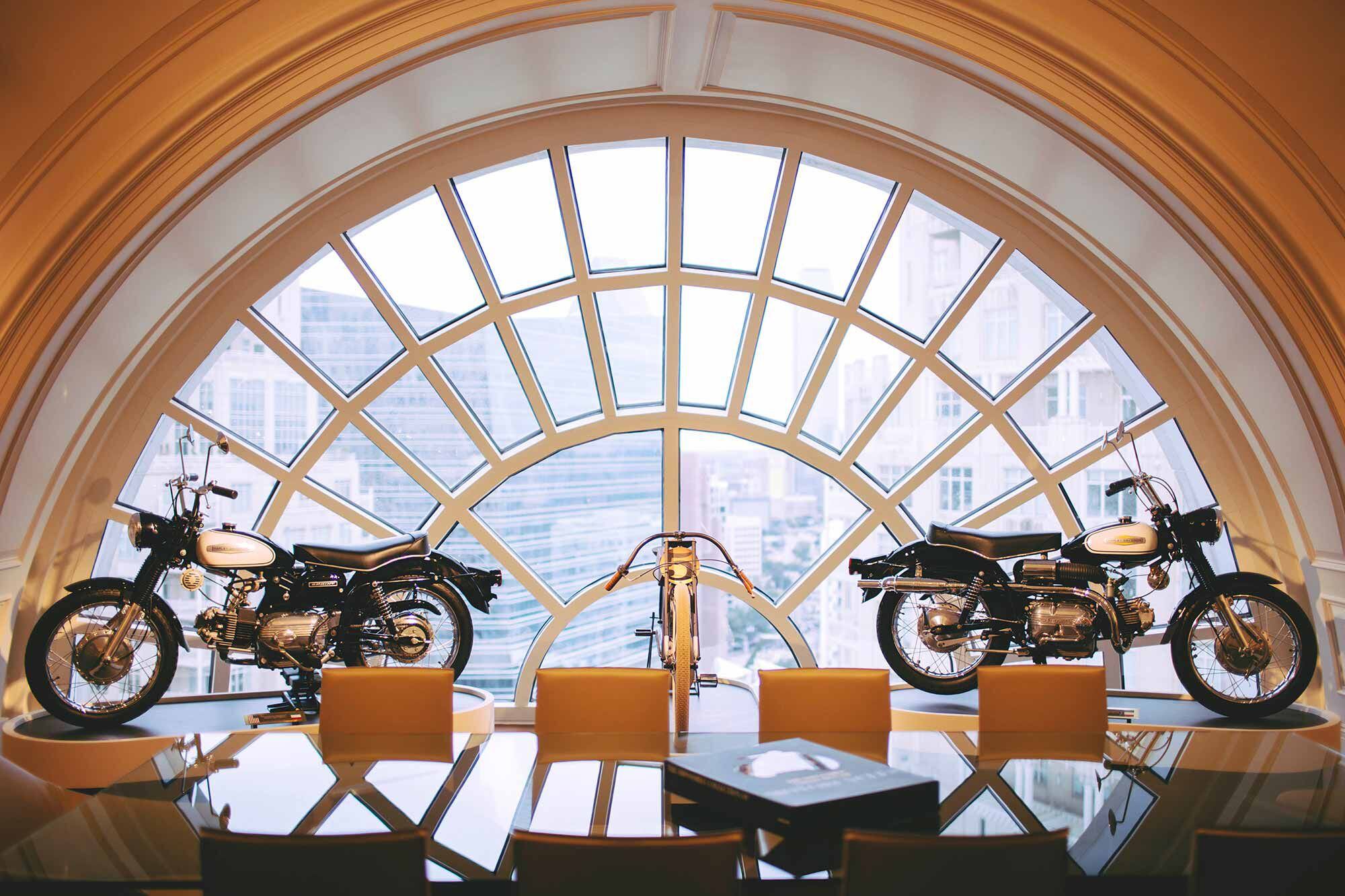 An early American motorcycle flanked by two AMF-era Harley-Davidson Sprint 250s in Bobby's Dallas office. (Shaik Ridzwan/)
In 1994, when Haas was 47, he found himself wanting to experience more of the world than just Dallas finance. He bought a camera and went to Africa where he accompanied a professional photographer, asking questions and picking up tips as they went. He had no prior experience, but aerial photography was a relatively open niche at the time and his considerable resources allowed him access to helicopters, which few photographers could afford. He learned quickly and his unique eye helped him reach photography's top level in a rarely short time. Haas' second act included 10 years as a staff photographer for National Geographic and four published books of his work.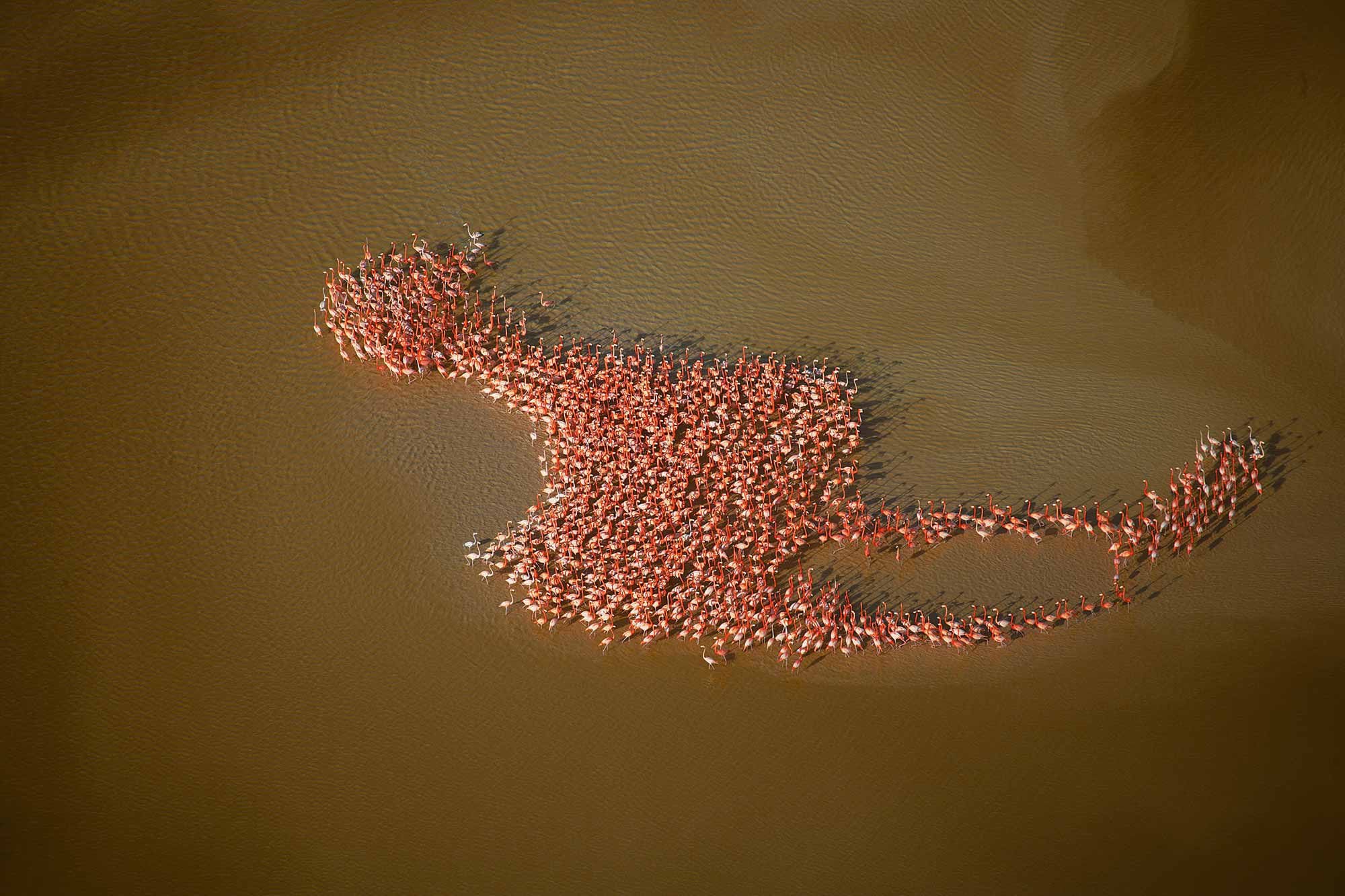 In a photograph from Bobby Haas' book Through the Eyes of the Condor: An Aerial Vision of Latin America, hundreds of flamingos take the shape of a flamingo. (Bobby Haas/)
And then, in 2014, he bought his first motorcycle. As with photography, Haas was eager to learn and used his resources to accelerate his education. He started building a collection of rare vintage and historic motorcycles almost immediately, studying their form and the differences between them.
Motorcycles started demanding his attention everywhere he went. Later that same year, he came across the work of Maxwell Hazan in a Los Angeles clothing shop. He called Hazan and arranged the meeting that would result in Haas' first commissioned build and Hazan's first customer. Haas' act three was under way.
The Haas Moto Museum & Sculpture Gallery, located in Dallas, Texas. (Shaik Ridzwan/)
"He showed up with some ideas and… Yeah, they were bad. I joke with him about it still," Hazan said with a short laugh. We were in his Los Angeles workshop, just over three months since Bobby's passing. "Up until that point I had just been building out of my pocket, so it was like cheaper motorcycles, like beat up Iron Heads. This guy gave me an opportunity and I'm like… You know what? I'm just going to build the craziest thing I can think of and make with my abilities at the time, and I'll get him to come around. So I basically smiled and said yes to his ideas and then built something completely different. And he loved it."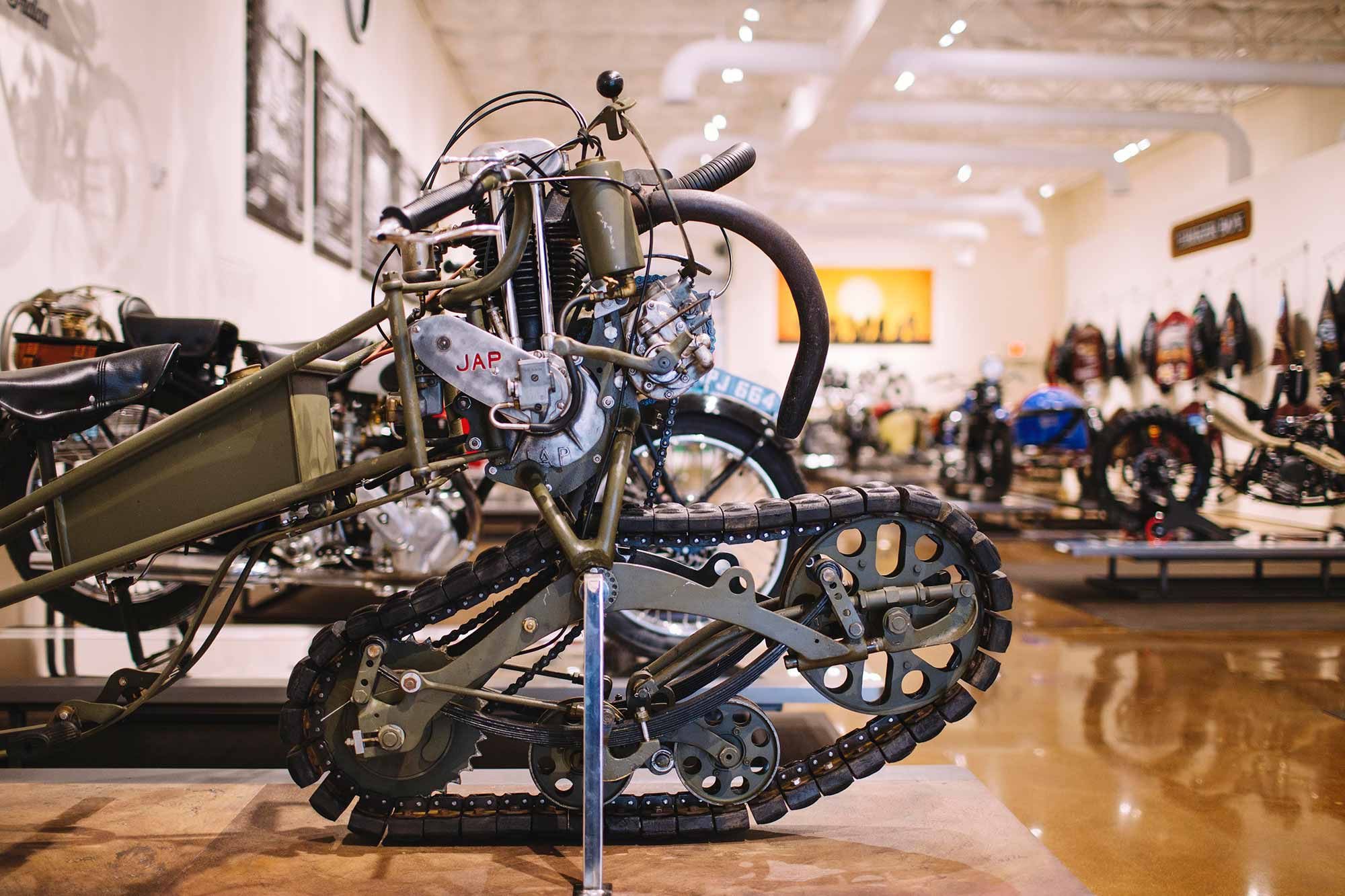 A JAP-powered machine running on rubber treads requires the rider to turn the engine along with the front roller mechanism. (Shaik Ridzwan/)
Until that point, Hazan had devoted a single year to launching his career as a professional motorcycle builder. That year ended the day before Bobby's call. Hazan hadn't yet sold a bike. He was preparing to go back to his construction job, but that single phone call and commission changed everything. The check not only let Hazan continue his work in the field, but allowed him to select a more expensive and exclusive platform than before. The handmade "Musket" V-twin would elevate his work to a level that could have taken years without help. More so than the final product, it was this relationship and its demonstration of the potential to affect other builders' lives in similar ways that motivated Haas and his future endeavors with the museum.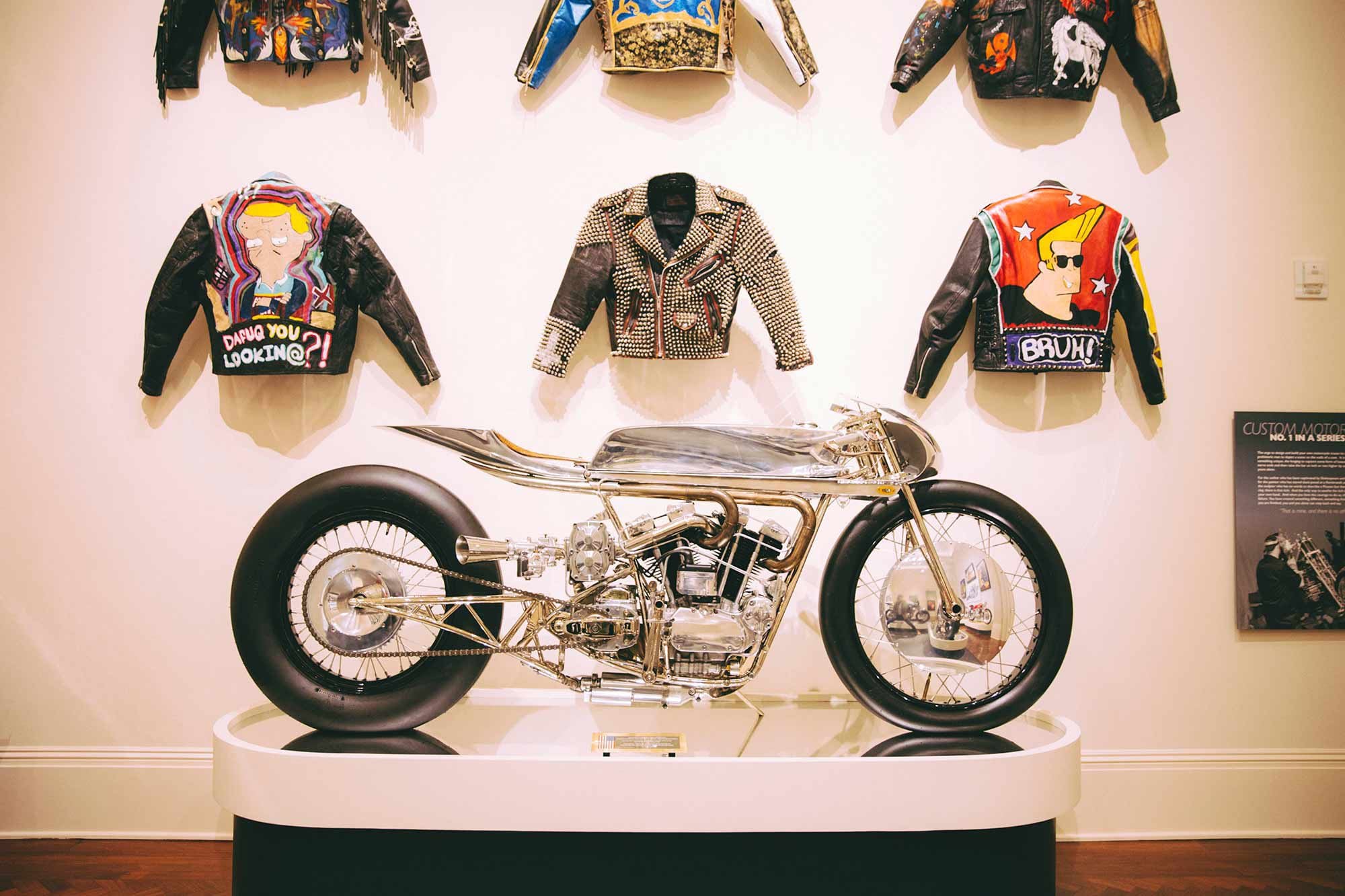 Hazan's supercharged Harley-Davidson Ironhead, purchased by Haas while Max built Musket. (Shaik Ridzwan/)
"You may think of an industry as global, but when you go into a specific niche, there are a few key players," Haas said. "By connecting to them, you can be well connected." This was demonstrated by the relationships he was able to build and foster in the industry. By earning Hazan's trust, he was introduced to the world's custom motorcycle elite as a respected contributor.
By 2016 Haas had opened a 5,000-square-foot gallery on Dragon Street in Dallas. Soon after, he built the 20,000-square-foot Haas Moto Museum & Sculpture Gallery two blocks away, and hired Stacey Mayfield as the museum director.
The two soon fell in love. They traveled the country, meeting with builders, talking about their aspirational projects, and if it seemed like a good fit, signing checks to commission builds. Jeremy Cupp's "SX Dirtster," Jay Donovan's "Stingray," Mark Atkinson's "Alpha"; Haas and Mayfield were going to motorcycle shows and not only buying the best pieces there, but developing relationships. Haas had become a force in the custom industry.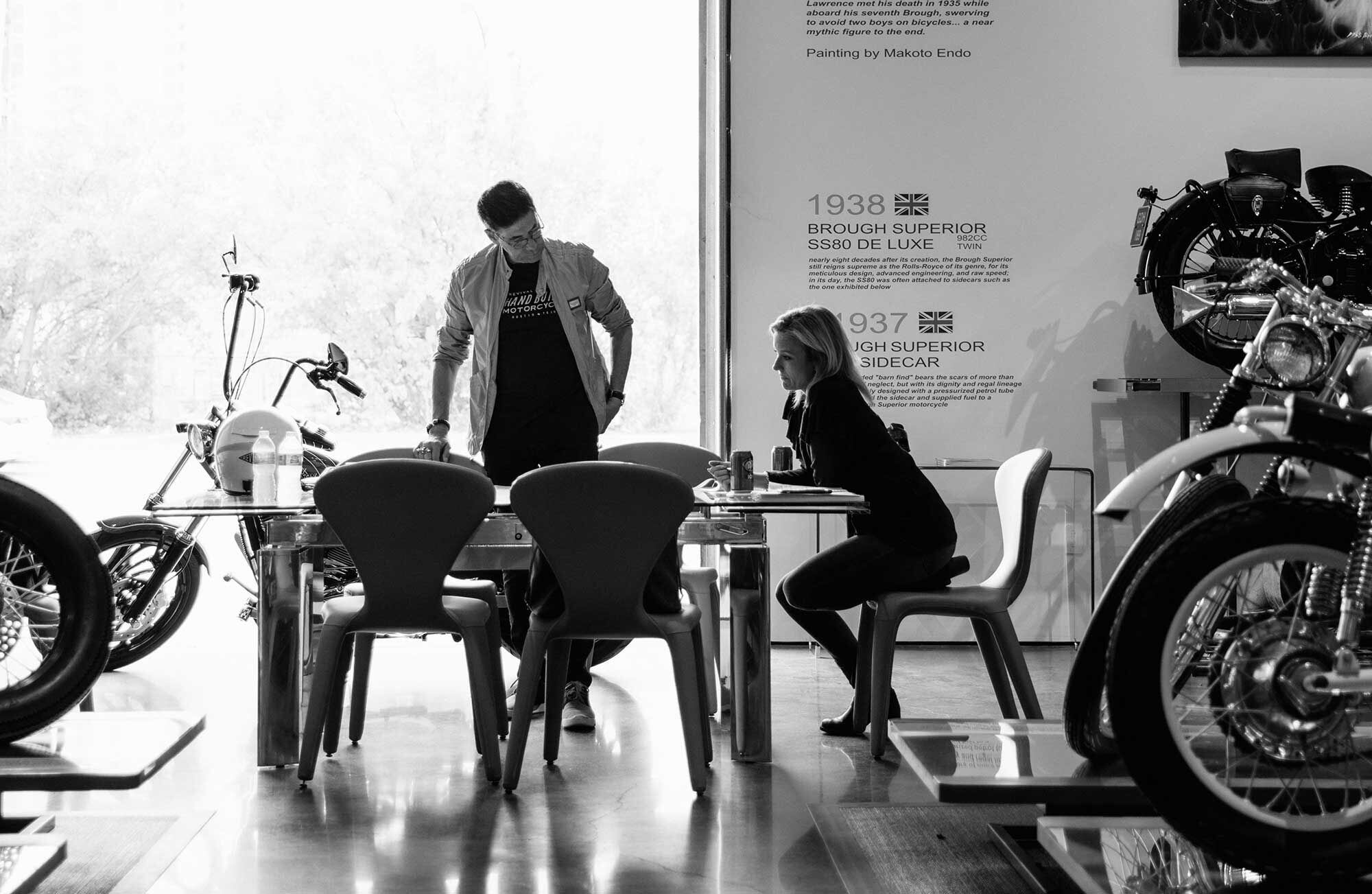 Haas and Stacey Mayfield at the Haas Moto Museum. (Shaik Ridzwan/)
"We just started to get to a point where people would reach out to us every day wanting us to look at bikes, but we would usually get referrals from people or something just caught Bobby's eye, we'd jump on a plane and go look at it," Mayfield said from her office in the Haas Museum. Nearby, Bobby's denim jacket still hangs on the back of his chair where he last slung it. "We traveled all over the world to meet with people, and some of them were commissioned. Some of them were already built, but we just found them so beautiful."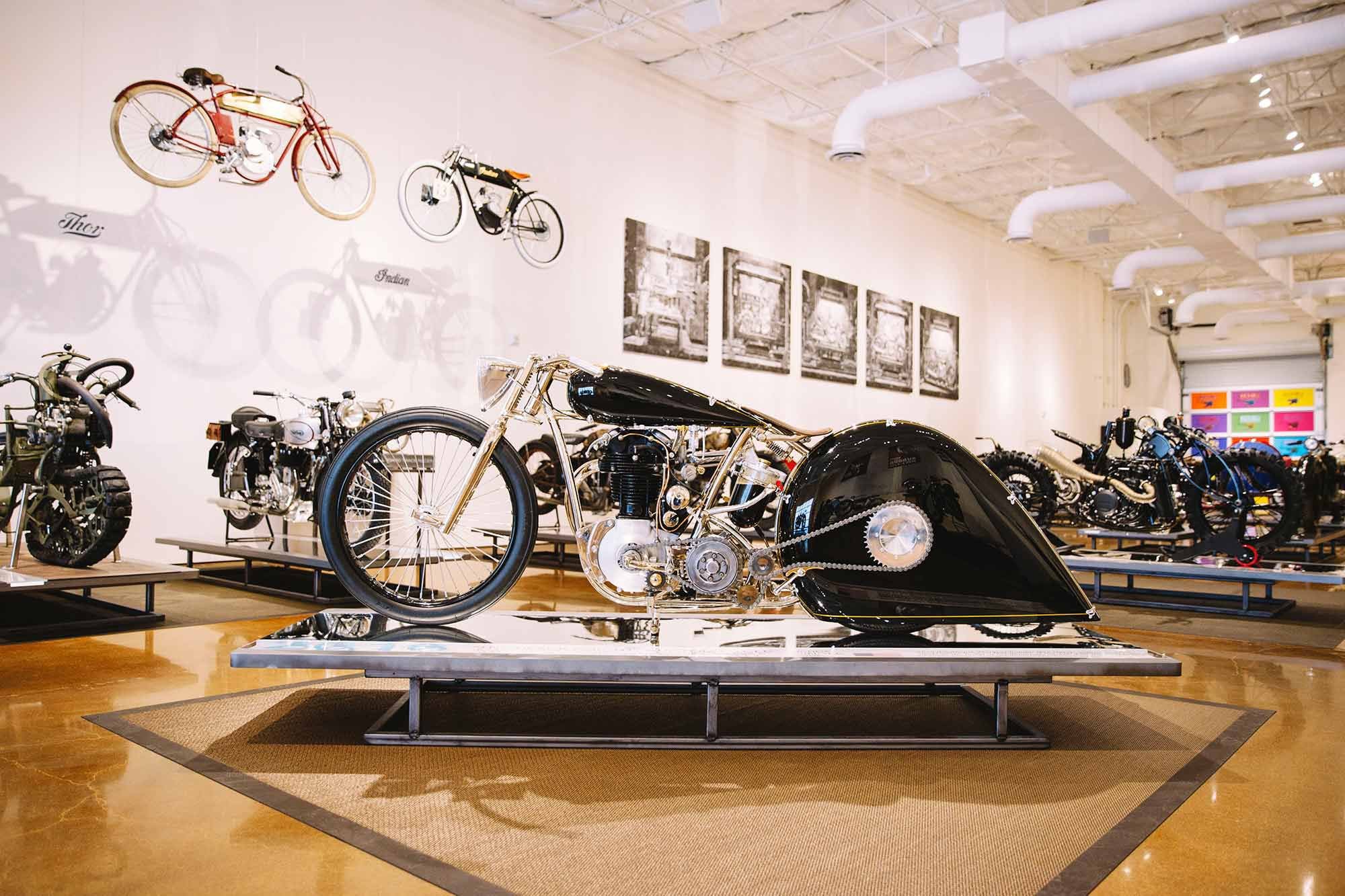 This 1949 BSA 500, better known as "The Black Knight," was commissioned by Haas and built by Maxwell Hazan. (Shaik Ridzwan/)
And then, at the 2017 Handbuilt Motorcycle Show in Austin, Bobby found Craig Rodsmith's "Ambassador," a turbo-powered Moto Guzzi with a mirror-finish dustbin fairing, high-compression pistons in overbored cylinders, and absolutely perfect details right down to handmade brass gauge housings and two-piece leather seat. But meeting Craig himself was more important to Bobby than seeing the bike. Haas bought the Ambassador and he and Rodsmith began discussing their first project together, the BSA-powered "Corps Leger."
What started as a neophyte supporting masters and giving them free rein turned into a genuine collaborative process, one that often pulled more out of builders than they had imagined themselves capable of. The skills that brought Haas such success in the first two acts of his life continued to work for him here.
The museum's History Hall holds 100 years of motorcycling history, be it production machines, prototypes, or racebikes. (Shaik Ridzwan/)
"Bobby wanted to raise the bar high because he believed in each builder so much and he wanted them to be challenged," Mayfield said. "And his thing is, find your passion and pursue it with excellence as the standard. That's what he would expect from people, and more than nine out of ten times, that's what they would deliver."
Before the Haas Museum, there had never been a permanent installation presenting such an exquisite and diverse collection of custom motorcycles in a gallery setting. Top-level customs were often built for celebrities or private collectors, but there had never been a single proprietor like Haas to gather so many important one-off machines and present them with such respect to the craft. When the bikes were viewed as transportation, there had always been a cap on the amount of work that was worth it for each builder; there always came a point at which there could never be a return on the time investment. But with Haas, the sky was the limit. The motorcycles were being exhibited, respected, and valued as fine art.
"I think he elevated the industry in a big way," Rodsmith said. "He saw the value in people's work and saw that guys like me, Hazan, and Cristian Sosa and others were struggling. We just had this passion to build motorcycles, but nobody was willing to pay us for the amount of hours we put into it. But we didn't really care. We were still doing it. And he just appreciated what we did."
As the collection grew, so did Haas' relationships with the builders. He commissioned more builds and worked closely with Hazan in Los Angeles and Rodsmith in Chicago. His commissions often had themes of historic motorcycle concepts reimagined in new artistic and functional ways. Raw metal is a visual theme throughout curation, and later acquisitions seemed to get faster as time went on.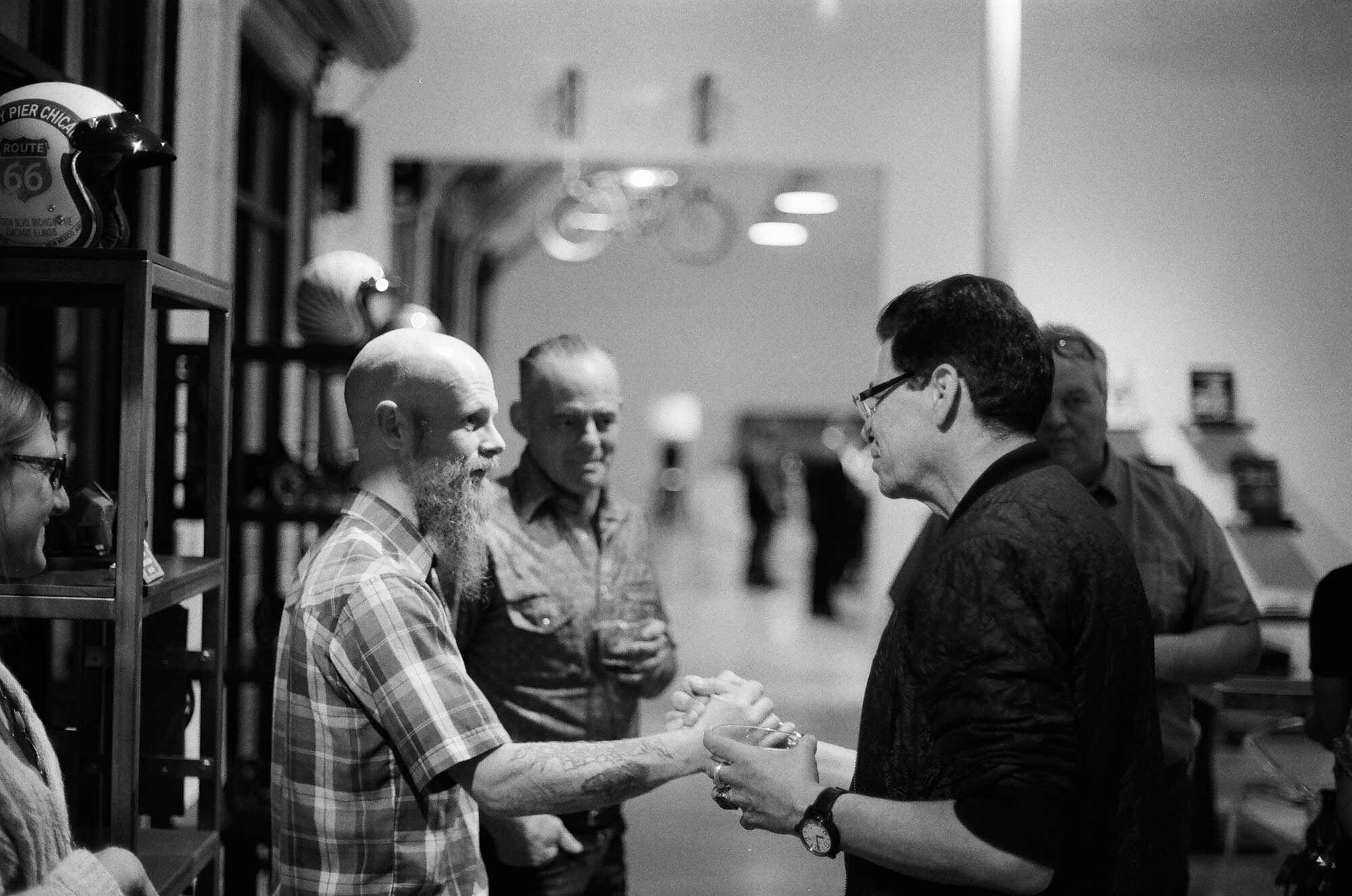 Bobby (right) with builders Craig Rodsmith (middle) and Jeremy Cupp of LC Fabrications (left). (Shaik Ridzwan/)
"There's only so much space, and we were very meticulous about the curation of the collection. So you know, we always had a joke that if it singed our eyebrows, it was meant to be, and that was just kind of this feeling that we both got," Mayfield said. But sure enough, Rodsmith and Hazan's adrenaline-chasing style started to rub off on Haas.
He'd always preferred riding sidecar motorcycles, and now Haas commissioned a personal build from Rodsmith. Naturally, it was a scratch-built Moto Guzzi with a mirror-polished dustbin fairing.
"Originally, we were just going to build a cool-looking sidecar with a Moto Guzzi engine," Rodsmith said. "It was because Bobby rode sidecars, and this was something that could be a museum piece that occasionally Bobby could take out and ride. Well, that somehow morphed into 'Why don't we go land speed racing? Why don't we turn this bike into a land speed sidecar?' I'm like, 'OK!' And that's when the whole thing shifted."
Bobby had been working with Hazan on a land speed racing project called "The Saltshaker," based on a 1,650cc Motus V-4. As you might expect from Haas, this didn't just mean monetary support. Haas accompanied Hazan to Bonneville for the record attempt.
"I remember when I finished the run, we got the record," Hazan said. "But it wasn't as fast as we wanted to go. I think I got the bike at like 217 mph for a minute and I brought it back in. And the thing was like all over the place, the salt wasn't that great, and I just I'm like, You know what? That's enough. And he was super proud that I just decided to pack it in."
Haas brought his daily rider along, a Harley-Davidson Fat Boy with a sidecar, and seized the opportunity to get some practice on the salt.
The land speed record for a motorcycle with a sidecar was 130 mph. An 850cc Guzzi V-twin was bored out to 972cc and fit with high-compression pistons, balanced perfectly and dynoed at over 100 hp. Special wheels were made to fit high-speed-rated 17-inch tires. It was named "Mister Farenheit"; Rodsmith estimates it's capable of 165 mph. It was completed in Rodsmith's Chicago workshop, but new world-changing restrictions were falling into place.
Hazan's first build for a customer and Bobby's first commissioned build, "Musket" features an engine built by Aniket Vardhan that uses two Royal Enfield 500s to make a 1,000cc V-twin. (Shaik Ridzwan/)
When COVID hit, builders were sequestered to their own garages as social-distancing guidelines and travel bans were enforced. Mister Fahrenheit was completed, but stuck in Chicago. Builds and the museum's daily operation were of low priority compared to the builders' well-being. Haas was healthy, but having experienced serious health issues for much of his earlier life, he had accepted his mortality, often starting the day by reading the Dallas obituaries. In March of 2020, he scheduled a Zoom meeting with his 12 closest builders and let them know that, when he passed away—hopefully long after the meeting—each of their contributions to the collection would be returned to them.
In late September of 2021, Bobby died suddenly of respiratory illness at a young 74 years old. Those close to him described him as an unstoppable force that would lift people to his level, a man who treated doormen and diplomats the same, who expected the best out of people and gave his best in turn.
"He dragged us up to his level," Rodsmith said, after a pause. "At first, it was intimidating. It's like, Oh my God, can I do this? And that was the thing. He brought out the best in us. He was… Yeah. He was a pretty amazing guy."
"Mister Fahrenheit" as it sits in the Haas Moto Museum, waiting to see its potential realized on the salt flats. (Brent Graves/)
Haas' time in the custom motorcycle world raised the bar by which we judge handmade bikes. He helped elevate the craft by presenting the work as fine art and the builders as fine artists. Now that he's gone there's a void, and not just for those that knew him. What happens to the next Rodsmith or Hazan? We can only pray that Haas inspires other wealthy benefactors in the same way he inspired us and throngs of other motorcycle enthusiasts.
Now Mister Farenheit sits in the Haas Museum. It has never seen salt. Kiyo's three-engined Galaxy land speed racer is complete and sits next to his other creations, "Gekko" and "Cherry Blossom." Mayfield, Rodsmith, Hazan, and Shaik are still trying to accept the loss of their partner, their mentor, their friend. Although ownership is going back to the bike's builders, none of them have plans to remove their machines from the museum, except perhaps to take one last run on the salt. It seems that his best friends getting together to realize the mechanical potential of these machines is exactly what Haas would have wanted.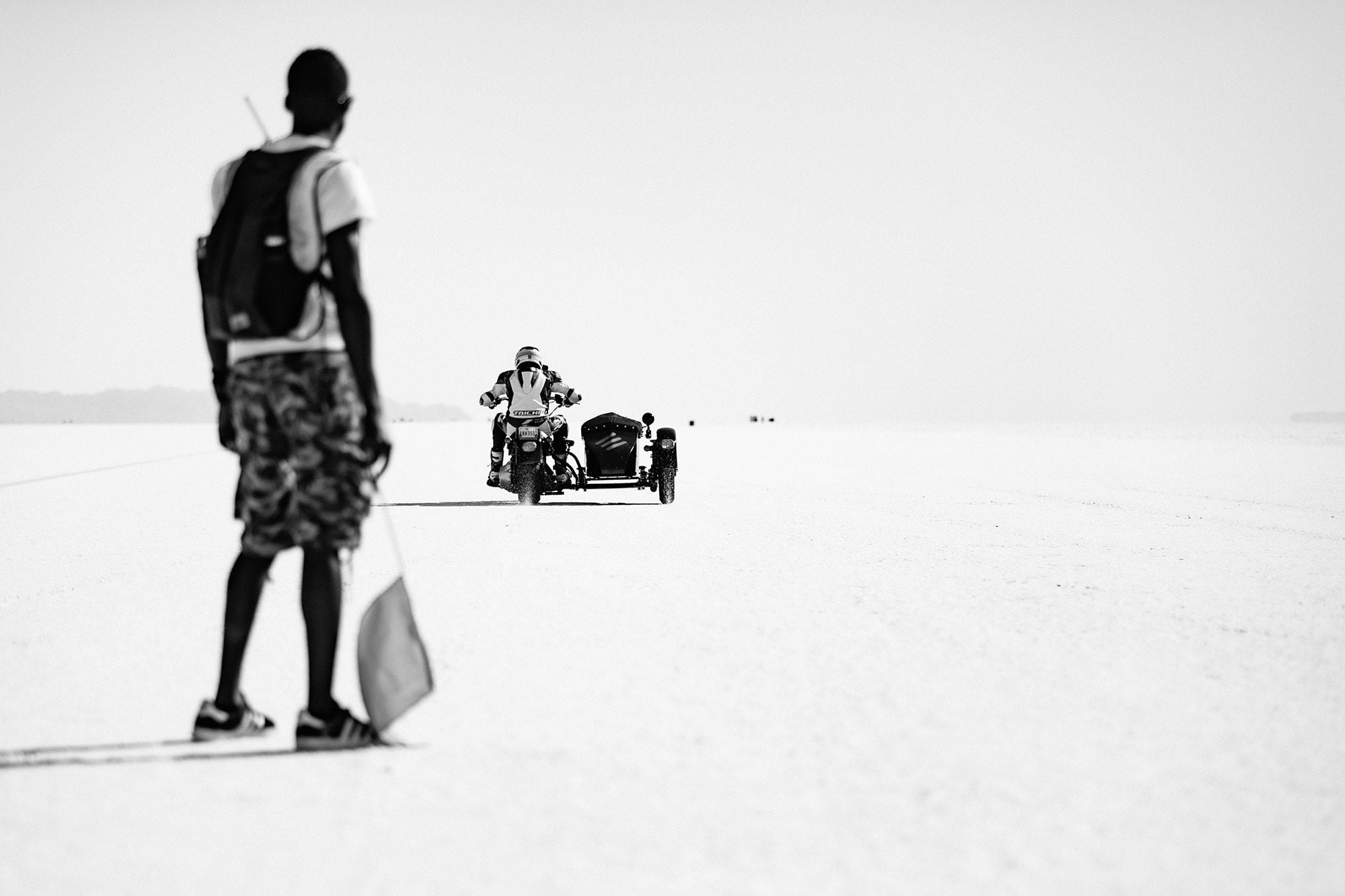 Bobby Haas performing practice runs on his Harley-Davidson Fat Boy with sidecar, while on the dry lake bed testing Hazan's "Saltshaker." (Shaik Ridzwan/)
View full post on Cycle World