Killer Mike's Custom Indian Challenger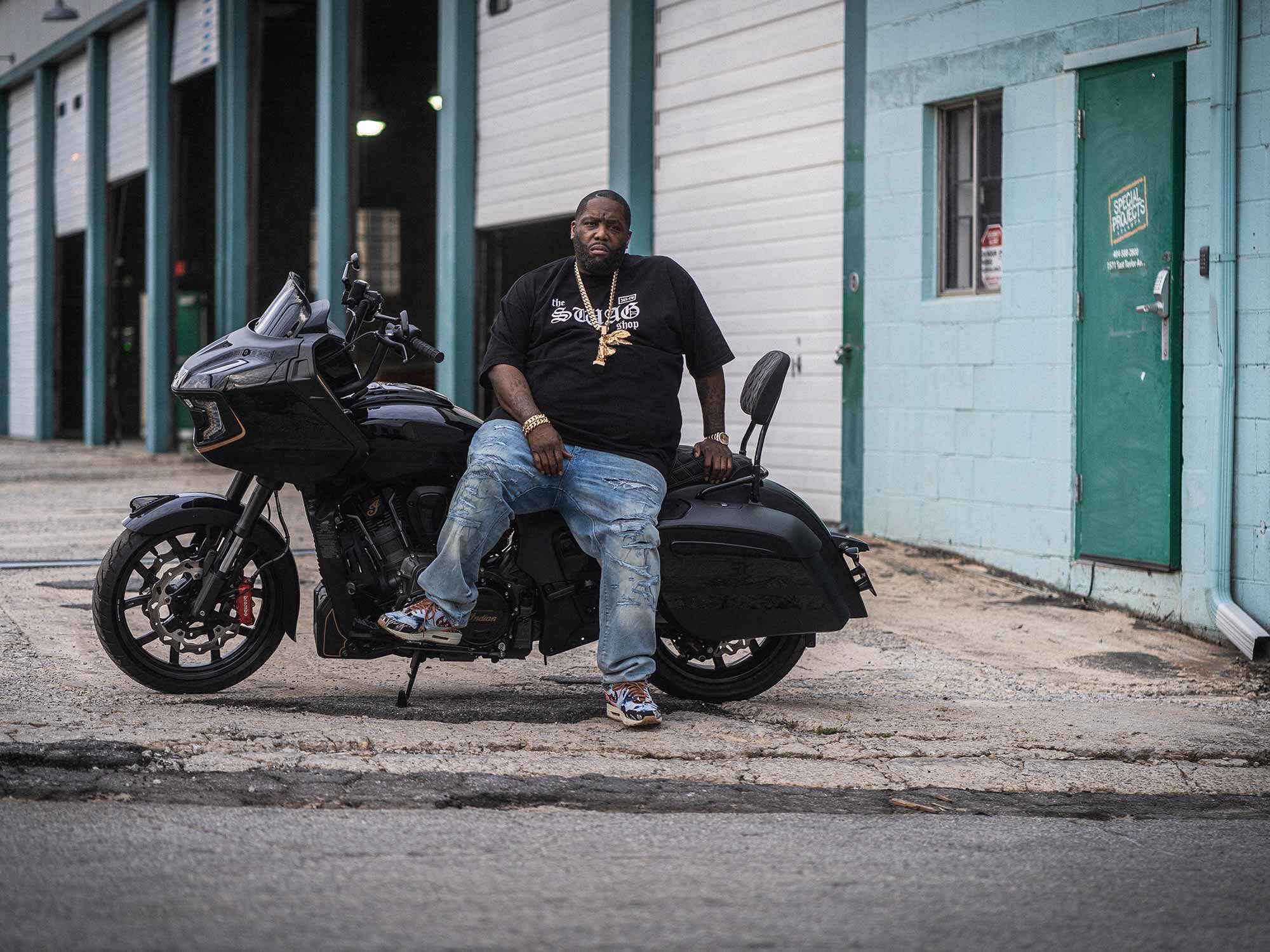 Rapper Killer Mike on his Indian Challenger, custom built by Carey Hart and Big B. (Steve West/)
At motorcycle rallies all over America, black bikes seem to outnumber those of any other color. Yet go to a custom motorcycle show and you'll see it's a much less popular choice with builders. Black paint is clean, cool, and always fashionable, but executing a blacked-out paint job in a way that will truly stand out from the crowd is a major challenge. And that was the challenge rapper Killer Mike presented to freestyle motocross legend and custom bike builder Carey Hart: build an Indian Challenger that would match Mike's custom car collection, all in black paint.
Carey Hart is best known, at least for now, as the man who brought the backflip to FMX. More recently, Hart and his best friend Big B have been making a name for themselves building custom motorcycles out of Hart's Central California workshop. Mike Render, better known as Killer Mike, is a man in full: an Atlanta rapper with a list of hits going back 20 years, half of hip-hop duo Run the Jewels since 2013, and host of the hit Netflix show Trigger Warning.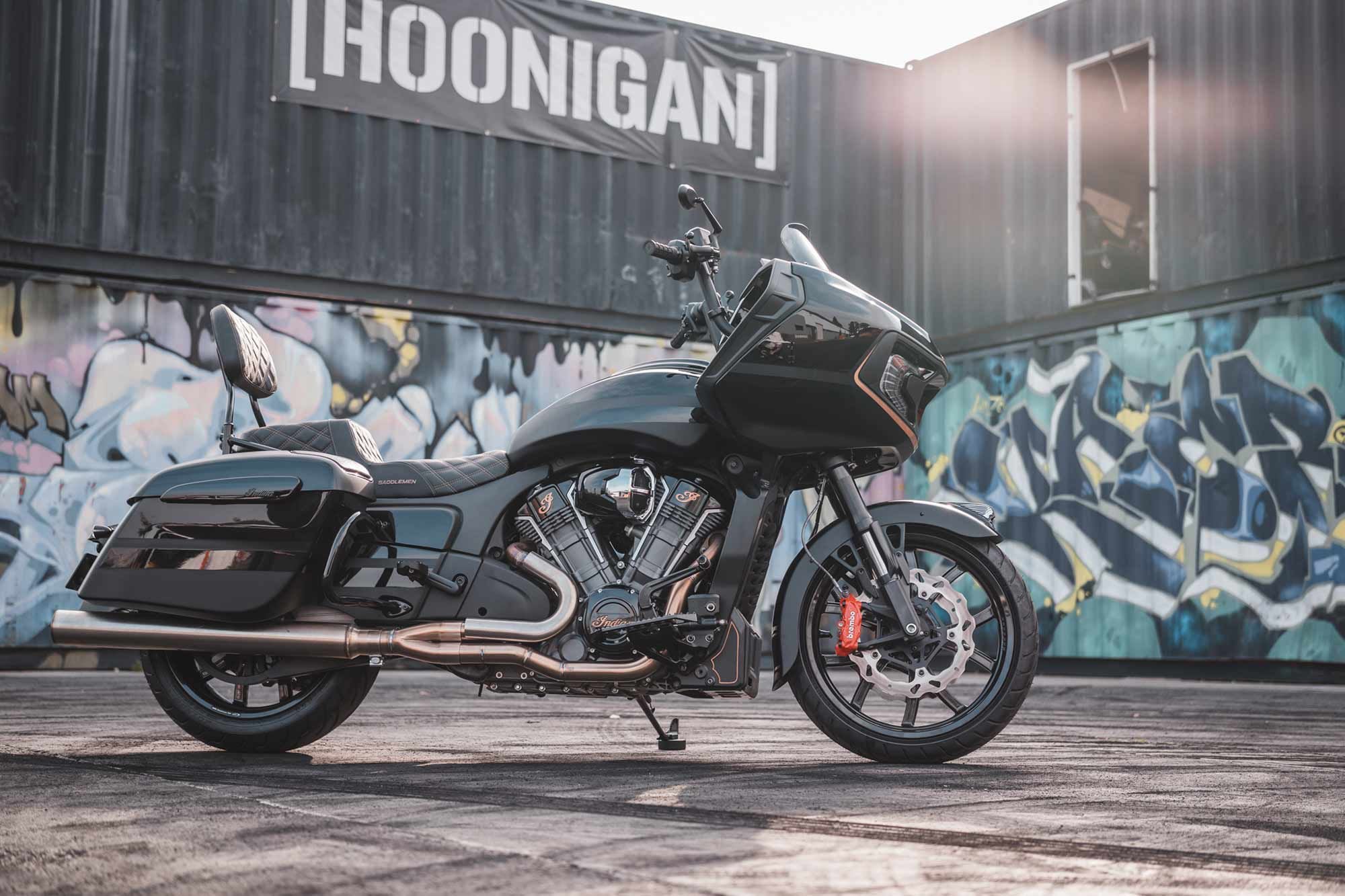 Killer Mike's custom Indian Challenger at the Hoonigan headquarters in Compton, CA. (Sean MacDonald/)
Hart and B have worked with the Challenger platform before, but never for a customer. Most of the builds that have rolled out of Hart's shop have been personal, for Hart, Big B, or Hart's wife Alecia. Working around a customer's direction would present a new set of challenges.
"I think of my collection as Batman," says Mike. "My wife got me into all black cars, so for me, what was Batman's car or motorcycle?"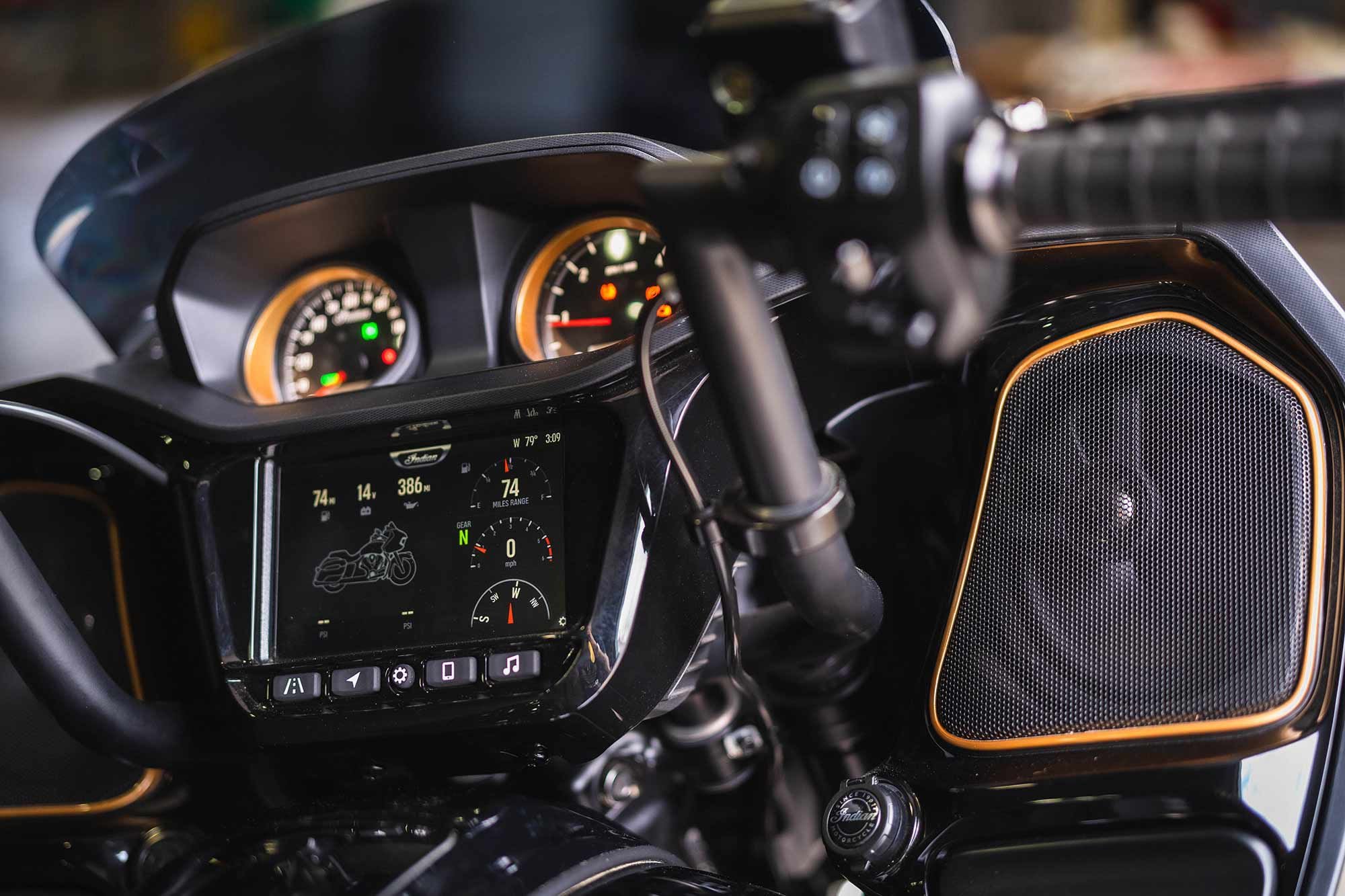 Bronze accents around the speakers and gauges add pops of color to keep things interesting. (Steve West/)
Killer Mike is a car guy, with 1968 and 1969 Firebirds and a 2018 Dodge Challenger SRT Hellcat in his garage. Naturally, he wanted his first custom bike to match his other machines.
The use of high performance and racing-inspired components have been a major movement in the V-twin world, particularly among touring models, which can look to King of the Baggers or Bagger Racing League for inspiration. While Mike's build won't be scraping floorboards around any racetracks, the trend encourages the use of lighter weight and higher-spec components that would make the bike easier to ride while simultaneously looking more custom and high end.
Mike's Indian Challenger next to his Dodge Challenger SRT Hellcat. (Steve West/)
"We don't want anything too flashy, but we want it to work really well and we want it to be custom," Hart says."So it's a fine line of making it not look like a fishing lure but also not make it look like a stock bike with a couple parts bolted on."
They decided to go with bronze accents throughout the build, which would go with the whole Batman theme and allow for some subtle details without ruining the blacked-out aesthetic. Chris Wood at Airtrix used a mixture of high gloss and matte black paint on the fairing, saddlebags, fenders, and gas tank, before Mr. Oz added some bronze leaf and pinstriping accents. A custom stainless steel exhaust was fabricated by Fab 28 for the perfect look and sound.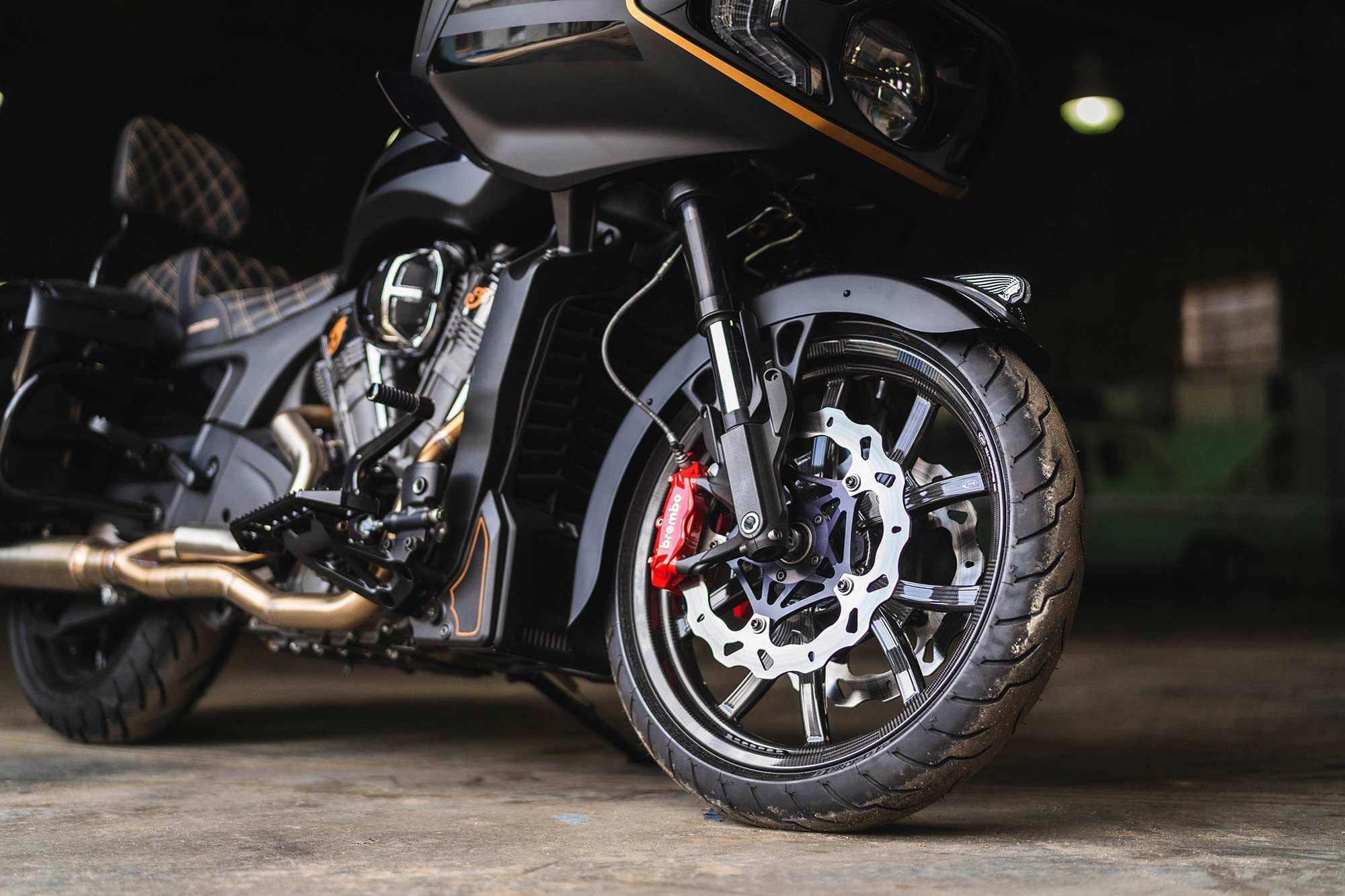 Galfer wave rotors, Brembo brake calipers, and carbon fiber wheels all fit the high-performance aesthetic of the build while enhancing the bike's overall performance. (Steve West/)
A set of BST carbon fiber wheels were ordered, stock size in the front but with an 18-inch rear to raise the bike's stance a bit. Dunlop American Elite tires were installed. Beringer supplied a clutch perch and front brake master cylinder, which feeds Brembo four-pot calipers that provide a nice little pop of red at the wheel.
As far as ergonomics, it was a lucky break that Killer Mike and Big B have similar body types. The team was able to use Big B's custom seat from Saddlemen and the custom Torch Industries handlebars he runs, both of which fit Mike like they were made for him. Floorboards and passenger pegs were ordered from San Diego customs, and it wouldn't be a Carey Hart build without ODI grips.
There was a time when these Challenger-specific components would take a long time to make custom, but now as the bike has gained popularity as a platform, that's changed.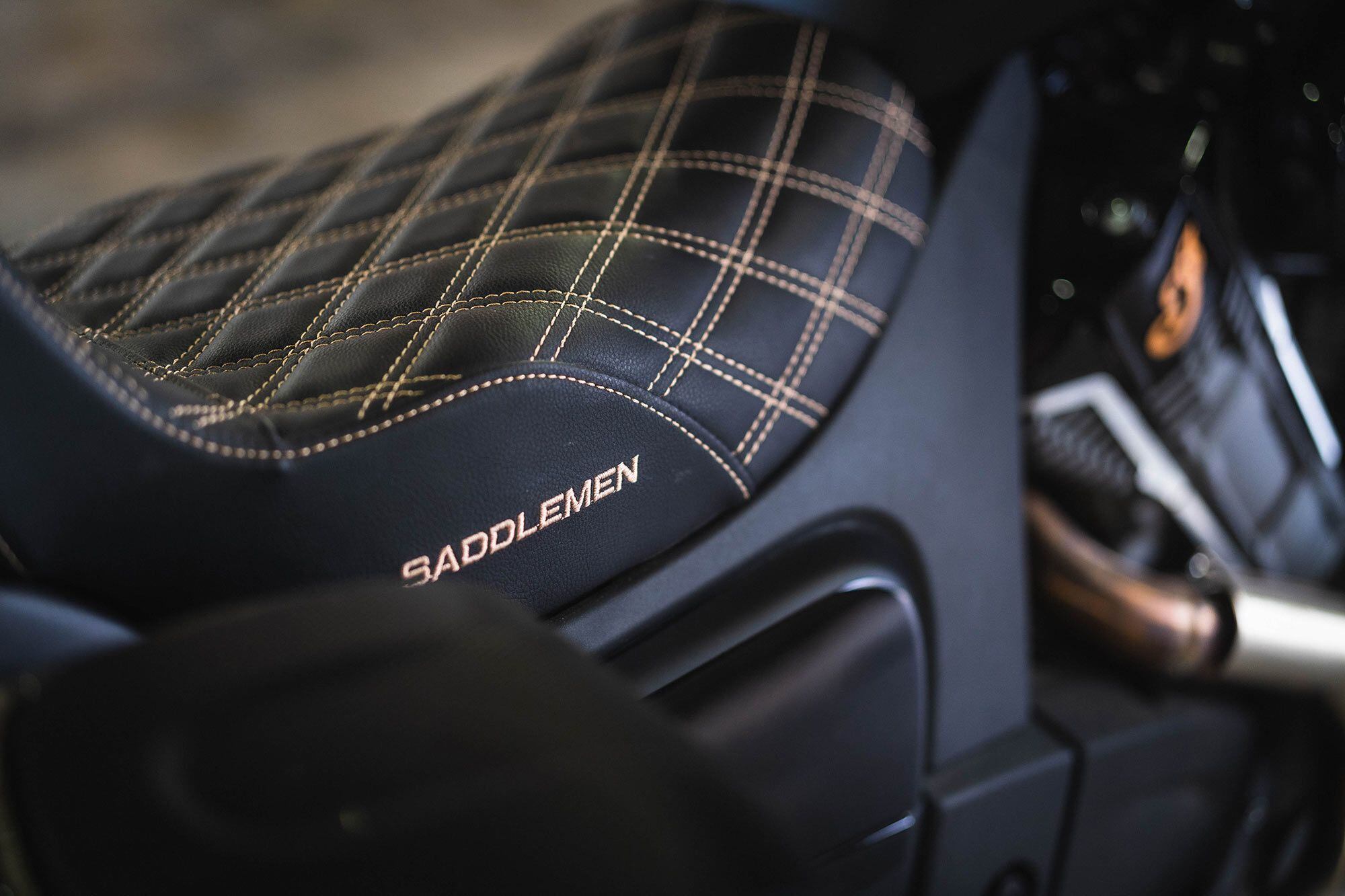 Big B used his own custom seat pattern, made by Saddlemen and detailed with bronze accents, to ensure the Challenger would fit Killer Mike. (Steve West/)
Chris Wood from Airtrix used a mixture of high gloss and matte black paint for a contrast of textures. (Sean MacDonald/)
"We were definitely the guinea pigs at the start of Challenger customizing, and it's great to see now that some of the people that we were working with are profiting and making parts that people are purchasing," Big B says. "It makes me smile a little bit to know that we had a part in that."
The finished bike was delivered to Killer Mike in grand fashion before a full film crew from DUB Magazine. Not only does the Challenger look custom and exude quiet high performance, but it's classy, understated, and fits Mike perfectly. Perhaps most impressive of all, they've built a motorcycle that will stand out in a crowd and doesn't need loud paint to do so.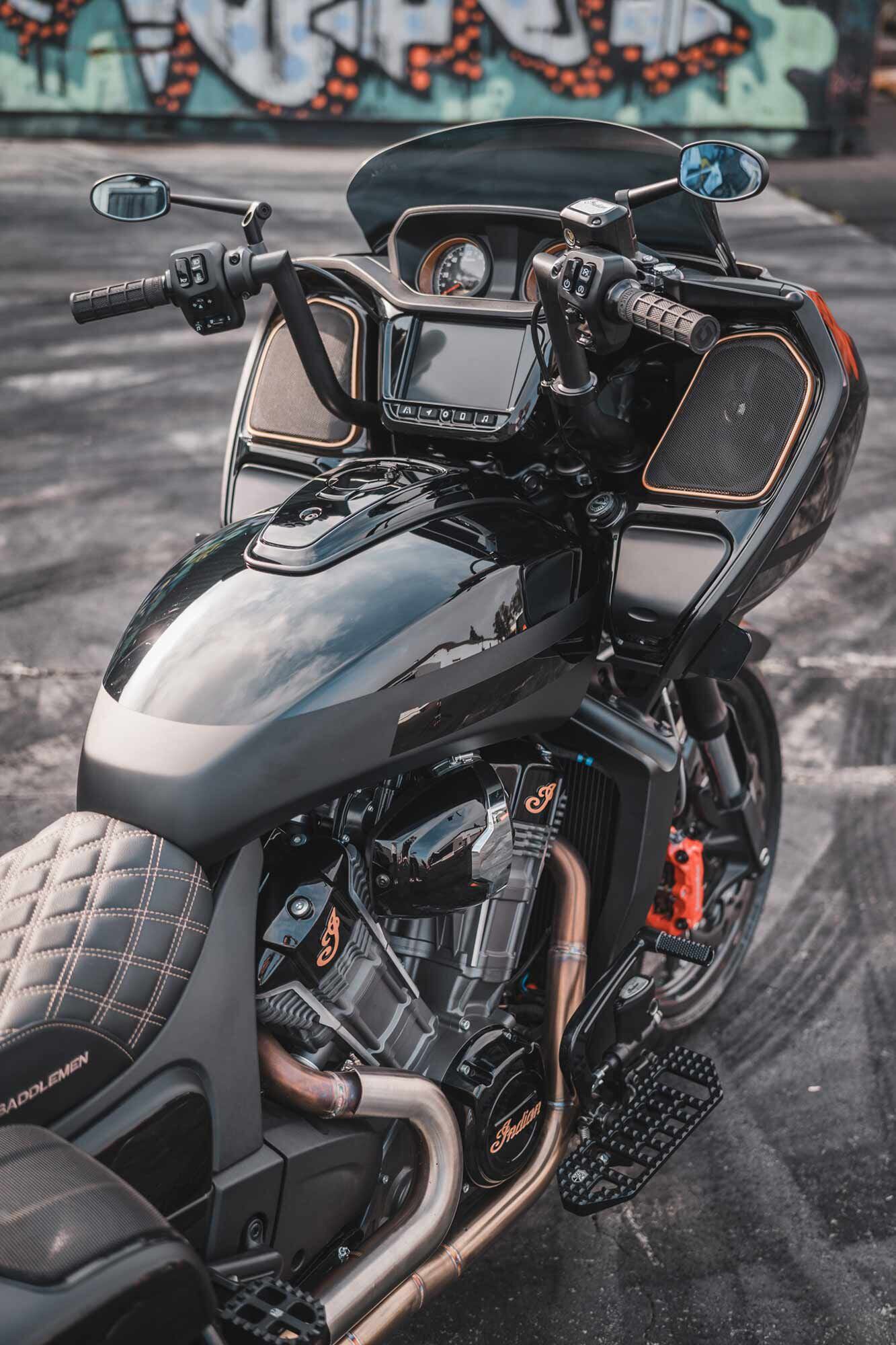 Killer Mike's blacked-out Indian Challenger. (Sean MacDonald/)
From left to right, Big B, Carey Hart, and Killer Mike pose with the custom-built Challenger. (Sean MacDonald/)
View full post on Cycle World