Catalunya MotoGP Report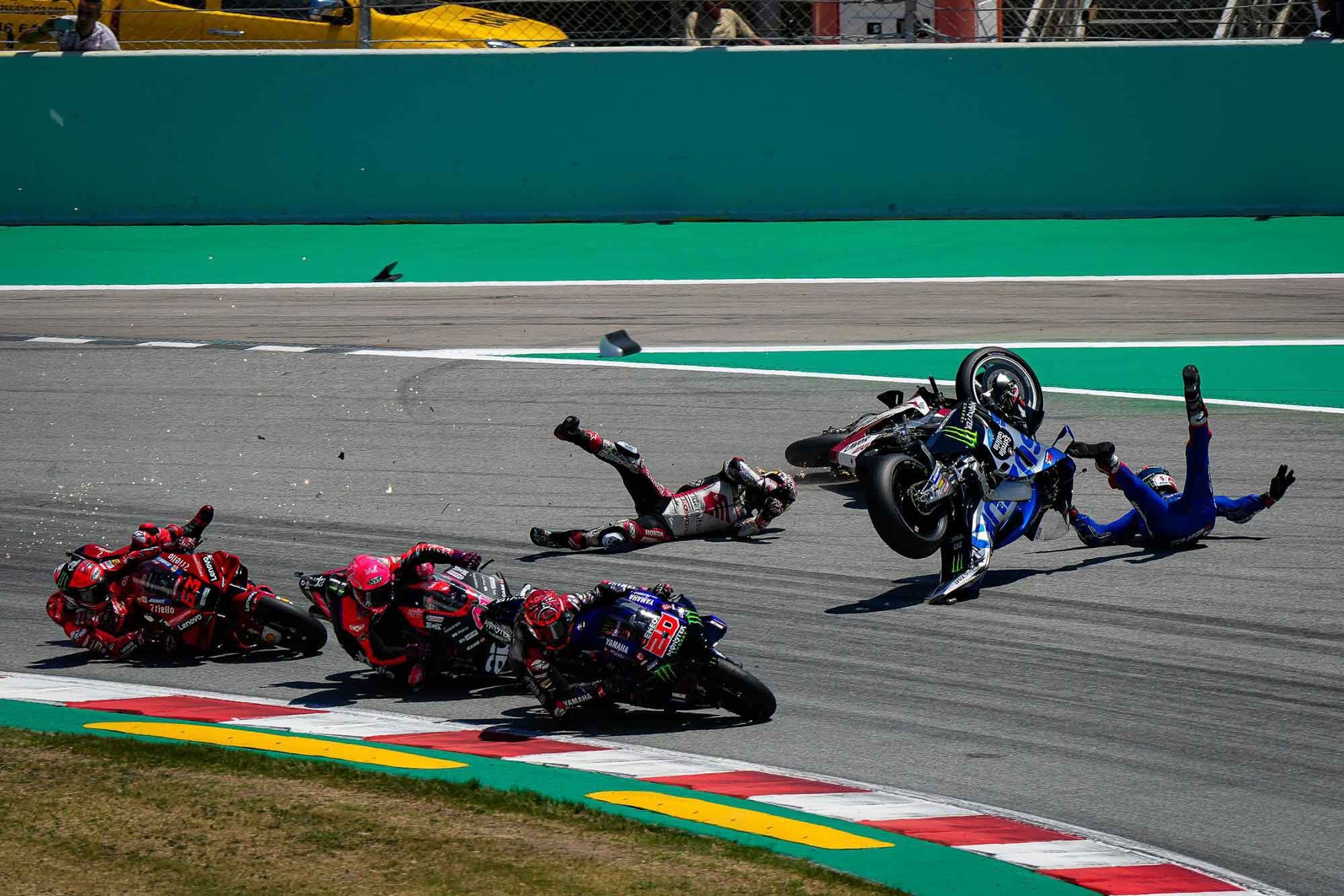 The first of multiple crashes during the Catalunya MotoGP round: Takaaki Nakagami bowled down Álex Rins and Francesco Bagnaia as he lost the front going into turn 1 at the start of the race. Several riders crashed out with front-end washouts. (MotoGP/)
Just as a rider may break away from the pack in an event, Fabio Quartararo broke away at Catalunya in the race for championship points. He did this first by finding grip where there was none on Friday; second, by courtesy of his potential Ducati rivals crashing; and third, from Aleix Espargaró's embarrassing mistake in not knowing the race had one more lap to go, taking Espargaró from second to fifth at a sacrifice of nine points.
Quartararo was tremendous, having found a way to ride that gave him the grip he needed to pull away right from the start, along with a feeling that warned him when that grip neared its limit. He led every lap, finishing 6.47 seconds ahead of Ducati's Jorge Martín with the newly consistent Johann Zarco third and Suzuki's Joan Mir fourth.
Fabio Quartararo finished with a comfortable lead of over six seconds. (MotoGP/)
On Friday, Michelin spokesman Piero Taramasso attributed the low grip to "the very particular qualities of the asphalt."
I would change that to "particulate qualities." As we saw in March of this year, a north-flowing plume of Saharan dust, fine enough to be carried by air for many miles across the Mediterranean, came to Barcelona. For two days it was difficult to breathe outdoors, and I propose that this dust, held in the texture of the pavement by residual tarmac oils, is able to act as does the cement powder used by rubber researchers to kill the molecular part of rubber traction. A similar situation occurs when the pavement at Qatar is sandy: Rear tires spin more easily than normal, and pavement texture gives sliding rubber a harsh workout that can result in an early drop in tire properties. That's what happened at Catalunya, where everyone Saturday afternoon was saying they'd have to be very careful to manage rear tires.
Francesco Bagnaia: "…the key is to be smart with the rear tire."
Aleix Espargaró: "I can go very, very fast but you have to manage the rear tire.
"I have no problems with the front."
Enea Bastianini: "In this circuit the drop in tires is very pronounced."
As at Mugello a week ago, Quartararo was dismayed by Friday's lack of grip. "Do I really have to talk about this day? Today went really badly."
He hoped that as the bikes deposited rubber in the corners, grip would improve. "…we know that on this track, the more rubber you put down, the more grip you have.
"…right now I think only Aleix can make a really fast pace."
Aleix Espargaró's Aprilia continues to impress in its ability to achieve high corner speed even in low-grip conditions. There was much talk of this being Espargaró's and Aprilia's weekend, especially after he qualified on pole with a new track record at 1:38.742. Yet true to predictions, more grip did appear, upsetting Aprilia's monopoly on speed.
Aleix Espargaró rode hard and was set to finish second until he crossed the finish line with one lap to go and sat up to celebrate his second-place finish. Realizing his mistake, he returned to action in sixth place, and was able to salvage fifth. (MotoGP/)
Quartararo said of first practice on Saturday, "I felt relief on my second lap of FP3. I set a 1:40.1 while riding with a lot of fuel.
"I was pretty impressed being able to do high 1:39s and low 1:40s over 12 laps, and I was very happy.
"It would be great to fight for the podium tomorrow."
Even at this point he had no idea what a grand day Sunday would be for him.
Ducati-mounted Bagnaia, also greatly improved, said, "It will be a race of survival because you have to be very smart on the acceleration."
Pole-sitter Aleix Espargaró had used part of last practice to check on just how much interference from his traction control electronics was slowing him, saying, "You accelerate and just wait for the bike to go because the traction control is stopping you a lot, a lot."
Brother Pol Espargaró, on Honda, gave some interesting insight into the special problems of that bike's 2022 chassis: "I think everything comes from the rear, from the low grip. We do not help the front enough to stop the bike. We do not grab the asphalt with the rear tire enough to allow the front to be a little less stressed.
"So you need to help the front with something, and the rear at the moment is not helping."
Pol Espargaró says there are issues with rear grip on the Honda. (MotoGP/)
Yet those close to the action say the basis for changing the Honda chassis was to put more weight on the rear tire.
Meanwhile, news came that Marc Márquez had arrived at the Mayo Clinic in Rochester, Minnesota, and had undergone his fourth operation. Márquez' incorrectly aligned right humerus (the upper-arm bone) was cut through, rotated 30 degrees to its proper position, and secured there with plate and screws. The operation was pronounced a success, and in short order he was back on an airplane homeward.
What remains strange is that Honda had so long relied upon Márquez alone for its success in MotoGP, with no "insurance," and that with his assent they would radically change the chassis on which he had been so successful. Honda is, at the moment, reduced to the appearance of an impotent giant. The mighty R&D power of HRC stands ready, but the man best able to verify useful progress will be out of action for months more.
When the race started, Quartararo said, "I braked super late in the first braking zone and I thought I was going to go super wide, but I managed to defend my position…
"I was leading from the first corner to the end so this was a very constructive victory." (Think of the effect on his rivals' morale.) "Of course, I did feel a [tire] drop. I was pushing so hard in the opening laps, but I felt that I had more to give during this race. I had a bit of a margin left.
"…the really good thing is that I can think while riding.
"My strategy was to push in the first five laps, and when I saw that I was gaining an advantage it was fantastic.
"I expected worse because of the straight [at 3,400 feet, it's more than six-tenths of a mile!], but it's downhill and the Yamaha wasn't going badly."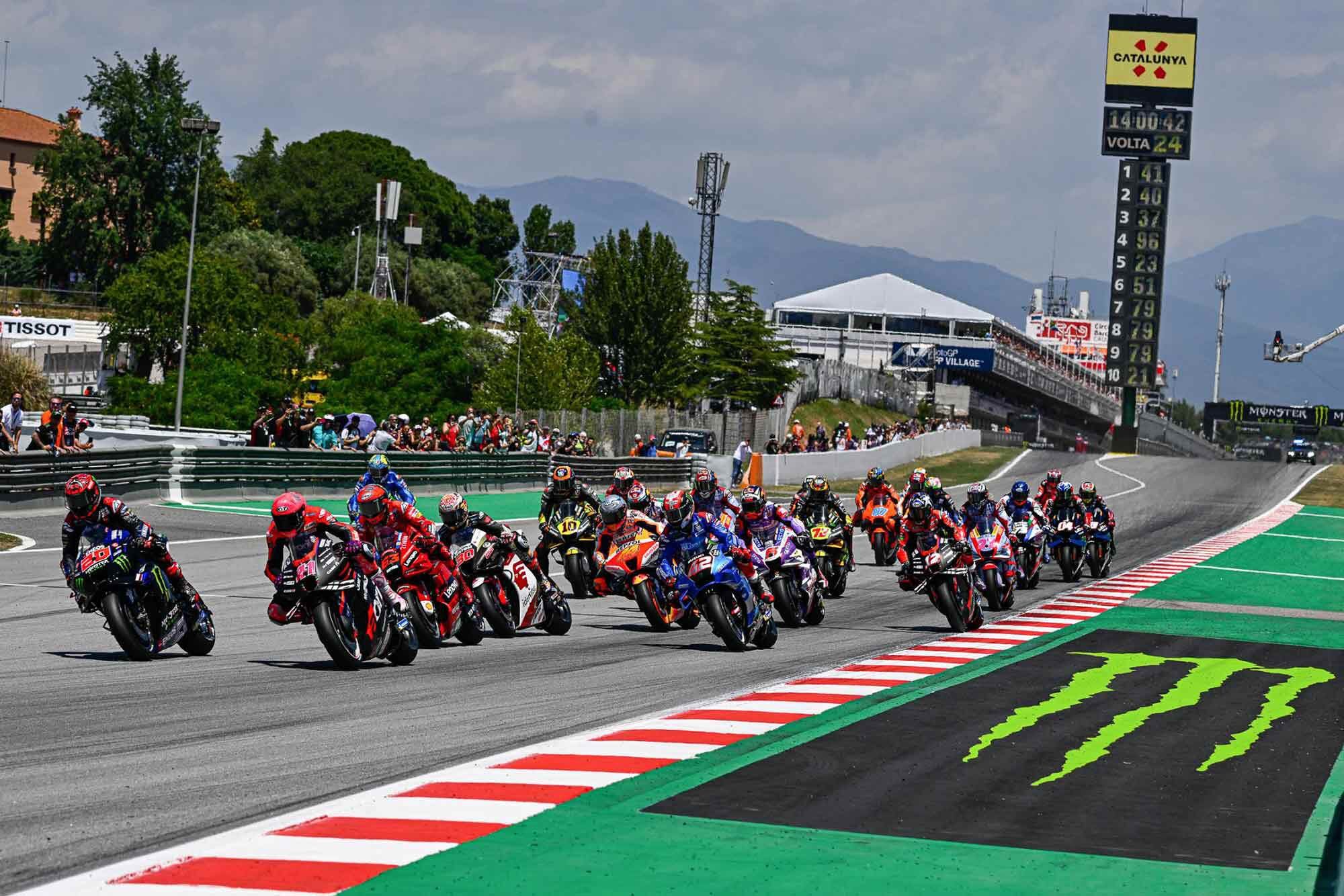 Quartararo braked late into the very first turn and led from there. (MotoGP/)
Quartararo had the advantage of coming onto that straight at a higher speed than those with less grip.
Meanwhile, those who had not gained Quartararo's feel for just how the limited grip was working were crashing out. Honda's Takaaki Nakagami came into turn 1 hot, taking down Bagnaia and Álex Rins (Suzuki) and unleashing a storm of controversy. Two more top Ducatis left the running in Bastianini's turn 5 crash, and Fabio Di Giannantonio's Ducati was out eight turns later.
And straight-talking Jack Miller? "…last year I was on the podium here, and this year I was 30 seconds away and looking for answers.
"By the end [my tire] was spinning in a straight line!"
As to the rest of the Ducatis, that left Martín second and Zarco (now coming into the role of quiet achiever) third, followed by Luca Marini in sixth.
The controversy over Nakagami's lap-1, turn-1 crash covered the full range of opinion, from the nodding and smiling race stewards—"We've looked at this via all the videos and we see only a racing accident"—to Bagnaia "…you can't pass 10 riders in one braking move. He had a good start, and I didn't understand where he wanted to go. If I hadn't been there, he would have gone into the gravel…"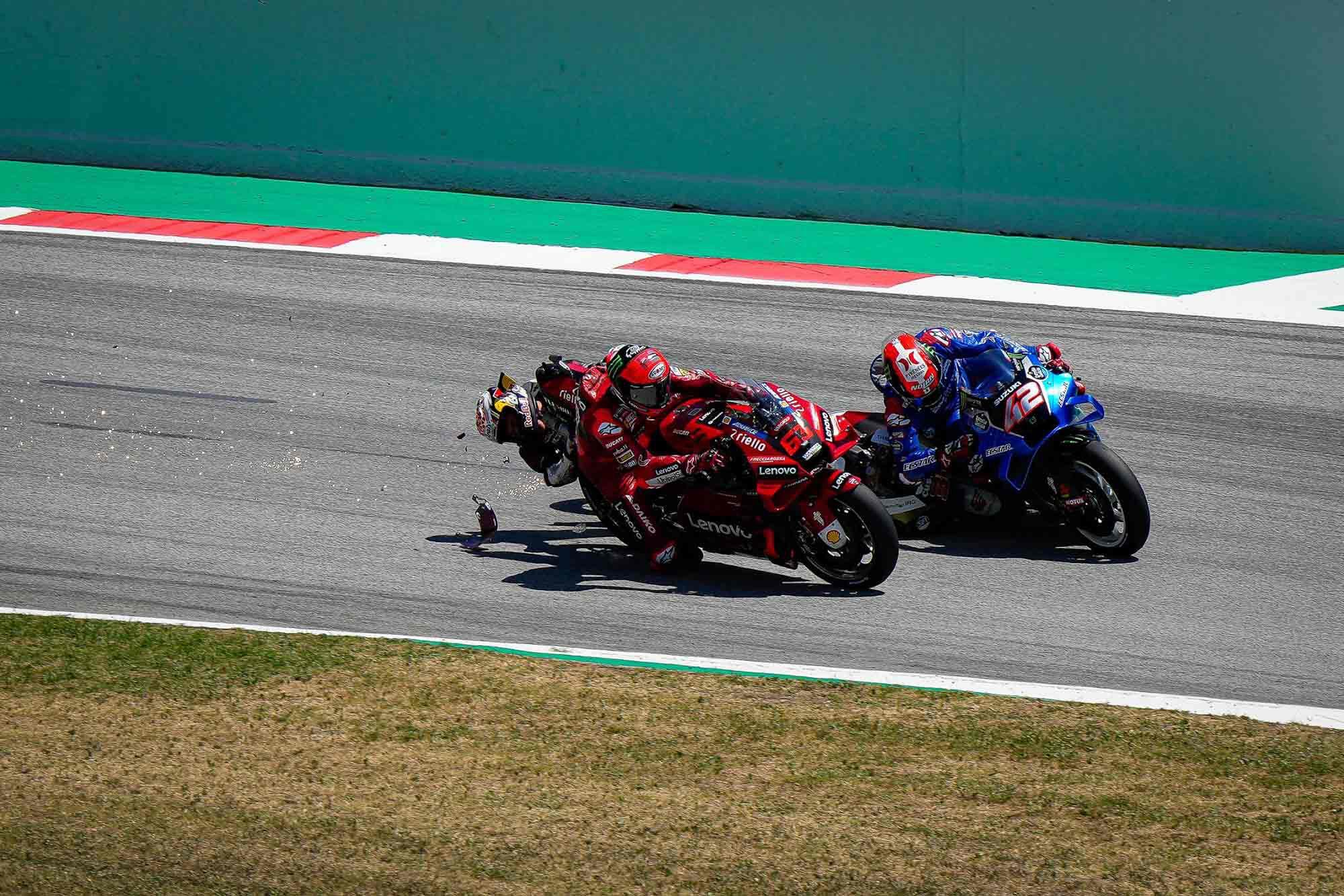 Francesco Bagnaia sees his first lap exit of the race with the help of Nakagami as more than just a racing incident. (MotoGP/)
Quartararo's opinion: "Nakagami's was not a racing accident. You can't brake so late."
And Rins himself, who received the full action of the verb: "All three stewards need to be changed…
"We need experienced and competent people."
The top five in championship points shows Quartararo's breakaway:
Quartararo 147
A. Espargaró 125
Bastianini 94
Zarco 91
Bagnaia 81<br/>
After just nine events, Quartararo holds nearly a full-race advantage over second place. I suspect that when he speaks of being able to think while riding the bike, he is saying that there's more to his 6.47-second gap at the finish than "just being gentle with the tires."
In two weeks comes Sachsenring.
View full post on Cycle World