CFMoto's 450SR Officially Launches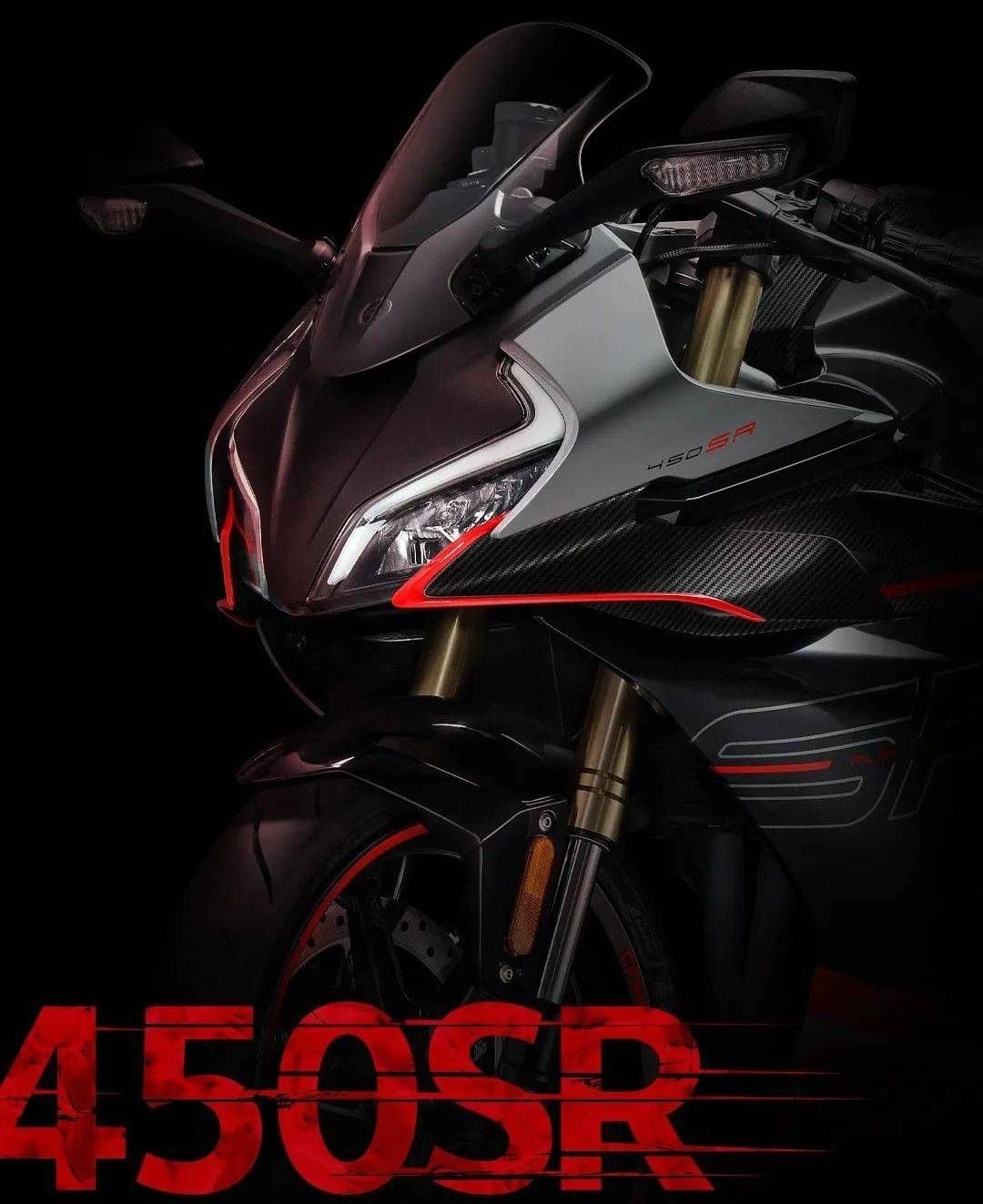 CFMoto's lightweight 450SR model is making its official debut in China. (CFMoto/)
CFMoto's SR-C21 concept bike was a head-turning enigma when it was shown late last year, with its combination of high-end components and European styling. At the time, it had a mystery engine that the company remained steadfastly silent about, but last month we revealed it's actually a 449cc parallel twin destined for a 450SR sportbike. CFMoto has now confirmed it's opening the order books for just that machine in China.
Over there, the market for twin-cylinder sportbikes in the 400cc class is getting increasingly competitive, and CFMoto wants the 450SR to flatten the opposition by using much the same tactic that Honda employed when launching the CBR900RR Fireblade back in 1992. Honda rewrote the rule book then by creating a bike with the weight of a 750 and the performance of a literbike, and with the 450SR, CFMoto is promising a machine with the weight of a 250 and the power of a 500.
Related: CFMoto 450SR Photos and Details Leaked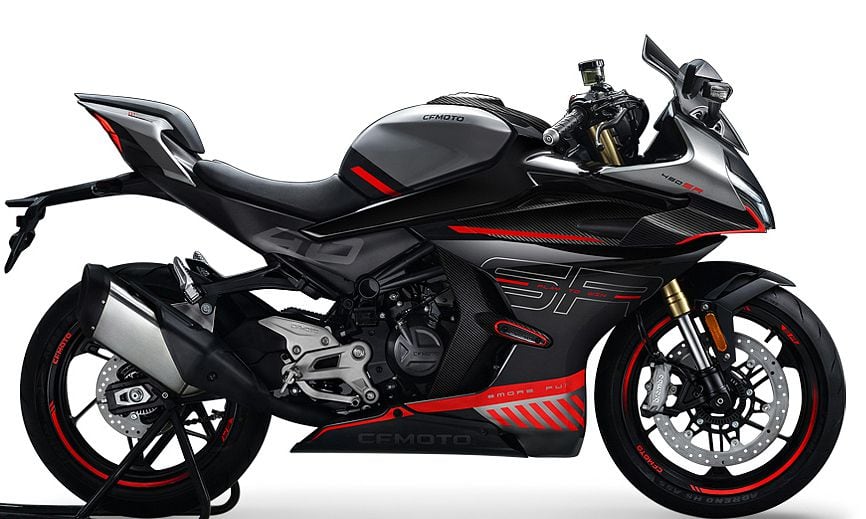 We don't see the same high level of specification carry over from the SR-C21 concept to the production model, but the overall appearance is similar. (CFMoto/)
The company has confirmed the leaked performance figures we received last month. As expected, the new parallel twin engine makes a claimed 50 hp from 449cc, along with 29 pound-feet of torque, and the bike comes in at an impressively light 370 pounds wet.
What the numbers didn't reveal were the huge differences between the new 449cc twin and CFMoto's earlier 400cc designs. The 450SR's engine is completely new, with a more compact, lightweight design and a 270-degree crankshaft instead of the normal 180-degree design. The 270-degree angle means the firing interval of the engine is similar to that of a 90-degree V-twin. In recent years, 270-degree cranks have become increasingly popular for parallel twins, being adopted by bikes including BMW's F 900 models, Honda's Africa Twin, Aprilia's RS 660, and Yamaha's CP2-powered machines like the MT-07, R7, and XSR700.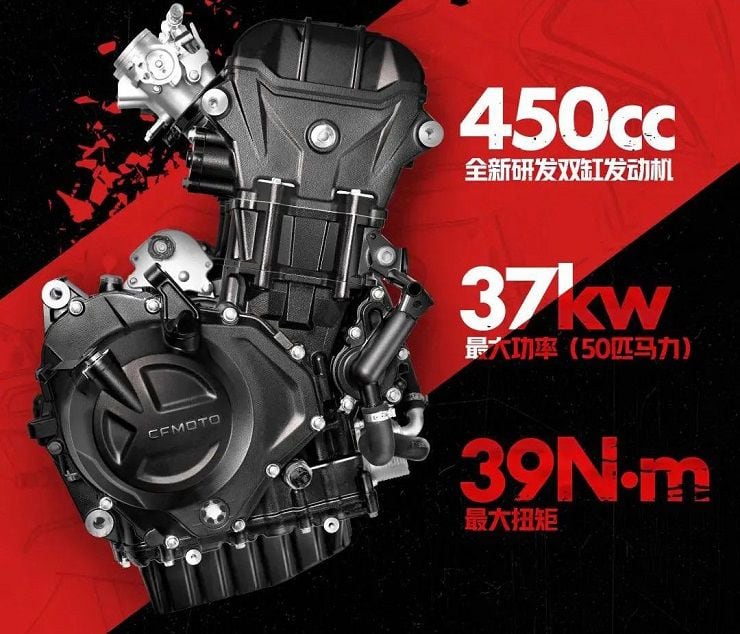 Specs for the completely new compact 449cc parallel-twin engine reveal 50 hp and 29 pound-feet of torque, along with a 270-degree firing angle. (CFMoto/)
In terms of appearance, the 450SR is exactly as expected from the leaked image seen in March. In short, it adopts the SR-C21 concept's styling, with just a handful of concessions to practicality and legality, most notably in the addition of larger headlights below the LED running lights at the front, as well as a pillion seat and elements like reflectors and mirrors. In CFMoto's first official pictures, the bike even wears the same black and red paintwork as the concept model, although the white and blue that we saw last month will be an alternative option.
Differences from the concept also include the adoption of a dual-sided swingarm instead of a single-sider, while the front suspension is also downgraded from the concept's Öhlins units to some currently unnamed forks. The race-spec Brembo brakes of the concept, with their carbon-cowled discs, are also gone—replaced by a single 330mm disc and a four-pot radial caliper. It's still a Brembo, though, and is backed up by Bosch ABS.
Related: CFMoto's SR-C21 Seems To Be More Than a Concept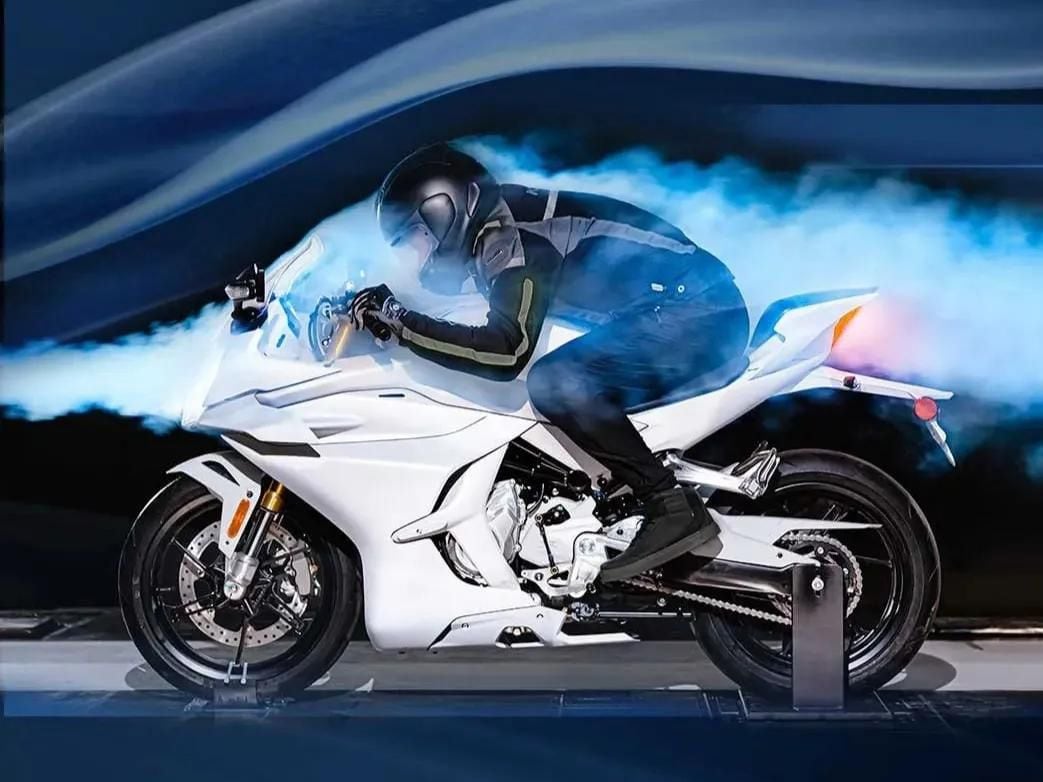 How effective they'll be on a 450cc streetbike remains to be seen, but CFMoto says the 450SR's fairing-mounted winglets are wind-tunnel tested. (CFMoto/)
Like seemingly every other new-for-'22 sportbike, the 450SR features fairing-mounted winglets. Although they're valuable on a 300 hp, 200-mph-plus MotoGP machine, it's harder to make an argument for them on a 450cc, 50 hp streetbike that maxes out at 118 mph. However, CFMoto says they're wind tunnel-tested and give 2 kilograms (4.4 pounds) of front downforce at 75 mph.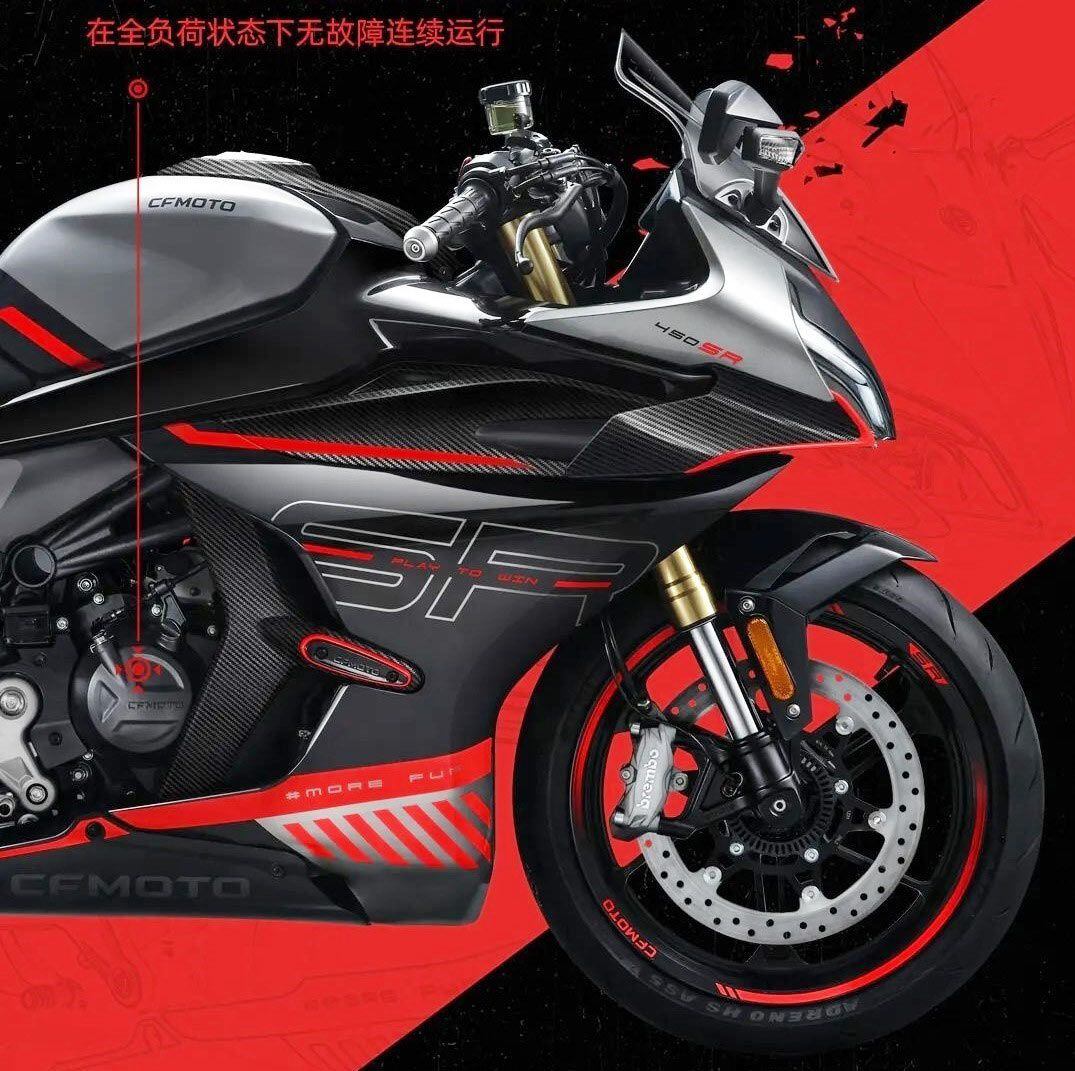 Up front, a single disc is clamped by a four-piston Brembo caliper and paired with Bosch ABS, though other technical details have yet to be revealed. (CFMoto/)
Although full specs have yet to be announced, CFMoto is preparing to take orders for the bike in China, where it has an introductory price of 31,980 yuan ($5,000) and plans to begin deliveries in July. Given that the rest of CFMoto's range is offered all over the world, it's virtually certain the 450SR will follow suit, so there's a good chance it will make its way here eventually.
View full post on Cycle World