Ducati Reports Record Revenue and Profit in 2021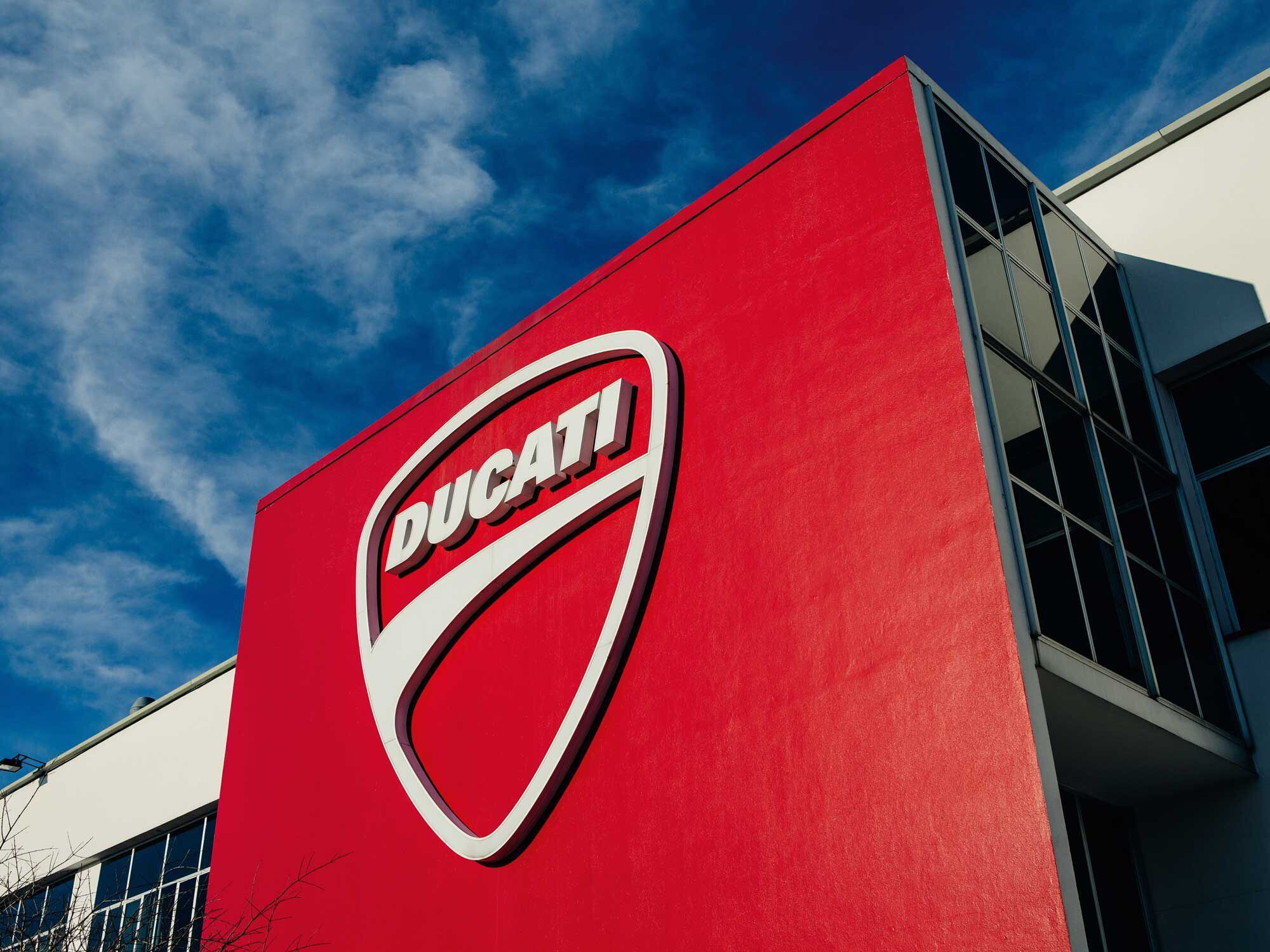 The Ducati headquarters in Borgo Panigale is where the ideas became a reality for the 2021 record-breaking year. (Ducati/)
Despite the supply shortage and worldwide pandemic-related difficulties across the sales team, Ducati has reported record revenue and operating profits for 2021.
This news follows Ducati's January reports of record motorcycle sales, with the VW Group-owned manufacturer claiming 59,447 motorcycles sold worldwide, a 24 percent increase over 2020 (48,042) and 12 percent over 2019 (53,183).
The Borgo Panigale, Italy-based motorcycle manufacturer claims a record $970 million in revenue (including total sales of all motorcycles, other products, and services), 30 percent over 2020 and 23 percent over 2019.
Ducati also says it achieved record operation profits, or the total income from sales after subtracting operating expenses such as payroll, inventory, equipment, and rent costs while excluding gains/losses from interest, taxes, and investments.
Ducati says its 2021 operating profit was $67.4 million, up 154 percent over 2020 and 18 percent over 2019. For finance geeks, Ducati also reported an operating margin (ratio of operating income to net sales) of 7 percent, compared to 4 percent in 2020 and equal to 7 percent in 2019, making all consistent with pre-pandemic levels.
"It is difficult to comment on the economic results without taking into account the ongoing conflict in Ukraine," Ducati CEO Claudio Domenicali said. "I really hope that the hostilities will come to an end as soon as possible, with a cessation of violence and a return to diplomacy to resolve disputes.
"We come from an already particularly complex year, during which, like all players in the production industry, we have faced difficulties related to the ongoing supply crisis. However, thanks to great flexibility and constant dialogue with our partners and the trade union, at Ducati we were able to satisfy a record number of passionate customers, while also achieving excellent numbers on financial performance. These achievements are the outcome of a team effort that has involved every single employee working at Ducati in Borgo Panigale, in the subsidiaries and in the dealerships all over the world, as well as a select group of high-quality suppliers. I want to thank all of them for their passion and commitment, as well as all the Ducatisti who have put their trust in us by choosing our bikes."
Ducati CFO Henning Jens also commented: "Regarding the 2021 financial performance: despite the very challenging situation, Ducati closed the year with a record result in terms of revenue and operating profit, fully recovering the pre-pandemic profitability level.
"In the light of the significant external disruptions of the supply chain and production areas, this is a remarkable achievement of the whole Ducati Group. Furthermore, cash generation remains strong, thanks to the improved financial performance and net working capital optimization."
The Ducati Multistrada V4 was the top-selling motorcycle in 2021. (Ducati /)
2021 Ducati Sales and Company Report
Despite a downturn in the world economy due to the pandemic, Ducati sales were up across its lineup. The most popular sellers in 2021 were:
<a href="https://www.cycleworld.com/story/buyers-guide/2021-ducati-multistrada-v4/">Multistrada V4</a>, 9,957
Scrambler 800 lineup, 9,059
<a href="https://www.cycleworld.com/story/motorcycle-reviews/the-2021-ducati-monster-is-a-motorcycle-for-its-time/">2021 Monster</a>, 8,734
As for the most popular sales regions:
United States, 9,007 motorcycles sold, 32 percent over 2020
Italy, 8,707
Germany, 6,107
China, 4,901
France, 4,352
Great Britain, 2,941
Throughout 2021 Ducati opened 84 new dealerships, growing the global network to 790 dealers in over 90 countries. Ducati also says the company exceeded 1,900 employees for the first time.
Ducati: A Look Forward Into 2022
Due to its profitability, Ducati was able to self-finance future investments in "technological development, product, and process innovation."
There's an obvious focus on electric motorcycling, which Ducati announced in the fall of last year. The brand has always relied on racing to improve all bikes across its lineup. Ducati's focus on electric motorcycle racing is sharp; it'll be the single bike supplier for MotoE from 2023 to 2026.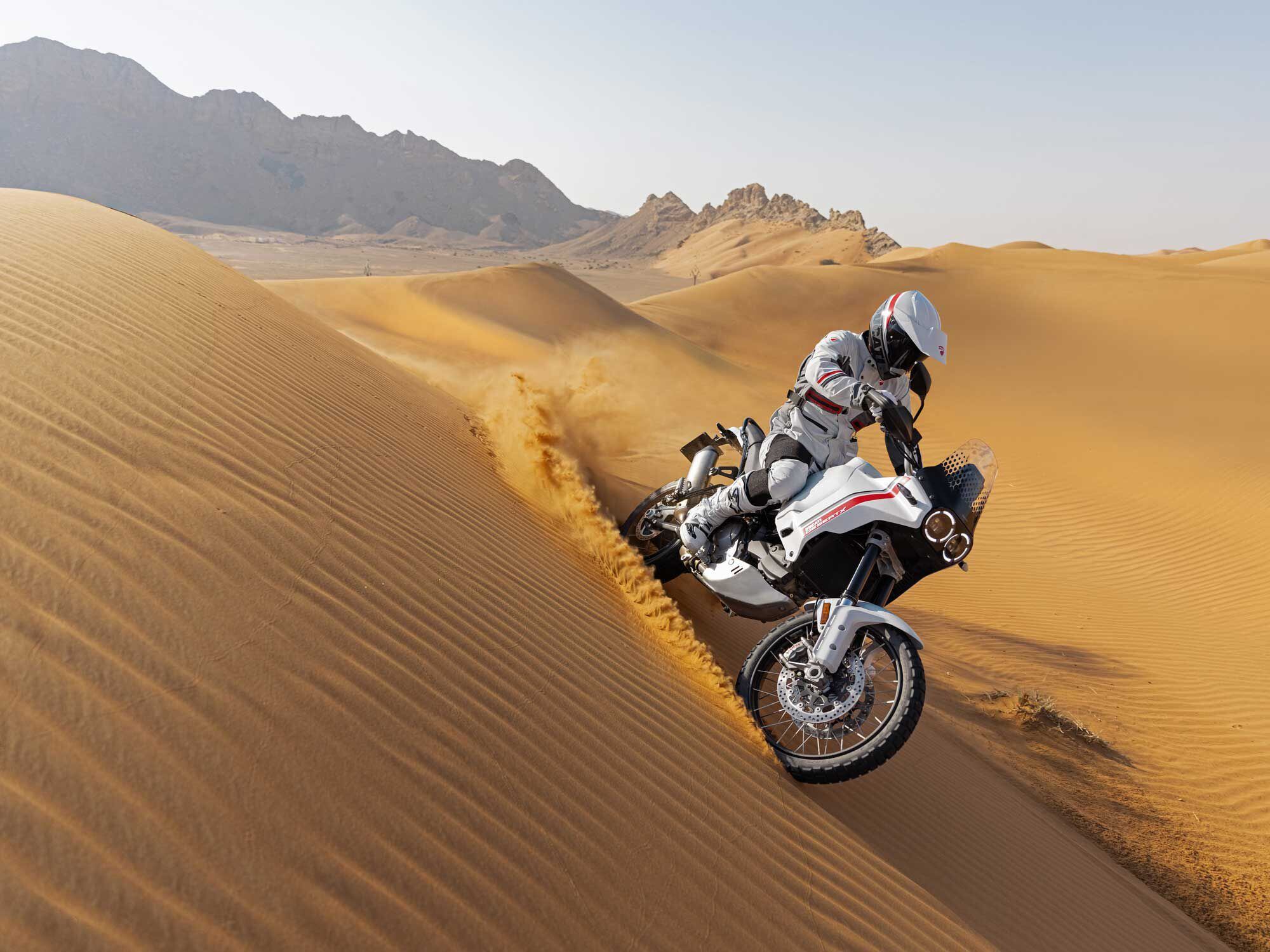 The Ducati DesertX is expected to be a top seller in 2022. (Ducati/)
Ducati expects further growth due to the release of several niche-focused 2022 models, including the dirt-forward DesertX and the Panigale V4 SP2, an exclusive MotoGP bike built for the street.
These, and updates to the already top-selling Multistrada V4, should ensure that red's sales future remains in the green.
View full post on Cycle World