FOBO Bike 2 Smart Tire Pressure Monitoring System
FOBO Bike 2 Smart Tire Pressure Monitoring System Review Summary
Review Summary
The FOBO Bike 2 Smart TPMS offers on-demand pressure and temperature readings and informs riders when it detects anomalies like air leaks. It comes in a small form factor that is easy to install without any wiring and drilling, offering a user-friendly app to program and set up the system. For riders who are looking to get more information on their bike, the cost of a FOBO TPMS is great bang for buck.
Tire pressure monitor features
Pros
View on-demand tire pressure & temperature
Monitors tire pressure in real-time while riding or when in Bluetooth range
Detects slow or fast leak and alerts users to anomalies.
Sends instant audio, haptic, and text alerts on a smartphone/smartwatch/Bluetooth headset
Easy to install without running wires, drilling holes, and tedious programming
Ability to lock nut each sensor to the air valve to make theft more difficult
Sensors will not function if stolen and not unpaired from the owner's app
Waterproof rating of IP57
Pressure measured against a built-in vacuum resulting in an Absolute Pressure reading, subtracting sea level pressure 101.3 Kpa (14.7 psi) from the pressure at the tire's elevation.
Cons
Must use a phone app
Location services must be enabled to use all features
Can be stolen
FOBO Bike 2 Smart Tire Pressure Monitoring System Image Gallery
Review Summary
The FOBO Bike 2 Smart TPMS allows riders to monitor tire pressure in both real-time and before each ride, giving you access to information about your bike and improving the safety aspect of riding.
The app is fairly user-friendly and includes features such as audible warning alerts for low tire pressure
At $99, it's excellent bang for the buck given that some branded TPMS like the one for the Ducati Multistrada can cost upwards of $400.
The FOBO 2 has the ability to match the pressure reading of the sensors to your tire pressure gauge, which allows it to compensate based on relative local altitude and elevation.
Introduction
Tire pressure may be one of the most important controllable factors for motorcyclists. Tires are the feet that keep your bike on the ground and the air in those tires determines many factors in your ride and control. Attention paid to tire pressure varies from "They seem fine" to pit crew chiefs meticulously measuring tire pressure based on track conditions and weather. Most of us are somewhere between those two positions. I know those of us who have raced competitively check tire pressures before every ride. I would never trust a pilot who doesn't do a physical walk around their plane before every take-off. I view inspecting motorcycles the same way. They're not like cagers that fail which protect the driver by surrounding them with tons of metal and government-mandated safety regulations. We can't and should not depend on protection other than ourselves.
Before discovering the Fobo2 Tire Pressure Monitoring System (Fobo2) I simply checked my tire pressures using a simple gauge before each ride. Now I'm able to just check my phone. I did consider purchasing the Ducati TPMS for my Multistrada, but at over $400.00 with fewer usable features, I felt the Fobo2 made the most sense.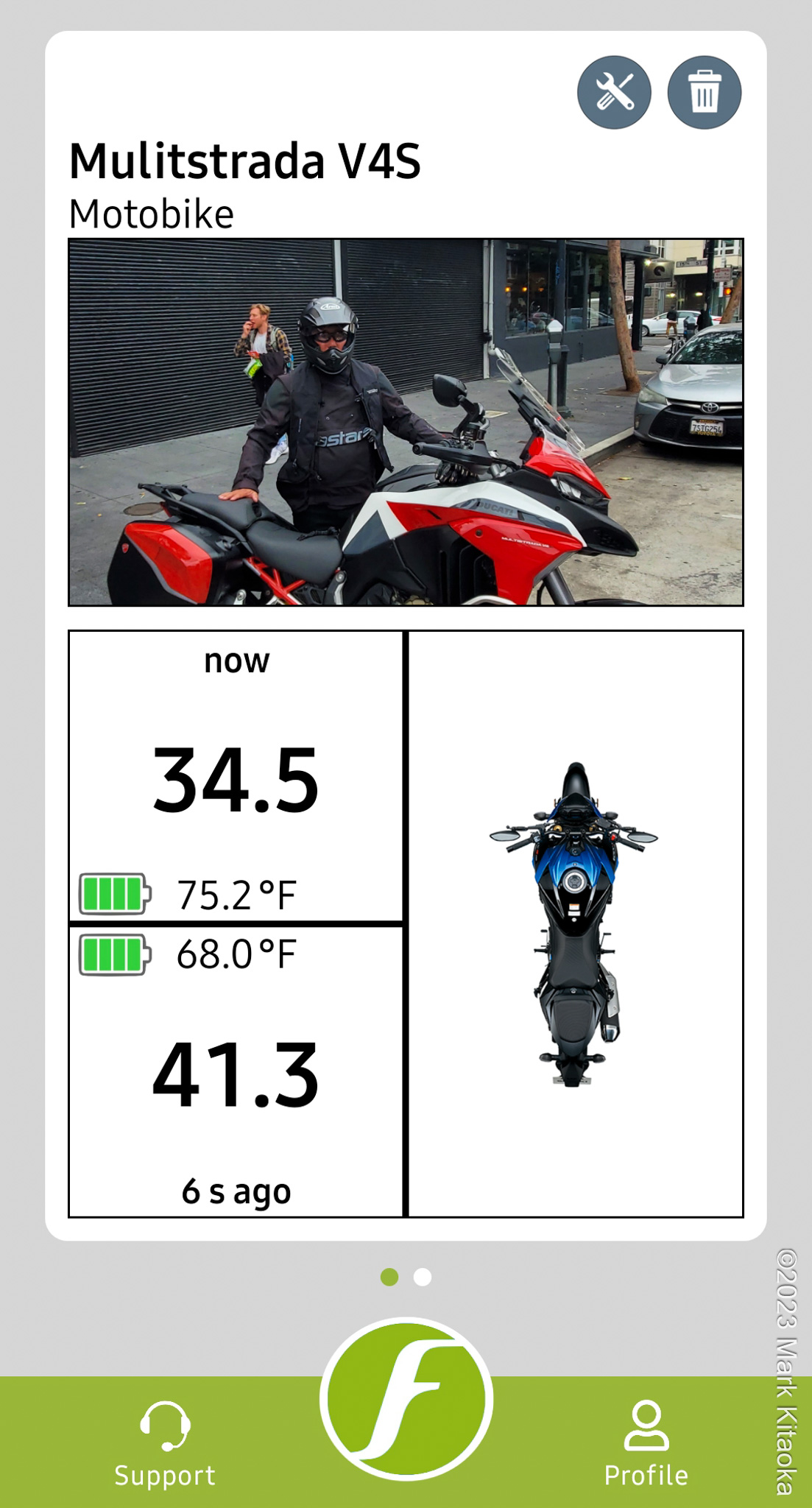 So let's begin by talking about how I got here. Due to racing, I became a fanatic about checking tire pressure. The difference between 1 pound of pressure and how it affects handling, braking, and acceleration was remarkable. In the beginning, chopping my lap times in half was not that hard. But as one gets faster, shaving 0.05 seconds off of my lap time took more effort than I could have ever imagined. During this time, I realized just how vital tire pressure is on any vehicle, especially on a motorcycle.
I know that some people, actually more than just a few never check their tire pressure….until something goes wrong. Since the only thing keeping us upright off of the pavement or dirt are our tires, it's kinda important to keep inflation correct. Like blood going to parts of our bodies during certain events, "Gosh this is the first time that's ever happened to me" doesn't cut it when you're traveling at speed….not as embarrassing, but can prove deadly to more than our egos.
Setting Up The System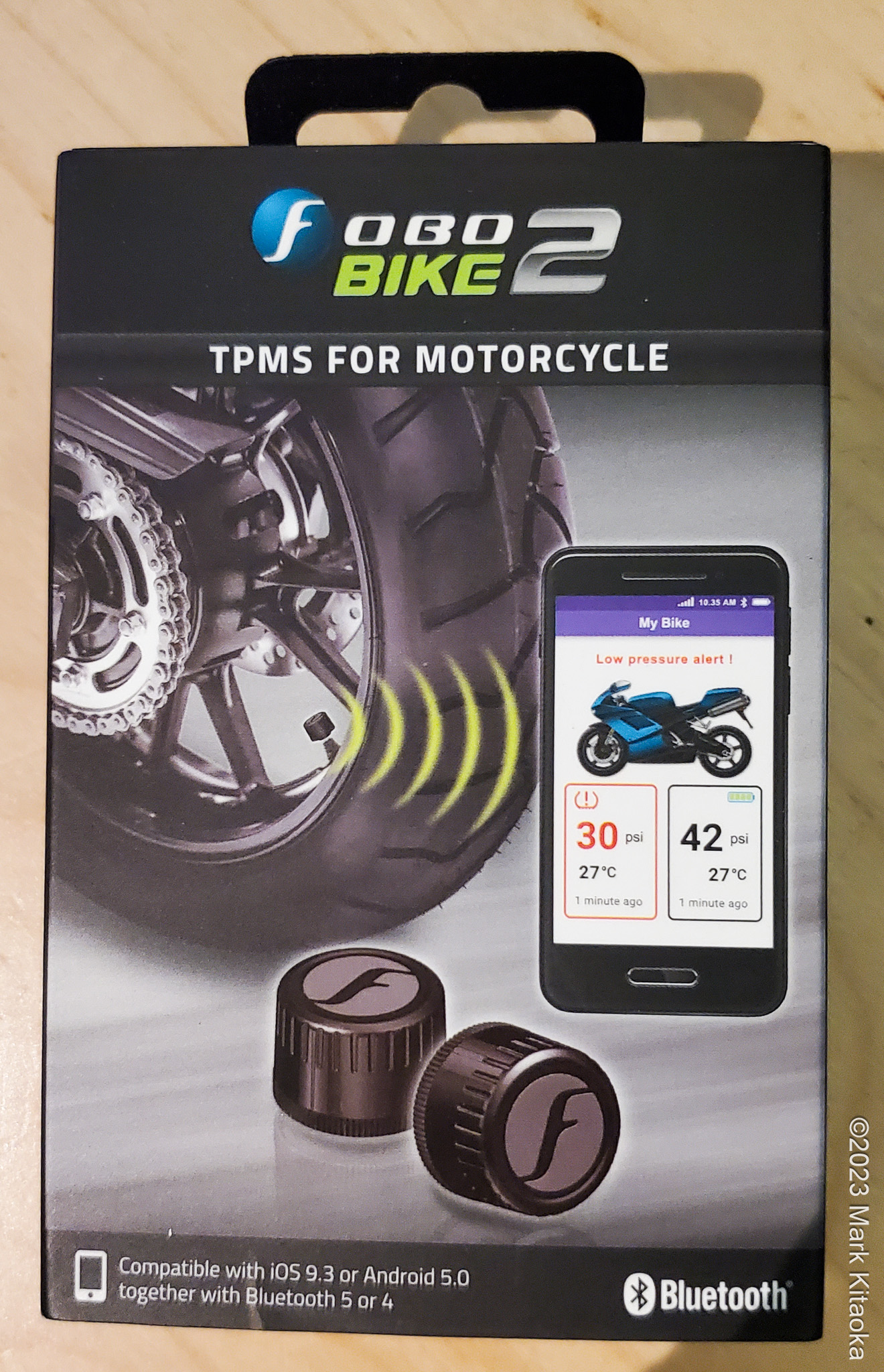 Once you open the box the following contents appear.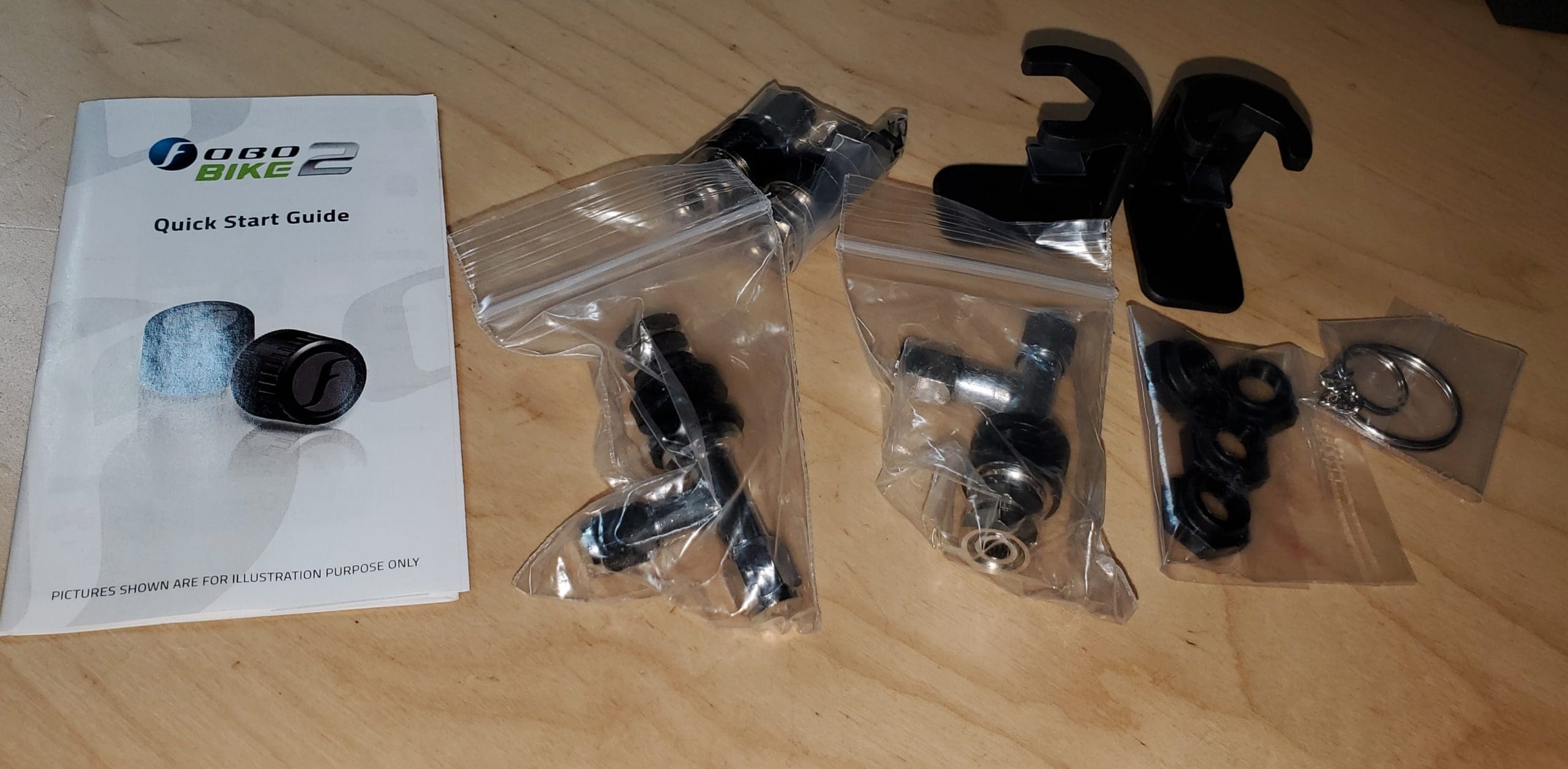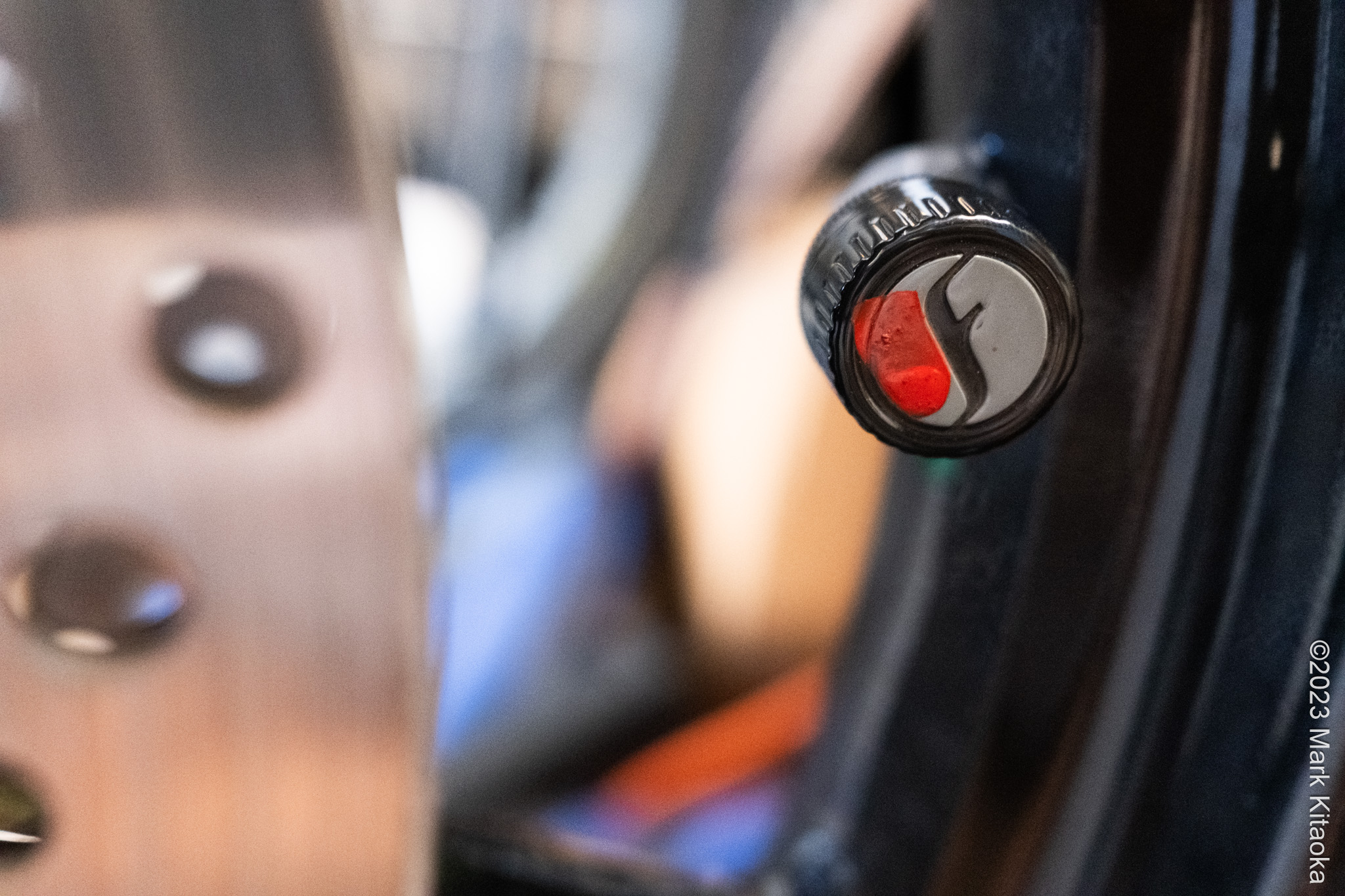 There are two sensor caps in the box. I'm only showing one here. One you assign to the front, the other to the rear. Upon receiving the units, you'll be required to download the companion app. It can be found on both Google Play and the iTunes store.

I will not be going through every single feature in this review. Why? Well, this is one of the most comprehensive TPMS I've used and many of the features I have not, and most likely will not utilize. This review covers the most common features most riders will utilize. Here is a link to the full user manual.
Physically Attaching the Sensors
It is important to note that you MUST DOWNLOAD THE APP AND ESTABLISH A FOBO ACCOUNT BEFORE INSTALLING THE SENSORS!!!!
FOBO Bike 2 sensors are tied to a FOBO account after installation. They are not reusable or transferable without the owner's consent. This is a theft deterrent feature to discourage theft. This is a slick feature, however, a thief is unlikely to know this when they nick your sensors. The consolation is the idiot won't be able to get it to work. A small victory, but any satisfaction on a dirtbag is something.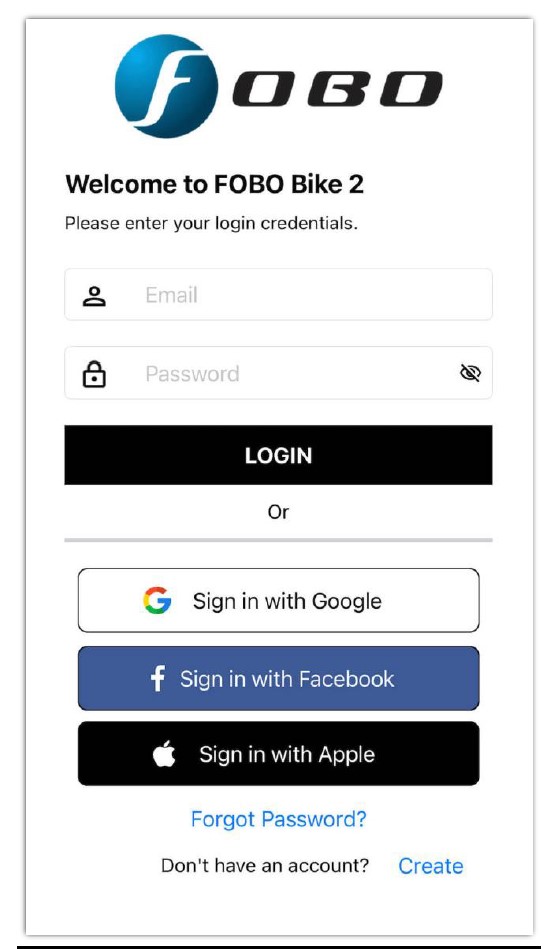 Once you sign up for an account, location service is required to be enabled for the Fobo2 to fully function. The app DOES NOT use the GPS function to track your location. The location information enables the Fobo2 to determine your bike's altitude and is needed for its alert functions. If enabling location service is a privacy issue you cannot accept, no need to read further. Get a different TPMS.
As I stated earlier, I'm not writing a how-to manual for the Fobo2, which is why I've linked to the actual user's guide. Here I will simply illustrate the setup instructions in the user manual.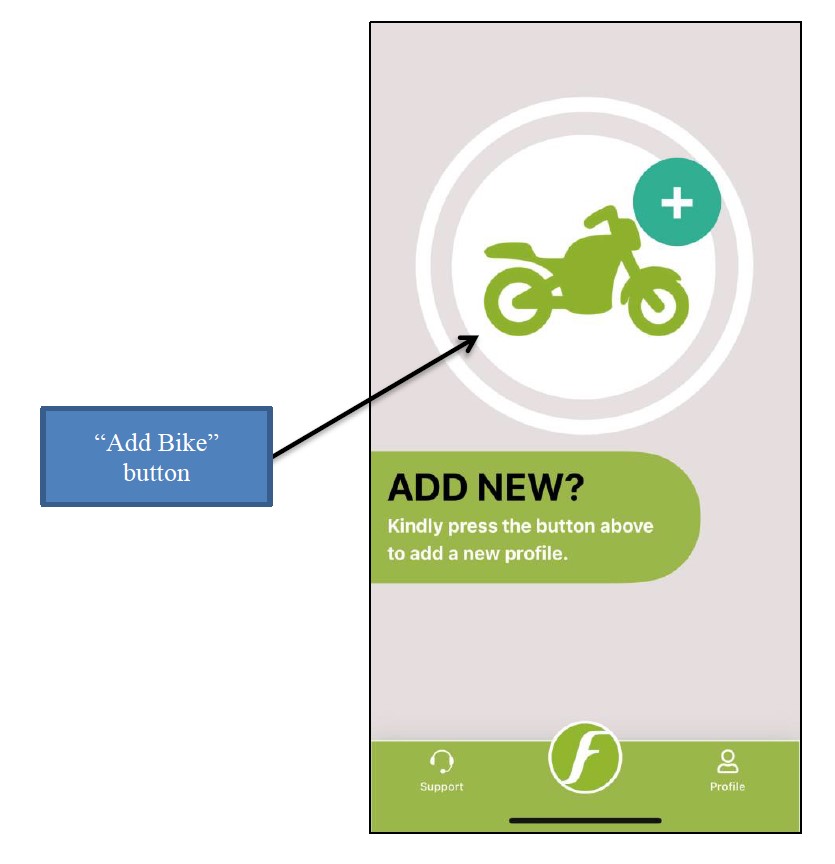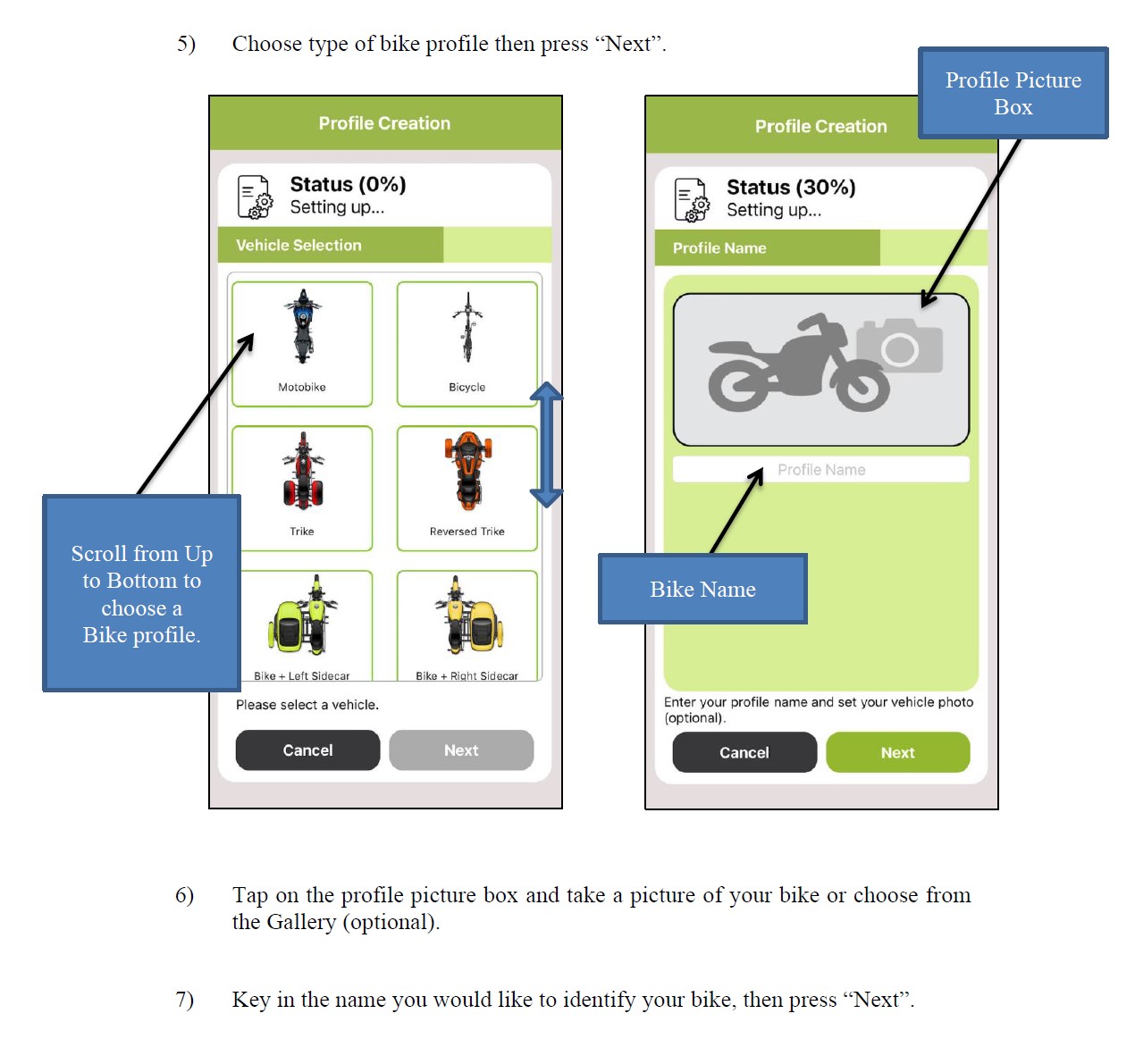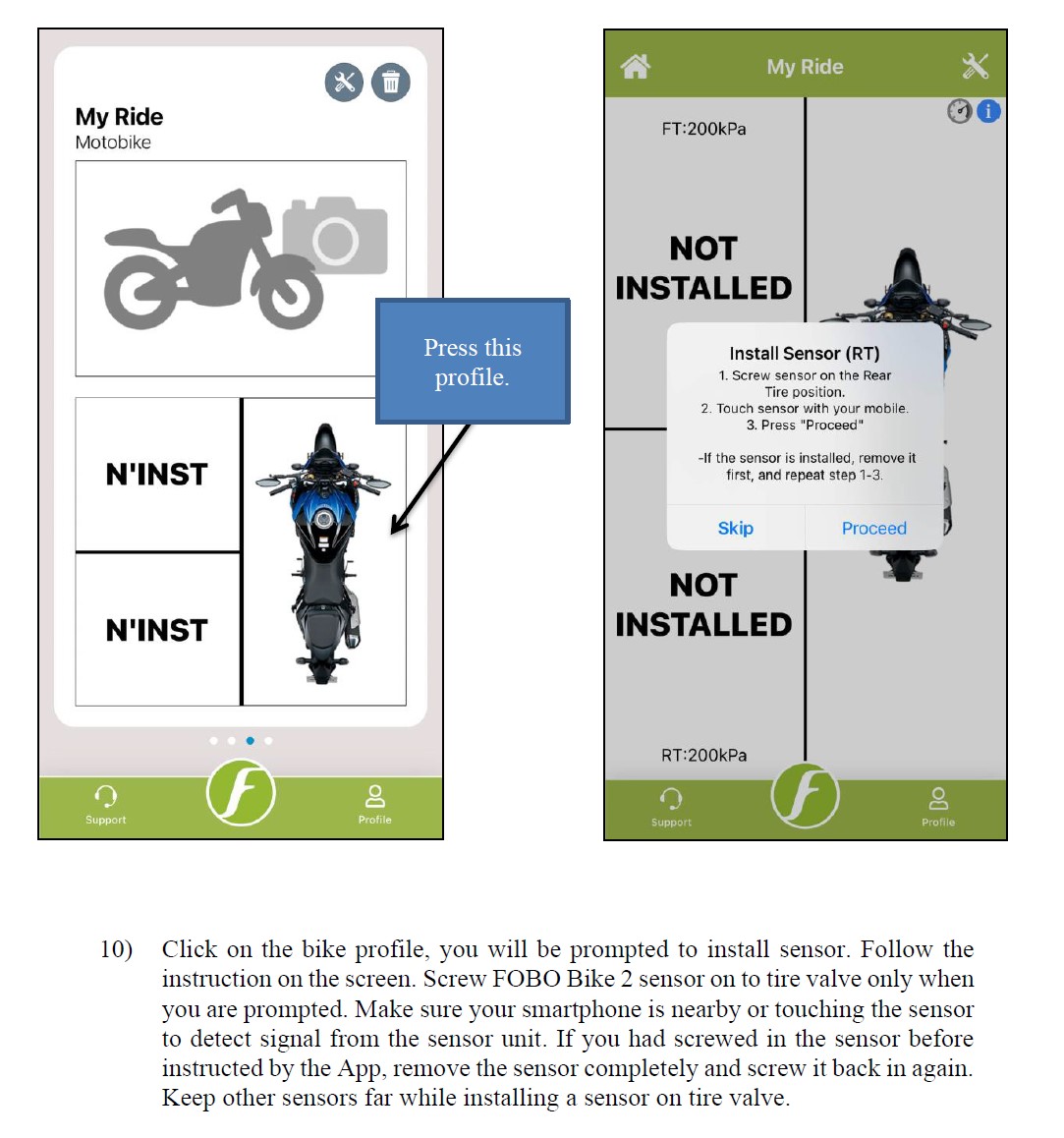 I opted to NOT use the security nuts and special tools to lock the sensors onto the valve stems. Here is how my app is configured.
In the examples above, I have set the minimum, maximum, and recommended tire pressure for my bike. You can also see that I've set a service reminder and engaged an alert at Zero tire pressure. Heck, you can put your marriage anniversary in that program, so you can continue to ride and not sleep on the couch. Unless of course, that's your preference. I've inserted my DIY safety vest to prove a point.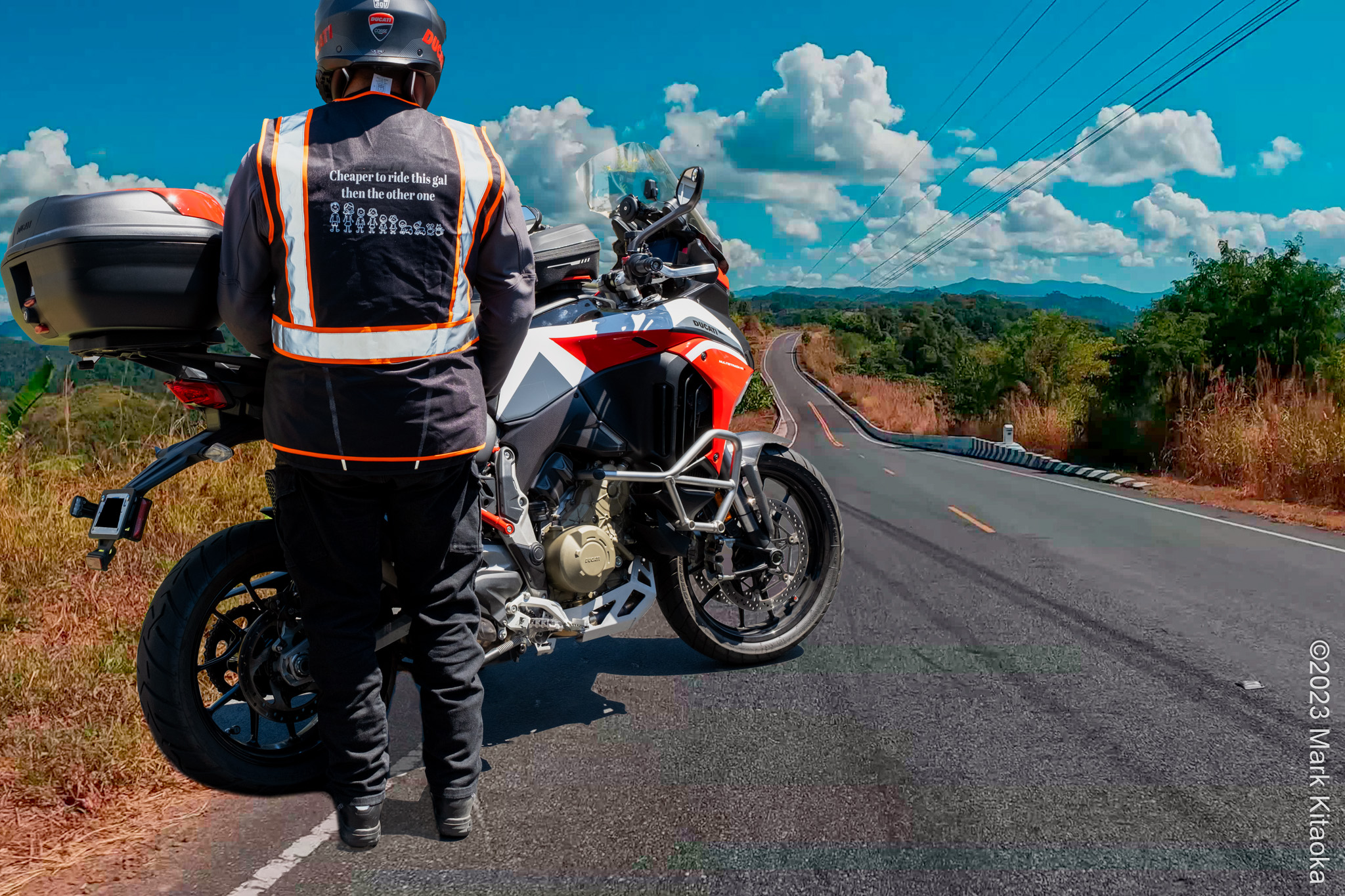 OK back to the review…
I get irritating audio alerts when my pressure has a sudden loss and goes to zero. One of the few times I'm happy to be irritated.
The magnitude of features available in the app to not only monitor the tire pressure but to share that information with others in a group is incredible. And having several methods to monitor tire pressure and any resulting loss of pressure is comforting. I have chosen to display the tire pressure above any open apps. And the placement of that information is easy to do by simply dragging the icon around the screen.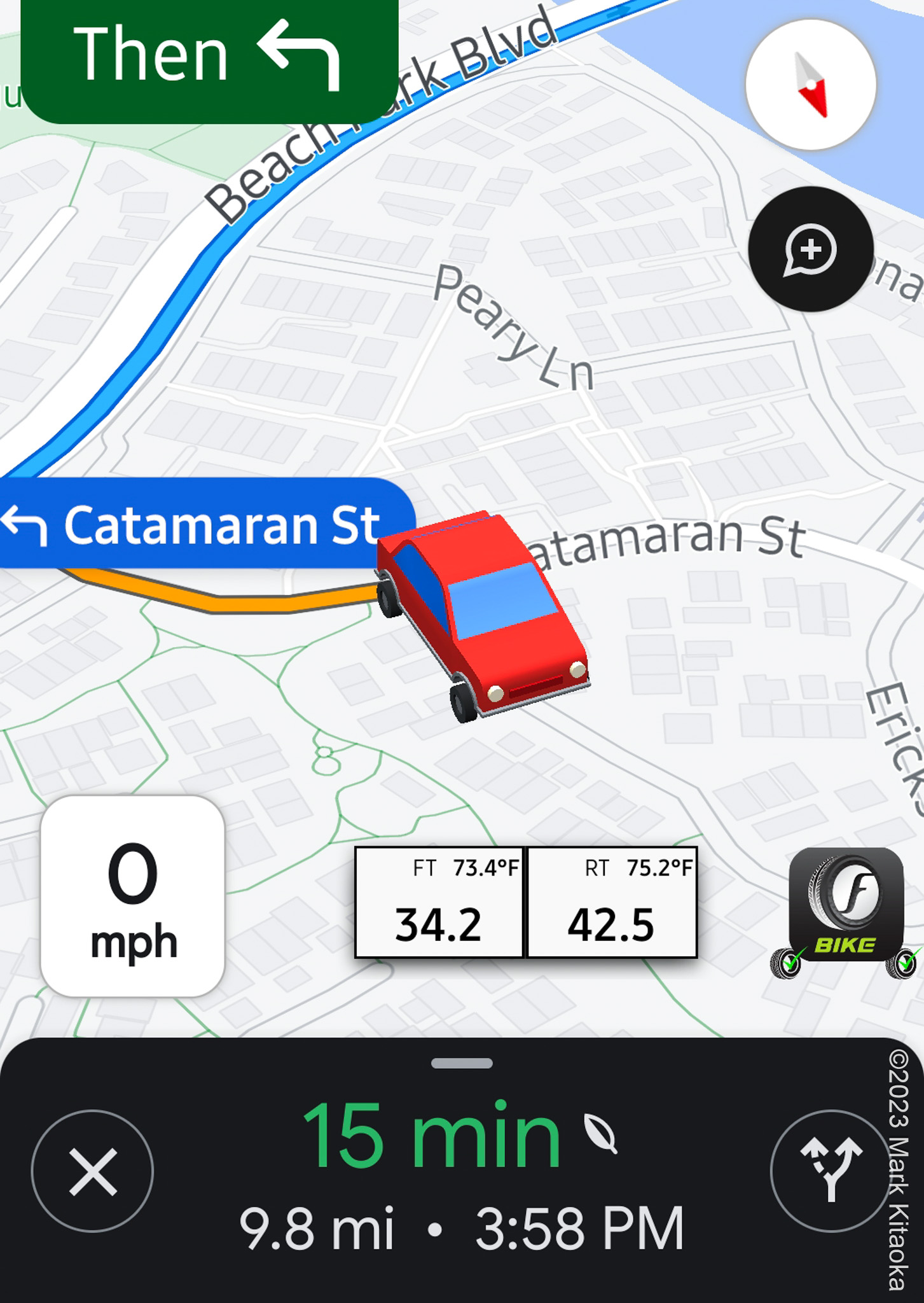 Battery Life and Replacement
All TPMS require batteries and the Fobo2s are no different. Battery life is determined by how many times you remove the sensor from the valve stem along with other factors outlined in the owner's manual. In my experience, my batteries last about 10 months before I get an alert that the voltage has dropped to a low level. If you examine this image, you can see the battery level for both sensors. 2.60 for the front and 2.74 for the rear. Once the voltage approaches 2.0 volts the app alerts you to change the battery.
The sensors are very well sealed against any moisture ingress using a silicon seal.
App and Sensor Updates
So of course I got an alert that my Fobo2 sensors had a firmware update available. Here are the screens that appear when updating the sensors.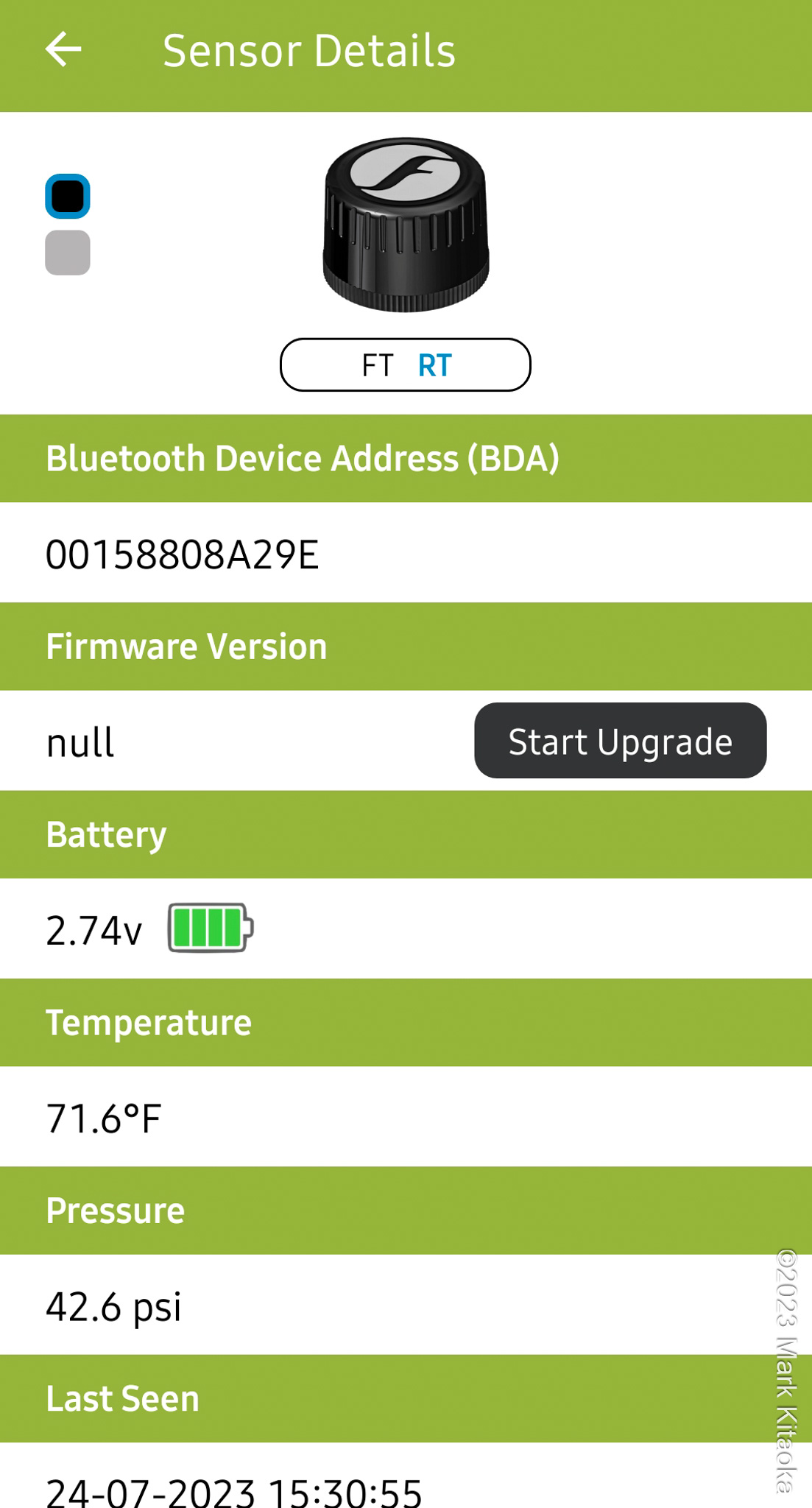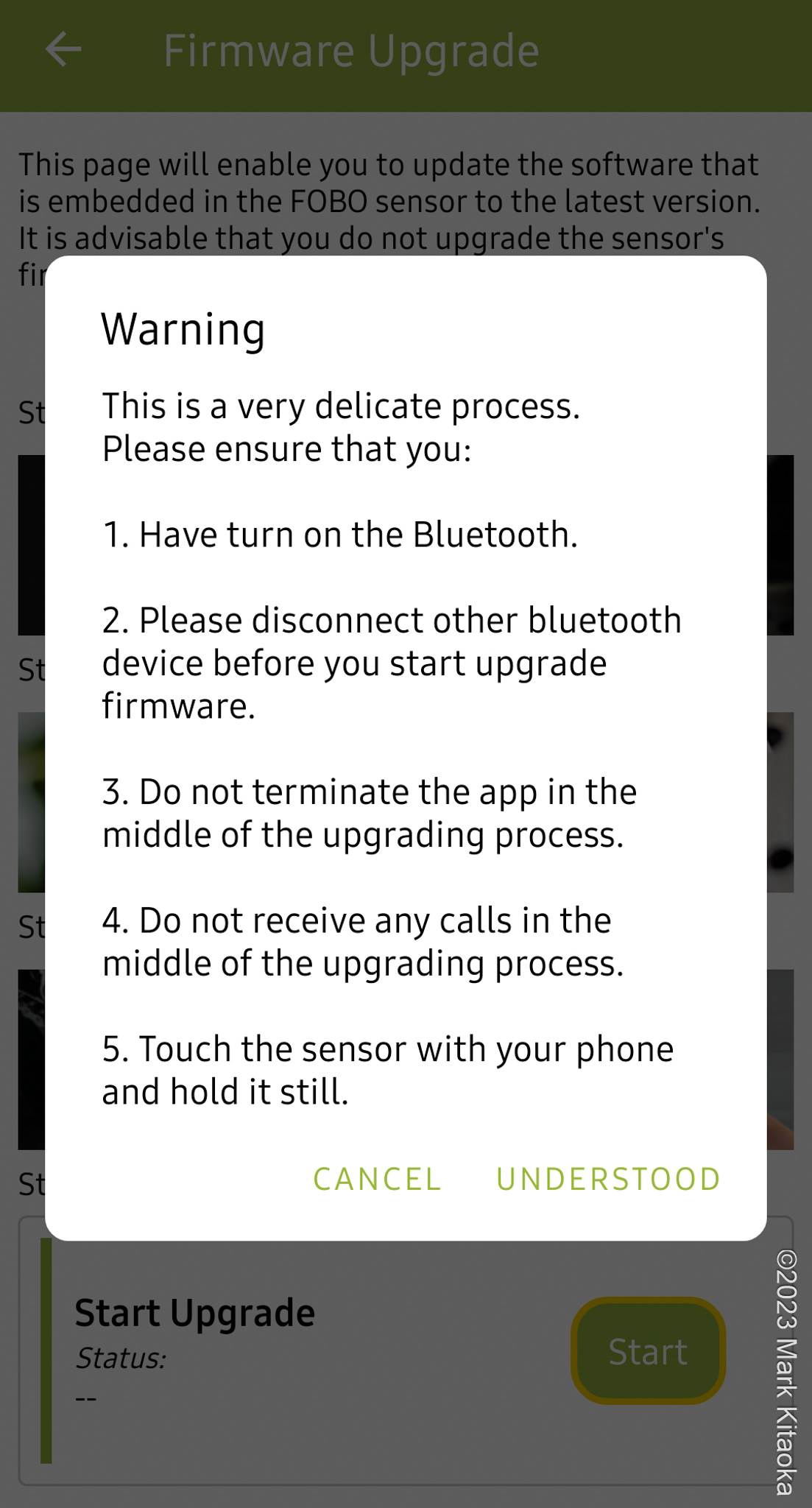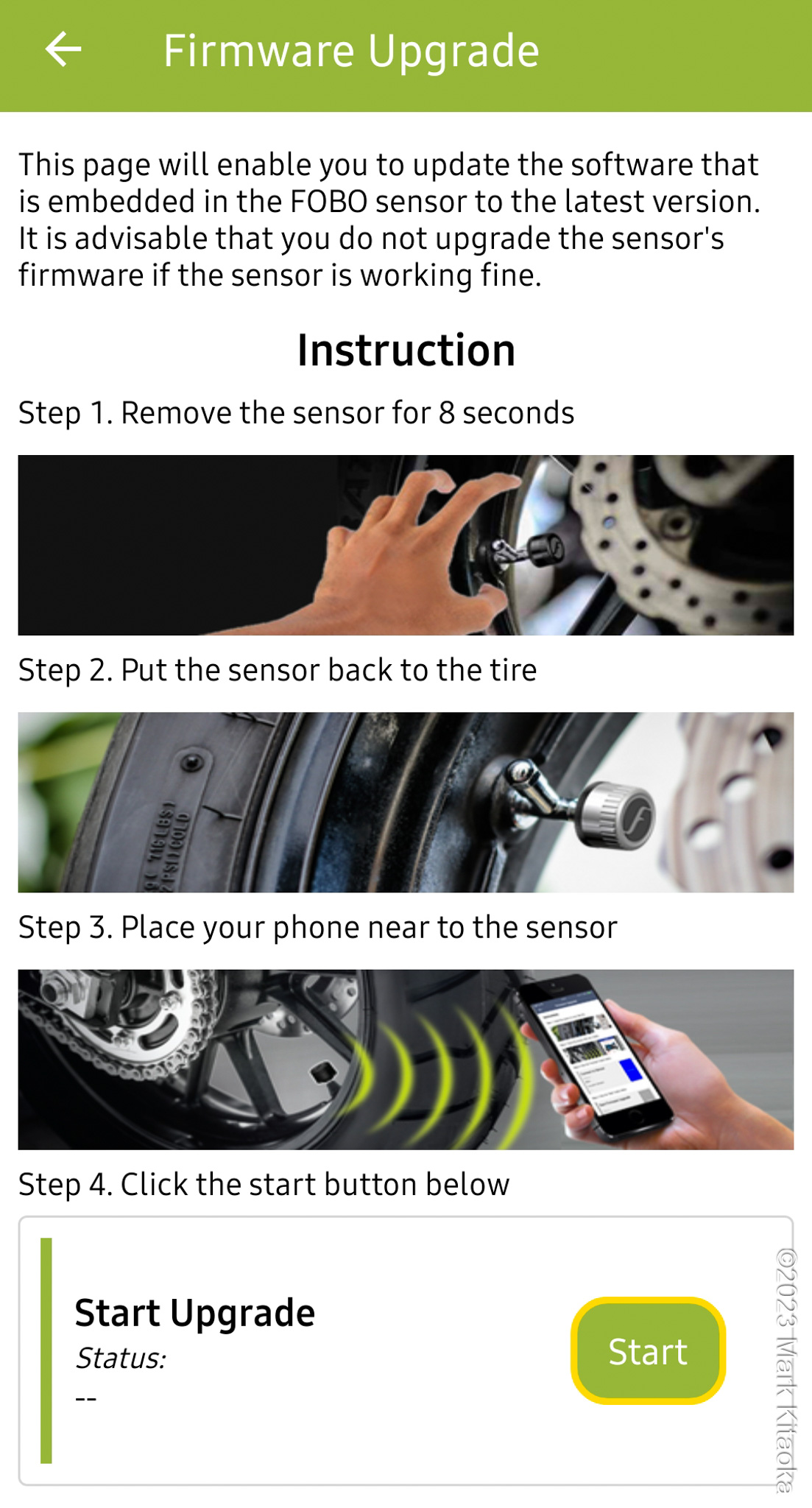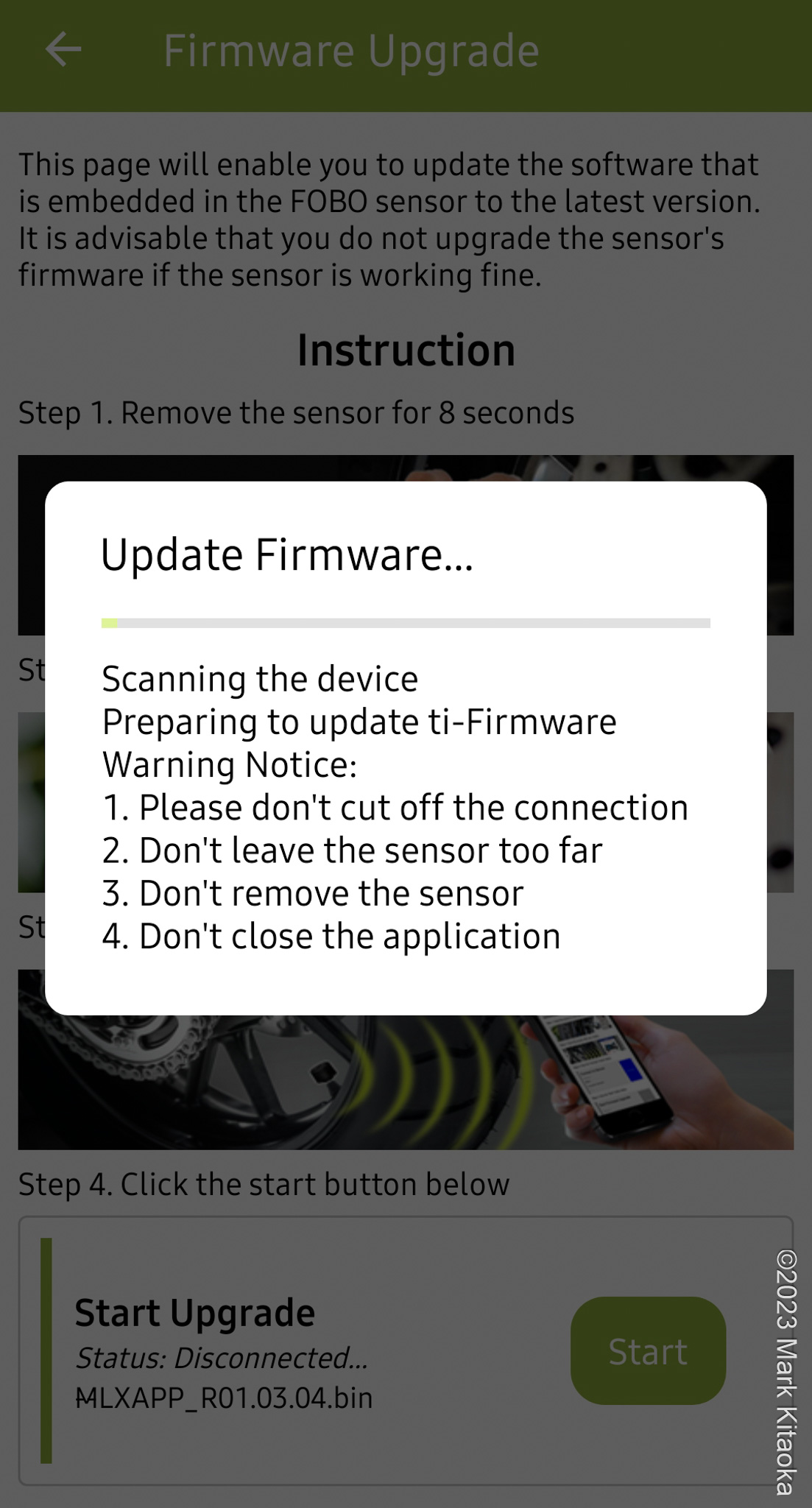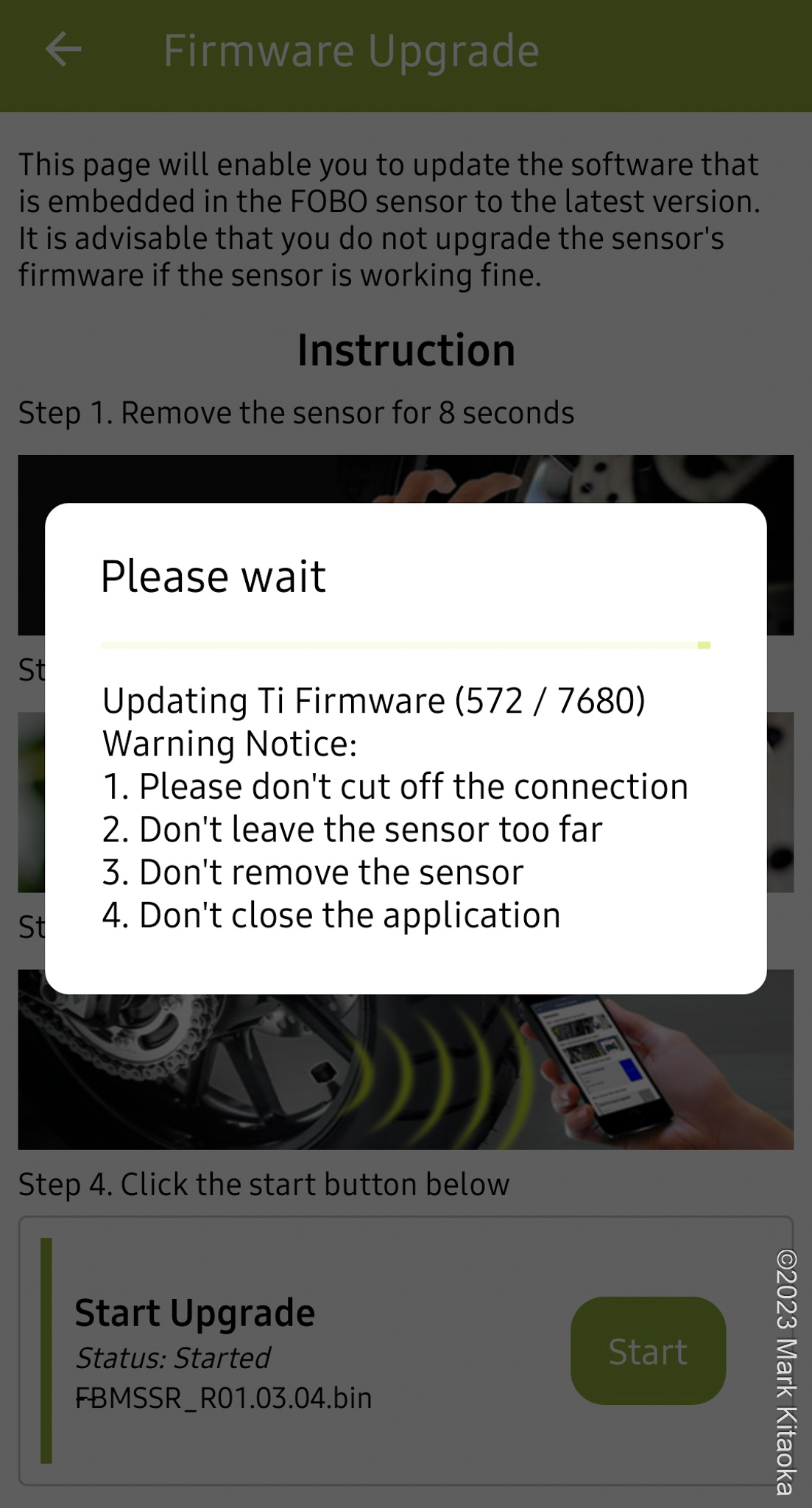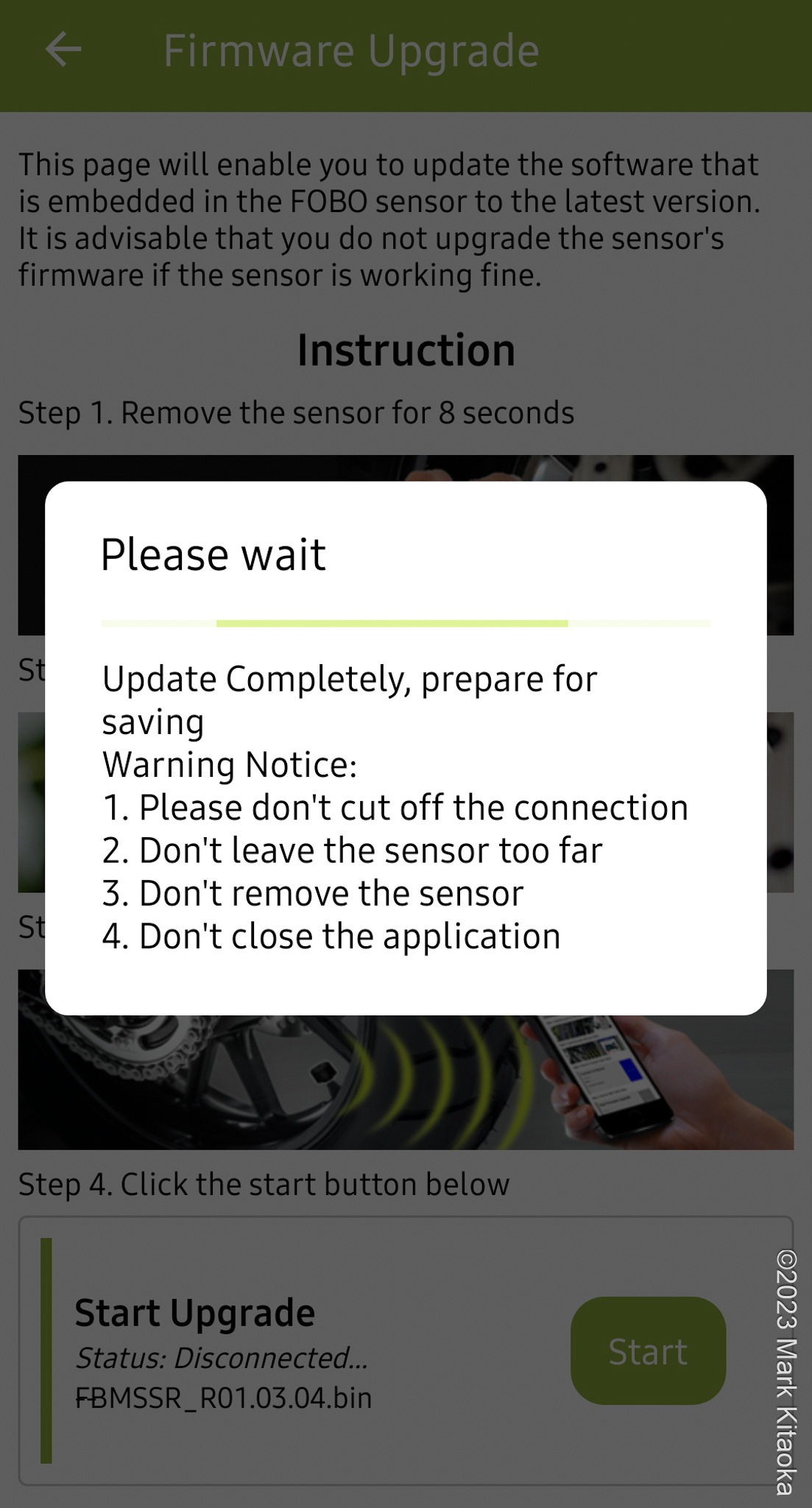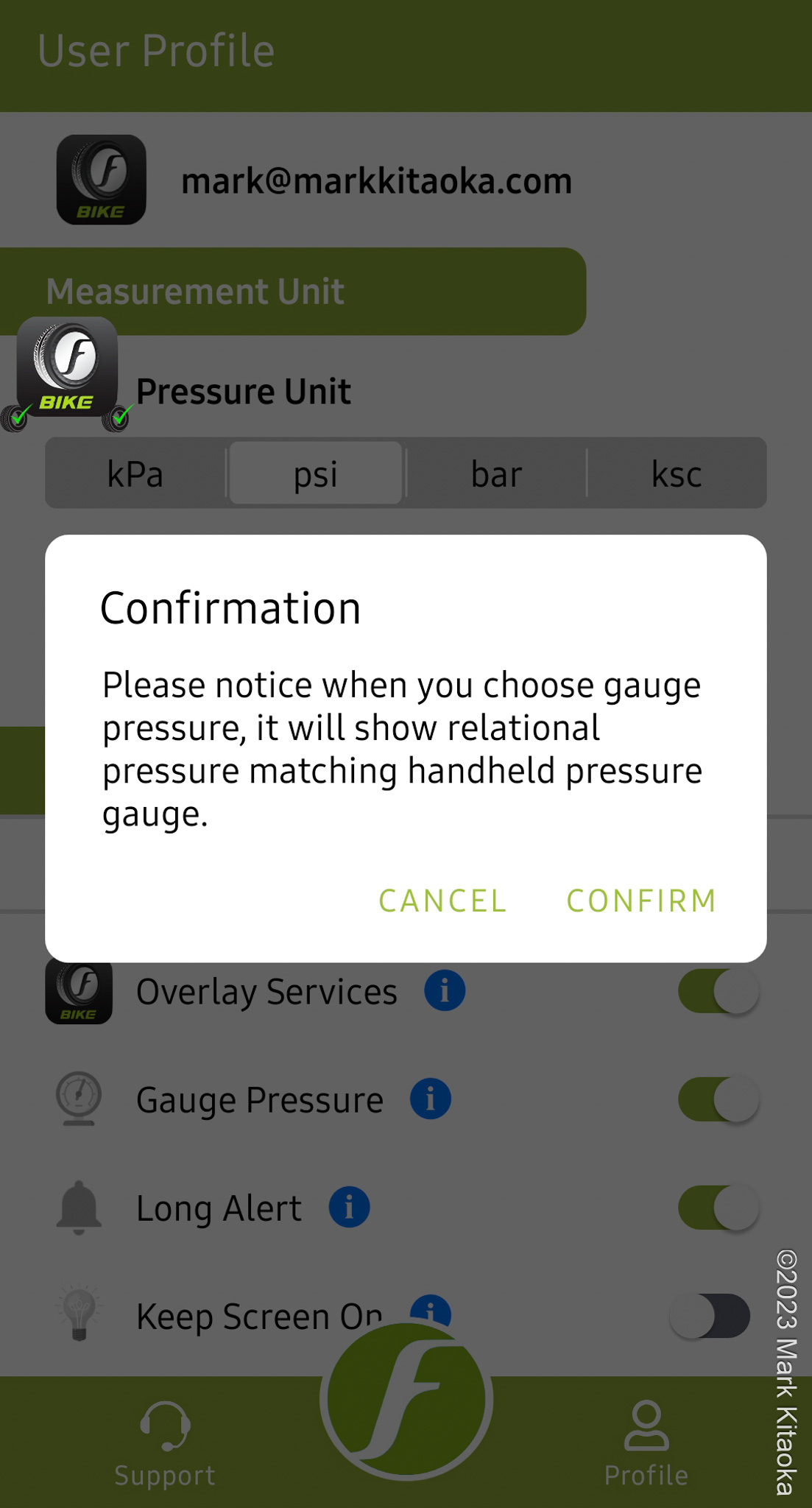 Since I'm a typical American, I didn't read the instructions completely. It states that there is no need to update the firmware if the sensors are operating well. Mine were and I did anyway.
Matching Your Gauge
One of the most unique features of the Fobo2 is the ability to match the pressure reading of the sensors to your tire pressure gauge. Because the Fobo2s compensate for the sensor pressure readings depending on the ambient altitude, the reading will vary from the tire pressure gauge readings you're using. I live at sea level so my tire pressure gauge is very close to the Fobo2 sensor pressure readings. But if you live in Death Valley or on top of Mount Everest, well your pressure gauge will vary from the Fobo2 measurements.
Conclusion
So often in my life I have found that the most simple and basic items are the most important. Air, water, food, and shelter come to mind. Air pressure in my tires fits well into that category. So ensure that my tires have the correct pressure before I hit the start button, pull in the clutch, nick her into gear, and take off.
Would I trust a commercial pilot that doesn't do a walk around of their plane before takeoff…nope. The Fobo2 allows lazy Mark to simply check my phone app even before I go out to my garage.
And if the recent 2023-24 MotoGP rules about tire pressure are good enough for them, it's good enough for me and Marc Marquez's view. And when I carry one or more ballerina pillions, I do compensate for tire pressures. But hey I'm just one guy who's anal about tire pressure. To each their own.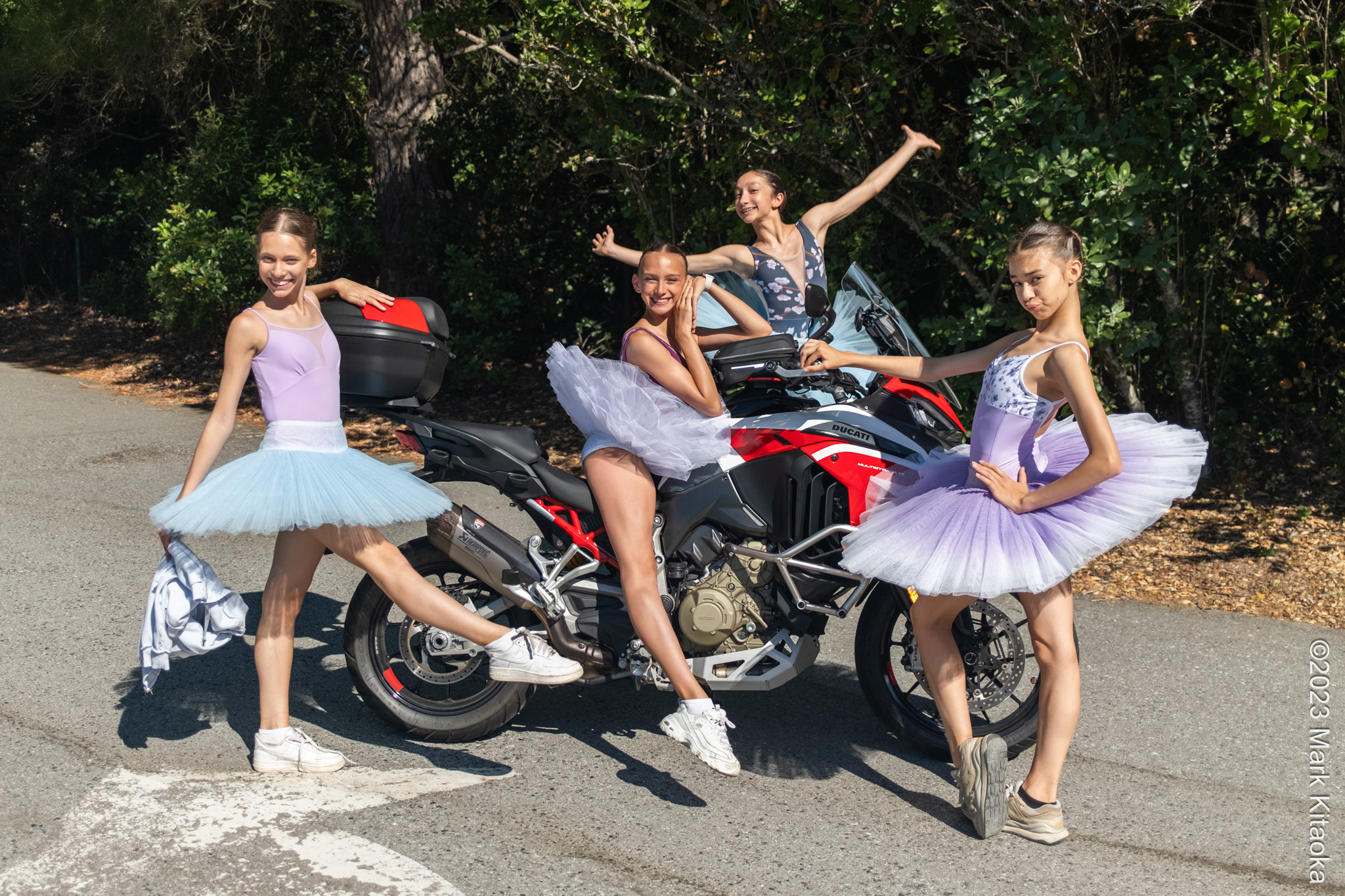 Cons
Must use a phone app
Location services must be enabled to use all features
Can be stolen
Important Links / Where To Buy
Must use a phone app
Location services must be enabled to use all features
Can be stolen
Specs
Manufacturer: Fobo
Price when tested $99.99
Important Links / Where To Buy
The post FOBO Bike 2 Smart Tire Pressure Monitoring System appeared first on webBikeWorld.
View full post on Web Bike World