Happy Birthday, Ago!
Ready to race! At 80, Giacomo Agostini is still eager to zip into a set of leathers and twist the throttle. Here he is with a new MV Superveloce, looking as good as ever. (MV Agusta/)
Giacomo Agostini was born in Lovere, near Bergamo, on June 16, 1942. And while he may have turned 80 years old, he still fits into his racing leathers as he did when battling a young Kenny Roberts. "Mino" has always lived as a true athlete should, and it shows. Yes, his hair has turned white, and if you look close you'll see wrinkles mapping his forehead and cheeks, but his facial expression is the same and his eyes are as sharp as when he was about to take his MV Agusta 500 for a fast lap around the Isle of Man.
And he probably still would, given the opportunity. The fire of passion still burns in his guts as intensely as when he started racing on his personal Moto Morini Settebello 175, a bike he loved so much that it still sits in the little museum he's organized in the garage of his Italian home.
Humble Beginnings
Agostini made his debut in hillclimb events in 1961, coming in second at the classic Trento-Bondone. His first victory came in 1962, at the Bologna-San Luca hillclimb, where Moto Morini chief engineer Dante Lambertini noted his outstanding performance. On Lambertini's recommendation, Alfonso Morini hired the talented young rider. To this day Agostini still has a special love affair with Moto Morini, his first factory ride.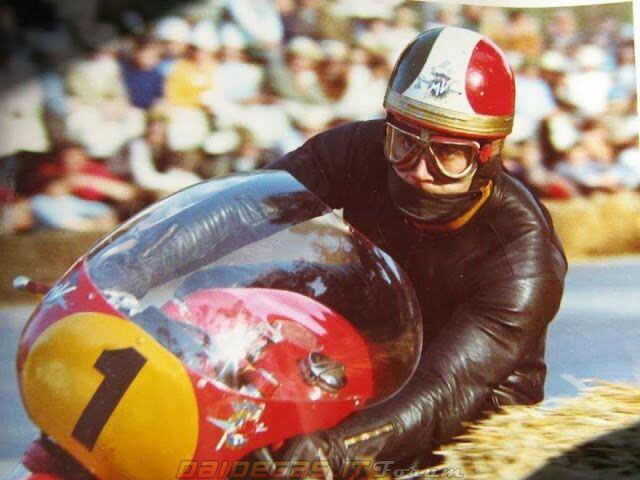 Nothing says the golden age of Grand Prix racing like pudding-bowl helmets, goggles, black leathers, and straw bales. That vintage gear is long gone, but the look in a racer's eyes never changes. (MV Agusta/)
On the magic Moto Morini 250 Bialbero, Agostini won the Coppa d'Oro Shell on the Imola circuit, setting outstanding lap and overall times. Still, Moto Morini was running low in money and getting ready to close its race department. But Agostini's performance had been noticed by no less a figure than Arturo Magni, director of MV Agusta's racing team. Magni talked to Count Domenico Agusta, and Agostini was summoned to the legendary Cascina Costa factory for a meeting. The count simply asked him if he was really able to ride a racing bike. Agostini answered in the affirmative, and was told to meet them the next morning at the Monza racetrack.
Agostini was presented on arrival with the old MV Agusta 250 twin, ready for him to prove his ability. When Count Agusta asked Agostini to ride the bike through a slalom course marked by pylons, Agostini was astonished. He turned to Magni and asked whether this was a serious request or a joke. Magni immediately suggested that he'd better do what the count had asked of him. He did, and he got the contract.
Ago and MV
Agostini debuted on an MV Agusta in 1965, at the Nurburgring GP. Also making its first appearance there was the brand-new MV Agusta GP 350 triple. It was a total success for both, and the beginning of a love affair between Agostini and the three-cylinder MV Agusta 350 and 500. He wore the bikes like comfortable yet elegant sports coats, and greatly contributed to their development, honing every possible detail to improve his personal relationship with his bikes.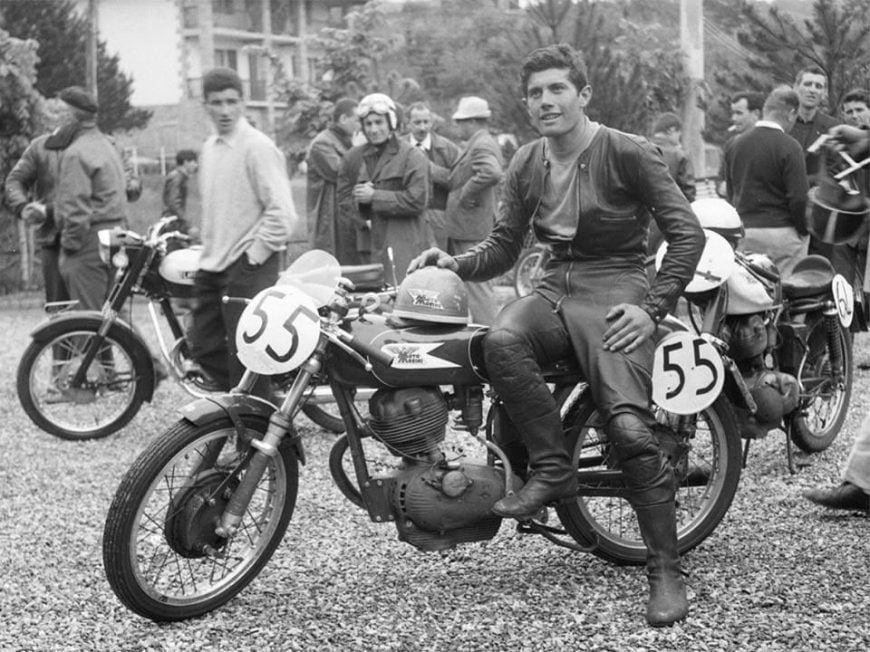 The bike that launched Agostini's career, a Moto Morini 175 Settebello. (Agostini Collection/)
The 350 suited him particularly well, and the MV triples gave him an extra edge over former teammate Mike Hailwood, who had to wrestle his heavier, though more powerful, Honda fours around the track, while Agostini danced with his magic MV three.
Agostini's critics will say that 13 out of his 15 world titles came courtesy of the vast technical superiority that his MV equipment gave him. It's certainly true that when Honda withdrew from racing, the MV threes had no serious opposition. But to claim this is why Agostini consistently won at a world championship level is a serious mistake; he always demanded and extracted the best from his machines, often racing against himself to improve his lap times even when he was leading a race with no serious opposition. He was extremely professional, determined, and dedicated to the sport and to the team. He had total respect for MV Agusta racing manager Magni, and for all the technicians. The team was a second family to him. Agostini also respected the other riders, amateurs included, and this explains why his 80th birthday has been celebrated so sincerely by so many.
Agostini's last two world championships came on Yamaha two-strokes. (Agostini Collection/)
But times were changing. By 1972, MV Agusta was feeling the pressure from Yamaha's two-strokes, and realized that its three-cylinder racers didn't have the performance to win another championship. New four-cylinder engines were developed in both 350 and 500cc classes, and Agostini won his last world championship on an MV Agusta 350 four in 1973. He never really loved the 500cc four that his teammate and great competitor Phil Read rode to victory.
Mino and Yamaha
Count Domenico Agusta died in 1971, and his brother, Count Corrado, never shared the same passion for the sport. Agostini quit MV Agusta in 1974 to create his own team in association with Arturo Magni. He wanted to have a free hand to pick the bike he judged the best in each class. He raced Yamahas in 350, 500, and even in 750cc classes, winning two more world championships. He also raced a Suzuki in the 500cc class, and even returned on the MV Agusta 350 four in 1976. Agostini's association with MV lasted 17 years, and in that time he piled up 13 world championships, six in the 350cc class and seven in the 500cc class. Also worth remembering are his 10 victories at the Isle of Man TT.  When Agostini quit motorcycle racing in 1977, he had a total of 15 world championships, unsurpassed to this day.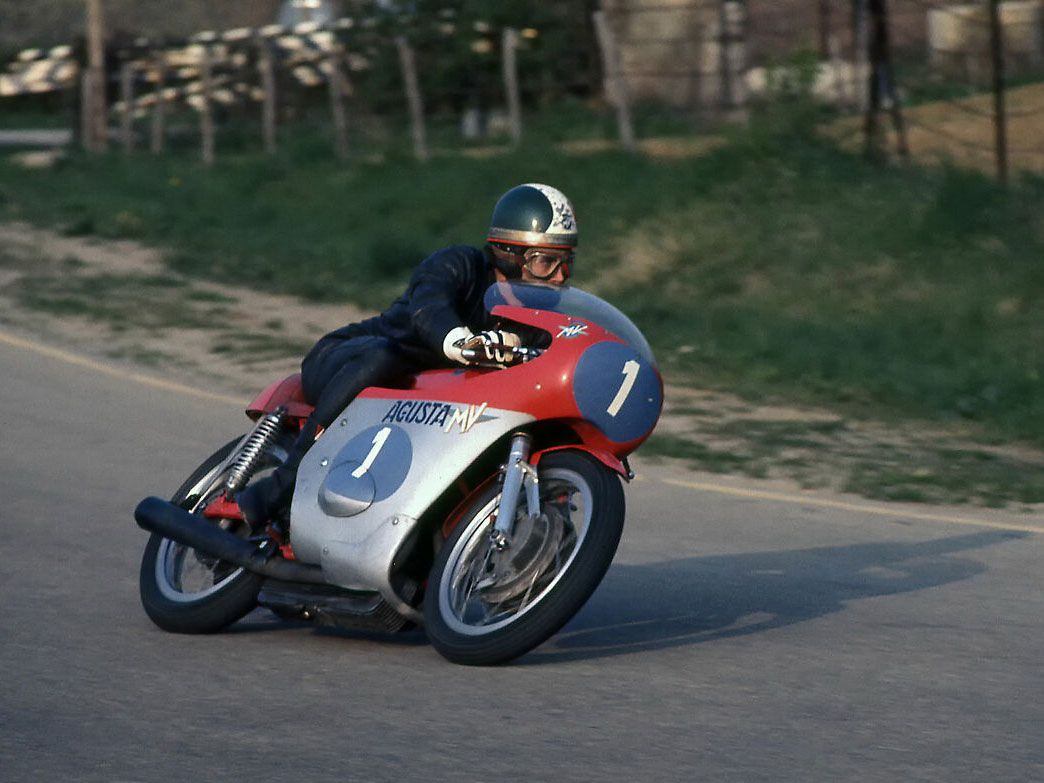 Agostini on a MV Agusta 350cc triple. (MV Agusta/)
His retirement was a sad moment for the sport and for Agostini as well, since he loved motorcycling more than anything else. He raced open wheel cars in Formula Aurora, but with no success.
Agostini is a rich man, a capable entrepreneur, as determined in business as he was as a racer. He married a Spanish woman, and today he divides his time between his farm in Spain and his home in Bergamo. He is in great physical shape and never turns down an invitation to a meeting or to a celebration, always ready to ride a few laps to wave at the crowd that he still loves, and that still loves Giacomo Agostini for all he gave to the sport. He is also a sharp TV commentator, an avocation he seems to enjoy a great deal. This year he was invited to the old Goodwood Circuit for the classic SpeedWeek, where he circulated the track aboard his precious Mercedes 300 SLR Mille Miglia racer.
Happy birthday, Mino. What a great life you have lived, not through luck alone, but through great determination, style, sportsmanship, competence, and courage. Congratulations, and best wishes.
View full post on Cycle World