2022 Harley-Davidson Low Rider S First Ride Review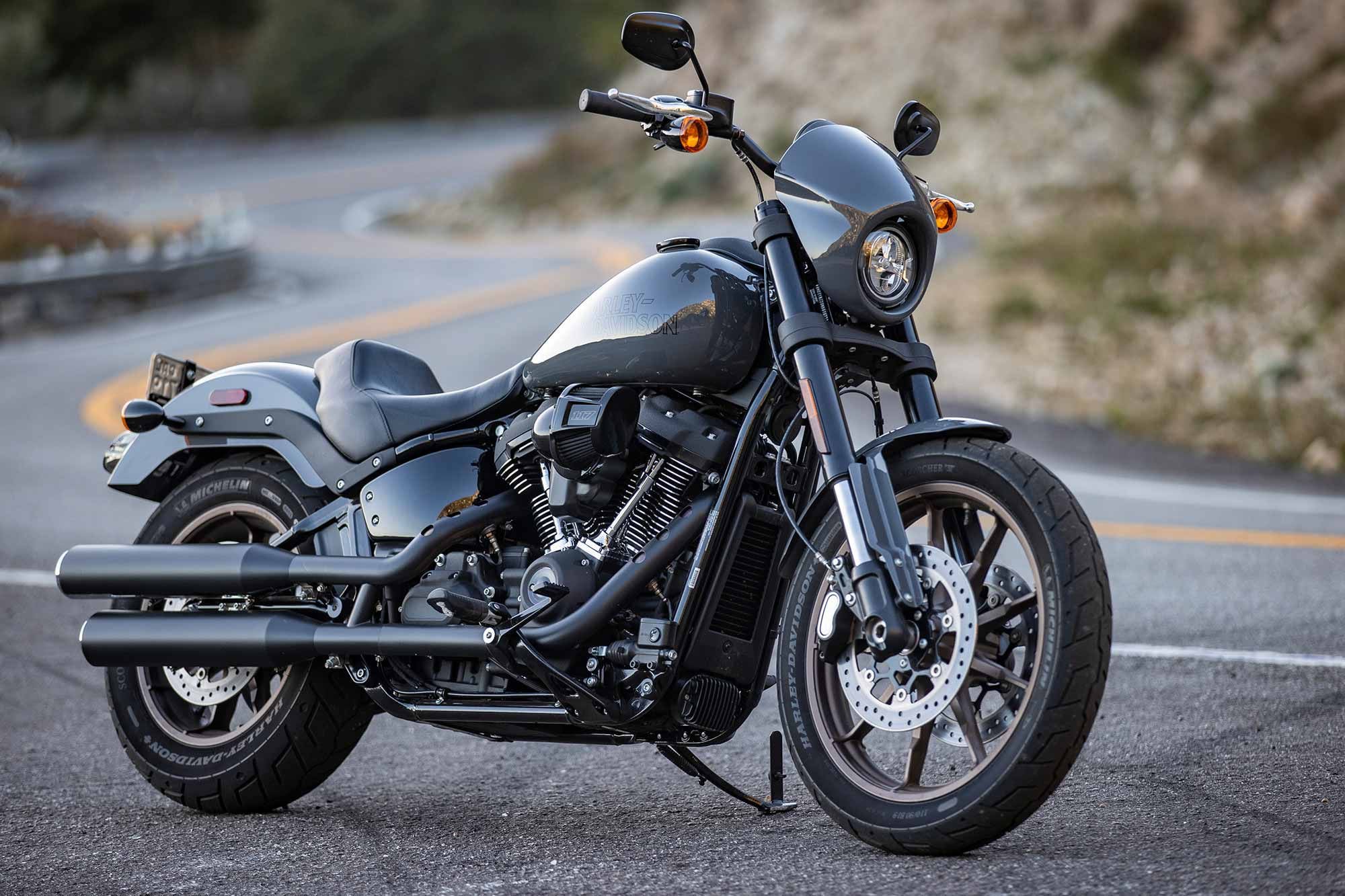 The Low Rider S has a starting MSRP of $17,530 in Vivid Black and $17,980 for the Gunship Gray seen here. (Jeff Allen/)
When Harley-Davidson released the Low Rider S in 2016 it represented a subculture. The first FXLRS exemplified what customers had been doing with the dual-shocked Big Twin since the first Super Glide in 1971. That final Dyna S model had evolved through 45 years of research and experimentation by both the factory and aftermarket, and it showed. So when Harley-Davidson stopped manufacturing the Dyna line for model year 2018, it felt a bit strange to be calling Softail models by iconic Dyna names, like Street Bob and Low Rider, and even more so when the company launched the 2020 Low Rider S.
But the new S feels different. When Harley-Davidson translated the Low Rider S name from Dyna design to Softail in 2020, it felt like H-D was trying to prove that the Softail was a viable platform for high-performance customization, an area where the Dyna was a cult superstar. Now, more than four years since the cessation of the Dyna and birth of the new line, we're seeing more high-performance components for these new Softails in the aftermarket. The growth of V-twin racing has stoked this trend as well, both in terms of widespread popularity and product development. More customers are pursuing what H-D calls "West Coast style" on their own, which means the Softail platform is genuinely being used this way. And it's a natural fit, because when you look at the numbers—or just ride it—the Softail platform performs better than the Dyna in nearly every way.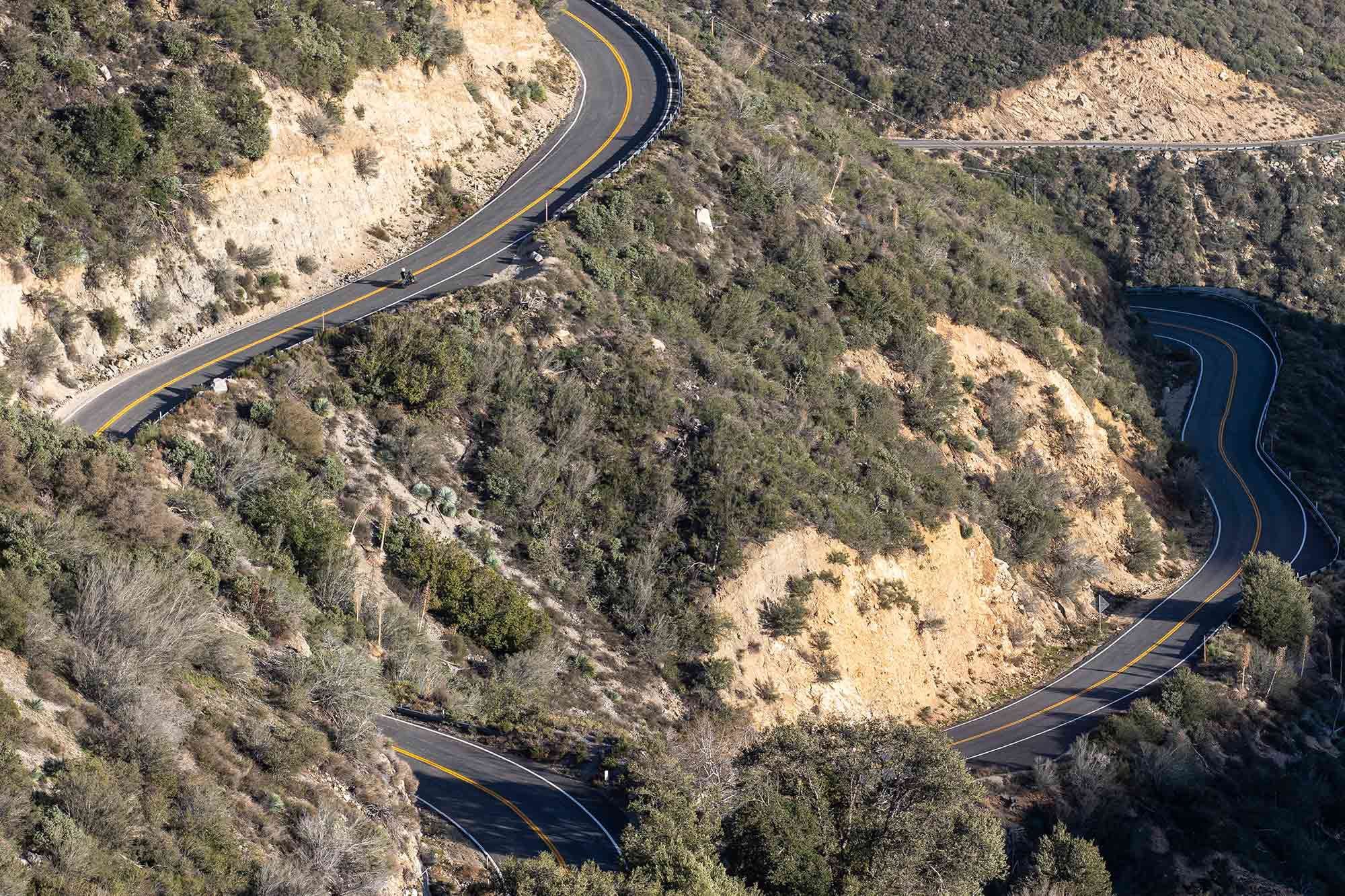 The winding hills of Angeles National Forest have proven to be an excellent testing ground. (Jeff Allen/)
The FXLRS has a bigger engine that puts out more power than any previous Low Rider. It has greater available lean angle on a more stable chassis. It's inarguably better on the road than the Dyna, both in a straight line and through turns. It is strange, though, that while comparing these "high-performance" H-D models, performance is only the second most important thing.
On a morning ride, I chased friends riding Ducati and BMW sportbikes up SoCal's Angeles Crest Highway. It became clear that as quick as the FXLRS may be, it's really only fast in its class. It's still low and heavy. It still scrapes too early, can't stop all that quickly, and has limiting ergonomics. It's powerful, absolutely, but fast, not so much. H-D could make a more performance-oriented bike if it wanted to, but major changes toward high performance tend to be major changes away from traditional form. But designers say the balance of performance and traditional form was a styling choice. I can't argue with them. If you wanted a really fast bike, you would be shopping for something like the similarly priced 2022 Yamaha YZF-R1. No, you're here because you want a Harley first and a fast bike second, which is exactly what this is. The Low Rider S is a balance of style and performance, with style dictating the measure of performance allowed.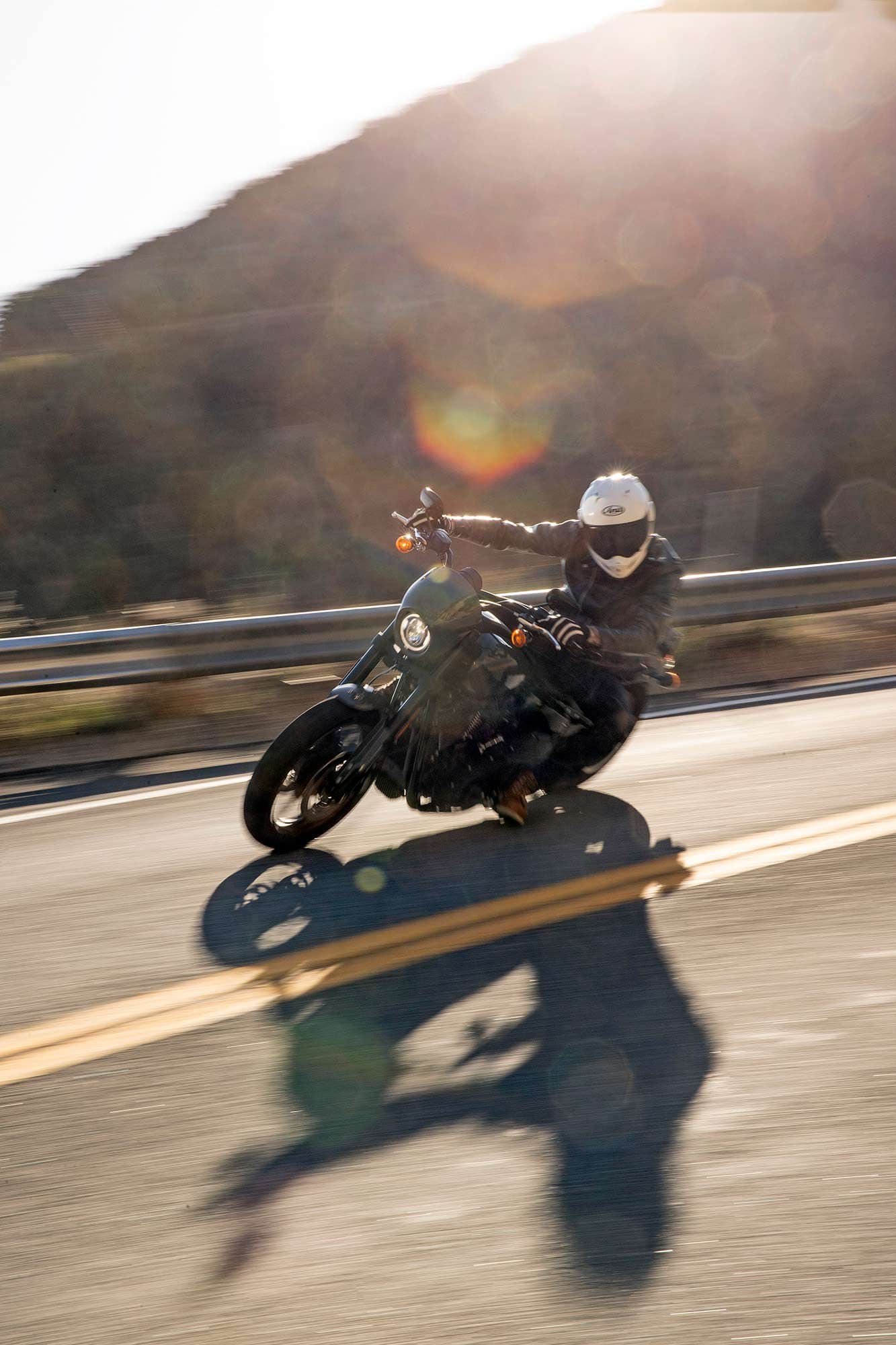 The new Low Rider S has an added 1.2 degrees of available lean angle, compared to the previous model. (Jeff Allen/)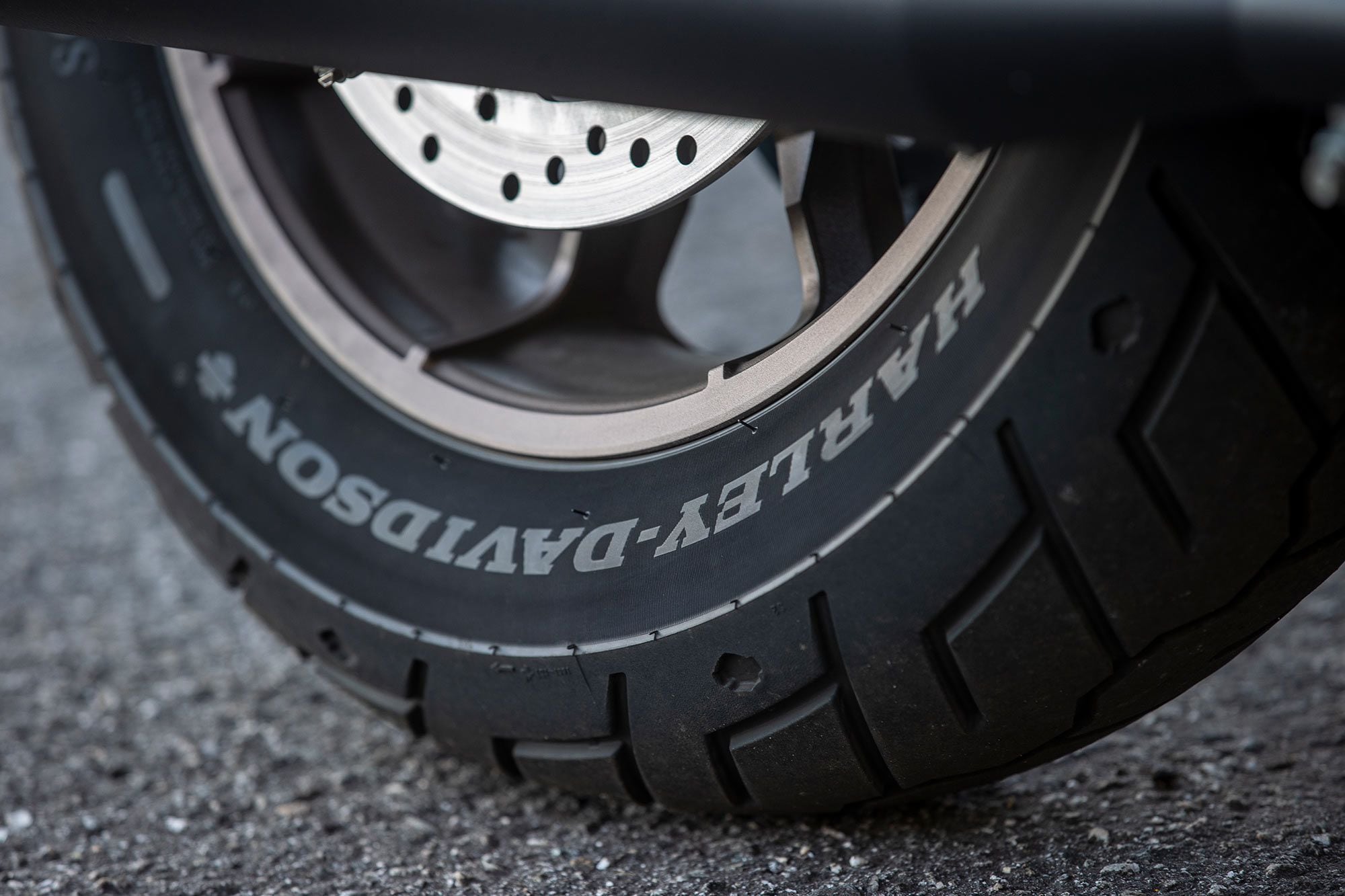 Increased lean angle helps riders take advantage of their whole tire's tread. (Jeff Allen/)
We stopped at Newcomb's Ranch, where we walked around to appreciate the mixture of supercars and vintage beauties. I felt only slightly out of place as I imagined the S to be a two-wheeled amalgam of both. The glossy flat gray paint and matte finishes are understated and don't demand attention from the uninitiated, which I like. I don't want to hear about your dad's Harley or what you almost bought once. The Low Rider S seems to share that mood with me.
Earlier Low Rider models were defined by their 2-to-1 exhaust, tank-mounted gauges, and mag wheels. The 2020 Softail Low Rider S had some of these features, but these have been reduced with each new S model. After moving the previously tank-mounted gauge system to above the handlebar riser, the '22 Low Rider S' only major visible tie to the earlier Low Rider (other than its entire silhouette) is the font on the gas tank and mag wheels. When asked about this departure, project lead Dais Nagao said to think of this as the Low Rider's grandchild. It's not the same bike, but they share the same inspiration and origins.
Related: How Much Power Does the 2022 Harley-Davidson Low Rider S Make?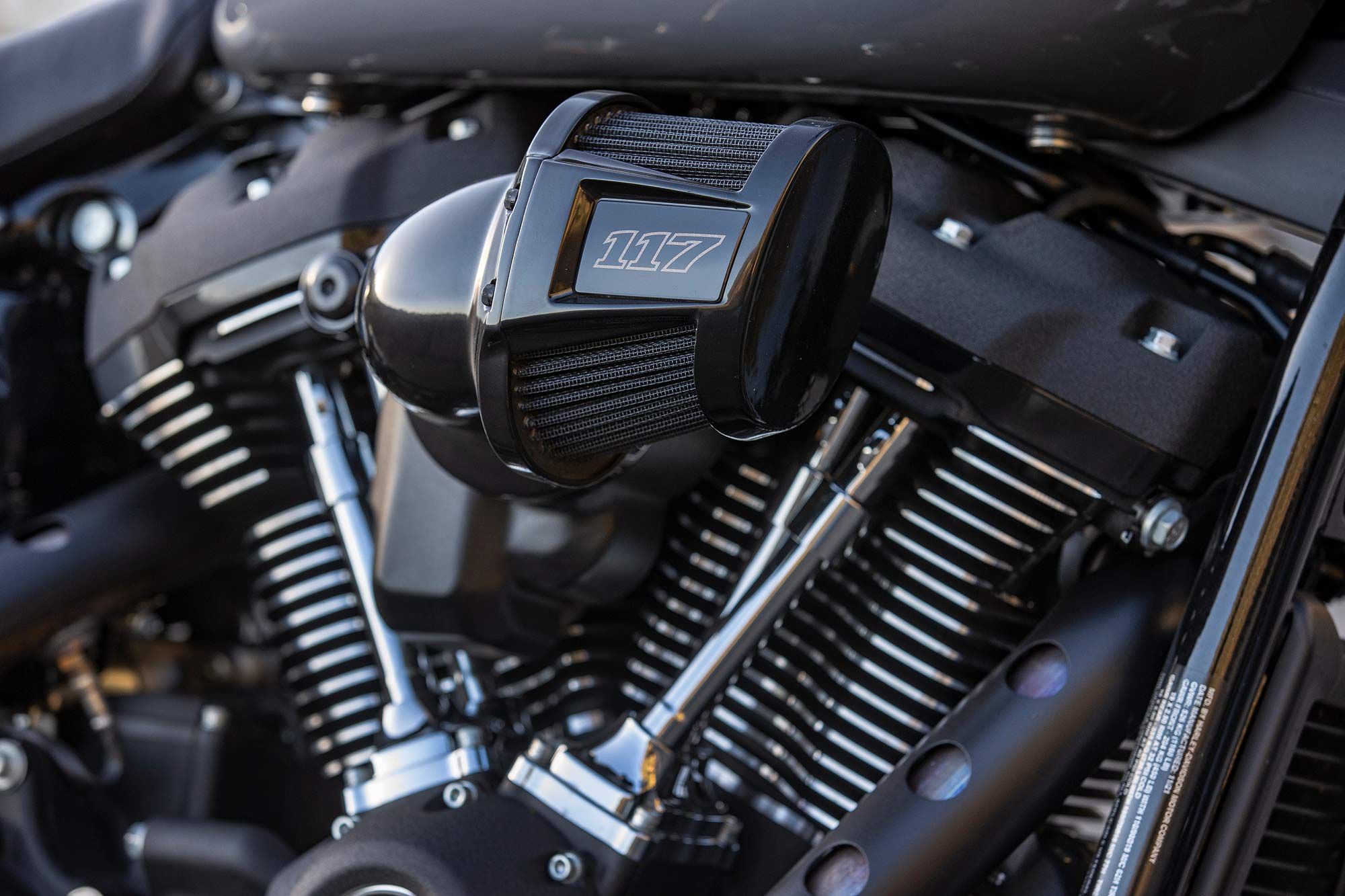 A Heavy Breather intake is tuned to work with the Milwaukee-Eight 117. (Jeff Allen/)
This small decal replaces the previously tank-mounted gauges on the Low Rider S. (Jeff Allen/)
Comparing the new Low Rider S to the 2020 model, we see two major changes: a larger 117ci Milwaukee-Eight engine, and a taller monoshock. Compared to the most recent 114ci Milwaukee-Eight on the Cycle World dyno, which belonged to a '21 Street Glide Special, the 117 in the FXLRS delivers over 14 percent more horsepower and only 2 pound-feet more of torque. Initial power delivery is very smooth but there is plenty of power on tap throughout the running range. Testing shows the 117 produces over 100 pound-feet of torque from 500 rpm after idle to 500 rpm before redline, peaking at 115 pound-feet at 3,200 rpm. The character of the M-8 does not change drastically with the increased size, but just sounds a bit more full. Also, power delivery feels similar; there's just more of it.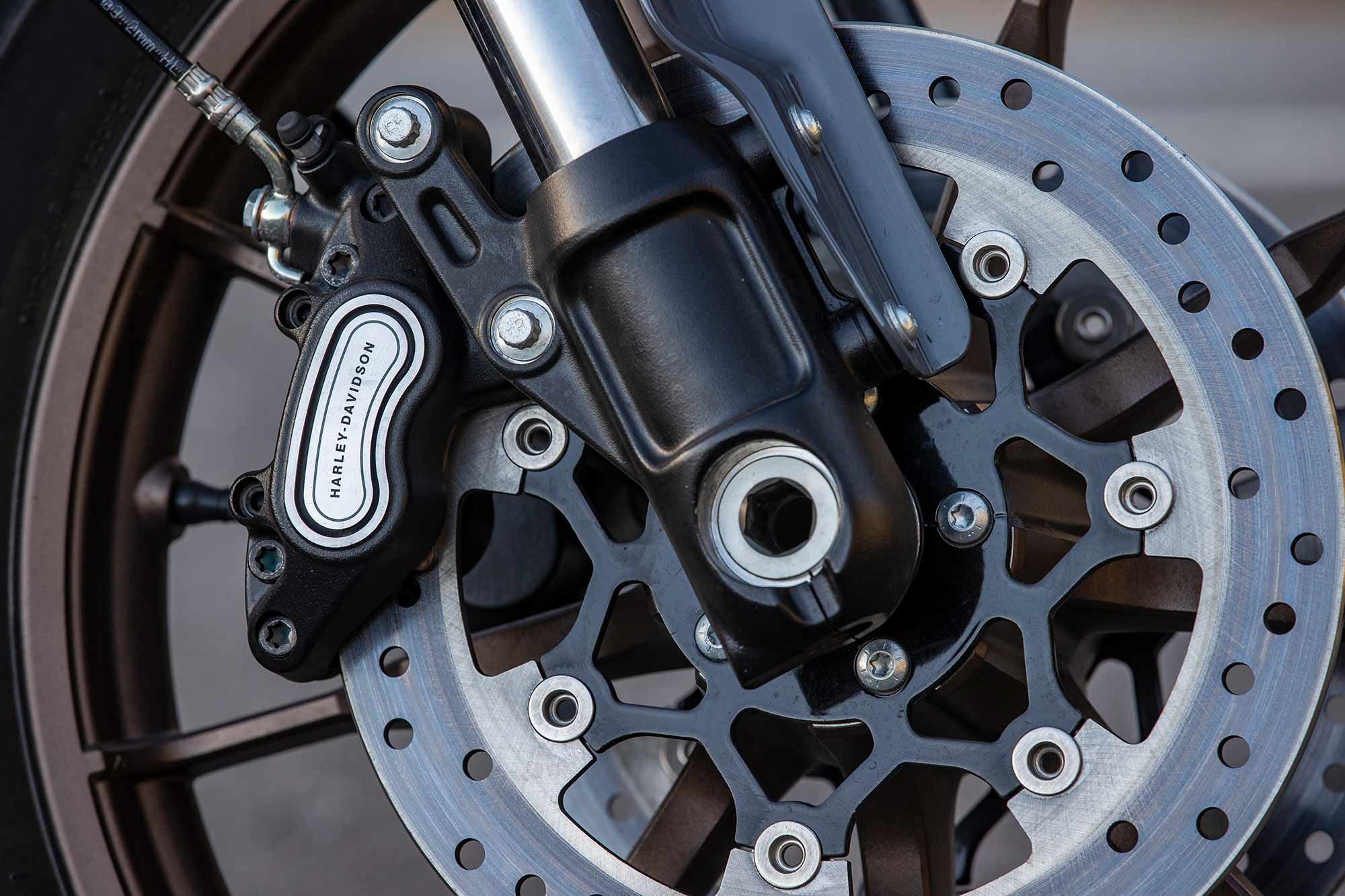 Braking equipment remains unchanged from the previous Low Rider S model, with dual four-piston calipers on 300mm discs. (Jeff Allen/)
Ergonomics on the FXLRS hold true to its club-style inspiration, being tight and aggressive. Four-inch risers hold moto handlebars and footpegs are mid-mounted, putting the rider in an upright and straight-backed stance. Some taller riders complain about this seating position and would prefer forward controls. At 6-foot-4, I much prefer the mid-mounted controls, which allow me to shift my weight around while riding aggressively through turns, as opposed to having all my weight on my butt with forward controls.
Harley-Davidson has equipped the 2022 model with a taller monoshock which adds over half an inch of stroke, an inch of travel, an inch of ground clearance, and 1.2 degrees of increased lean angle. The rear shock is preload adjustable only and feels like it was tuned with more of a hot-rod riding experience in mind. Small bumps disappear. Larger and square-edged bumps are felt, but the seat is well contoured with enough padding to soften any hard impact.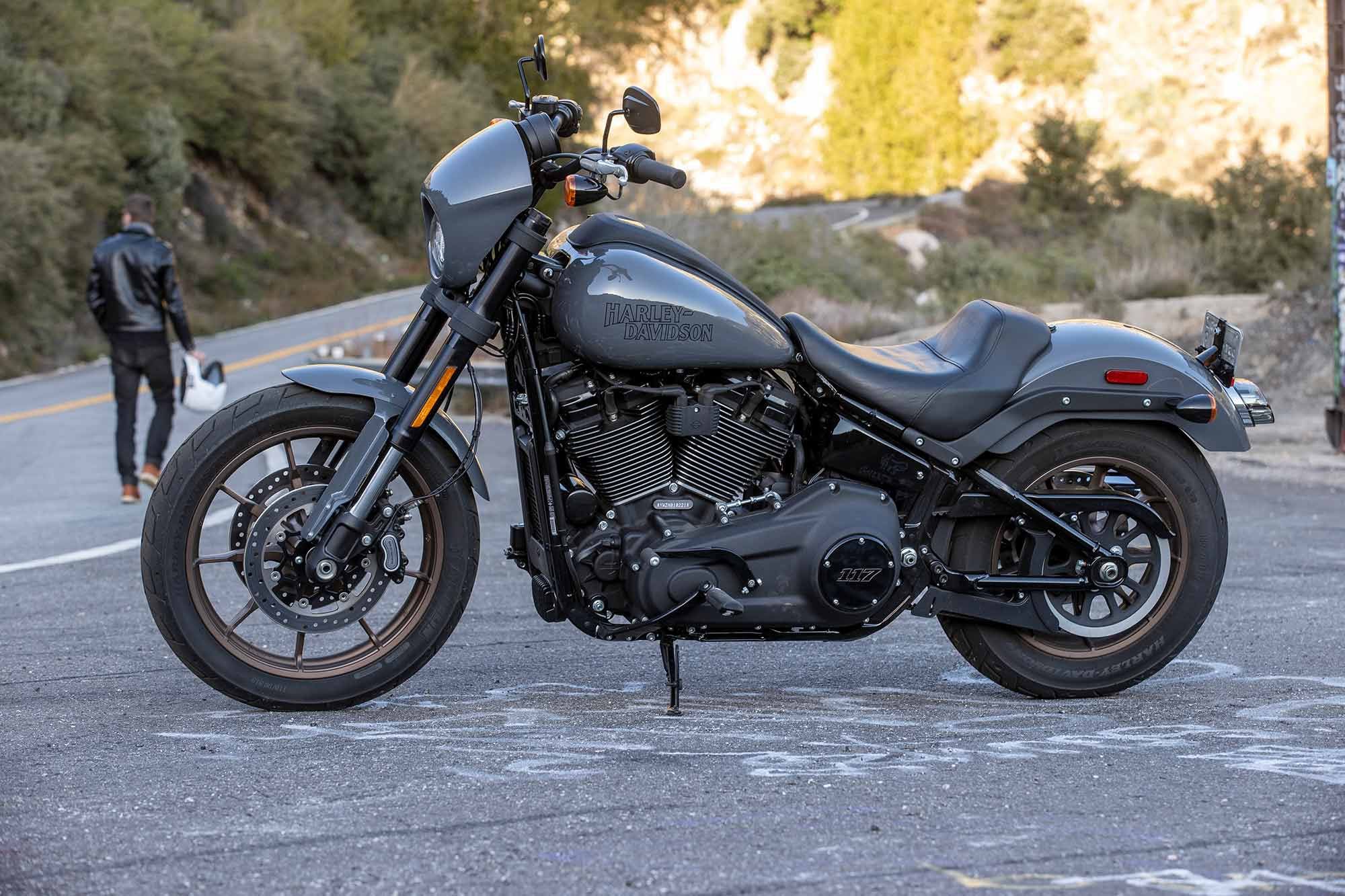 With matte black finishes and those bronze wheels, the Low Rider S' design is understated but effective. (Jeff Allen/)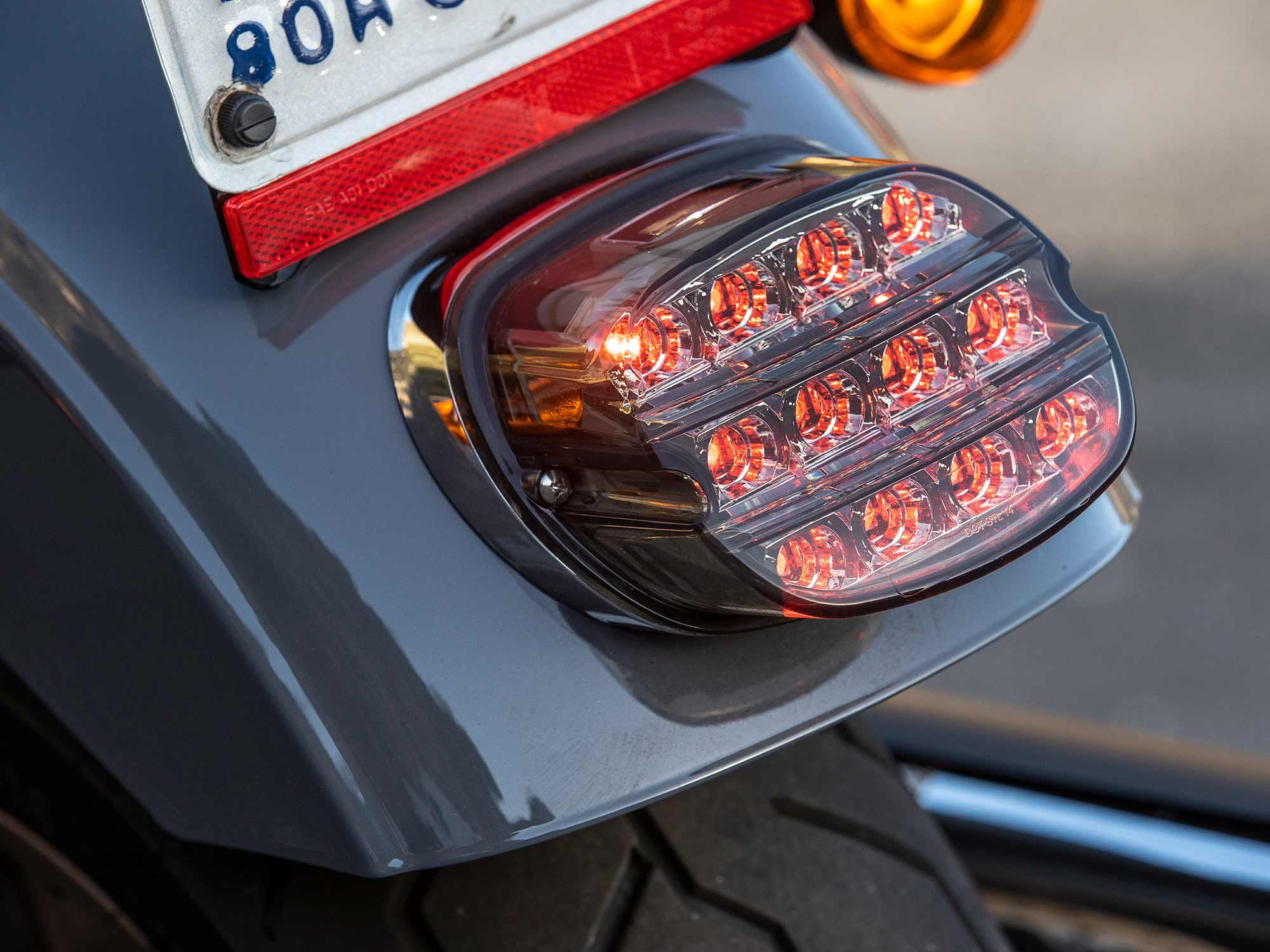 The Zeppelin taillight is now LED. So yes…it's an LED Zeppelin. (Jeff Allen/)
Up front there is a 43mm inverted fork with cartridge internals and a triple-rate spring. The fork had a different feel than the shock. It was more plush and forgiving, but still maintained a nice firm feel while being pushed through a canyon or mountain road. The fork only felt too soft on hard brake application, which would bring about more dive than is preferred.
Like the previous Low Rider S, the '22 model comes with dual four-piston calipers and 300mm discs on the front wheel. Handling rear-tire-stopping duties is a single twin-piston caliper and 292mm disc. Feel to the front brake lever is exceptional until you activate the antilock braking system, then it will push back with steady pulses as the ABS works to stop the bike. Rear brake feel is vague but present. The Low Rider S stopped from 60 mph in just over 135 feet, on par with the up-spec'd Yamaha MT-09 SP or a Ducati Multistrada V4 S.
Upholstery on the leather seat of the S leaves something to be desired as it shows early signs of stretching and wear. (Jeff Allen/)
With a starting MSRP of $17,530, the analog gauge system on the FXLRS is beginning to feel a little dated. This bike is premium and has some of the best equipment H-D has to offer, but the gauge right in the rider's sightline is still the same old analog unit we've seen for years. The new Sportster S comes equipped with a beautiful full-color digital display, which would have been a nice addition to help this bike feel a bit more modern. Then again, techy gadgets may take away from the brutish hot-rod vibe that's so appealing in this model.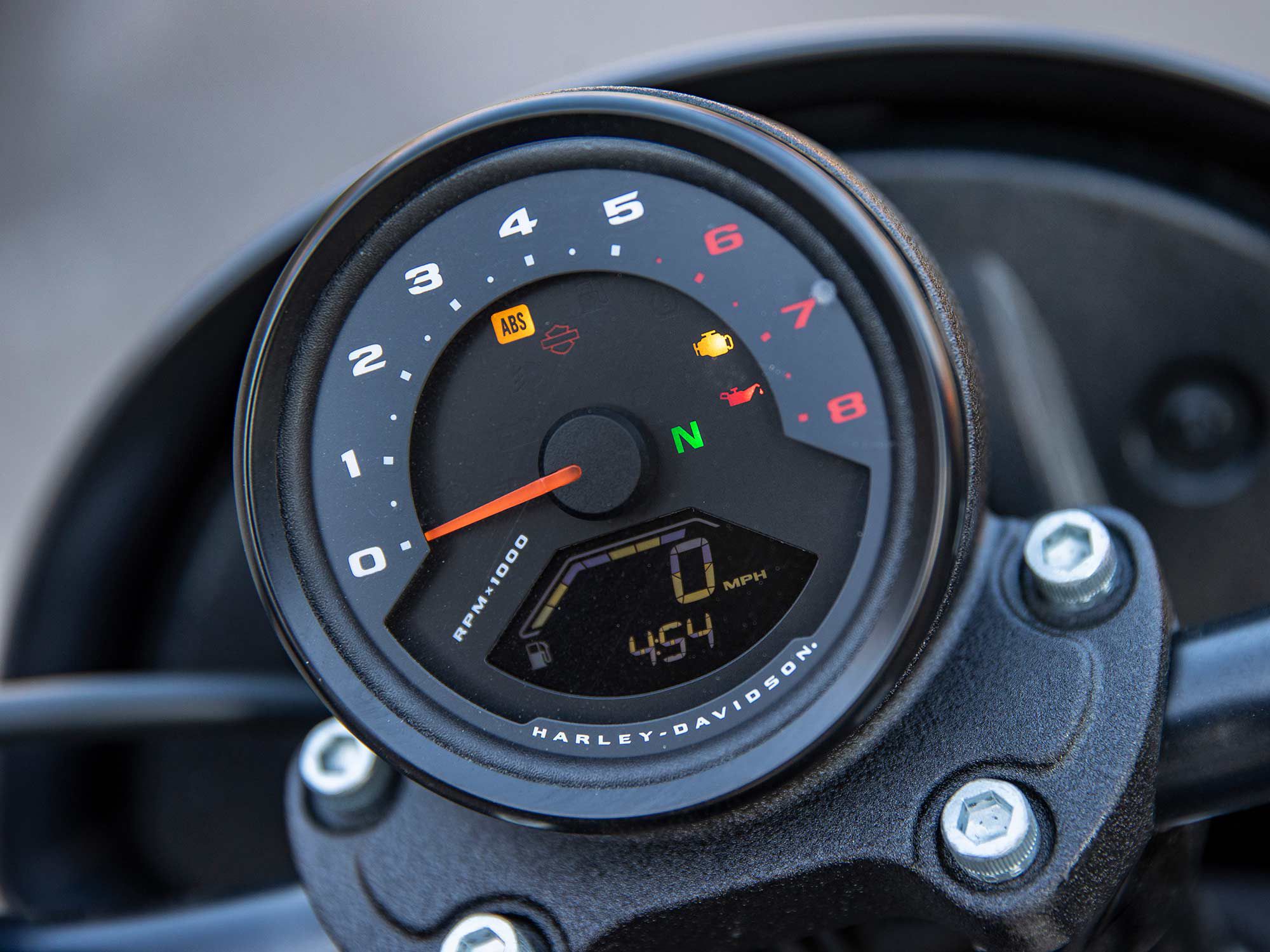 The gauge system mounted on the handlebar riser is effective, but feels a bit out of date on a $17,980 motorcycle in 2022. (Jeff Allen/)
I left my sportbike buddies at the top of the mountain and rode down alone at my own pace. As I leaned in and carved deep into the turns, grinding the footpegs, I felt fast again. That's the flipside of this bike's limitations; you don't have to be a world-class racer to reach them. Grind those footpegs. Ride that tire right down to the edge. Have fun. Impress your friends. Feel fast.
The Low Rider S is designed in what H-D calls "West Coast style," but the rest of the world refers to as "club style." (Jeff Allen/)
The Low Rider S was introduced to us as the ultimate expression of the Dyna platform and felt perfectly on trend when it was released in 2016. The second iteration and first Softail showed improved performance, but the platform was still new and lacked the cultural relevance to fill the spiritual void left by the original. This third version shows continued improvement with exactly the type of upgrades we were hoping to see, but styled with the same defining elements: T-bars, headlight cowl, solo seat. It's still coasting on the same trend that made the original popular six years ago. For those after some design variation, H-D gave us that in the new ST model released alongside this one. While we watch Harley-Davidson redesign the iconic Sportster into a high-revving, trellis-framed modern machine, increased power and greater lean angle on an already proven design are just fine with us.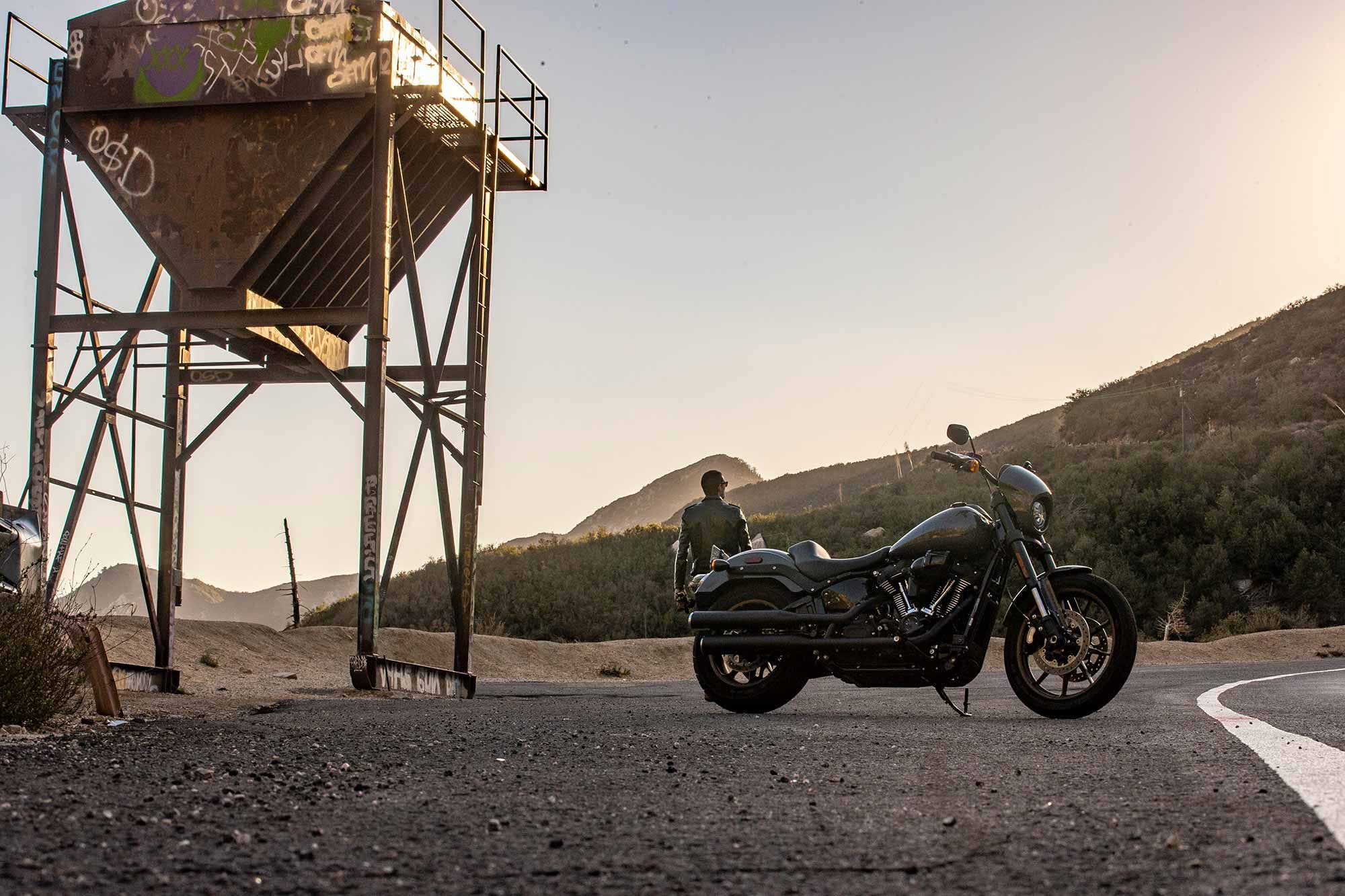 2022 Low Rider S models are available in Harley-Davidson dealerships now. (Jeff Allen/)
2022 Harley-Davidson Low Rider S Specifications
| | |
| --- | --- |
| MSRP: | Starting at $17,530–$17,980 |
| Engine: | Oil/air-cooled |
| Displacement: | 117ci (1,917cc) |
| Bore x Stroke: | 103.5 x 114.3mm |
| Compression Ratio: | 10.2:1 |
| Transmission/Final Drive: | 6-speed/belt |
| Cycle World Measured Horsepower: | 94.8 hp @ 4,750 rpm |
| Cycle World Measured Torque: | 115.1 lb.-ft. @ 3,200 rpm |
| Fuel System: | Electronic Sequential Port Fuel Injection |
| Clutch: | Wet, multiplate |
| Frame: | Steel Tubular |
| Front Suspension: | 43mm inverted cartridge fork |
| Rear Suspension: | Coilover shock, spring preload adjustable |
| Front Brake: | 4-piston caliper, |
| Rear Brake: | 2-piston floating caliper, |
| Wheels, Front/Rear: | Radiate cast aluminum; 19 in./16 in. |
| Tires, Front/Rear: | Michelin Scorcher 31; 110/90B-19 / 180/70B-16 |
| Rake/Trail: | 28.0°/5.7 in. |
| Wheelbase: | 63.6 in. |
| Ground Clearance: | 5.7 in. |
| Seat Height: | 28.2 in. |
| Fuel Capacity: | 5.0 gal. |
| Claimed Wet Weight: | 679 lb. |
| Contact: | harley-davidson.com |
CW Measured Performance
| | |
| --- | --- |
| Quarter-Mile: | 12.59 sec. @ 111.16 mph |
| 0–30 mph: | 1.82 sec. |
| 0–60 mph: | 4.11 sec. |
| 0–100 mph: | 9.6 sec. |
| Top-Gear Roll-On, 40–60 mph: | 3.46 sec. |
| Top-Gear Roll-On, 60–80 mph: | 3.49 sec. |
| Braking, 30–0 mph: | 32.77 ft. |
| Braking, 60–0 mph: | 135.21 ft. |
View full post on Cycle World