2022 Harley-Davidson Nightster First Ride Review
With a low center of gravity and claimed 481 pounds ready to ride, the Nightster is an agile machine well suited for canyon roads. (Courtesy of Harley-Davidson/)
The 2022 Harley-Davidson Nightster is a balance struck. It's a machine defined by its backward-looking silhouette, but also a machine developed with strict performance requirements. This bike performs at a level far exceeding any Evo Sportster, but it's a different motorcycle with a new look, sound, and feel. Willie G. Davidson was fond of saying that form follows function, but both report to emotion. Will 2022 Nightster's vaguely nostalgic silhouette be enough to satisfy traditionalists? Or is the quality of the ride good enough for the new bike to overcome these changes in form and succeed on its performance merits?
The first time I saw the full production Nightster in the metal was on a foggy morning in Santa Barbara, California. I was obviously not looking at the monoshock chassis of the Sportster S; this looked like something more familiar, at least from across the parking lot. Two shocks mount to a rectangular steel swingarm and struts on the rear fender. There's a fuel-tank-shaped metal piece in front of the seat reminiscent of the classic Sportster peanut tank. But as I got up close, it was more difficult to see traces of the old Sporty. That "fuel tank" is actually a cover for the airbox, and connectors and wires are visible underneath. Under the seat and extending to below the swingarm is a 3.1-gallon matte black steel gas tank—essentially stuffed into the center of the bike—somehow looking bulbous and out of place. I wondered if such a technical and performance-driven shift in Sportster design would be justified by the bike's level of performance.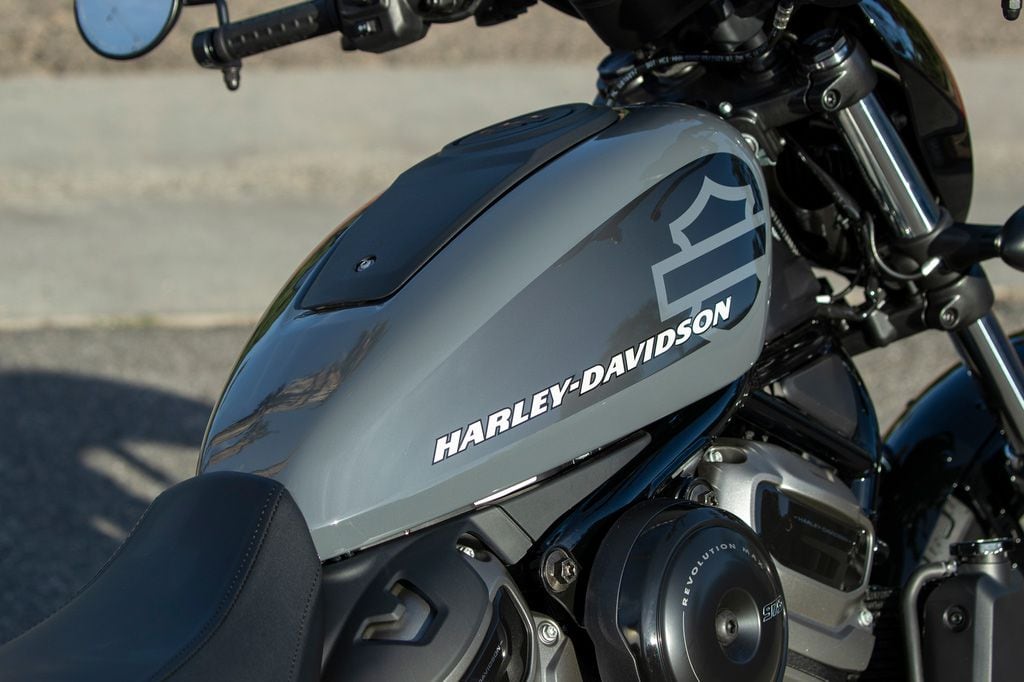 Plastic pieces surround the steel airbox cover on the 2022 Nightster. (Courtesy of Harley-Davidson/)
Then I got on the bike and rode out of the parking lot, and visible wiring and gas tank placement didn't cross my mind until I got off again.
Engine
At the heart of this new Nightster is the Revolution Max 975T engine. The first we heard of a 975 RevMax was in the Bronx streetfighter concept, and this engine's character is definitely more typical of a sportbike than a cruiser. It revs up quickly and doesn't hit the limiter until over 9,500 rpm. It delivers a claimed 90 hp and 70 pound-feet of torque, though that torque isn't delivered in the immediate fashion seen in air-cooled V-twins. Instead, the Revolution Max revs up to deliver close-to-peak torque in the 3,000–6,000 rpm range.
What looks like an air filter cover is just a styling piece covering the intake port that leads to the airbox above. (Courtesy of Harley-Davidson/)
The liquid-cooled 60-degree V-twin differs from the 1250T in the Sportster S in several ways. Along with a decrease in displacement, the smaller Revolution Max received new cylinders, pistons, and camshafts. The Nightster's engine has only one spark plug per cylinder where the Sportster S gets two, and its four-valve heads get variable valve timing on only the intakes. Nightster chief engineer Kyle Wick said these features were left off because from the company's perspective they did not provide enough value to the customer to justify the costs. The 975T is also balanced differently than the 1250T, with three counterbalancers tuned to deliver a feeling reminiscent of past models, transmitting more engine pulse and vibration to the handlebars, seat, and footpegs.
Ride Modes
It was only a short ride into town, about 10 minutes along the coast road. I put the bike into Rain mode, which reduces power delivery and maximizes traction control. I did not stay in that mode long, but could appreciate it as a nice welcome point for newer riders beyond its obvious use in inclement weather. Sport mode was next, and was the mode that I expected to enjoy the most, but it turned the throttle into more of an on/off switch and required (too) precise control while attempting to avoid a jerky ride. Road mode was where I preferred to spend my time, as it most accurately reflected my right hand's action on the throttle.
Both Road and Sport modes showed excessive traction control intervention on even mildly aggressive launches, the engine hesitating for a second as the bike slowly moved off the line before jumping forward. I experimented by turning off TC and launching with identical technique, and it didn't result in detectible wheelspin or any loss of control, so it appears to be conservative tuning on H-D's part. Traction control is not independently adjustable, but can be easily switched off which, after this test, I did every time I restarted the bike until the end of the day.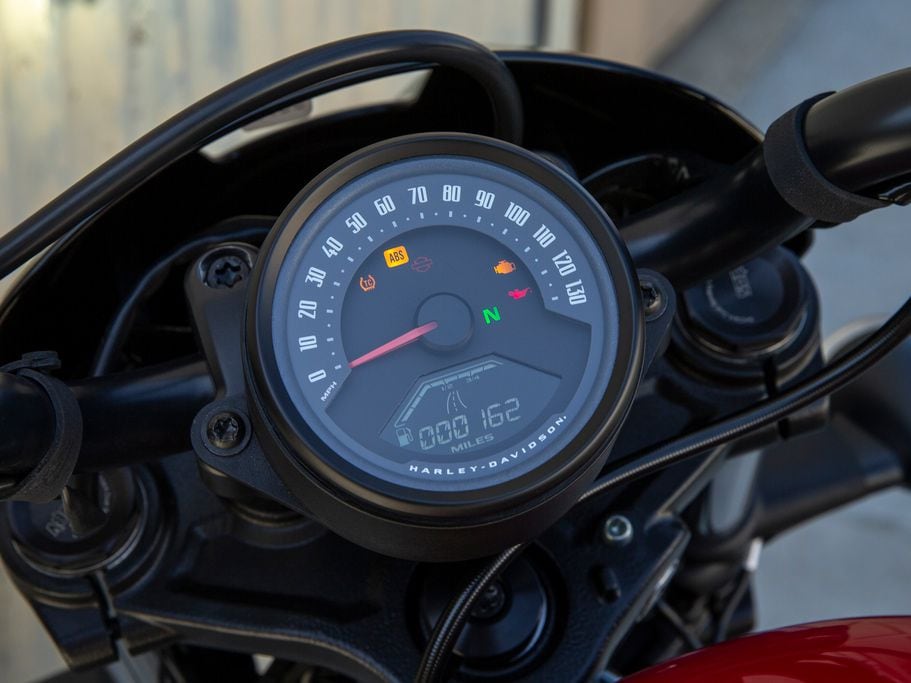 An indicator on the Nightster's gauge displays the bike's current ride mode; Road is seen here. (Courtesy of Harley-Davidson/)
Leaving town, I headed up Highway 33 toward Ojai for lunch. In a mere moment, the cliffs and beaches of Santa Barbara were behind me and I was carving the winding blacktop toward Los Padres National Forest.
Handling and Suspension
I should note here that I own a 2000 Sportster with Fox and Race Tech suspension, full custom ergonomics and tailsection, and many more fine things to improve its ride. This Nightster makes my old Sporty look like a boat anchor. At 4,000 rpm the new Nightster's engine hums in perfect balance. A twist of the throttle is met with a smooth but immediate acceleration. And the turns… Oh, man, the turns.
The Nightster is an absolute joy to ride in the hills. It drops into corners with little more than a shift of the hips and slight pressure on the handlebars, and stays there without protest. The chassis is stiff and responsive, inspiring confidence as you flow from right turn to left turn. It was here that the Nightster truly felt at home.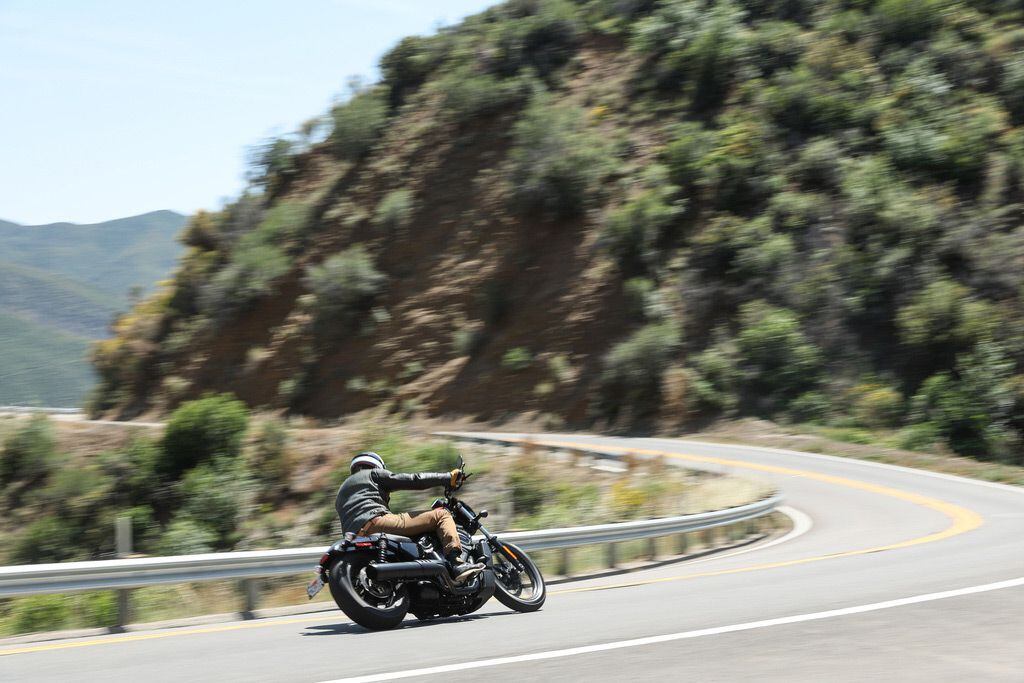 The 2022 Nightster has a claimed lean angle of 32 degrees, but you're likely to touch your boot to the ground before a footpeg. (Courtesy of Harley-Davidson/)
Suspension is excellent all around, but particularly because H-D used a target "ideal" rider mass of 190 pounds, which happens to be near my weight. Thanks, H-D… Up front is a nonadjustable 41mm conventional Showa Dual Bending Valve fork, the same valving technology we've seen in H-D's touring line for years. Dual outboard emulsions shocks are preload adjustable, mounted at the same angle as shocks on air-cooled Nightster models, but are 1 inch longer.
On the highway the Nightster was plush and comfortable while still transmitting good road feel; small bumps were scarcely noticed and the occasional square-edged hit would pass without any major disturbance. When we met more winding roads the suspension was tight and firm, responding predictably with a high level of control and composure. Small midcorner bumps at max lean angle are easily dismissed and don't upset the intended line. They only folded the footpeg back a bit as I scraped my boot.
Harley-Davidson claims 32 degrees of available lean angle before the Nightster's footpeg touches, compared to 29 and 30 degrees left and right on the 2012 Nightster. If your feet are narrower than mine, you can likely use that full range, but if you have anything resembling a size 13 boot, you will likely scrape that first, as the 3-inch footpegs were not wide enough to span the width of my shoe and a bulky exhaust system prevents me from toeing the right peg. By the time I reached maximum lean in a corner, I had already shaved a quarter of an inch off the side of my boot rubber.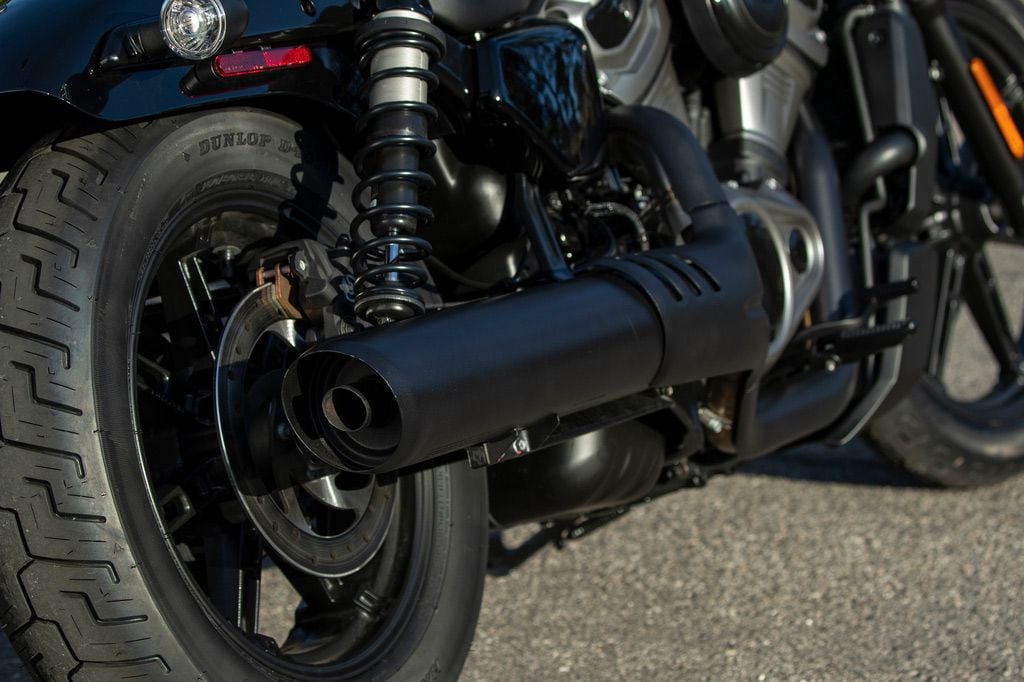 The Nightster's exhaust system is bulky but mounted high enough to not affect maximum lean angle. (Courtesy of Harley-Davidson/)
Brakes
Brake feel at the lever is adequate, but it is halfway between the sensitive lever of a sportbike and the full-squeeze-required levers of H-D Big Twins. Given the bike's sporty nature, I found myself wishing for more feedback from a more sensitive lever, as well as the additional stopping power that would come from a second front brake rotor. Rear braking power was adequate but feedback only came toward the end of the pedal's stroke.
Pulling into Ojai, a tourist-driven town known for its high-end hotels and weekend farmers' market, I found myself in the company of other test riders; uncharacteristically, I caught myself inspecting their shoes. Less than half of the journalists in our group had the sides of their boots shaved like mine. It seems boot-draggin' is likely to be more of a problem for test monkeys than it would be for the Nightster's intended customer. I finished my poke bowl with my biodegradable utensil, put on my helmet, and remounted the Nightster to head further up the hill.
Riding on the ball of your foot on the left peg is easy, but the large-volume exhaust system may prevent big-footed riders from doing the same on the right side. (Courtesy of Harley-Davidson/)
Comfort and Ergonomics
The Nightster's riding position was designed to be identical to that of the 2007–2012 Nightster. It's upright and compact, putting most riders in a straight-backed position with their feet below their knees. This position suits the sporty riding style much better than forward controls, as it allows the rider to shift their weight to handle turns more aggressively.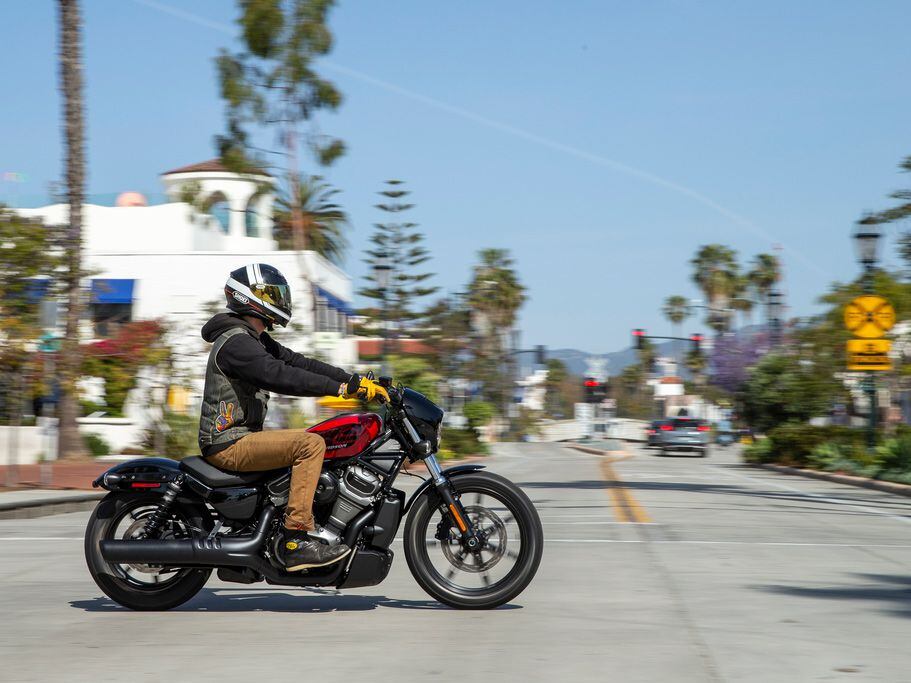 At 6-foot-4, Gales is a bit big for the Nightster, but he found it comfortable on the 100-plus-mile ride. (Courtesy of Harley-Davidson/)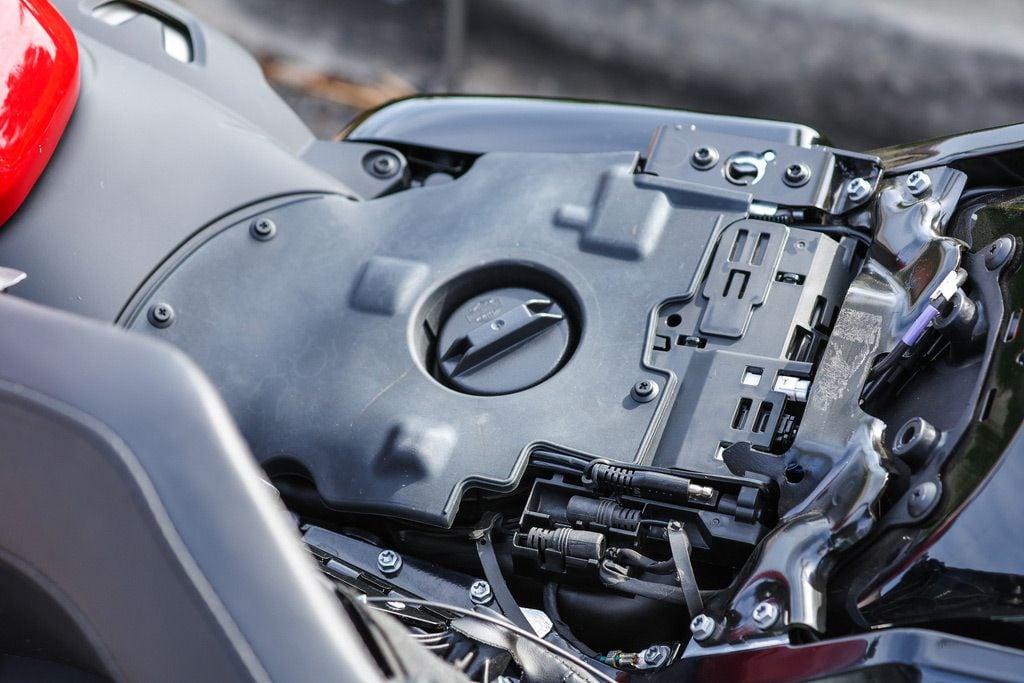 The Nightster's gas cap is located beneath the seat. (Courtesy of Harley-Davidson/)
I carved the hills for a while before reentering the highway to head back into Santa Barbara, where I found myself suddenly too aware of the seat beneath me. The solo seat on the Nightster doubles as a cover for the fuel-filling point and opens with a key on the bike's left side. The seat is matte black and has some contour to it, so you won't slide off the back during acceleration, but it's thinner and harder than I would like. After a hundred-odd miles of riding it was starting to wear on me. I wondered how much of an effect the hinged seat pan would have on the timeline of aftermarket parts development. Harley-Davidson currently offers a seat that scoots the rider up, but it doesn't look to have more padding in the base.
Fit and Finish
Eventually I pulled back into the hotel parking lot, stepped back from the machine that I'd been riding all day, and was immediately reminded of that underseat gas tank and faux-tank airbox cover. These things couldn't have been further from my mind while I was riding, but the second I was looking back at the bike, I couldn't ignore them.
Harley-Davidson has been honing its aesthetic for more than a century. Modern motorcycles are more complex than ever, so meeting the aesthetic expectations of traditional riders is more difficult than ever. A bike like the Nightster, which takes a traditional name and lays it on something meant to deliver much higher performance than the machine it replaces, expresses that tension and challenge in the final product.
For the Nightster that tension is betrayed in the standard of attention to design and fit and finish we've come to expect from Harley. The plastic cover used to close the gap between the steel airbox cover and the frame only sort of does the job; it looks cheap and exposes what's behind it. It's understandable that a gap may be necessary for intake in the front of the airbox cover, but I wish I couldn't see red and black wiring. The left side of the bike shows a clutter of wrapped wires and tubing around the cooling fan and radiator, and there's a coolant tank right behind the front wheel. That's a necessary evil required for liquid-cooling that results in significantly increased power output, but it's also something we're not used to seeing on a Sportster.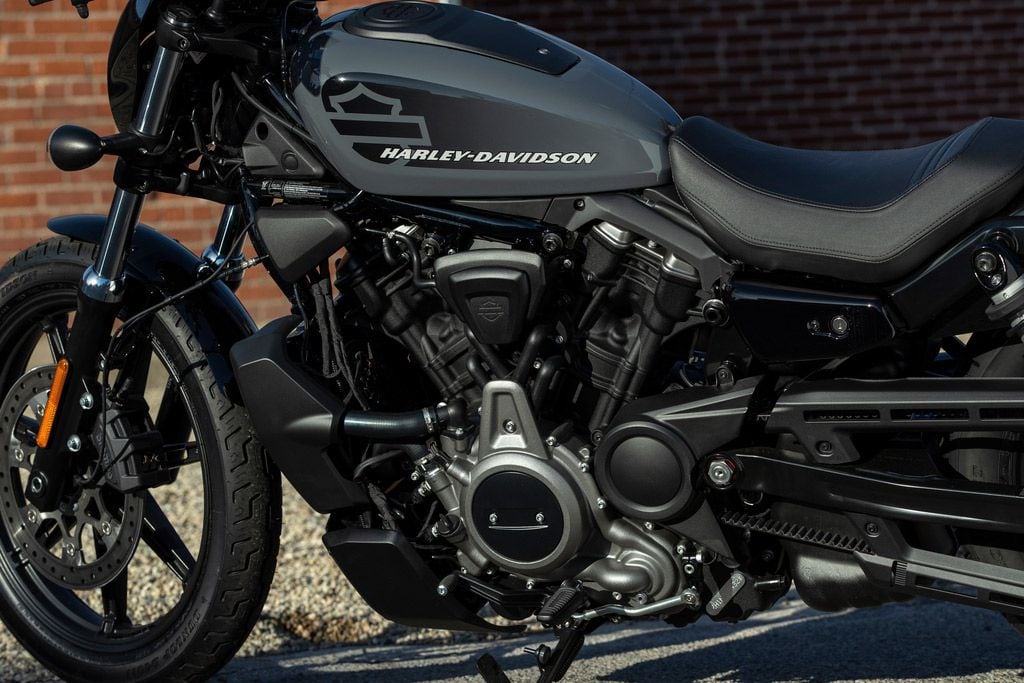 Wrapped wires and coolant hoses fill the space in front of the Nightster's engine. (Courtesy of Harley-Davidson/)
Conclusion
The aesthetic concessions and design decisions made on the Nightster won't matter to some riders, but they may ruin the bike altogether for others. Every choice made—the fuel tank location, the downdraft intake, liquid-cooling—helps to achieve this high level of performance. But according to H-D philosophy, form and function must report to emotion. If you're the Sportster fan who gets your serotonin kick from customizing your bike, the massive worldwide community of air-cooled Sportster owners, and the potato-potato cadence of your 45-degree V-twin's exhaust note, I've got bad news for you—this is not that Sportster.
But if you're the rider who feels that emotional bliss while carving up a canyon on a highly capable motorcycle, the Nightster delivers in a way no previous Sportster can.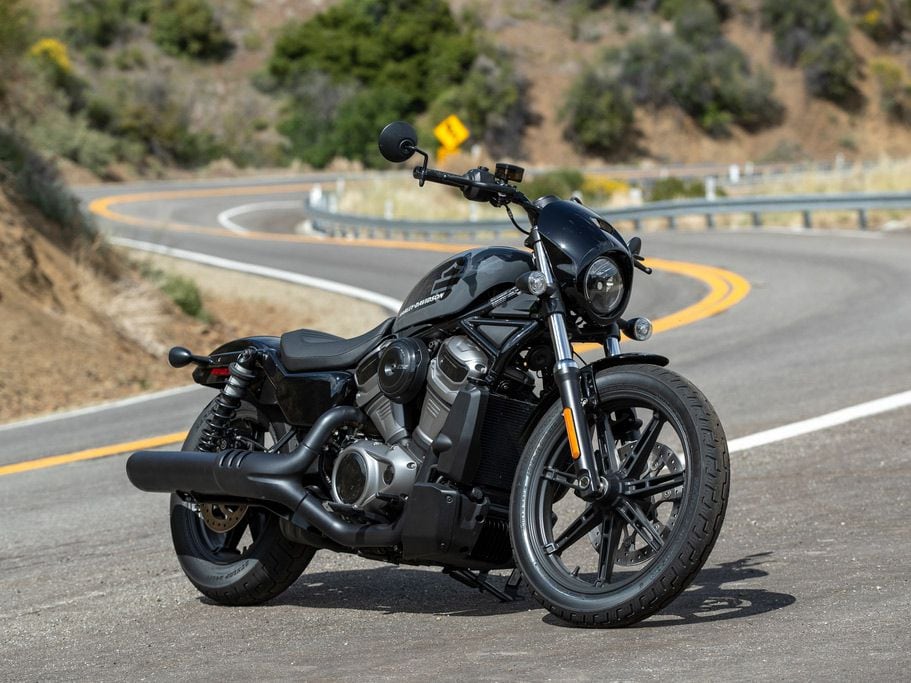 The Nightster shows its Sportster heritage more clearly than the Sportster S, but it's still a huge shift from prior Sportster designs. (Courtesy of Harley-Davidson/)
Sportster is the longest-running model name in Harley-Davidson history. It's had many meanings over the years, from a competition hot rod in its early days to a platform for customization and self-expression more recently. But it's been a long time since we've seen a Sportster that could woo the masses with its styling while filling a spec sheet that stands up to similarly priced machines from other manufacturers. The 2022 Nightster could be the one, but only time will tell how well this new design resonates with customers. As for us, we love it… When we're riding it.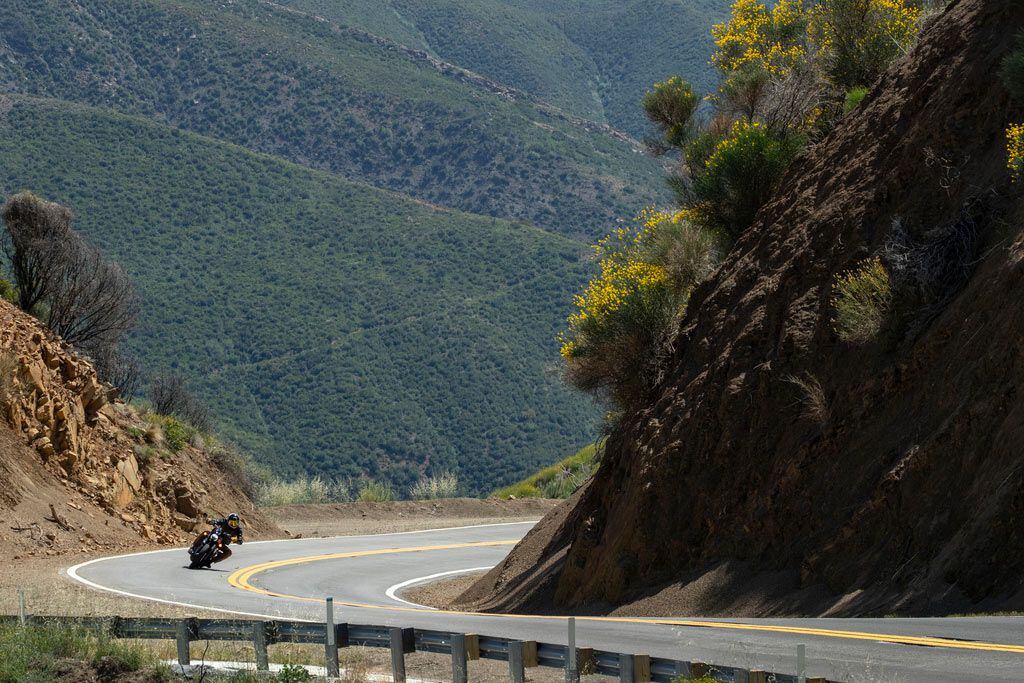 Harley-Davidson's 2022 Nightster has a starting MSRP of $13,499 and is available in dealerships now. (Courtesy of Harley-Davidson/)
2022 Harley-Davidson Nightster Specifications
| | |
| --- | --- |
| MSRP: | $13,499 (Vivid Black)/$13,899 (Redline Red/Gunship Gray) |
| Engine: | DOHC, liquid-cooled 60-degree V-twin; 4 valves/cyl. |
| Displacement: | 975cc |
| Bore x Stroke: | 97.0 x 66.0mm |
| Compression Ratio: | 12.0:1 |
| Transmission/Final Drive: | 6-speed/belt |
| Claimed Horsepower: | 90 hp @ 7,500 rpm |
| Claimed Torque: | 70 lb.-ft. @ 5,000 rpm |
| Fuel System: | Electronic Sequential Port Fuel Injection (ESPFI) w/ 50mm throttle bodies |
| Clutch: | Wet, multiplate slipper/assist |
| Frame: | Stressed member steel trellis |
| Front Suspension: | 41mm Showa Dual Bending Valve fork |
| Rear Suspension: | Emulsion shocks, preload adjustable |
| Front Brake: | Axially mounted 4-piston caliper, 320mm disc w/ ABS |
| Rear Brake: | Floating 1-piston caliper, 260mm disc w/ ABS |
| Wheels, Front/Rear: | Cast aluminum; 19 in./16 in. |
| Tires, Front/Rear: | Dunlop H-D Series Bias Blackwall; 100/90-19 / 150/80B-16 |
| Rake/Trail: | 30.0°/5.4 in. |
| Wheelbase: | 61.3 in. |
| Ground Clearance: | 4.5 in. |
| Seat Height: | 27.8 in. |
| Fuel Capacity: | 3.1 gal. |
| Claimed Average MPG: | 52.4 mpg |
| Claimed Wet Weight: | 481 lb. |
| Contact: | harley-davidson.com |
GEARBOX:
Helmet: Shoei RF-1200
Jacket: Alpinestars Brera Airflow
Pant: Iron Heart Denim
Gloves: Spidi Originals
Boots: Bates Fast Lane Bonneville
View full post on Cycle World