Honda Motocompacto Channels the Spirit of the Motocompo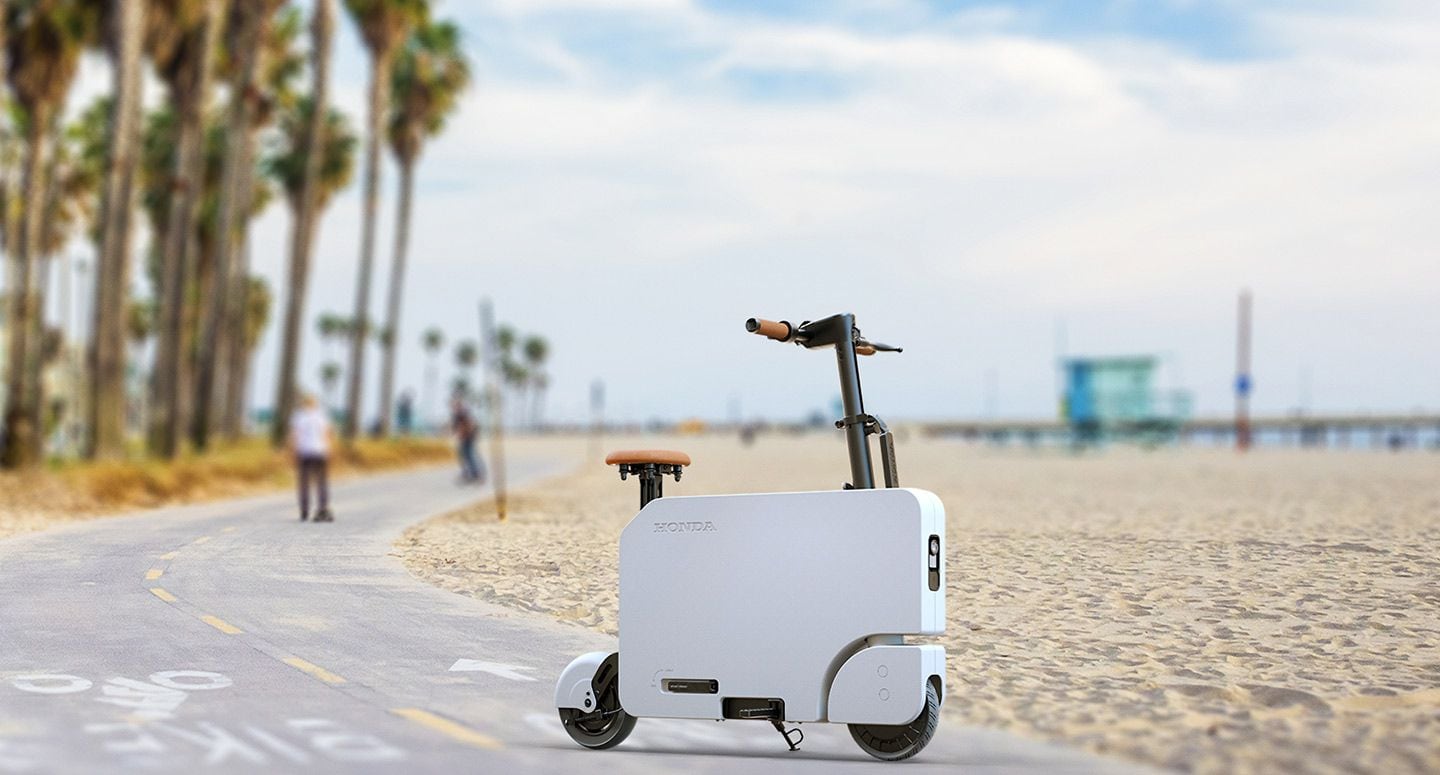 Honda's Motocompacto is meant to speed up the last segment of your daily commute. (Honda/)
The original Honda Motocompo was discontinued 40 years ago after a truncated, two-year production run, having failed to meet its sales targets by a huge margin, but the idea of portable, foldable motorcycle to be used just for the last few miles of a commute has lived on and now Honda has reinvented it with the Motocompacto.
We first revealed Honda's plans for a revived, electric-powered take on the Motocompo, as well as its "Motocompacto" name, last year. Now the bike has been officially introduced and, unlike its Japan-only forebear, it's being sold in the States—with Honda and Acura dealers stocking it from November at a surprisingly sensible $995.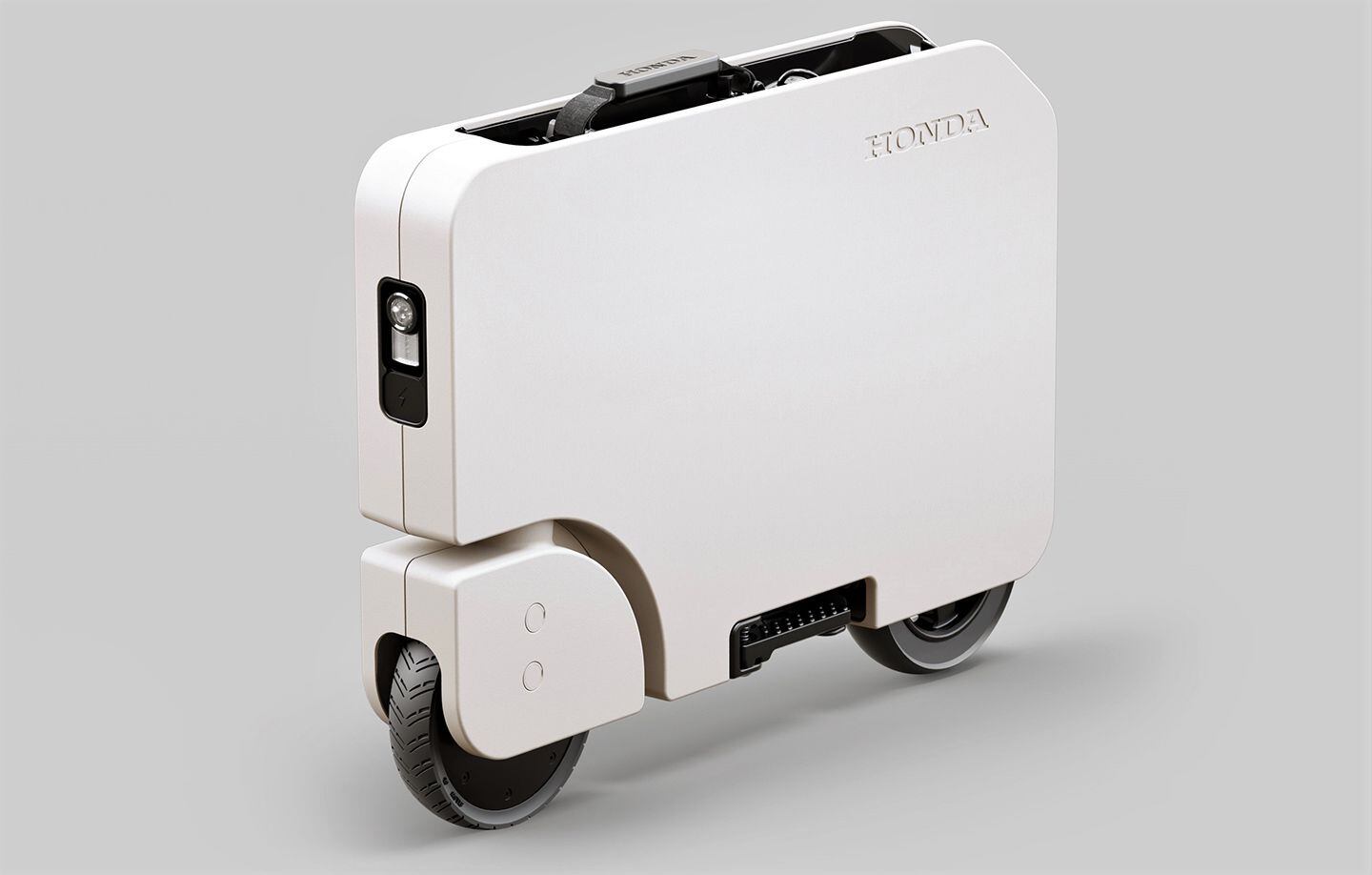 The Motocompacto in its "folded" state. (Honda/)
Don't expect vast performance or range for that money. The Motocompacto is purely intended to be used for the last leg of commutes, with a range of just 12 miles on a full charge and a top speed of 15 mph. That means it's in the same class as stand-up electric scooters, with no requirement for licenses or registration.
The design is what you might expect if Apple was to build a bike: a white, briefcase-shaped box that can transform into something rideable. The bars fold out of the top and can be adjusted for height. The seat, also stored inside the bike when folded, clips into place on the back. The footpegs and sidestand flip out and the rear wheel slides backward to extend the wheelbase.
That rear wheel is pretty unusual in another way too. It's not powered. Instead, the Motocompacto is front-wheel drive, with a hub-mounted electric motor, leaving the rear end responsible only for braking via a cable-operated drum. The motor itself puts out a peak of 490W—that's 0.657 hp—and 11.8 lb.-ft of torque.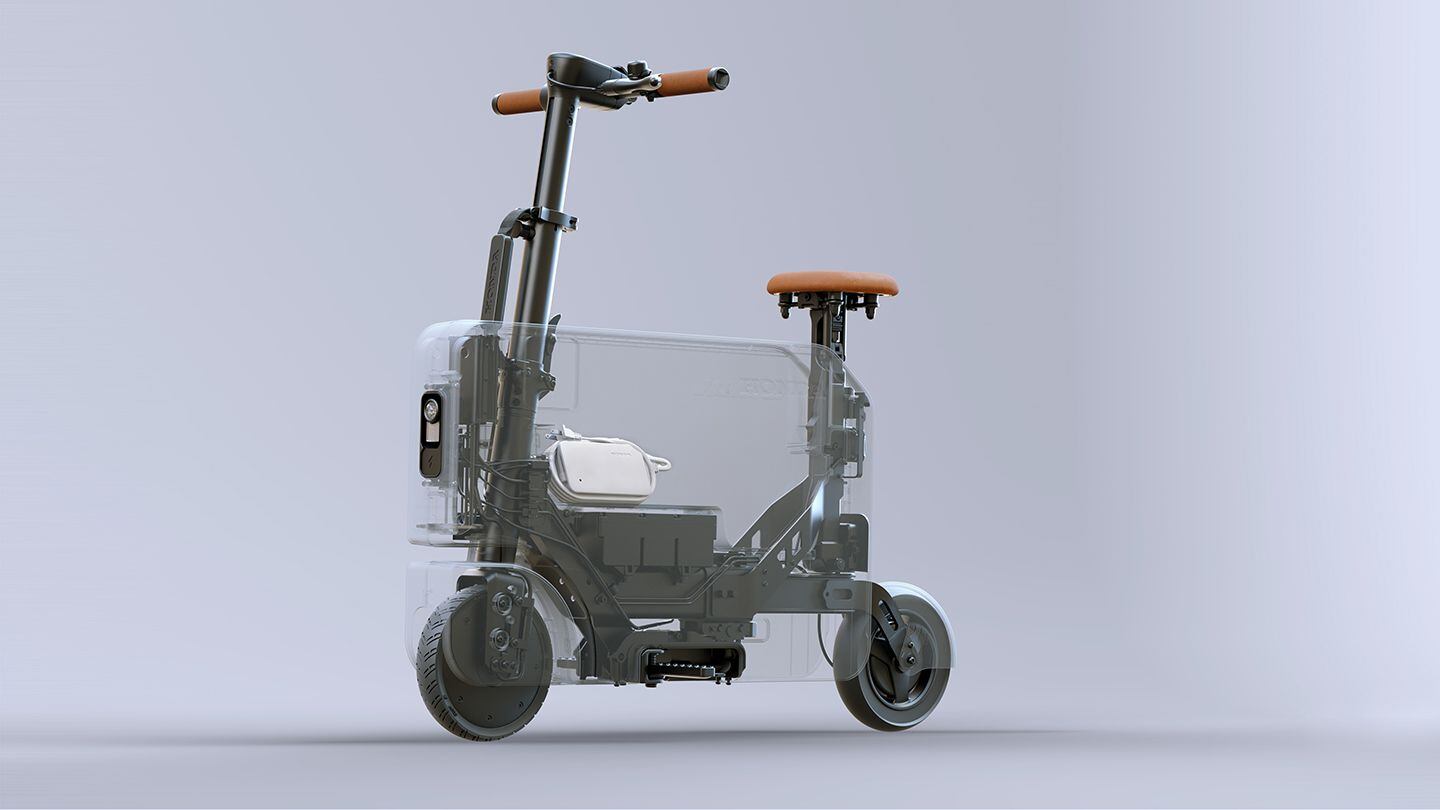 Inside the Motocompacto's suitcase-like shell. (Honda/)
The charger, which plugs into a standard household socket, is stored inside the Motocompacto and can replenish the 6.8Ah battery in 3.5 hours, plugging into a port just below the tiny headlight. A phone app will let you see the battery status, plan routes, and adjust settings.
The Motocompacto might not be able to match the 1980s Motocompo in terms of performance or range, but it sacrifices them to solve the problems that made the original bike a failure. While the idea of a motorcycle that would fit in the trunk of a car was a neat one, the Motocompo was inconveniently big and heavy for that purpose at 99 pounds and 46 inches in length, and its gas engine meant inevitable smells in the confined space of a car and the constant risk of oil stains.
Technically the Motocompacto is classed as an electric scooter. (Honda/)
Motocompacto fixes all that. Its electric power means it can be stored vertically or on its side without leaking. Its slide-out parts mean it folds to just 21.1 inches by 29.2 inches, and just 3.7 inches wide—you can stack them, slide them under a desk, whatever—and the weight is only 41.3 pounds. The controls are simpler too. No gears or clutch, just a thumb throttle and a single brake lever. That's it.
The fact the Motocompacto is being sold in car dealers rather than bike shops is another factor that promises to help. Just as the original Motocompo was offered in conjunction with the Japanese market Honda City car, which had the perfect trunk space to fit it, the $995 Motocompacto will be an upsell to people who are already signing deals worth many times that much for a new car. Think of it as an alternative to metallic paint or fitted mats.
Jane Nakagawa, vice president of the R&D Business Unit at American Honda Motor Co. Inc., said: "Motocompacto is uniquely Honda: a fun, innovative and unexpected facet of our larger electrification strategy. Sold in conjunction with our new all-electric SUVs, Motocompacto supports our goal of carbon neutrality by helping customers with end-to-end zero-emissions transport."
Honda's Motocompacto will be sold at the company's car dealerships for $995. (Honda/)
Nick Ziraldo, project lead and design engineering unit leader at Honda Development and Manufacturing of America, adds: "Motocompacto is easy to use and fun to ride, but was also designed with safety, durability, and security in mind. It uses a robust heat-treated aluminum frame and wheels, bright LED headlight and taillight, side reflectors, and a welded steel lock loop on the kickstand that is compatible with most bike locks."
Is it a motorcycle? It's a cycle with a motor, so it fits the loosest definition of the term, even if the low performance means it's not legally defined as one. Honda certainly isn't aiming it at people who already ride, but if it inspires a few of the people who pick one up while shopping for a new SUV to make a move to two wheels, that's something that should be welcomed.
View full post on Cycle World