Watching the 2022 Isle of Man TT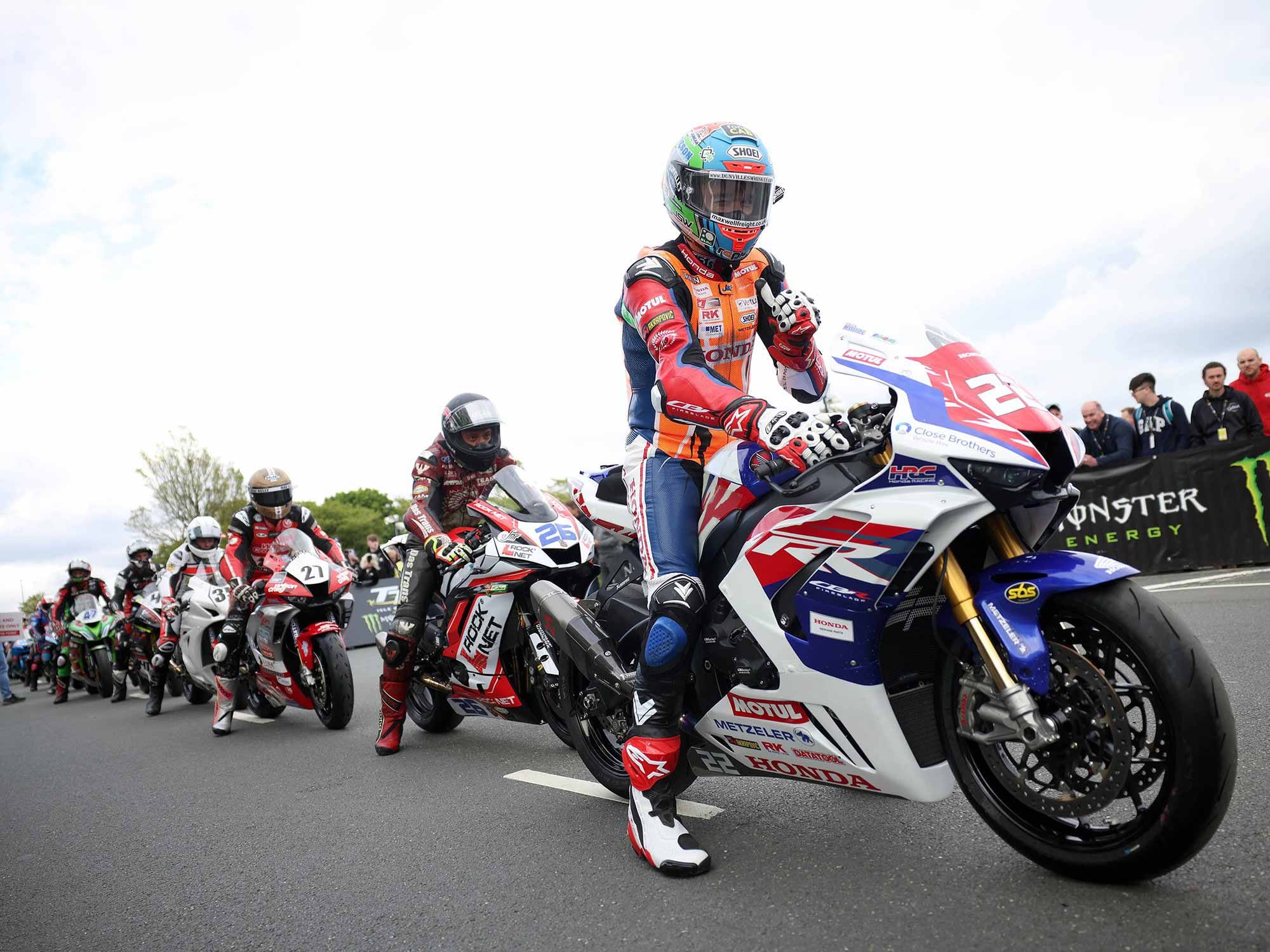 Racing at the Isle of Man kicks off this weekend, and for the first time fans can watch all the action live. (Courtesy of Isle of Man TT/)
Brace yourselves, riders, race fans, and raconteurs! The most magnificent week on the motorcycling calendar is upon us! The astounding ballet of courage and velocity that is the Isle of Man TT will soon play out before our very eyes on the thirty-seven-and-three-quarter-mile, two-hundred-sixty-plus-turn Snaefell Mountain course, a track so very long, so absolutely epic, that we had to write those numbers out to do it justice. And this year, unlike all previous runnings, you may bear witness to the gallantry of the riders in real time, thanks to the monumental efforts of the Isle of Man TT itself, which presents to you the stupendous, or at the very least remarkably handy and useful, TT+ Live Pass.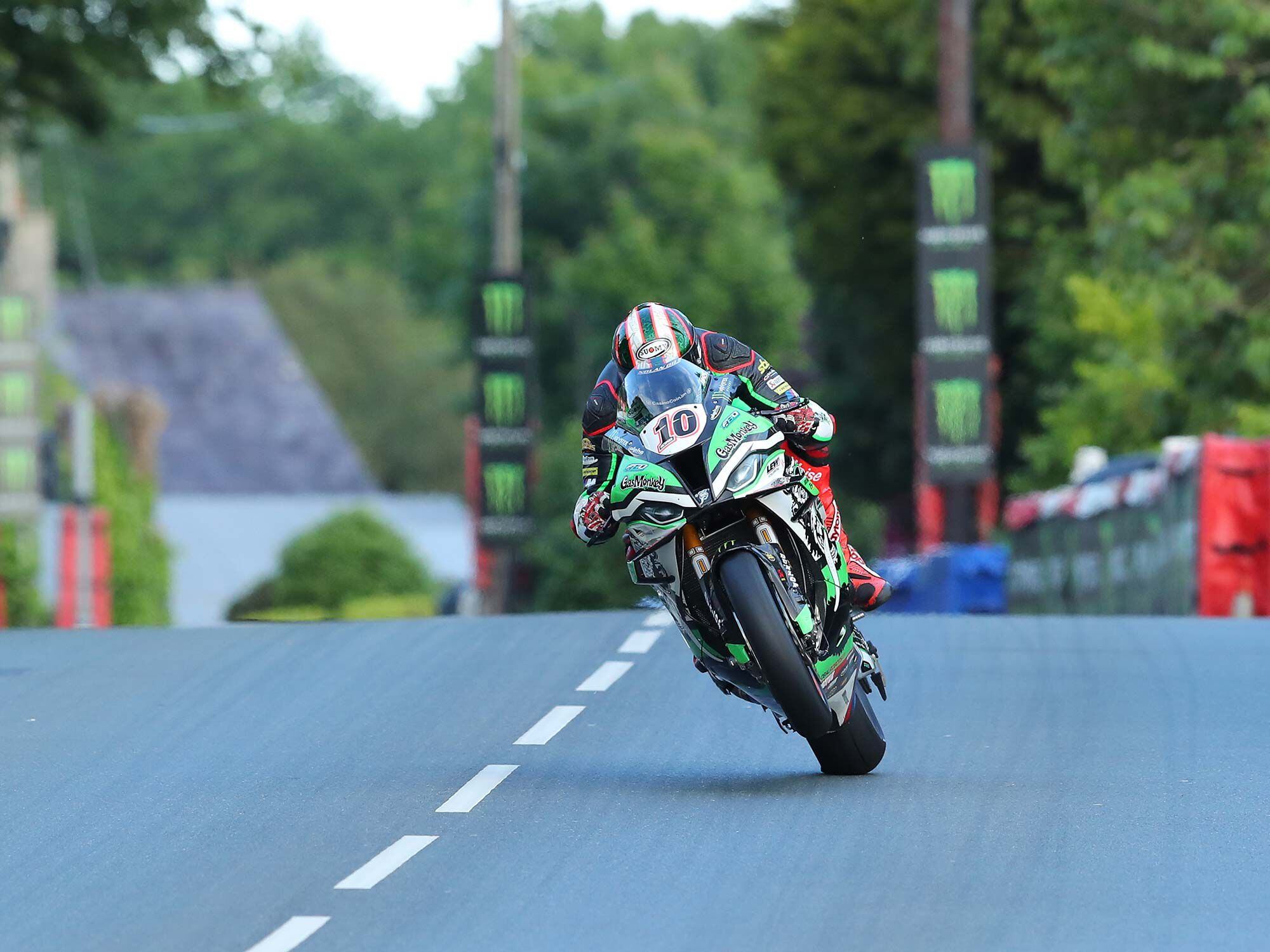 Peter Hickman ended qualifying with a lock on the Superbike class, lapping at an impressive 132.874 mph. Dynastic talent Michael Dunlop leads the Superstock, Supersport, and Supertwin leaderboards. (Courtesy of Isle of Man TT/)
For a one-time payment of $24.99, fans can now view all the races live for the first time in TT history, thanks to a team-up between the IoMTT and Vimeo. All hyperbole aside, this is a remarkable deal; there are already 25 hours of high-quality video available on the site, and qualifying is not even over yet.
The live coverage features multiple on-course cameras, coverage by camera teams in two helicopters, and commentary by a full roster of top talent including the seasoned Isle of Man team of Matt Roberts and Amy Williams, plus F1 vet Jennie Gow in her debut year. Pretty much the only thing that's missing is live on-bike footage; that was likely a little too much to hope for in the livestream's debut year, but look for miles and miles worth of rider POV in the wrap-ups. For live timing, scoring, and breaking news, visit iomttraces.com.
Schedule
(all times local, which is GMT +1)
Saturday, June 4
10:00 Roads close
10:30 Solo warm-up [1-lap]
12:00 RST Superbike TT [6 laps]
15:00 3wheeling.media Sidecar TT Race 1 [3 laps]
Monday, June 6
10:00 Roads close
10:30 Solo warm-up [1 lap]
11:45 Monster Energy Supersport TT Race 1 [4 laps]
14:45 RL360 Superstock TT [4 laps]
Wednesday, June 8
10:00 Roads close
10:30 Solo warm-up [1 lap]
10:50 Sidecar Shakedown [1 lap]
11:45 Bennetts Supertwin TT [4 laps]
14:45 Monster Energy Supersport TT Race 2 [4 laps]
Friday, June 10
10:00 Roads close
10:30 Solo warm-up [1 lap]
11:30 3wheeling.media Sidecar TT Race 2 [3 laps]
13:15 Milwaukee Senior TT [6 laps]
View full post on Cycle World