Marco Bezzecchi Runs Away in India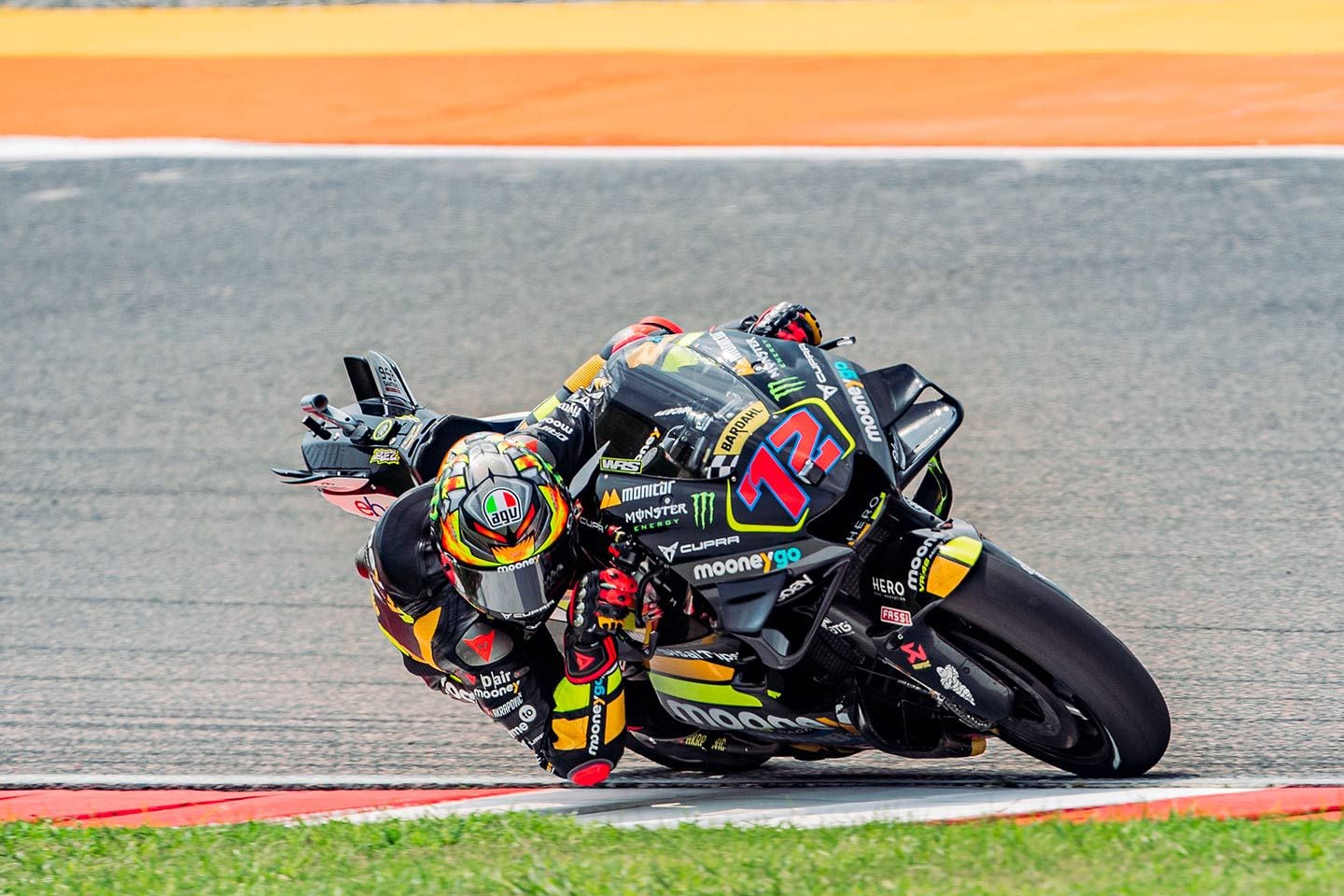 Marco Bezzecchi ran away from the field in the first-ever Indian MotoGP. (Mooney VR46/)
Marco Bezzecchi (Mooney VR46 Ducati) won the first-ever Indian MotoGP, appearing cheerfully invulnerable to the crushing heat and humidity. So harsh were the conditions on the Buddh circuit that the planned 24 laps were shortened to 21, as riders described the heat as "worse than Malaysia."
Finishing second while suffering from dehydration for the last third of the race was Jorge Martín, more than 8 seconds back. Passed near the end by a surprisingly fast Fabio Quartararo (factory Yamaha), Martín mustered an abrupt repass to recover his position. This brings him closer to series leader Francesco Bagnaia (factory Ducati) with 279 points to 292. Bagnaia had lost the front on lap 14, just as he was about to pass Martín.
"…when I overtook him I got to corner 5," Bagnaia said, "and as soon as the rear tire came back from the slide, it pushed a bit the front, and I lost it."
Bagnaia had elected to run a hard front tire. "…with the mediums the other Ducatis were using, I was struggling a lot.
"…I was having a lot of front locking so we decided to go with the harder [tire].
"I was fighting with Jorge and as soon as I took him, I lost the front."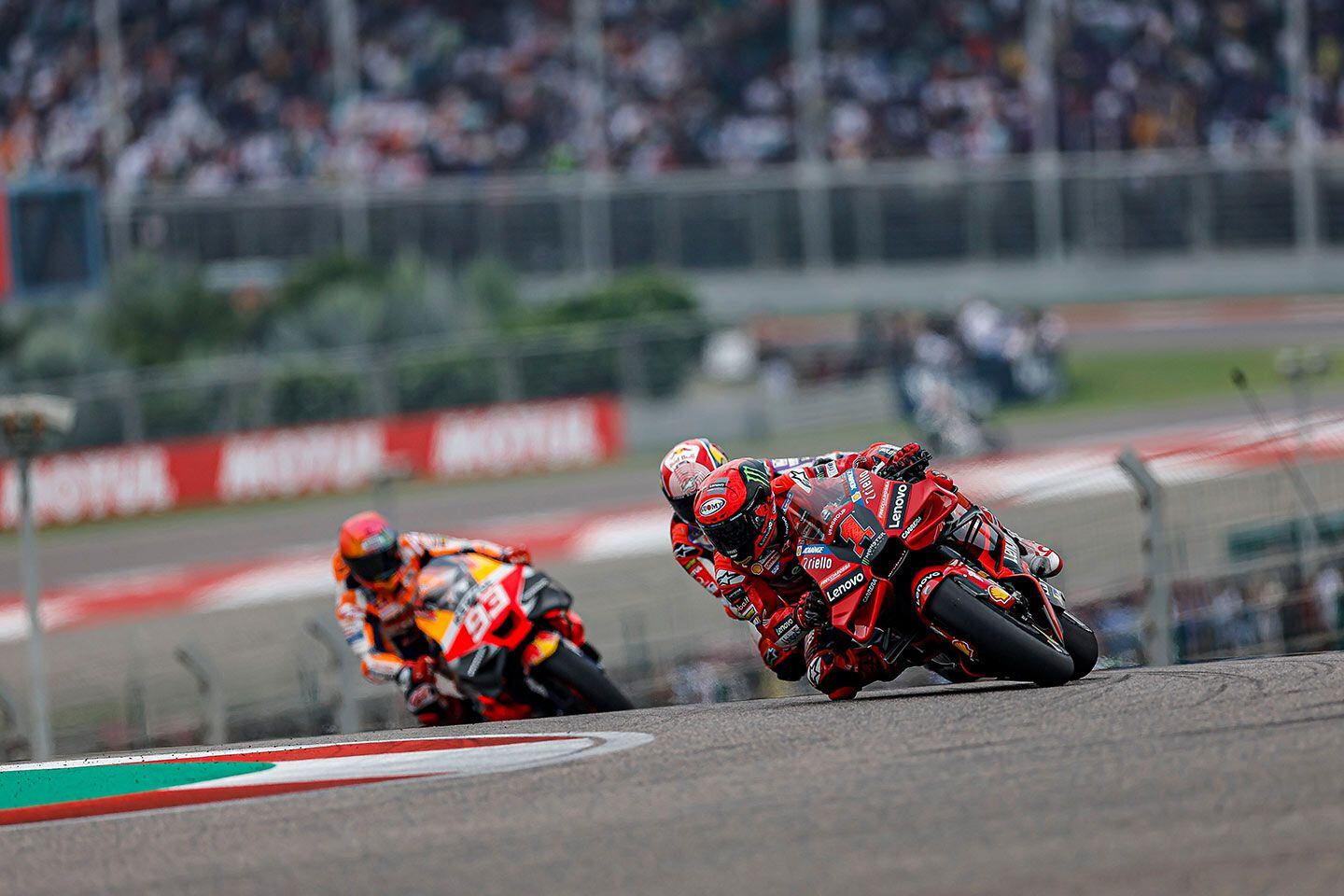 Francesco Bagnaia's crash on Sunday tightens up the point race, putting him just 13 points ahead of Pramac's Jorge Martín. (Ducati/)
Bezzecchi's day was almost routine: "I knew I would struggle at the start…but with my electronics I studied the start as best I could."
His satellite bike does not have the latest starting system.
"I tried to [get into first place] as soon as possible.
"…from the front you can manage the race without making the bike and tires suffer.
"Getting up front and without the hot air of the other bikes I was able to handle myself well."
It was much harder for Martín, who after the finish bypassed parc ferme and went instead directly to his garage. When he dismounted, his strength left him and he sank to his knees. Water quickly restored him.
It was pointed out that the riders get into their thick suits half an hour before the start, and that, while riding, their major source of cooling is moisture constantly evaporating from the lungs. I have on occasion seen riders come into pit lane and then keel over from dehydration when they dismount and try to stand. Each of us is different, but the advice given to athletes is to keep drinking water, not just until you no longer feel thirsty, but until you are obliged to pee.
Bagnaia had said, "The main problem is the heat. In some areas you feel like you are burning."
Quartararo said, "Physically the track is not very tough. It's just the heat."
Several riders described the track as "technical": Bagnaia said, "Some parts are very difficult, like the first corner. There's only one trajectory and [for it] you have to brake at a precise point. Do it just a meter later and you end up wide."
Aleix Espargaró (factory Aprilia, DNF from tech problem) said, "The track is extremely technical—probably the most technical of the championship."
Bezzecchi said, "I like the layout. The third sector requires a lot of precision, since it has various curves in rapid succession. If you get one wrong, you risk compromising everything…"
Marc Márquez likened the track to Austin (CoTA in the US). "This racetrack is very similar to Austin, a lot of stop-and-go first-gear corners.
"It's not exactly the same here but it's very similar and in [such] corners we are struggling less."
The Hondas—in particular those of 2019 and earlier that were optimized for Márquez's point-and-shoot style—perform best on "small" corners of the type beloved by F1 circuit designers.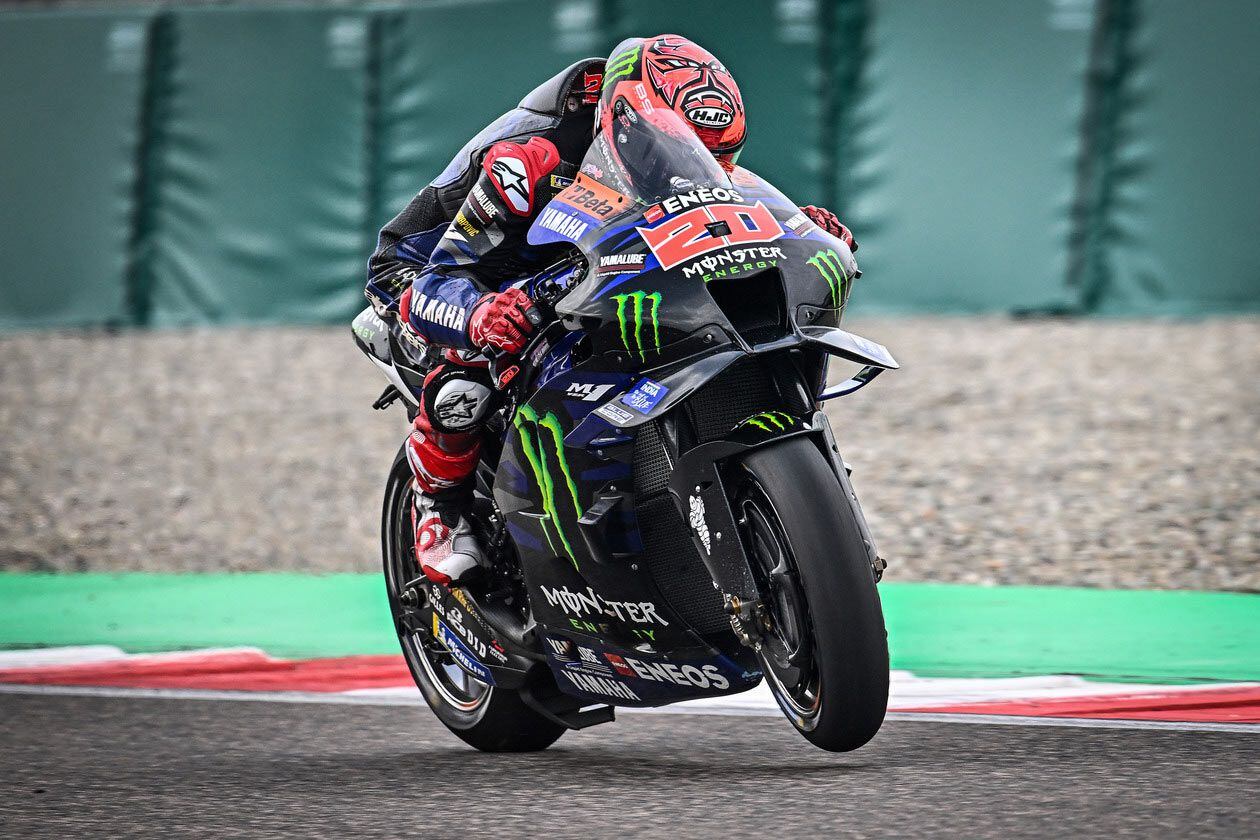 Fabio Quartararo made his return to the podium in India. (Monster Energy Yamaha/)
Espargaró agreed: "It's more stop-and-go and not as flowing. It reminds me of Austin, but with less grip."
The number of first-gear corners may have been a part of Quartararo's gearbox troubles. He said, "We have something new which we've been using for three races and it's never given us any problems. But today [Friday] I broke two gearboxes in 10 laps."
Ratio separations in gearboxes are wider at the bottom—typically engine rpm falls 20–25 percent on the first-to-second upshift, but as little as 5–8 percent from fifth to sixth. This means that the thump of upshifts from first is the harshest; in production gearboxes ridden hard it is the first-to-second dog set that gets hammered and gives trouble first. In MotoGP, so-called "seamless" gearboxes are used—those that engage the next gear without first disengaging the gear that had been driving. Only once the new ratio is engaged is the previous ratio kicked out of engagement. Some of the ways of accomplishing this involve quite small and heavily loaded parts whose reliability strongly depends upon material and heat-treatment.
Because the Buddh track gets little use, it was initially dirty. Márquez noted that grip improved over time. Bagnaia noted the trickiness that arises as a single line cleans up and achieves useful grip: "…if you go a little wide, the asphalt becomes very slippery. In those cases you have to stay calm and get back on the right line, otherwise you lose the front or the back."
Bagnaia also had interesting things to say about Martín's recently improved performances and his own mysterious decline in braking performance.
"My bike is nervous when braking. I suffer from chattering at the rear, and I struggle to exploit what is usually my strong point.
"Today, Jorge made the difference in braking.
"In the last two Grands Prix he has started to brake hard. Normally he wasn't one of the best in that area. If [now] I lift off at the same point as him, I go wide."
Initial braking is very sensitive to ride height—a few millimeters can make a big difference. Initial braking is the ability of the bike to transfer weight onto the front tire as fast as the rider is applying the brake. If weight transfer can't keep up, initial braking will be weak and the rider will arrive in the corner with too much speed. This effect would be intensified in drafting situations by the resulting higher front tire temperature and the smaller tire footprint that results from increased tire pressure.
Tire grip is constantly changing around the circuit, but the tread rubber compounder has choices to make, as events of 2008 remind us. In European races, Michelin had been able to delay making Sunday's tires until Saturday afternoon, giving them the advantage of best possible forecasting of Sunday's weather. Tires were then expressed from factory to circuit. This encouraged Michelin to develop quite temperature-sensitive rubber compounds—just 5 degrees could make the difference between race-winning grip and also-ran red faces. This allowed Michelin to travel far down the road of pushing peak grip to high values by sacrificing temperature range. Outstanding performance was the result—until new rules required race tires to be at the track days in advance.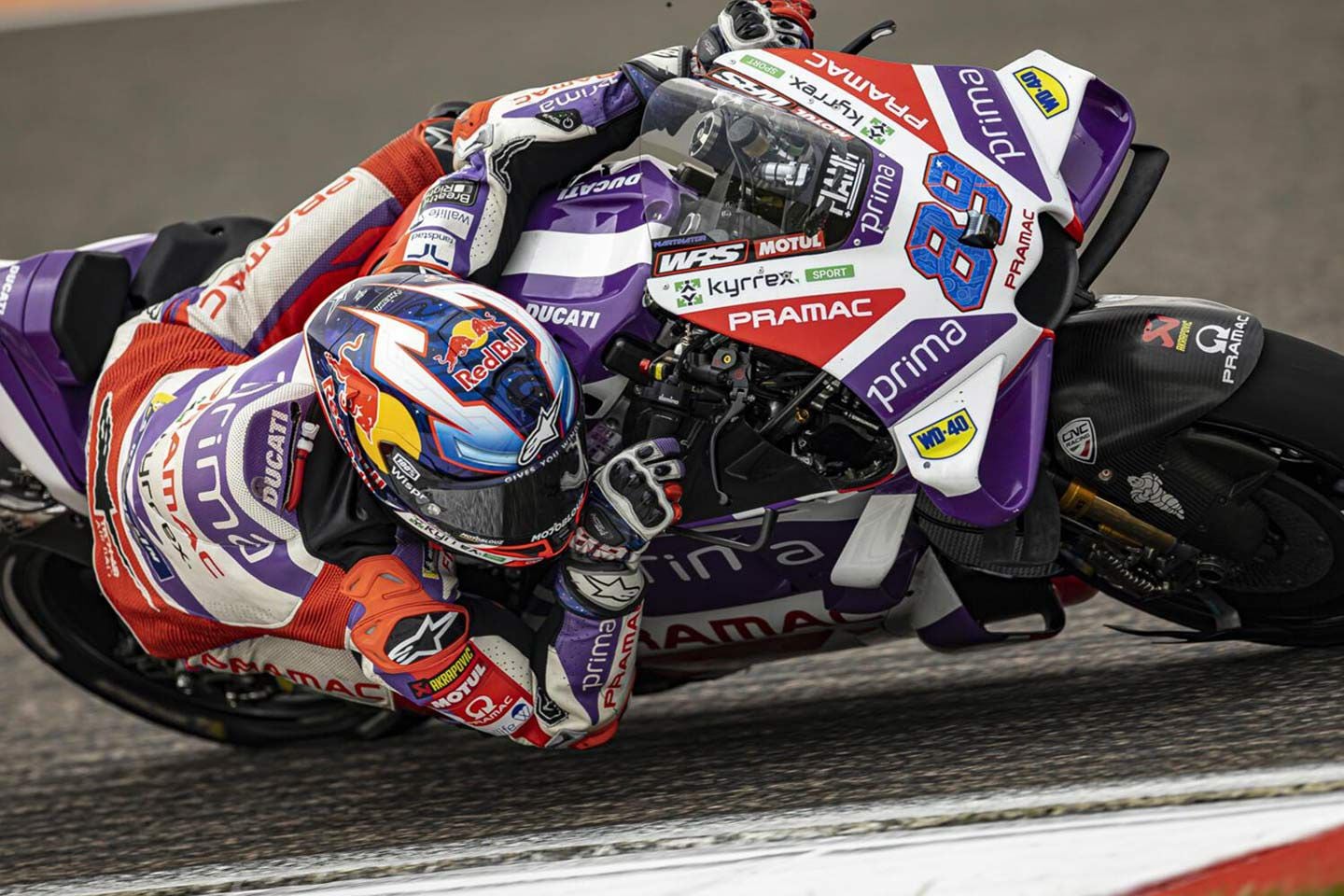 Martín arrived at the finish so dehydrated, he had trouble standing. He also dodged a penalty when his leathers unzipped, but he was able to close them on the track after receiving a warning. (Prima Pramac/)
Meanwhile Bridgestone, being too far from most races to rely on "just-in-time" tire delivery, had to steer its early-21st-century compound research onto a different course: Learning to achieve high grip over a wider temperature range.
At present, best MotoGP front tire performance is often available only over a very narrow temperature range, complicated by spec tire provider Michelin's insistence upon the minimum front tire pressure of 1.88 bar (27.6 psi).
Quartararo's third place in Sunday's GP is the best Yamaha performance in a while. Brad Binder (KTM factory) was fourth and Joan Mir (Repsol Honda) was fifth.
Here are the new championship point standings:
Bagnaia – 292
Martín – 279
Bezzecchi – 248
Binder – 192
A. Espargaró – 160
Will Bagnaia's crew, as he confidently expects ("I'm not worried because I know that my team will find a solution"), discover the cause of his current braking problems in time to divert to himself points that may go instead to Martín? And what of Bezzecchi, whose cheerful confidence must be demoralizing to rivals? As we have seen at other times, powerful performances by Aprilia and KTM riders have yet to occur on demand. At the moment, consistency is Ducati's alone.
For the moment, MotoGP reporting devotes a lot of words to speculation about Marc Márquez's future. Will/can he sign with a Ducati satellite team? Will he "stay the course" at Honda? The "Big Boss" is expected to be at Motegi.
The Japanese GP is next weekend.
View full post on Cycle World