Indian "Forged" Series: Carey Hart Presents Custom #SportChief to Jeremy "Twitch" Stenberg
Another happy client courtesy of Carey Hart and Indian Motorcycle's "Forged" series!
For May 18th, the team put together a brilliant effort for the one and only Jeremy "Twitch" Stenberg – an American pro freestyle motocross rider (and professional off-road truck racer) with a particular eye for pretty builds who also happens to be Carey Hart's long-time buddy. 
"[This bike] is definitely… more on the stunt side, just because Twitch rides aggressively, he rides really well, and this bike is going to be bouncing off the red-limiter most of the time it's ridden," chuckles Hart in Episode two. 
"… so it's not a show piece. I mean, it has to look great, but it also has to have a big function piece as well as [be] durable [for Twitch]."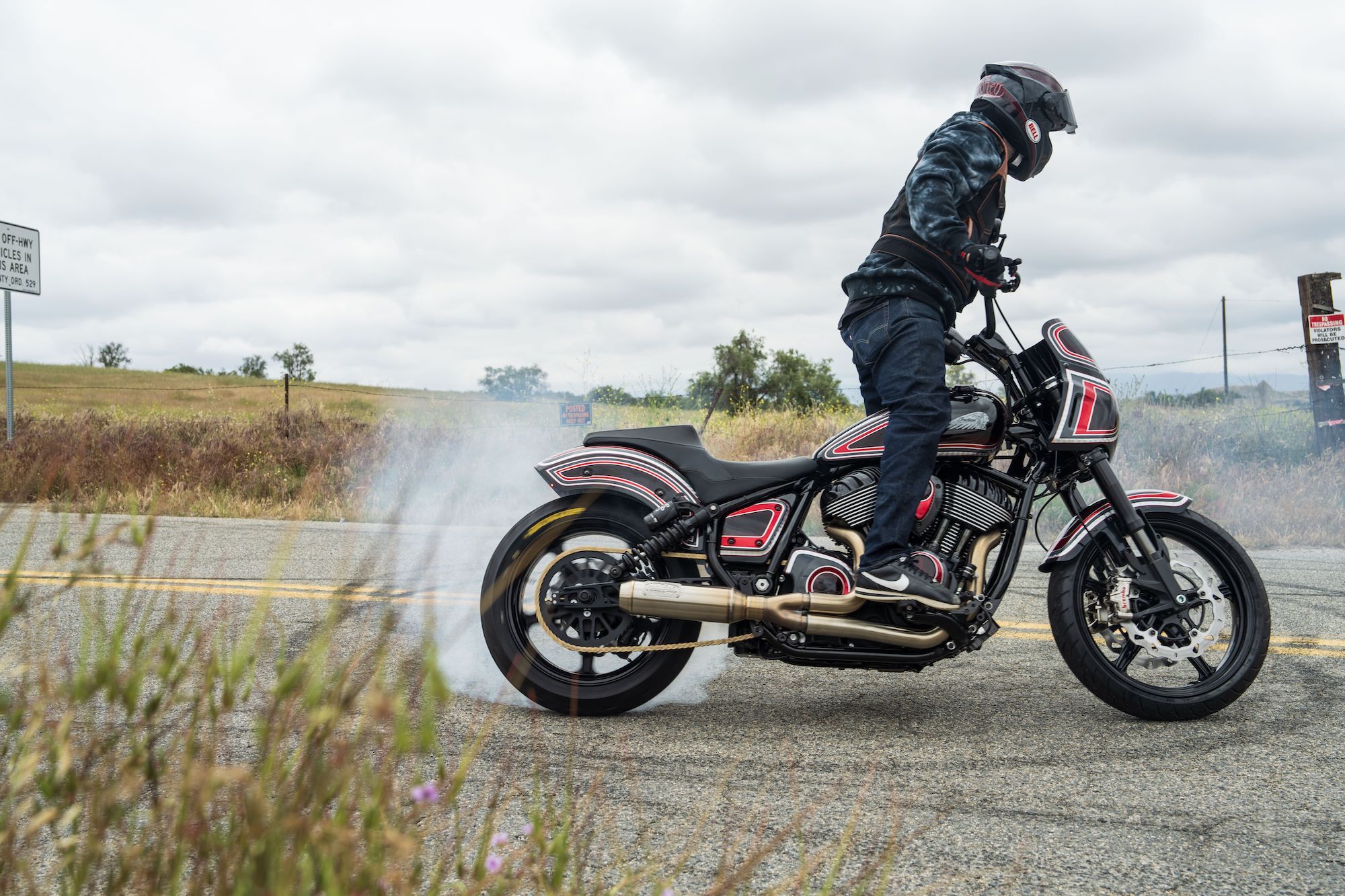 For Stenberg, the six-month wait was tough, but well worth it in the end. 
"…I…don't have words," admits Twitch, upon seeing his new custom Indian Sport Chief.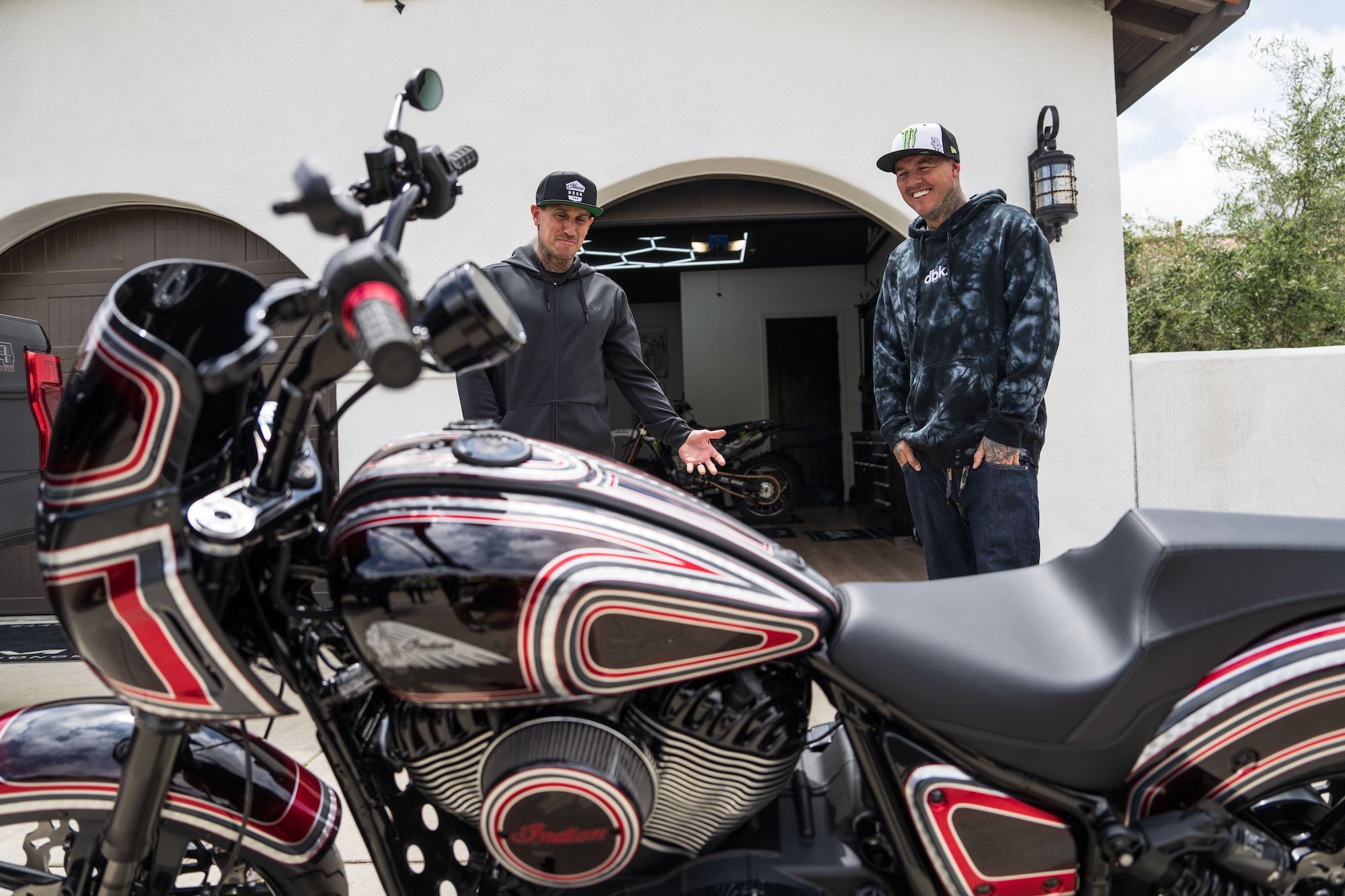 Carey Hart went the extra mile, bringing on Barnstrom for the cuts in the tank and the chain conversion; he also made sure to lengthen the suspension, re-engineering the bike to accept the Beringer calipers for "a more gradual feel."
The cherry on top was Hart's decision to put his own bars on the Chief, adding the Beringer clutch perch so that Twitch would feel more at home with a "moto" dirt bike feel under his wrist.
Add some sticky Dunlop American elite tires and a Basani two-in-one, and Stenberg's got a screamer that looks fast standing still – exactly what he asked for.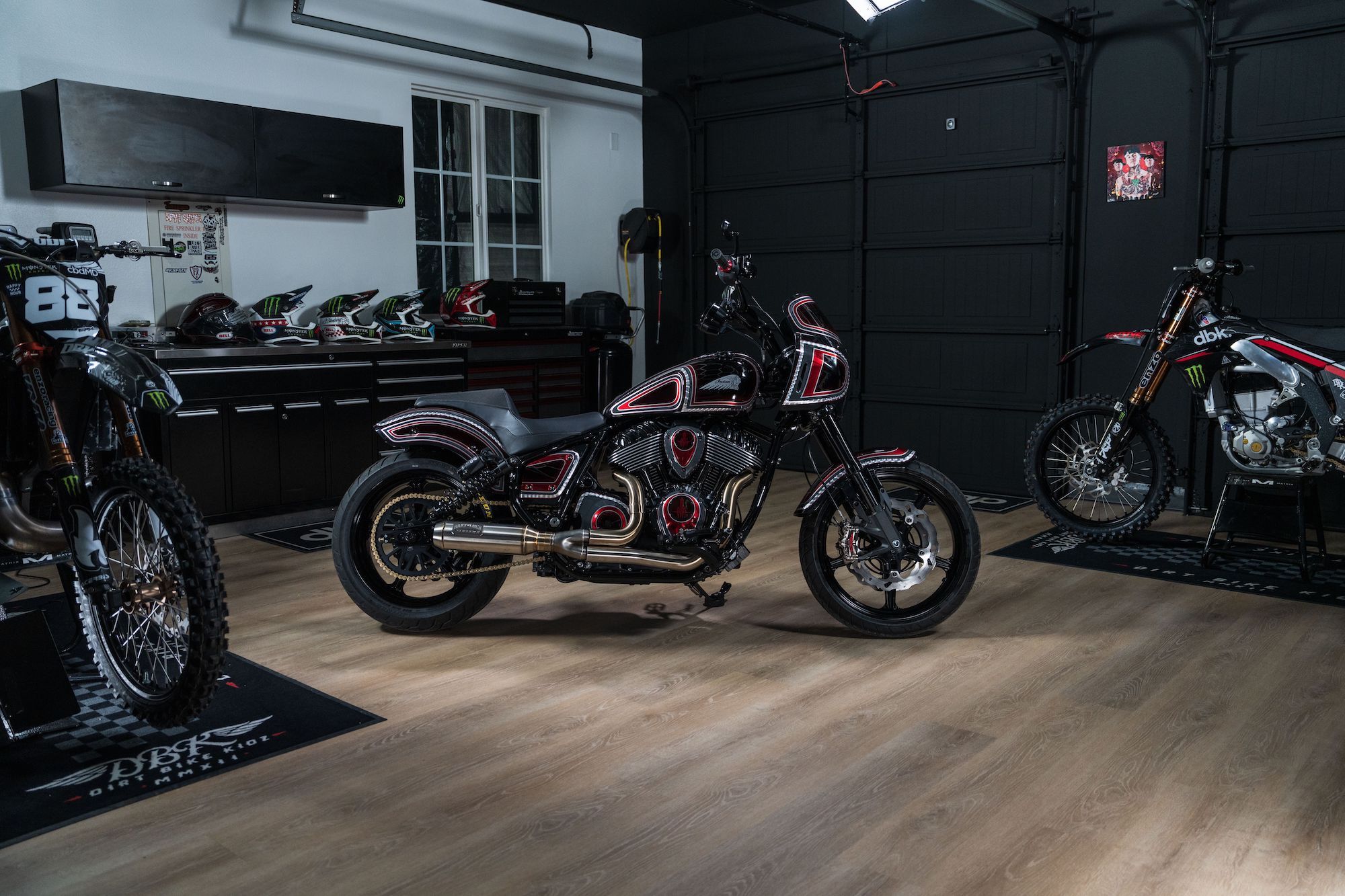 "Just remember, it has 40 miles on it. Okay? Keep it below 3000RPM for at least a couple hundred miles," laughs an imploring Hart. 
"That's definitely not happening," assures a grinning Stenberg. 
Here's what Hart put into the build (and from whom), to accompany the above slideshow of studio photos:
Paint:

Schultz design

Tires

: Dunlop American elite

Wheels:

Hart Luck 5 spoke

Front brake calipers:

Brembo monoblock

Rear caliper & hangar:

Beringer

Rotors:

Galfer

Clutch cable:

Barnett

Brake line:

Galfer

Swing arm:

Trac Dynamics (billet aluminum)

License plate mount

: Drag Specialties

Shocks:

Fox 13 inch reservoir

Air intake:

Indian high flow

Pegs:

san diego customs

Shift/brake pe

g: san diego customs

Lower frame cover:

custom

Forks:

GP suspension w/ 1.5 in longer, coated lower tubes, spring & Valving

Hardware:

Pro Bolt black anno titanium

Bar clamps & risers:

Kraus motor co

Gauge bucket:

Kraus Motor Co

Bars & Grips:

ODI/ Hart Luck

Clutch perch & front master:

Beringer

Chain Conversion:

Barnstorm

Seat:

Saddlemen/ Hart luck

Front and rear indicators:

Rizoma

Rear master:

Beringer

Rear master reservoir:

Rizoma

ECU program:

Dynojet

Exhaust:

Bassani
What do you think of Carey Hart's work on Twitch's Sport Chief?
*Media sourced from Indian's press release*
The post Indian "Forged" Series: Carey Hart Presents Custom #SportChief to Jeremy "Twitch" Stenberg appeared first on webBikeWorld.
View full post on Web Bike World