2022 Isle of Man TT Practice Week Gallery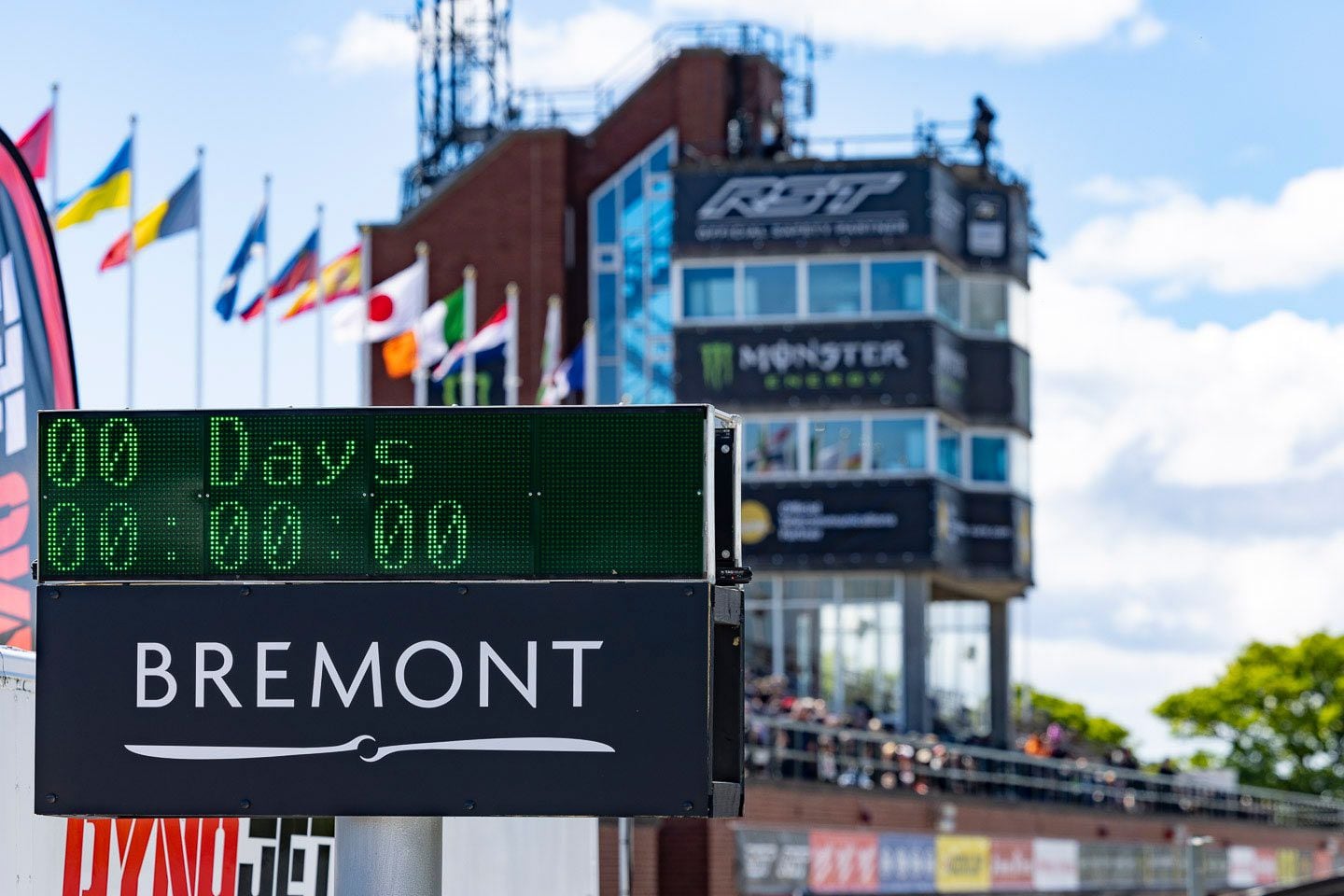 The time that everyone has been waiting for: The Isle Man TT countdown clock has finally reached 0:00.00. Engines are roaring on the grid as riders get ready to head down Glencrutchery Lane and Bray Hill. (Paul Phillips/)
The iconic Isle of Man TT is, finally, back. After a two-year delay for COVID, the TT is back with newer faster bikes and crowds filling the corner pubs and fields to be up close at the TT.
With the exception of world wars, the Isle of Man TT has only been canceled three times, all for epidemics. In 2001, fears that foot-in-mouth could spread to the virus-free Isle of Man forced a year's cancellation, and now, of course, the global pandemic. But the Manx have picked up where they left off in 2019 without missing a beat, with new teams, new sponsors, and new riders, but the same energy that has welcomed fans for generations.
As the course has 264 turns, practice week is the time for riders to renew reference points and road conditions. Beginning on Sunday and each evening the roads are closed and the bikes fill the Isle of Man Mountain course, with lap speeds steadily climbing each day as bikes and riders get dialed in.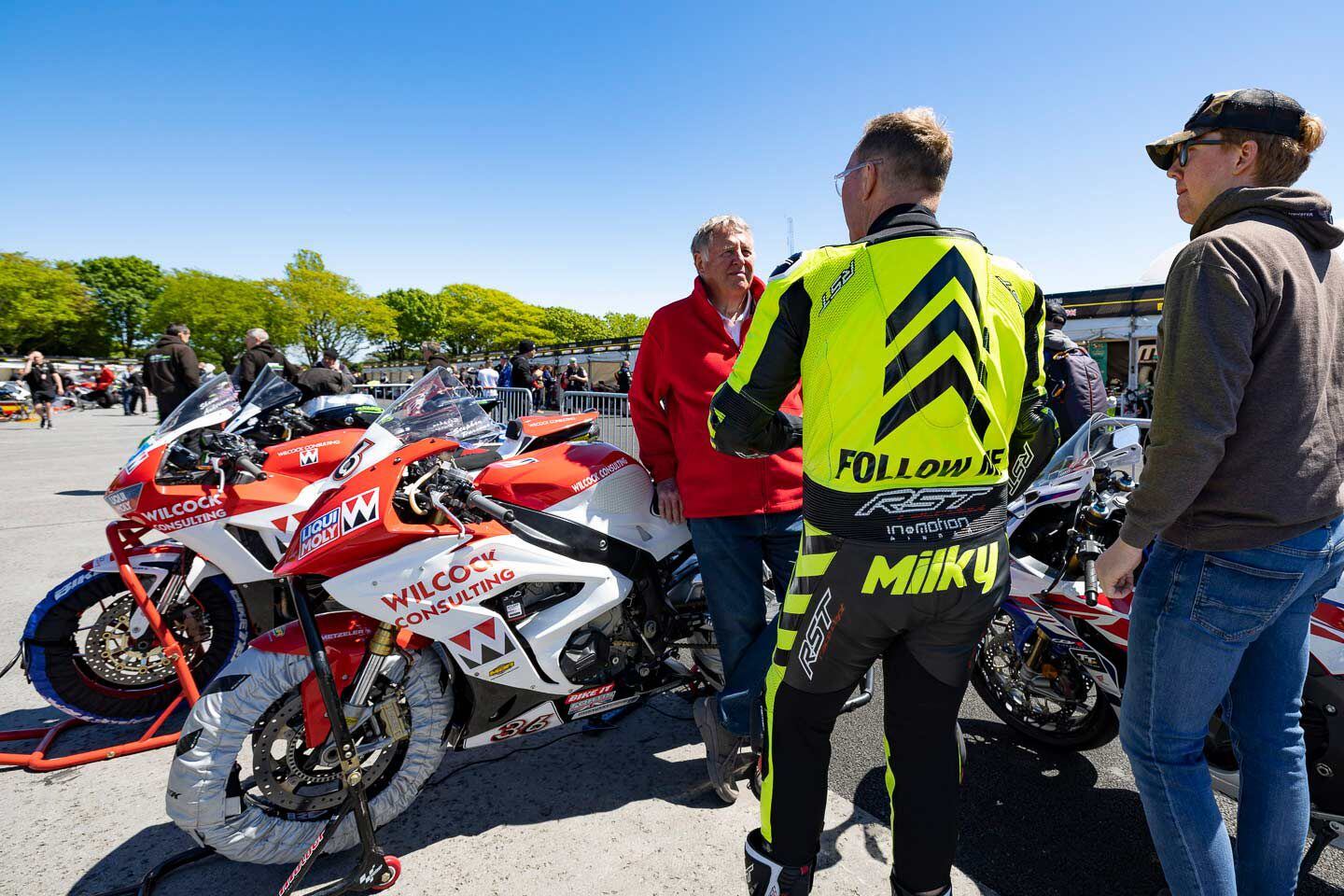 Richard "Milky" Quayle, winner of the 1994 and 1996 TTs, works with newcomers throughout the spring and during practice week to be sure they are adequately prepared for the course and the speed of roadracing. (Paul Phillips/)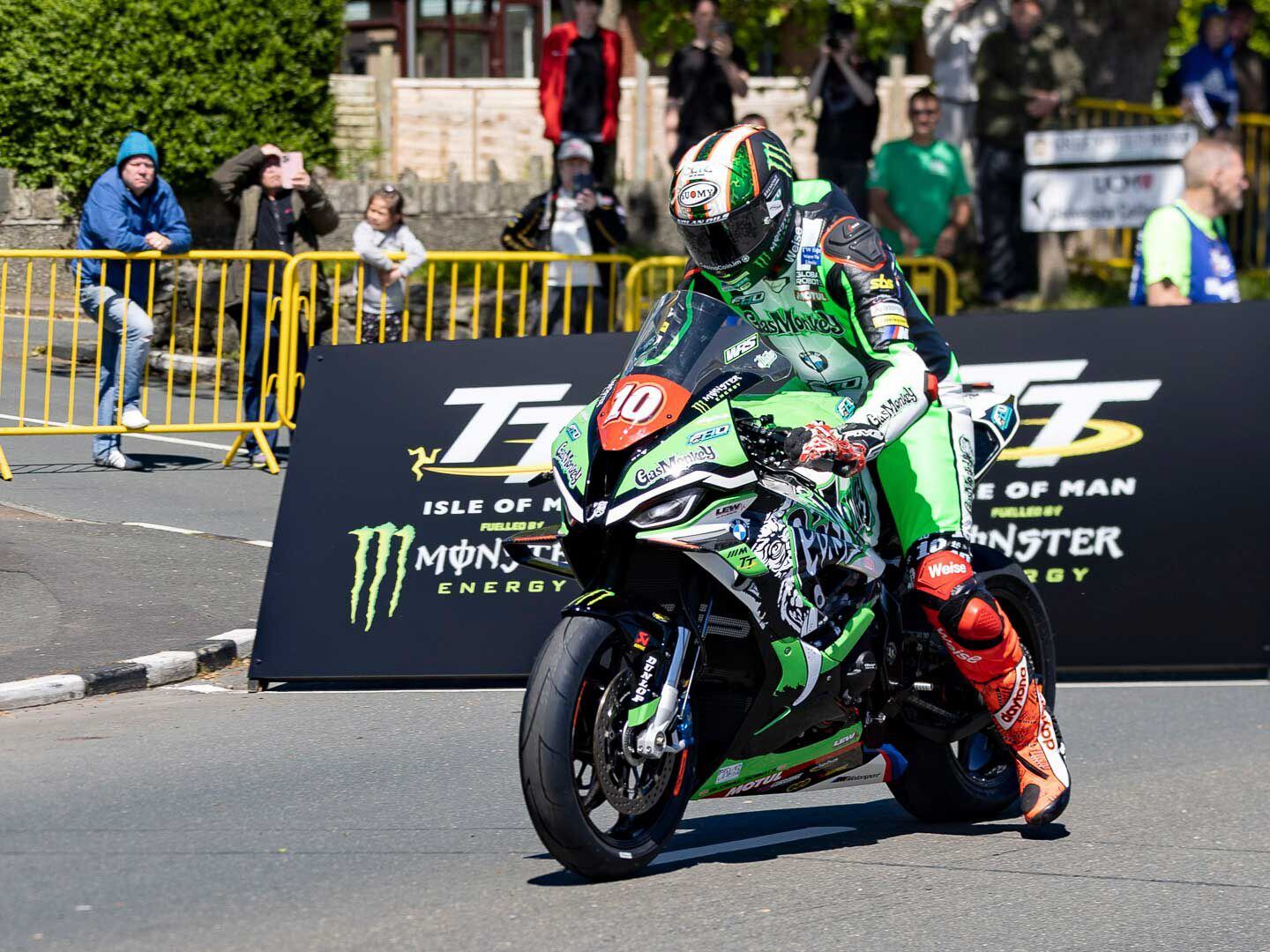 TT lap record holder Peter Hickman out for the first practice lap on his 2022 BMW M 1000 RR FHO Racing sponsored by Gas Monkey Garage. (Paul Phillips/)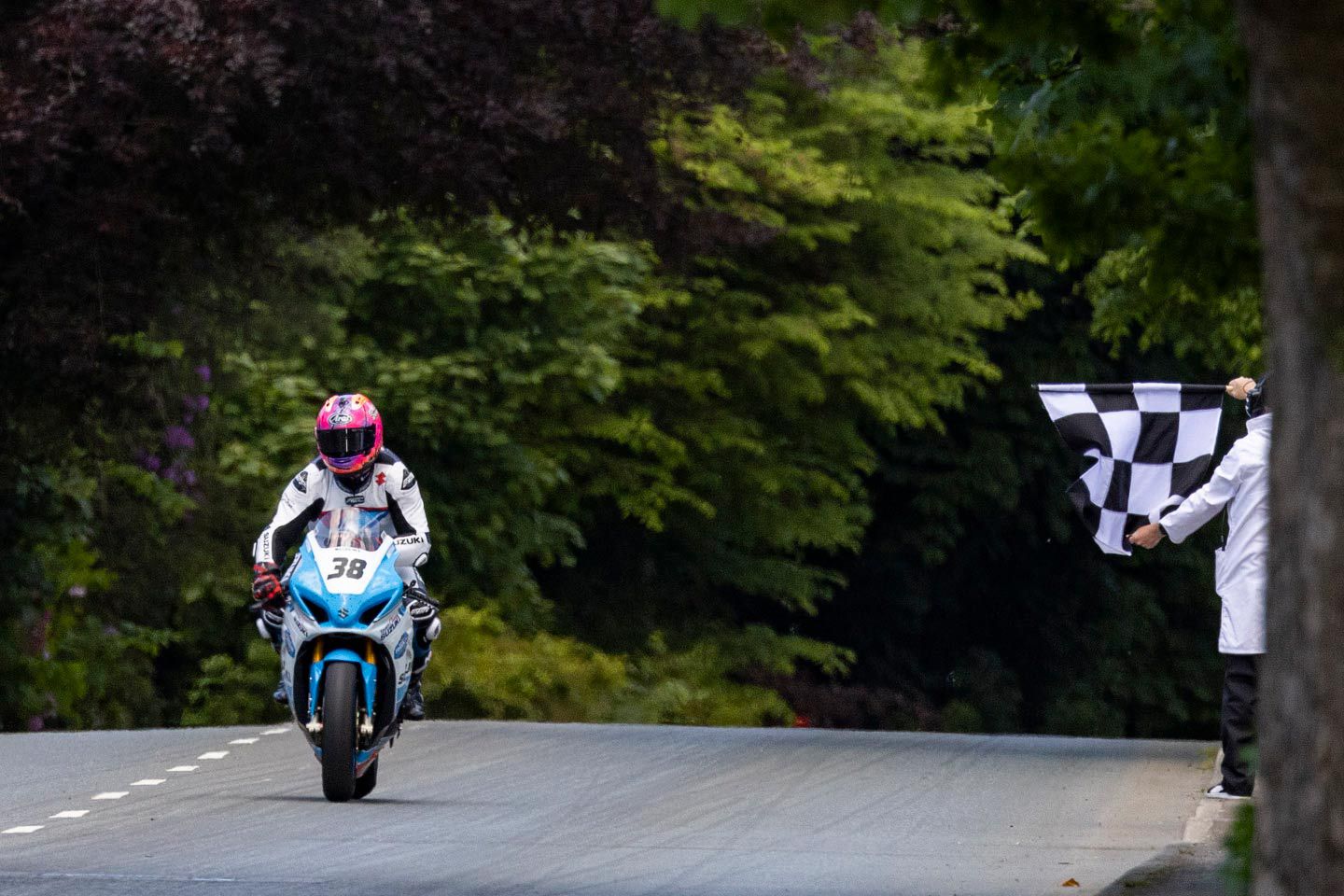 The checkered flag comes out to signal the end of the practice session. (Paul Phillips/)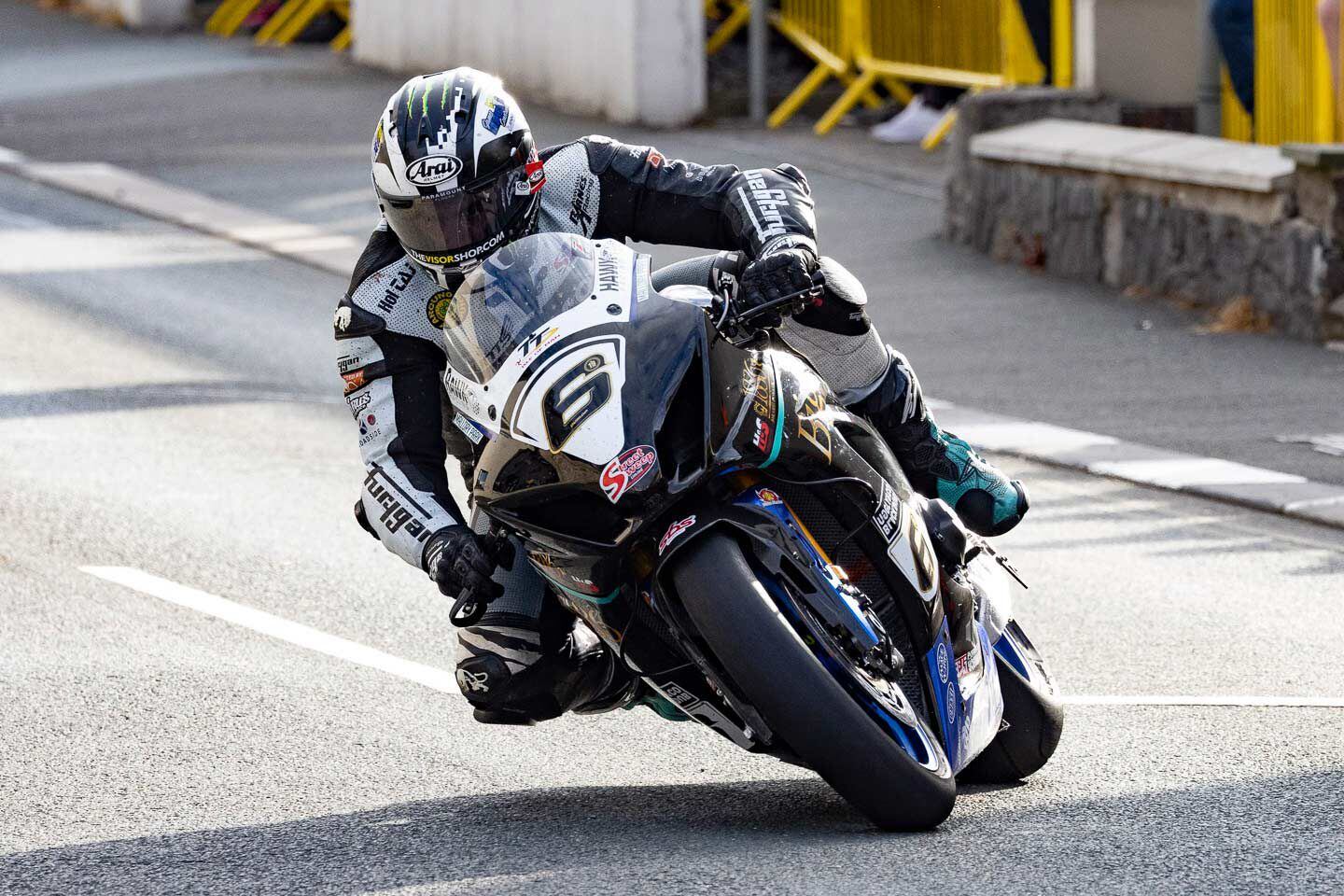 Nineteen-time TT winner Michael Dunlop rides his Suzuki 1000 Superbike into Parliament Square in Ramsey. (Paul Phillips/)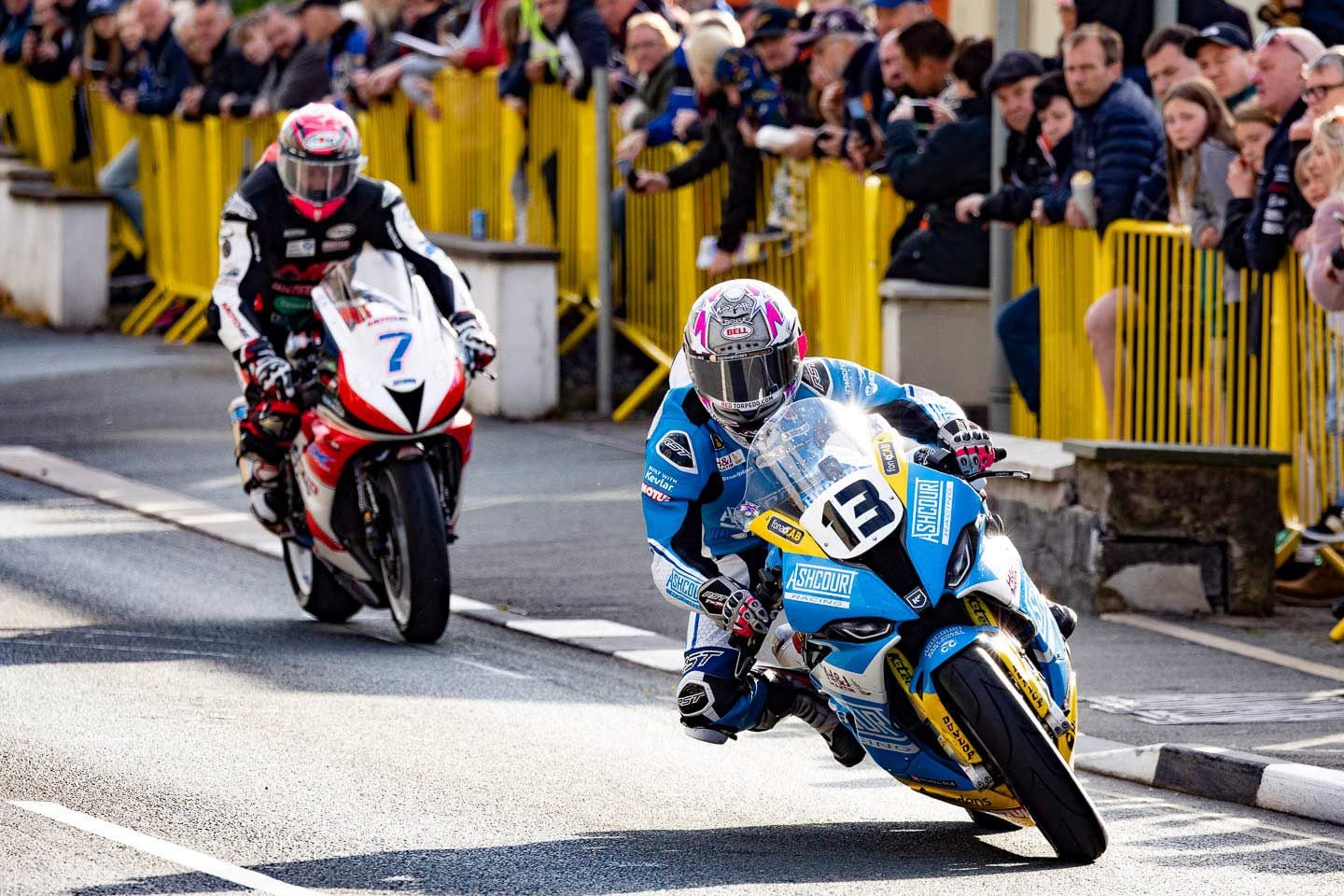 Lee Johnston (13), winner of the 2019 Supersport TT on his BMW S 1000 RR Superbike, leads Gary Johnson (7) on his Triumph 675 Supersport. Only during practice sessions are bike categories combined. (Paul Phillips/)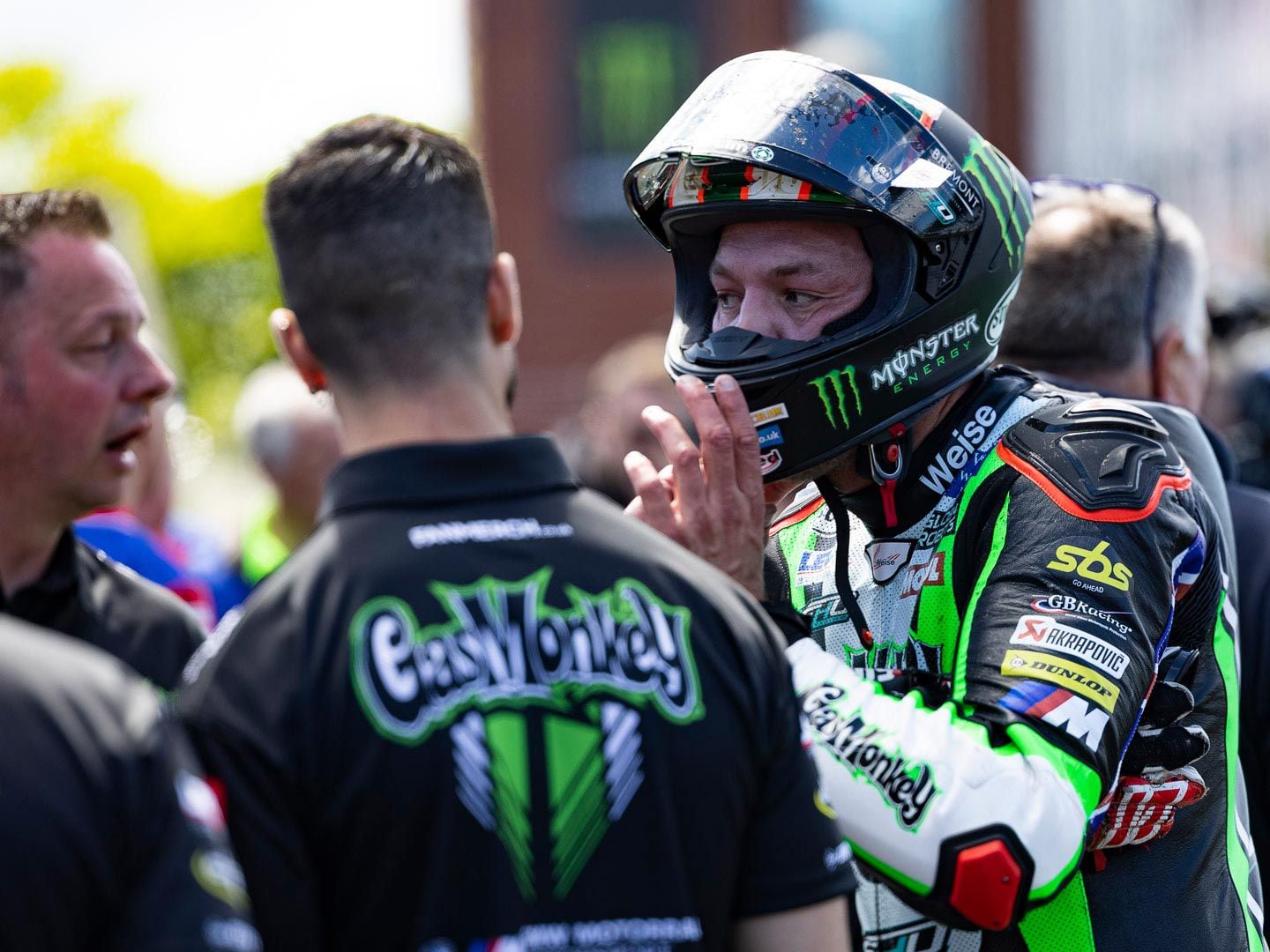 Peter Hickman, back in the pit after his initial lap, talks to his crew concerning adjustments to the BMW M 1000 RR before his next practice lap. (Paul Phillips/)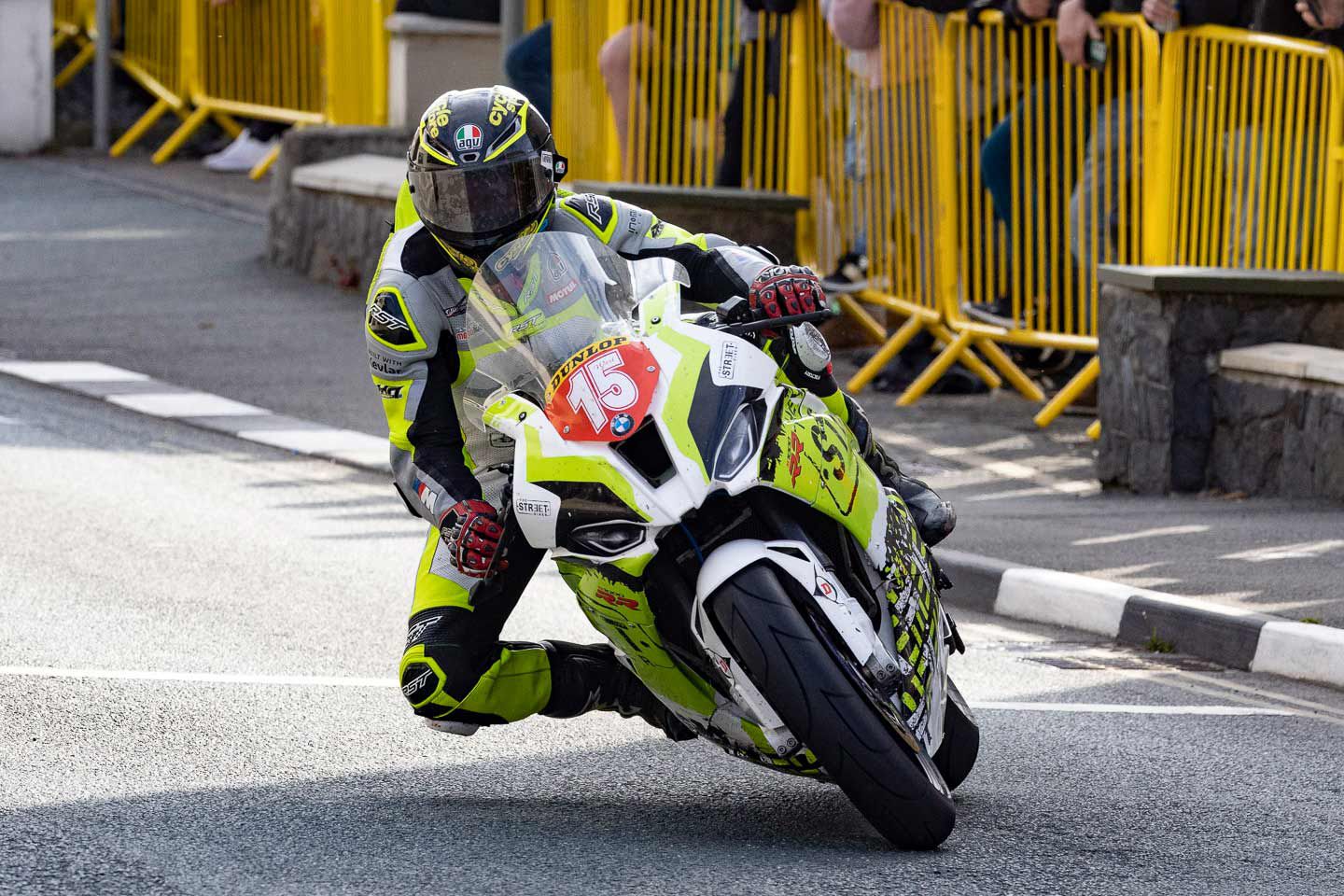 Sam West on his BMW S 1000 RR Superstock. Later in the evening West came off his bike but suffered only minor injuries. His bike, however, burst into flames. West will be back riding American Chris Sarbora's superbike. (Paul Phillips/)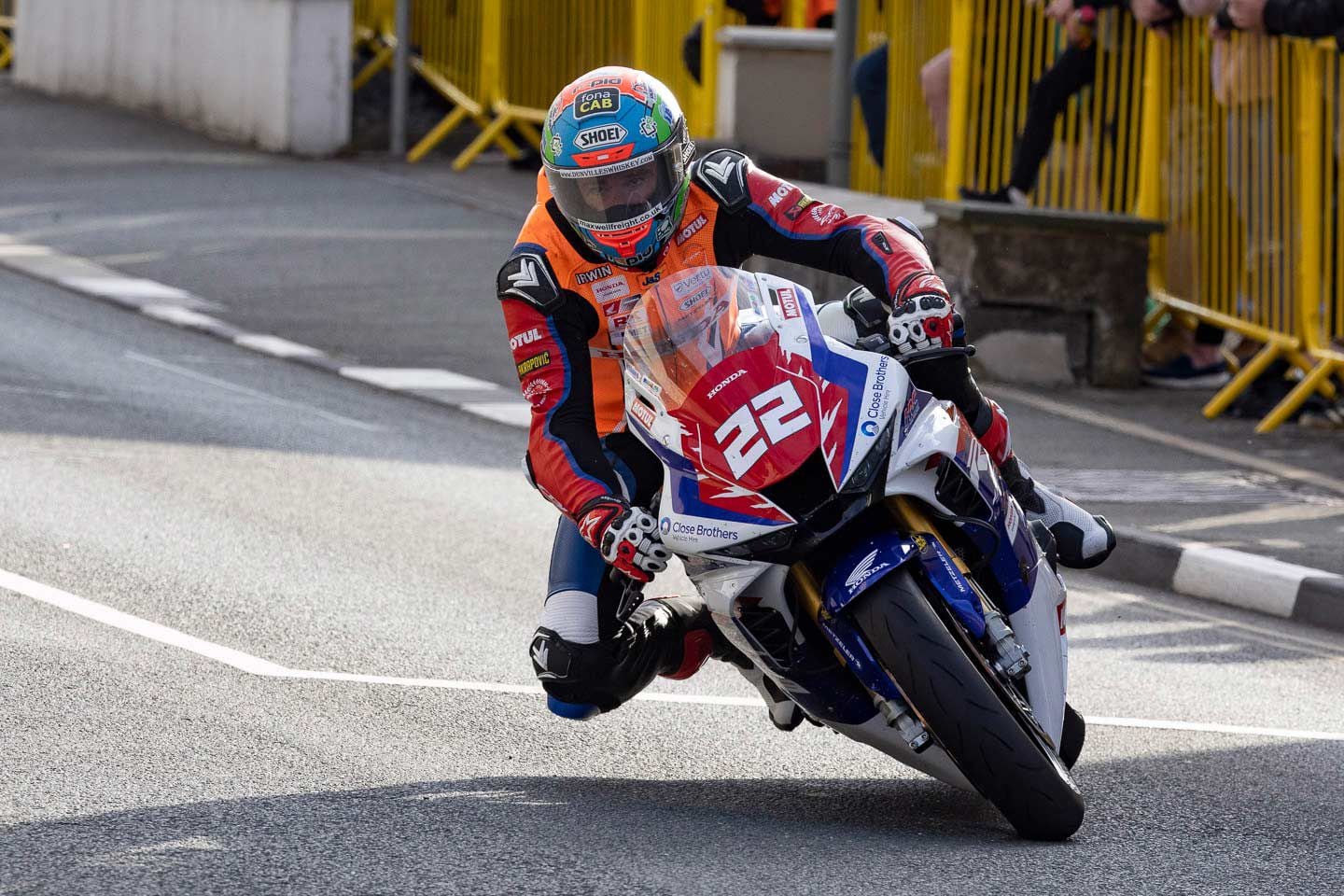 Multiple British Superbike winner Glenn Irwin is teamed with TT Legend John McGuinness and will take on his first Isle of Man TT on his Honda Racing Fireblade RR-R. (Paul Phillips/)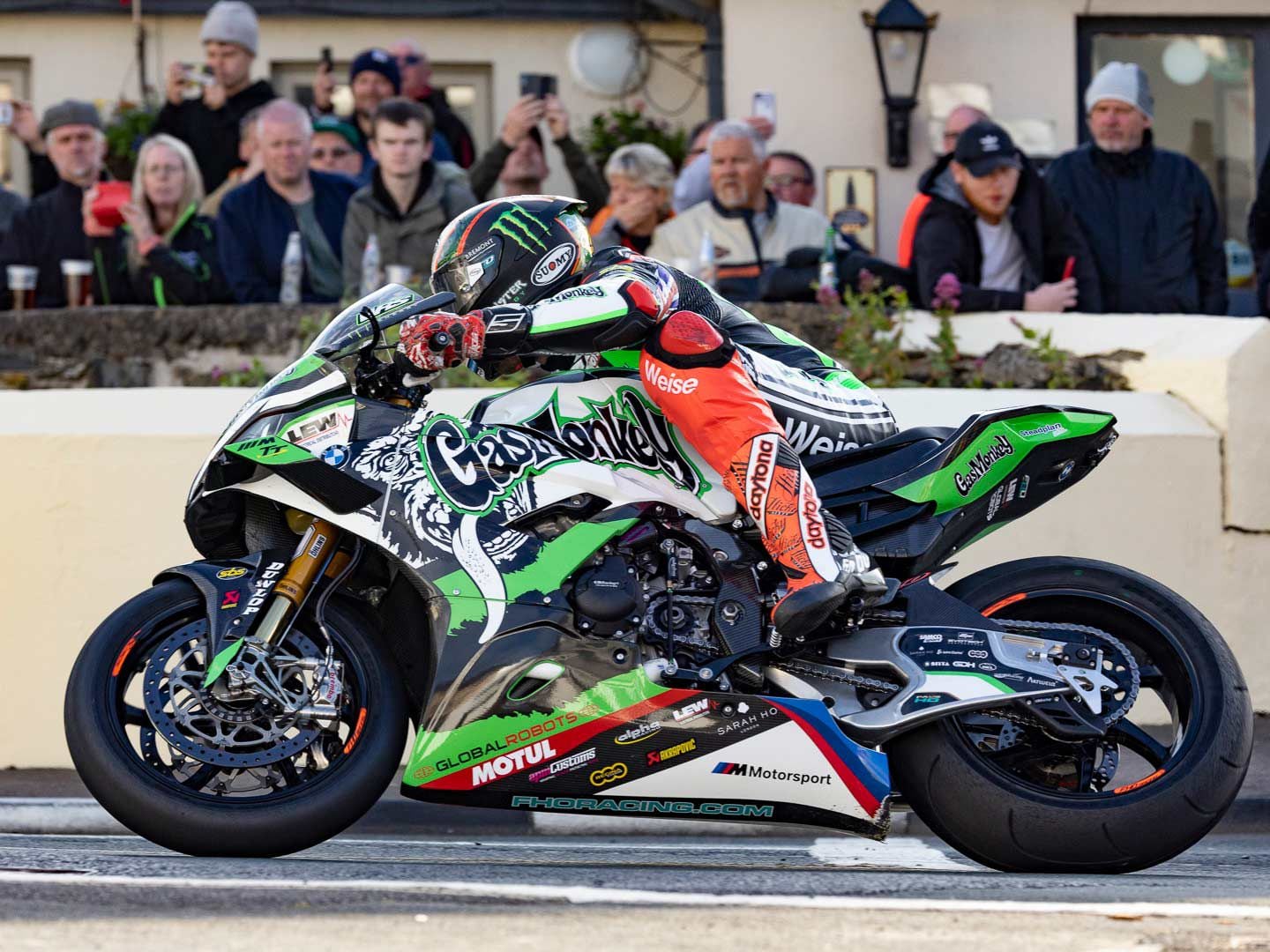 Lap record holder Peter Hickman, on his finely tuned BMW M 1000 RR, blasts past Ramsey's Parliament Square. (Paul Phillips/)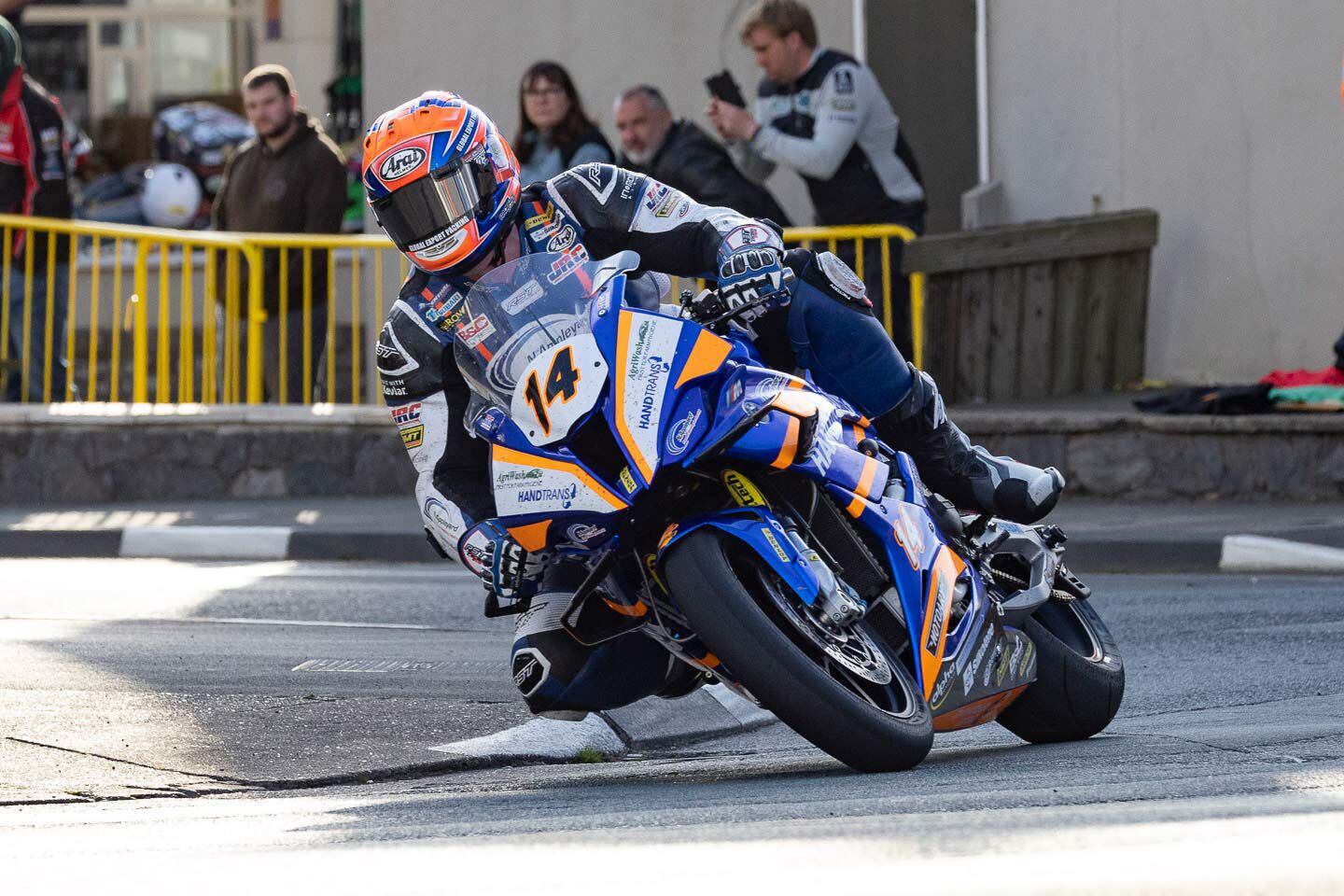 Privateer Phil Crowe, one of the highest-placing privately funded riders, on his BMW M 1000 RR. (Paul Phillips/)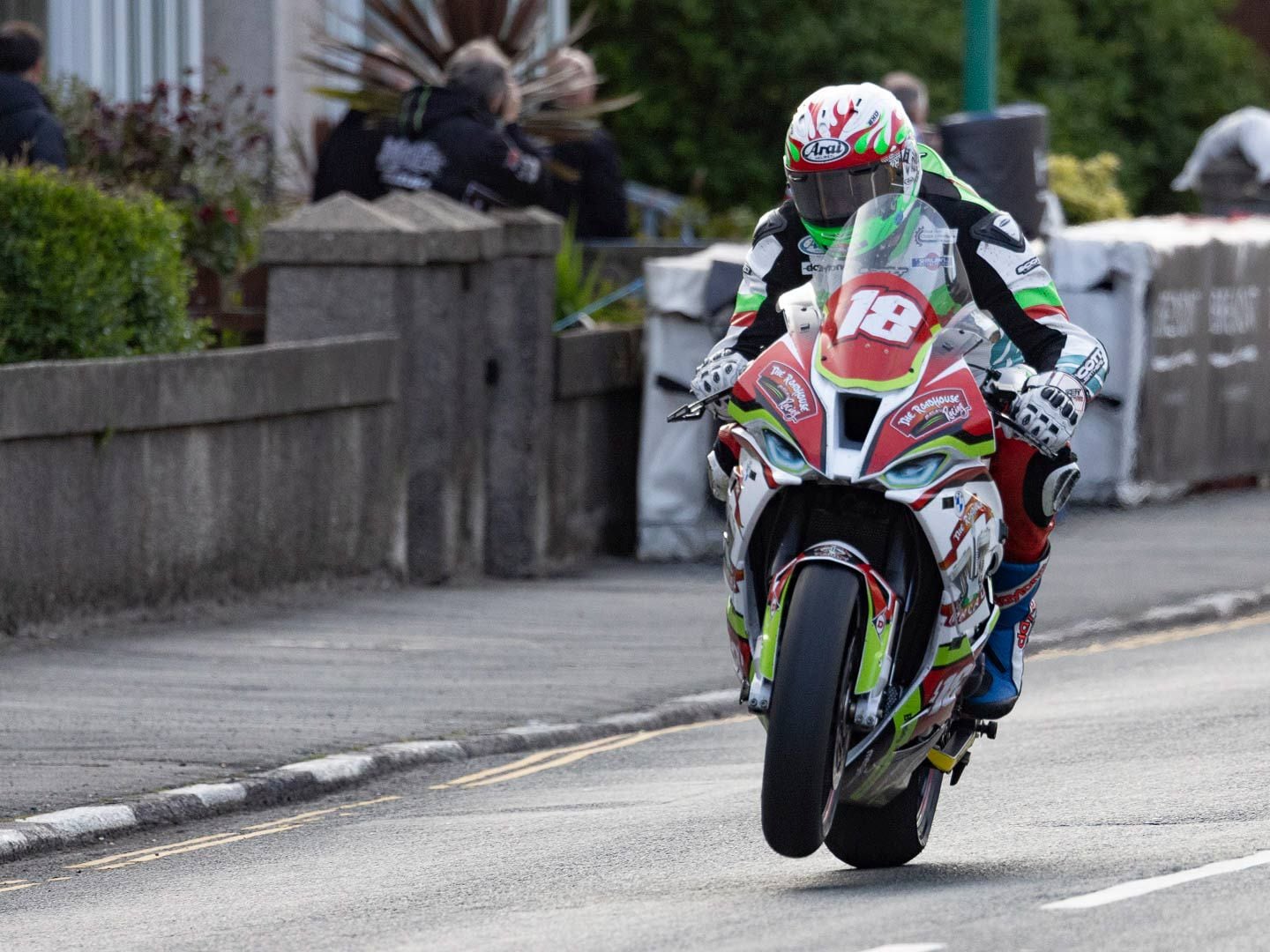 Veteran Irish Road Race Derek Shiels heads toward the Ramsey Hairpin on his BMW S 1000 RR. (Paul Phillips/)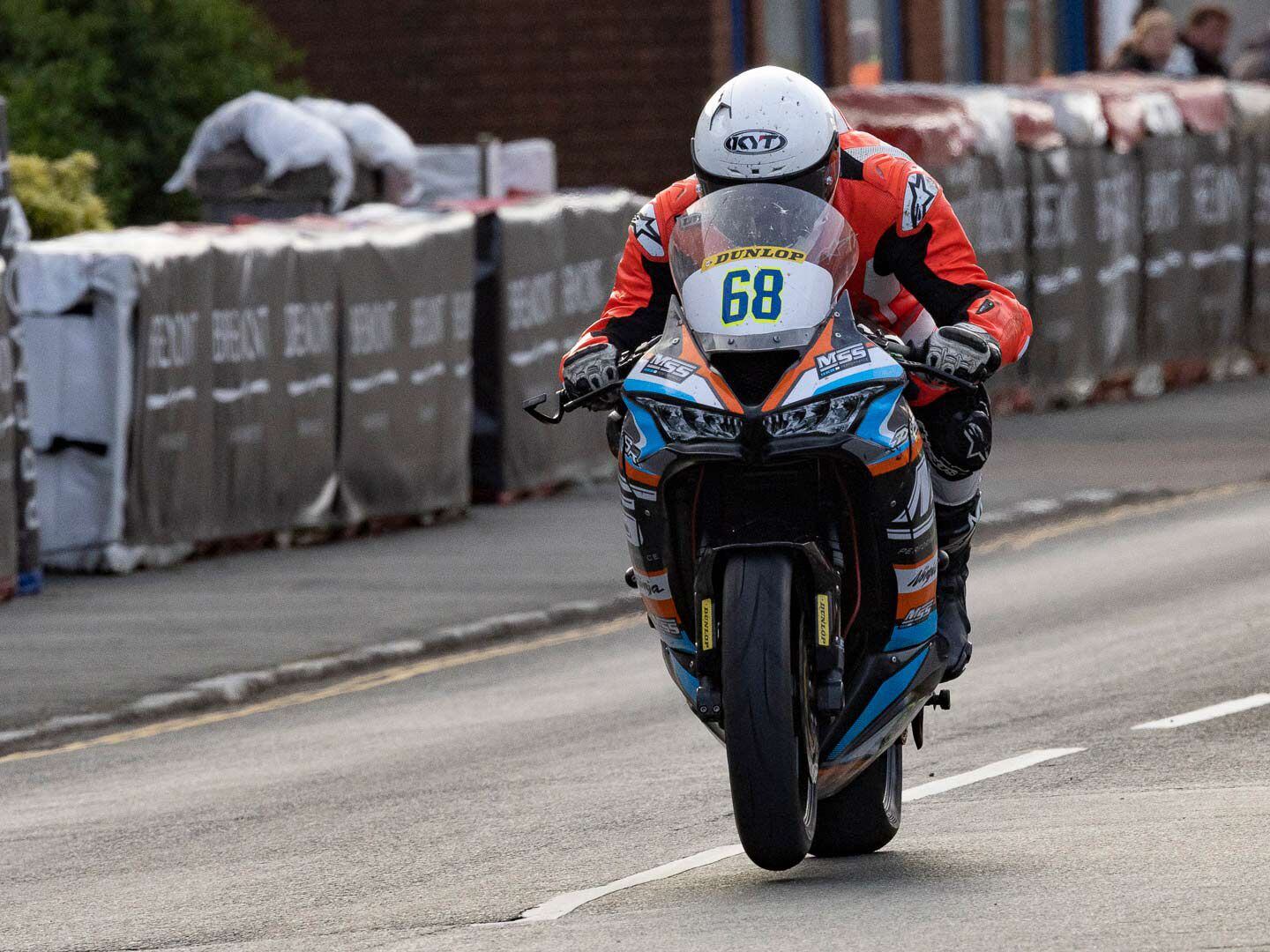 American Chris Sarbora accelerates out of Ramsey aboard his Kawasaki 600 on the way to the hairpin and the mountain road. (Paul Phillips/)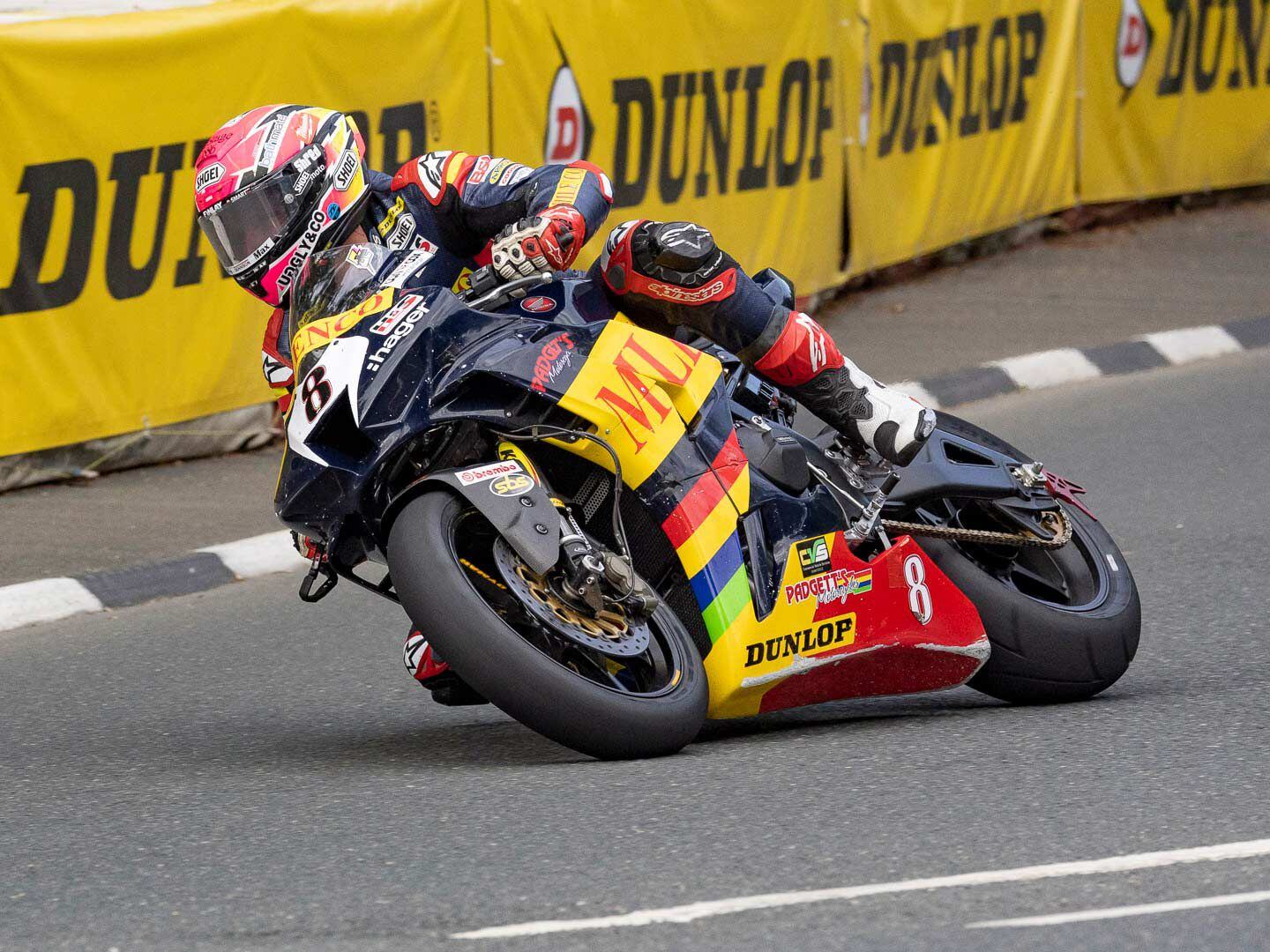 Expectations are high for Davey Todd on his Honda Fireblade RR-R. Todd has posted some of the top lap times during practice week, exceeding 132 mph. (Paul Phillips/)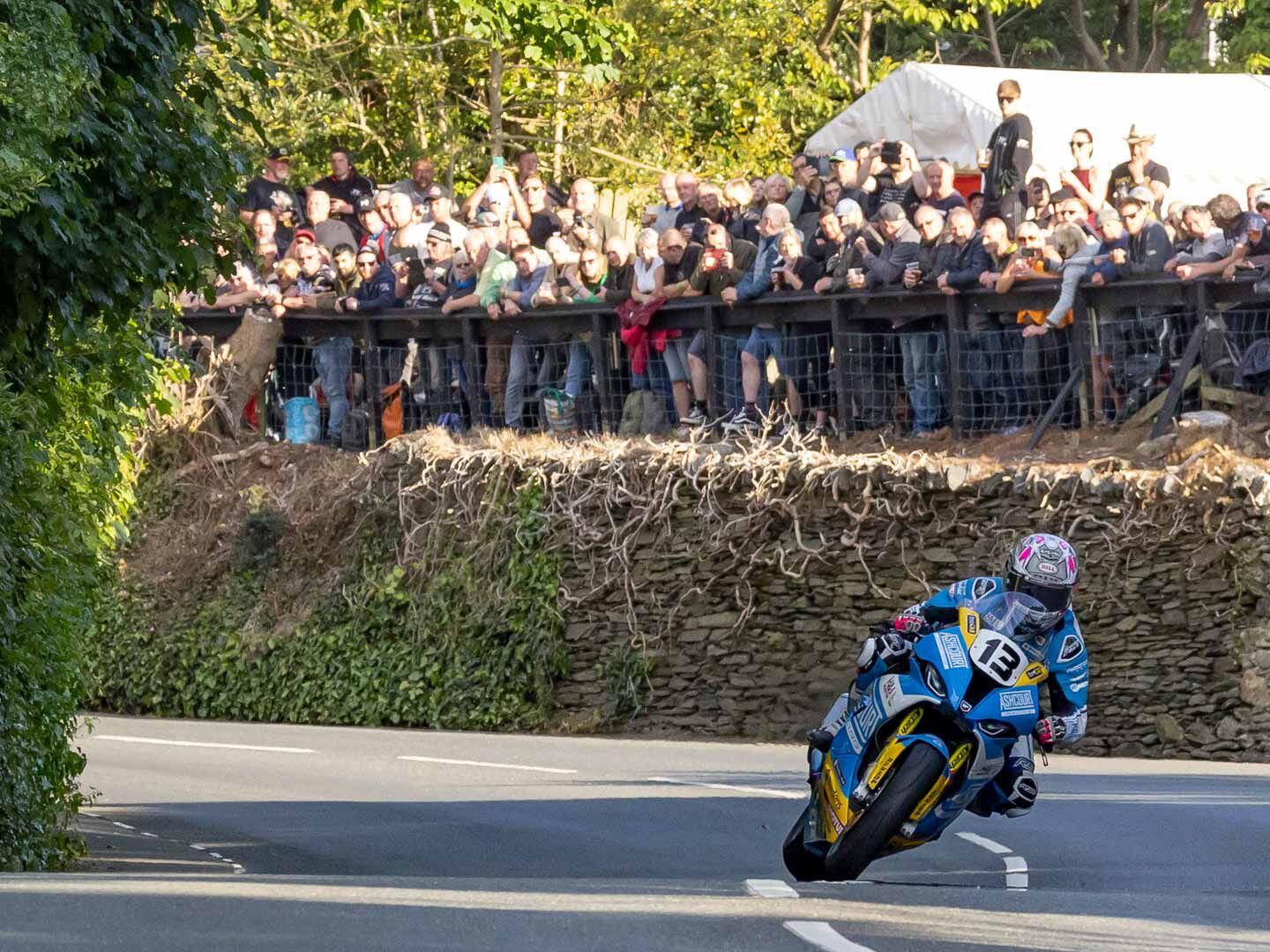 The patio at the Railway Inn at Union Mills gives you an elevated view of riders approaching a sweeping right and transitioning into a quick left for one of the most expansive early views of the course. (Paul Phillips/)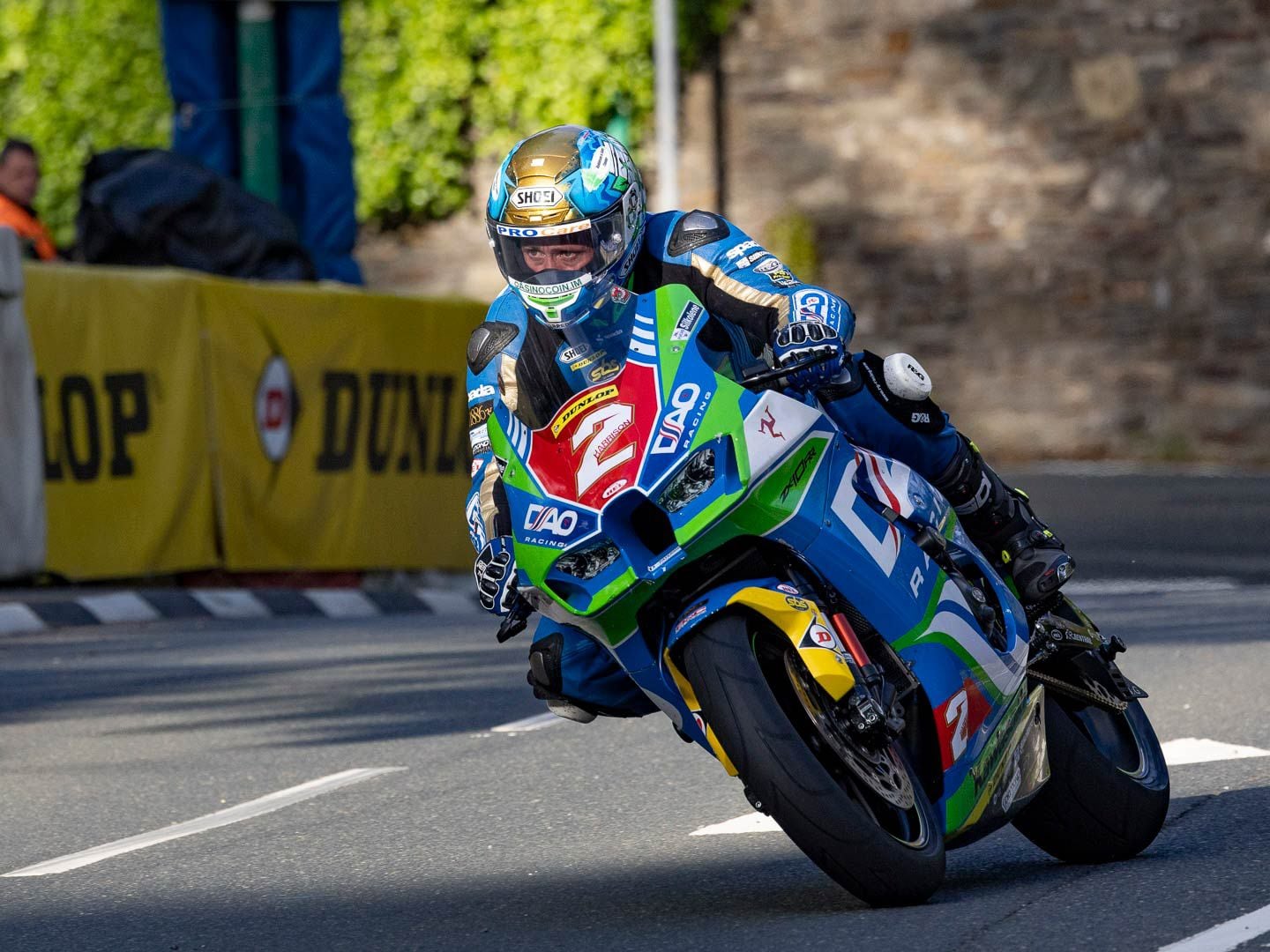 Dean Harrison, winner of the 2019 Senior TT, focuses on the exit of the turn and upcoming straight from the saddle of his DAO Racing Kawasaki 1000 Superstock. (Paul Phillips/)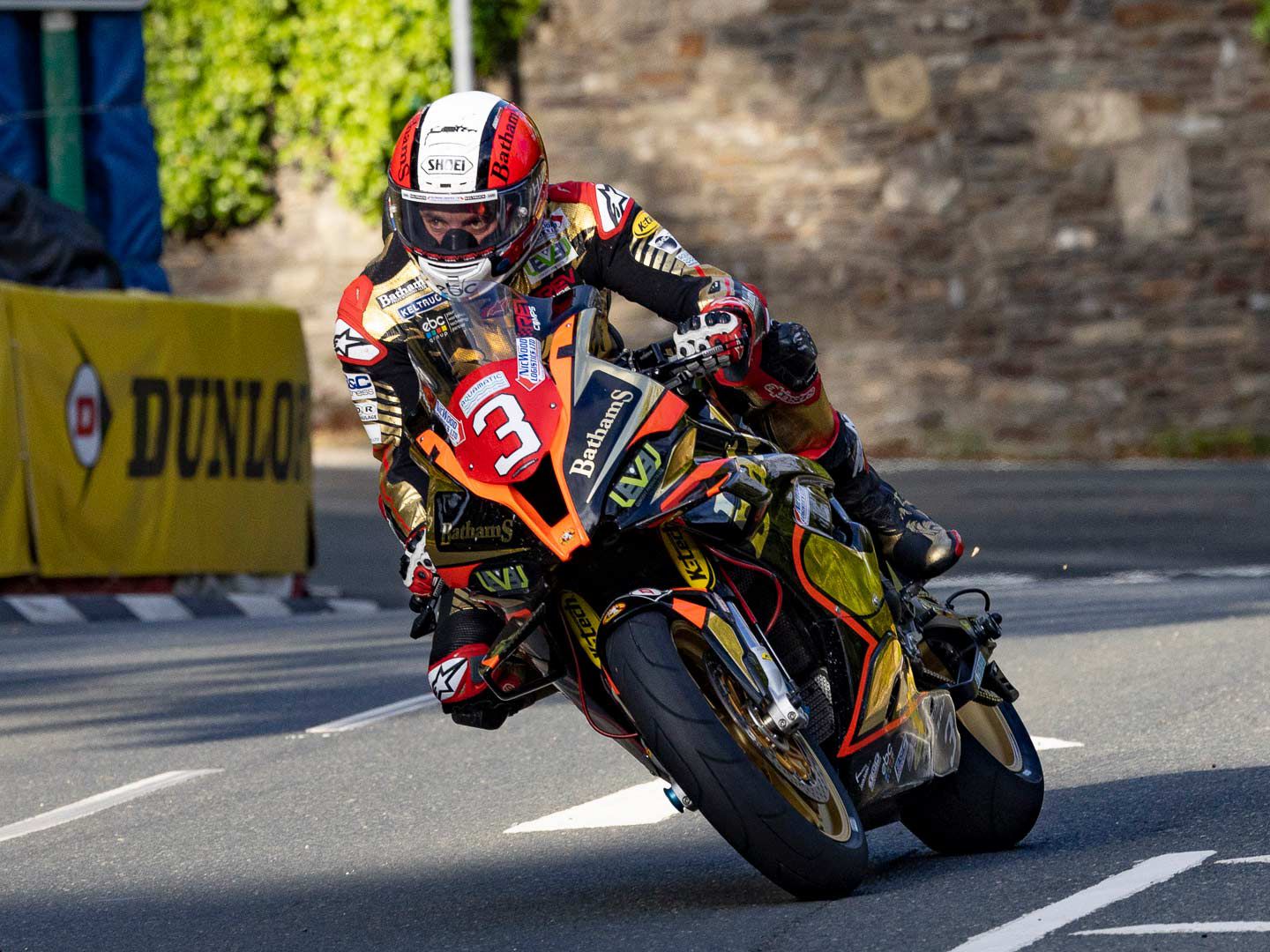 Nine-time TT winner Michael Rutter, seen here on his Bathams Racing BMW M 1000 RR, turned 50 this year and still has as much passion as when he first rode the TT in 1994. (Paul Phillips/)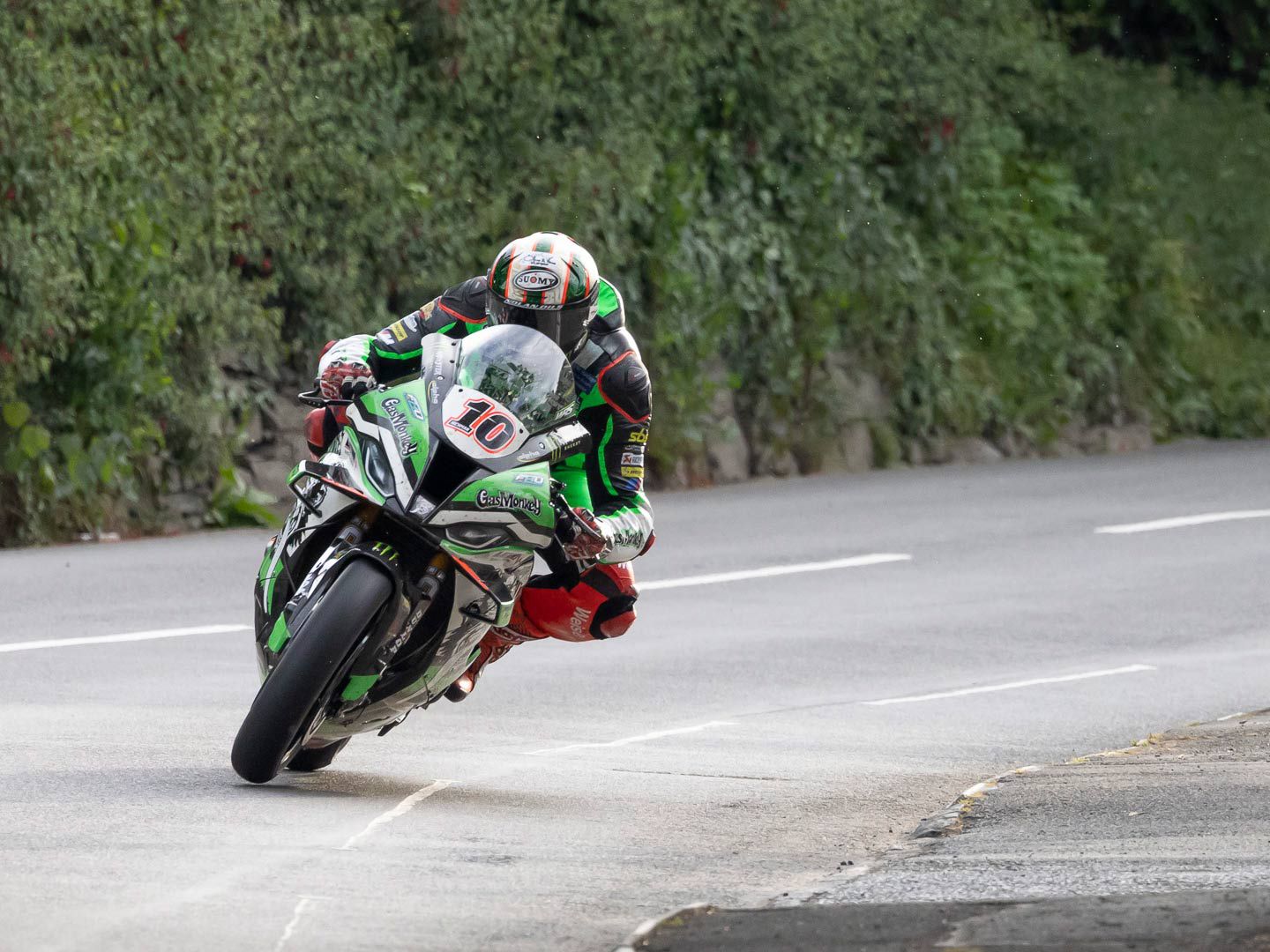 Peter Hickman puts in the fastest lap of the week at 133.22 mph on his BMW M 1000 RR. (Paul Phillips/)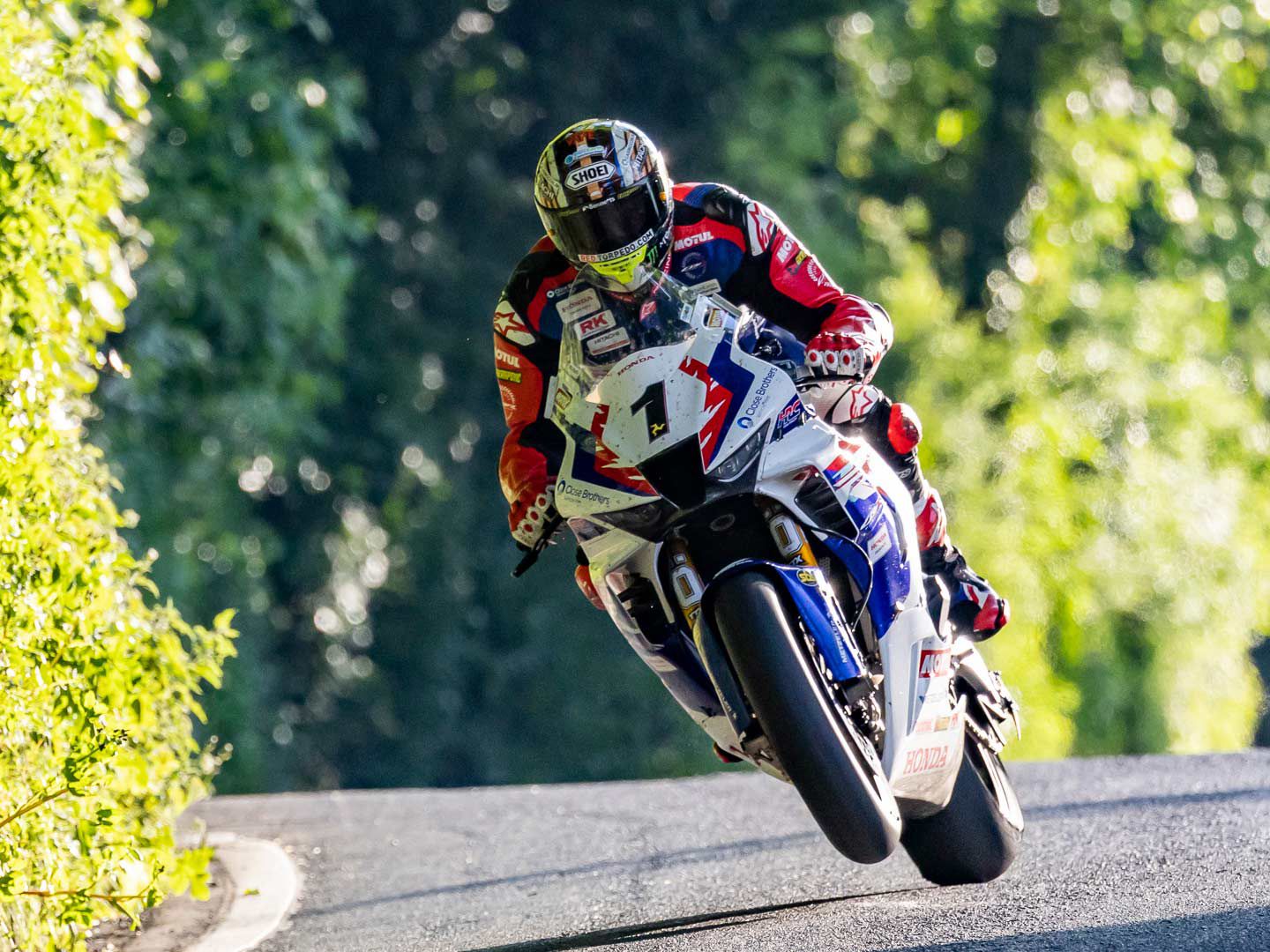 John McGuinness, the winningest active TT rider with 23 TT victories, will start his 100th TT on Saturday. McGuinness was the first rider in TT history to exceed 130 mph and, despite turning 50 this year, has not slowed down, clocking over 129 mph on his Honda Racing Fireblade RR-R. (Paul Phillips/)
Gary Johnson, always competitive in the TT Superbike and Superstock events, seen here on his 2022 BMW S 1000 RR powered by Specsavers. (Paul Phillips/)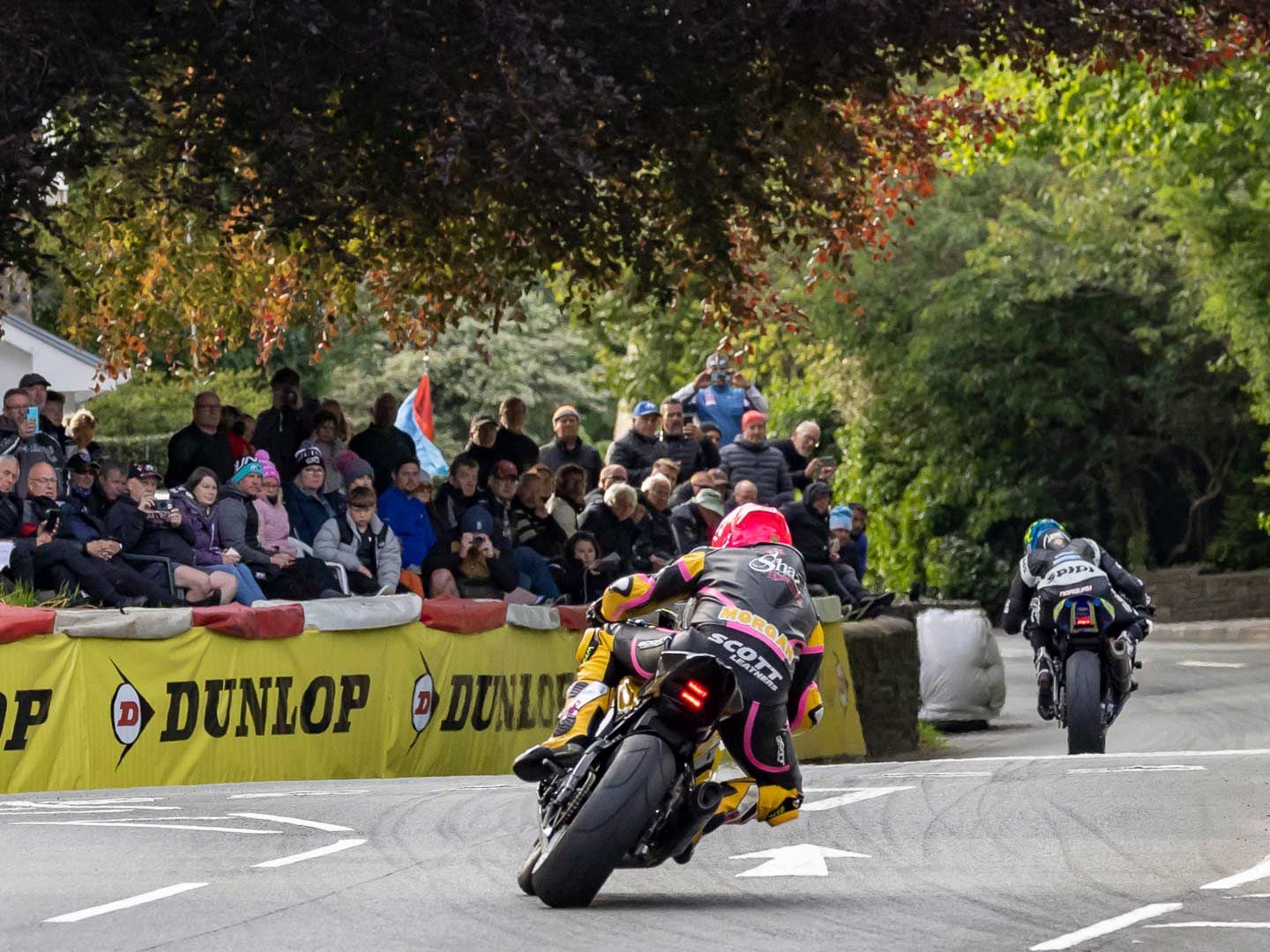 The churchyard at Braddan Bridge brings fans head on with the action on the course. For 5 pounds, spectators get a front row seat and food for purchase in the church basement. (Paul Phillips/)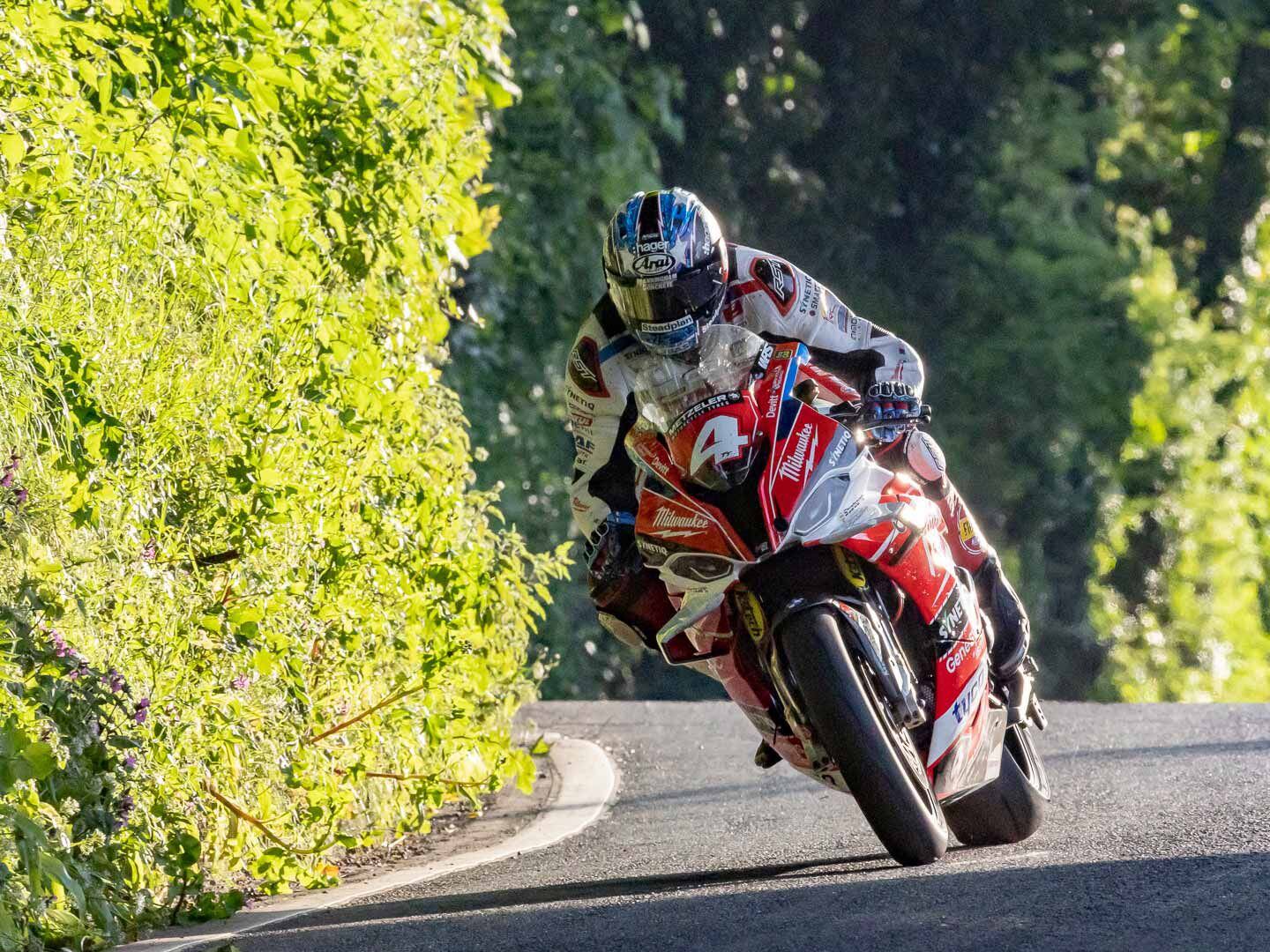 Ian Hutchinson is back supporting No. 4 on the Milwaukee Tools BMW M 1000 RR. (Paul Phillips/)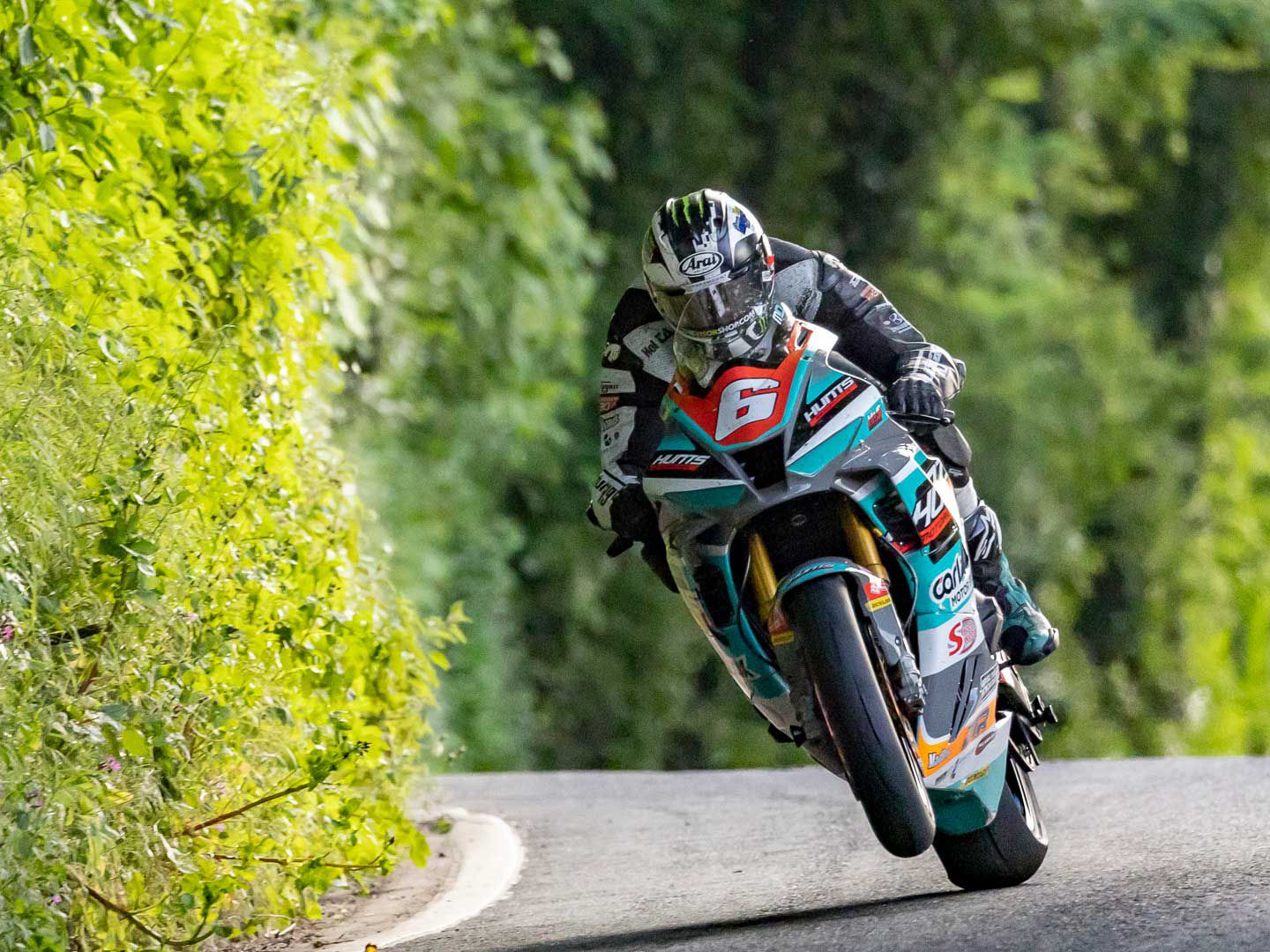 Michael Dunlop on his Superstock Suzuki 1000 tops 127 mph in Thursday's qualifying session. (Paul Phillips/)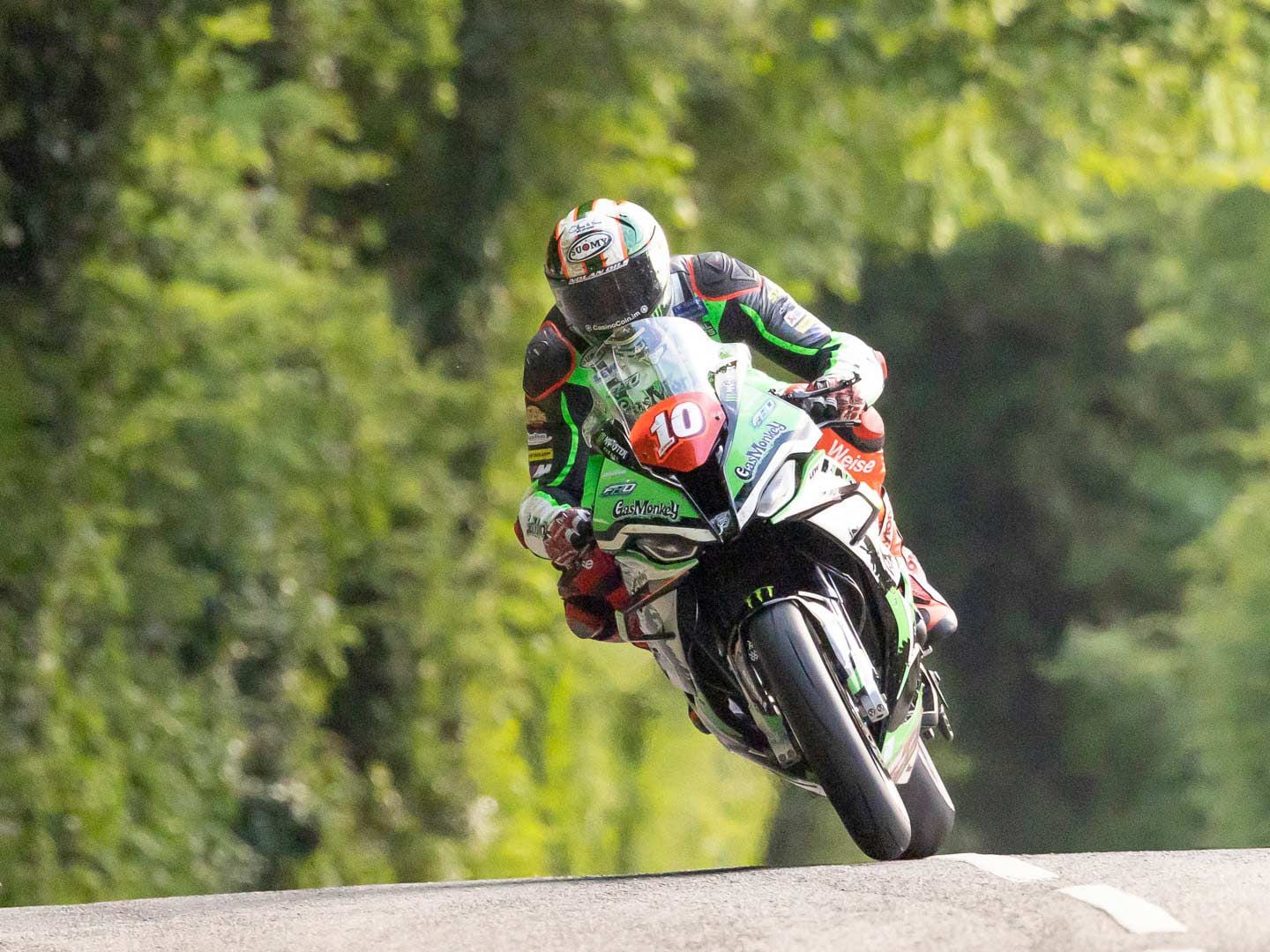 Peter Hickman on his way to his 133 mph lap on his BMW M 1000 RR. (Paul Phillips/)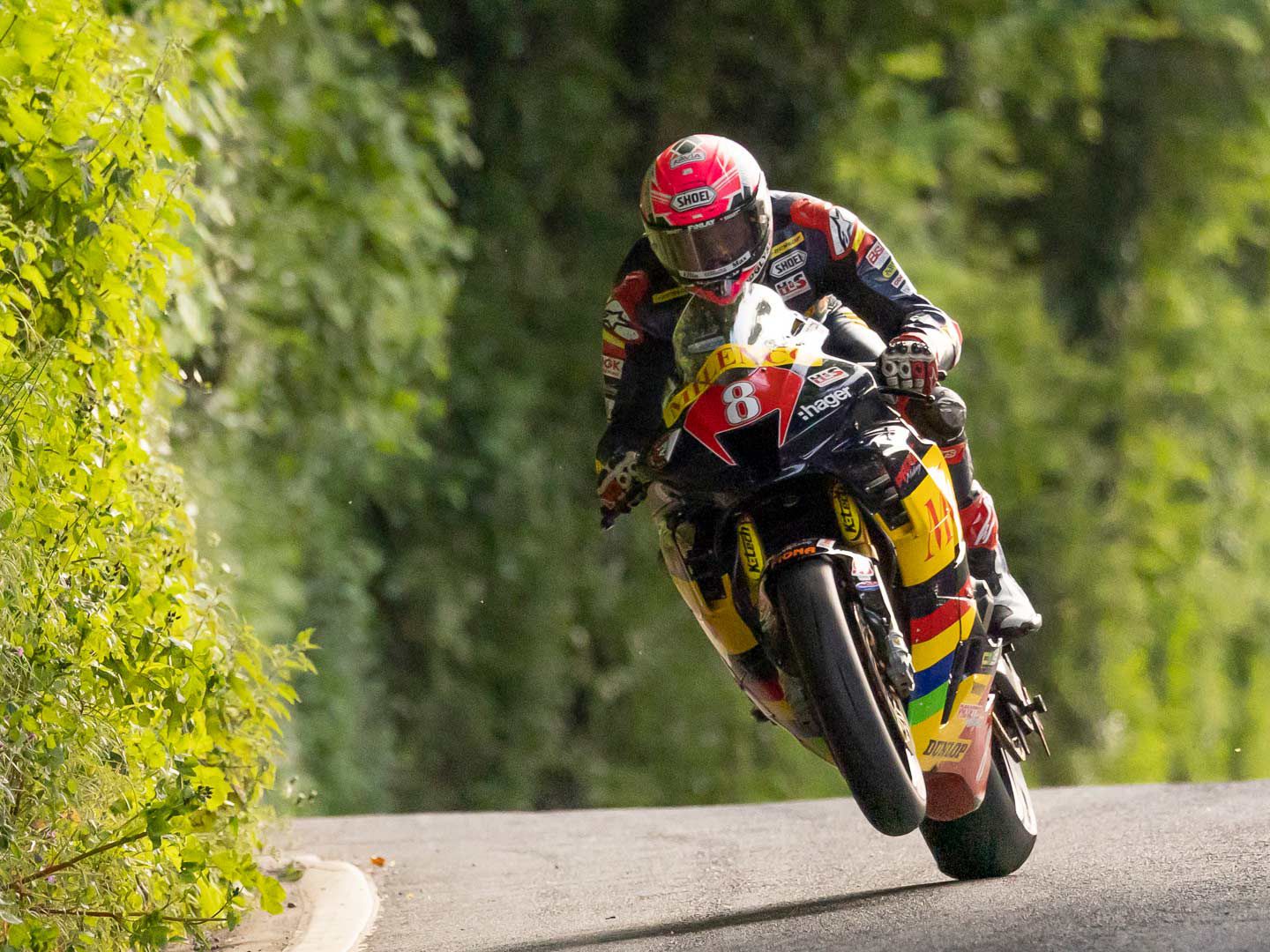 Constantly changing light conditions add to the intensity as TT riders push for speed. Davey Todd has been near front all week for qualifying. (Paul Phillips/)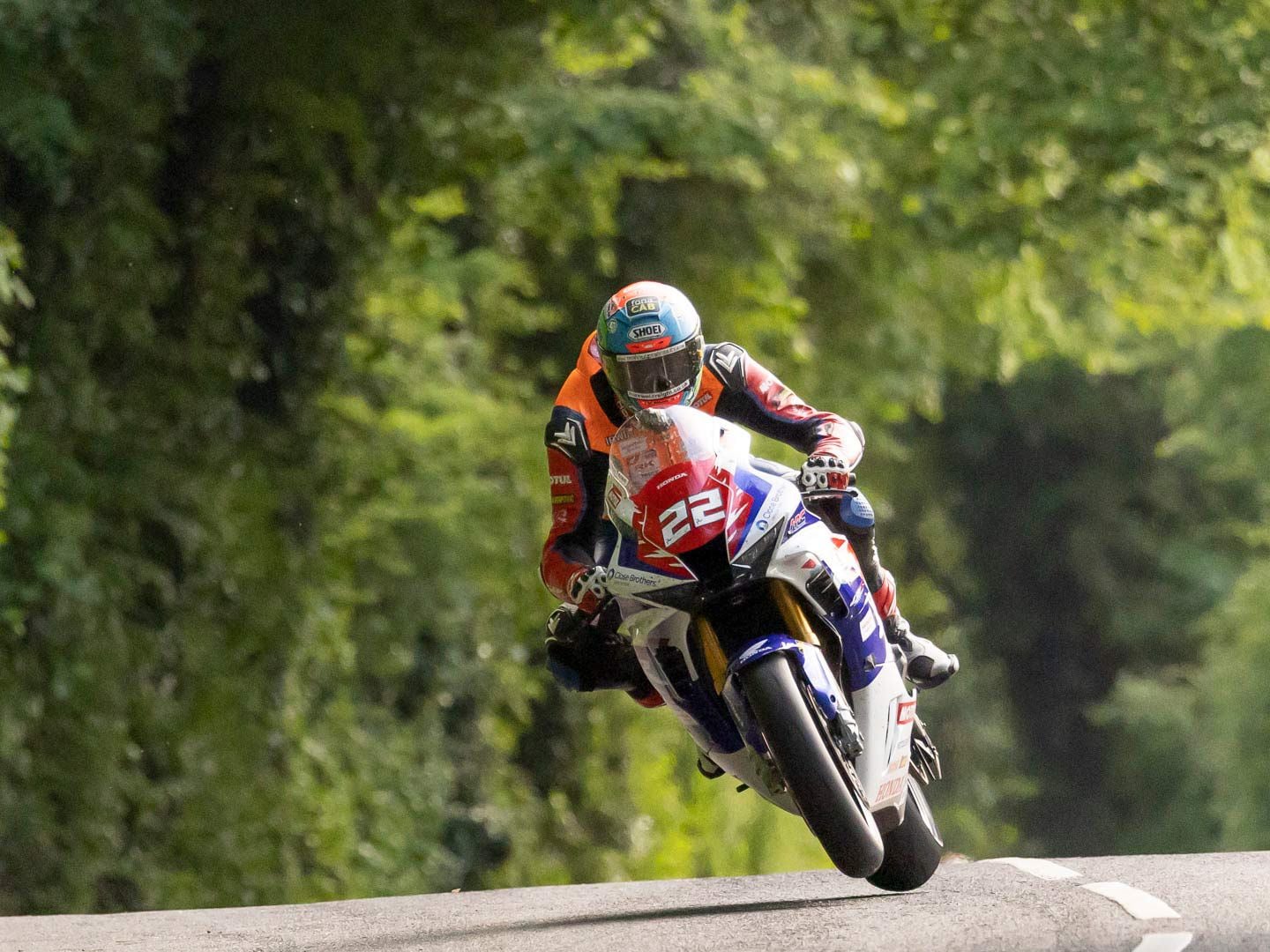 TT newcomer Glenn Irwin, on his Honda Racing Fireblade 1000 RR-R, continues to dial in every aspect of his TT riding. (Paul Phillips/)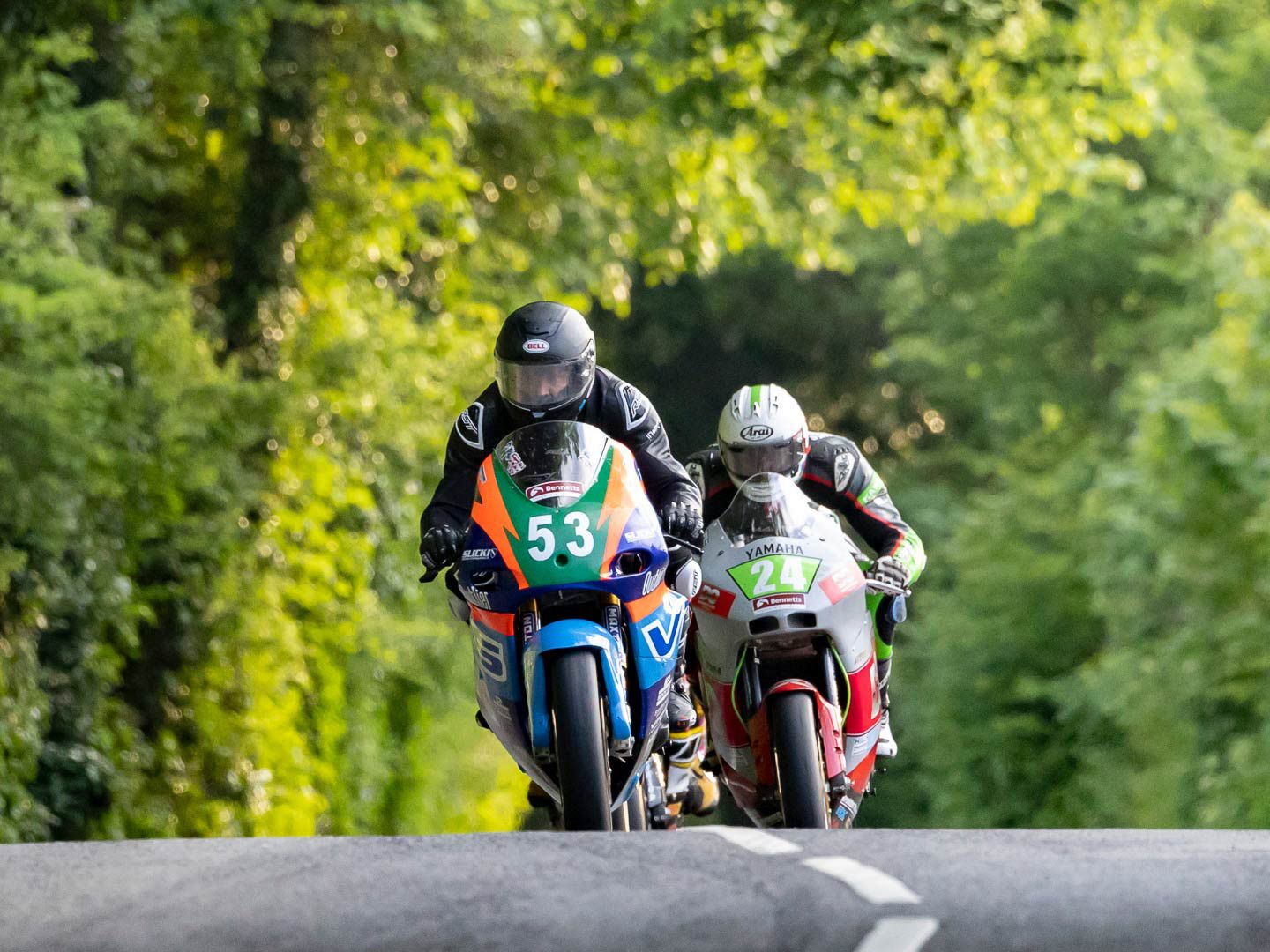 American privateer Pete Murray working to make the qualification time on his Kawasaki Ninja Twin. (Paul Phillips/)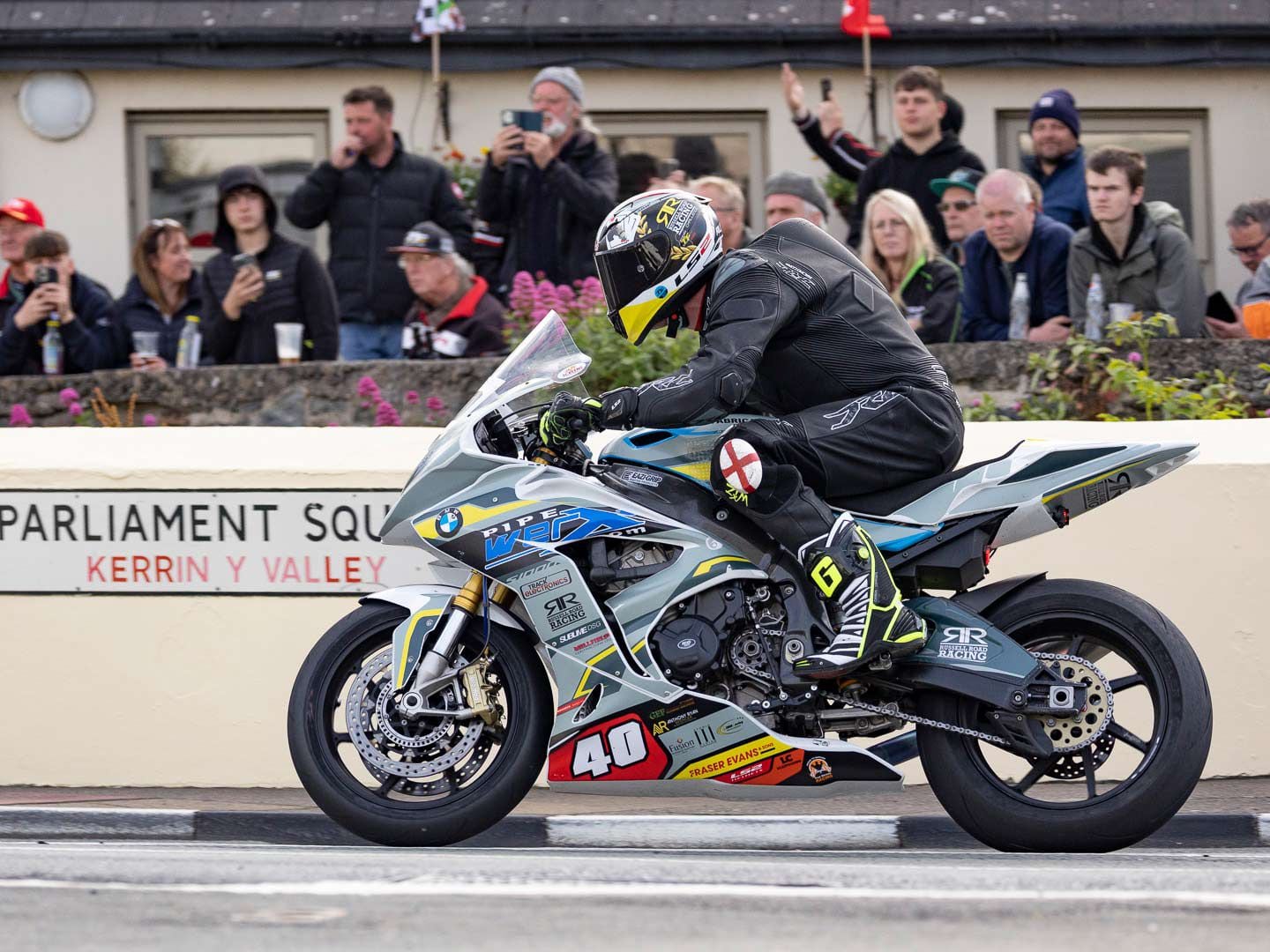 There are so many fabulous viewing spots at the TT that it's hard to pick a favorite. In Parliament Square in Ramsey it's possible to arrive early and get a spot in the garden of The Swan pub just a few feet from the action, which in this case is privateer Michael Russell on his BMW S 1000 RR. (Paul Phillips/)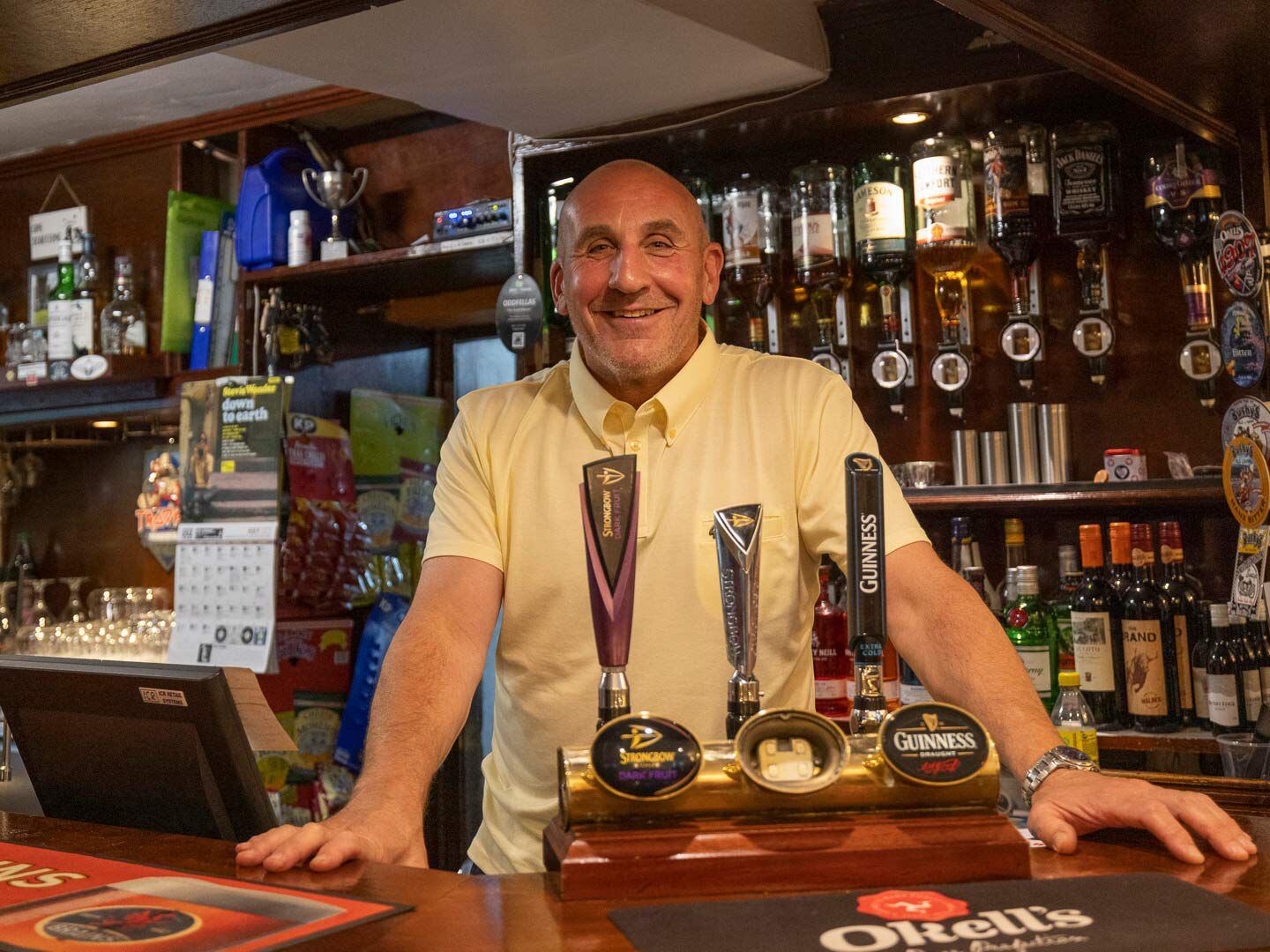 Inside the Railway Inn the punters are greeted by Tony, the landlord, pulling pints and serving up some of the best fish and chips on the isle. Wander off and stop back later for another pint without worry; the IOM transit stop is nearby and buses are running on an expanded TT schedule to safely get fans wherever they need to be. (Paul Phillips/)
View full post on Cycle World