Max Biaggi on Rossi, Racing, and Retirement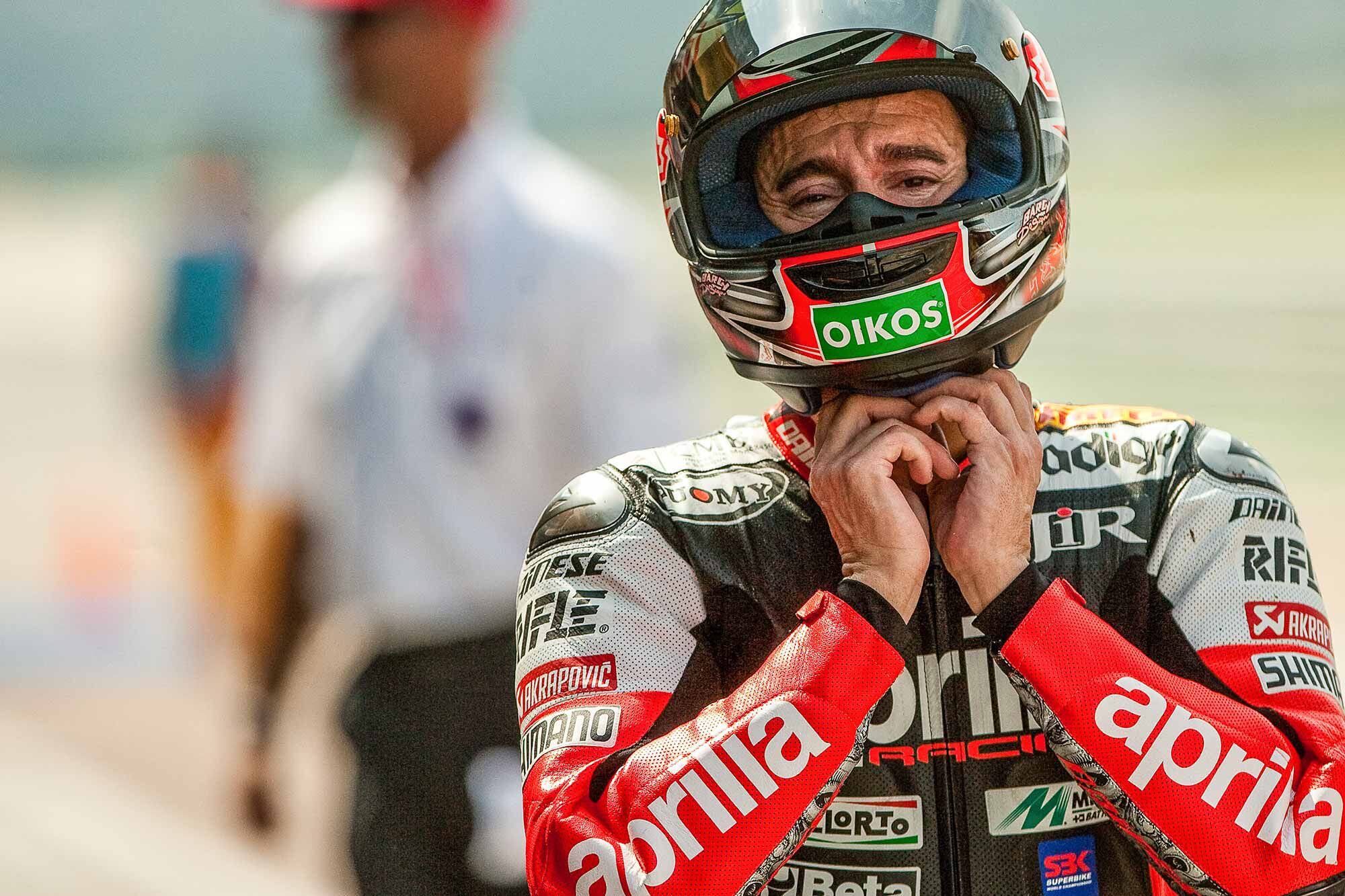 Max Biaggi talks to <i>Cycle World</i> about his racing career and rivalry with Valentino Rossi. (Andrew Wheeler/AutoMotoPhoto.com/)
Last Sunday at Misano, Valentino Rossi greeted his Italian fans for the last time on home soil. It was an emotional moment, much as it was that day in August when The Doctor announced that he would retire at the end of the season.All Rossi's colleagues were touched by his retirement; Valentino is and remains the greatest of all time. Even his most bitter rival, countryman Max Biaggi, sent him a beautiful message; "Good life, Vale, We have never pretended to be friends, either on or off track, but we have animated one of the most beautiful rivalries in motorcycling. Maybe one day we will meet each other in front of a glass of red wine for some laughter. Deciding to stop is never easy, especially after a 30 year career, but you can now think of doing many things that you would never have been able to do before and it's not so bad."It was a gesture of great sportsmanship, and it stirred the hearts of many fans who have dreamt of getting Rossi and Biaggi in the same room to talk about their shared past. Could it ever happen?
We asked the six-time world champion and roadracing icon.
Today, after so many years, what would you talk about with Rossi over a glass of good red wine?
I said everything in that tweet. When I heard the news, I felt I had to honor the moment. I wrote the message straight away. It was a genuine gesture. If I have to think again, then…
If Rossi accepted the invitation, would you show up?
I will answer when I receive the invitation [smiling].
With Rossi's retirement an era is over.
Rossi was the last pillar of our era, the last survivor of our generation. This is why I felt the urge to write. Nevertheless, I think that our battles, our victories and the defeats, are a saga that will remain forever.
It is never easy to reach out to a rival, even after so many years.
We have never pretended to be friends either on or off track, but ours was one of the most beautiful rivalries in motorcycle racing history. My message wasn't intended to change things. Over the years, it's natural that you grow up, mature, and undergo shifts in your point of view. If I look back today, I smile, and view all the old stories with empathy.
Looking back to those days, what was your best duel with Valentino Rossi?
I would say Welkom 2004, even if Rossi won. I made a mistake; I didn't realize that it was the last lap. I was expecting another one for the final pass. It was a pity that I lost, but the battle was amazing. Another amazing duel was Assen 2001 with the 500cc; that Sunday it was my turn to win.
Where did this rivalry come from?
I assume because both of us wanted to win, which meant we had to get past each other.
A champion's worth is also measured by his rivals. What parts of your stellar career stay with you?
I had a career full of satisfactions, so it is difficult to choose. But I would say all the first times. The first 250cc title with Aprilia, that I won at the very last race in Barcelona. Winning the title with Honda at Phillip Island, a success that arrived, again, at the last race. The debut in the 500cc category. Becoming SBK world champion after a one-year stop from MotoGP. Everything was beautiful.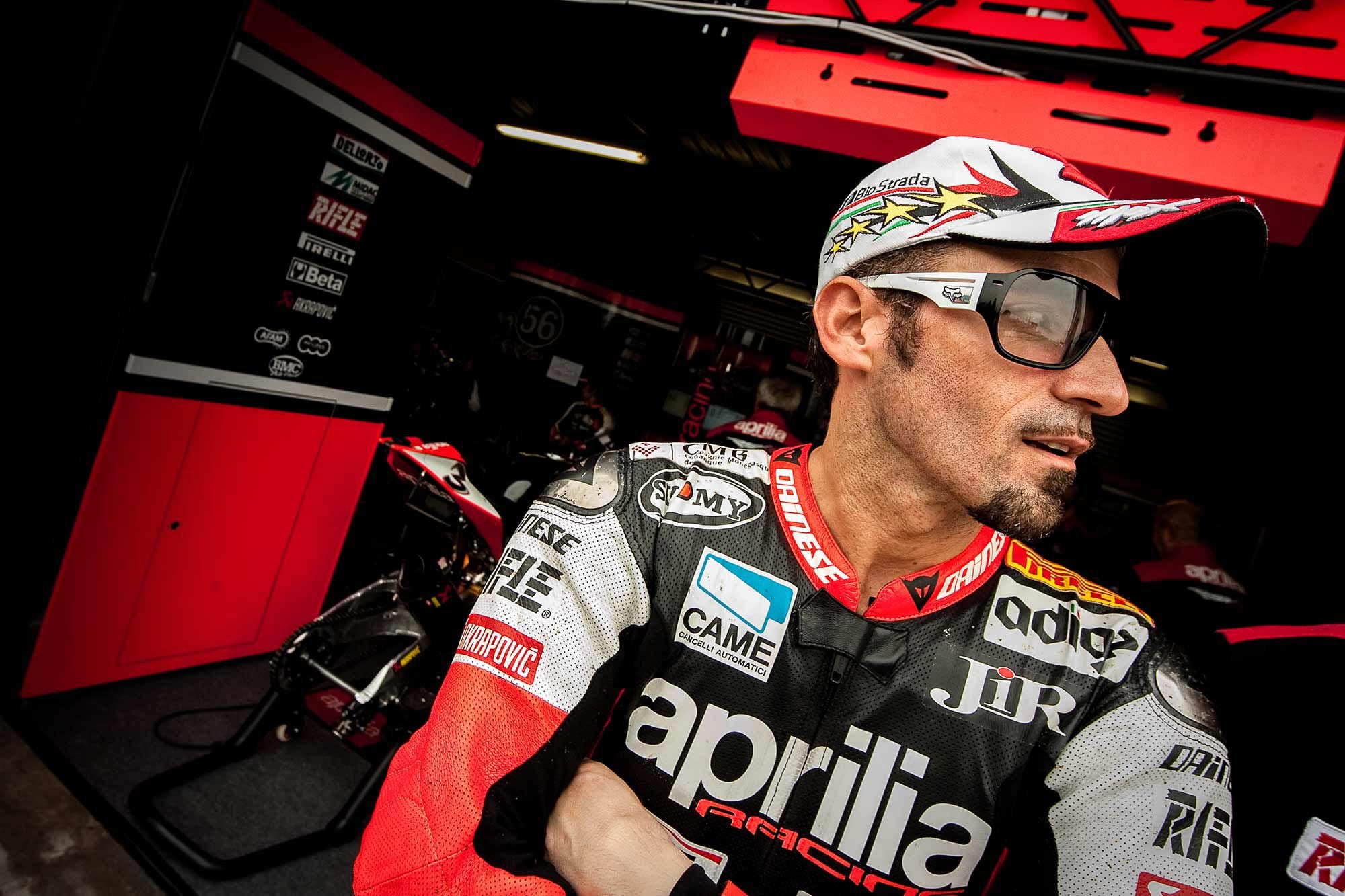 Biaggi retired with a World SBK championship in 2012 at the age of 41. (Andrew Wheeler/AutoMotoPhoto.com/)
How important was it for you to retire as a world champion?
It was a privilege, the perfect happy ending to a beautiful story. It's like the moment when the priest says, "You may kiss the bride." I decided to retire when I won the second WSBK title at the last race in France by half a point. In any sport, retiring as a winner is a privilege, because it remains an indelible memory in your career. But it is also very painful because in your heart, you know you are still strong and you could continue racing for a couple years. For me it was really hard. Even though I had a long career and I was 41, it took me a while to digest the decision.
You are an Aprilia Ambassador. Is this the brand that remains in your heart?
My relationship with the Aprilia brand is special because I won with the two- and four-strokes, both in the World Championship and in WSBK.
Biaggi's relationship with Aprilia remains close as he won multiple championships on the brand. (Andrew Wheeler/AutoMotoPhoto.com/)
Do you have any regrets?
Honestly not. I consider myself a lucky man, because I can afford to get up in the morning, take my children to school, and then have breakfast with a friend. We can talk for hours. This is a privilege.
Would you change anything?
If I could, yes. I would turn back time and bring back my father, the person I miss most.
This year you celebrated your 50th birthday. How is Max Biaggi nowadays?
I'm a different person. When I was racing I was a clinical racer; I was obsessed by every single detail, completely involved in the development of the bike, in the mechanics. Remaining at the top for many years requires a great effort. The pressure, even from the media, was astronomical. Our sport gives us a lot, but it can also be cruel and take a lot.
Today I am much more lighthearted, more serene. In my everyday life, my family comes first. There is love for my children Leon [10] and Inés [11]. When I am with them, I fully dedicate my time to them. I don't want nannies, so I have learned to cook and take care of everything.
And your current passion?
The Moto3 team keeps me busy, and then there is the project with Voxan to continue to break land speed records with an electric motorcycle. This is very exciting.
Biaggi plans to break more records on the Voxan. (Voxan/)
What is the next challenge for you?
In November Voxan will go to America to break new records. Last time we beat 11 records; we want to do even better.
Finally, Valentino Rossi has announced that he will continue his career behind the steering wheel of a car. Have you ever considered racing cars?
I had the opportunity to make the shift from two to four wheels in 1999 with Ferrari. It was a two-year project, but I was at the peak of my career in 500cc. Cars, for me, have always come after motorcycles, so I decided to continue racing in MotoGP.
Now, Valentino, the ball is your court. Will you give the fans a meeting between The Doctor and Emperor?
View full post on Cycle World