MotoGP Is to Resume in Two Weeks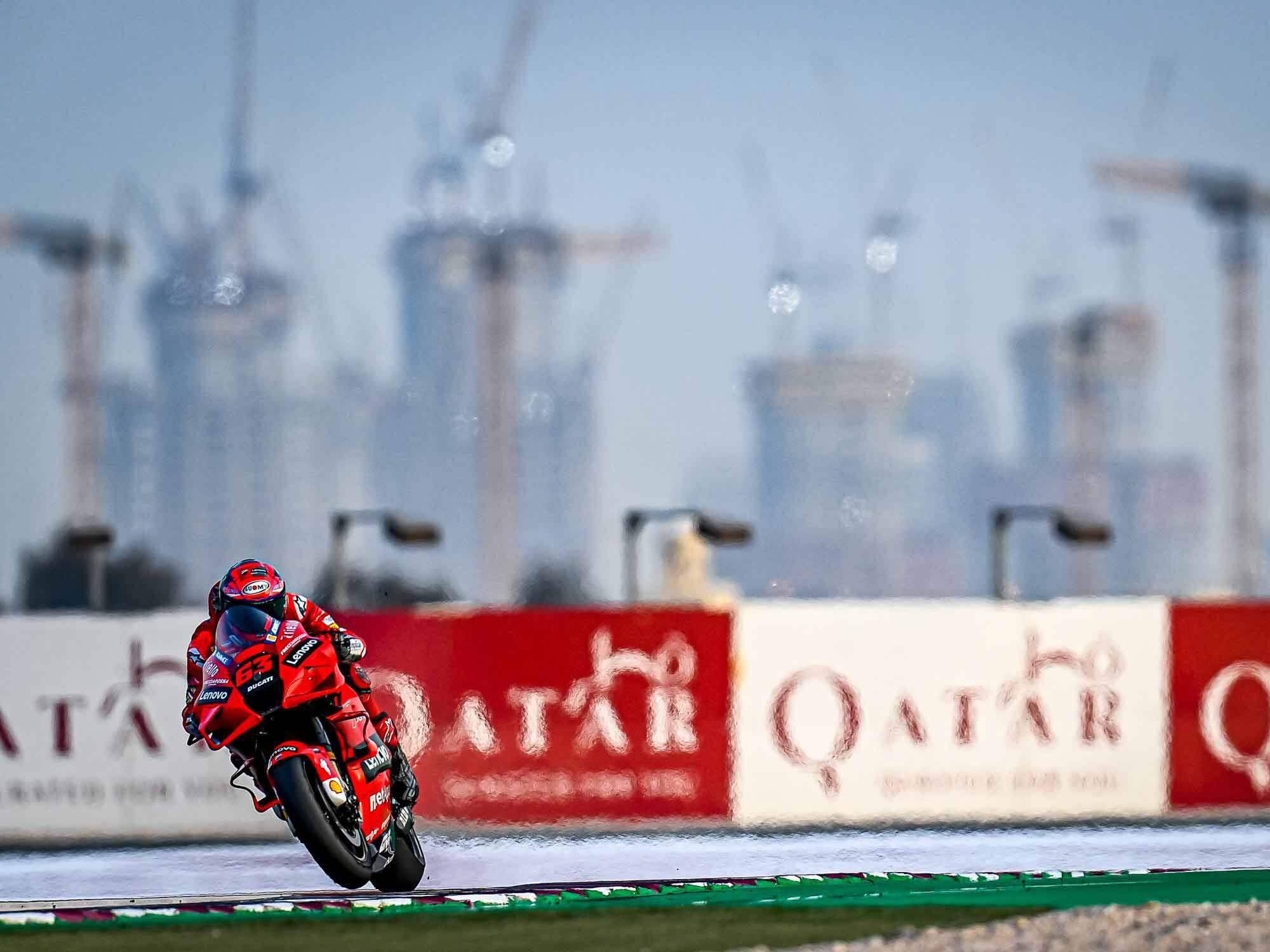 MotoGP testing has concluded at Losail International Circuit, now the focus turns to the first race of the 2021 MotoGP season. (MotoGP/)
In the recent past the MotoGP norm has been to have a couple of preseason tests at hot, humid Sepang in Malaysia, and have a go at a Spanish track as well. But this is the time of COVID and everything's different.
Each track acts as a filter on the starting field. Ducatis go well where strong acceleration and top speed count most. Yamaha and Suzuki excel where long fast corners outnumber corners that favor point-and-shoot riding. Honda, back when star rider Marc Márquez was neither injured nor convalescing, worked best where hard braking, quick turning, and sudden acceleration were needed.
After five days of running Qatar at night under the lights, four riders, one Ducati and three Yamaha, are under Márquez's old 2019 lap record of 1:53.380: Jack Miller, Maverick Viñales, Fabio Quartararo, and Franco Morbidelli.
As the pundits-on-scene correctly point out, teams and riders went to Qatar not to "win the practice" but to get actual track time, severely limited by rule to specified venues and times each year, with which to evaluate what they have built over the past winter. They are not trying to set fast laps. In fact, because their true goal is to improve the bikes, they devote the most time and effort to their worst areas of performance.
Something similar used to confuse race watchers during Friday and Saturday practices because Valentino Rossi, back in his greatest days, was often slow. This was his method of working: to concentrate on specific areas of the track to solve their special problems, not putting together a fast lap until qualifying. This is why he is called "a Sunday rider;" you get points for what you do on Sunday, not for wasting time and rubber trying to teach the one-lap wonder boys a lesson in the free practices.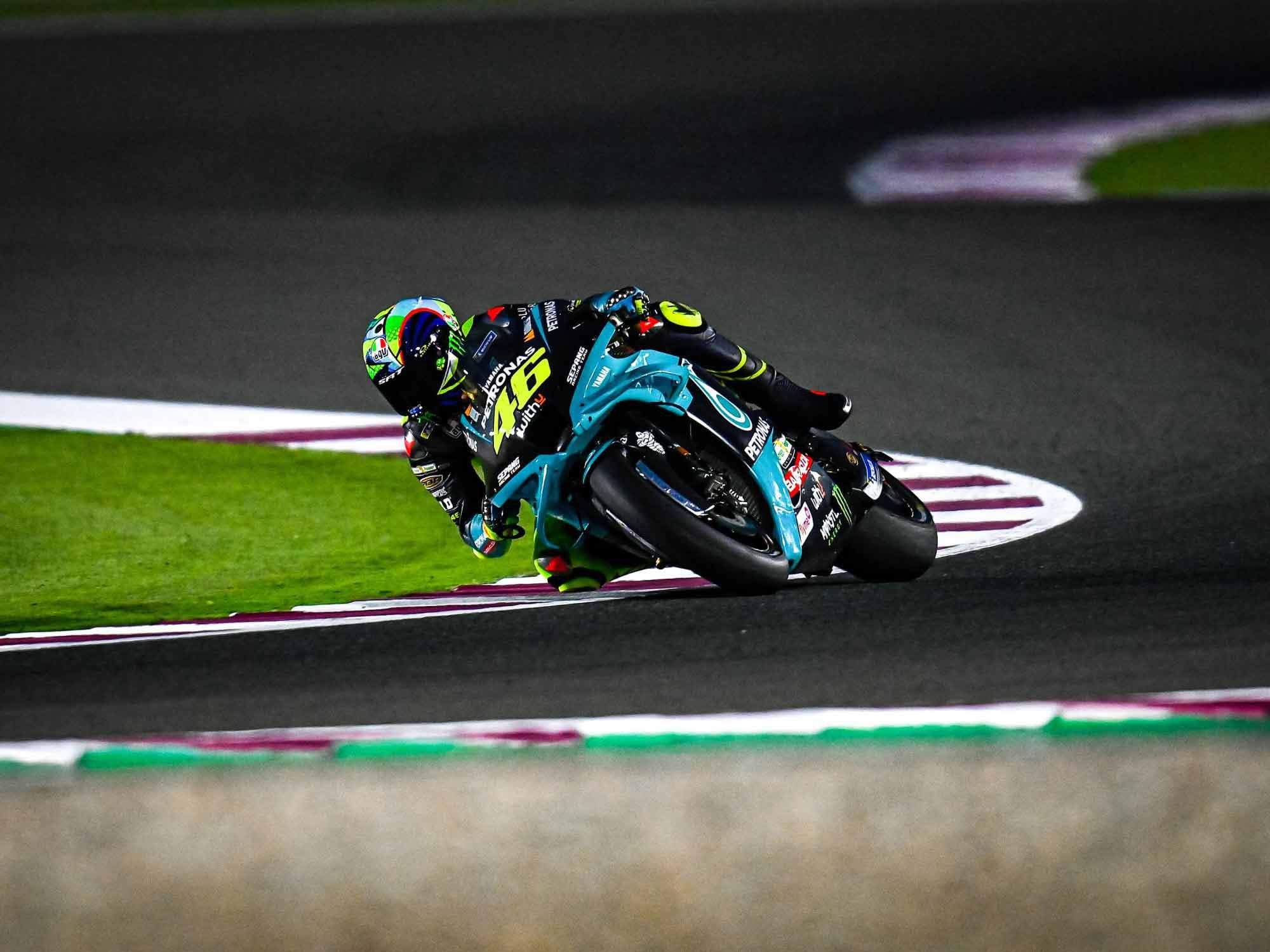 As Rossi has shown during his long career, testing lap and practice times are not a true indicator of who has the speed. Testing is for getting the bike set for when it matters on Sunday. (MotoGP/)
Aside from Yamaha and Ducati, Honda is out of it for the moment; although its present riders show promise, none of them is ready to rule. Pol Espargaró, newly on Honda, was top man for the team at Qatar in tenth. KTM has "hit a wall" and is working out the problem. The Suzukis were seventh and eighth fastest, respected for Joan Mir's consistency in winning last year's championship, but not yet in top places. Aprilia's Aleix Espargaró was sixth.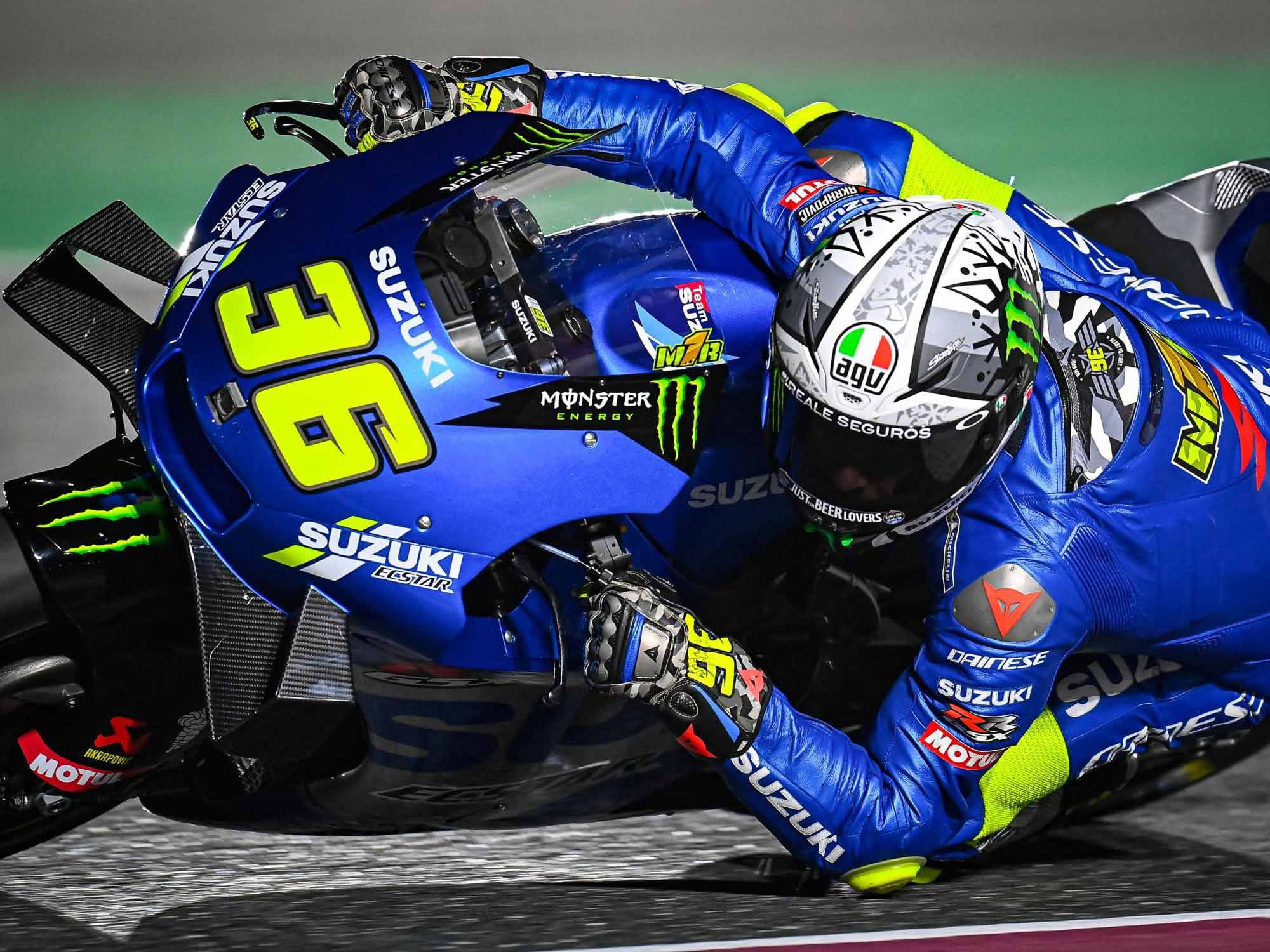 Joan Mir's consistency won him the title last year. Will it be more of the same in 2021? (MotoGP/)
There is Yamaha again, at the start of the year looking pretty good. The new bike has been described as a 2019 chassis with engine mounts altered to accept the 2020 engine. Quartararo's strong performances last year were achieved on a 2019 bike (he was a satellite rider then, but now he's factory).
In the past several seasons Yamaha has seemed to have improved every spring. But as soon as actual racing has started, the old problems of poor rear grip in the last third of races and loss of front tire condition during drafting have re-emerged. Yamaha's intentional horsepower shortfall requires drafting—especially so in 2020 because of engine reliability problems that forced a redline reduction. It has always been Yamaha's policy, even in the two-stroke era, to shape engine power for a range of acceleration rather than to go more for peak as Honda and Ducati (and latterly, KTM) have done.
That power shortfall persists. Quartararo said this past week, "On the straight, if there is a Ducati, it will overtake us and we need to find a solution to overtake them back and make a gap."
Loyal Yamaha engineers would surely chorus "Perhaps here at Qatar, but when we get to other tracks our advantages will appear."
Those free to speak their minds would surely add, "Qatar gives advantage to both Ducati and Yamaha for different reasons, yet Quartararo said what he did."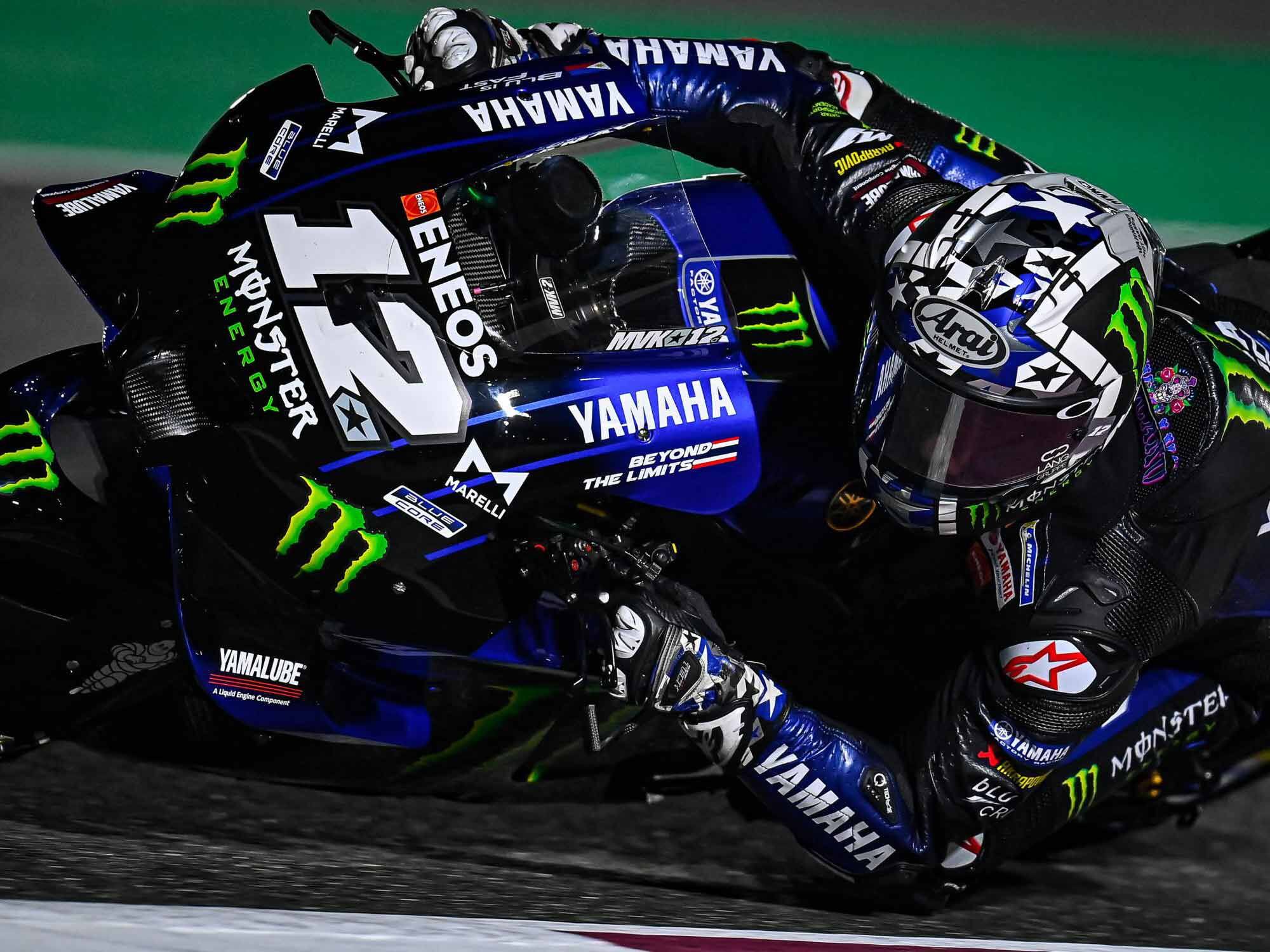 How will the front tires of the Yamahas perform when in a race situation? (MotoGP/)
Also yet to be determined is what will happen to Yamaha front tires when they must sit in the hot slipstream of more powerful bikes. Last year the Yamahas were able to make fast single laps in practice, but in races there was often front tire fade. Over the years this has given Viñales' career the aspect of Greek tragedy.
Marc Márquez did not ride this test, but it's said he's been cleared for more intensive physical conditioning for an early return to action. His fans expect him to promptly shrink his rivals to the status of midgets. In his absence the Hondas ridden by others are said to have "had their sharp edges filed off" to make their performance more accessible to those others.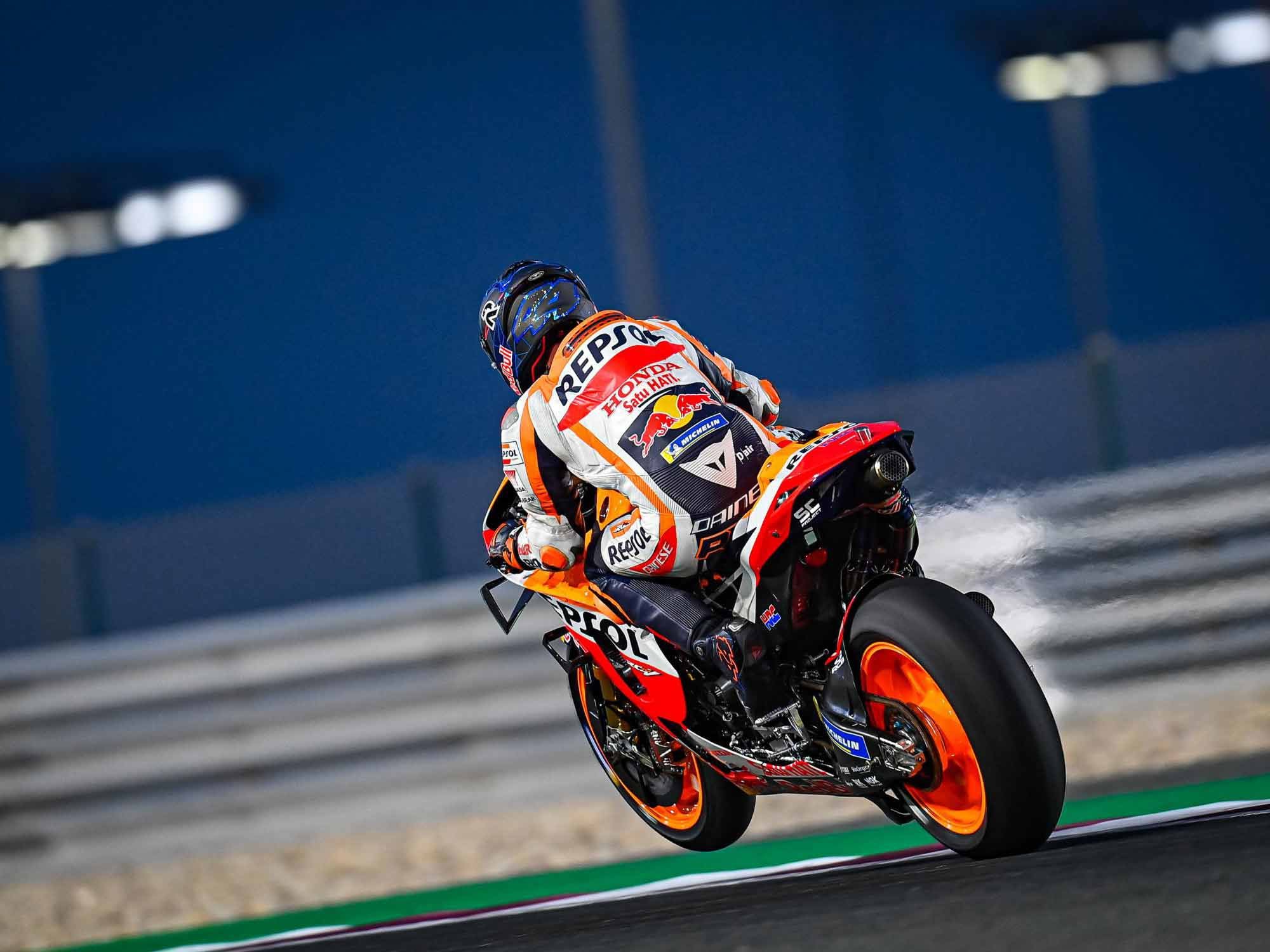 Pol Espargaró was the top Honda rider in testing. (MotoGP /)
As David Emmett has pointed out, with engine development on hold until 2022 engineering budgets are now funding aero trickery. Motorcycles, their shortness denying them the tapering tails that so streamline aircraft, fish, and birds, have the aero coefficients of bread vans. The shock innovator in recent years has been Ducati, and it did not disappoint at Qatar. As before, both front and rear wheels have been smoothed by the addition of carbon fiber sectors centered on 6 o'clock. Seeing how close these covers come to the pavement at full lean, speculation has arisen that they may produce measurable downforce by acting as ground effect venturis. If they do, they also produce a torque tending to increase the bike's angle of lean. So far I've seen no rider comments on a change in steering feel at high lean angle.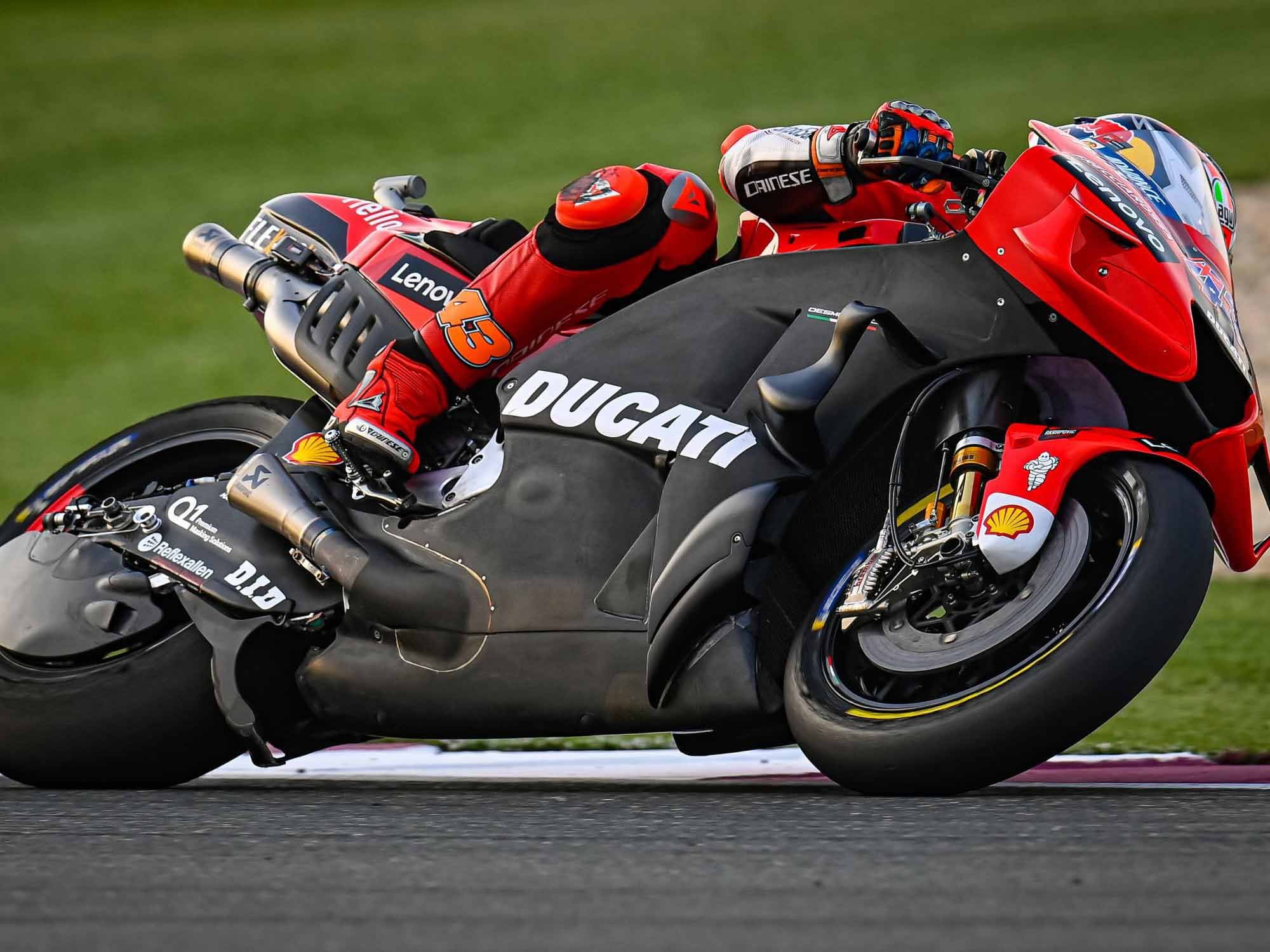 Carbon fiber wheel covers may produce measurable downforce while leaned over in corners. (MotoGP /)
A right and left pair of "periscope scoops" pick up air at fairly low level and duct it into the space behind Ducati front wheels. We know from the ability of fast-moving bikes to vacuum dust up out of track texture that there is high air velocity and therefore low pressure (Bernoulli's principle—air in motion loses pressure) immediately behind the tires. Low pressure behind a moving object is drag, so let's just dump some air down there and see.
A frequent method of playing with such effects in the wind tunnel is to have the bike and rider on the balance and technicians with long poles standing off to the sides, out of the free jet. On the ends of those poles may be various vanes and other devices whose possible utility the aero people want to evaluate. On cue, a tech steps forward and with the pole places a "gadget" in the desired place. Is there an effect on drag? In the data cabin, techs-under-glass either nod or shake their heads.
My late uncle recalled to me being on a Boeing 707 PR flight in the mid-to-late '50s and seeing engineers peering out the windows at stubby turbulators stuck to the wing's upper surface, trying to make out their effects on areas of yarn tufts stuck by one end to the wing. Where the tufts whirl madly about, the flow is detached and turbulent. Where they lie down flat, the flow is attached and smooth. Computer Fluid Dynamics (CFD) has been around a long time now, but it lacks imagination. So the "play" described above is how aero people can get a direct feel for what the invisible air is actually up to (one of the "poles" emits a stream of smoke at the push of a trigger). Someone, somewhere, is writing the necessary checks to cover all this.
RELATED: Active Aerodynamics For Superbikes
Where might aero gains be made? One foggy morning in 1993 I watched first 500 practice at Australia's Eastern Creek circuit. Nature's excellent flow visualization scheme showed me that no bike had a smooth wake of the kind depicted in new-model brochures. All wakes were whirling masses of energy-sapping turbulence—I could clearly see engine power being converted into purposeless random motion and heat.
The post-dustbin-fairing FIM aero rules of 1958 require that the front tire be visible over 360 degrees, seen from either side. Yamaha has provided stationary smooth surfaces flush with the rim, guiding airflow to a fender-like structure that also includes telescoping fork tube fairings. Interestingly, the top of that long-suffering front tire is exposed.
Airflow around fork tubes continually sheds vortices (like the ones you feel on your body as you draft a boxy truck on your bike). The "wind in the wires" sound still used by Hollywood to tell us "airplane in big trouble" was originally caused by high-frequency vortex shedding from the bracing wires of World War I biplanes. As the vortices carry away energy they produce drag, but by giving them airfoil section (in the form of covers) vortex production is stopped. Taken as a whole, what Yamaha has done is to streamline the front wheel, which is illegal. So in order to legalize it, separate parts are used, each with a legal purpose, such as "fork tube stone guard," "brake disc cooling vane," etc.
Ducati's 6 o'clock wheel sector covers may, as some claim, produce downforce at high lean angle, but more likely what they do is give guidance to airflow past the lower parts of the wheels by preventing the air from becoming disturbed by the moving wheel spokes.
So far, the biggest single source of drag on MotoGP bikes—the lack of an (illegal) aft fairing to recover energy from flow over the whole vehicle—has received little attention. Makers of leathers attempt with their "backpacks" to guide airflow from the rider's helmet onto his back, but even today we see riders lift their butts in fast sections, as they have been taught to do in routine wind tunnel sessions. When flow over the rider's back is separated and turbulent, the leathers tend to lift up and drag is high, so riders lift their butts until they can feel their leathers lie down on their backs, indicating that airflow is attached and that some energy recovery is taking place. For many years riders have spoken of seeing modest gains in rpm from this practice.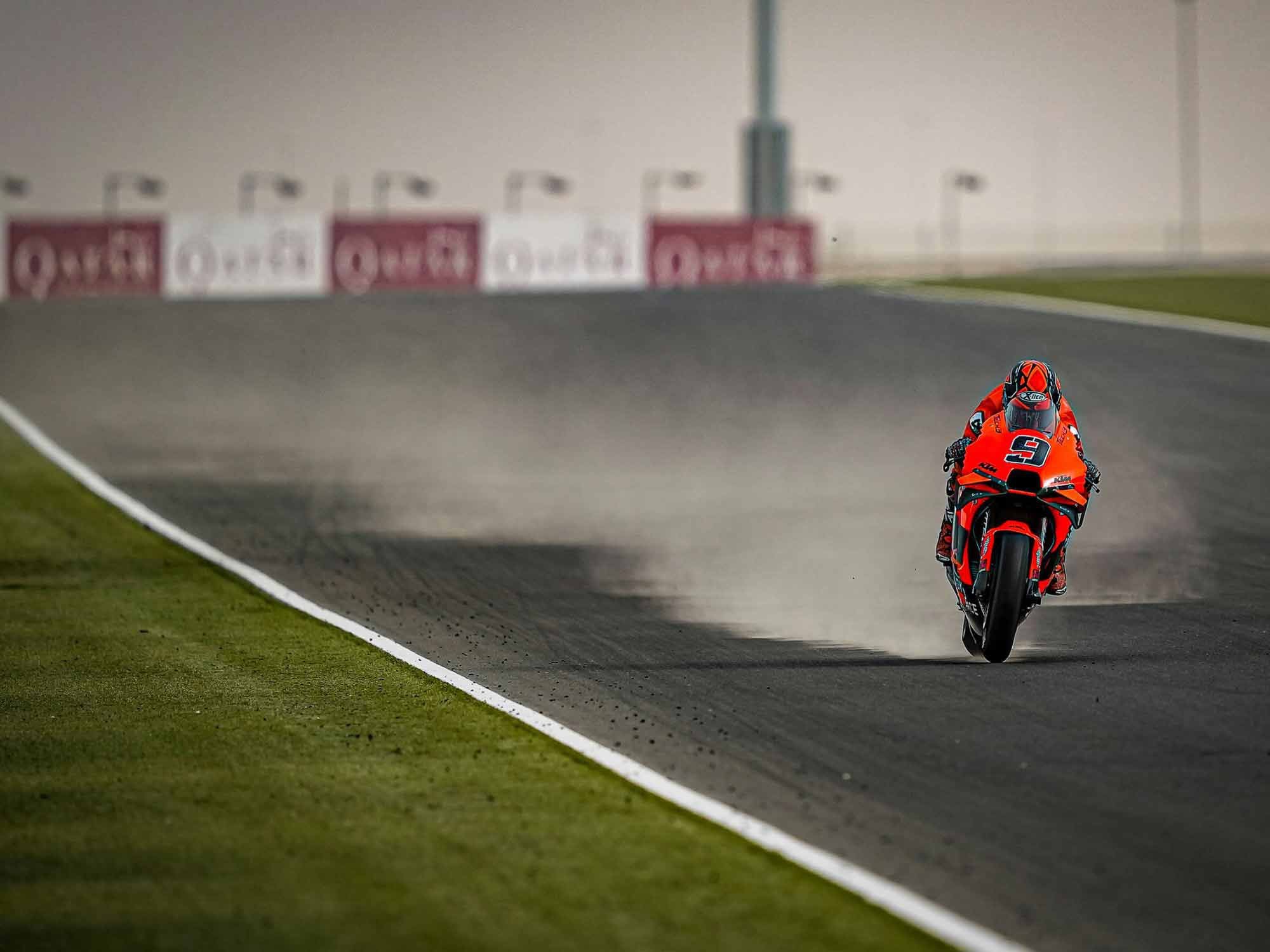 Sand deposited on Losail's asphalt shows the turbulence left in the wake of a modern MotoGP racebike. (MotoGP/)
Top views of the 2021 Ducati show the classic fish shape, widest at the front, with width decreasing toward the rear. Least desirable is a "snowplow" or arrow-point shape that, by pushing air outward as the vehicle passes, makes it act even wider than it actually is to the airflow. As in fish and aircraft, the tapering tail serves to recover energy from the flow, rather as squeezing a wet bar of soap can cause it to shoot out of your hand: attached airflow exerts inward pressure on the tapering tail, producing a net force that points forward. Not only do the 1958 rules prohibit aft streamlining, but the inherent shortness of motorcycles directly limits what can be done.
In the closely competitive trucking industry some progress has been made in reducing drag by stopping the shedding of energy-rich vortices. We see some fairly short tapering cargo box extensions now in use, and promising results have been had by placing retractable guide vanes, mounted on movable "poles" just as in wind tunnel play, where they can guide airflows smoothly back together as they stream past the aft end of the box. Such guide vanes have also been used in F1 to achieve specific goals.
Would such vanes-on-a-stick be legal, or would they have to be disguised as selfie pods or shamanic amulet carriers? Ducati's Gian-Luigi Dall'Igna is surely exploring every avenue.
Another problem is cooling drag. It takes pressure to push cooling air through heat exchanger cores, past the exhaust pipes, over lumpy engine surfaces, and finally out through "gills" at the sides. Ducati is said to have discovered, in developing the Supermono of 1993, that releasing slow-moving heated air through such gills increases drag by effectively making the vehicle wider. Much thought has been given to this problem; one path that has been tried is to place the cooler(s) behind a diffuser. By decelerating air as it enters the bike, the air turns part of its energy into the pressure that can push it through the rad cores. The air is then re-accelerated before it's allowed to rejoin the free stream. The problem is that a modern MotoGP bike is already so solid, with its engine, intake airbox, airbox ducts, and fuel so densely packaged, that there's no room for such a thing.
RELATED: Honda Working On Rear End Aerodynamics
Ideally, a coolant radiator and its ducts are a low-grade jet engine. Take in air, add heat energy to it, and then eject it out the back at a higher velocity. De Havilland's famed Mosquito aircraft reportedly not only canceled its normal cooling drag in this way, but may have actually produced net thrust.
How about starting with just one part of the job: efficiently decelerating cooling air as it approaches the faces of the coolers behind the front tire? Maybe the top of Yamaha's new front fender and its two fork tube airfoils can function as a low-grade diffuser, reducing loss in this area?
Not enough room? Diffusers don't have to be long and gently sloped. On the C-119 "Flying Boxcar" cargo plane, each engine's nacelle diffuser is just over 9 inches long and widens at 25 degrees rather than the 7 degrees textbooks cite as "ideal." Yet diffuser thrust is real; when NACA (which in 1957 became NASA) was developing diffuser nacelle technology, such a diffuser ring vibrated loose from its mounts, and its thrust drove it forward into the prop.
My point in going on about all this is that there's plenty for Mr. Dall'Igna and his counterparts in the other teams to busy themselves with between now and when Dorna permits engine development to resume.
View full post on Cycle World