Motorcycle Ram Air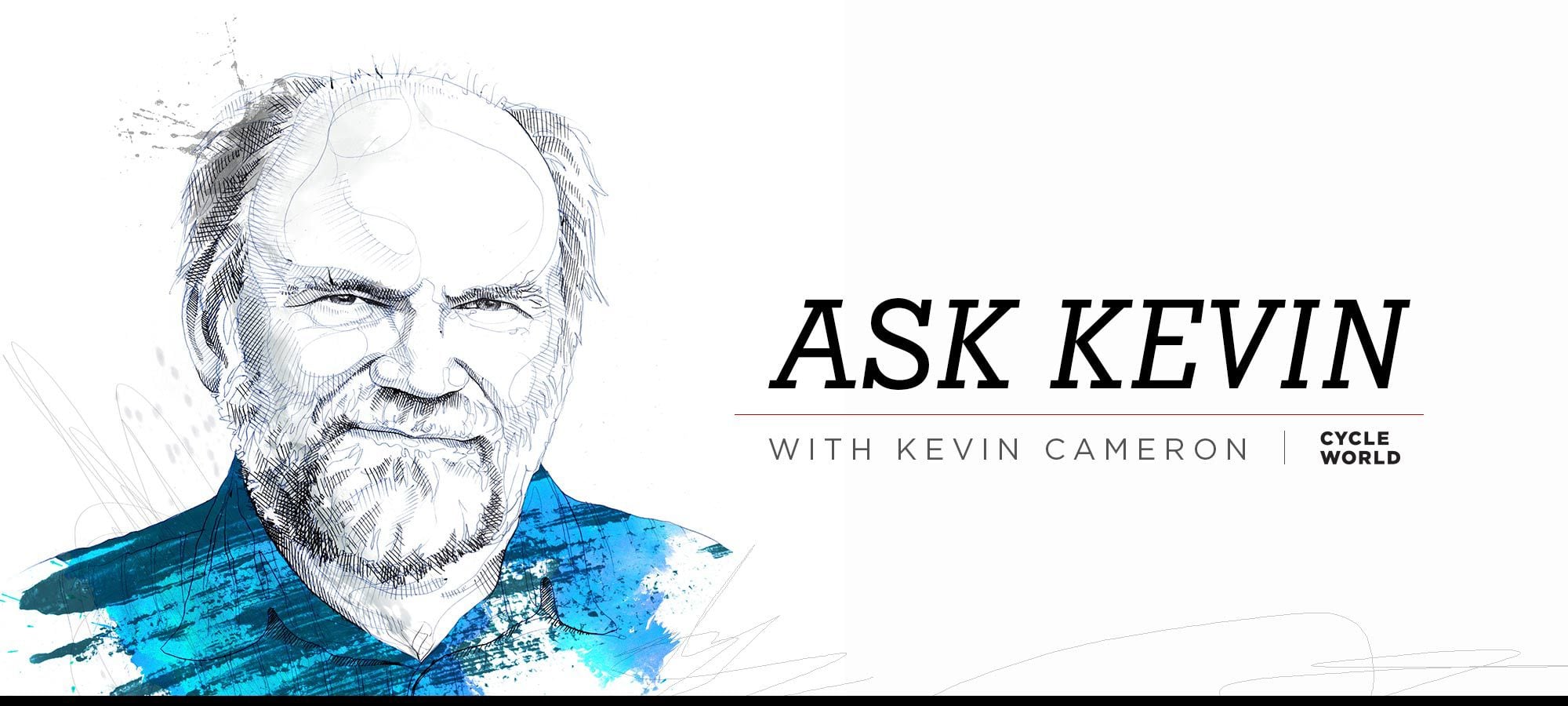 Kevin Cameron has been writing about motorcycles for nearly 50 years, first for <em>Cycle magazine</em> and, since 1992, for <em>Cycle World</em>. (Robert Martin/)
Look at any modern sportbike and you will see a forward-facing ram air intake located centrally in the front of its fairing. The most recent designs copy MotoGP practice and route this air straight to the engine's intake airbox by flowing right through the steering head. The steering stem is faired to reduce its disturbance to the flow.
The fact that the gain from ram air at 160 mph (seldom used during motorcycle commuting) is only 3 percent indicates that for production bikes this is more fashion than function, but ram air is real. Indeed, for some sportbikes, horsepower has been quoted on spec sheets as two figures—one for operation at lower speeds, and one for top speed when ram air becomes effective.
When in the late 1920s aircraft engine builder Rolls-Royce and airframe maker Supermarine contested the Schneider Trophy air races with propeller-driven seaplanes, air speeds were fast rising toward 400 mph. The gain in pressure from bringing air moving at that speed (relative to the aircraft) to rest in a ram intake is a very significant 20 percent, so it had a serious effect on engine fuel mixture. If nothing were done to compensate for this gain in air density, a simple carburetor, tuned for operation without ram pressure, would become lean enough to backfire—igniting fuel-air mixture in the engine's induction system—and to do so catastrophically.
Why backfiring? Lean mixtures burn more slowly than do either chemically correct or best-power mixtures, slowly enough that flame can persist in a cylinder until the next opening of the intake valve(s). Upon contact between that residual flame and the fresh mixture, the latter is ignited.
Rolls-Royce engineers compensated for this "ram enleanment" by means of an air density-controlled fuel orifice. But their chief competitor in later contests, the Italian dual V-12 Fiat AS6 engine in the Macchi-Castoldi 72 aircraft, did not at first have such protection, and the resulting backfiring destroyed its intake system. Once mixture correction was provided for the density gain from ram compression, a winning speed of 422 mph was achieved in 1933.
American motorcycle drag racers had similar lean-out problems as terminal speeds rose, with similar results with regard to poor performance and backfiring, until they too learned to compensate. At 200 mph the potential gain from ram air is just under 5 percent, but realizing that potential requires the smooth deceleration of fast-moving intake air in order to convert its kinetic energy, which is energy of all the molecules moving in the same direction, into pressure energy, which is the energy of molecules moving randomly in all directions. That deceleration takes place most efficiently in a duct that widens, which is called a diffuser.
This just looks wrong to many people. To them it seems the right way to get pressure from moving air must be to point the wide end of a funnel into the airstream, the idea being that this will "pack" the air into the funnel's narrow neck.
Nope, doesn't work that way. From the handbook Aircraft Gas Turbine Engine Technology, Second Edition, 1979, we read on page 112 that the duct "…must be shaped so that the ram velocity is slowly and smoothly decreasing, while the ram pressure is slowly and smoothly rising." That requires a divergent, or widening, duct. Look into the intake of any jet engine and that is what you will see.
The faster jet aircraft have flown, the more ram compression and heating of their intake air has resulted. In extremely fast aircraft such as the US SR-71 or former Soviet MiG-25, this extra heat would, as speed rose, overtemperature internal parts, causing engine failure unless some means of compensating for it was devised.
Two solutions have been used. In the SR-71′s J-58 engine, large tubes are opened at higher speeds, bypassing intake ram air around several compressor stages that are normally used at lower speeds. This prevents those stages from further heating the air enough to damage the downstream burner or turbine sections of the engine.
As speed increases so does friction—and heat. At three times the speed of sound, solutions are needed to protect the SR-71's engine from overtemp damage. (United States Air Force/)
In the Tumansky engines of the MiG-25 the design is optimized for high speeds only, using a compressor with fewer stages. This sacrificed efficiency at lower speeds to achieve simplicity.
Long ago it was clear that at sufficiently high speed there would no longer be any need for the turbojet engine's turbine-driven compressor; all the compression necessary for the engine cycle could occur by ram compression. This is the ramjet. Its special problem: How to get it up to the high speed at which it begins to operate efficiently, Mach 3 or so. Use two powerplants, one for takeoff and acceleration, the other for ramjet cruise? Or some kind of turbo-ramjet hybrid, whose cycle changes during acceleration?
Ram air intakes on motorcycles began to appear in the early 1990s. A common setup was two intakes rather than the present single central intake. If you map the pressure of onrushing air hitting a roughly hemispherical shape like the nose of a motorcycle fairing, you will find full ram pressure only at the "stagnation point," the place at which air just stops. At all other points the pressure will be lower, because over those points flow will be streaming around the fairing. Those early twin intakes were a way to get around the difficulty of flowing air through the steering head of the motorcycle frame itself. Up in my shop are a couple of '90s fairings whose side beams have welded-in ducts through which "ram air" was routed on its way to the engine's airbox.  Even earlier, we saw corrugated pool tubing used to haphazardly conduct ram air from intakes through the fairing nose to the sides of the airbox—or even up and over the gas tank to pass through holes in it.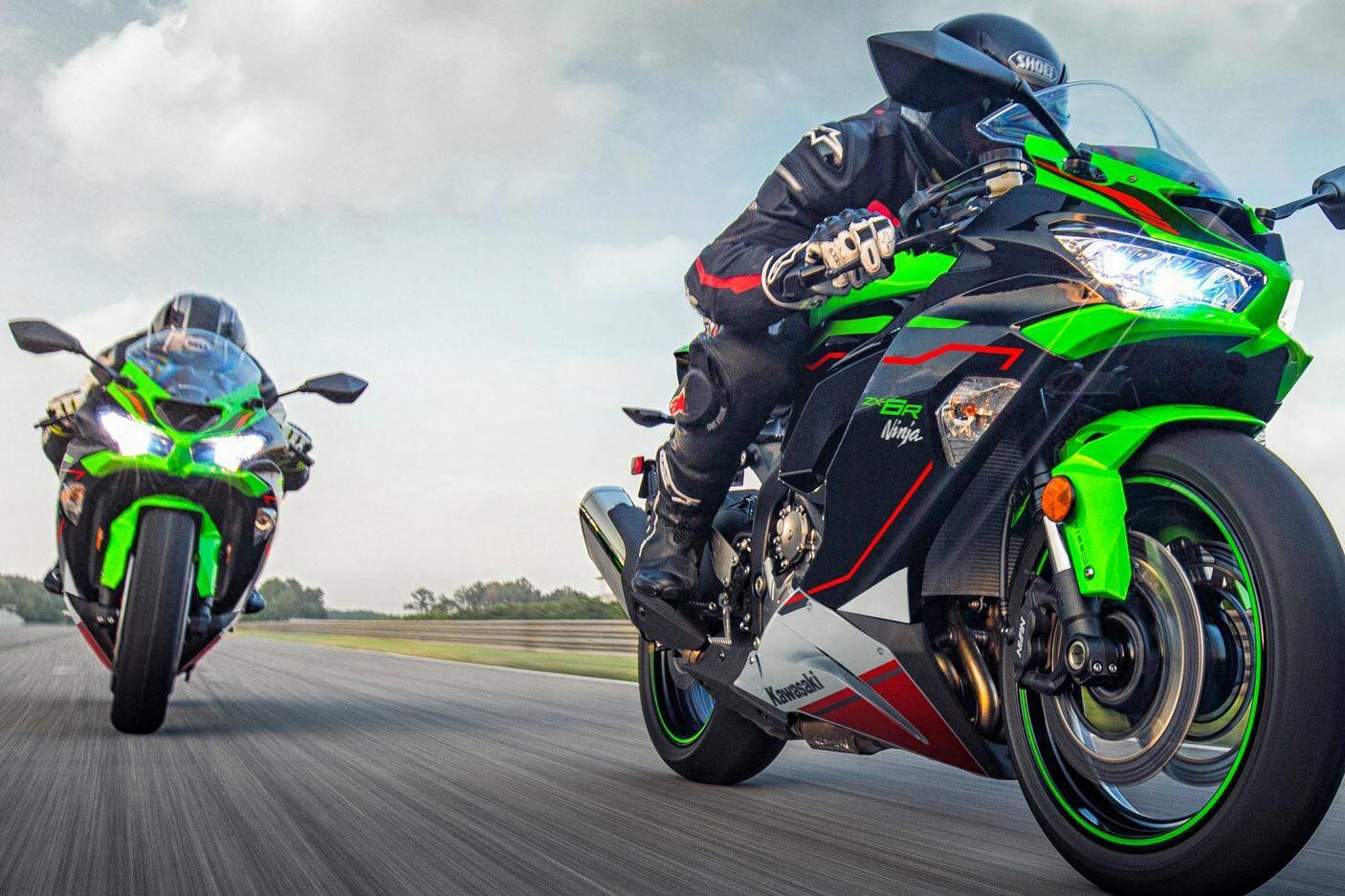 Ram air is real and works—but high speed is required to turn pressure into power. (Kawasaki/)
Those early designs were approximations that did not provide full pressure recovery, but eventually led, by way of wind tunnel and track testing, to the present central "stagnation intake" and its single duct running straight back through the steering head, directly to the front of the engine airbox.
It's all related, from the wind pressure you felt as a child when you held a hand out a window of the family car, through the early mixture troubles of drag racers, all the way to full ramjet engines
View full post on Cycle World