2022 Mugello MotoGP Report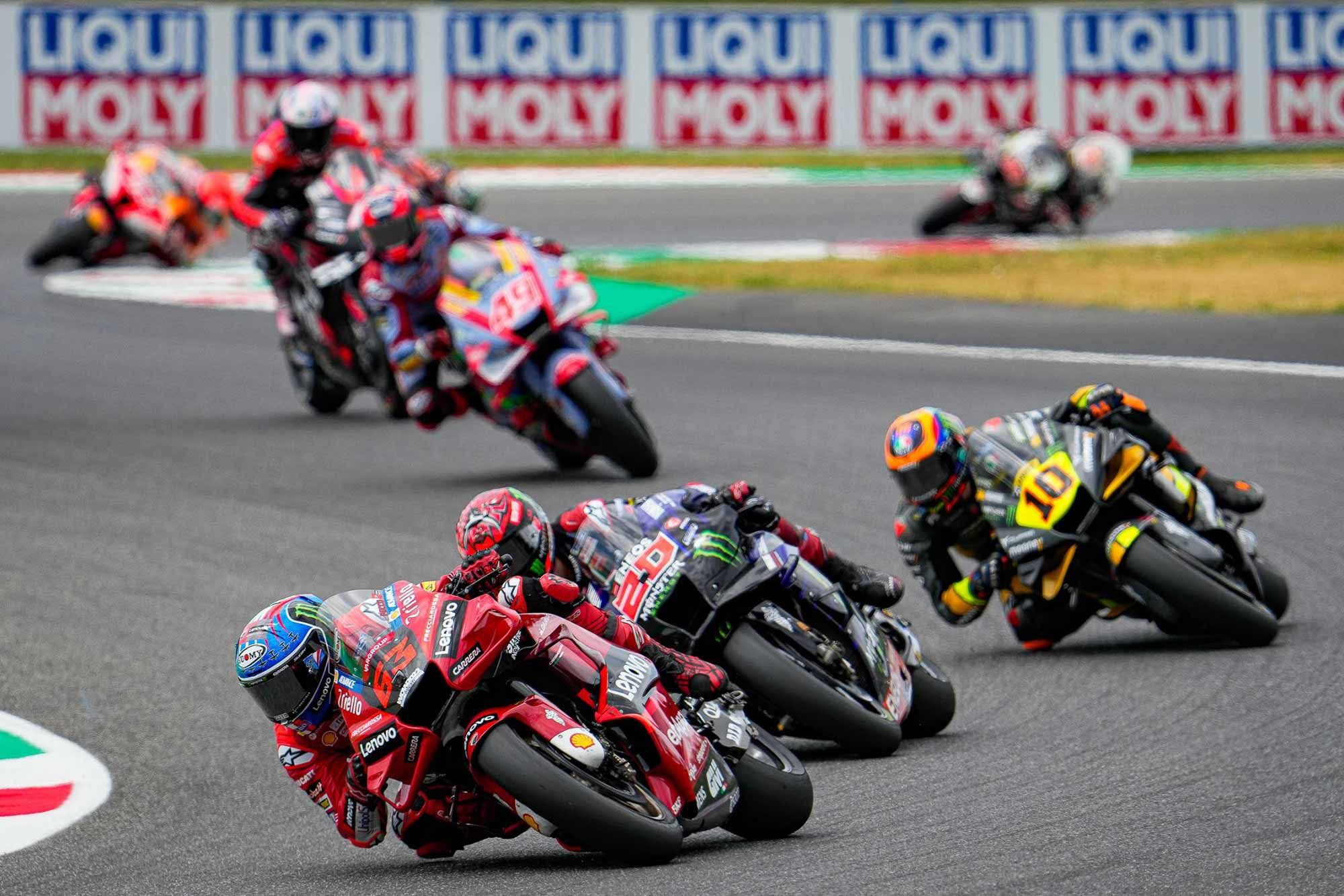 Francesco Bagnaia took the win in Mugello. (MotoGP/)
If ever there was a time and place for Ducati to "win in formation," Mugello was it. But it didn't happen that way; Francesco Bagnaia did win on a factory Ducati, but with Fabio Quartararo's down-on-power Yamaha second and Aleix Espargaró's Aprilia third. Point leader Quartararo on Friday reckoned his chances of a podium finish against the Ducatis as poor; his bike's normally pivotal ability, the mechanical grip essential to midcorner speed, was mysteriously missing. He would rediscover it in FP4.
"I was struggling in the turning area. I was using too much of the track and going super wide."
Incipient rain and ominous lightning Saturday brought a shock qualifying result: New man Fabio Di Giannantonio put his Ducati on pole at 1:46.156 while veterans questioned the sense of slicks on any water at all at 220 mph. Di G explained: "…when you are full of focus then you don't see the sky. More or less you see [only] your line."
This made me recall Miguel Duhamel at the 1998 AMA National at Loudon, New Hampshire, continuing his qualifying attempt with raindrops on his screen. He crashed, suffering a double compound leg fracture.
The whole Mugello front row were newcomers; Marco Bezzecchi second, Luca Marini third. Bezzecchi brought thoughtful insight to the rain-and-slicks dialog: "If we were riding with slicks and lapping at 1:50 or more, then it [would have been] more dangerous."
It's normal for wet race lap times to be 8–10 seconds slower than for dry, so the pole sitter's low 1:46 being only one second slower than Quartararo's 2021 pole lap indicates end-of-qualifying conditions were marginal but manageable.
No one expected to see these low-hours riders on the podium because MotoGP tire management skills are not intuitive. Di G finished 11th, almost 13 seconds out of first. Bezzecchi and Marini finished very creditably in fifth and sixth.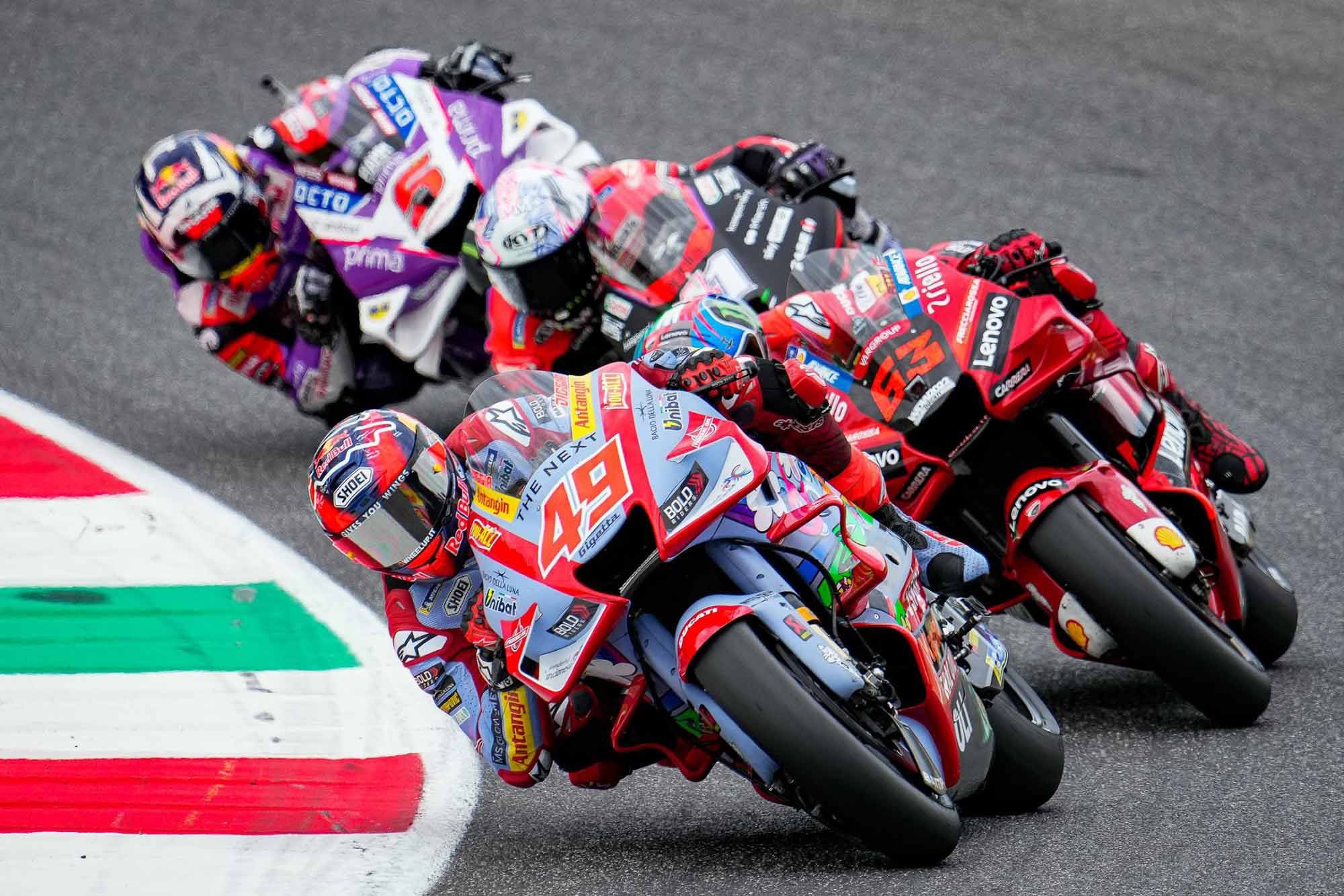 Fabio Di Giannantonio was on pole and led the race for a brief moment, the rookie eventually finished 11th. (MotoGP/)
Bagnaia wasn't expecting a milk run, saying, "It'll be difficult to have a race here where you push and break away."
He expected pursuers but the chaos of the start made him the pursuer, in ninth after turn 1, lap 1.
"I didn't get a bad start but at the first corner I found myself between two Ducatis and I had to come off the throttle. Then at turn 4, Márquez touched me. So I tried to be smart and it wasn't easy with all the other riders pushing."
Think of the intensity of those moments, trying to extract sense and safety from hurtling shapes and noises, hoping to find your way forward.
"I struggled to overtake Di Giannantonio because he was pushing hard on the tires, while I wanted to manage them."
Quartararo managed to be fifth after one lap and by lap 4 was second. More back-and-forth was to come, with Bagnaia and Bezzecchi ahead of him he disposed of Bezzecchi on lap 11. The crucial task now was to remain ahead of the impetuous youths and then see whether Bagnaia, now leading, was reachable.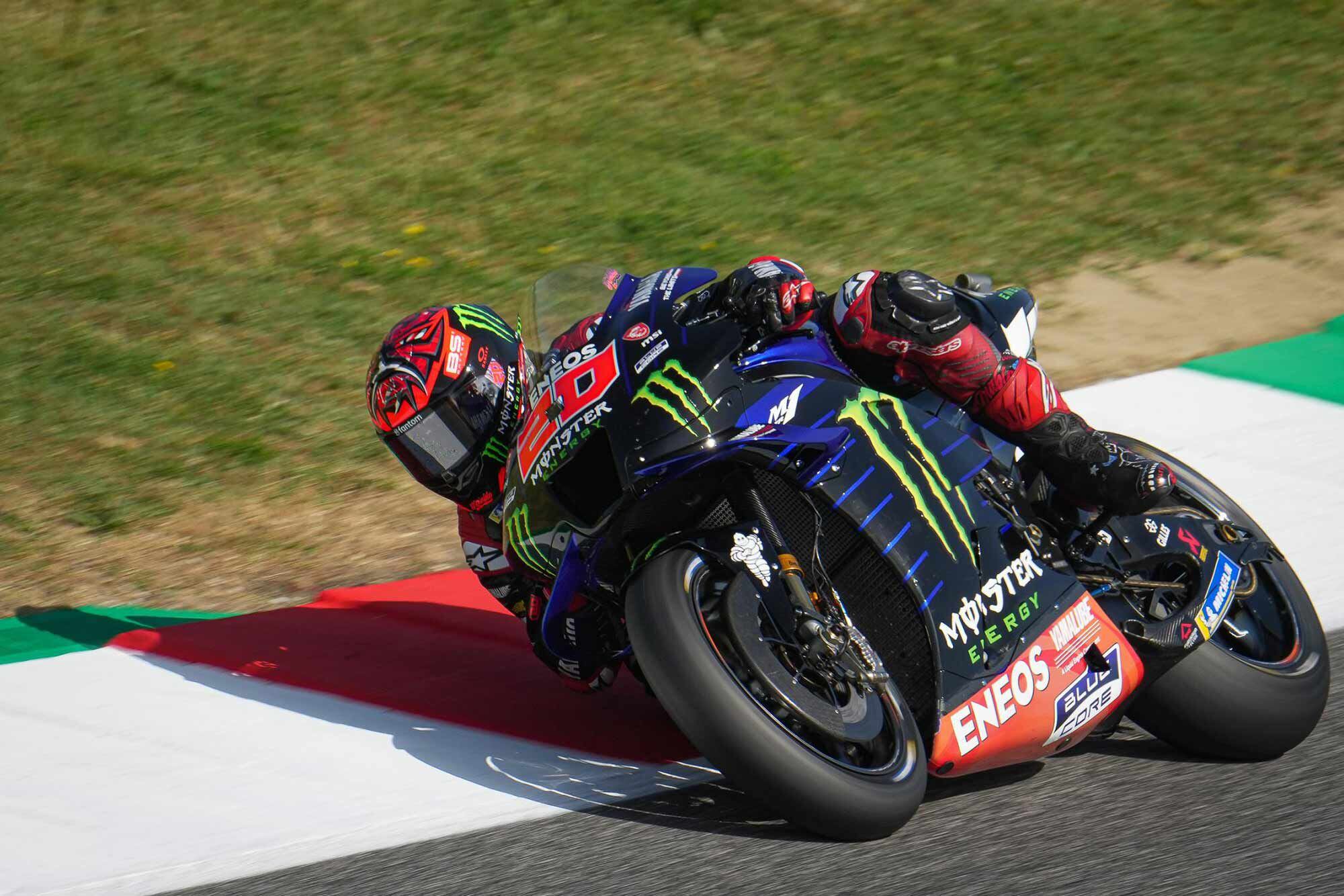 Fabio Quartararo finished second in Mugello, over a half- second behind Bagnaia. (MotoGP/)
He was not, so the result was Bagnaia first from Quartararo by 0.635 second, Aleix the Persistent third, just under two seconds from the leader. He had struggled to get past Bezzecchi and Marini for 15 laps. "They did a very good job because they are not that experienced and [yet] they made no mistakes," he said. "I was expecting more mistakes but they didn't make any."
Marini said, "I'm not far from being up front.
"The top guys up front seem to be better at managing the tires, considering I gave everything I had in the beginning."
Yes, he sacrificed tire life. This is why Kenny Roberts, asked by Cycle magazine editor Cook Neilson in 1977 whether up-and-comer Mike Baldwin was "real," replied, "Well, of the three things it takes to win races, he has one."
"And what would that be?"
"He's fast."
Clearly Bezzecchi and Marini are more than just fast, as they remained within four seconds of the leader at the end. Over Mugello's 23 laps that is just 0.174 second per lap. They have received good training, both being from Valentino Rossi's VR46 training scheme.
Bezzecchi said of his efforts to scratch back past Aleix Espargaró's Aprilia, "I was going back under him, and I would have tried, but the bike warned me and I preferred not to throw anything away."
Where were the complaints that passing has become impossible? Where were the calls to ban the new aero technologies?
At the finish, Quartararo said, "I made a good start and did good overtakes, despite sliding with the front and rear."
Maverick Viñales, who was 12th, said, "In the race I was able to be fast and overtake a lot of riders."
Aleix Espargaró said, "Mugello is an old-school track where you can overtake…" Yet also said, "We think about electronics, devices, and aerodynamics, but we forget that everybody's braking very late, they're all fast, and I think that's why it's hard to pass."
There was an incident between Aleix Espargaró and Enea Bastianini (DNF), of which the latter said, "I got sucked in by Aleix's slipstream and got a bit too quick into turn 4 and that led to my front end tuck."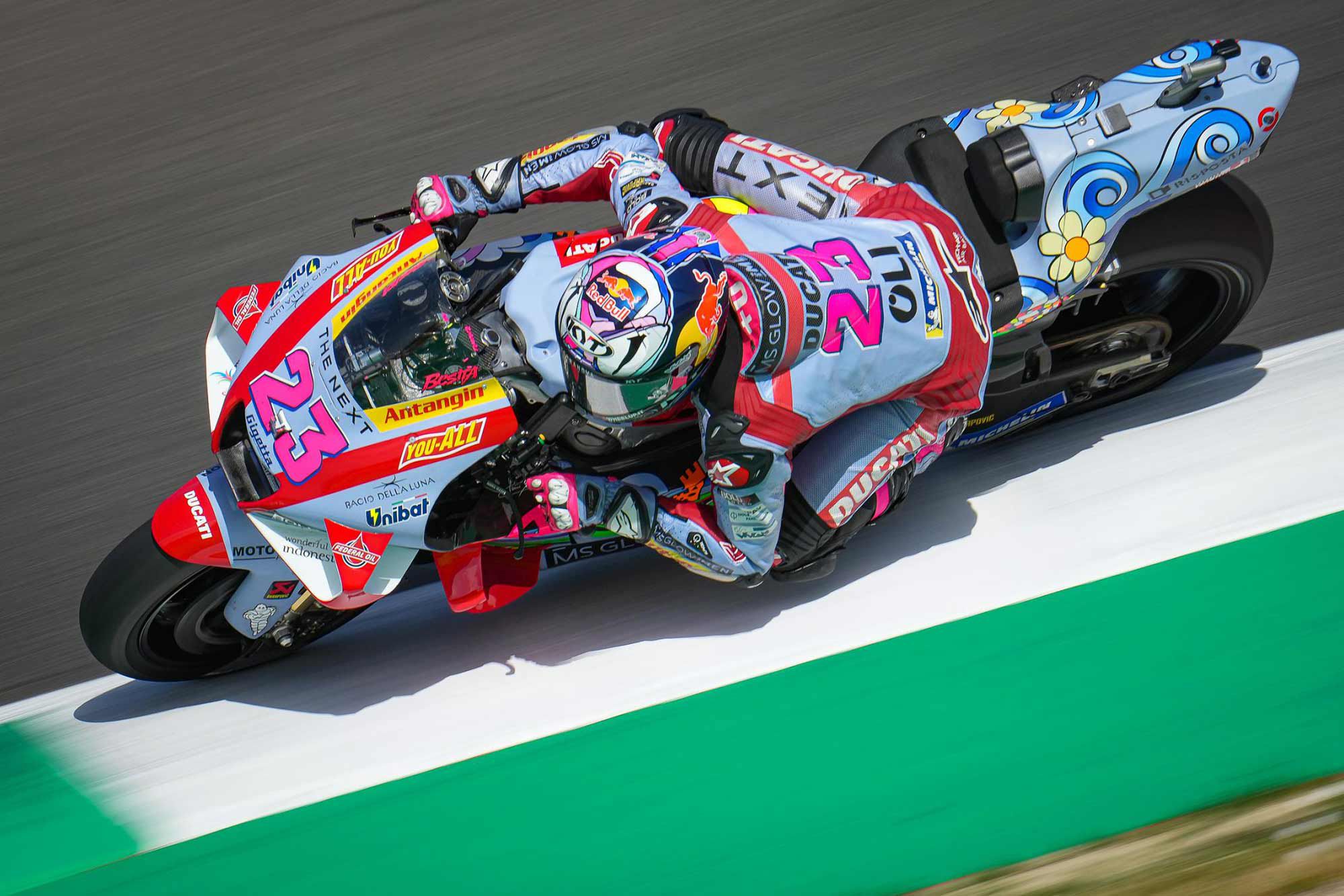 Enea Bastianini came into turn 4 too hot and ended up on the ground with a DNF. (MotoGP/)
This is not the result of "strange aero." It is perfectly familiar to any rider who has ridden at Daytona, where "getting sucked into the chicane" is a temptation of the less experienced. While riding on your own, you learn how deep you can go before braking, and then absent-mindedly use the same braking point when drafting another rider. Oops! Without the very considerable braking force of your bike's normal aero drag (which is hundreds of pounds at high speed) your normal braking point is too deep and you arrive in the corner with too much speed. Remember the "agony of defeat" video clip, showing a bike endo-ing through the bales at that chicane?
Biggest news of the weekend was Marc Márquez's announcement, after finishing 10th, that he will withdraw from racing to undergo a fourth operation, this time to correct a "rotation" in his right humerus, broken two years ago.
He said, "…I still have significant limitations in my humerus that do not allow me to ride the bike properly and achieve the goals I have always set for myself.
"I gave everything in the first seven laps to see if I had the speed of the front riders and our pace wasn't bad but then I started to struggle physically.
"…then I had one warning and I gave up because already I started to get arm-pump with a lot of pain and a lack of power."
We wish him success. The operation will take place at the Mayo Clinic in the US.
If Fabio Quartararo was surprised that he was able to finish second, we must be even more so. He spoke of his Yamaha's advantage in nimbleness: "As far as I'm concerned with my bike, what I need are changes of direction. I think this circuit lends itself well to this, especially in turns 2 and 3, and 6 and 7."
This, added to "cornering speed counts a lot for us," was able to offset the horsepower advantage of the Ducatis. Jorge Martín's (he was 13th) was timed at 363.6 kph, or 225.4 mph.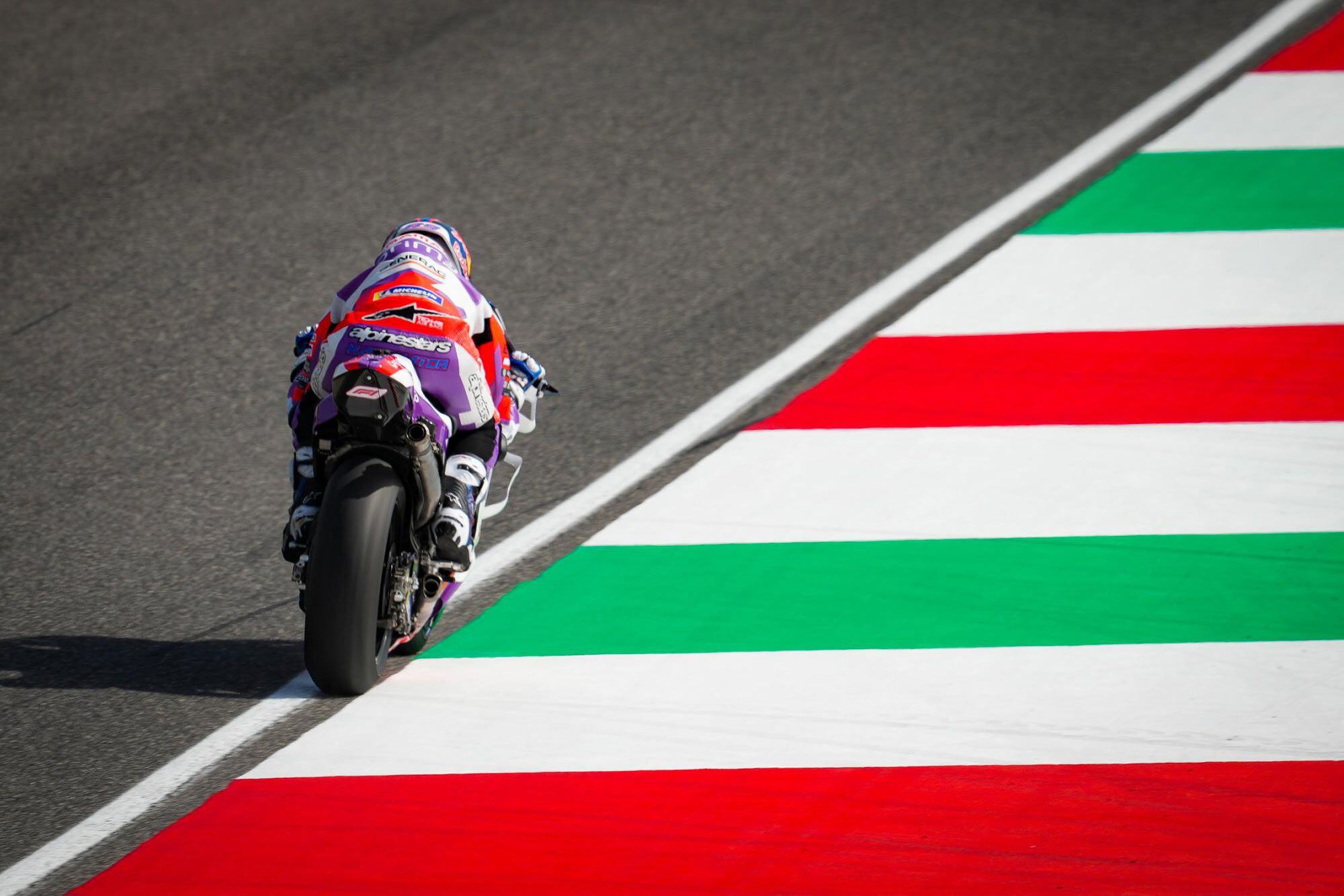 Jorge Martín hit 225.4 mph at Mugello, an all-time MotoGP top speed record. (MotoGP/)
It's well to remember that horsepower is a sword that can cut the user as well as the opponent. Passing down the straight is what we see, but until the two bikes in contention have come upright off the previous corner, they accelerate carefully on part throttle. In the next zone, acceleration is limited not by power but by front wheel lift, the "wheelie limit." Only once past this can the more powerful machine show its advantage—and even here, arriving faster at the next corner means the rider of the higher-horsepower bike must brake earlier. Actually realizing the potential of horsepower is a special skill, not a twist of the wrist.
Di Giannantonio said of "the top guys," "They're very precise. They brake hard, always accelerate at the right time, and even if they make a mistake they manage to fix things at the curb."
Bagnaia summed up, saying, "…Fabio, Aleix, and me are the favorites but I have made more mistakes." He crashed out of the previous race, at Le Mans.
"Because …they are much more consistent than me, I have to become [so] too."
View full post on Cycle World