First Look: MV Agusta's New Superveloce Ago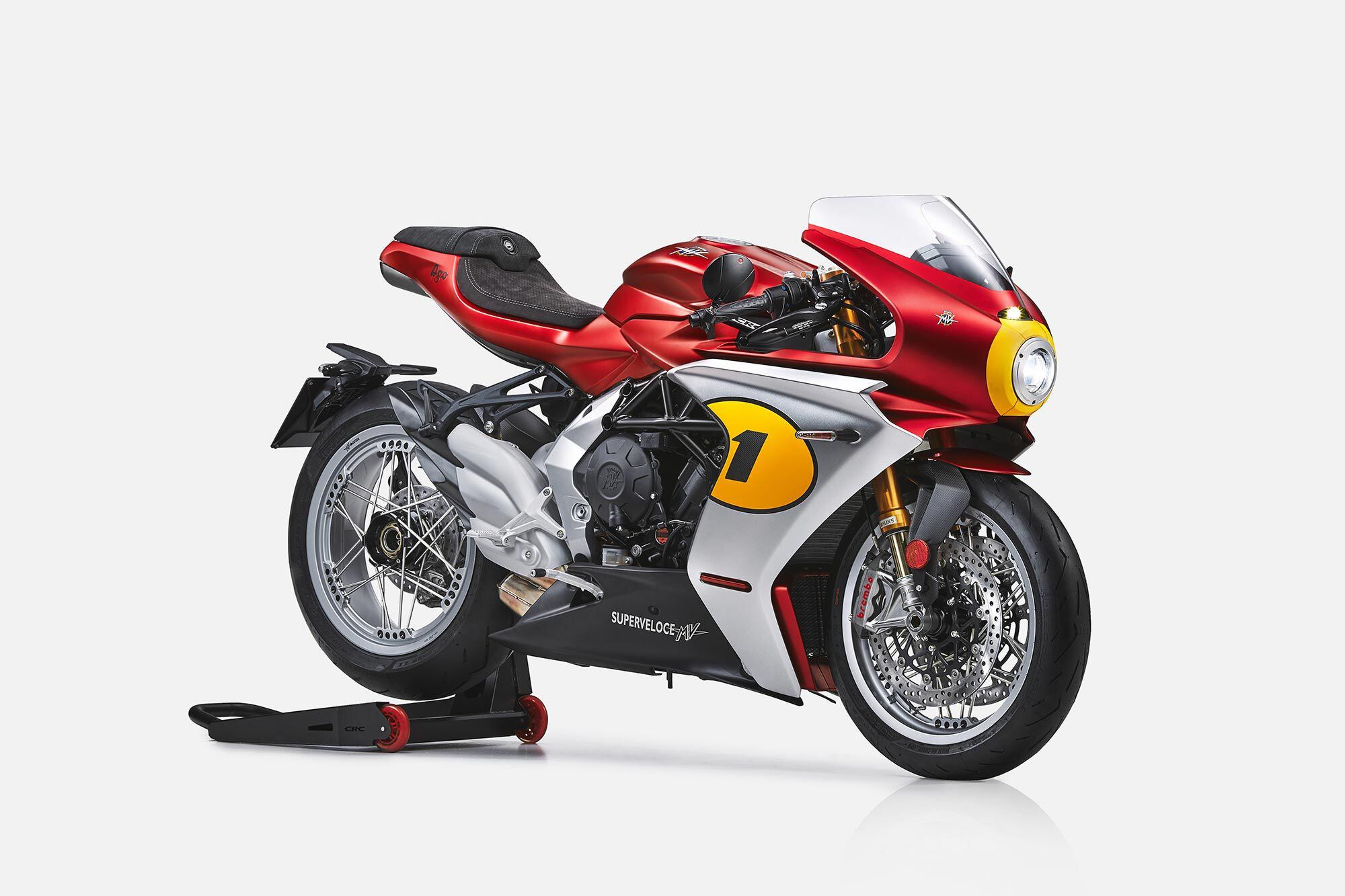 Red and silver? Three cylinders? Must be an MV Agusta! The latest Superveloce Ago is a grand celebration of MV's glory years in racing with Giacomo Agostini at the helm. (MV Agusta/)
At a robust 79 years old, it's abundantly clear that Giacomo "Mino" Agostini still loves what he's loved all his life: motorcycles and racing. All the better if those bikes are painted red and silver. And on Saturday, October 23, at the Misano Adriatico Marco Simoncelli racetrack, Agostini made it abundantly clear that he can still ride. He still fits in his leathers, and once he closes the visor on his AGV helmet it's all Ago, the helmet's modern design the only evidence that we aren't in some sort of time capsule.
It was a highly emotional display, as one of his original three-cylinder GP racebikes shared the paddock with the new red and silver MV Agusta he was riding.
Together, Mino and MV Agusta are one of the great icons of Grand Prix motorcycle racing. Mino never turned his back on MV, even in its most desperate times. That all these years later MV has honored him with a model bearing his name is touching.
Only the helmet gives it away. Agostini still fits into his leathers, and rides like a world title depends on it. No racer is tied as closely to MV as Ago. (MV Agusta/)
This new machine, the MV Agusta Superveloce Ago, is a refined evolution of MV's current Superveloce. If anyone ever needs an example of how improving quality always pays off, MV is a perfect case. A few years ago, the company was in dire straits, nearly collapsing under a landslide of warranty claims due to poor quality control on its three-cylinder models. It took a huge effort from R&D director Brian Gillen and his team to correct basic design flaws, but they've done a brilliant job. The design of the current bike is one of the neatest ever, and it looks even better with its MV Agusta GP race graphics.
In addition to tighter quality control, the three-cylinder models have benefited from a strong electronics upgrade as well, and MV has accomplished both relatively quickly. The improvements have not only reshaped MV's reputation with the motorcycling community, but have also created a solid platform for a new generation of limited-edition models; it's a smart way to massage a special batch of production machines and add value. The new MV Agusta Superveloce Ago is one of these, and possibly one of the most fascinating ever.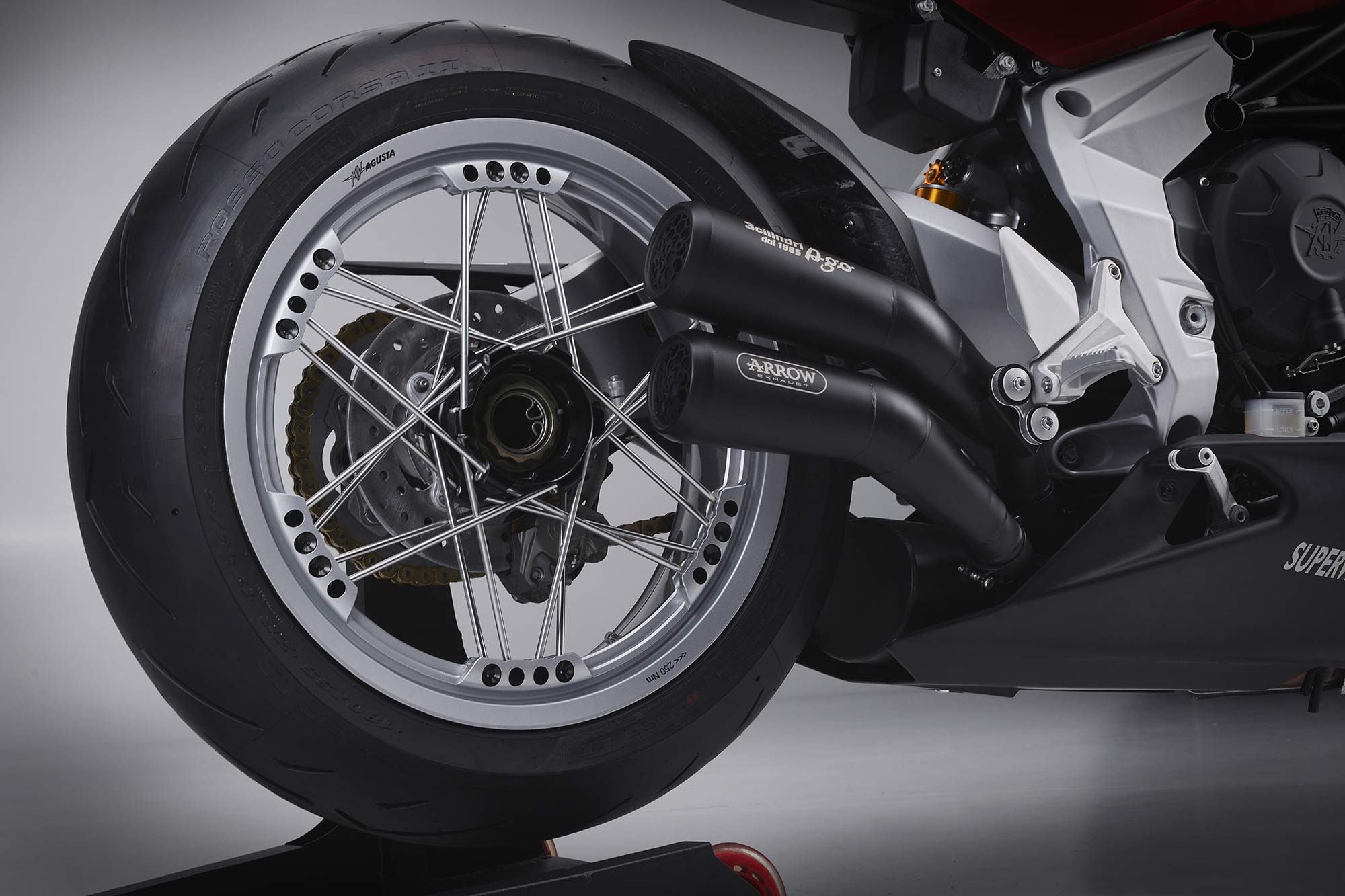 The new MV Superveloce Ago has plenty of tasty highlights, but the wheels really stand out. An homage to the wire-spoked hoops Agostini raced on, the one-of-a-kind design now supports modern, tubeless tires. (MV Agusta/)
The bike's two-tone livery sets the stage. The Superveloce Ago will be available in 311 numbered units, a number corresponding with Agostini's victories riding for MV. In the relatively recent past, MV Agusta has also produced an F4 Ago and F3 Ago, but the Superveloce Ago pays a proper tribute thanks to its level of performance.
This MV starts with a Superveloce S. The engine is an 800cc triple, Euro 5 homologated and rated at 147 hp (13,000 rpm) and 65 pound-feet of torque (10,100 rpm). The impressive performance comes from two sources: the combination of highly refined, low-friction mechanical components and the much evolved, fully integrated MVICS 2.1 ignition-injection system. The injection system operates at a higher pressure (4.0 bar—about 58 psi) for finer fuel atomization, contributing to faster and more complete combustion. A new and much more effective catalytic converter takes proper care of the remaining pollutants. Engine functions are managed by the new Eldon Nemo ECU.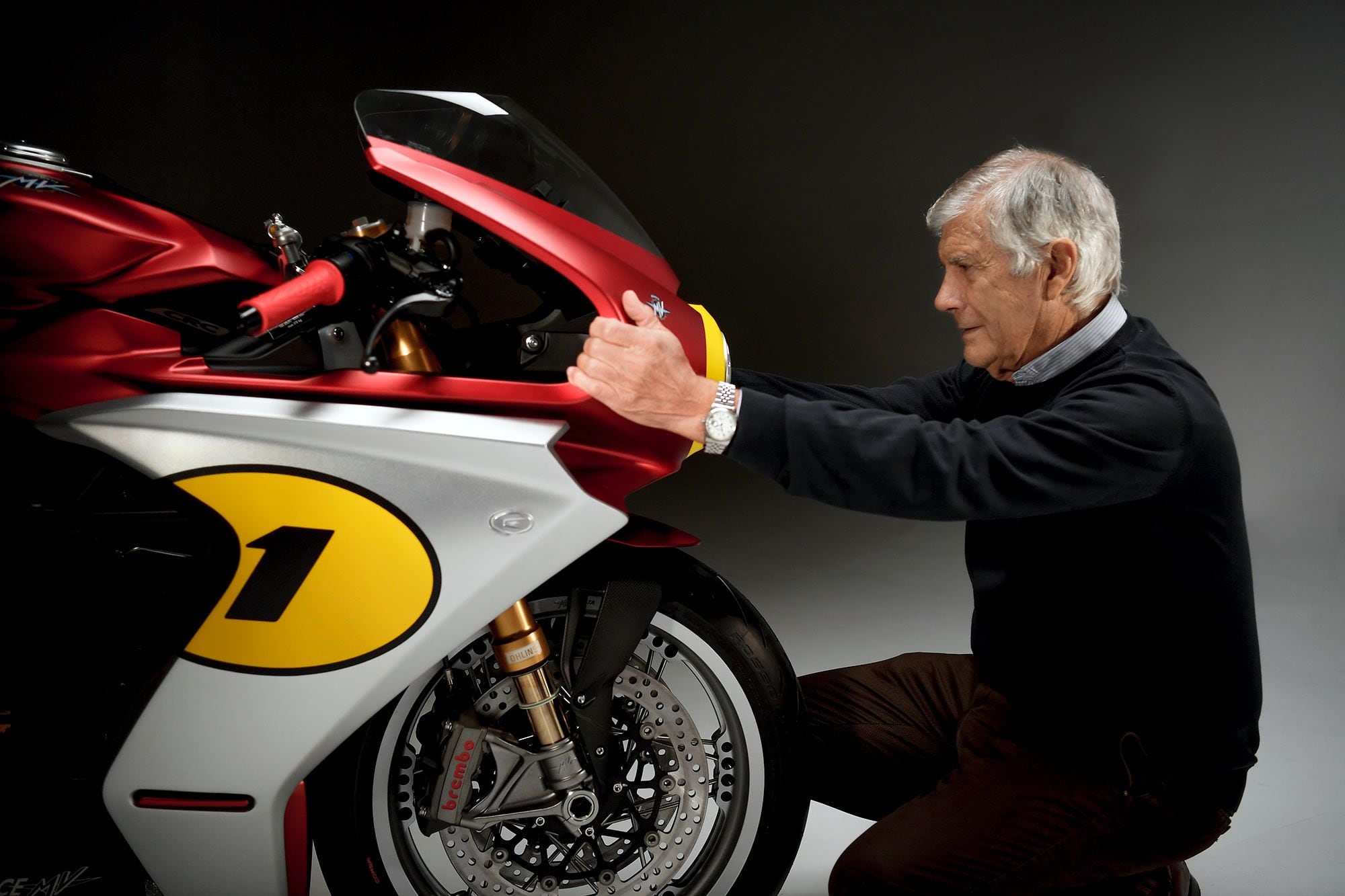 The man and the machine, Agostini at 79 years old face to face with the new MV Superveloce that bears his name. Only 311 of the bikes will be produced, one for each of Ago's victories aboard MV racers. (MV Agusta/)
The Superveloce Ago features a number of major upgrades in its suspension components. The bike gets a fully electronically managed Öhlins 43mm male-slider NIX fork and a gas-charged Öhlins TTX shock. Most body components, with the exception of the fuel tank, are carbon fiber; this includes the fairing side panels, the front and rear fenders, and the chain guard. The upper triple clamp, the shift pedal, and the rear brake pedal are machined from aluminum billet; the unique wire wheels feature an intriguing spoke layout and design. The Alcantara seat adds an additional touch of Italian taste.
Key to the electronics suite is the new six-axis inertial platform managing all rider aids, including Continental MK 100 ABS, traction control, wheelie control, and launch control. The 5.5-inch TFT instrumentation panel also acts as a connectivity center, offering the opportunity to remotely dialog with the bike via personal smartphone.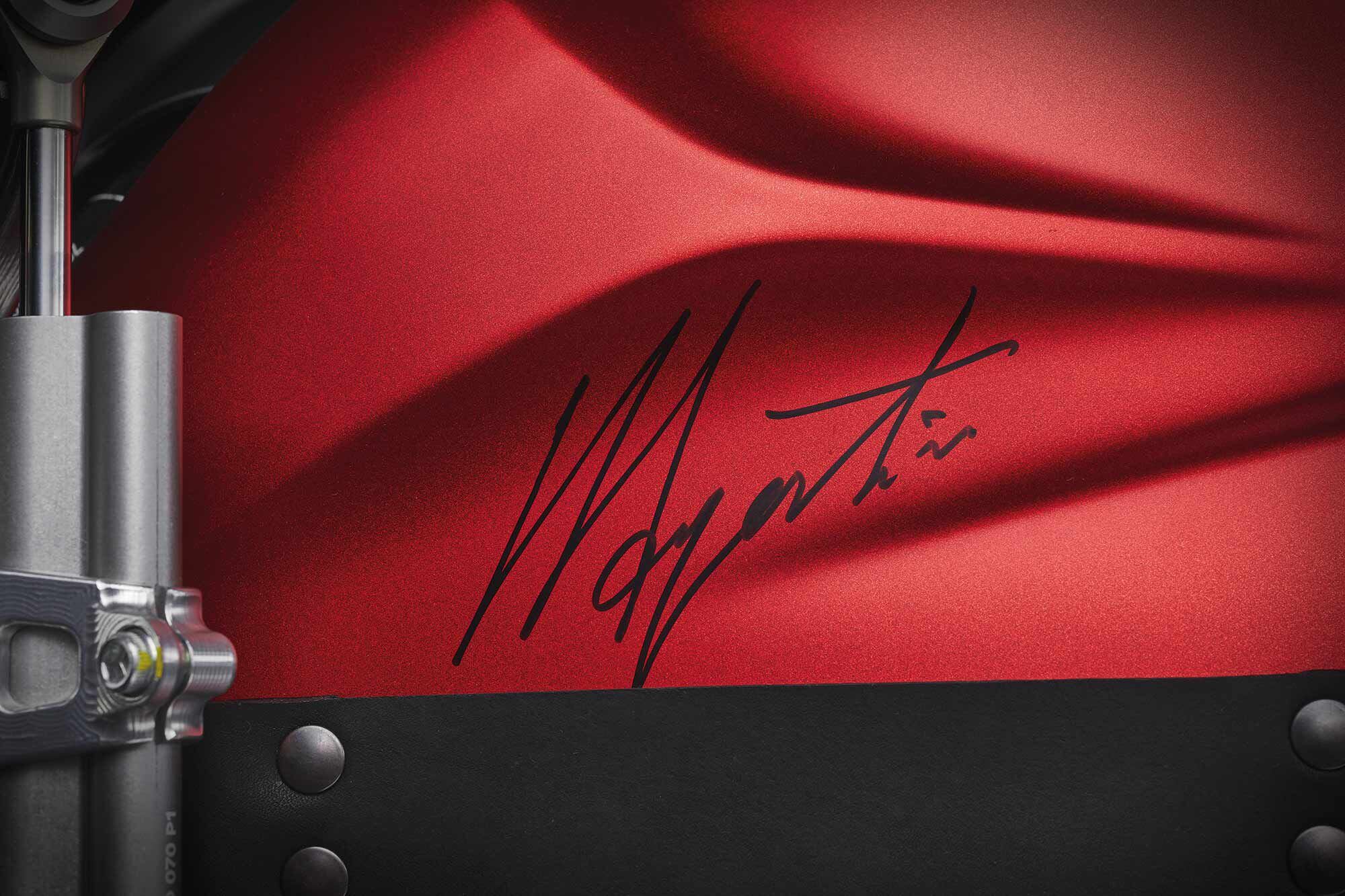 Each bike is numbered, and features Agostini's signature. (MV Agusta/)
The Superveloce Ago rolls on Pirelli Diablo Corsa Rosso II radials, a 120/70-17 front and 180/55-17 rear. Brakes are full Brembo, with the usual twin 320mm rotor and four-piston Monoblock calipers in front and a single 220mm rotor and two-piston caliper at the rear. As with the Superveloce S and the latest F3 RR, a racing kit is available and includes a street-legal three-pipe Arrow exhaust; combined with a dedicated ECU, this pushes the power to 151 horses at 13,250 rpm. The kit includes more convenience amenities, and even a special "Ago's own" touch represented by the red grips. And why not?
Given the quality and performance potential of the Superveloce, this Ago numbered edition is worth a close look. Pricing for this special model is $35,175.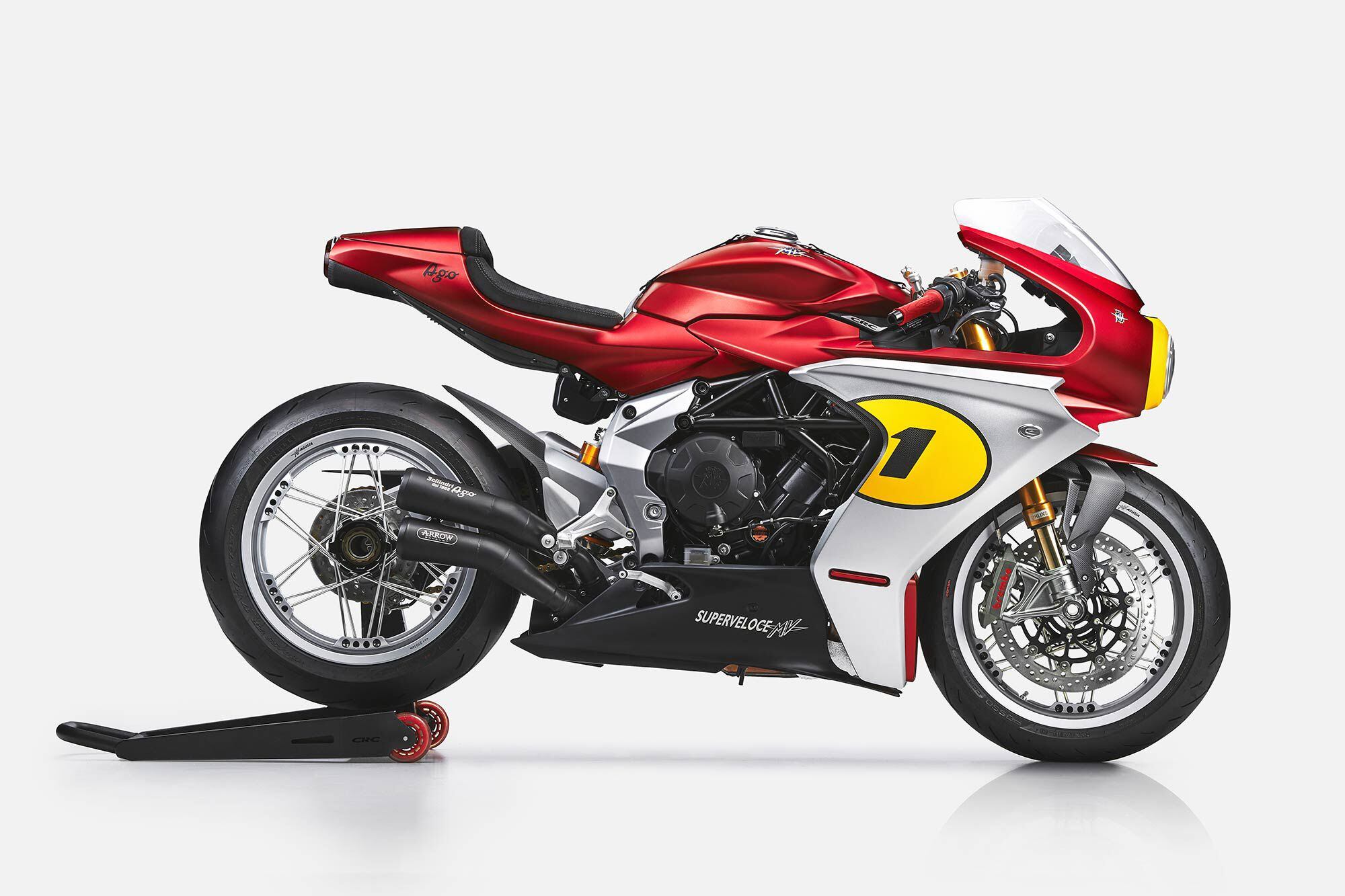 MV's Superveloce race kit fits the new Ago too. Shown here is the Arrow-exhaust upgrade, with two mufflers on the right and one on the left. (MV Agusta/)
View full post on Cycle World