Honda's 2021 Gold Wing Tour becomes an even more capable travel partner as we learn in this review. (drew ruiz/)
Honda's enlarged the top case and improved passenger accommodations for the 2021 model year. (drew ruiz/)
The Gold Wing's dash display is tasteful combining both analog and digital instrumentation. (drew ruiz/)
Honda's Gold Wing Tour offers a regal ride like no other production motorcycle. (drew ruiz/)
When it comes to road touring, no other motorcycle offers the type of capability of a Honda Gold Wing Tour. (drew ruiz/)
The top case is bigger in each direction. It can swallow an additional three gallons of cargo. (drew ruiz/)
Despite weighing 839 pounds with a full tank of fuel, the Gold Wing feels 100s of pounds lighter with wheels in motion. (drew ruiz/)
The Gold Wing Tour comes outfitted with a premium suede rider and passenger seat. It's about as comfy as a motorcycle seat gets and is well-suited to long days in the saddle. (drew ruiz/)
Honda's $29,300 Tour DCT impresses not only with its touring credentials, but with its versatility. This is a do-it-all street bike. (drew ruiz/)
Honda's Gold Wing is the zenith of motorcycle touring. Whether you're running to the local convenience store for a Slurpee, or traveling across the American Southwest for a getaway weekend, few streetbikes are as capable as the Gold Wing Tour DCT ($29,300 as tested).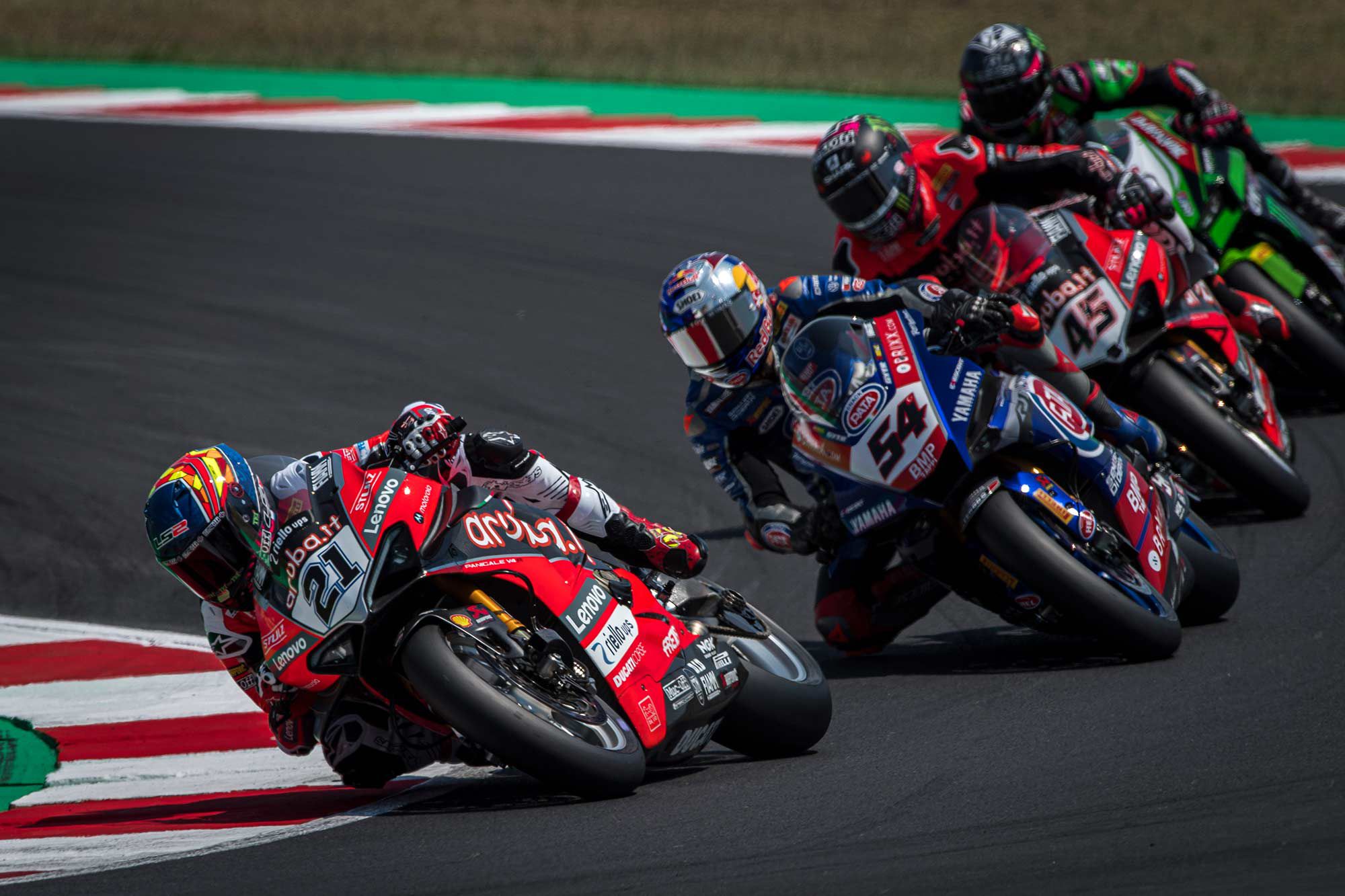 Being on-line at the track has nothing to do with your Wi-Fi reception. (Ducati/)
Fabio Quartararo extended his point lead after his win at Assen. (MotoGP/)
Red, gray, black, gold: There's no doubt that the newest Brutale RR SBS is an MV. (MV Agusta/)
From model years 2017 to 2019, Husqvarna's four-stroke enduro bikes were absent from its lineup. Consumers who wanted an off-road-only model designed for high-level trail riding could purchase a dual sport model, but they would either have to compromise by riding a slightly heavier and less powerful bike or stripping it of components added to make it street legal, remap the ECU, and add a less restrictive exhaust system to make it as light and powerful as the enduro models.
Freedom of expression is so incredibly important to the motorcycle community – without it, riders wouldn't be who they are today. 
The Grand National Cross Country (GNCC) Series presented by Specialized, an AMA National Championship, concluded its ninth round of racing at the Yamaha Racing Snowshoe GNCC in Snowshoe, West Virginia on Sunday, June 27.
Repsol Honda's Team Manager was full of praise for the eight-time World Champion after a gruelling Dutch TT
The Spaniard will join the FlexBox HP 40 Moto2™ team for the 2022 and 2023 seasons
Nick Harris recalls some fond memories when MotoGP™ and the Euros went hand in hand on some special days
Enjoy all the content that VideoPass has to offer at an incredible discounted rate and watch every Grand Prix LIVE and OnDemand