We were treated to yet another thrilling weekend at Portimao's rollercoaster, and you can view some of the top captures here
The Colombian doubled up in Portugal in a nine-rider Red Bull Rookies battle on Sunday
Harley-Davidson's Q1 2021 financial report revealed more details about the mysterious "Revival" model and showed a photo of a near production version of the Custom 1250 liquid-cooled cruiser. We'll have more on the quarterly report elsewhere, but let's examine what we've learned about these two upcoming models.
If it's 2021, it must be time for a new Ducati Monster. In fact, it's nearly always time for a new Ducati Monster. Since the original M900 of 1993, naked Monsters in probably 40 iterations both great and small have been a huge part of Ducati's success. The beauty of that is, if you don't like the new, non-trellis framed Monster that's scheduled to appear for 2021, there are tons of pre-owned Monsters out there looking for a good home. Pete rode this one in Sicily ten years and six days ago.
Like many motorcycle brands, KTM had a challenging 2020, with sales shrinking in the face of COVID-19 and the economic toll it exacted. The Austrian brand sold 212,713 motorcycles through the year, a 9.3% decrease from the pre-pandemic world of 2019.
Updated April, 2021
We're constantly saying that you should buy the best gear you can afford, but that doesn't mean you have to break the bank. We're gonna pull back a little here, and focus on how nice gloves that cost less than a hundred bucks can be. Some of these motorcycle gloves are almost inexpensive enough to buy two pair without breaking our self-imposed ceiling. Even better, buy two different pairs: one for hot dry summers, and one for cool, rainy falls and springs. Your hands will thank you.
Waking your bike from its long winter's nap is one of those good news/bad news moments. The good news is that, if you prepared your bike for the winter, getting back out on the road is pretty darn simple. The bad news is that, if you didn't, you could be in for a bit of work (or more) before your motorcycle is ready to ride. While it may seem counter-intuitive, leaving your bike idle without preparing it is actually quite stressful on it. The volatile components in gasoline will separate and evaporate. The chemicals used to store electricity in the battery self-discharge. The air in the half-empty gas tank forms a microclimate in which any moisture has a chance to work its oxidizing magic on the exposed metal in the air pocket. Any corrosive materials left on a dirty bike get to gnaw away at it unchecked. Ozone will age the rubber parts. All of these are bad things.
Following on the heels of the recently updated Superveloce range for 2021, MV Agusta has now announced a refresh for the Turismo Veloce family, which includes the Turismo Veloce Lusso, Lusso SCS, RC SCS, and Rosso. MV's take on a sport-touring motorcycle, the updated 2021 range is more of an evolution of the family rather than a revolution – spurred primarily by the need to keep up with Euro 5 emission standards.
This $47,787.43 (as tested) Ducati Streetfigther V4 S is easily one of the most exhilarating sport motorcycles money can buy. (Joseph Agustin Photo/)
Ducati's 2021 Streetfighter V4 S in the Dark Stealth colorway certainly makes a statement. Especially when draped in carbon, magnesium, and titanium components from the Ducati Performance catalog. (Joseph Agustin Photo/)
The dry clutch conversion kit is an absolute must-have. If you're an old school Ducati superbike guy or gal, you need this setup. (Joseph Agustin Photo/)
The accessory racing seat offers a surprisingly level of comfort. However, it's a tad too grippy for our taste. Short riders beware, however. It raises the seat height to just over 34 in. (Joseph Agustin Photo/)
The sound that emits from this twin-muffler Akrapovic titanium exhaust is pure ecstasy. It is a tad loud however for use in urban areas. (Joseph Agustin Photo/)
Real carbon fiber winglets can be fitted for $1,435. The winglets create upwards of 60-pounds of downforce at 160-some mph. (Joseph Agustin Photo/)
This Streetfighter V4 S project bike rolls on a set of forged magnesium wheels from Marchesini ($5,227.50). The wheels are 1.5-pound lighter than the forged alloy setup on the V4 S (.Joseph Agustin Photo/)
A 5-inch color TFT dash display keeps tabs on machine vitals. The display offers crisp fonts, however the user interface could be improved and the size could be larger compared to rivals in the segment. (Joseph Agustin Photo/)
This Rizoma gas cap is oddly satisfying to use. It is part of the $1,221.80 sport kit. (Joseph Agustin Photo/)
There are a lot of neat liter-and-above class naked bikes but none deliver the performance and pure exhilaration as Ducati and its Streetfighter V4 S. (Joseph Agustin Photo/)
Price aside, the 2021 Ducati Streetfigther V4 S is a big deal. If you're looking for the utmost in road-going naked bike performance, this vehicle is it. (Joseph Agustin Photo/)
The intricately machined accessory rearsets are a must-have in our book. We love the added comfort and wide range of adjustment the foot controls afford. (Joseph Agustin Photo/)
Ducati Performance accessories add tasteful touches to your Ducati motorcycle. We appreciate the precise fit and above average build quality. (Joseph Agustin Photo/)
Ducati's Streetfighter V4 is easily one, if not, the most aggressive high-performance naked bike the world has seen. And it gets even more rowdy when bathed in accessories from the Ducati Performance catalog. Dripping in carbon fiber, magnesium, and titanium this $47,787.43 (as tested) V4 S is as wild as an accessorized production bike gets.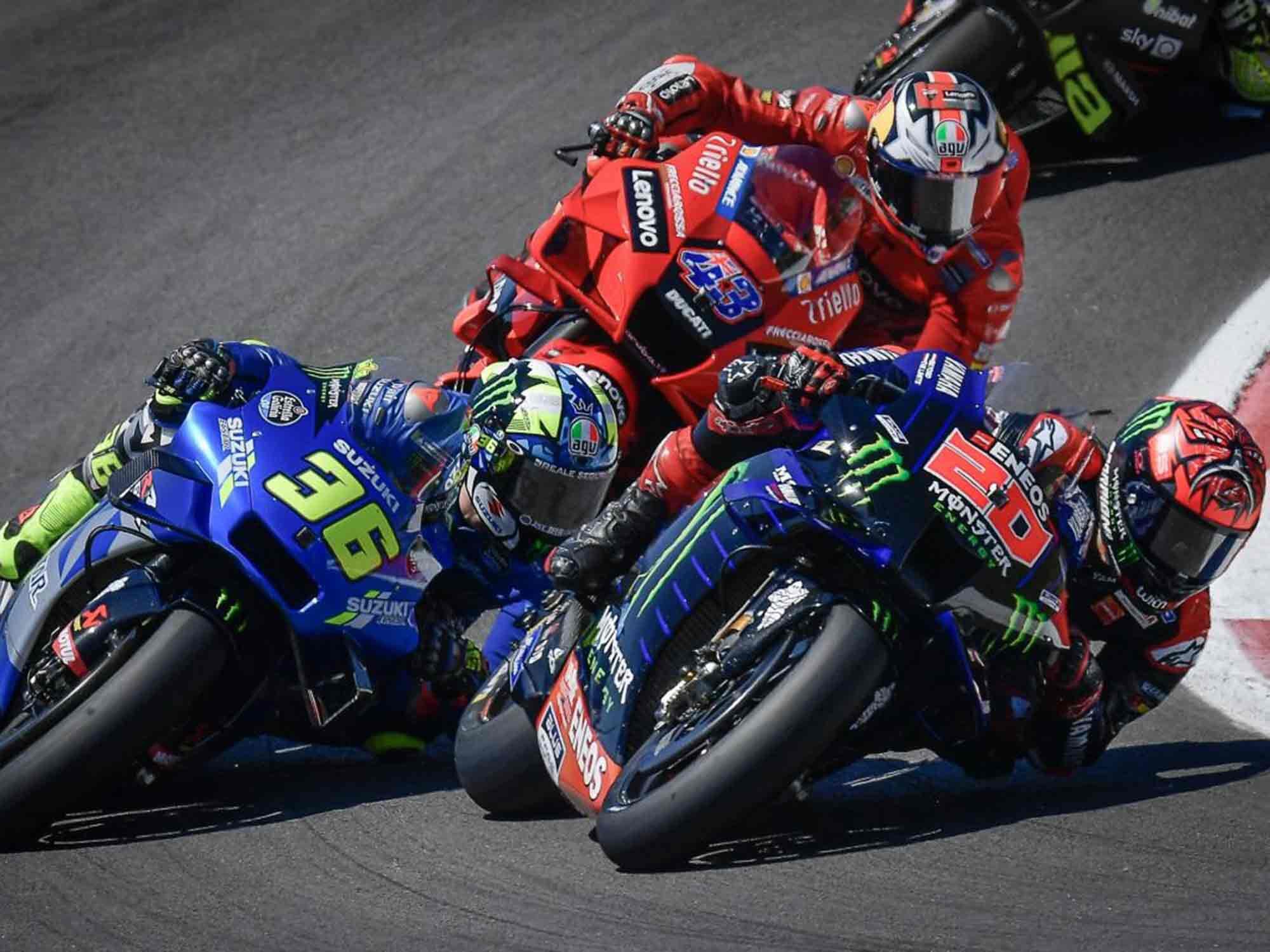 Fabio Quartararo earned his second victory of the season in the Portugal MotoGP at Portimão. (MotoGP/)
Triumph has updated its 900cc Street Scrambler for 2022, and added this new limited-edition Sandstorm model. (Triumph Motorcycles/)
BMW is looking to bring a more innovative approach to making adjustments on the go. They patented gesture controls that will use sensors located on motorcycle handlebars per the drawings. 
Coastal Racing is wrapping up quite the weekend in Union, South Carolina for Round 5 of the GNCC Series. With conditions being on the dry side, it made the start more critical than usual and led to some high speed racing over the course of three hours at the "Tiger Run" GNCC.