Remembering Sandy Kosman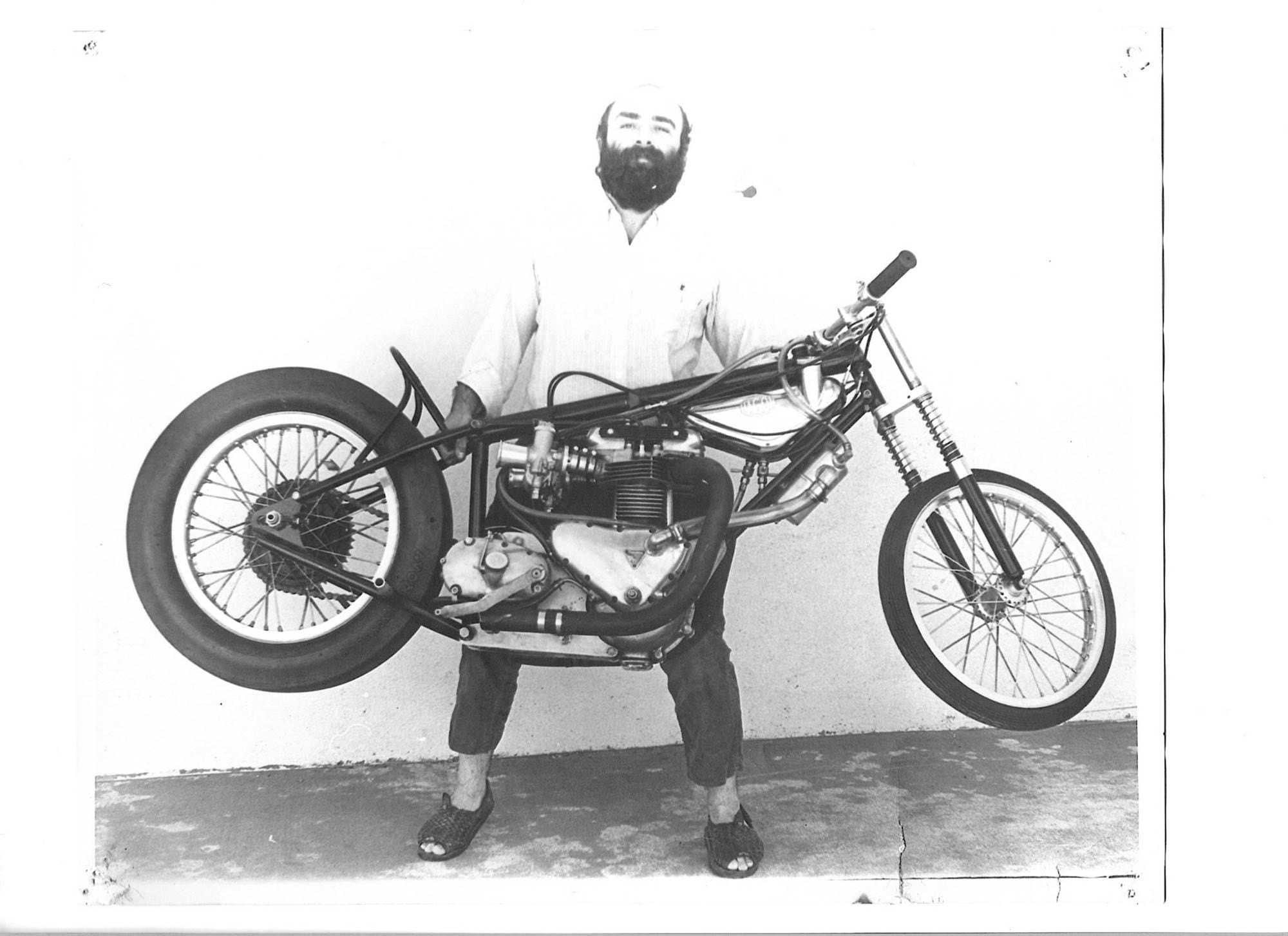 Where do you want this thing? Sandy with an early-days lightweight Triumph 650 drag bike. Is that an Avon slick? (Courtesy of Kosman Family/)
Sandy Kosman was the mind behind the development and manufacture of the drag and dirt-track motorcycle frames used by all the great names in two-wheeled sport. Everyone knows his name. Who knew the man?
Parra O'Siochain, Sandy's first employee, has had people tell him to paint Sandy's portrait.
"Which portrait?" he asks. This was a man of many aspects. One was "Sandy, standing at the top of the ramp, glowering at us." That was the second floor of 340 Fell Street in San Francisco, where employees were welcome to park.
Another was Sandy, "the original phone jockey," seated for hours on a tall stool with his feet up, talking to 20 different people all around the US about the problem of the moment. That was his telephone network.
Many have asked, "Ever see Sandy on a motorcycle?" Once upon a time, O'Siochain said, Sandy borrowed a TZ and had a go, but "He was a danger to himself. He couldn't give his mind to it."
For the motorcycle industry, Los Angeles was its money center, but the Bay Area was its back room. Like Boston in the 1960s, half of the people working in the motorcycle biz were Ph.D. candidates having a year off. The unanalyzables of the motorcycle attracted intelligent, imaginative people; if motorcycles were easy targets for computer science, some manufacturer would be winning all the races. Nobody ever does.
Here are Sandy Kosman and dearly beloved son Seth, out for a look at the world. Seth, born with muscular dystrophy, rides in a handlebar buggy designed by dad. (Courtesy of Kosman Family/)
Sandy Kosman's thought process has worked with motorcycle problems, and it attracted others with many skills. As O'Siochain put it, "It was a wonderful workshop. It rivaled the Renaissance. Sandy and everyone else in that shop was on the spectrum." Meaning that they were all to some degree autistic; the spectrum covers a range of conditions ranging from extremes of dysfunction to the highest function.
Look up autism and you find that this aspect of human personality, present in varying kind and degree, often includes precisely detailed memory and the ability to remain interested in things to which no one else gives a moment's thought. Social skills of such persons may be unconventional, incomplete, or downright incomprehensible.
As animal behaviorist and author Dr. Temple Grandin, America's most published autistic person, might tell it: "There sits a strange child of Paleolithic times, on a big rock out in a stream, chipping flints. Every day and perhaps for months the apparently aimless work goes on. Passersby look and rotate a finger at one temple. But one evening, the child comes to the campfire, around which the others sit, picking nits from each other's hair, talking. The strange one holds out a palm covered with many sharp flakes.
"Look. We've been doing it wrong for 200,000 years. We think six inches of cutting edge from one pound of flint is good. Do it my way and get hundreds."
It's quite possible that, were it not for this strange single-mindedness some humans display, we could still be at the campfire, doing everything the old way.
"More than once," O'Siochain told me, "Sandy couldn't make payroll."
When that happened, Kosman called his people around and directed them to put their loose cash into a pot. He'd take it and leave. Next morning he'd be back with the payroll. He'd used one of his incidental skills—cards.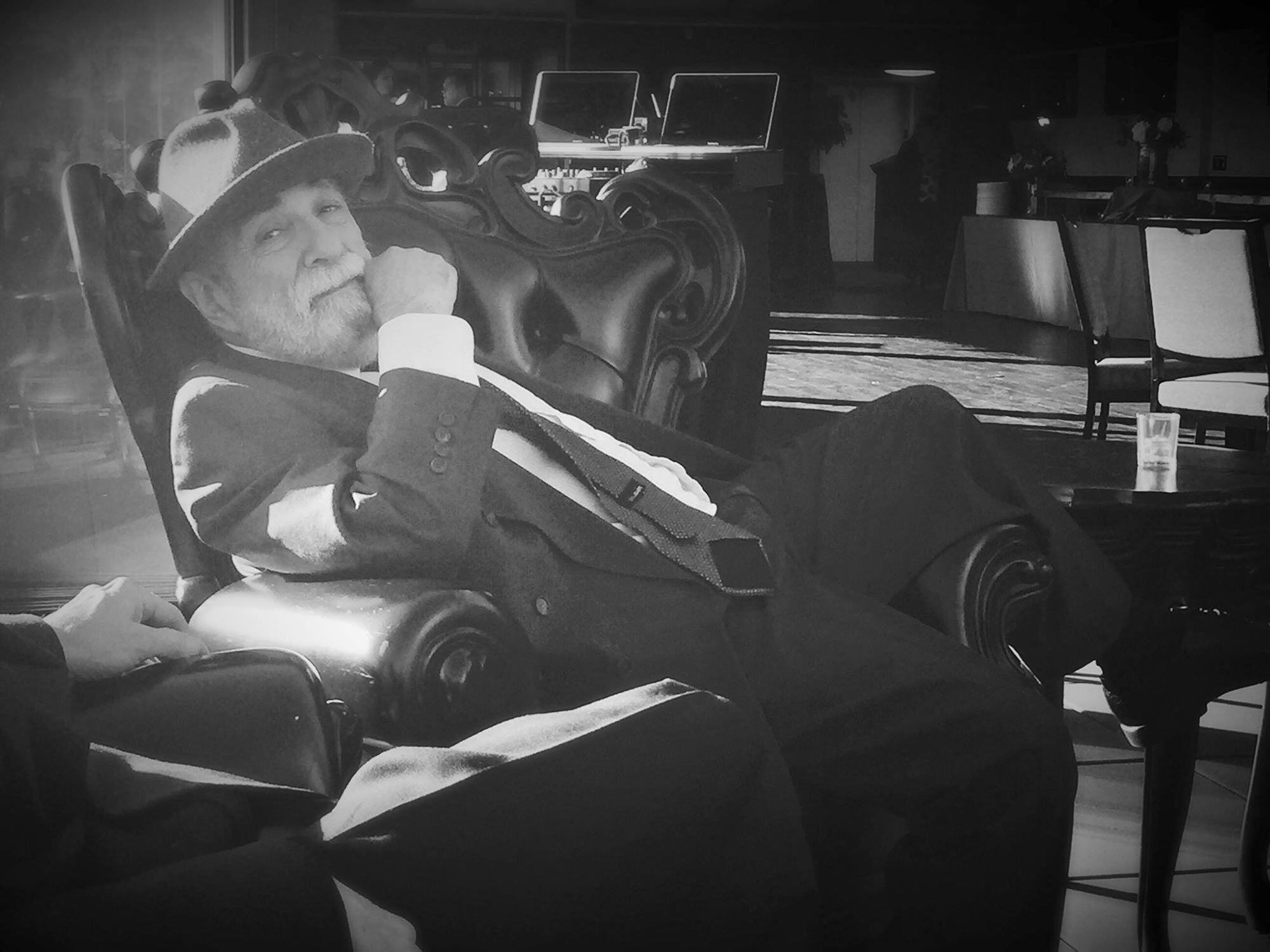 The position of royal ease. Sandy spent many hours on the phone like this, stirring a nationwide pot of ideas. (Courtesy of Kosman Family/)
"He always knew what cards you were holding."
Many individuals, famous names among them, and organizations, including high and mighty manufacturers, have relied upon Sandy to solve their problems or show them a fresh perspective.
No one knows what's in a mind. But Sandy and his people, in their many ways of thinking, showed that logic based upon thought, expressed in steel and aluminum, could do what silicon logic so far has not. Build it, ride it, think and talk about it, then build it again, better. Today.
View full post on Cycle World