Rottweiler Performance's Chris Parker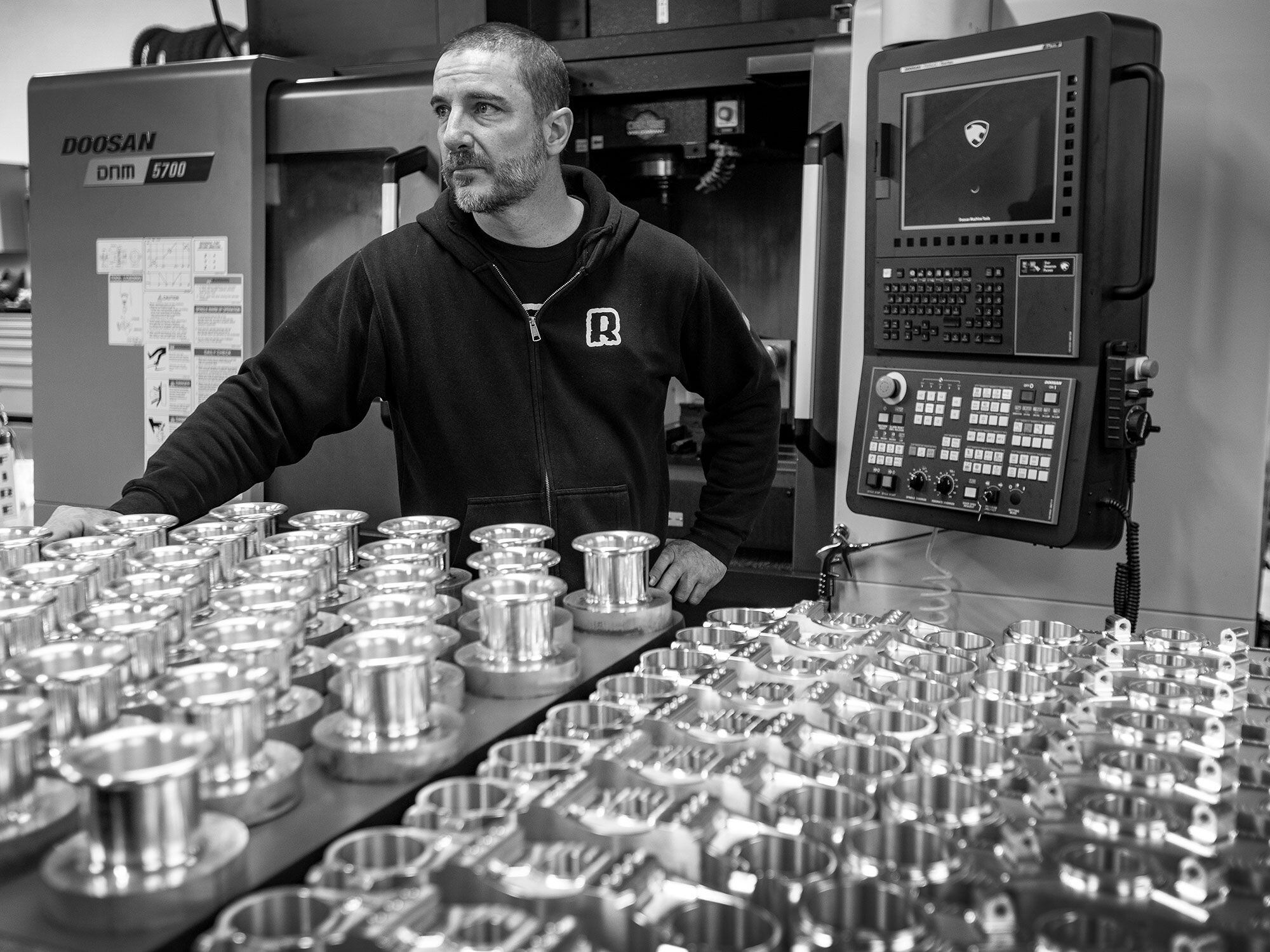 "I just like making the best stuff. Sometimes we do it just to do it, even if it might not be profitable." (Jeff Allen/)
"That's my dad; he flew F-104s. I take a lot of inspiration from that photo," says Christian Parker, owner of Rottweiler Performance, gazing at the black-and-white photograph of a man standing on the tarmac in his G-suit and helmet. "I see similarities between my father, a fighter pilot, and myself, a motorcycle rider. From the gear to the helmet to the mentality of what you are about to do, whether you are climbing into a cockpit or swinging a leg over a motorcycle. Those two very different things also seem quite similar."
Parker's fighter-pilot-like drive to be exceptional in every endeavor is echoed in every part of the 12,000-square-foot Rottweiler facility, from the bonkers 1290 Super Duke R that greets customers in the lobby to the billet-aluminum intake trumpets coming off the five-axis CNC machines in the back of the building.
"I just like making the best stuff. Sometimes we do it just to do it, even if it might not be profitable," Parker says while describing the time and materials invested in a prototype titanium 890 Adventure R subframe. "They're gonna be expen­sive. Who knows how many we will sell? Hopefully more than a few. Either way, people take notice."
Parker founded Rottweiler Performance in 2011, and the shop has since become a go-to for those looking to get more power and performance out of their KTMs. Rottweiler specializes in the Austrian-made machines, as Parker has found KTM owners to be somewhat more fanatical about their chosen brand than others. This dovetails with his personal obsession of the well-designed parts that elevate KTM's LC4-, LC8-, and LC8c-powered motorcycles.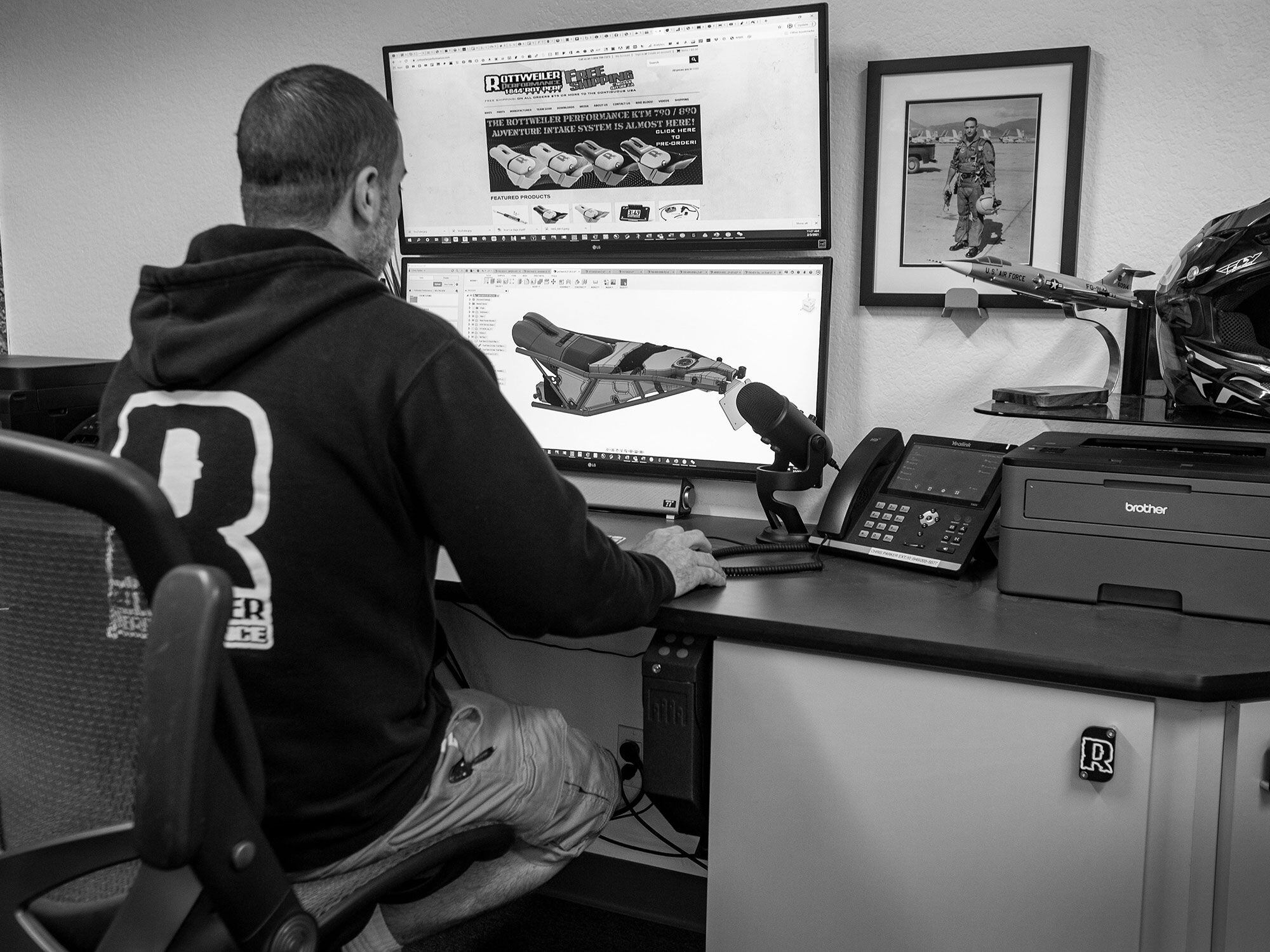 Parker is continuously developing and creating new parts to improve KTM-based motorcycles. Current focus? The 790/890 Adventure R platform. (Jeff Allen/)
Parker got his start in 1993 when he bought fabrication tools with the tax return money from his minimum-wage grocery store job. Trips to Baja, Mexico, with Phil Moore, his first fabrication boss, opened his eyes to the legendary off-road racing of SCORE and the machines competing in the  Baja 1000 and 500. Soon after, he became a crew chief on Class 10 and Class 1 buggy teams, and eventually formed his own motorcycle team, leading them to multiple top 10 finishes. His work in Baja led to the opportunities to work for Rod Millen Motorsports as part of its Pikes Peak Unlimited racing effort, on a car powered by a 1,000 hp 2.1-liter four-cylinder engine built by Dan Gurney's All American Racers and Toyota Racing Development. After that racing program ended as Toyota turned its focus toward the open-wheel-racing CART series, Parker headed back to running a team in the world of off-road racing.
His time in high-level racing had impressed upon him the importance of meticulous preparation to guard against failures. Parker started Rottweiler while simultaneously fabricating exhaust systems for bespoke Porsche customizer Singer Vehicle Design, and acknowledges that the money helped him build Rottweiler "the right way." Rottweiler still makes the exhaust systems for Singer to this day.
But primarily, Rottweiler is the go-to for those looking to extract the most power from their KTMs, offering tuning, airflow, and hard-part options. And Parker's reason for the focus on improving what the Austrian-based brand has achieved with its hard-edged machines?
"I bought a 2008 990 Super Duke to ride to Mexico to see my wife while we were trying to get her visa," Parker says. "I just started to screw with it, like I do with everything, and made a bunch of power."
Then people learned about the power gains Parker was making with his Super Duke. "The calls started coming in. I saw there was no one focusing on these bikes, so I went that direction. I pushed hard to create a whole world around them that made things understandable for the regular customer trying to make them work better."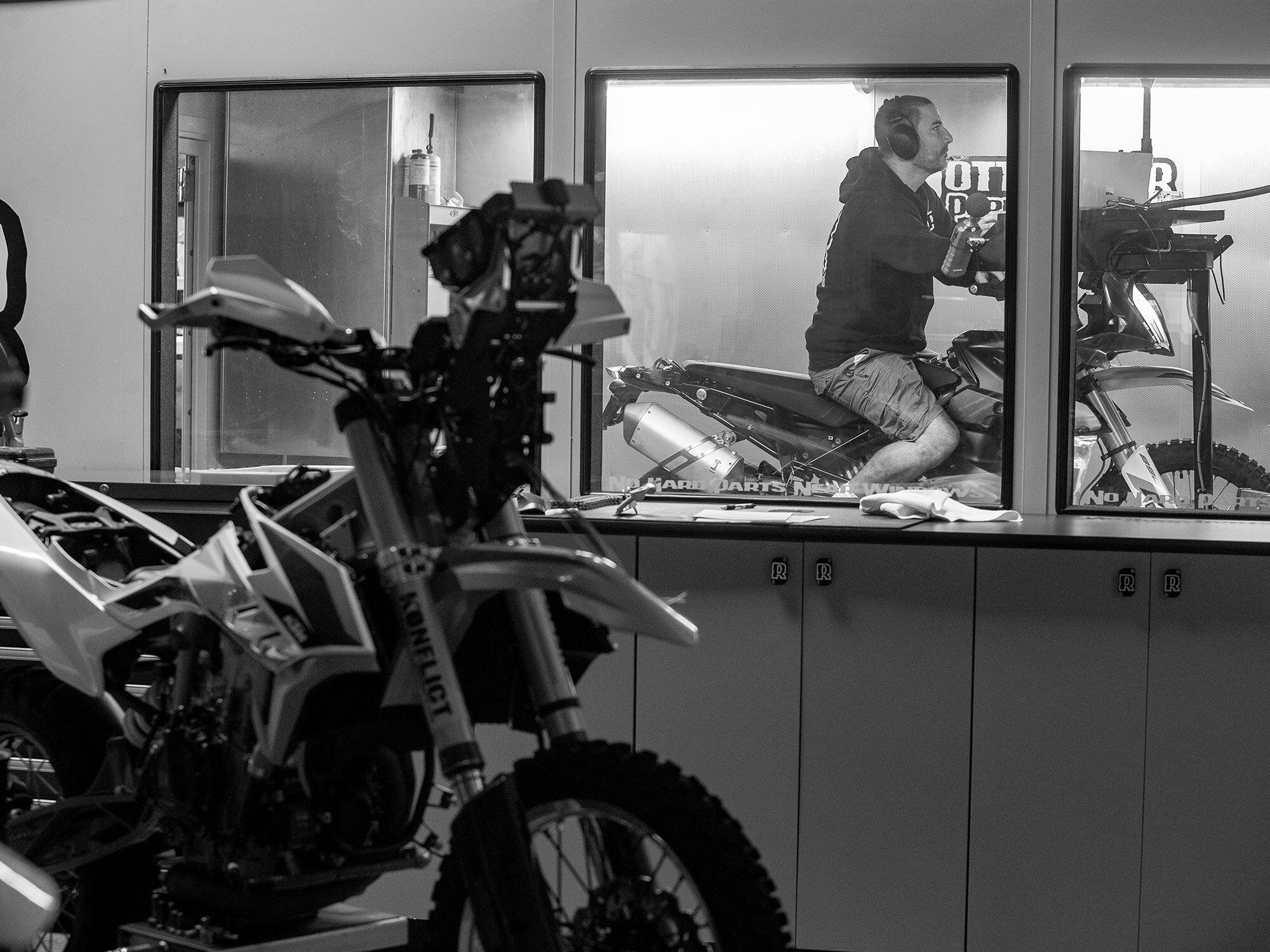 Chasing more power and performance in Rottweiler's spick-and-span dyno room. (Jeff Allen/)
Just past the row of parts-development bikes is a self-contained room with a Dynojet 250i dynamometer. It's cleaner and more organized than a surgical suite. It's here you'll find Parker testing his parts and tuning while using a big-screen TV to monitor rpm, horsepower, torque, and air-to-fuel ratios. The display is such an important part of Rottweiler that Parker made sure customers can look through the shop and see into the dyno from the reception lobby.
Rottweiler's latest undertaking is building a parts and accessories distribution business featuring brands that mesh well with the shop's goal of building better motorcycles. As he walks through the brand new 6,000-square-foot warehouse addi­tion, Parker explains that this is not something that can be achieved without a full commitment of resources, manpower, and space. His eyes have the same intense focus whether he's talking about the warehouse or describing his new carbon fiber 890 Adventure airbox.
Whether sitting on a bike, working in the dyno room, designing parts in his office, building Rottweiler's distribution warehouse, or preparing motorcycles, Parker is dead set on one thing: making motor­cycles work better. That intensity is working for Rottweiler.
View full post on Cycle World