Royal Enfield SG650 Concept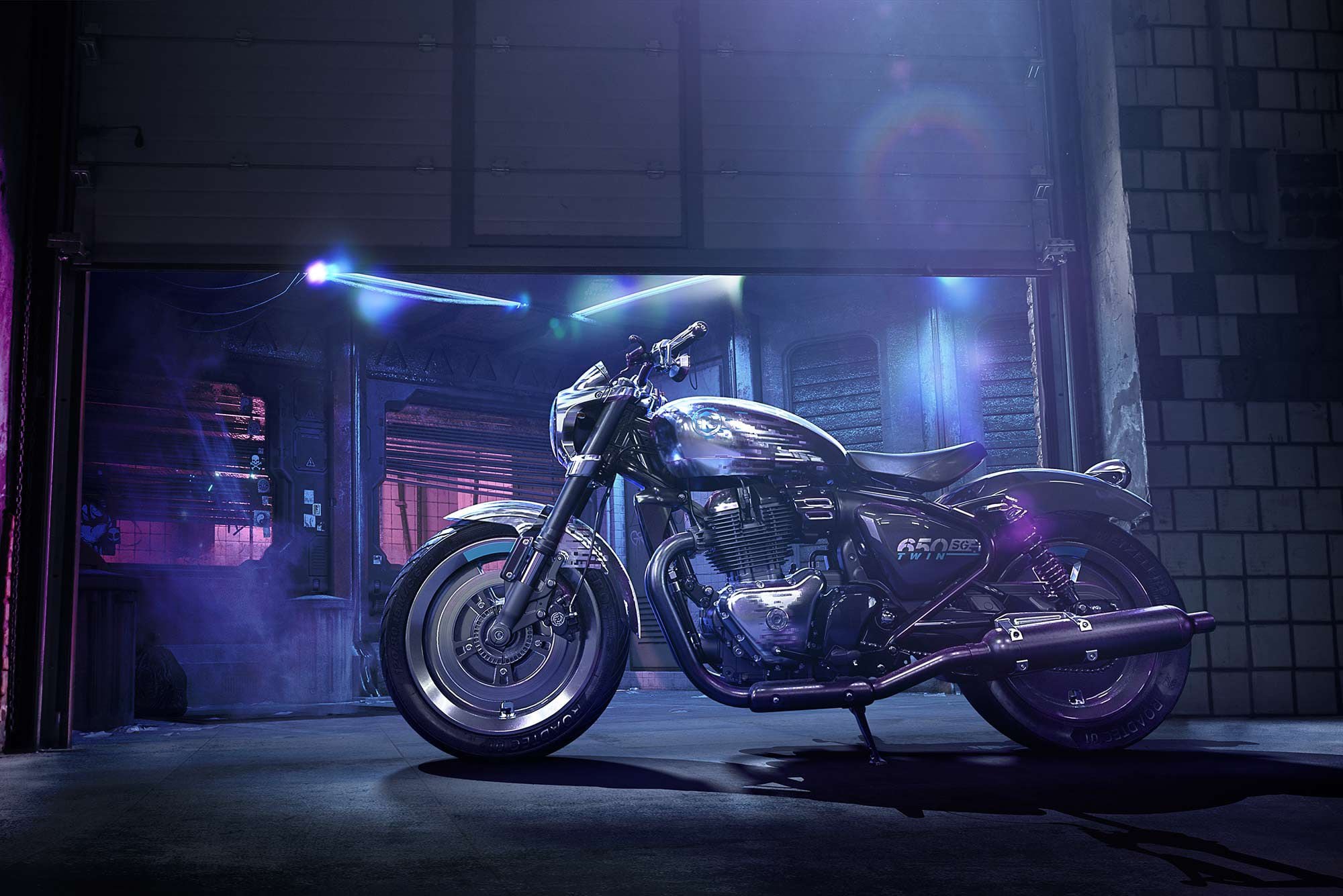 The Royal Enfield SG650 concept unveiled at EICMA 2021. (Courtesy of Royal Enfield/)
Since the release of Royal Enfield's 650 twins, we've been hoping to see their excellent engine in more applications. Royal Enfield's concept SG650, announced today at EICMA, looks to be just that: the 650cc P-twin wrapped in a Meteor-like frame with a bit more cruiser aesthetic than the current 650 offerings.
The SG650 concept started as a challenge from Royal Enfield Chief of Design Mark Wells. The idea was to design a concept showing the transition Enfield is currently going through. To show, as the bikemaker says, "what the Royal Enfields of the future could look like."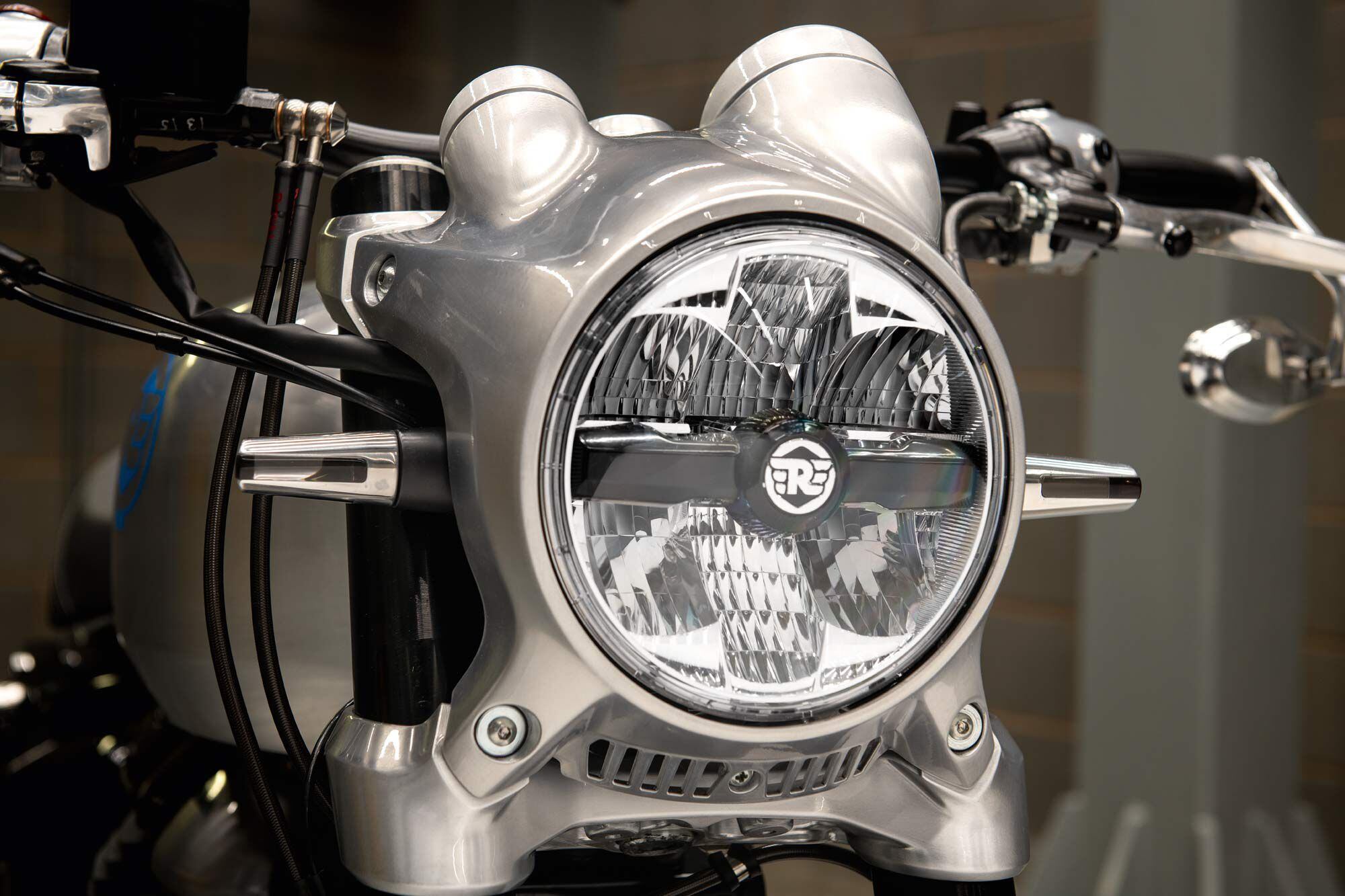 The headlight on the SG650 is machined from billet to house the gauges and bolt directly to the triple clamps. (Courtesy of Royal Enfield/)
"It's always exciting to design for a what-if scenario, and the brief to create a motorcycle that would both be recognizably Royal Enfield, but at the same time push what a Royal Enfield could be was a real challenge," said Adrian Sellers, industrial design lead for the SG650 project.
Much of the SG650 has been custom fabricated for just this purpose, including some components that are much more high-end than they may appear. The gas tank, for instance, was CNC machined from a single block of billet aluminum, as were the wheels with their integrated ABS. Inverted fork and an aluminum headlight cowl add an apparent nod to the future. The twin shocks and looped frame to which they mount, however, look quite familiar, very much like the Meteor 350 that we saw released for 2021.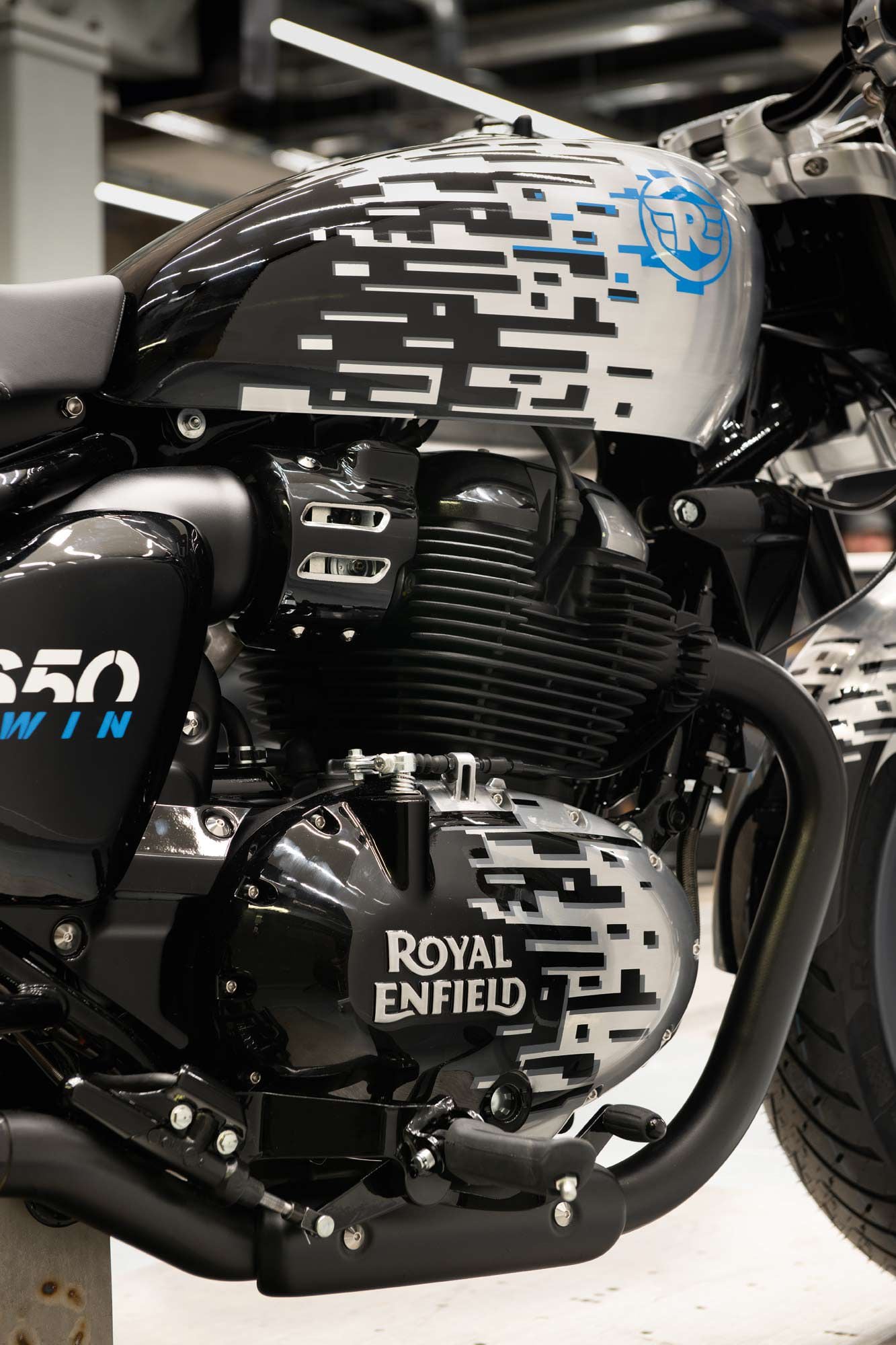 The concept's gas tank was also machined from a single piece of billet aluminum. (Courtesy of Royal Enfield/)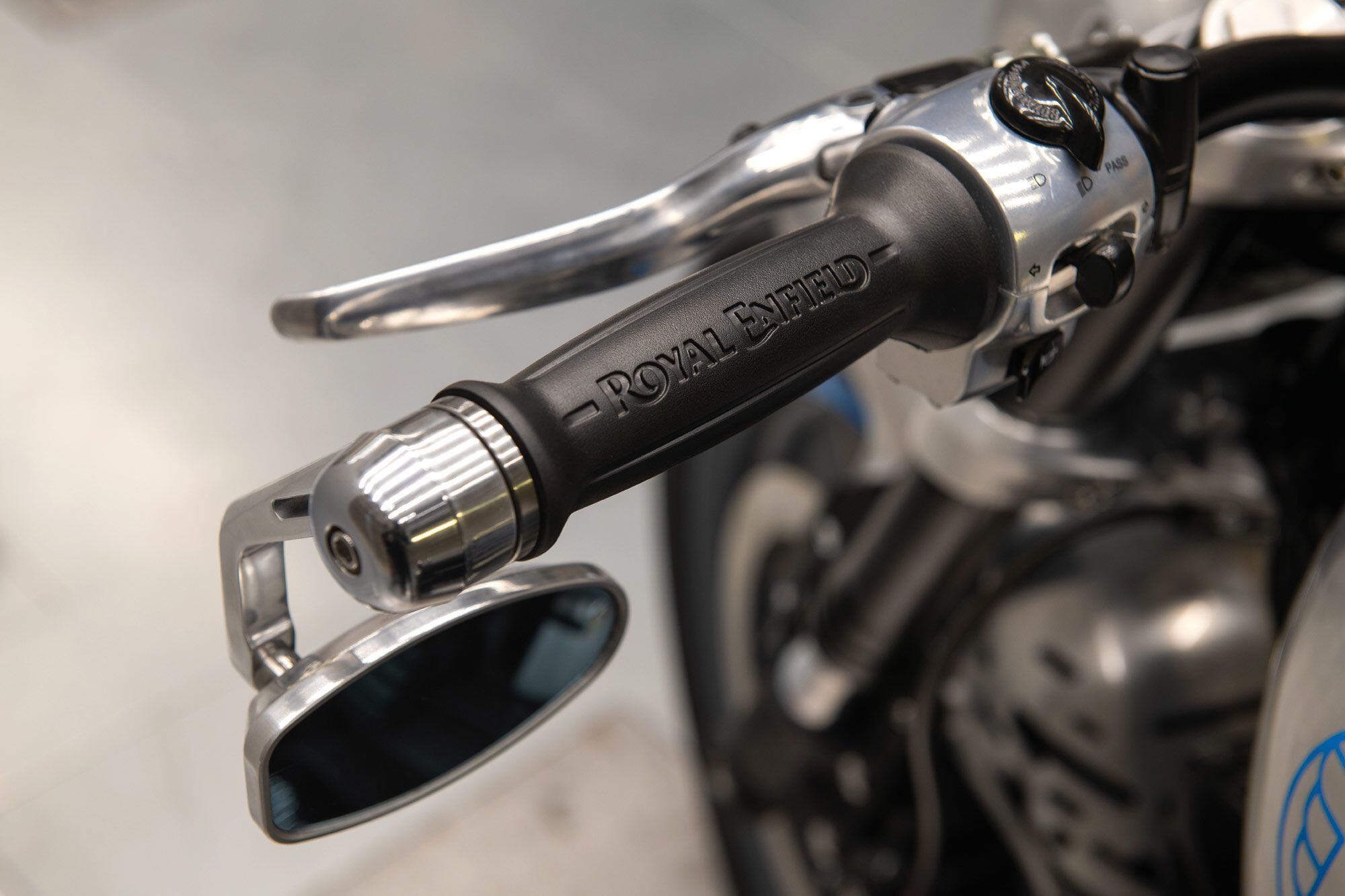 Dropped mirrors add a little cafe racer flair to the SG650's cruiser vibe. (Courtesy of Royal Enfield/)
Aspects of this bike are intentionally futuristic, from the paint and brightly colored gauges to the impressive machining around the triple trees and headlight cowl. Still, as a concept, it's very easy to imagine which pieces would be trimmed off for production; machining billet is very expensive.
Large aluminum wheels add a bit of a futuristic look to the RE concept. (Courtesy of Royal Enfield/)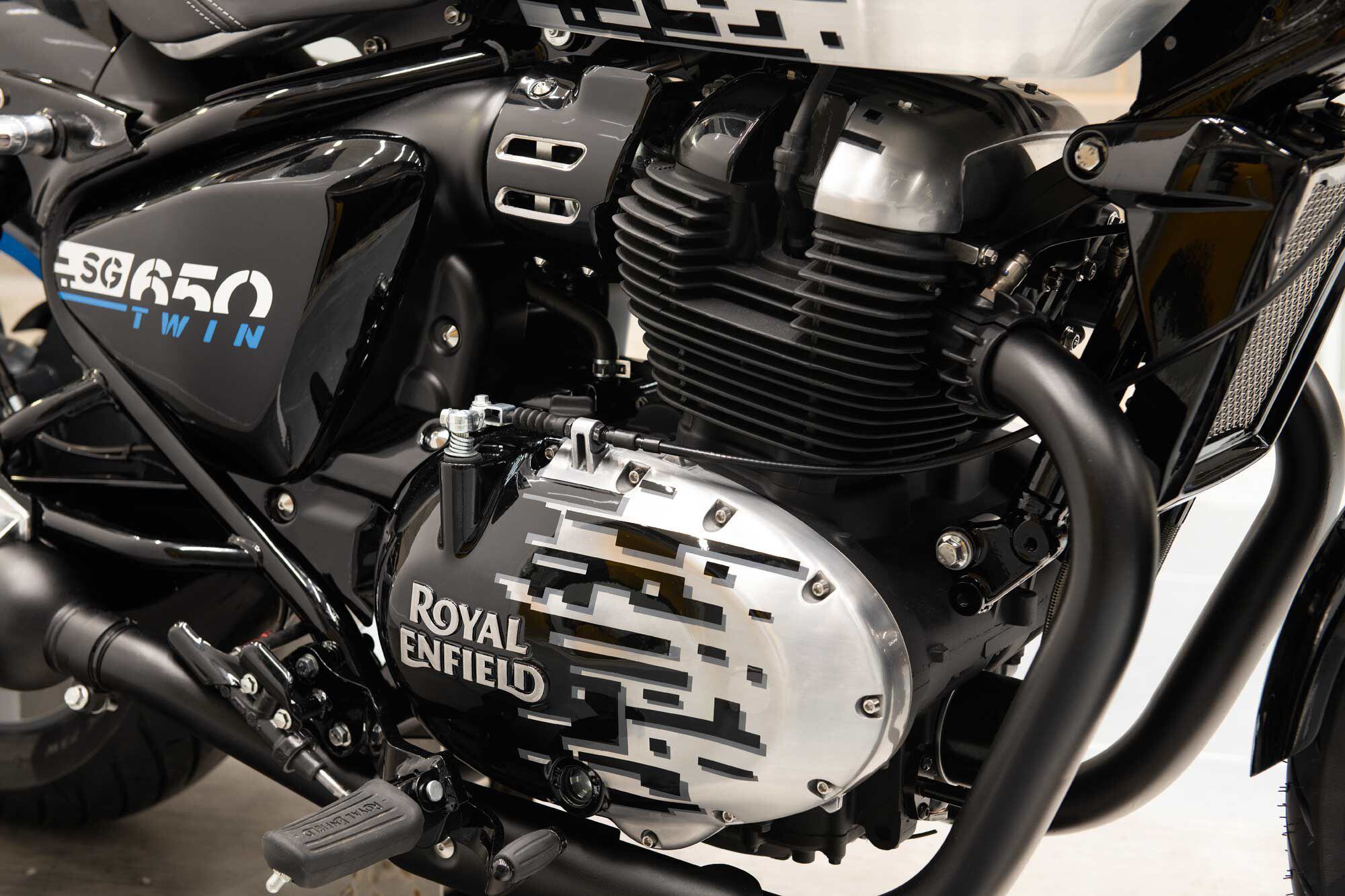 The SG650 is powered by the same 650 P-twin engine as the INT650 and Continental GT. (Courtesy of Royal Enfield/)
We imagine we'll see the same or a similar chassis using the 650 P-twin engine and a similar exhaust system, but with a more traditional Royal Enfield gas tank, spoked wheels, and conventional telescopic fork. When exactly we'll see it is uncertain, but we're fairly confident that the concept will be actualized eventually.
Stay tuned for more information; we'll bring it to you as soon as we get it.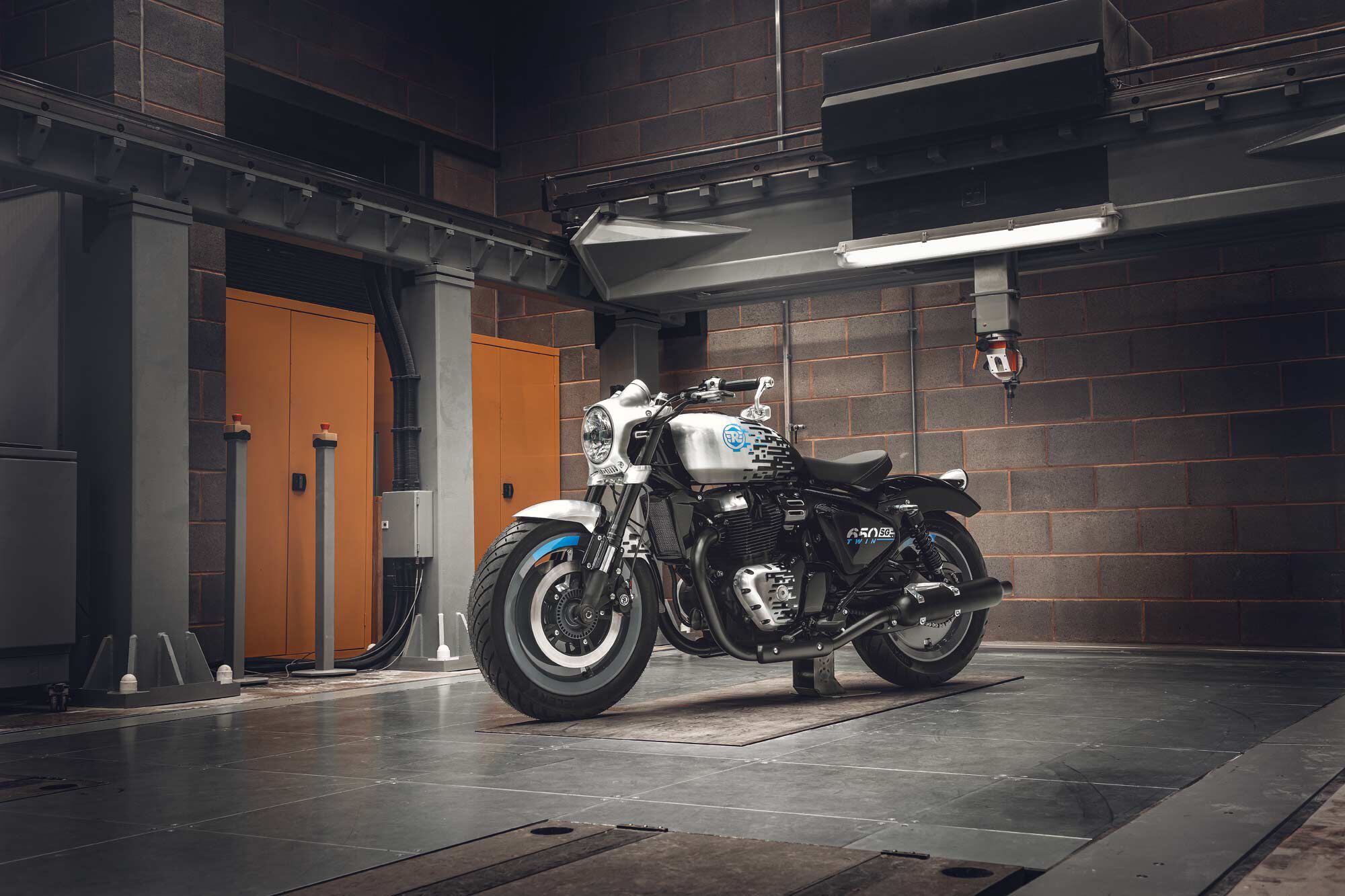 Royal Enfield's latest concept, the SG650. (Courtesy of Royal Enfield/)
View full post on Cycle World