Ten Great Motorcycles Under $9,000
Bikes like the Yamaha MT-07 are proof that riders shopping for a sub-nine-grand motorcycle don't need to sacrifice style or fun. Whether you're looking for a naked bike, adventure bike, sportbike, or something in between, there are affordable options in every manufacturer's lineup. (Yamaha/)
With costs spiraling upwards everywhere, you'd think it would be difficult to find a great new motorcycle for a decent price. Naturally, all the attention is focused on glamorous bikes dripping in high-tech features and performance, but one look at price tags in the five-digit range and the fun of window shopping gets frustrating. After all, lots of people just want a good, solid motorcycle that provides plenty of fun without breaking the bank.
But all is not lost. We've decided on $9,000 as a reasonable price point and decided on with ten bikes that provide outstanding value at that much or less. It's a diverse enough list that we're sure one of these bikes will fit your needs.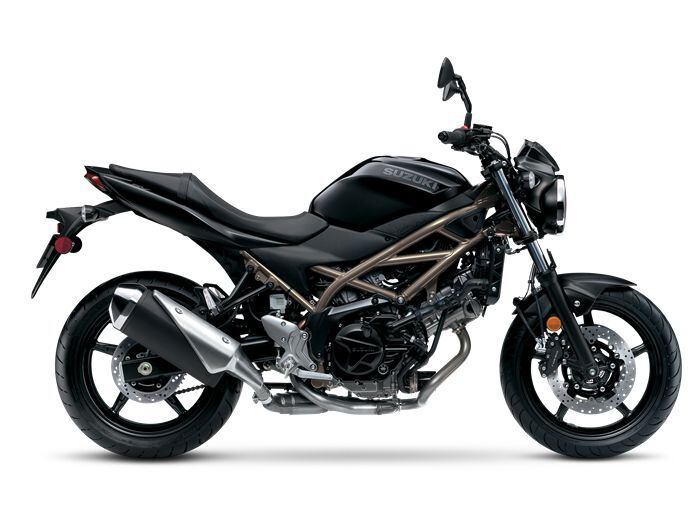 An industry icon, the SV650 hits all the right marks, especially for riders in search of a proven package for commuting and the occasional ride through the canyons. (Suzuki/)
Suzuki SV650
MSRP: $7,299 / $7,749 (ABS)
It's frankly impossible to build a list of best-buy or bang-for-the-buck motorcycles without the Suzuki SV650 coming up in the conversation. And for good reason; since its debut in 1999, the SV has been a very hard-to-beat combination of amiable manners, very good performance, and sheer fun, all for a price tag that made it Suzuki's best-selling model for many years.
The 645cc DOHC V-twin engine's wide, charismatic powerband is friendly enough for newbies while still providing plenty of torquey thrust to satisfy experienced riders (a 2017 update resulted in both more horsepower and emissions clean enough to meet ever-stricter standards). The steel tube trellis chassis gives the bike responsive yet neutral and stable handling, and the 30.9-inch seat height means the SV won't intimidate novices at a stop.
There are no electronic rider aids to complicate matters, just a cable-operated throttle and simple but effective engineering. And Suzuki is one of the few manufacturers still selling non-ABS versions, with a $7,299 price tag that's easy on your wallet (the ABS model is $7,749).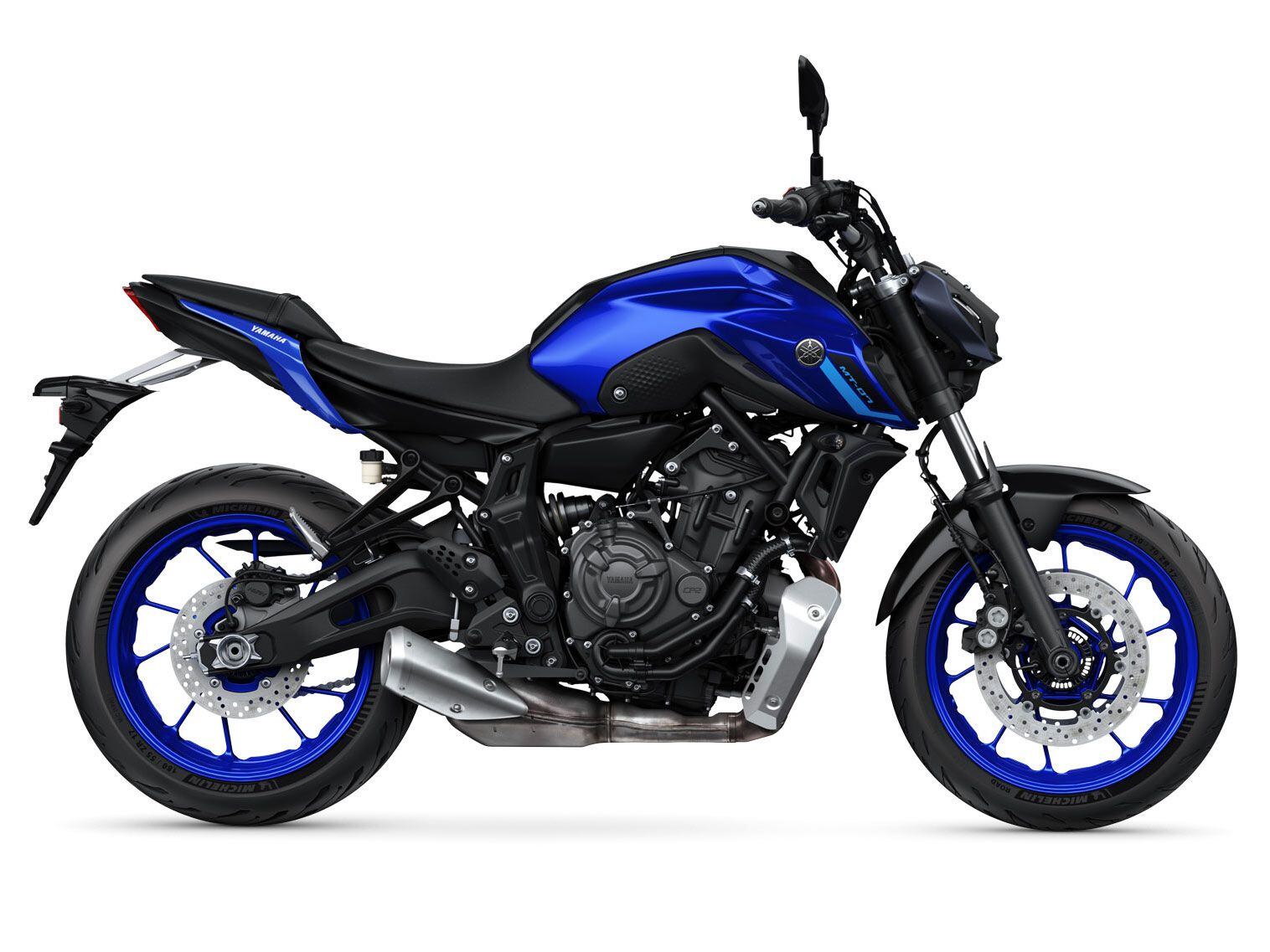 The brilliance behind Yamaha's MT-07 is that it gives you everything you need—sharp handling, torquey engine, bold styling—and strips away everything else. All of this, of course, for a price that continues to impress. (Yamaha/)
Yamaha MT-07
MSRP: $7,899
Taking the crossplane crankshaft lessons learned from the bigger MT-09, Yamaha created its little brother, the 689cc parallel-twin-powered MT-07, in 2014. The bike was an instant hit. With its 270-degree crankshaft, the MT-07′s quick-revving twin-cylinder engine provides gobs of instant torque and a strong midrange boost that will loft the front wheel in the first few gears if you're feeling frisky. There's plenty of power on top, but without the annoying vibes or droning exhaust note that come with conventional 180-degree-crankshaft parallel-twin engines. The steel tube chassis and well-dialed suspension offer up agile handling without ever getting nervous or twitchy, letting you put the bike wherever you want with ease.
A major factor in the MT's performance is the bike's feathery weight; at 407 pounds full of fuel and ready to ride, the MT-07 is lighter than all of its competition, undercutting some by a significant margin. That lack of mass, plus a seat that feels much lower than its 31.7-inch spec sheet number, means an unintimidating mount for novice riders. Best of all is the price: at $7899, the Yamaha is a very economical mount that's still a blast to ride.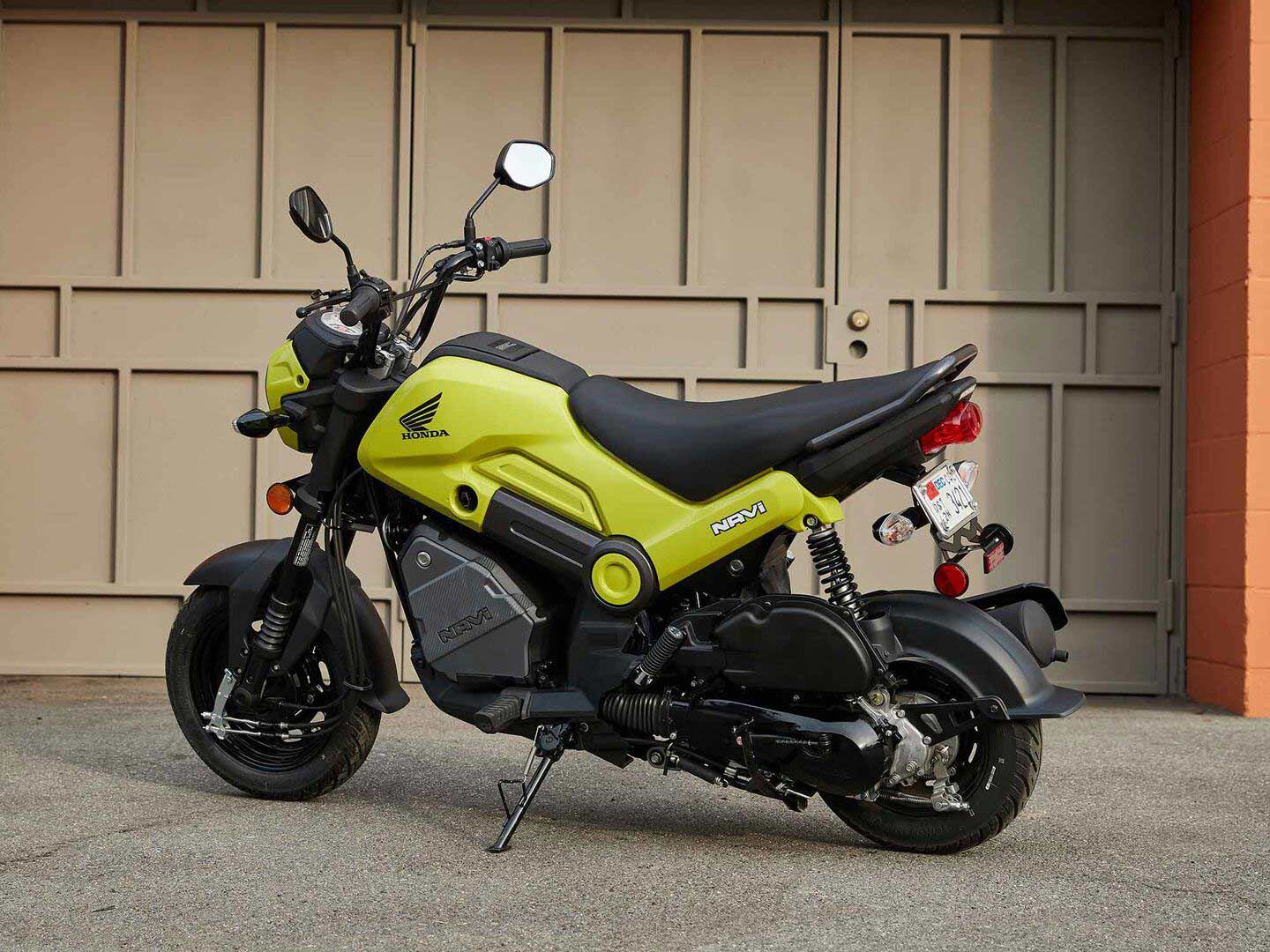 Honda's Navi was introduced as a cost-effective entry into the wonderful world of motorcycling. Compared to using public transportation or rideshare apps for a month, owning a Navi compares favorably, even when factoring in registration and insurance. Notice the 15-liter storage compartment that adds versatility. (drew ruiz/)
Honda Navi
MSRP: $1,807
And the award for least expensive bike on this "Bikes for Under $9,000″ list goes to the Honda Navi. Yes, the Navi is technically a scooter, but it has an attraction that will hopefully get more of the general public onto two wheels. No truly decent scooter these days is cheap, but the Navi's price stands out: with an MSRP of $1,807 this fun-loving city bike significantly undercuts the $2K barrier, something that very few scooters can boast. The few that do come under that mark certainly can't match the build quality or established dealer network of a Honda.
Still, don't assume that the Navi skimps on features or quality to achieve that price. Its 109cc OHC air-cooled single-cylinder engine and CVT automatic transmission deliver much better acceleration and power than your average 50cc scooter; it has a 15-liter keyed storage compartment where a motorcycle's engine normally resides; and the telescopic front fork and single rear shock provide a decently smooth ride.
It's interesting that the Navi also blurs the distinction between scooter and motorcycle in that it has a sidestand, a tubular handlebar, telescopic fork, footpegs, and a rear brake pedal on the right like a motorcycle, yet still retains the swingarm-mounted engine with CVT transmission, small 12/10-inch wheels, diminutive size, and ease of use of a scooter. Honda has always been a company that tries to attract more people to motorcycling, a practice for which the company should be commended.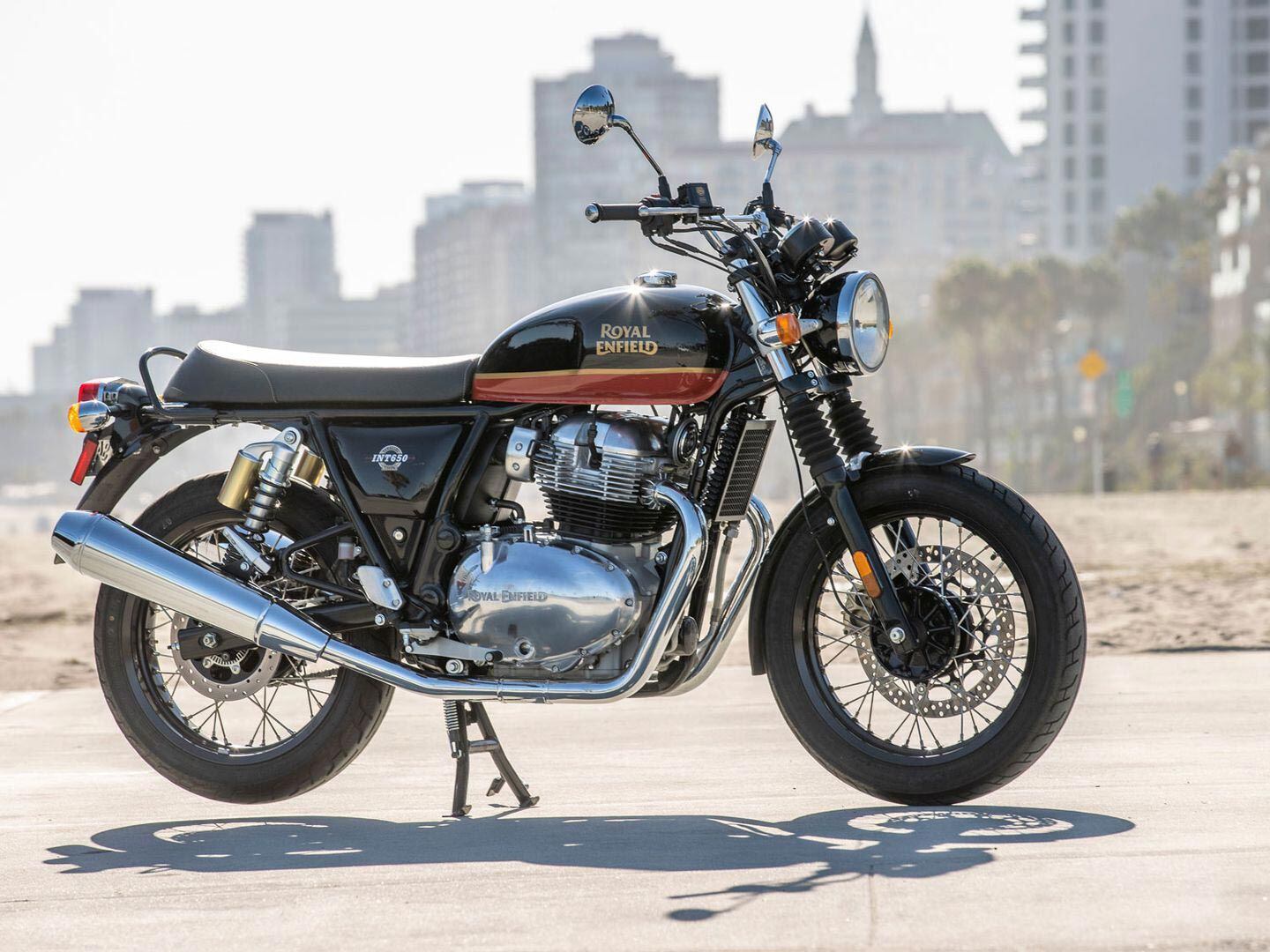 The Royal Enfield INT650 has just the right amount of technology to make it easy to live with and fun to ride for new or experienced riders, solo or with a passenger. (Jeff Allen/)
Royal Enfield INT650
MSRP: $5,999 – $6,699
In this time of ever-advancing technology, it's a lot tougher than you might think to produce a bike that combines the authentic look and feel of a classic '70s motorcycle with just enough modern upgrades to keep it fun, convenient, and most of all economical. Royal Enfield has managed to do just that with its INT650. There's no suite of electronic rider aids (other than ABS) or flashy high-tech gadgetry on this bike. Just surprisingly good overall performance and feel that reminds you that you got into motorcycling because it's fun.
The INT650′s air/oil-cooled SOHC 648cc parallel-twin eight-valve engine provides smooth, broad, accessible power with its 270-degree firing order keeping vibes to a minimum, and the steel double-downtube cradle frame with Gabriel rear shocks provides delightfully agile yet neutral handling. The comfy riding position is right out of the '70s, with the high-rise tubular handlebar, low-set footpegs, and long single-piece seat providing plenty of room for both you and a passenger.
The Royal Enfield INT650 is backed by a 3-year/unlimited mileage warranty plus roadside assistance, which is great for peace of mind. But even greater is the price: At just $5,999, or slightly more for custom color options, the INT650 represents one of the better deals in motorcycling.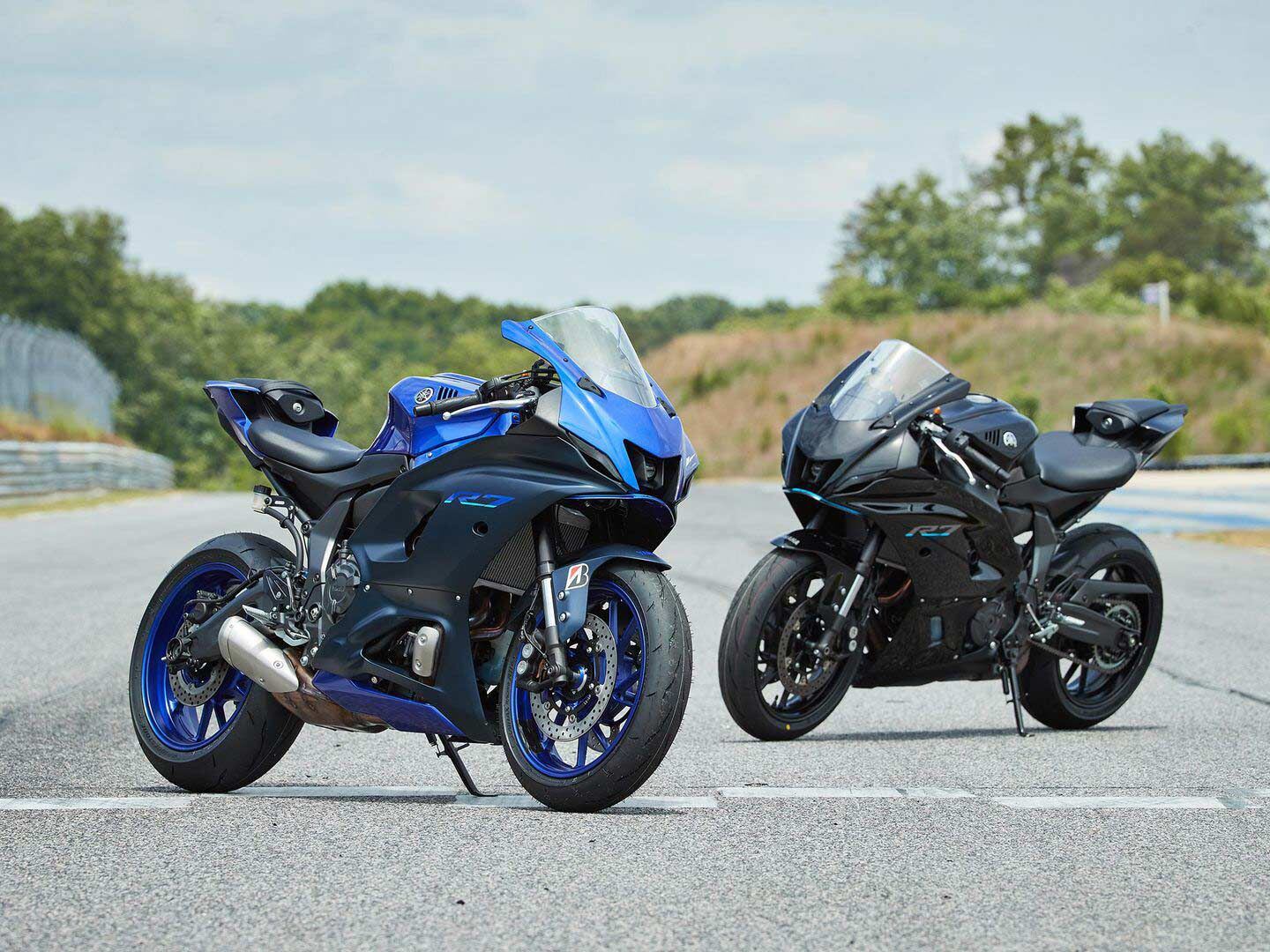 The YZF-R7 is Yamaha's budget-friendly approach to the sportbike category, targeting the less experienced rider without sacrificing the fun factor or hardcore image of the supersport glory days. (Yamaha/)
Yamaha YZF-R7
MSRP: $8,999
It's obvious from its looks that Yamaha's YZF-R7 is a supersport bike, but don't assume that it's a high-strung thoroughbred requiring expert-level riding skills to extract the slightest bit of speed. Based on the best-selling MT-07, the R7 is intended to provide much more accessible and approachable performance than the screaming 15,000-rpm middleweight sportbikes of the past.
Using the same 689cc DOHC parallel-twin powerplant as the MT-07 gives the R7 entertaining yet balanced and beginner-friendly power instead of the intimidating peakiness of supersport inline-fours, while the chassis has been subtly tweaked and fully adjustable suspension added for quicker and more stable handling than even race-prepped MT-07s, even though the R7 scales in 8 pounds heavier than the MT.
The riding position is obviously very sporty, but again, not quite as radical as the old R6, with the clip-on bars positioned slightly higher for less fatigue on the street. And that emphasis toward accessibility with the R7 includes the price: instead of the ever-escalating five-figure prices of the 600cc inline-fours, the R7 is listed at a much more palatable $8,999 MSRP. So whether you're an experienced rider looking for an entertaining alternative to the usual wallet-draining supersport machinery, or a novice rider looking to hone your chops on a bike that makes the process far easier, the R7 fits the bill.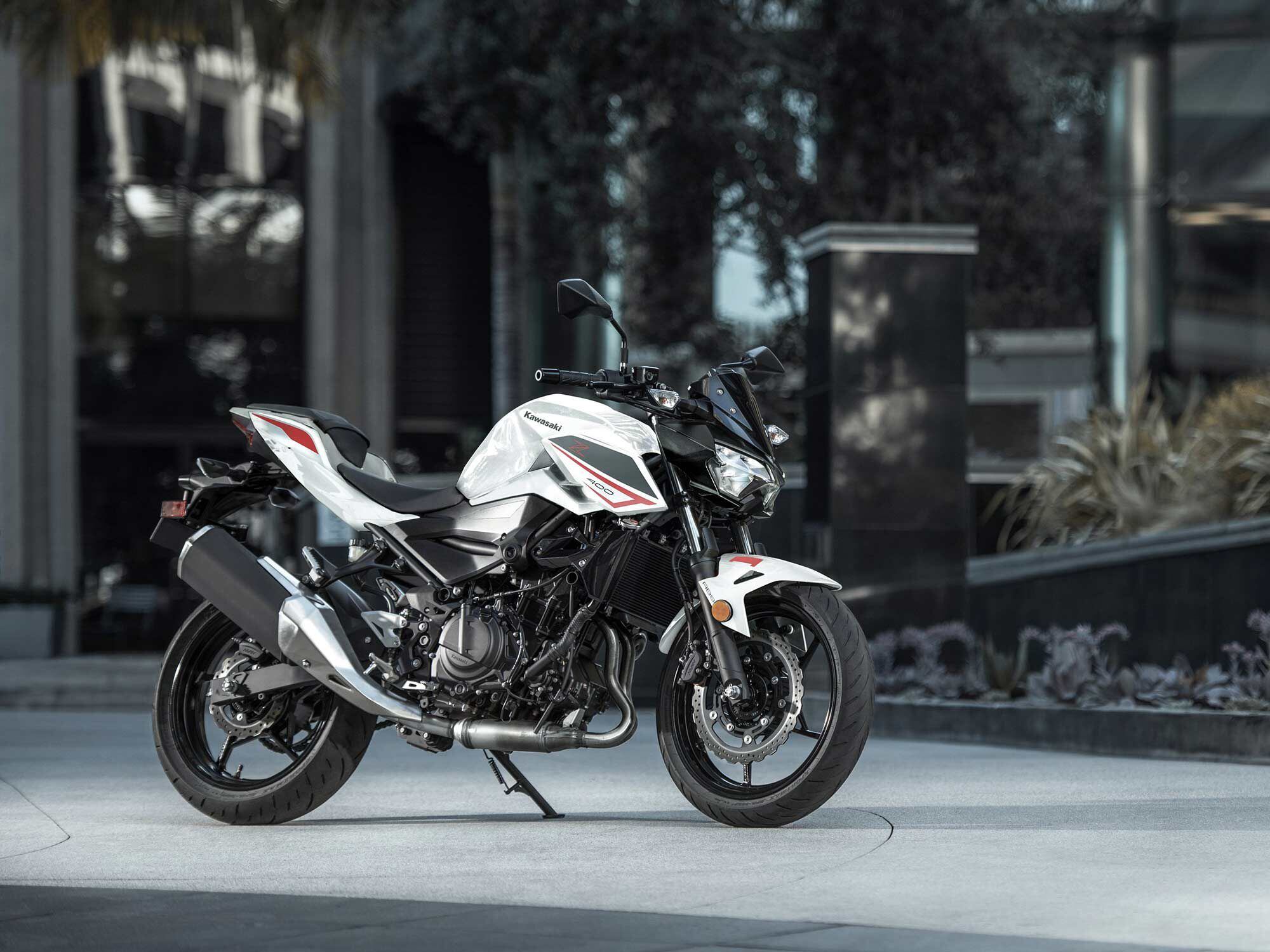 Very few sub-500cc motorcycles are as easy to approach for a new rider while also being easily up to the task of spirited rides at the hands of more experienced riders. The Kawasaki Z400 really is an amazing bang for the buck. (Kawasaki/)
Kawasaki Z400 ABS
MSRP: $5,399
Basically a stripped-down naked version of the class-conquering Ninja 400, the Kawasaki Z400 ABS offers up all of the sprightly performance of its fully faired cousin with more comfortable upright ergos. The same 399cc DOHC eight-valve parallel-twin engine as its Ninja brother provides the type of responsive and revvy power that can keep an experienced rider entertained while remaining easy and amiable enough for a newbie to gain confidence quickly.
Also identical to the Ninja is a steel tube trellis chassis that offers up light and quick handling, although the suspension rates are softened slightly to reflect the less-sporting intentions of the Z400. A big contributor to the Z400′s agile handling is the lack of heft; at a measured 364 pounds with a full fuel tank, the Kawasaki significantly undercuts most of its competition, many by as much as 50 pounds.
With a wide, upright tubular handlebar that's set 50mm higher than the Ninja's clip-ons, the Z400′s ergos are much more comfortable, even if wind protection is a bit lacking compared to the Ninja. Further bolstering the Z400′s appeal is its list price: at just $5,399 the lightweight Kawasaki is an excellent value for your dollar.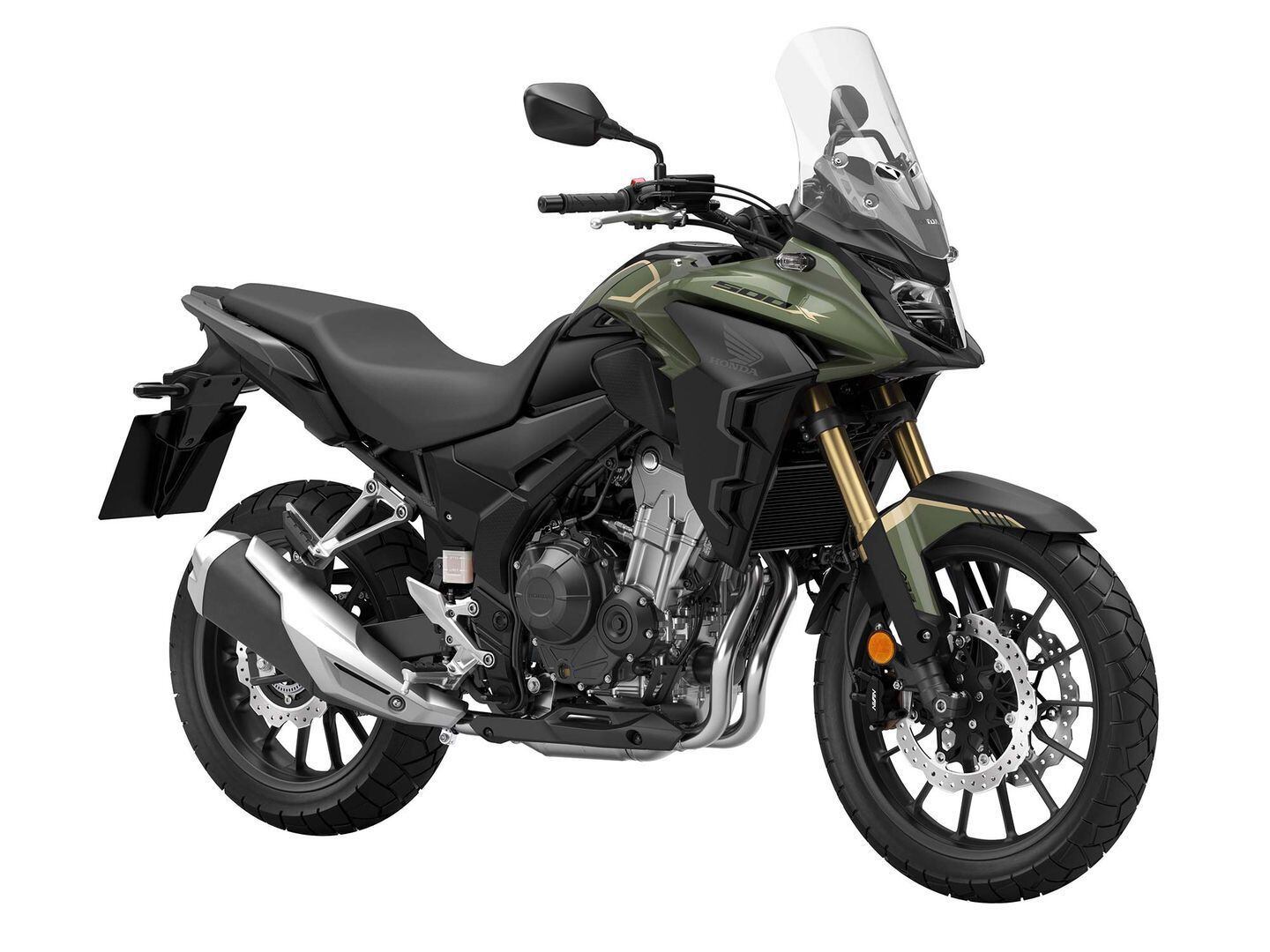 When it comes to entry-level adventure-style motorcycles, the Honda CB500X is an amazing value at $7,199. (Honda/)
Honda CB500X
MSRP: $7,199
If you're a rider on a budget looking for a versatile entry-level adventure-style motorcycle that's pavement-oriented but is perfectly capable of tackling gravel roads, look no further than Honda's CB500X. The ADV member of Honda's CB500 trio, the CB500X is set apart from its CB500F/CBR500R brethren by its longer-travel suspension, 19-inch front wheel, pavement-leaning ADV-style tires front and back, front quarter fairing with tall two-level-adjustable windscreen, taller handlebar, and larger fuel tank.
The 471cc DOHC parallel-twin engine's impressively flat torque curve and decent power output not only make the 500X both an amiable and capable companion on the street and tractable and easy to manage on the dirt. Upgrades to the suspension in 2022, including a Showa 41mm SFF-BP fork up front, revised spring/damping rates in the rear shock, and a lighter/stronger swingarm, mean better handling on both paved and dirt roads. The change to dual 296mm brake discs up front (versus the predecessor's single 310mm disc) provide better power with less effort.
The fairing and its two-way adjustable windscreen offers decent protection, and the fuel-sipping engine will get you about 270 miles to a tankful. With its low $7,199 sticker price, you're getting an amazing value for an entry-level ADV motorcycle.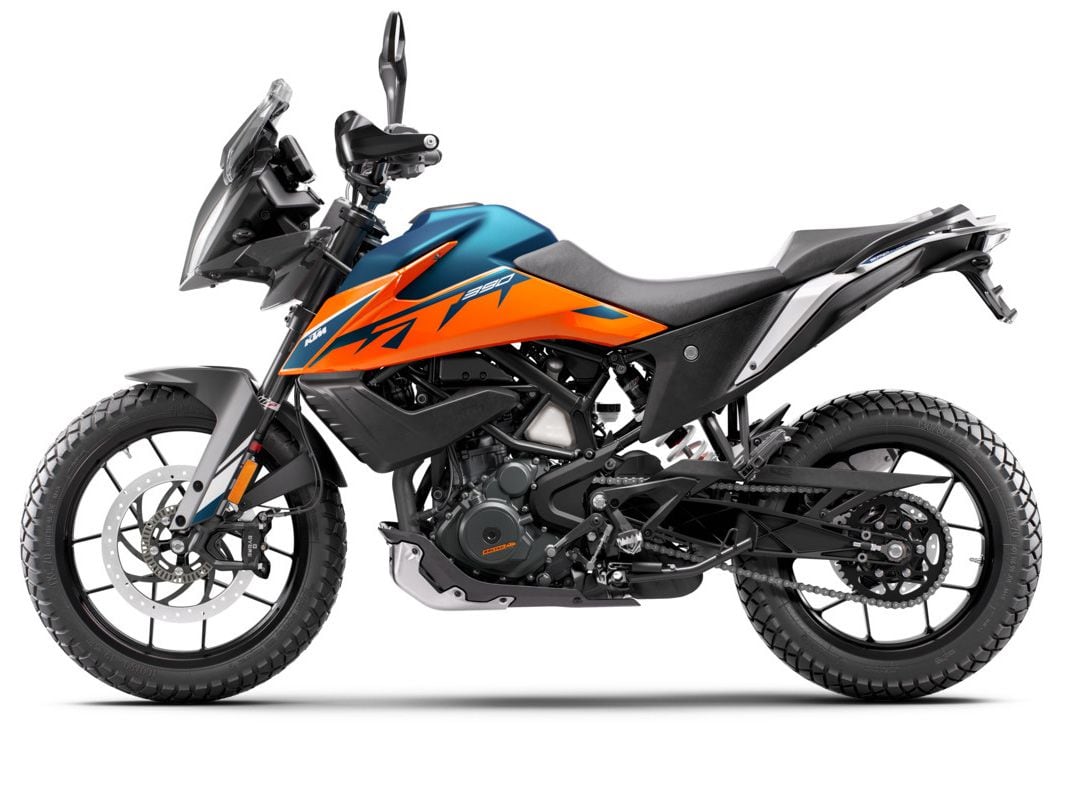 Adventures don't have to break the bank, and KTM's 390 Adventure is proof. Solid on- and off-road performance make this a great bike for a first foray into the adventure bike world. (KTM/)
KTM 390 Adventure
MSRP: $6,799
It would be easy to assume that the smallest of KTM's Adventure series bikes is an entry-level model with bargain basement features and components. Nothing could be further from the truth. The 390 Adventure is a serious ADV machine with excellent off-road capabilities to go with its superb on-road handling.
The Adventure's 373cc DOHC single-cylinder engine is the same unit used in the 390 Duke, with plenty of torque to go with its good top-end power, and the throttle response is butter-smooth. Tractability, combined with dialed-in spring/damping rates of the WP Apex fork and shock (both are also adjustable), means you can easily hang with larger and more expensive ADV machines through very challenging dirt sections.
The littlest Adventure's street handling doesn't suffer at the expense of off-road capability. At a measured 387 pounds fully fueled, the 390 is light and agile through corners, and the firm off-road suspension rates keep the chassis from pitching excessively during braking or acceleration.
There's lean-sensitive traction control with two settings, on or off, plus cornering ABS with an off-road mode that deactivates the rear ABS so you can slide the back end if needed. Getting this kind of performance for just $6,799 is one of the best deals in motorcycling.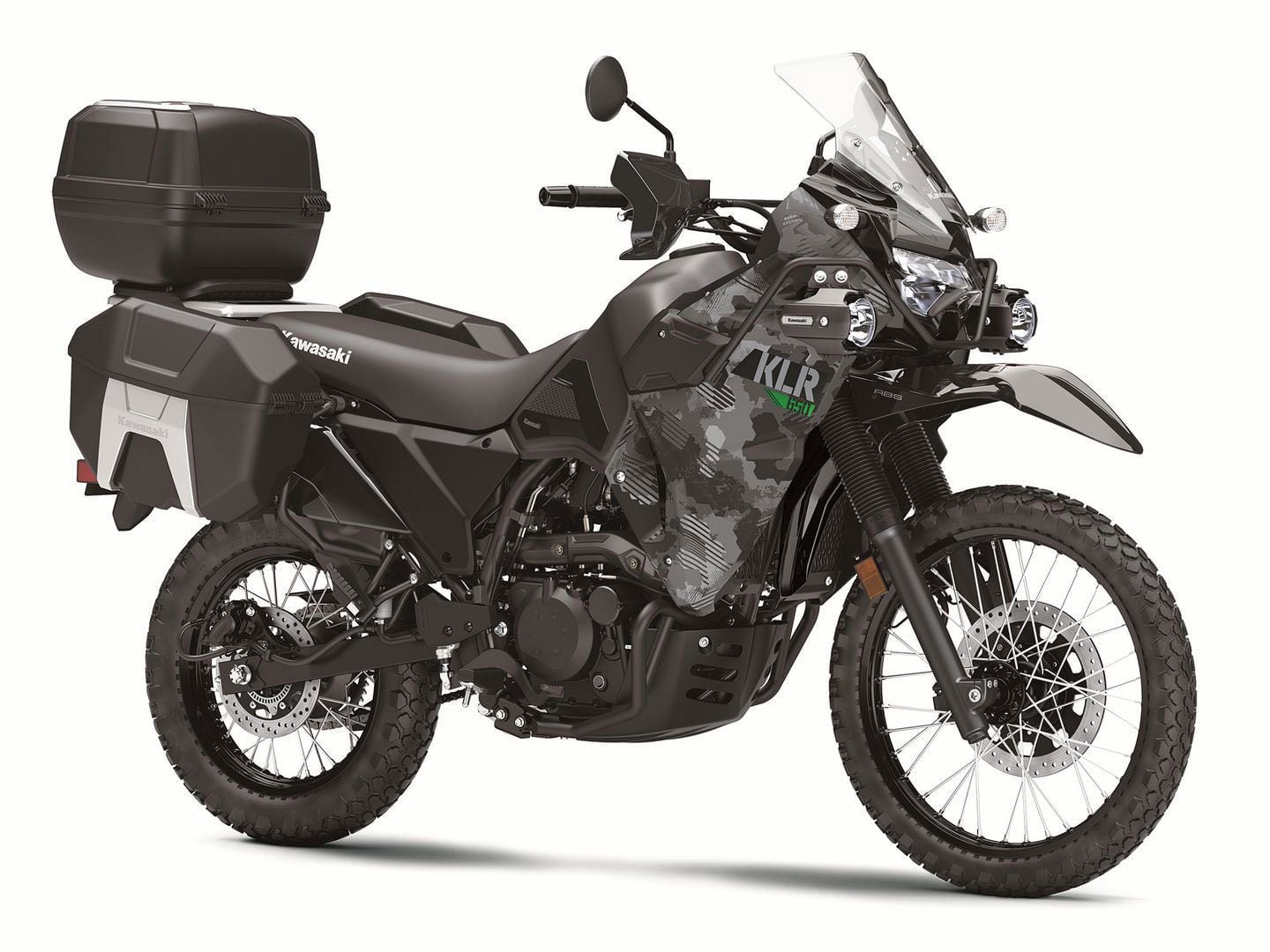 Kawasaki's KLR650 soldiers on as the OG affordable adventurer even after receiving modern updates like fuel injection and off-road-tuned ABS. Even the most feature-laden version, the KLR650 Adventure ABS, comes in well under the $9,000 price cutoff. (Kawasaki/)
Kawasaki KLR650
MSRP: $6,899 / $7,199 (Non-ABS / ABS)
MSRP: $7,599 (Traveler ABS)
MSRP: $7,899 / $8,199 (Adventure / Adventure ABS)
There are very few motorcycles out there that can lay claim to a 35-year production run, and even fewer that can say the first 20 of those years saw very few changes. Kawasaki's KLR650 is the stone axe of ADV/dual sport motorcycling; there are no fancy electronic gizmos, no multi-cylinder big displacement engine or trick suspension bits. The bike didn't even get fuel injection until the 2022 model update. And yet the KLR650 has continued to sell well over the years simply on the basis of its rugged, versatile, economical, and above all dependable performance.
The tried-and-true 651cc liquid-cooled single-cylinder engine has both enough power to cruise at a good clip on the highway and plenty of bottom-end grunt to chug along more technical trails, all while sipping on regular grade unleaded fuel. The suspension is good enough to handle most off-road obstacles while still remaining compliant for pavement use. The ergos are all-day comfortable. And the 6.1-gallon fuel tank means you'll be riding longer segments on those journeys.
Needless to say, the Kawasaki has a huge aftermarket support industry, along with an online nation of KLR enthusiasts who have done literally everything with, and to, the motorcycle. The fact that you get all this for just $6,699 is just icing on the cake.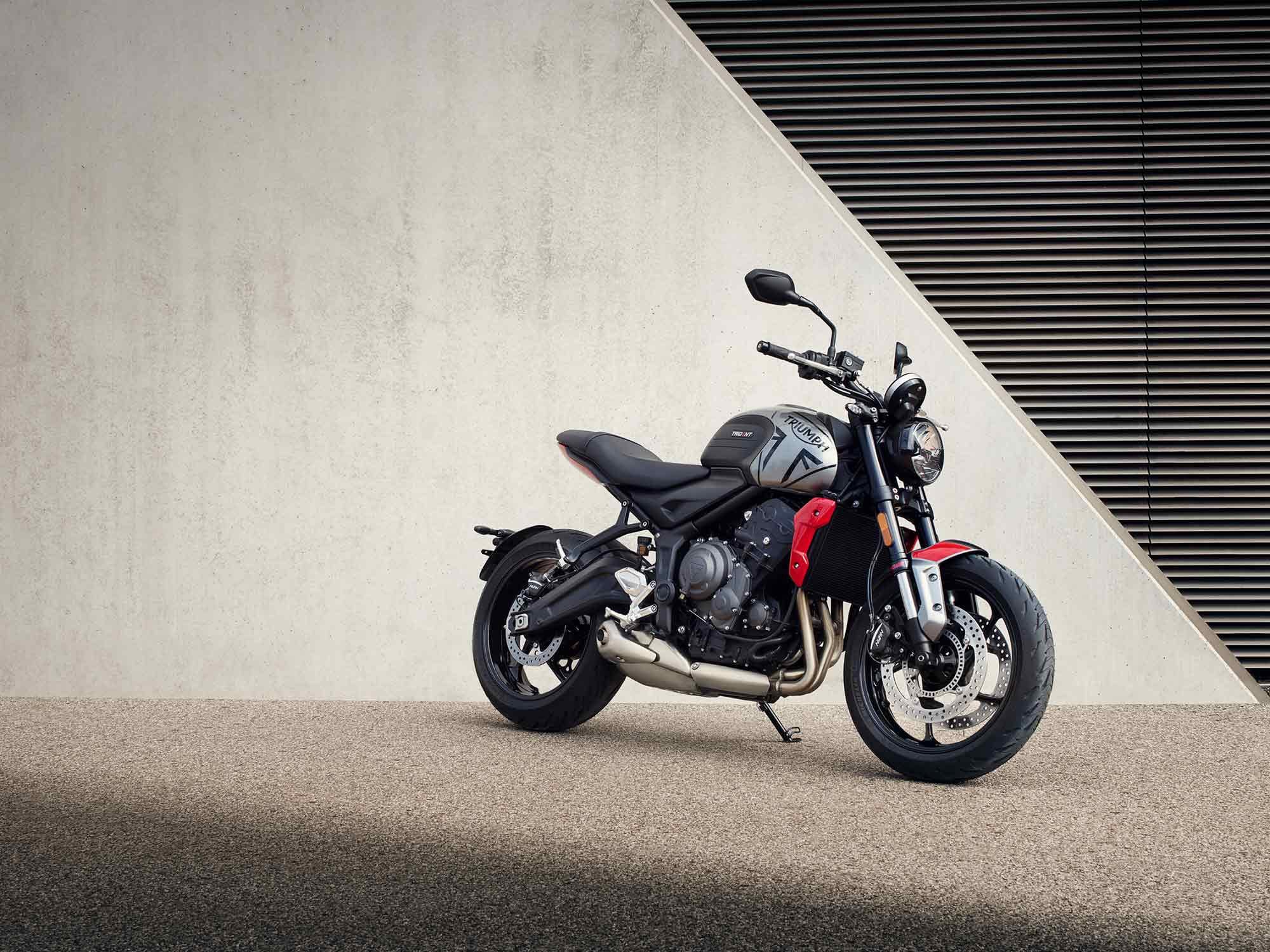 The Trident 660 is one of the most approachable and affordable options in Triumph's lineup, yet the bike makes no sacrifices in performance or in fit and finish (Triumph/)
Triumph Trident 660
MSRP: $8,395
It's not often that you're able to find a noted European brand with a middleweight model under $9K. The Triumph Trident 660 not only ducks under that mark but also offers excellent performance and versatility to boot.
The Trident's 660cc inline triple engine has plenty of torquey midrange response and wailing top-end power for experienced riders, but is still smooth enough down low that it won't overwhelm new riders. Overall handling is biased towards stability rather than nimbleness and agility; its delightfully neutral steering and a planted feel in corners promotes confidence, thanks to well-chosen suspension rates and a claimed weight of only 417 pounds fully fueled.
The newbie-friendly feel also extends to the brakes, which have a softer response while still providing plenty of power for experienced pilots. And unlike the futuristic stark lines and shapes of its competitors, the Trident's styling is a throwback to more traditional themes, with a roundish fuel tank, round headlight, and single circular TFT instrument panel.
Even still, there's plenty of modern technology underneath; two power modes, switchable traction control, ABS, and LED lighting. Fit and finish are typical Triumph excellence, which makes the $8,395 sticker price a definite bargain.
View full post on Cycle World