Top Sport-Touring Motorcycles To Buy in 2023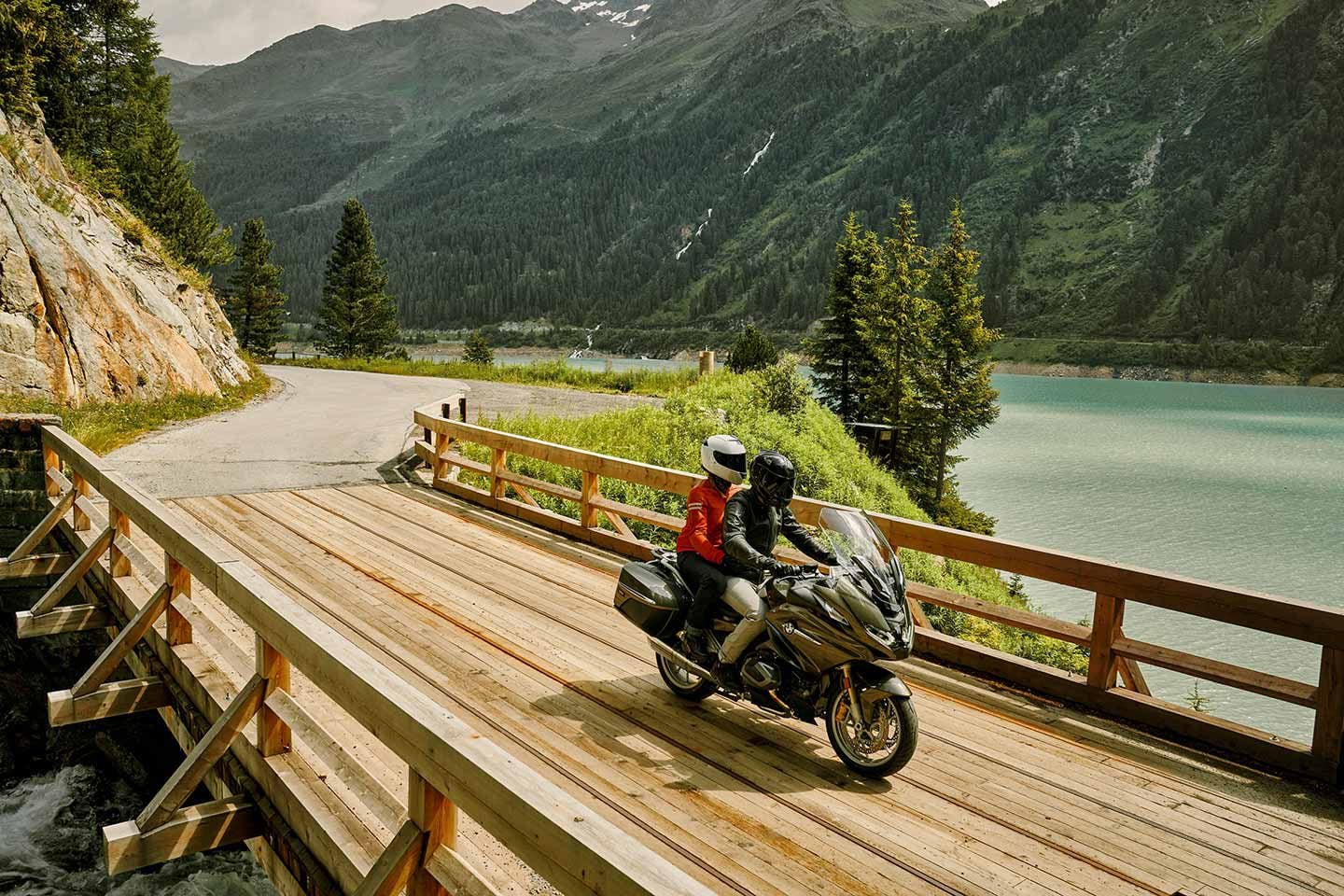 Meant to cover miles comfortably but also handle the twistiest of roads, sport-tourers combine the best of many motorcycle worlds. (BMW/)
Among the many unique segments found within motorcycling today, sport-touring just flat-out (no pun intended) makes sense. That's because the sport-touring design paradigm of being fast, great handling, comfortable, and long-legged—with pack-mule-like cargo capacity—perfectly feeds many riders' need for speed and travel. Want to blaze across eastern Colorado and then assault the Rockies, head from Seattle down to Laguna Seca, or dispatch the Blue Ridge Parkway on the way to Biloxi? A sport-tourer does the trick. Generally, we'd consider 900cc to 1,300cc as the preferred displacement for a great sport-tourer, but exceptions do exist. Read on for a dozen strong choices between 745cc and 1,301cc—plus one electric bike.
BMW R 1250 RS
2024 BMW R 1250 RS, $15,995 (BMW/)
BMW has produced a sport-touring RS version of its twin-cylinder models for well over four decades now. Its mission is to provide the ideal ergonomics, aerodynamics, and gear- and passenger-hauling capability needed for fun, swift, long-range travel. Newly reinvented for 2024 and carrying a base price of $15,995, the R 1250 RS makes just the kind of effortless power that many riders like—136 hp at a relatively mild 7,750 rpm. That means response and acceleration on demand, whether you're in city traffic, slinging up a mountain road, or pulling off a quick pass. Thanks go to BMW's enduring commitment to the boxer engine, in this case displacing 1,254cc and modernized with liquid-cooling, overhead camshafts, and variable intake valve timing. Heaps of electronic rider aids are standard, and a huge array of packages and options are available.
BMW R 1250 RT
2024 BMW R 1250 RT, $19,995 (BMW/)
The BMW R 1250 RT is officially a "touring" machine. That said, it can be plenty sporty when you decide to put your head down and get down the road in a hurry. To produce the 2024 R 1250 RT, priced at $19,995, BMW started with a 1,254cc liquid-cooled boxer engine rated at 136 hp and backed by a six-speed transmission and shaft drive, and then layered on well-proven touring gear. This starts with comprehensive wind and weather protection from an aerodynamically precise frame-mounted fairing, an electrically adjustable windscreen, an enormous 10.3-inch TFT display screen that integrates map navigation, side cases and a rack, full LED lighting, and—rare for motorcycles—loud two-tone horns. Options range from an accessory-friendly tubular handlebar to a $6,950 Premium Package including adaptive headlights and more.
BMW S 1000 XR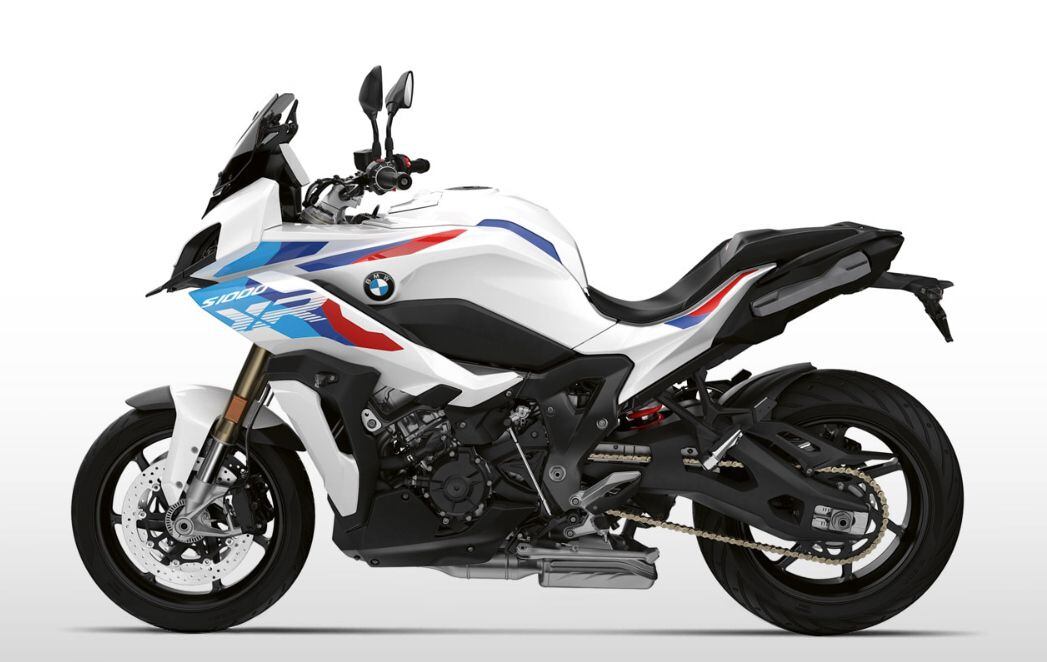 2023 BMW S 1000 XR, $16,945 (BMW/)
Based on BMW's S 1000 RR superbike, winner of over a dozen World Superbike races, the S 1000 XR melds superlative performance with touring accoutrements to create a highly effective sport-tourer. Beneath the rakish bodywork is a DOHC inline-four displacing 999cc and producing a claimed 165 hp at a scintillating (i.e., quite busy!) 11,000 rpm. If that sounds like pure chaos for a touring rig, the S 1000 XR motor is also tuned to deliver good midrange, and its six-speed gearbox adds flexibility for the varying conditions touring can present. An aluminum frame and swingarm, auto-adjusting fork and shock (Dynamic ESA in BMW parlance), and multiple ride modes ensure a great, well, ride. For 2023, the base MSRP is $16,945, with options ranging from designer wheels to an M Package inspired by BMW's auto division starting in 1978.
Ducati SuperSport 950
2023 Ducati SuperSport 950, $15,195 (Ducati/)
Few may believe it, but Ducati's first V-twin model a half-century ago was actually a "grand touring" bike called the 750 GT, a torquey roadster that excelled at fast, long-distance travel. The 2023 SuperSport 950 continues this approach in an appealing manner. Employing a steel trellis frame—early Ducati V-twin frames likewise used steel tubes—the SuperSport 950 packs 937cc of Testastretta 11º desmodromic V-twin producing a claimed 110 hp and featuring an 18,000-mile valve clearance service interval. A boatload of worthy features for the $15,195 SuperSport 950 includes a quickshifter, slipper clutch, tunable Marzocchi fork and Sachs shock, 17-inch Pirelli Diablo Rosso III tires, and rider aids including multiple power modes, traction and wheelie control, and Bosch cornering ABS. Priced at $17,695, a SuperSport 950 S version adds fully adjustable Öhlins suspension.
Energica Experia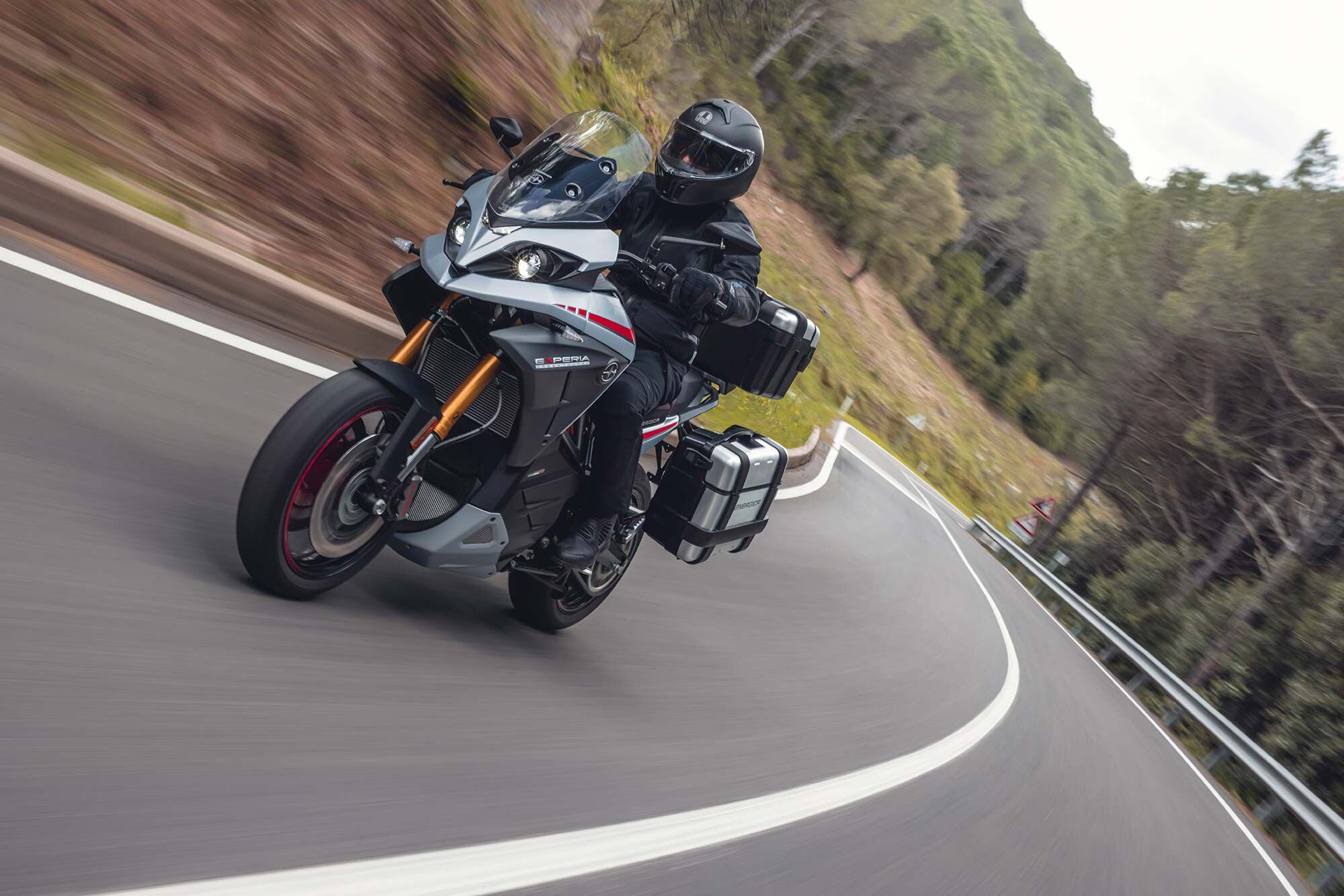 Energica Experia, $23,750 (Energica/)
Want to take a walk—or make that a ride—on the wild side? Pack up, pick a passenger, and go for it on this new electric sport-tourer. Designed to travel "to the ends of our now-known world," as Energica states, is a big claim for any electric vehicle, so let's look at the numbers. Priced at $23,750, the Experia has a purpose-built electric motor that produces a claimed 102 hp under peak conditions and can accelerate the 573-pound machine to 60 mph in 3.5 seconds, on the way to a 112 mph top speed. Fair enough, but as everyone knows, range is the thing. The company also claims the Experia can go up to 240 miles on a charge, and that the 22.5kWh (maximum) battery—likewise new—can recharge to 80 percent (via fast charger) in 40 minutes. Standard extras include an adjustable windscreen, side cases, dual USB ports, and Bosch cornering ABS.
Honda NC750X DCT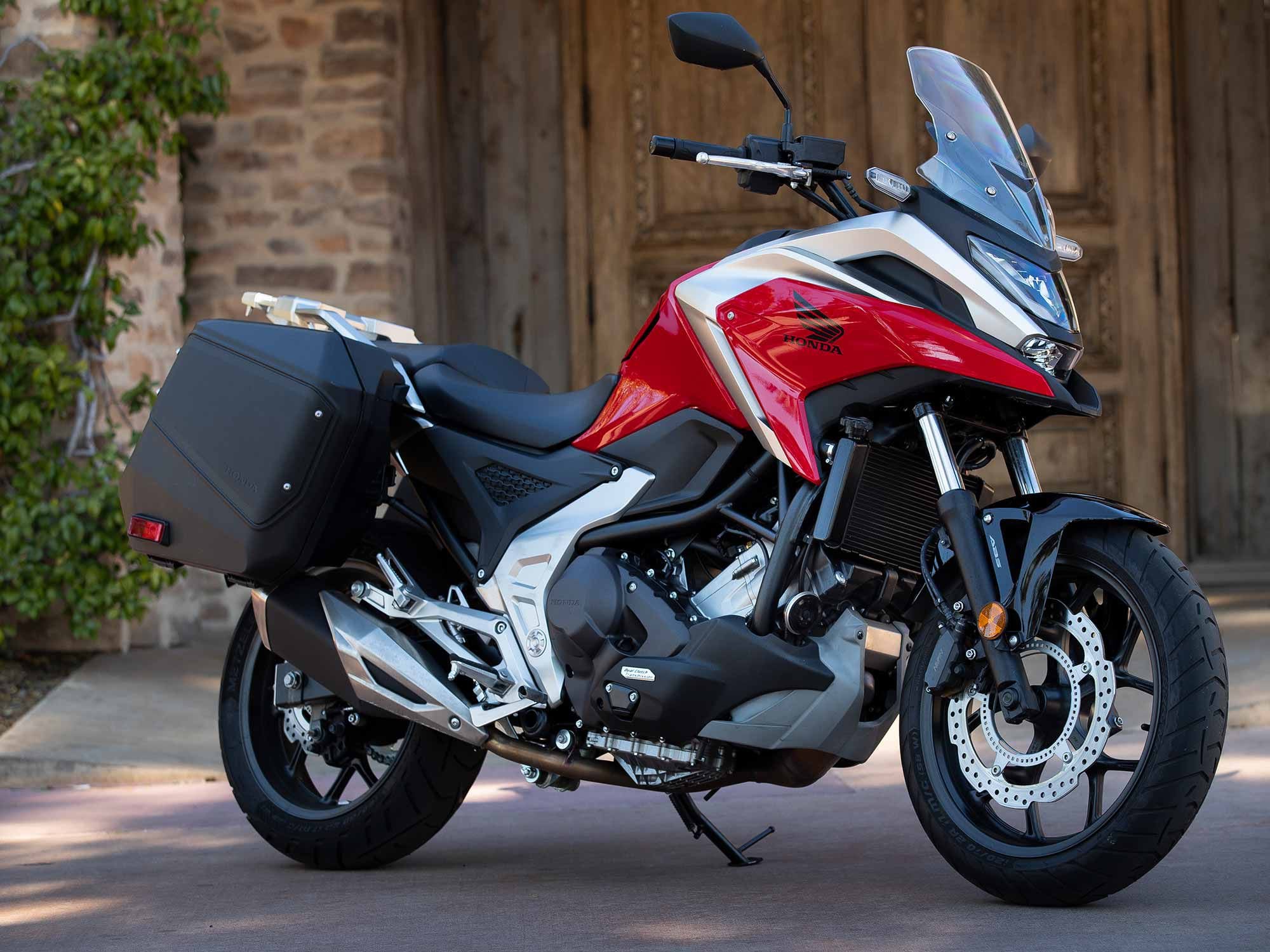 2023 Honda NC750X DCT, $9,399 (Jeff Allen/)
Honda's innovative and practical sides merge in the NC750X DCT. The innovation comes from the dual-clutch transmission (DCT) integrated with the 745cc liquid-cooled parallel-twin engine. There's no clutch lever and the DCT handles all such activities to allow remarkably seamless shifts. Operationally, the rider has two primary choices: 1) In drive or sport mode, let the gearbox handle all upshifting and downshifting; or 2) Manually shift the gearbox using toggles on the left side of the handlebar. The NC750X DCT's practical side is illustrated by the voluminous (23 liters) lockable storage area under the faux gas-tank cover (gas is carried in a 3.8-gallon tank located under the seat), plenty to store for a full-face helmet or grocery shopping. Further illustrating Honda's practical side, for 2023 the NC750X DCT is priced at just $9,399.
Kawasaki Ninja 1000SX
2023 Kawasaki Ninja 1000SX, $13,199 (Kawasaki/)
To achieve sport-touring nirvana, the Ninja 1000SX eschews some of the hard-hitting technology of the Ninja ZX-10R in favor of upright and friendly ergonomics, viable seating for two (with passenger grips), and a four-way-adjustable windscreen. The result is a 1,043cc four-cylinder superbike that can rip up the track or go touring at a moment's notice—at a much lower price, $13,199 compared to the ZX-10R's $17,399 MSRP. If your goals align more with chasing across mountain passes than challenging the esses, the Ninja 1000SX also offers a Touring Package for an additional $2,236. It contains numerous pieces that bolt right onto the 1000SX, including a pair of hard side cases (whose locksets match the ignition switch, for one-key convenience), a handy DC power outlet, frame sliders, and upgraded gel seats.
Kawasaki Ninja H2 SX SE
2023 Kawasaki Ninja H2 SX SE, $28,000 (Kawasaki/)
High on the audacious scale and priced at a lofty $28,000, the H2 SX SE is the sport-touring version of Kawasaki's mind-bending 190 hp H2. Featuring a supercharged and intercooled 998cc DOHC inline-four engine wrapped inside a steel trellis frame, the SX SE marries truly extreme performance with more comfortable ergonomics. Especially when outfitted with Kawasaki's 28-liter accessory side cases—priced at $823, they're color-matched for a perfect look—the irreproachable power of the H2 SX gains the carrying capacity of a sport-tourer. So outfitted, it's perfect for long-distance, low-altitude strafing of locations from Death Valley to Denali, and from Nova Scotia to Nashville. En route, riders will appreciate numerous onboard electronic functions, a few of which include traction and wheelie control, cornering ABS, selectable power modes, electronic cruise control, and smartphone connectivity.
KTM 1290 Super Duke GT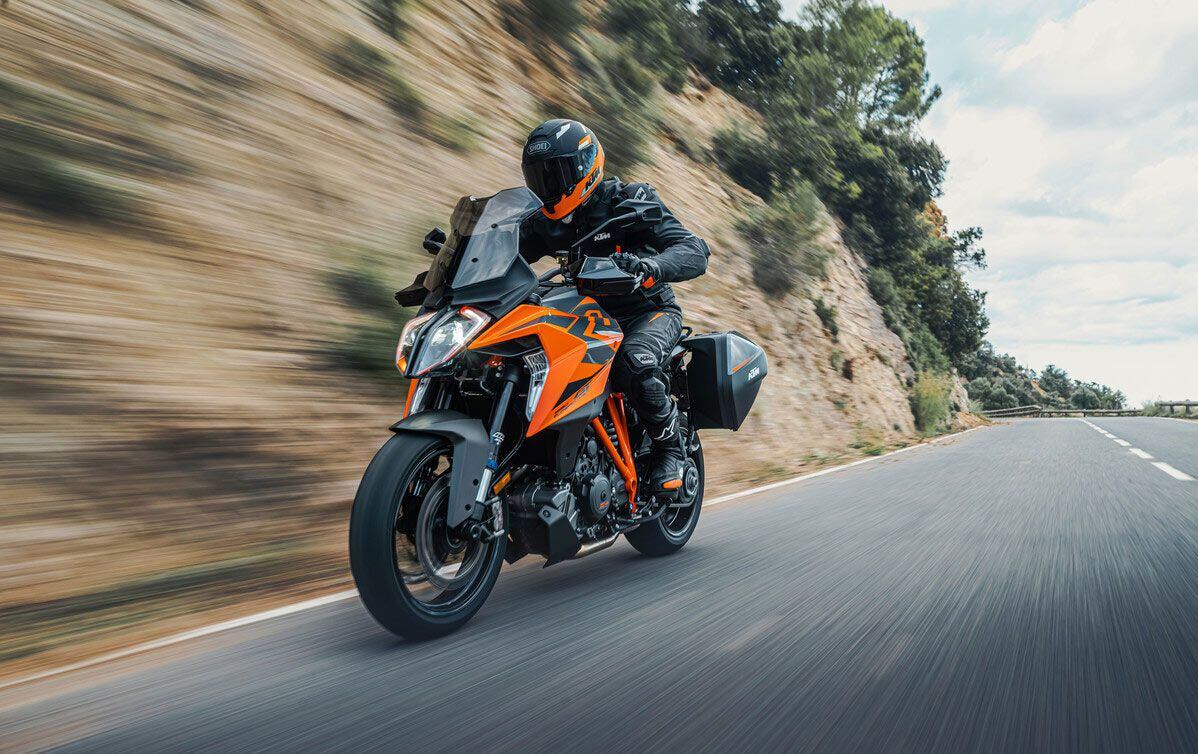 2023 KTM 1290 Super Duke GT, $19,799 (KTM/)
When the first single-cylinder Duke launched in the mid-1990s, KTM started a high-performance naked-bike (some might say hooligan) trend that's just gotten better and better over time. Fast-forward to 2023, and the 1290 Super Duke GT gentrifies the extreme performance of the 1290 Super Duke with "grand touring" (hence the GT moniker) components. These include a rakish fairing for wind and weather protection (a nine-way-adjustable windscreen that helps fine-tune the aero for your size, speed, and weather), electronically adjustable suspension, and an enlarged 6.1-gallon fuel tank for extended touring stints. Underneath lives and breathes the Super Duke's signature element, its narrow and nasty 1,301cc LC8 V-twin, now meeting cleaner EPA emissions specs. Unquestionably, the KTM 1290 Super Duke is a performance standout, and the added touring capability makes the GT version, priced at $19,799, just $600 below the R model, a viable choice for performance-driven riders who want to stretch their horizons.
Moto Guzzi V100 Mandello
2023 Moto Guzzi V100 Mandello Aviazione Navale, $16,990 (Moto Guzzi/)
With the switchbacks of the Italian Alps so close to Moto Guzzi's hometown, it's little wonder the storied bike company offers an energetic sport-tourer. Or make that three sport-tourers, counting the base V100 Mandello ($15,490), the limited-edition V100 Mandello Aviazione Navale ($16,990), and the upscale V100 Mandello S ($17,490). Central to all three models is Moto Guzzi's new 1,042cc 115-hp (claimed) liquid-cooled V-twin. Like all contemporary Guzzis, it's mounted longitudinally in the frame, and sends power to the rear wheel through a six-speed gearbox and shaft drive. Touring niceties include an electrically adjustable windscreen atop a bright LED headlight, the first use of speed-adaptive aero wings on the fairing, and electronic aids such as selectable ride modes, cornering ABS, traction control, and cruise control. The specially finished, limited-production V100 Mandello Aviazione Navale takes inspiration from the F-35B fighter and wears a laser-etched serial number. Stepping up to the V100 Mandello S brings trick Öhlins semi-active suspension, which allows dialing in ride and handling on the fly.
MV Agusta Turismo Veloce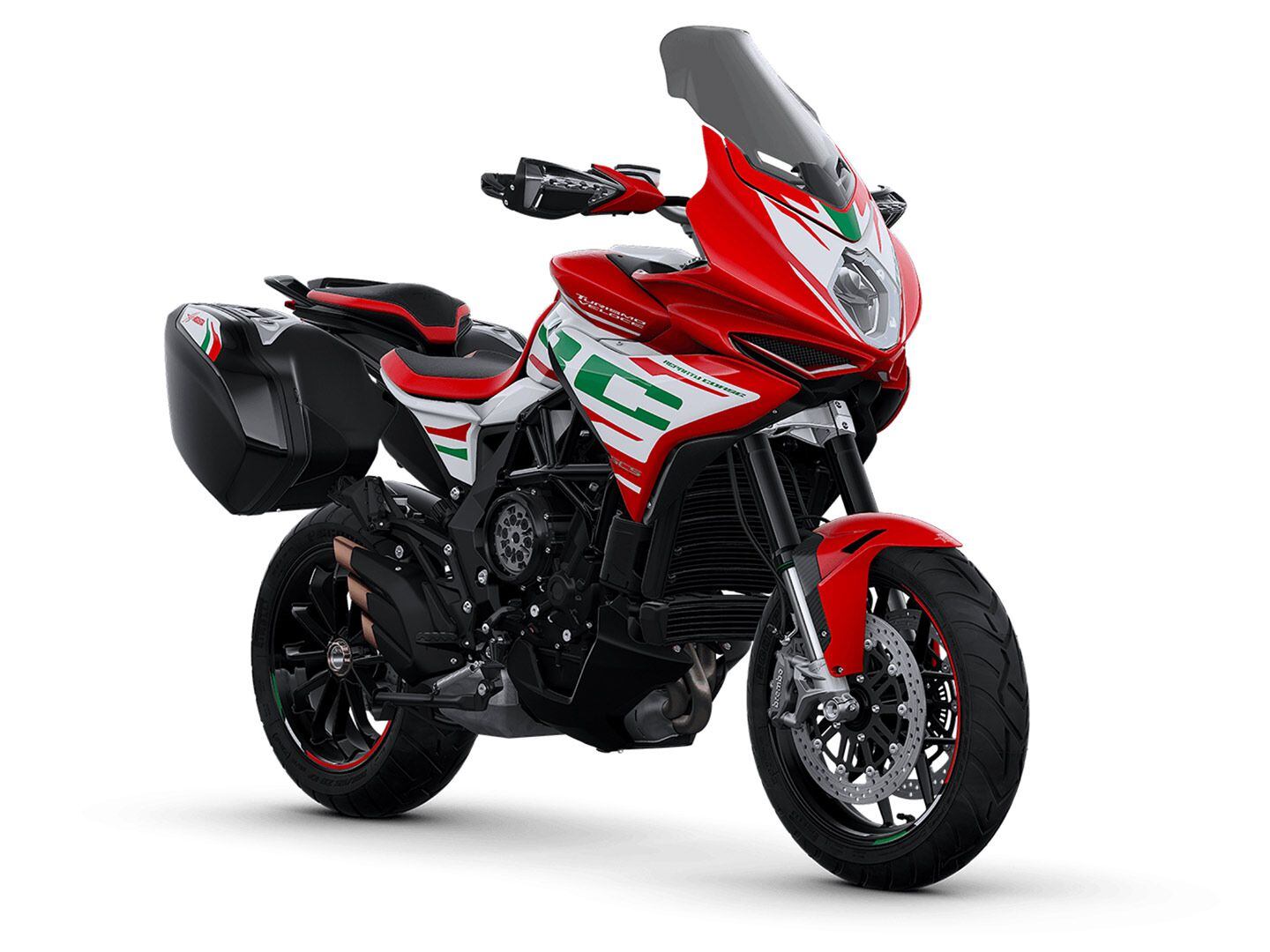 2023 MV Agusta Turismo Veloce RC, $27,998 (MV Agusta/)
Known for its high-style, high-performance sportbikes, MV has imbued the Turismo Veloce (translation: "touring speed") with suitable go-fast features and in doing so, describes it as "Racing DNA on Tour." The heart of the Turismo Veloce is a 798cc 110-hp inline-triple that hangs from a steel trellis frame and is backed by a single-sided aluminum swingarm that, in turn, is flanked by a wild three-outlet exhaust system. The entire affair is cloaked in super-edgy bodywork designed for decidedly sporty touring. Basically, you might regard the Turismo Veloce as a hypermotard touring rig. Useful touring features include a tall handlebar, an even taller windscreen, and large side cases. Among various Turismo Veloce models offered by the storied Italian racing company are the comfort-oriented Lusso SCS ($25,598 MSRP) and the racy Turismo Veloce RC ($27,998).
Suzuki GSX-S1000GT
2023 Suzuki GSX-S1000GT+, $14,099 (Jeff Allen/)
A distant relative of the all-conquering GSX-R1000R superbike, the GSX-S1000GT and GSX-S1000GT+ soften the outright maniacal character of Suzuki's racing lineage and add touring capability. Carrying an MSRP of $13,349 for 2023, the GSX-S1000GT weds a liquid-cooled 999cc DOHC inline-four with ride-by-wire throttle control and a six-speed gearbox to a proven aluminum twin-spar frame. From here, Suzuki integrated a large fairing and windscreen, comfortable seating ergonomics (including a tall handlebar setup), and multiple selectable ride modes and traction control settings, plus a quickshifter. Twin LED headlights are a huge asset as night falls while you're in deer and elk country. For an additional $750 (less than the sales tax in some states!), riders can elect for the GSX-S1000GT+ model, which adds color-matched hard side cases and two unique paint choices.
Triumph Tiger 900 GT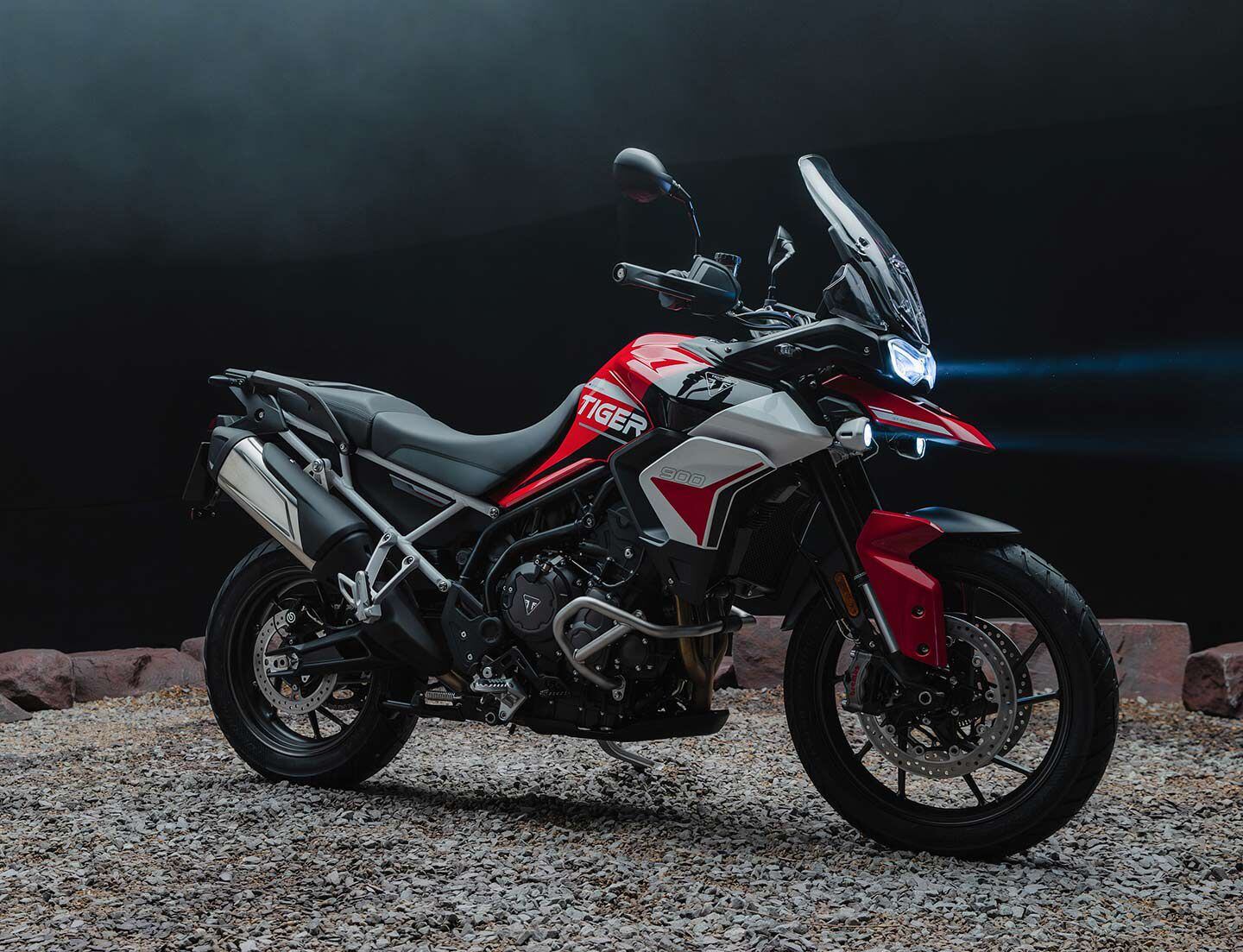 2024 Triumph Tiger GT Aragón Edition, $16,495 (Triumph Motorcycles/)
Triumph has always been a globetrotting brand, and the current Tiger 900 GT range furthers that ambition with three choices, the Tiger 900 GT MSRP ($14,995), the Tiger 900 GT Aragón Edition ($16,495), and the Tiger 900 GT Pro ($16,895). All feature an 888cc inline-triple engine kicking out a claimed 94 hp at 8,750 rpm. The liquid-cooled mill is backed by a wet clutch and six-speed gearbox and drives through a standard O-ring chain. The base Tiger 900 GT is all business, with 19-inch front and 17-inch cast wheels and tires, and radically upswept exhaust, befitting its ADV roots. Jumping to the Aragón Edition gives riders a unique red, white, and black paint scheme, electronically adjustable suspension, and more. Adopting a premium stance, the GT Pro notably includes an electronically controlled rear shock with four spring preload and nine damper adjustments, all managed through the 7-inch TFT screen.
View full post on Cycle World