Triumph TE-1 Electric Prototype Update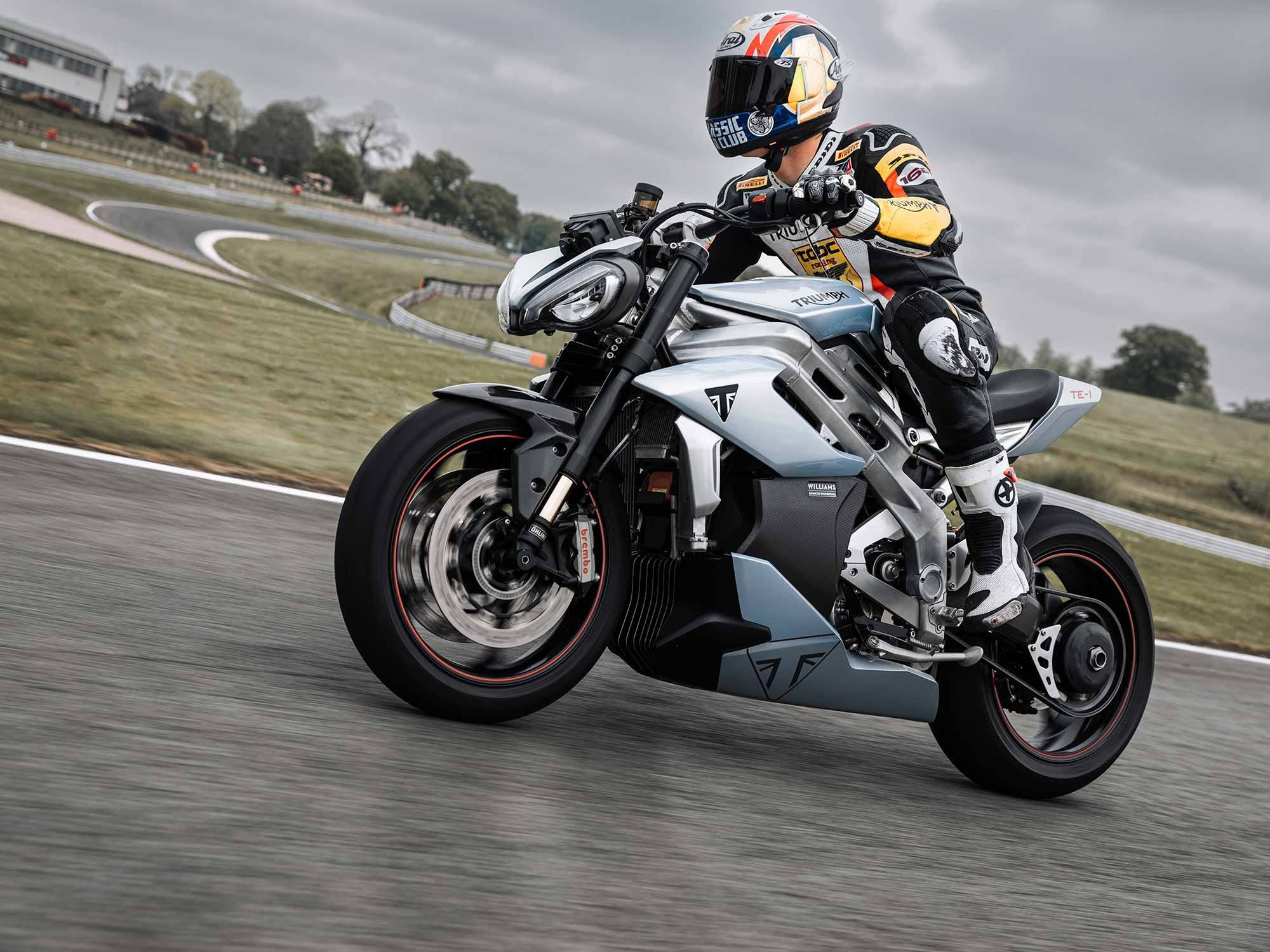 Triumph has released testing details from its TE-1 Electric prototype, but the firm also says a new electric motorcycle is still over the horizon. (Triumph/)
Triumph Motorcycles continues to dip its toes into the electric motorcycle field with its TE-1 prototype, and the company has just announced testing results from the program. We've discussed the TE-1 before, but a brief review of the project is in order.
It's funded by the British government, through Innovate UK and the Office for Zero Emissions Vehicles. Much like the US Department of Energy, Innovate UK is funding development projects that will help lower carbon dioxide emissions, in this case by developing "advanced electric motorcycle capabilities."
The partners in the project are Triumph Motorcycle, which brings its motorcycle expertise; Williams Advanced Engineering, known for supplying advanced battery packs to Formula E and other automotive racing series; Integral Powertrain Ltd., for advanced e-motors and controllers; and WMG of Warwick University, formerly known as the Warwick Manufacturing Group, which aims to bring academic skills in engineering and simulation to industry. The project produced the TE-1 motorcycle. Now, as it wraps up as a publicly funded program, the results have been tallied and reported.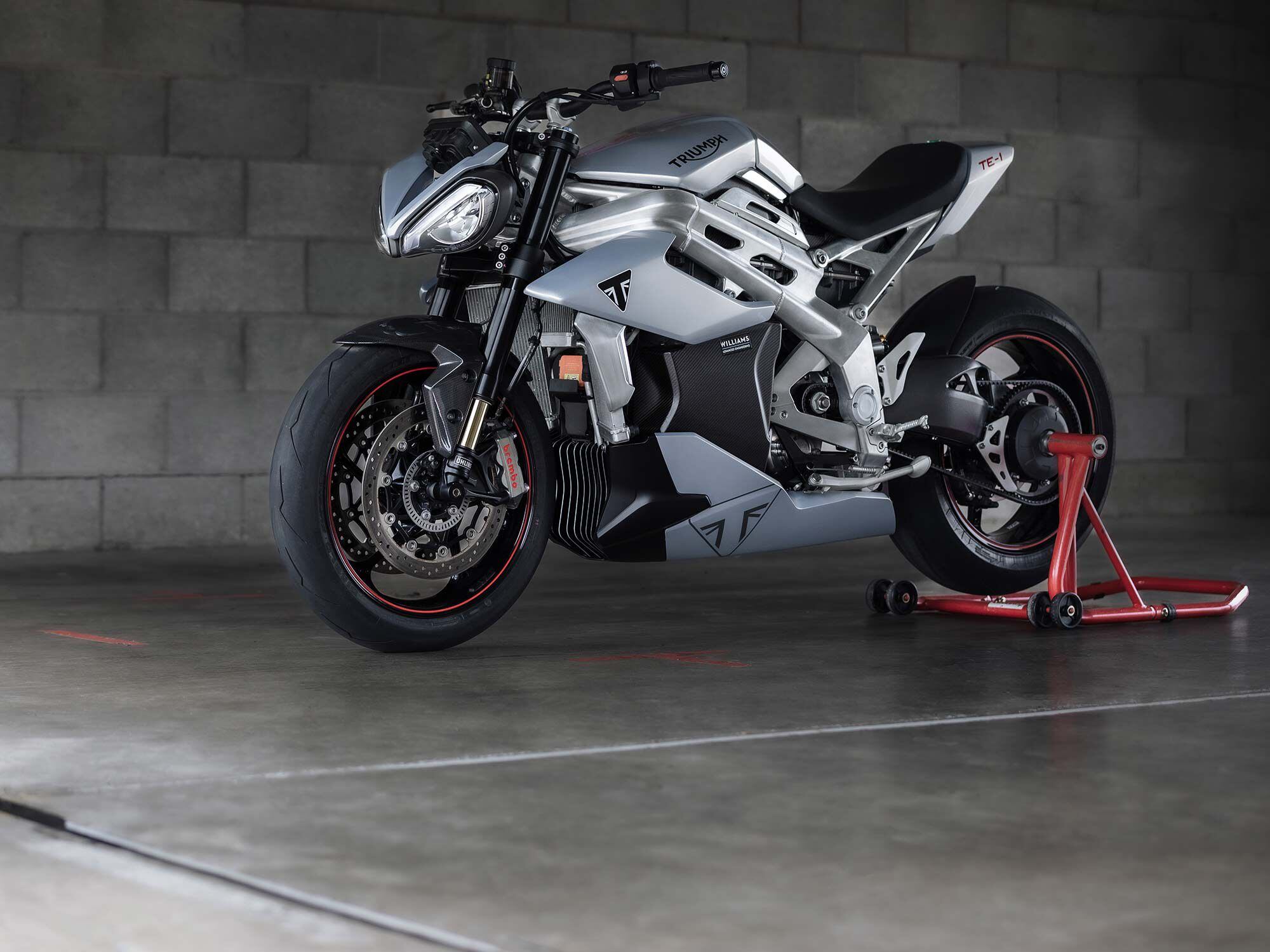 British government programs Innovate UK and the Office for Zero Emissions Vehicles funded the development of the TE-1 prototype. (Triumph/)
There aren't many surprises in two of the performance categories. First, the TE-1 is blisteringly quick; zero to 100-mph acceleration, Triumph claims, exceeds that of the Speed Triple 1200. That's despite the fact the launch software still likely leaves something to be desired, as indicated by the quick-but-slightly-less-blistering 3.6-second 0-60-mph time, and also Triumph basically says as much.
"With further refinement of the electronics, including the traction control system and front wheel lift control, the team responsible for delivering the TE-1 project anticipate that performance could be enhanced further, harnessing the full torque potential to enable even quicker standing start acceleration,"  says Triumph.
E-motors are capable of delivering so much torque from zero speed that balancing power, traction, and wheelies is a delicate software dance for best acceleration. The launch-control software is not quite there yet, though this isn't unexpected from a project producing a prototype, and Triumph partners have almost certainly set budgets on their efforts based on the level of funding. But what that does mean is that both the 0-60-mph time and 0-100-mph time have room to improve by several tenths of a second, were an optimized launch algorithm to be developed.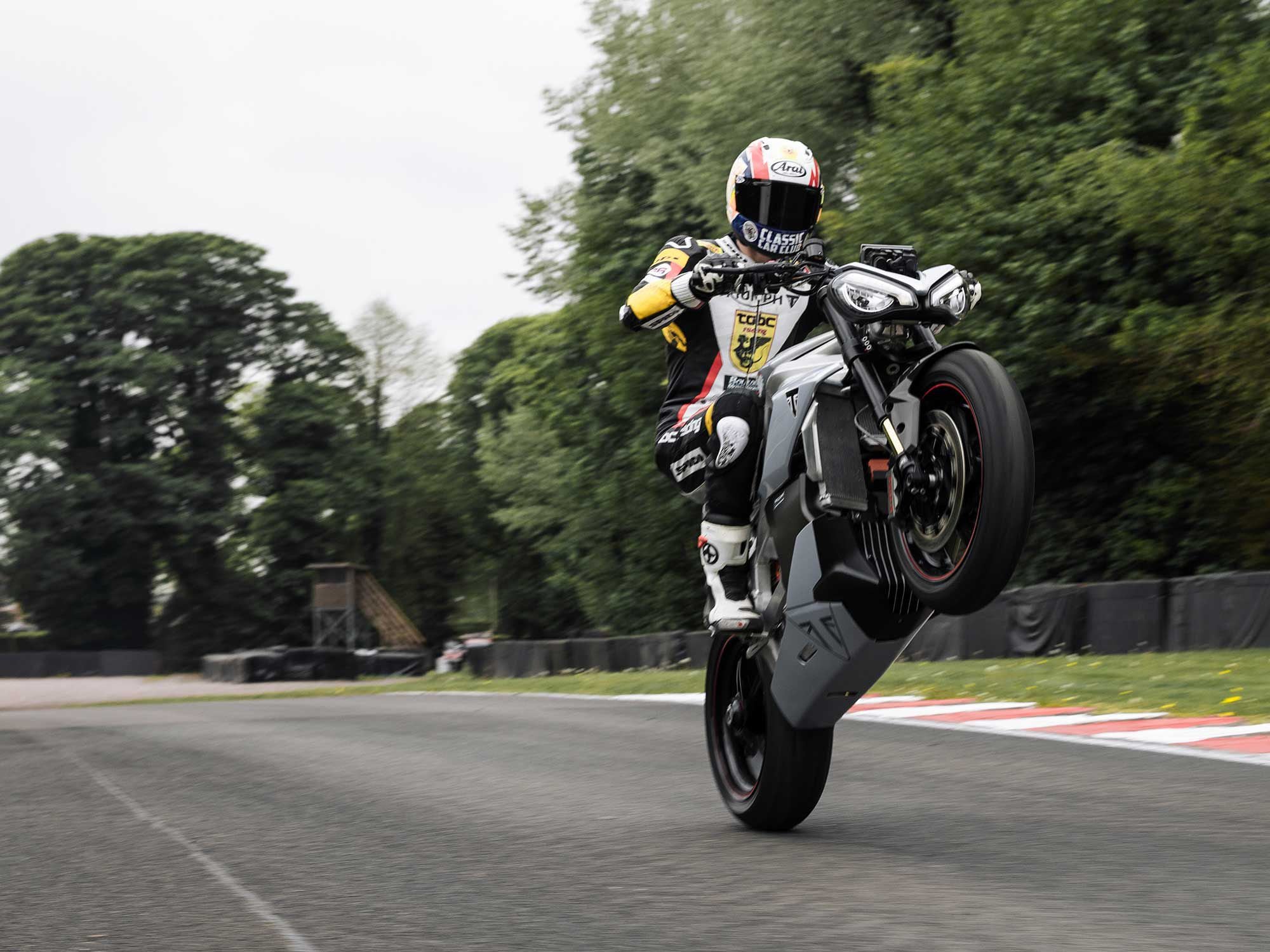 Triumph says the TE-1 is quicker than a Speed Triple 1200. (Triumph/)
The second big reveal is that the range of the TE-1 is not likely to meet the needs of most motorcyclists, at least with current cell technology. According to Triumph, the TE-1 has "a category leading 100-mile range, based on official testing and projections." Triumph's press material doesn't disclose their testing protocol for the range number, nor the split between city and highway usage in the range determination. If it is truly category leading, more of the test cycle would have to be done at highway speeds. In any case, you probably must go back to a 1990s Harley-Davidson Sportster with a 2.2-gallon tank to find an internal combustion engined street bike that needs to top up more often.
Despite that, there's a lot of progress and things to like about the TE-1 relative to other e-motorcycles. Like the acceleration, the charge time is relatively blistering; a 0-to-80-percent charge takes just 20 minutes, presumably through DC fast-charging. Also, the battery pack is compact and extremely energy dense, helping the TE-1 hit a claimed curb weight of just 485 pounds; this is "25 percent lighter than equivalent high-performance e-motorcycles," Triumph says, as it looks at the 562-pound LiveWire One and the 573-pound Energica Ego. High energy density pays off in more than just weight, as Triumph also points out: The TE-1 outperforms a Speed Triple 1200 while having the compact size and ergonomics of its 765cc Street Triple.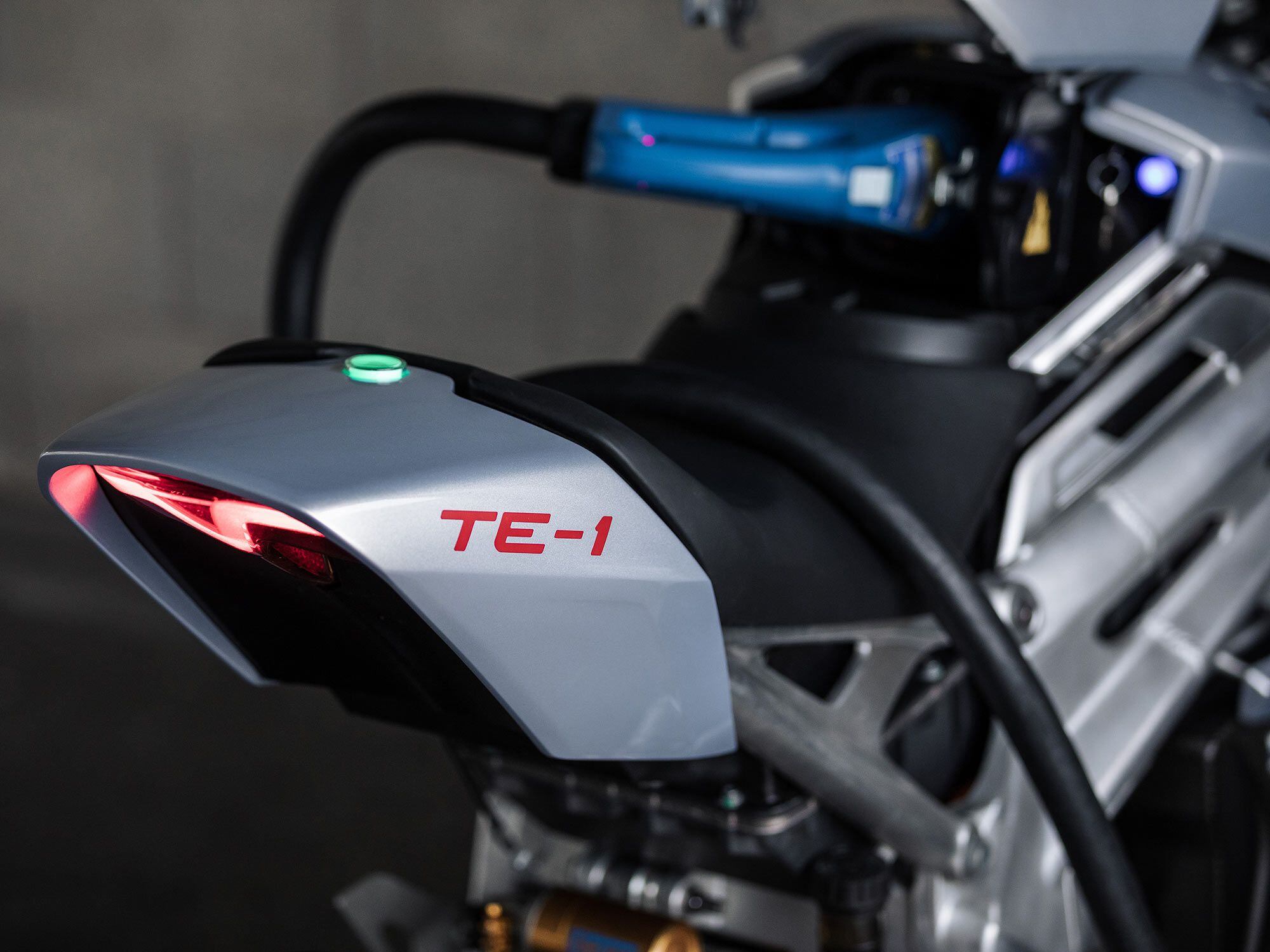 Charging from 0 to 80 percent only takes 20 minutes, says Triumph. (Triumph/)
One aspect of the TE-1 is record-setting by any production e-ground-vehicle standard. Integral Powertrain, Ltd.'s e-motor performs more like the advanced aviation e-motors that NASA is trying to develop than anything automotive. Weighing just 22 pounds, the TE-1 motor pumps out 177 horsepower for bursts, and 164 hp continuously.
As Integral puts it: "The motor has achieved peak and continuous power densities of 13kW/kg and 9kW/kg respectively; 60 percent higher than APC (Advanced Propulsion Centre) technology roadmap targets for 2025. All this has been achieved using materials and processes compatible with volume automotive production and on a length-scalable motor platform. The motor scalability concept deployed on TE-1 has provided a springboard for a new scalable motor architecture, to be announced later this year, which will provide similar performance levels but much greater manufacturing scale than previously."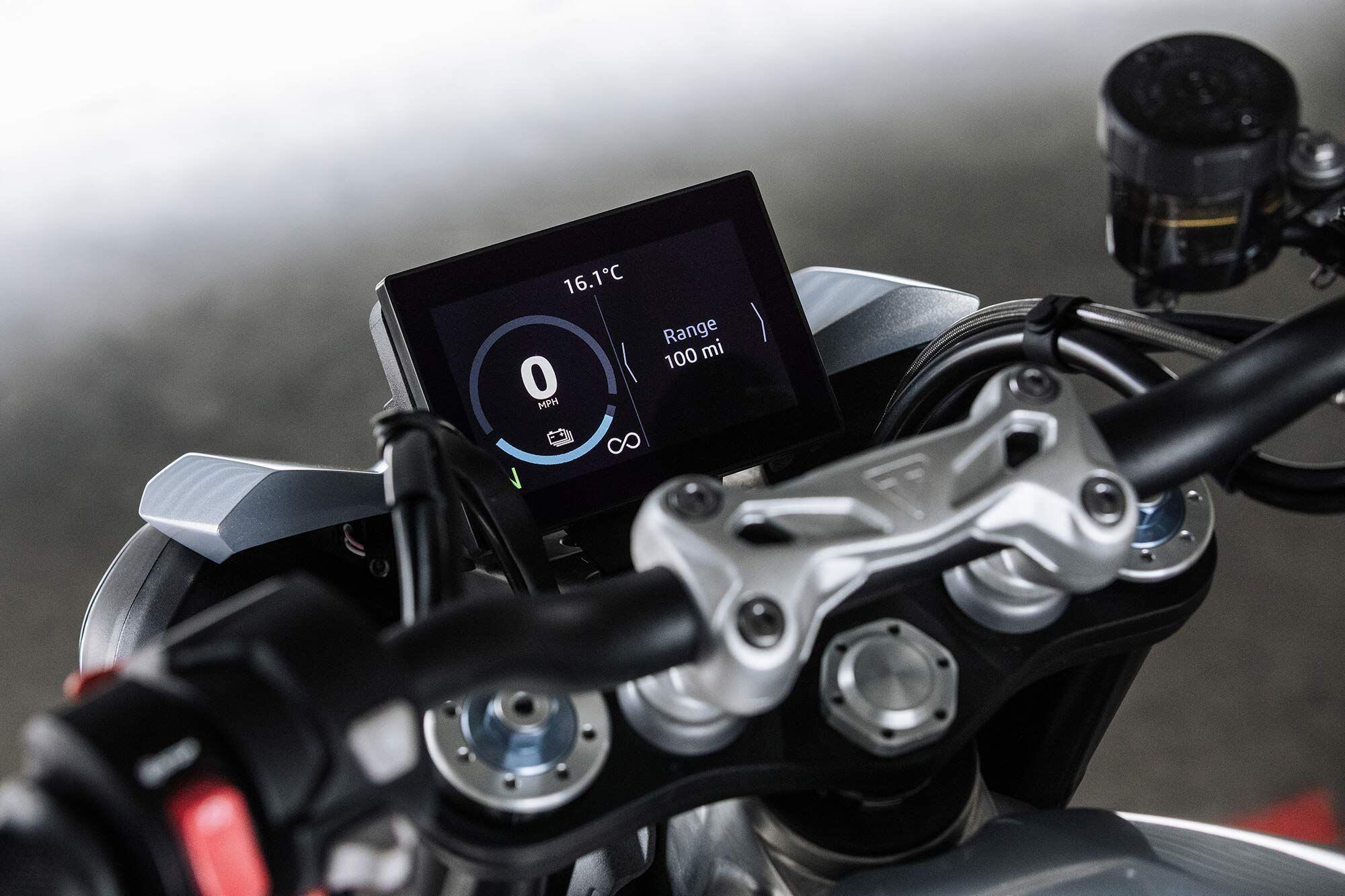 Triumph says the TE-1 has a 100 mile range, but it did not disclose its testing criteria for range. (Triumph/)
To put it this in perspective, street bike internal combustion engines rarely exceed 1.5kW/kg, MotoGP powerplants might have a power-to-weight ratio over 2kW/kg, and gas-turbine engines mounted to Boeings might be about 10kW/kg. The super-power-dense motor is another reason that the TE-1 can be middleweight sized while packing an open-class punch.
Triumph also took the time to use the unique characteristics of e-powertrains to give the TE-1 some new features compared to ICE machines. The TE-1 has a "walk" mode, allowing it to be guided rather than pushed if no rider is in the saddle. If it's ever parked in a downhill parking spot, there's a "reverse" mode, trivially easy to implement on an e-motor by simply running it backward. And much like Harley-Davidson, Triumph has thought about social noise, giving the TE-1 a noticeable gear-whine (noticeable to the rider, at least) from its helical gear primary drive.
Triumph is also quick to point out that the TE-1 meets all anticipated noise standards, and in its videos of the bike on the racetrack, the TE-1 passes with typical electric-vehicle near-silence.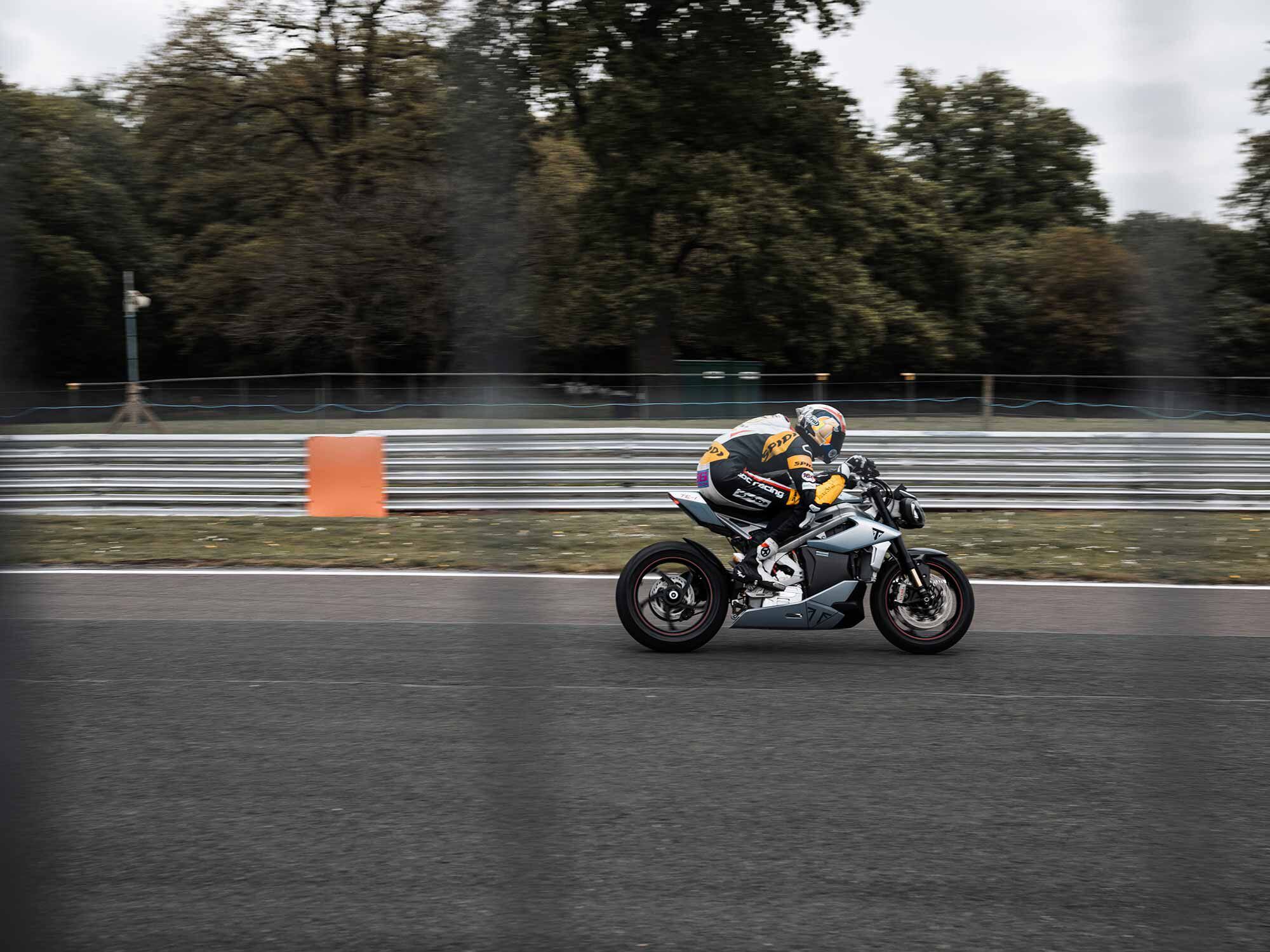 Ergonomics and size of the TE-1 are similar to that of Triumph's 765cc Street Triple. (Triumph/)
But the last slide of Triumph's press presentation, titled "A Hint of Triumph's Electric Future to Come," tells you not to get your hopes up about seeing the TE-1 in production soon. Steve Sargent, Triumph's Chief Product Officer, says "we have already seen an incredibly positive reaction to the TE-1 prototype from motorcyclists all around the world, where many people are telling us that for the first time, they are seeing an electric motorcycle as desirable, and something that they would genuinely want to own. Being the first step in our journey towards developing our future approach to electric powertrain technology, the TE-1 prototype and the incredible results it has achieved in its intensive testing program has provided crucial insights and capabilities that will ultimately guide our future development. Of course, the final production motorcycle will not be exactly what you see here today, but rest assured, the models we do develop will encompass all its learnings and its exciting dynamic spirit."
When we run that through our corporate speak interpreter, Sargent is telling us that Triumph does indeed have e-motorcycles in its future. Just perhaps not its immediate future.
View full post on Cycle World