Upgrade Your Yamaha Ténéré 700 With a Touratech Comfort Seat
Ténéré Touring Potential
The Yamaha Ténéré family was designed to ride on any surface, but more importantly, go the distance. To help your Ténéré 700 touring experience meet its maximum potential, Touratech has a newly introduced Comfort Seat to make your ride better on long-distance rides.
Through their own testing with multiple different riders, Touratech concluded that the stock seat on the Ténéré 700 simply doesn't cut it. Through their observations, they deducted that the stock seat was simply too small and lacked adequate padding for a long-distance touring motorcycle.
The upgraded Comfort Seat that is aimed to take the place of the lackluster stock seat has seen many important revisions. The Touratech option comes fully sculpted to the human anatomy to ensure everything is in its proper place. The brand aimed for the higher quality foam to replace the low-density mess found within the stock seat, and your butt will thank you for your initiative to replace the original seat because of it.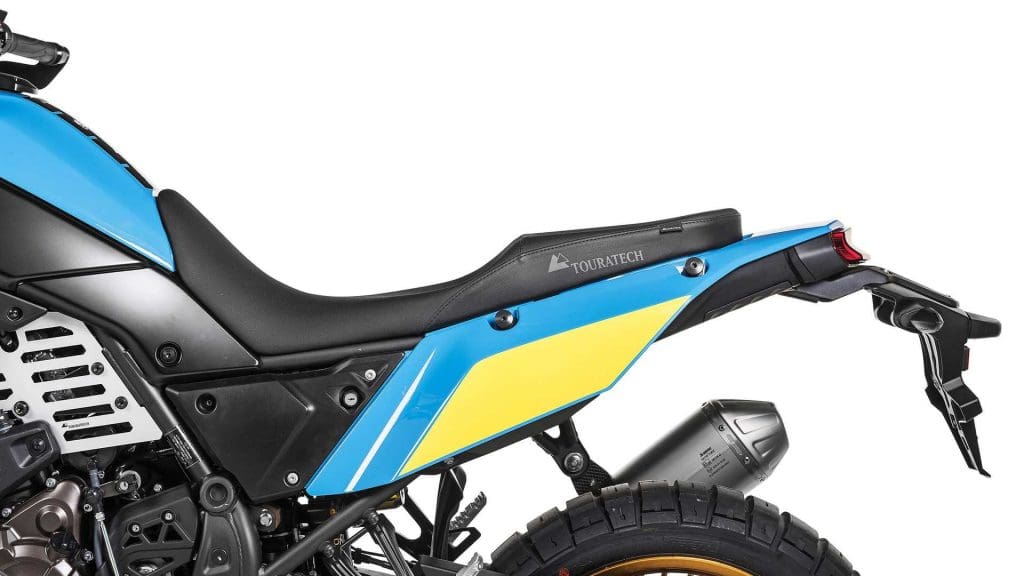 When looking at images of this new seat, you will notice that the seam found on the sides wraps underneath the seat at the halfway point to ensure your legs won't be rubbing unwanted seams on your ride when you're trying to grip the tank with your knees through hard corners. Speaking of gripping the tank with your knees; this seat tapers towards the front to make this task easier.
Unlike traditional leather, the "Fresh Touch" material found wrapping the exterior of this seat is said to manage temperatures so your seat doesn't turn into a pile of lava when left in the sun while you get your mid-ride lunch.
Depending on your size, this seat comes in three separate heights: low (55cm), standard (57cm), and high (59cm). The Comfort seat is available on Touratech's European online store for €440.29 (around $523 USD), but I cannot explain why the pricing on the American online store has this seat listed at $799.95 USD. That's pretty steep for a seat.
The post Upgrade Your Yamaha Ténéré 700 With a Touratech Comfort Seat appeared first on webBikeWorld.
View full post on Web Bike World