2022 Yamaha TMAX Tech Max First Ride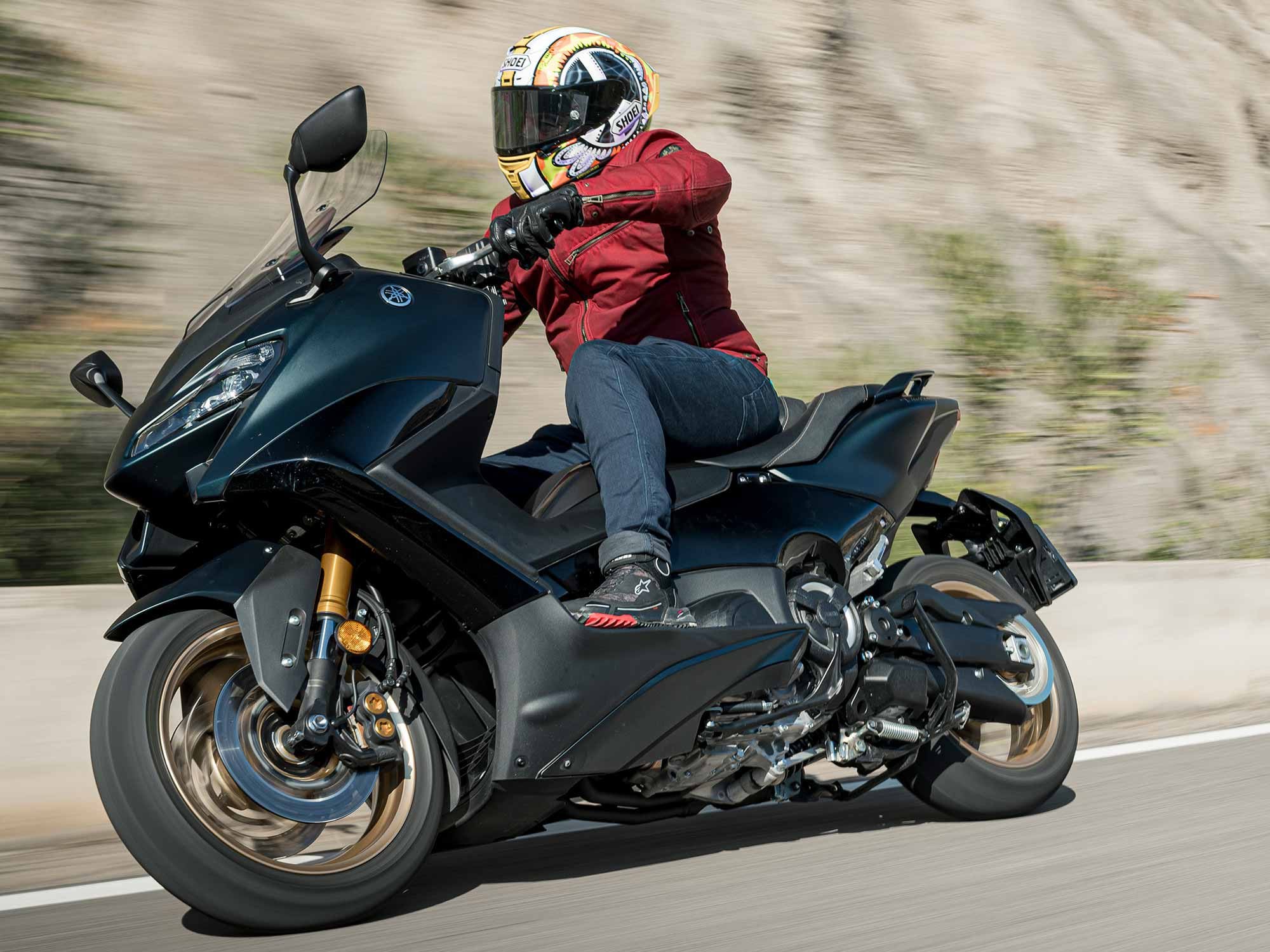 It's not available here in the US, but the Yamaha TMAX has long been the king of the maxi-scooters in Europe. Now it gets an update. (Yamaha/)
Scooters have been woven into the cultural fabric of Mediterranean Europe since the 1950s, with Vespas and Lambrettas becoming as much a part of everyday life in Italy as parmesan and prosciutto. Even in the chillier centers of mainland Europe, the scooter has crossed class, gender, and age gaps to rule the urban roost for decades. Out in the sticks of France and Spain, the soundtrack of village life is not merely moo of cow or bleat of sheep but punctuated by a Peugeot Speedfight running an ear-splitting exhaust, throttle pinned to the stop.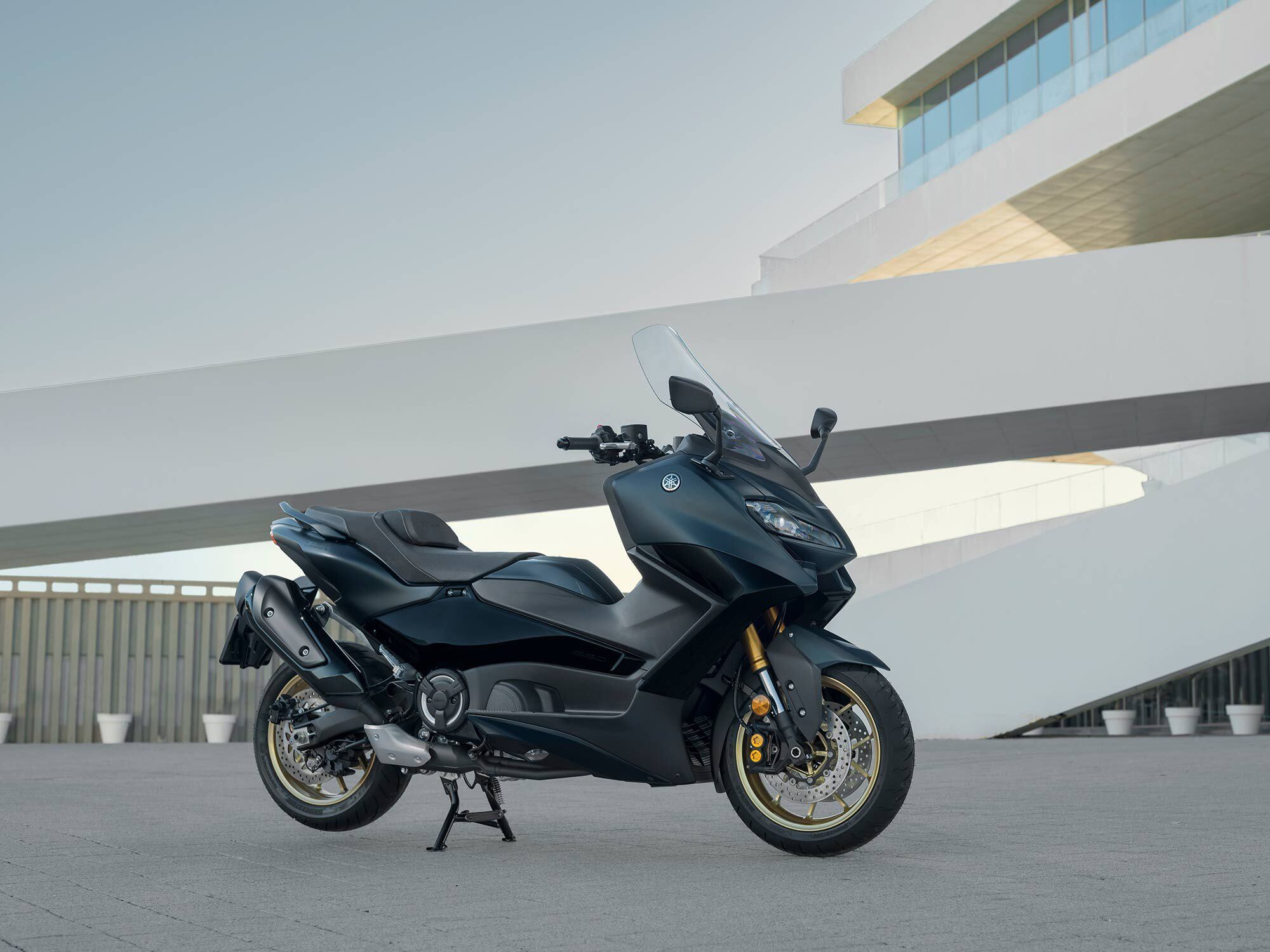 For 2022 The TMAX Tech Max gets a fresh look with new tech and connectivity. (Yamaha/)
But in 2001, the landscape shifted. Europe went crazy for a new type of scooter—the maxi-scooter—when Yamaha introduced the XP500, far better known as the TMAX.
There were larger-capacity scooters before the TMAX, such as Suzuki's popular Burgman AN250 and AN400 models, but the Yamaha hit a new chord altogether. Its 499cc motor made it unquestionably the biggest and most powerful scooter, meaning a new generation of European customers were attracted not just to its usability but also to its performance and handling. Some took to adding sporting accessories, aftermarket exhausts, and grippy rubber. Celebrities bought them; F1 drivers commuted into the Monte Carlo paddock on them. The TMAX was aspirational, the choice of wheels for the young and successful. As the late, great motorcycle journalist Kevin Ash said in 2001: "The TMAX created the maxi-scooter class."
In a region where scooters are seen not as budget commuters but as the definitive and even coolest way to transport yourself from A to B while busting traffic in the process, it's easy to see why the TMAX took off. Yamaha arguably invented the sports scooter segment, and today Yamaha has the XMAX 125, XMAX 300, and the TMAX, which alone accounts for 54 percent of Yamaha scooter sales.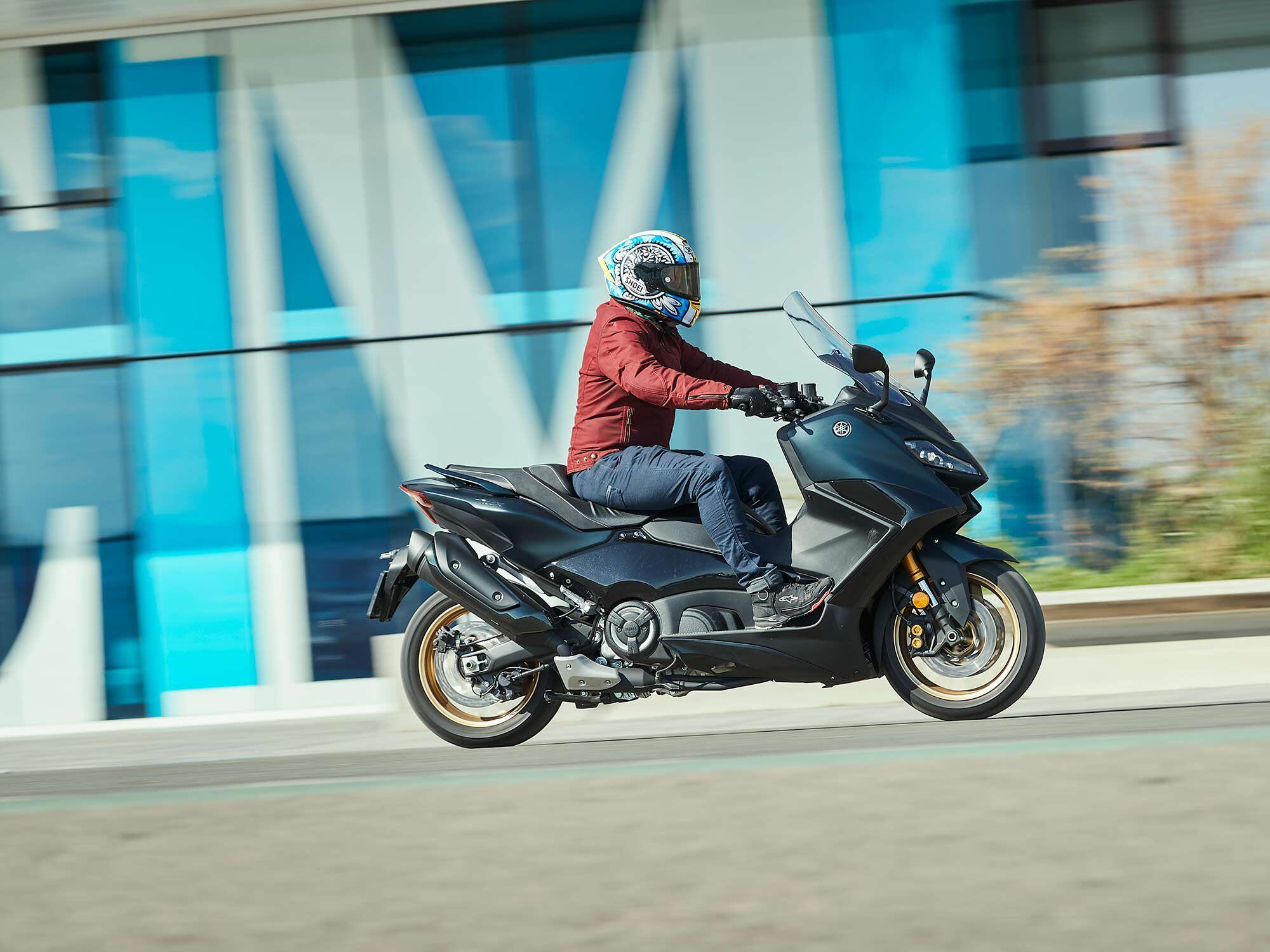 This is how you will see most TMAX maxi-scooters during the week: Dutifully filling its role as a comfortable and spacious commuter. (Yamaha/)
How big is the TMAX phenomenon? Since that initial unveiling, 350,000 TMAXs have been sold worldwide, and it has remained top of the tree despite stiff competition in the maxi-scooter segment. The TMAX is sold in 87 countries, and it's no surprise to learn that 85 percent of those are sold in Europe with Spain, Italy, and France accounting for the vast majority of that market. In fact, it's almost impossible to spend a day in any of these countries without bumping into at least one TMAX.
Another TMAX strength is the loyalty it engenders in its owners. Some 40 percent of new sales come from existing owners, which says a lot about the quality of the product as well as its brand image. And with 70 percent of customers opting for the top-spec model, it's equally clear that these aren't riders simply looking for cheap wheels. According to Yamaha the typical customer profile is a 35- to 45-year-old male who rides seven days a week: five commuting, two having fun. It certainly isn't a bike that sits in the back of the garage and only comes out on sunny weekends.
And on the weekend, the TMAX Tech Max will be more than happy to cut it up on winding mountain roads. (Yamaha/)
Sales in Europe for the scooter market are stronger than ever (463,466 in 2021 compared to 376,619 in 2017), and such is the TMAX's popularity that every time Yamaha launches a new TMAX or limited anniversary model it sends social media and the internet into meltdown.
"You see so many bikes in Madrid and in the north in Barcelona, but especially the TMAX," Spanish motojournalist Sergio Romero says. "Around five years ago, the TMAX was so popular that it was in the top five bestselling bikes in Spain, not just maxi-scooters but all bikes, including models like BMW R 1250 GS.
"Maxi-scooters generally, but the TMAX especially, are popular with business people. You often see men in sharp suits flying around Madrid on a TMAX. They wanted something sporty to get around the congested city, but also something practical with underseat storage—it's like an alternative to a sports car.
Practicality meets sportiness—it's a recipe for success in the two-wheeled world. (Yamaha/)
"You often see them ridden at high speed around the city," Romero says. "Some ride 80 kilometers out of the city, racing friends and really pushing the handling of the TMAX at the weekend. They used to have sports bikes, but now want something more practical, to be used in the city with comfort.
"The competition is much stronger now but the TMAX is still very popular, ridden by bike racers and celebrities, almost like a fashion accessory. You see all the models from the years, usually with an aftermarket exhaust fitted!"
Such is its following that a new TMAX model is big news in Europe, as big as a new BMW R 1250 GS, so it was with great interest that we flew to Spain to see if the revamped TMAX Tech MAX is even better than before.
Typically, with a bike that leans so heavily on its chic, usability, and mass appeal, the big draw for many customers will be the new and very impressive full-color 7-inch TFT dash, with connectivity and new switch gear, now backlit and operated by a handy joystick. Yamaha has reduced the number of switches too, with the new full electric screen, heated grips and seat, trips reset, and access to the menu of options and settings all done from the same joystick on the left bar. Really, all this is big news in Barcelona and Milan.
Certainly, I usually shudder at the thought of new tech and connectivity, but other manufacturers could learn a thing or two from Yamaha. The TMAX's techy stuff is simple and intuitive.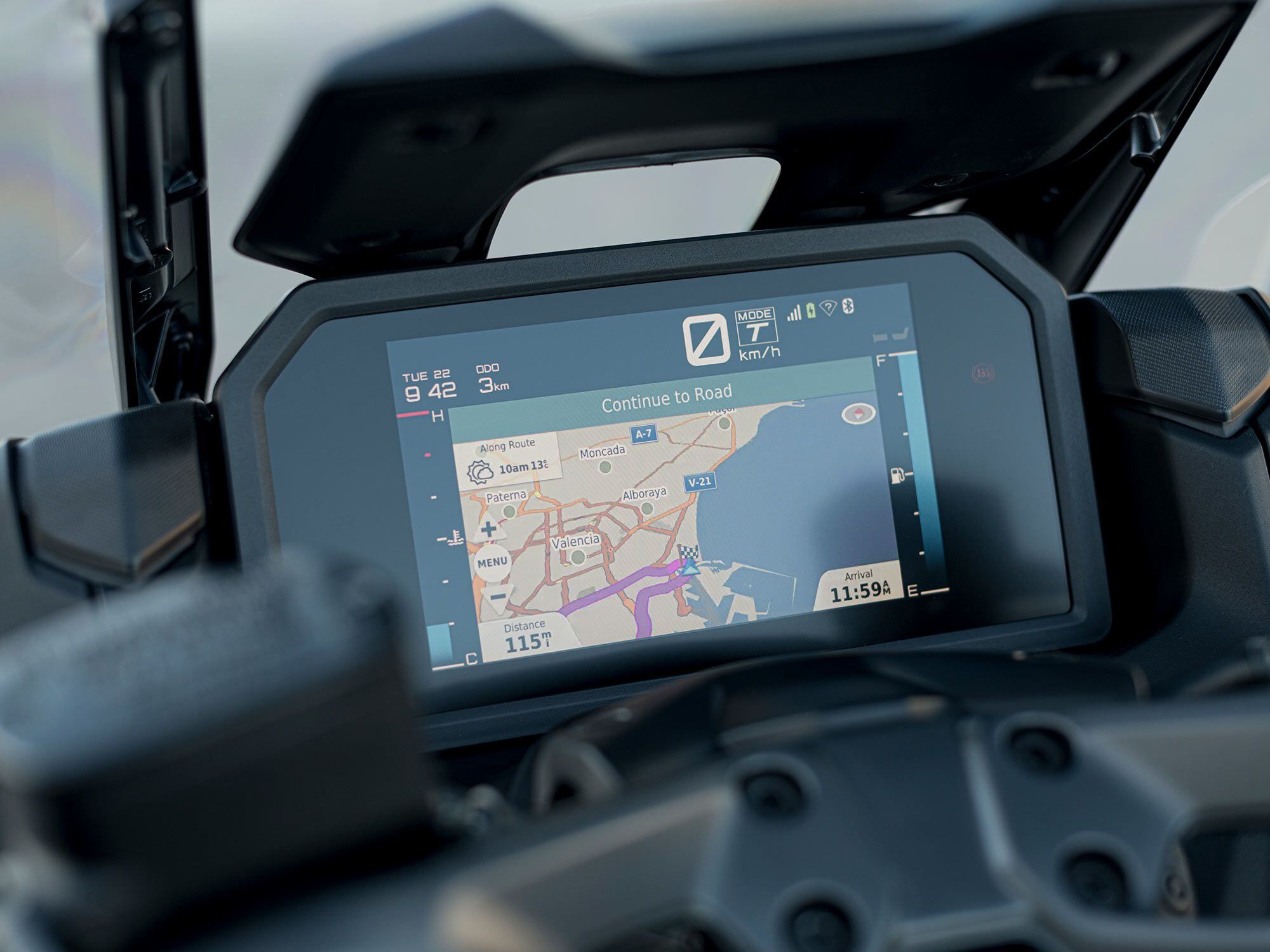 A new 7-inch TFT dash has Bluetooth connectivity. (Yamaha/)
Furthermore, with Bluetooth connectivity and the correct app (Yamaha's MyRide), you can make calls, listen to music, or link to Garmin and transform the dash into an interactive sat nav. There is a neat little cubbyhole on the right side with a phone charging connection. But the tech doesn't end there; one-touch locking, a lockable centerstand, a keyless fuel cap, and as before, two riding modes plus traction control and ABS (not lean sensitive).
As you'd expect, in this car-choked environment the new TMAX does all the same good things as the older bike. It's a little sportier than before, with lighter wheels and less unsprung weight, but the suspension is by no means harsh. It eats up the Spanish traffic with ease while the simplicity of that dash and new switch gear means I'm not distracted by the poor driving of others.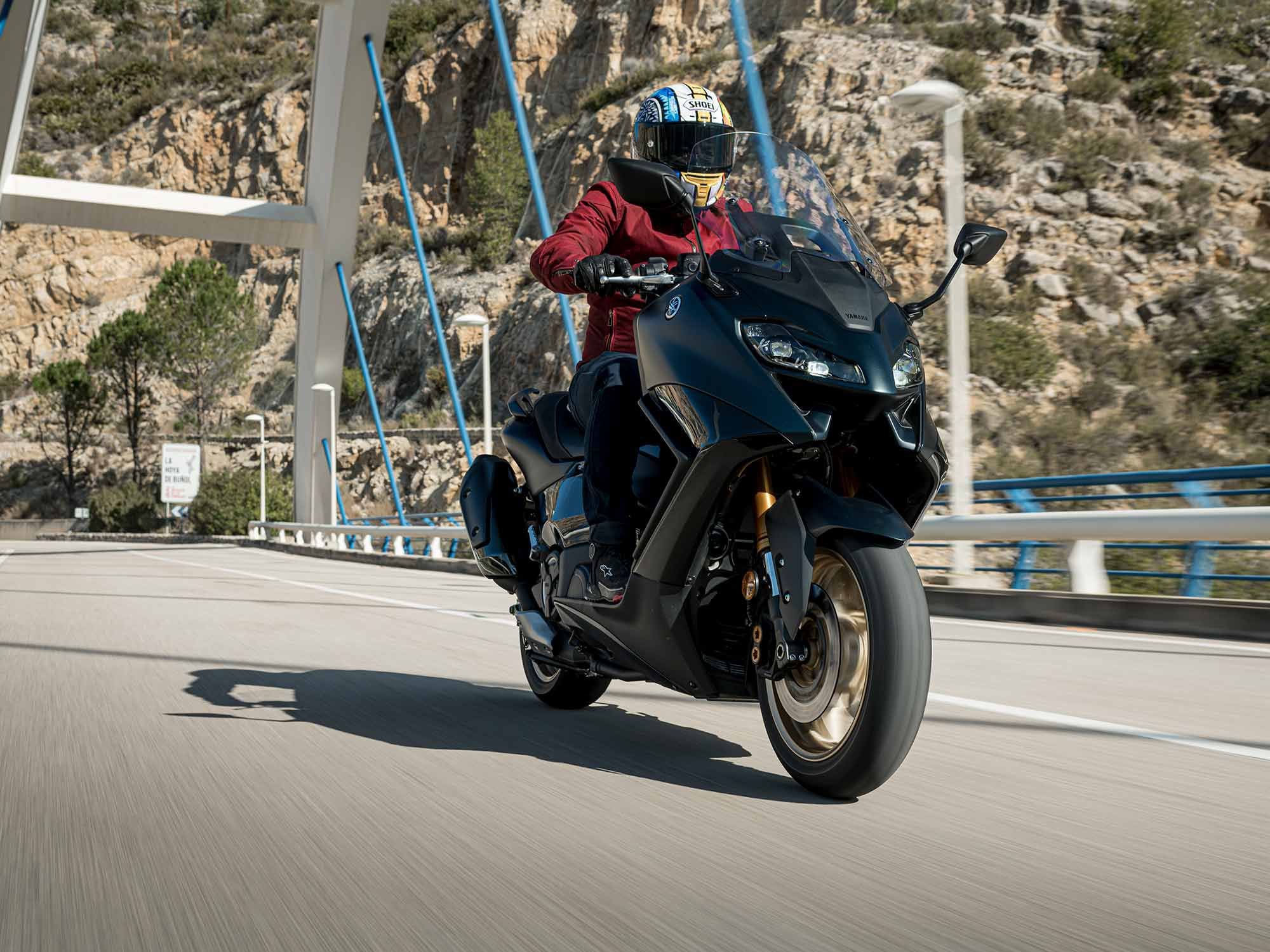 It'll do the ton, and has improved handling from the previous model thanks to lighter wheels and a reworked suspension settings. (Yamaha/)
Don't be misled by the "scooter" handle, either. The TMAX will comfortably sit at an indicated 70–80 mph, and 100 mph is achievable with ease—and an indicated 115 mph, just. Cruise control comes as standard too. We covered close to 200 kilometers/120 miles in a day and there were no comfort issues; in fact, I'd take on some serious miles on the TMAX without a second thought. I've spotted older models touring around Europe; Yamaha even offers touring accessories.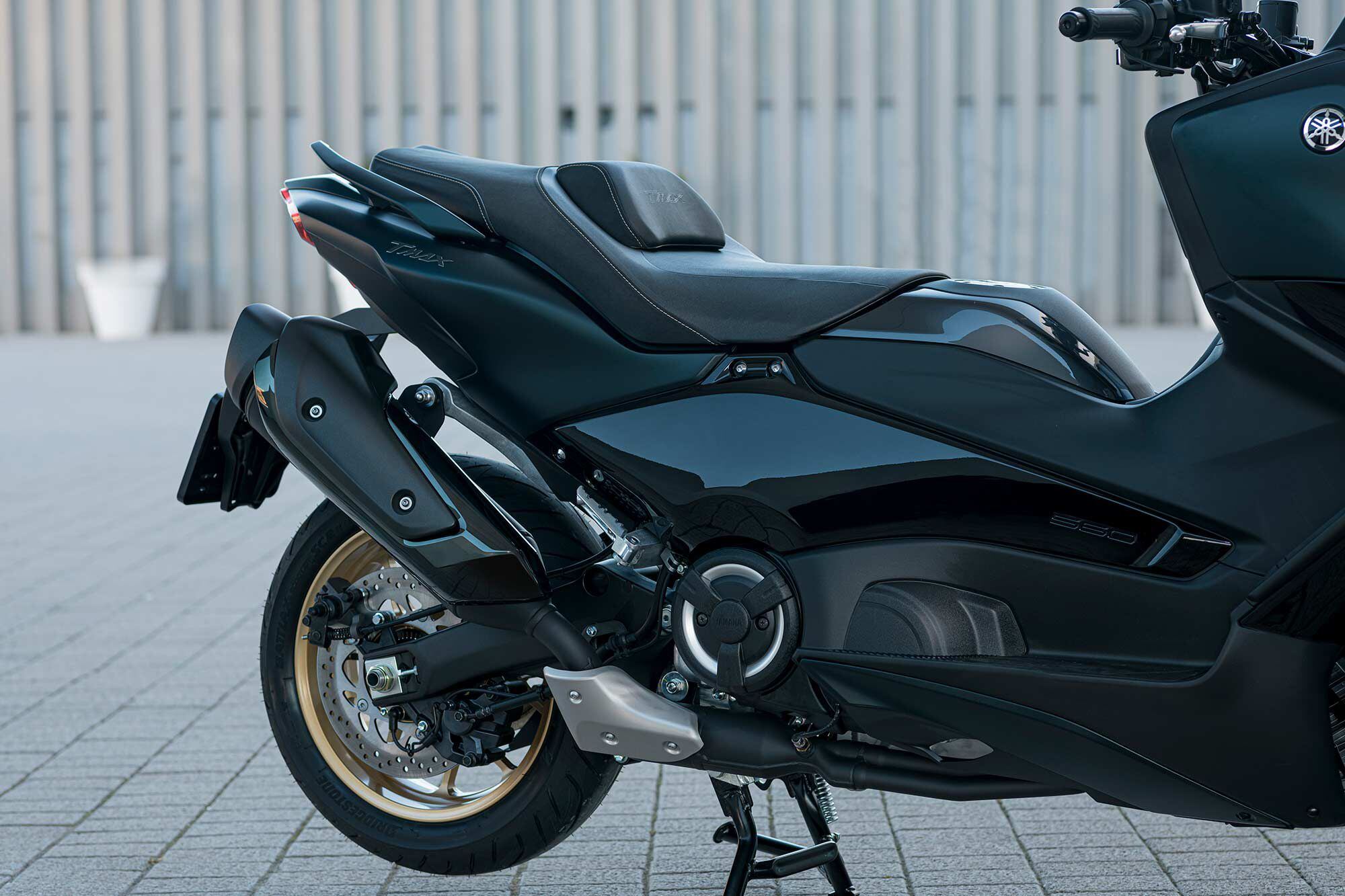 Putting in big miles on the TMAX Tech Max is easy with a comfortable seat and cockpit. (Yamaha/)
It's startling what the TMAX is capable of, up until centerstand and sidestand ground clearance becomes the limit when you really start to have fun. In Sports mode especially, the TMAX Tech MAX will surprise a few potential owners and other riders.
Verdict
Yamaha has enhanced the already excellent and well-proven TMAX Tech MAX. Much improved tech that is easy to use, plus sportier looks and handling add up to another popular update. My bet is that the brilliant new dash will get TMAX fans hurrying to Yamaha dealerships for a look.
Yes, it's expensive for a maxi-scooter. And yes, some will be saying that one could buy a proper bike for that money. But they would be missing the point. This isn't just a toy; this is a seven-days-a-week bike that's probably destined to be used all year round. Commute through the week, ride for fun at the weekend, visit friends, pop out for a drink, or tour two-up; the TMAX can do it all. It is a genuine alternative to a small car, useful and versatile, which is why it's so popular in Europe.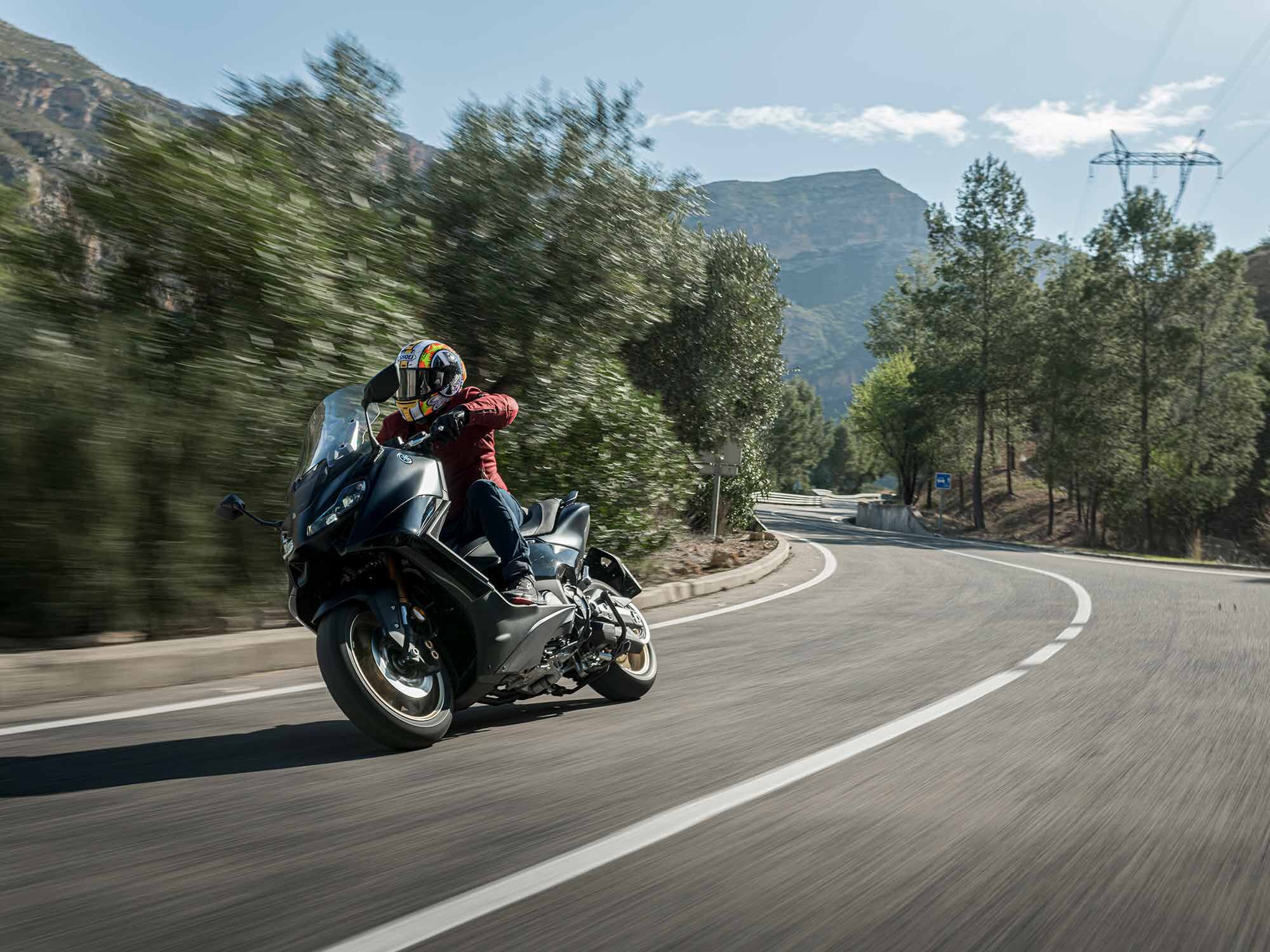 There's a reason the TMAX is so popular in Europe: It fills the commuter role comfortably while delivering sporty performance. (Yamaha/)
There are inexpensive alternatives, but I don't think any can match the high-end premium feel of the TMAX Tech MAX. Yamaha has made the TMAX more appealing than ever, and it appears it will stay king of the scooters—at least everywhere but in the States.
2022 Yamaha TMAX Tech Max Specifications
| | |
| --- | --- |
| MSRP: | N/A |
| Engine: | DOHC, liquid-cooled, parallel twin-cylinder; 4 valves/cyl. |
| Displacement: | 562cc |
| Bore x Stroke: | 70.0 x 73.0mm |
| Compression Ratio: | 10.9:1 |
| Transmission/Final Drive: | V-Belt automatic/belt |
| Claimed Measured Horsepower: | 46.9 hp @ 7,500 rpm |
| Claimed Measured Torque: | 41.1 lb.-ft. @ 5,250 rpm |
| Fuel System: | Fuel injection |
| Engine Management/Ignition: | TCI |
| Frame: | Twin spar |
| Front Suspension: | 41mm upside-down fork, nonadjustable; 4.7 in. travel |
| Rear Suspension: | Single rear shock, preload adjustable; 4.6 in. travel |
| Front Brake: | 4-piston caliper, dual 267mm discs |
| Rear Brake: | 1-piston caliper, 282mm disc |
| Wheels, Front/Rear: | Cast aluminum; 15 in. / 15 in. |
| Tires, Front/Rear: | Bridgestone SC2; 120/70-15 / 160/60-15 |
| Rake/Trail: | 26.0°/3.9 in. |
| Wheelbase: | 62.0 in. |
| Ground Clearance: | 5.3 in. |
| Seat Height: | 31.5 in. |
| Fuel Capacity: | 4.0 gal. |
| Claimed Average MPG: | 49 mpg |
| Claimed Wet Weight: | 485 lb. |
| Contact: | yamaha-motor.eu |
View full post on Cycle World